Disney's Typhoon Lagoon Water Park in Florida is home to the Surf Pool, one of the world's largest inland wave pools. It's approximately 2.5 acres in size with 3 million gallons of water (80,000 gallons are used for each wave). This amazing water lagoon places it at the top of the list for many Disney tourists. Aside from it owning the size bragging rights, this water park remains open throughout the year, closing only for a few days for maintenance in either fall or winter.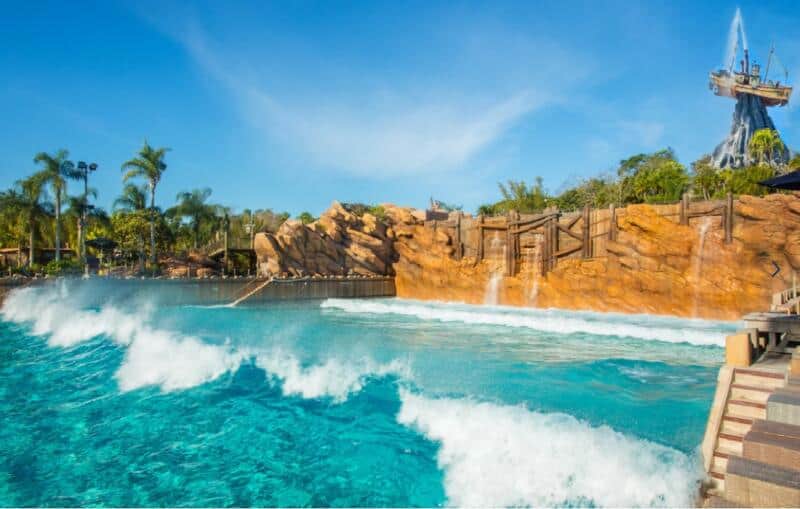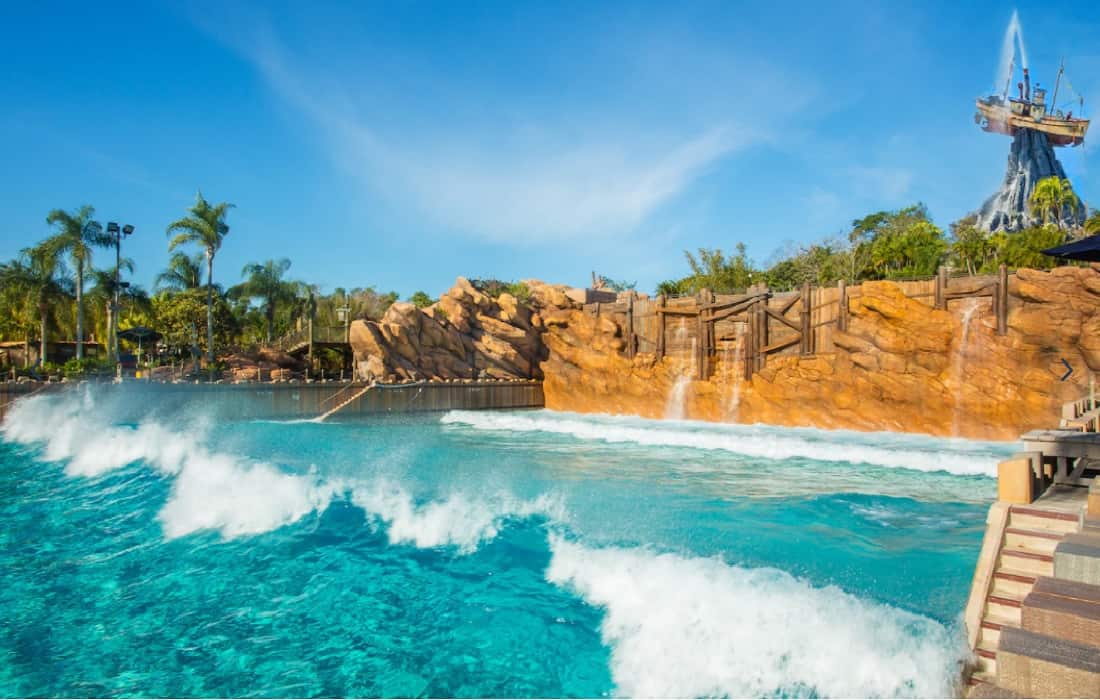 Image Credit: Disney Typhoon Lagoon
This post may contain affiliate links. Please read our disclosure and privacy policy for more information.
About Typhoon Lagoon
Typhoon Lagoon is a themed water park located at the Walt Disney Resort in Lake Buena Vista, Florida. It was the second water park to be opened at Walt Disney, preceded by River Country, which closed the doors for tourists in 2001. One of the world's largest outdoor wave pools is located within the Typhoon Lagoon. And it is the key reason for the park's high popularity. It is even possible to bodysurf in the park because of 6 feet high waves.
Typhoon Lagoon follows a theme based on Disney Legend of Typhoon. Legend has it that a typhoon wreaked havoc on a tropical paradise. Scattered fishing gear, surfboards, and broken ships paint the picture of wrecked heaven. The story's centerpiece is a shrimp boat named "Miss Tilly," impaled over a mountain called "Mount Mayday. "
The mountain is a geyser filled with water that erupts every half-hour right before the bells of the watch start ringing. It even has a mascot named "Lagoona Gator." As the name suggests, it is an alligator that flourished following the typhoon and has a history of surfing, parties, and dancing to music.
What to Know Before Visiting Typhoon Lagoon?
Sunscreens and dry towels are a must while visiting any water park under the blazing sun of Florida. Besides these, here are some important details that you need to be familiar with before heading to Typhoon Lagoon.
1. Closing Dates
The park remains open all year, but it closes for tourists at the start of fall or end of winter due to annual maintenance. Although the maintenance period only lasts for a few days, it can be a pain if you have limited time. So, if you are planning to visit the park during fall or winter, make sure to check the status online. And if you get there while the park is closed, you can always have fun at the nearby Blizzard Beach.
2. Typhoon Lagoon Tickets Price
Tickets for the Typhoon Lagoon are not cheap and can take a decent chunk of your budget. Including them in the budget is important, especially when visiting with family. Tickets are purchased from two categories, $63 for kids between 3-9 years and $69 for kids and adults above 10+ years.
Disney provides a Passport to its frequent visitors, which can help you get a discount on these tickets. Visitors can even extend their stays and book hotel rooms within the resort. The prices of these hotel rooms keep changing and take the age of visitors into account. Booking a hotel room at a Disney Resort does provide a decent discount on the park's tickets. Disney's Typhoon tickets can be booked and purchased online to avoid the long queues at the park.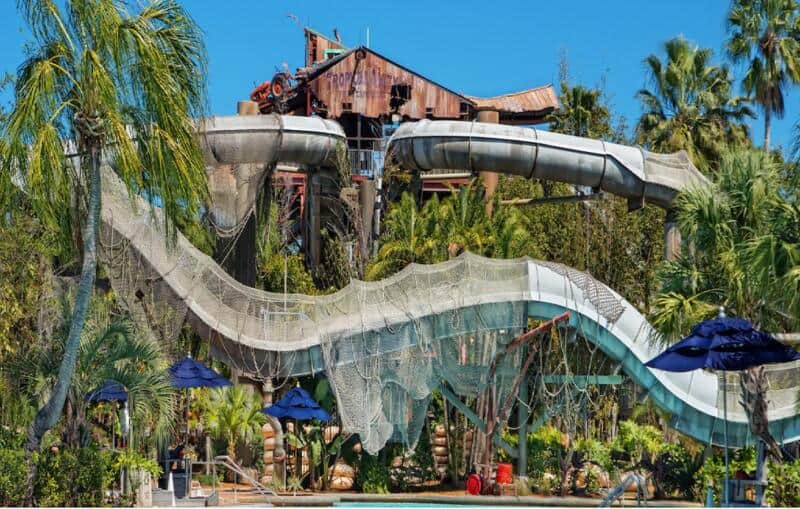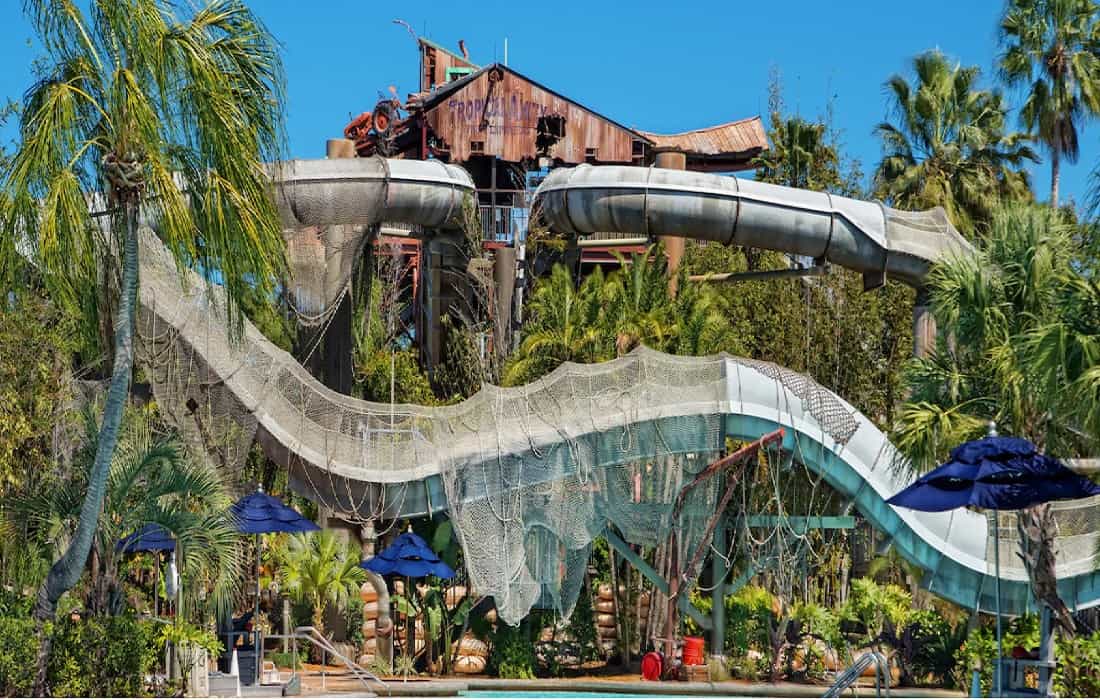 Image Credit: Disney Typhoon Lagoon
3. Get to Park Early in the Morning
Typhoon Lagoon is one of the busiest water parks globally and hosts over a million tourists every year. It gets crowded as big as it might be, and there are long queues at good water slides. Not to mention finding the spots in the shade is a true luxury. You can avoid all that by reaching early in the morning, finding yourself a nice spot in the shade, and enjoying the slides before they become crowded.
4. Get Yourself a Locker
Locker is worth the price if you are visiting with the families. The price of lockers ranges from $10 to $15, depending on the size.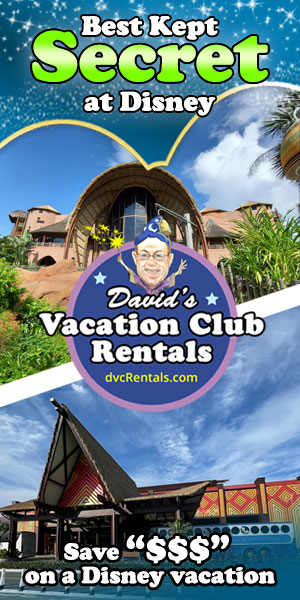 5. Do Not Bring Floats
Disney does not allow tourists to use their own floating devices in the Typhoon Lagoon. You can rent out life jackets and tubes at the park, and some pools have a limited number of innertubes as well. Some rides include life jackets and vests. For others, you have to rent.
6. Pack Water Shoes
As discussed, earlier Florida is a state where the sun is blazing most of the time. And the regular shoes do not do your feet any favors in the water parks. Hence, it is necessary to bring water shoes not to have to walk barefoot on the scorching floor.
7. Bring Snacks
Although Disney offers many food options at the park, they are expensive. You should pack your snacks and avoid paying big bucks for average food.
Disney's Typhoon Lagoon Map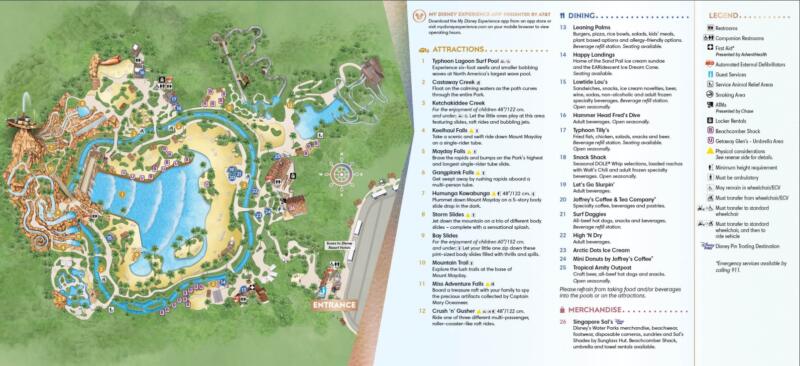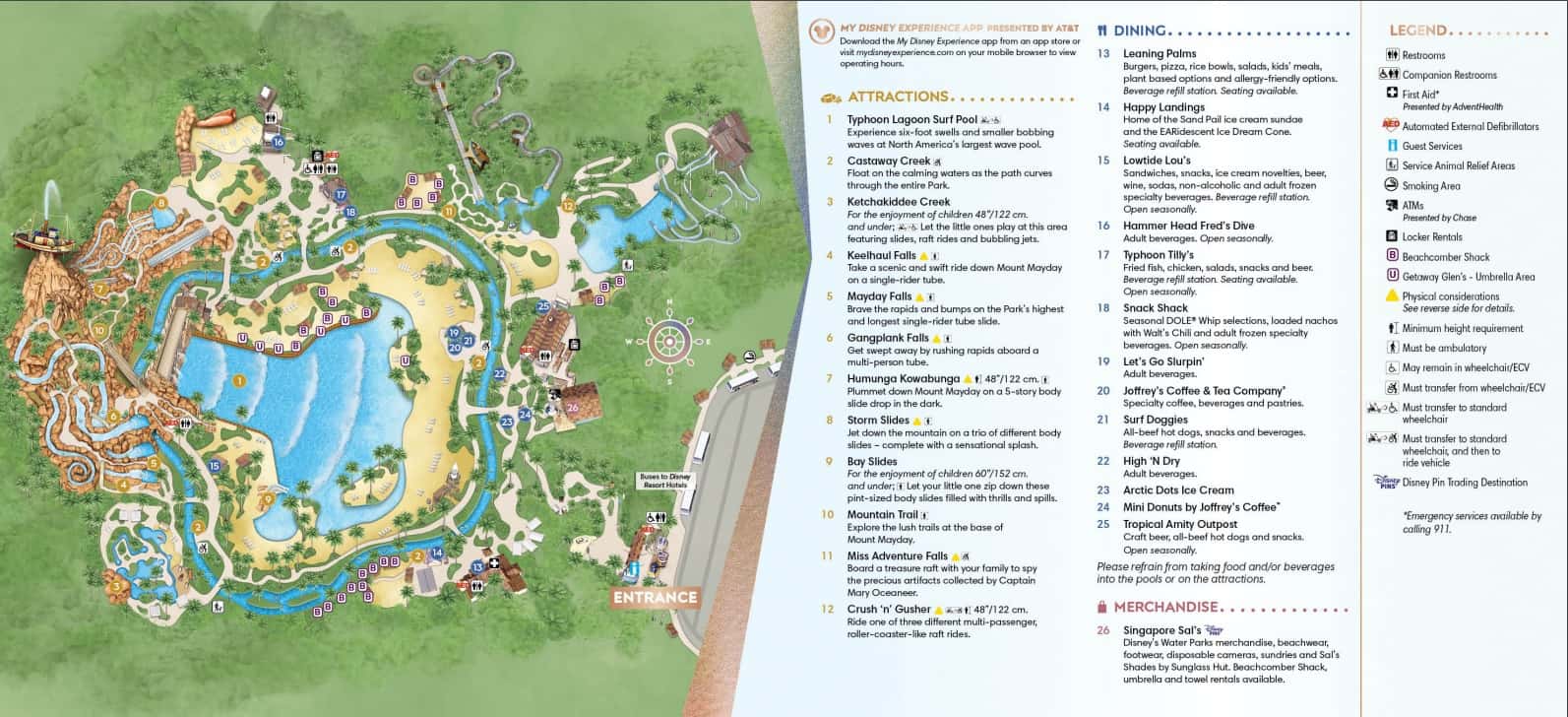 Things to Do at Disney's Typhoon Lagoon Water Park
Typhoon Lagoon is designed for people of all ages, and there are tons of activities for every age group. Some of the most popular activities include:
Bay Slides
Bay Slides are perfect for younger kids. As a friendlier version of Storm slides, these offer the same thrill while keeping the kids out of danger. Bay Slides feature gentle curving slopes and a fun little splash at the end to bring laughter to the kids' faces. The slides are designed for kids under 5 feet, and parents can meet the kids in the shallow water at the end of the slide.
Castaway Creek
Castaway Creek is a fun, 2,000-foot-long ride filled with cool mists, rope bridges, tropical landscapes, and waterfalls. You drift on the slow river inside the tube, experience all sorts of things, and even venture through a cavern-like tunnel inside Mount Mayday.
Humunga Kowabunga
Humunga Kowabunga awaits people looking for an adrenaline rush from a near-vertical five-story drop. The 60-degree angle of slides and a deep pool at the end of the 214-feet-long tube make the ride thrilling and adventurous.
Get A Photo In A Sharks Teeth!
Who doesn't want to get a cheesy photo like this one? After all, you are on vacation, so capture the memories.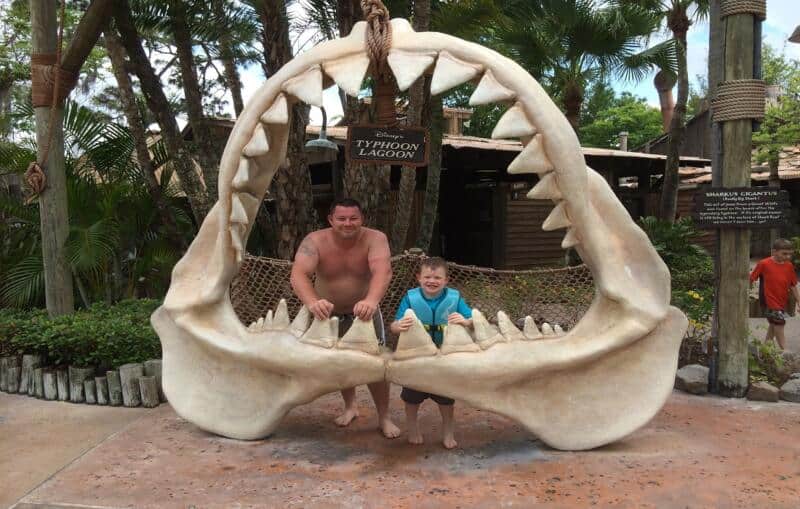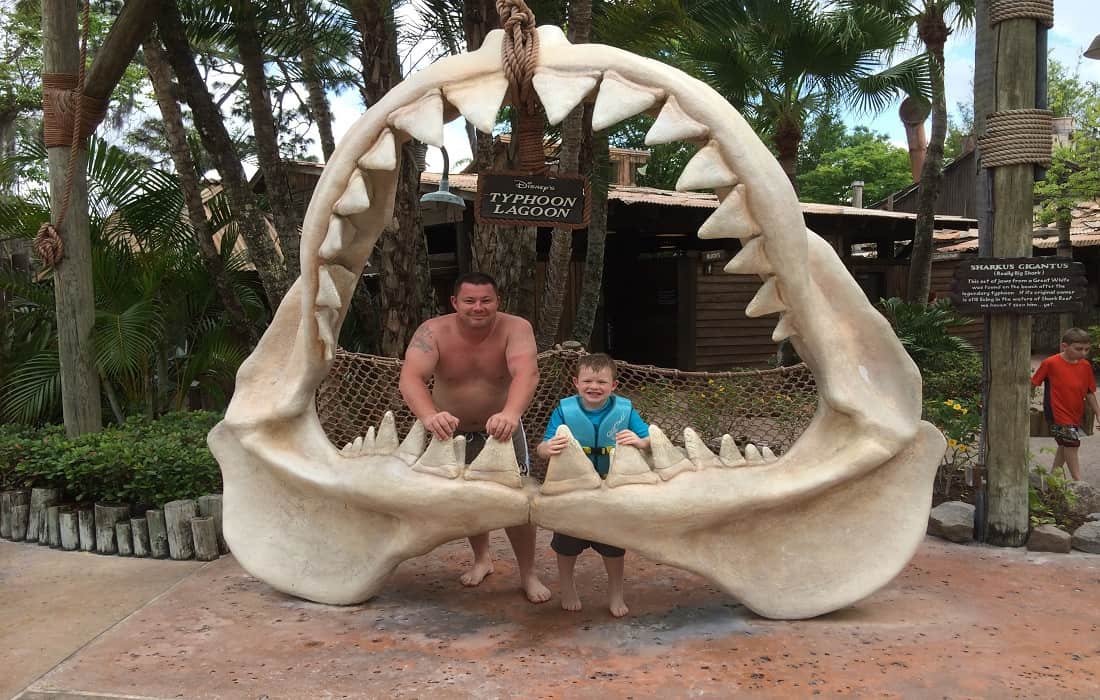 Meet The Characters
One of the most exciting things about Disney Parks for kids is meeting the characters. And, even though it's a waterpark, there are still characters to meet. They will sign your autograph book and pose for photos just like in any park. Most importantly, unlike the main parks, you don't have to stand in laborious, long lines!
Check the daily schedule for who will show up – where and when!
Take a Private Surfing Class
Ride the wild
surf
in a private session or catch the stoke with a lesson, right in the safe, state-of-the-art wave pool. Lessons are three hours long and broken into sets of 25.
All participants must provide their own surfing equipment.
Park admission is not required.
Reservations are required for this activity.
Other fun-filled water rides and attractions:
Crush "n" Gusher

Gangplank Falls

Keelhaul Falls

Ketchakiddee Creek

Mayday Falls

Miss Adventure Falls

Storm Slides

Typhoon Lagoon Surf Pool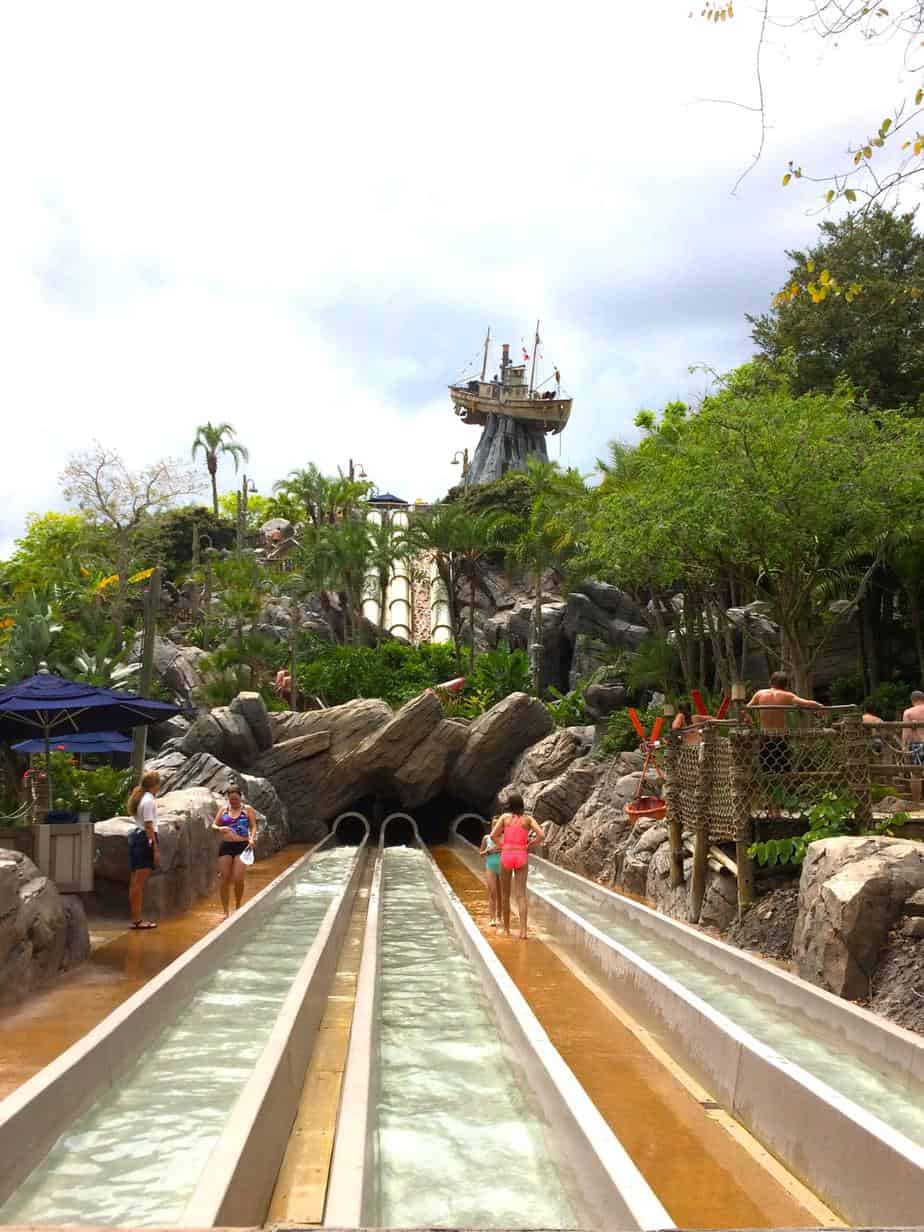 Typhoon Lagoon vs. Blizzard Beach
Ideally, you must visit Typhoon Lagoon and Blizzard Beach to appreciate Disney's water parks or compare them. My personal favorite is Typhoon Lagoon. And, if you can visit only one waterpark due to a tight schedule, Typhoon Lagoon is hands-down the better option.
Although both parks have wave pools, the big swells in the Typhoon Lagoon make it more fun. Some of these swells are big enough for surfing which you cannot do at Blizzard Beach.
The dry attractions are also better at Typhoon Lagoon as Mount Mayday has a better park location and a characteristic mountain look. On the other hand, Mount Gushmore at Blizzard beach looks out of place in Florida.
Lastly, the theme of Blizzard Beach does not carry any surprise element. Typhoon Lagoon offers plenty of surprises on the way as it is themed based on the story, caves, and cavers. You experience much better-looking landscapes, waterfalls, and mascots in the park.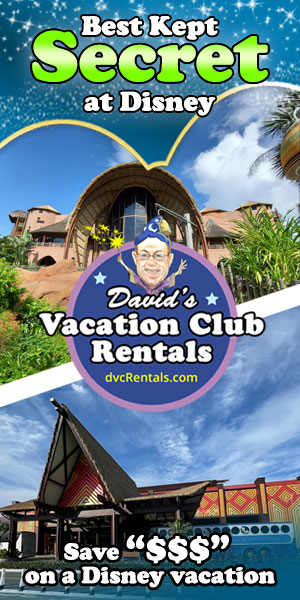 Closing Thoughts
Typhoon Lagoon is one of the best destinations for a weekend full of adventure with friends and families. The park offers brilliant landscapes, thrilling rides, and secure slides for the younger kids. Tickets are fairly expensive, and the food items inside the park are not cheaper, but with a few hacks, you can enjoy them on a budget.
We hope this guide on Typhoon Lagoon Water Park has been helpful. If there is anything that you want to know or add, let us know in the given section. We would love to respond. Thank you!
Looking for more posts on Disney? Check out these:
Looking for more water parks in Florida? Start here:
We participate in the Amazon Services LLC Associates Program, an affiliate advertising program designed to provide a means for us to earn fees by linking to Amazon.com and affiliated sites.
Brit On The Move™ Travel Resources
Ready to book your next trip? Use these resources that work:
Need more help planning your trip? Check out our Resources Page, highlighting the great companies we trust when traveling.