I think most Floridians have seen a video or heard of The Devil's Den Prehistoric Spring. A couple of years ago, a spree of promotion videos captivated the imagination of any of us that did not already know about this spring. If you've seen any of those videos or pictures like me, you probably wonder what it's like to visit. Most specifically, you probably want to know what the experience is like. Devil's Den Prehistoric Spring is a privately-owned scuba diving training center that you can also snorkel to experience.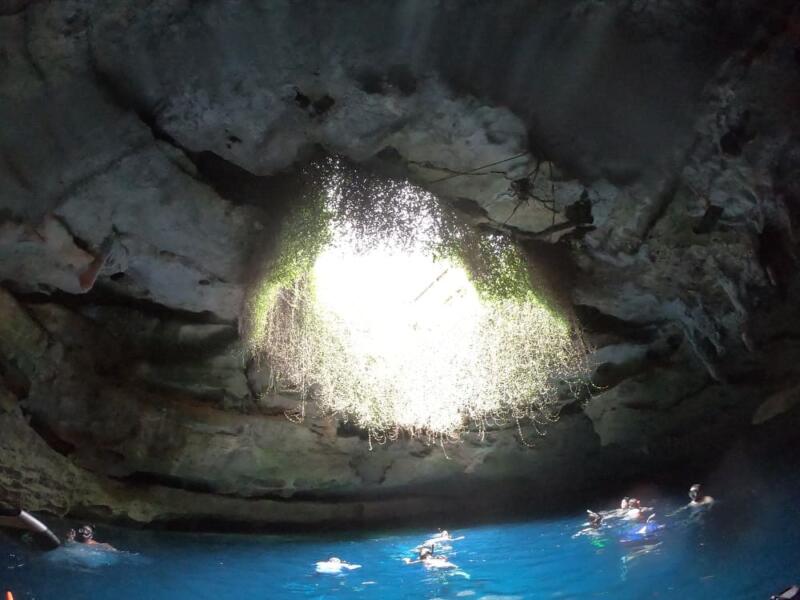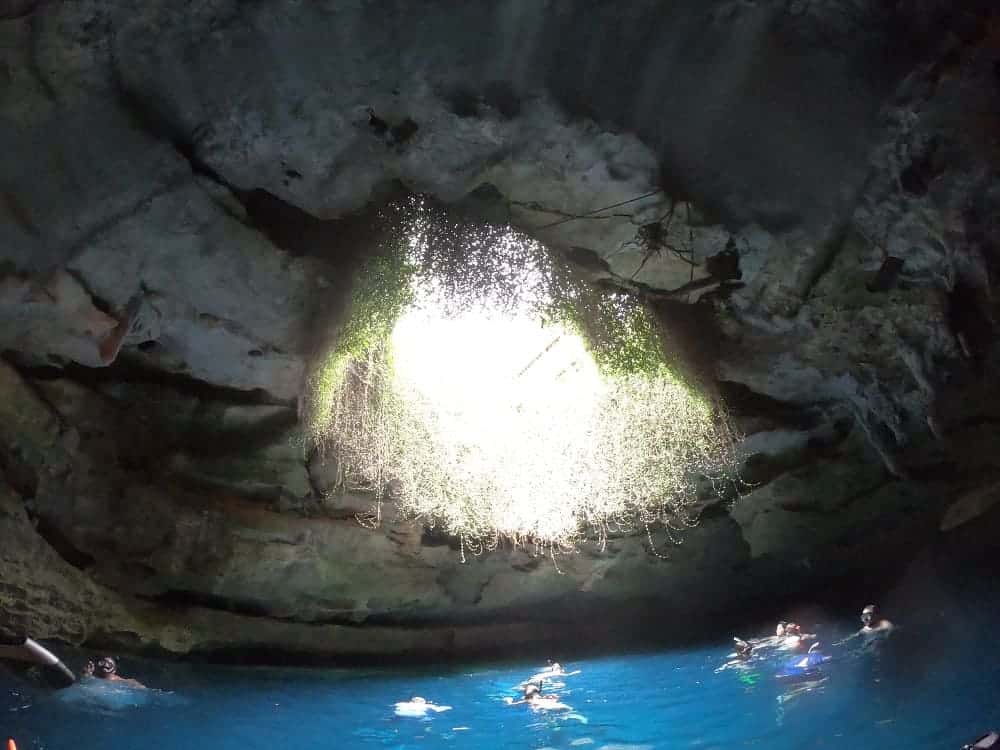 This post may contain affiliate links. Please read our disclosure and privacy policy for more information.
Reservations
Devils Den is open for business but they are enforcing social distancing. Snorkeling is only available by reservation. ​Each snorkeler must register individually. Guests must abide by the 6-foot social distancing guideline.
Getting to The Devil's Den Prehistoric Spring.
It is located north of Ocala and south of Gainesville in Williston's small town. The Devil's Den Prehistoric Spring is in the middle of rural Florida. And, while this might be off the beaten track for most, if you are interested in caves or diving, this is an area to check out. This area is also home to the Blue Grotto Dive Resort, another cave system you can explore.
Devil's Den Prehistoric Spring is located at 5390 NE 180 Ave, Williston, FL 32696.
About the Devil's Den Prehistoric Spring
The Devil's Den is essentially an underground cave spring that has an opening exposing it and providing light. This is formed by a karst window created from the dissolution of soluble rocks.
The original opening at the surface appeared to be a sinkhole. Before 1990, visitors had to squeeze through a small hole to reach the spring waters. Once the cave became open to the public in the mid-1990s, the opening was enlarged to create a more accessible access point. Predominantly a dive center, the company that owns it offers scuba diving and snorkeling experiences.
Entering Devil's Den Prehistoric Spring
Something is encapsulating and mysterious about this spring. Perhaps it's the name or the fact that it's essentially an underwater cave. Either way, even if it did not have an enticing name, you know that it will be an experience once you see the entrance. Unlike others, if you're into Instagram, always searching for the epic shot or a photographer, this place was made for you!
You enter via a concrete staircase that leads you to the top of the metal stairs that descend you onto the platform at the bottom. Entering the concrete steps is eerie. Even though you've seen the photos, you don't know what to expect, and that makes your heart race. Then, when you visit the spring, it's as if you've personally discovered an oasis—reminded that you did not by the group of people gathered on the entrance platform.
Down the metal stairs to the entrance platform, and immediately you are awoken by the temperature of the water. The underground river is a constant 72 degrees. Even on a hot summer's day in Florida is chilly at first feel. We opted to snorkel because we are not certified, divers. And, even if we were not sure, I would dive here simply because I am a tad claustrophobic, and the depths here would be too much for me. Add to this; you can only see so far before you need a flashlight. This freaked me out.
About The Depth
The cave reaches depths of 54 feet, and the surface is 120 feet wide. I must admit that it's smaller than I anticipated. Or, maybe a better way to describe this is I assumed (you know what assumptions are) that we would be able to snorkel under into spots of the cave. This is not the case; you will float on the surface and swim in a circle if you snorkel. If you dive, you will be able to explore what's hidden beneath. Four underwater passages extend from the pool under the opening, from 5 feet to 90 feet under the water's surface. The passages contained animal and human remains dating back to approximately 7,500 BC. Don't worry; you will not run into remains; they were removed.
Snorkeling Devil's Den Prehistoric Spring
Once you float or jump off the entrance platform, you begin to experience what everyone is here for—the underwater view of the cave system. The water is clear but only for a few feet. You will see the fish that live here, and if you are lucky, you'll see one of the resident turtles. As you swim around floating on the top, you will see diver after diver exploring and many returning up from below with flashlights to guide them to the surface. The divers seem to appear from nowhere, you can be gazing at rock formations, and suddenly you see the light followed by a diver. It is unusual and creepy at the same time. Then there are the snorkelers, be prepared to bump into each other. It's almost unavoidable.
Perhaps the most captivating view of all is the karst window – the opening above the cave allows the sun to shine through. It is covered in moss, which dangles down, giving the cave an overgrown menacing look, but it's fitting. We spent about an hour taking in the beauty of both before we decided to ascend.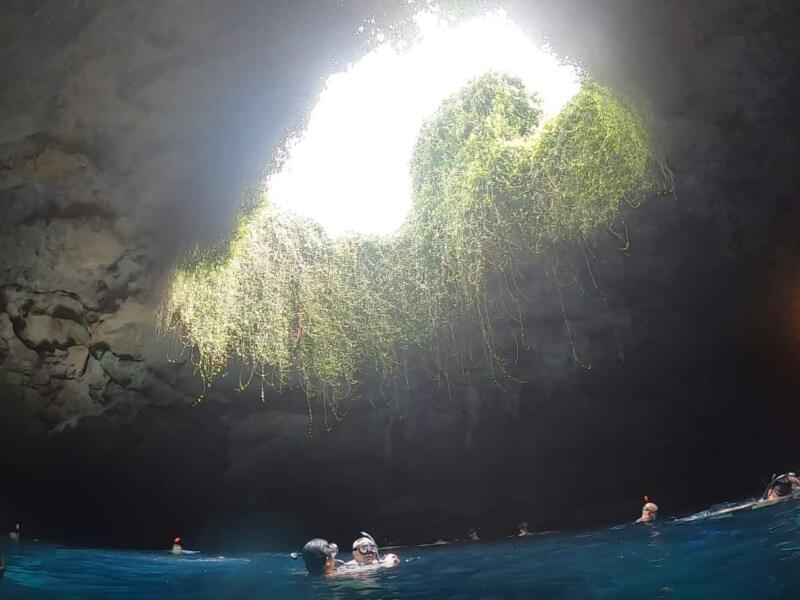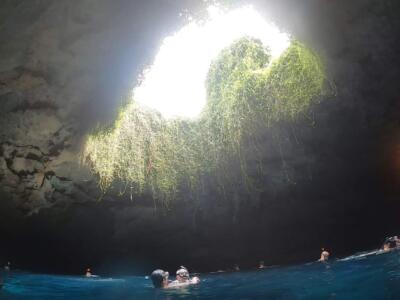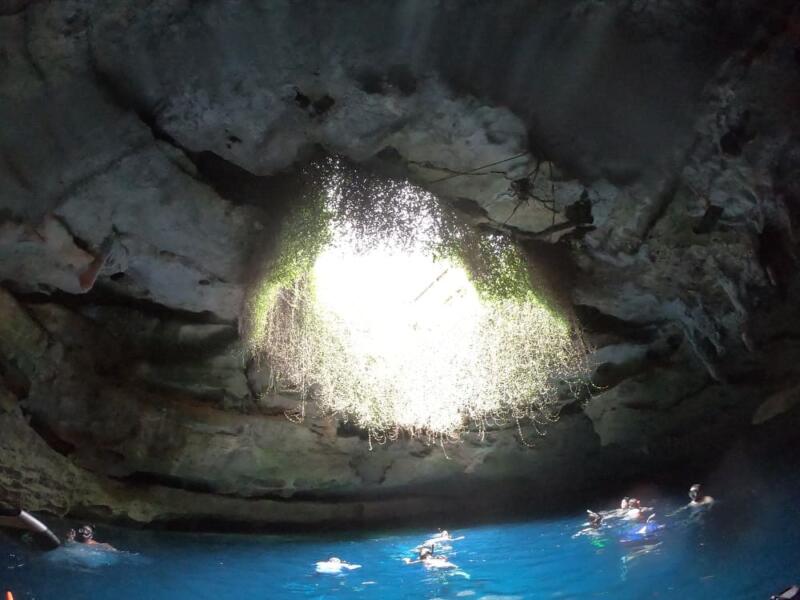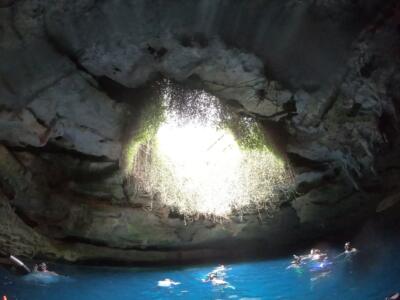 Where To Stay Close To The Devil's Den Prehistoric Spring
You can stay onsite in a cabin, RV, or tent. Or you can choose to stay in one of the hotels in the area.
My recommendation is to stay at the brand-new Quality Inn Suites that was built in 2014 in Dunnellon which is about 24 miles away. If you stay here you can also take in the Rainbow River.
Alternatively, choose other options here:
Essentials You Will Need To Enjoy The Devil's Den Florida
What You Need to Know
Only those that can swim will be allowed entry. You must be able to swim, and I would go as far as to say you need to be a strong swimmer. This is not a place for someone that can't swim. And, no floatation devices of any sort are allowed.
You must complete an insurance liability waiver upon entering the property, and you must be 18 to sign for yourself. If you are under 18, a parent must be with you to sign.
Reservations are not accepted; it's first come, first served. Divers have priority – they get first dibs.
If you go on a holiday or a busy summer day, you may not get it so go early.
Snorkeling masks, snorkel, and fins are required, and free diving fins or breath-hold diving is allowed.
If you are diving, open water certification or above is required. You must have a dive buddy.
You can use your snorkeling or diving equipment or rent from the facility.
There are no lockers on site. As such, you will lock your valuables in your car and leave your keys at the check-in office.
You can stay on site. You can rent four cabins, an RV site, and a campground.
The spring is open 364 days a year; the only day it is not open is Christmas Day.
As of August 2019, hours are Monday – Thursday 9 a.m. – 5 p.m. and Friday – Sunday 8 a.m. – 5 p.m.
Service animals are the only four-legged friends that are welcome.
Frequently Asked Questions:
Can you swim at Devil's Den?
The technical answer is yes because you have to "swim" to enter. However, you must be snorkeling or diving to enter. You cannot enter without snorkeling or diving equipment. In other words, you cannot join for a leisurely swim.
Why is it called the Devil's Den Prehistoric Spring?
When the original discoverers came upon Devil's Den, Prehistoric Spring smoke was rising from the karst window, which they assumed to be rising from Hell or Satan's lair. Once you see it for yourself, you will understand why. They quickly realized it was steam rising from the spring. As a result, the name Devils Den was given, and it's since then been adapted to Devil's Den Prehistoric Spring because it dates to 7,500 BC.
FYI: Only on cold winter mornings can you see steam.
Is Devil's Den dog friendly?
No, the only animals permitted are service animals.
Closing Thoughts
Devil's Den Prehistoric Spring is an exciting place to visit. Another Atlas Obscura pick, a resource known to travel enthusiasts for highlighting unique things to do all over the world. Particularly of interest to those that dive. I'm glad that we experienced this. The only drawback is that this is not a day attraction. It's an experience for a couple of hours. You are limited to a two-hour snorkel, but this is ample time. As a result, if you are planning to check this out, I suggest you combine it with another activity or have plans for the rest of your day.
Looking for more posts on things to do in Florida? Start here:
We are a participant in the Amazon Services LLC Associates Program, an affiliate advertising program designed to provide a means for us to earn fees by linking to Amazon.com and affiliated sites.
ravel Planning Resources
Looking to book your next trip? Use these resources that work:
Are you interested in Volunteer Vacation and Working Holidays? Check out the complete guide to how here!
Need more help planning your trip? Check out our Resources Page, where we highlight all the great companies that we trust when we travel.