I think most Floridians have seen a video or heard of The Devil's Den Prehistoric Spring. A couple of years ago, a spree of promotion videos captivated the imagination of any of us who did not know about this spring. If you've seen any of those videos or pictures like me, you probably wonder what it's like to visit. Most specifically, you probably want to know what the experience is like. Devil's Den Prehistoric Spring is a privately-owned scuba diving training center that you can also snorkel to experience.
But before you go to the article, let me give you some quick links to the popular tours and excursions in Florida:
The most popular tours in Florida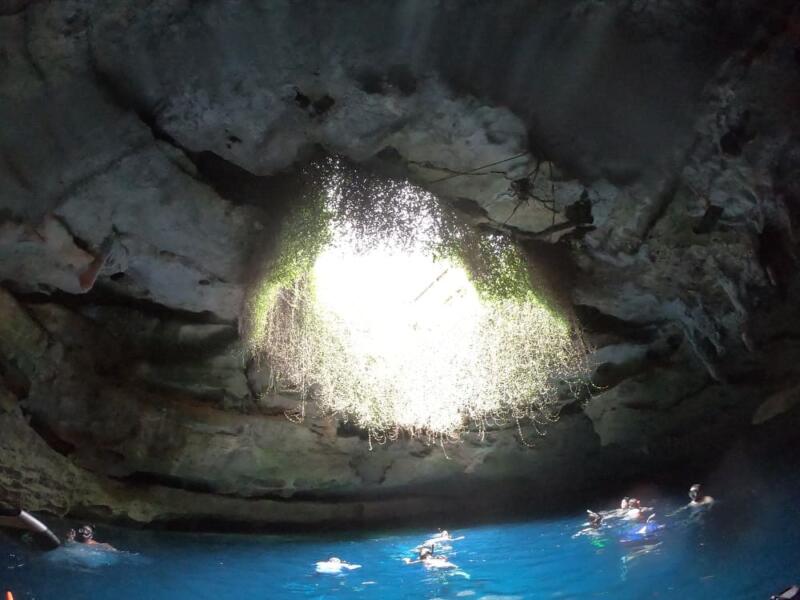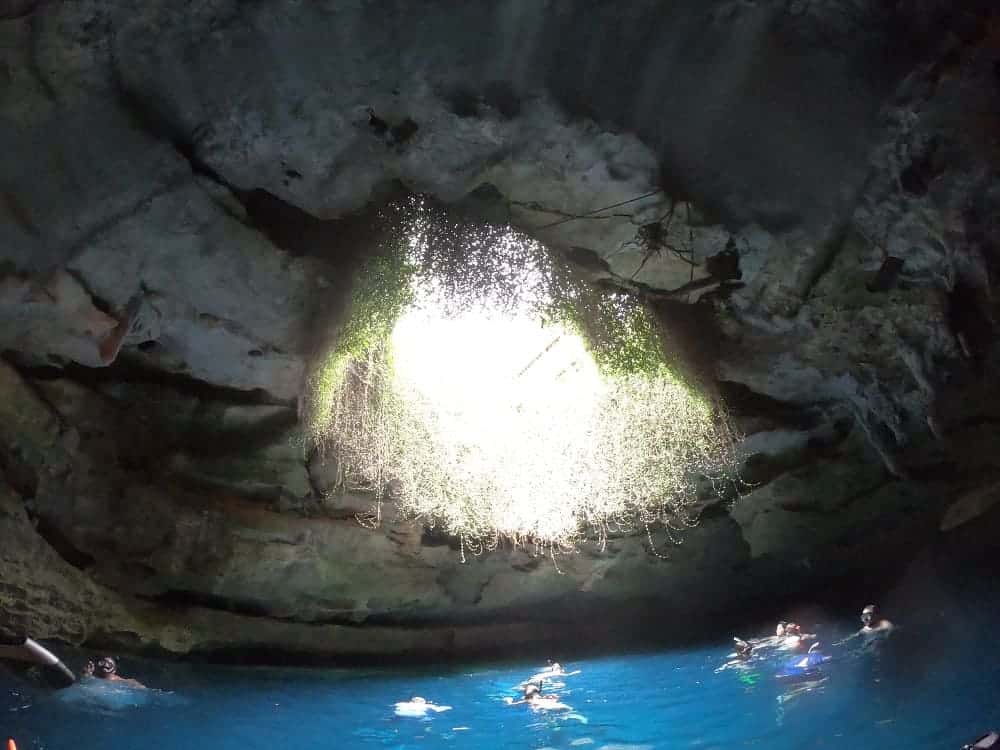 This post may contain affiliate links. Please read our disclosure and privacy policy for more information.
Devil's Den Spring Location
It is located north of Ocala and south of Gainesville in Williston's small town. The Devil's Den Prehistoric Spring is in the middle of rural Florida. And while this might be off the beaten track for most, if you are interested in caves or diving, this is an area to check out. This area is also home to the Blue Grotto Dive Resort, another cave system you can explore.
Address: 5390 NE 180 Ave, Williston, FL 32696.
Phone: (352) 528-3344
Email: [email protected]
Getting to The Devil's Den in Florida
Devil's Den Prehistoric Spring is located at 5390 NE 180 Ave, Williston, FL 32696. Add the address to your GPS, and off you go.
You have the address set long before you get into rural areas because there are plenty of places around here with no Wi-FI.
Best Time to Visit Devil's Den
There's no such thing as a "best time" per se. The Devil's Den it's popular year-round and does not have a low season. It gets packed with snorkelers in the summer, and it is very popular for SCUBA divers during the winter. It's also a great place for couples to snorkel or SCUBA in!
About the Devil's Den Prehistoric Spring
The Devil's Den is essentially an underground cave spring that has an opening exposing it and providing light. This is formed by a karst window created from the dissolution of soluble rocks.
The original opening at the surface appeared to be a sinkhole. Before 1990, visitors had to squeeze through a small hole to reach the spring waters. Once the cave became open to the public in the mid-1990s, the opening was enlarged to create a more accessible access point. Predominantly a dive center, the company that owns it offers scuba diving and snorkeling experiences.
How Did The Devil's Den Florida Form?
It took millions of years for Devil's Den to form. Soft limestone rock, also known as karst, was dissolved by slightly acidic groundwater. Karst limestone is a soft rock containing ancient shells, plants, and animal remains. The organic material, such as shells, skeletons, and feces, was compressed under heavy pressure, resulting in limestone. The area is all that's left from millions of years ago when Florida was a giant coral reef submerged under warm, shallow waters. Karst limestone is stunning, with holes poking through it, sometimes filled with water. There are pinhole-sized holes and huge caverns. Also, in Florida, there are substantial cave networks beneath the ground.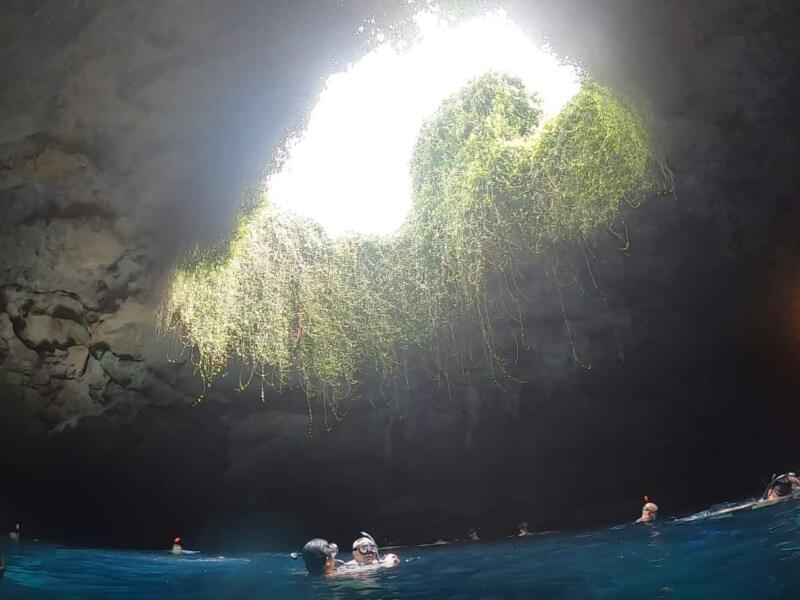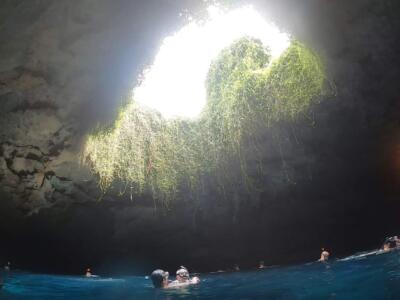 Reservations & Getting In
Devil's Den is open for business, but they enforce social distancing. Once upon a time, it was the first to come first in. Diving and snorkeling are now only available by reservation. ​Each participant must register individually. Guests must abide by the 6-foot social distancing guideline.
Devil's Den Hours of Operation
Devil's Den is open year-round, 364 days a year. It is not open on Christmas Day.
Monday – Thursday: 9 am to 5 pm
Friday, Saturday, and Sunday: 8 am to 5 pm
The last water entry is at 4 pm, 1 hour before closing time, and the main gate closes at 5 pm.
Entering Devil's Den Florida
Something is encapsulating and mysterious about this spring. Perhaps it's the name or the fact that it's essentially an underwater cave. Either way, even if it does not have an enticing title, you know it will be an experience once you see the entrance. Unlike others, if you're into Instagram, always searching for an epic shot or a photographer, this place was made for you!
You enter via a concrete staircase that leads you to the top of the metal stairs that descend onto the platform at the bottom. Entering the concrete steps is eerie. You don't know what to expect even though you've seen the photos, making your heart race. Then, when you visit the spring, it's as if you've personally discovered an oasis—reminded that you did not by the group of people gathered on the entrance platform.
Down the metal stairs to the entrance platform, and immediately you are awoken by the temperature of the water. The underground river is a constant 72 degrees. Even on a hot summer's day in Florida, it is chilly at first feel. We opted to snorkel because we are not certified divers. And, even if we were not sure, I would dive here simply because I am a tad claustrophobic, and the depths here would be too much for me. Add to this; you can only see so far before you need a flashlight. This freaked me out.
Depth Of The Devil's Den Florida
The cave reaches depths of 54 feet, and the surface is 120 feet wide. I must admit that it's smaller than I anticipated. Or, maybe a better way to describe this is I assumed (you know what assumptions are) that we could snorkel under into spots of the cave. This is not the case; you will float on the surface and swim in a circle if you snorkel. If you dive, you can explore what's hidden beneath. Four underwater passages extend from the pool under the opening from 5 feet to 90 feet under the water's surface. The passages contained animal and human remains dating back to approximately 7,500 BC. Don't worry; you will not run into remains; they were removed.
How Large Is The Devil's Den?
The surface diameter is 120 ft. It is the shape of an upside-down mushroom.
Devil's Den Florida Entry Sign
As you enter the Devil's Den, Florida, you will be met with an entrance sign that gives you all of the rules of engagement upfront. Naturally, your participation requires you to follow these rules.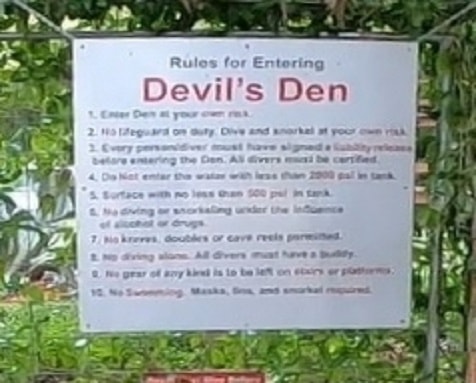 Devil's Den Florida Warning Sign
The infamous warning sign underneath the water warns all that venture off the risks ahead. Notice the Grim Reaper. There's a reason for this. People have died in this spring.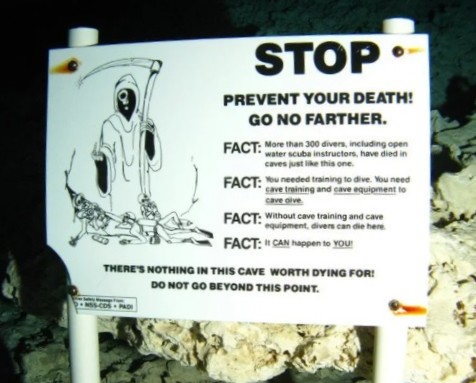 Snorkeling Devil's Den In Florida
Once you float or jump off the entrance platform, you begin to experience what everyone is here for—the underwater view of the cave system. The water is clear but only for a few feet. You will see the fish that live here, and if you are lucky, you'll see one of the resident turtles. As you swim around floating on the top, you will see diver after diver exploring and many returning up from below with flashlights to guide them to the surface. The divers seem to appear from nowhere, you can be gazing at rock formations, and suddenly you see the light followed by a diver. It is unusual and creepy at the same time. Then there are the snorkelers, be prepared to bump into each other. It's almost unavoidable.
Perhaps the most captivating view of all is the karst window – the opening above the cave allows the sun to shine through. It is covered in moss, which dangles down, giving the cave an overgrown menacing look, but it's fitting. We spent about an hour taking in the beauty of both before we decided to ascend.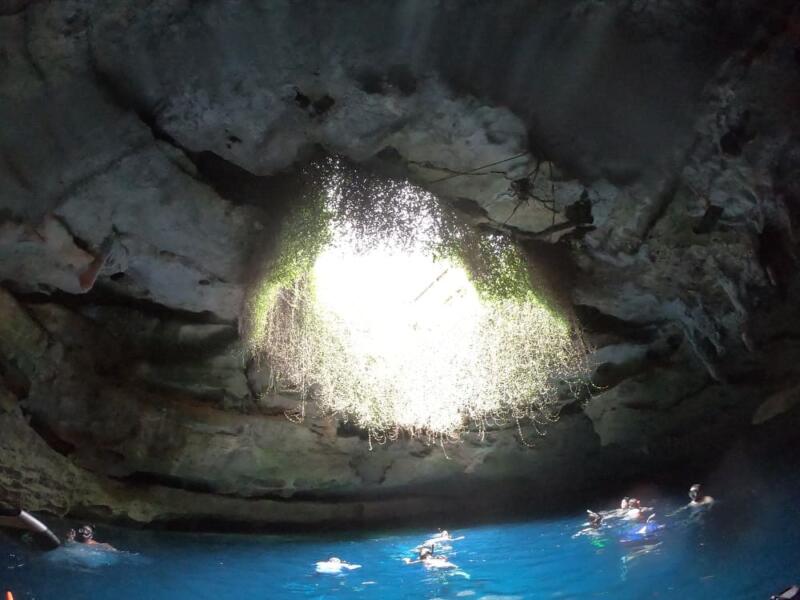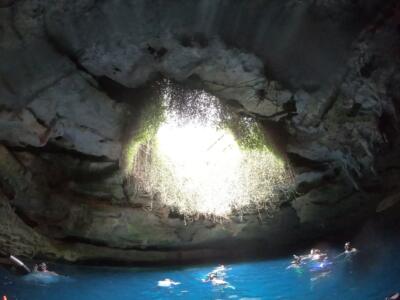 SCUBA Diving Devil's Den In Florida
You only need an open-water certification to dive inside Devil's. Technically, Devil's Den is not a cave dive. Unlike caves, the surface is always accessible and open.
Due to the lack of overhead obstructions, it does not require cave-diving training or certification. Devil's Den is connected to a cave system and a spring water source.
Getting SCUBA Certified at Devil's Den
Devil's Den offers a unique cavern diving experience for people seeking SCUBA certification. Anyone nervous about diving in the ocean for the first time would benefit from the controlled, crystal-clear conditions.
This would be an excellent choice for people not wanting to learn in the ocean. Instead of rolling backward into a murky, wavy sea, it's much easier to slip into crystal-clear, calm water. There's no danger from sharks or alligators there, either.
All dive instructors who offer lessons out of Devil's Den are independent providers.
Note: Devil's Den doesn't offer Nitrox, but you can fill your tanks with Nitrox at another nearby dive site, Blue Grotto, which is less than 2 miles away.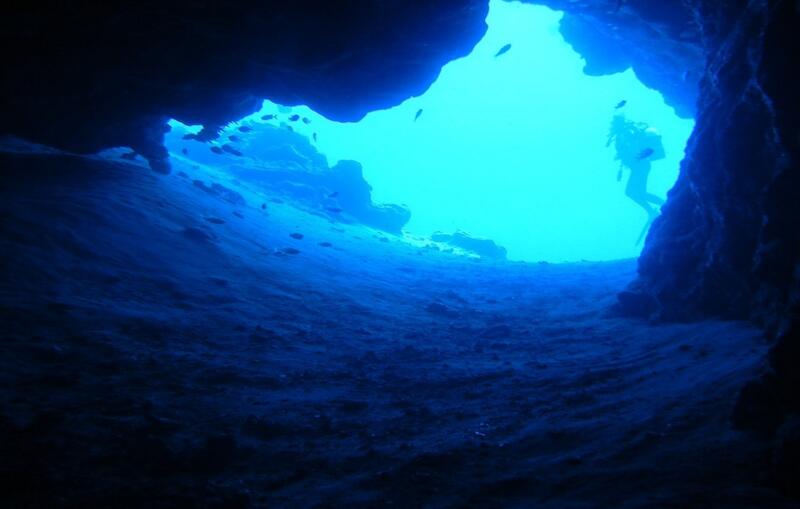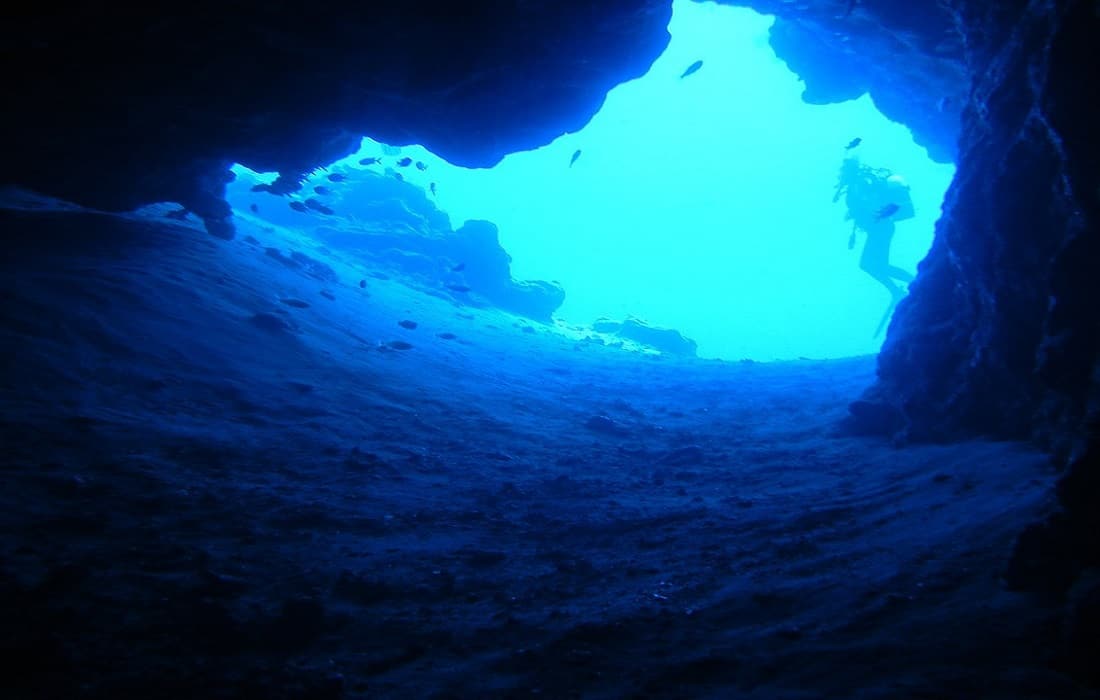 Deaths in Devil's Den Spring Florida
There have been at least two documented deaths at Devil's Den Spring.
First Incident – 1990
This was a fairly open-and-shut case. Mid-October 199o, a solo open-water diver became lost. The body recovery was performed by Rescue/Recovery Team Members Kelly Brady, Steve Berman, Ed Paradisio, Mark Leonard, and Lamar Hires and required side mounts.
Second Incident – 1995
Another incident in 1995 led to the tragic death of a scuba diver. The diver and his dive buddy were firefighters visiting from out of state. One of the two died after they decided to pull down the fence that blocks off Devil's Den's cave section. The firefighters had no cave or cavern training, and they did not have the correct equipment.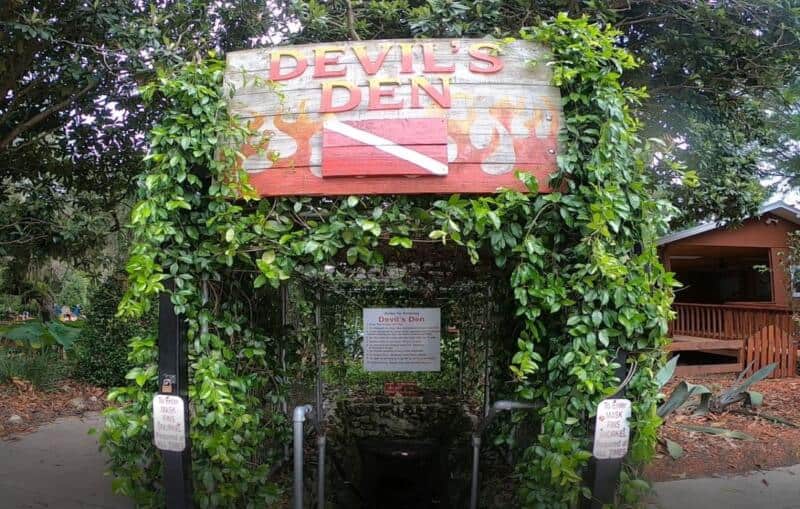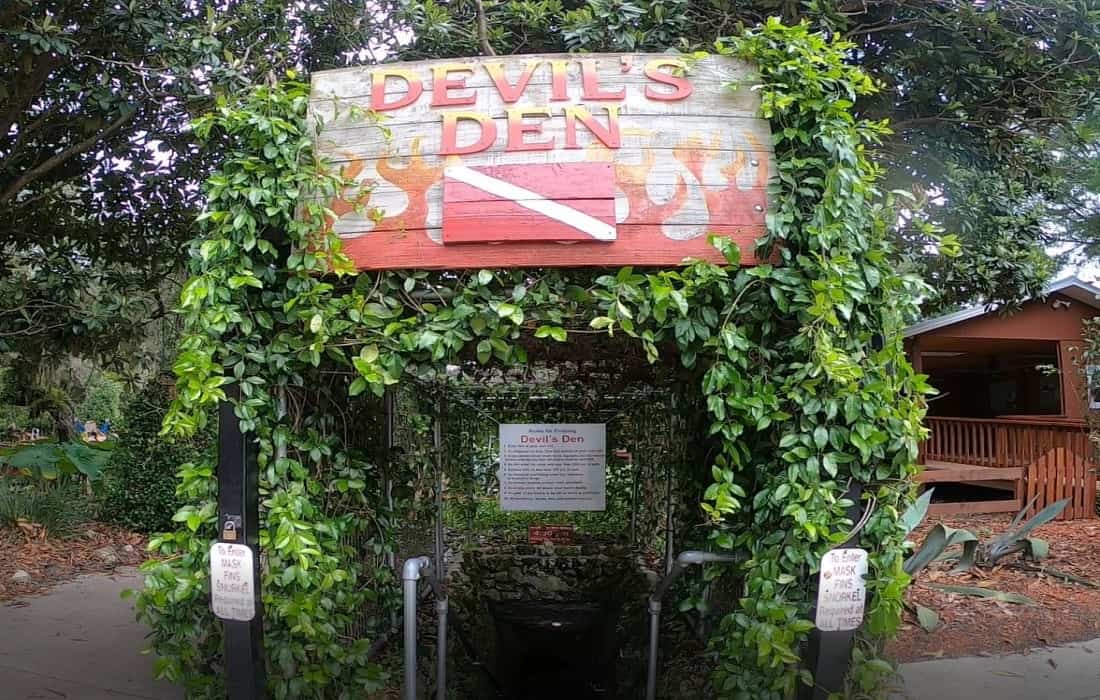 Why Call It "Devil's Den"?
Early settlers discovered Devil's Den on a cold winter day in the early 1800s, giving it its name. It seemed as if steam was rising from a hole in the ground.
The exact opposite is true. What they saw was not even steam. It was regular mist resulting from a 72-degree spring water temperature and the surrounding cold air. Like how your breath becomes visible on a cold winter day, this effect is nothing special.
People call Devil's Den Spring many names like Devil's:
Den Prehistoric Spring
Cave
Den Cave
Cavern
Den Cavern
Spring
Den Spring
Stay Onsite At The Devil's Den Spring
The Devil's Den Spring has three options for staying on site. All prices are subject to change, and all rental properties are subject to a 9% Florida and 2% Levy County lodging tax.
Cabins
There are four cabins available for rental. All are identical in size and layout and sleep up to 4 people. The kitchen includes a microwave, mini-fridge, and sink. Admission to Devil's Den is separate. Rates start at $160 and multiple-night discounts apply.
Note: No Animals and there is a two-night minimum rental on weekends (Friday-Sunday night). Must be 21 or older to book!
RV Park
There are 32 site rentals, and most offer 30/50 amp hook-ups, water, and sewer. Admission to Devil's Den is separate. Rates start at $45 per night, and weekly and monthly discounts apply.
Note: Dogs are welcome in the RV park; however, they must be on a leash at all times. No permanent stays and tent camping in the RV Park is not allowed.
Tent Campground
Select sites have electric/water hook-ups. There are two bathroom and shower facilities as well as porta-potties on-site. Rates start at $22 per person for adults and $10 per child under eight.
All onsite stays require a reservation.
Where To Stay Close To The Devil's Den
Two Hawk Hammock
Two Hawk Hammock offers comfortable, affordable lodging to travelers. Ideally, the property is within walking distance from Devils Den and Cedar Lakes Woods and Gardens. The Oak Hammock, Coy Pond, and other property features are open daily to guests.
My recommendation is to stay at the brand-new Quality Inn Suites that was built in 2014 in Dunnellon which is about 24 miles away. If you stay here you can also take in the Rainbow River.
Or, you can stay off-site in a treehouse or cabin!
Alternatively, choose other options here:
Essentials You Will Need To Enjoy The Devil's Den Florida
Places to Eat in Williston
Even though Williston is a small town, there are many different places to eat. Here is a list of places to try:
The Ivy House Restaurant and Boutique – American
Shogun – Japanese & Sushi
BubbaQue's – Williston – Barbecue
Sirius Munchies – Pizza
Frogs Barbeque Pad – Quick Bites
Green Shutters Restaurant – American
Melanie's Restaurant – American
Sister's Place – American
China House – Chinese
Pyper Kub – American
Williston and Devil's Den are only 23 miles to Gainesville. There are a lot of great places to stay and eat in the area since it's home to the University of Florida.
Devil's Den sometimes has food trucks on the weekends. As a result, you will either need to bring your food or go into Williston, Gainesville, or Ocala for food. A location that is also a great place to grill and picnic. Charcoal grills are available on the property. Reservations are not possible; they are first come, first served.
What You Need to Know About Visiting Devil's Den Florida
You can only enter if you can swim. You must be able to swim, and I would go as far as to say you need to be a strong swimmer. This is not a place for someone that can't swim. And, no floatation devices of any sort are allowed.
You must complete an insurance liability waiver upon entering the property, and you must be 18 to sign for yourself. If you are under 18, a parent must be with you to sign.
If you go on a holiday or a busy summer day, you may not get it, so go early.
Snorkeling masks, snorkel, and fins are required, and free diving fins or breath-hold diving is allowed.
If you are diving, open water certification or above is required. You must have a dive buddy.
You can use your snorkeling or diving equipment or rent from the facility.
There are no lockers on site. You will lock your valuables in your car and leave your keys at the check-in office.
Service animals are the only four-legged friends that are welcome.
If you really love springs, then you need this book! Florida is home to over 1000 natural springs between the sun-soaked beaches of the Gulf of Mexico and the Atlantic Ocean, which have drawn people to the state for thousands of years. Long before theme parks came to town, the freshwater springs were the top tourist attraction in the state. Join us across the state to explore 40 of the best springs in Florida that you can still visit today. Filled with vivid photos from the past and present, this guide will show you a side of the Sunshine State you won't see in commercials. Complete with information on conservation and a key for activities offered, this book is a must-have for locals and tourists alike.
Frequently Asked Questions:
Can you swim at Devil's Den?
The technical answer is yes because you have to "swim" to enter. However, you must be snorkeling or diving to enter. You cannot enter without snorkeling or diving equipment. In other words, you cannot join for a leisurely swim.
Why is it called the Devil's Den Prehistoric Spring?
When the original discoverers came upon Devil's Den, Prehistoric Spring smoke rose from the karst window, which they assumed to be rising from Hell or Satan's lair. Once you see it for yourself, you will understand why. They quickly realized it was steam rising from the spring. As a result, the name Devils Den was given, and it's since then been adapted to Devil's Den Prehistoric Spring because it dates to 7,500 BC.
FYI: Only on cold winter mornings can you see steam.
Is Devil's Den dog friendly?
No, the only animals permitted are service animals.
Things To Do Near Devil's Den in Florida
The Devil's Den does not take an entire day to visit. Once you've completed your dive or snorkeling, you'll be ready for another adventure. Or, if you've decided to stay in the area, here are some other attractions close by that are worth checking out:
Cedar Key
Ichetucknee Springs State Park
Ginnie Springs
Manatee Springs
Ocala National Forest
Silver Springs
The Blue Grotto
Two Hawks Hammock
Closing Thoughts
Devil's Den Prehistoric Spring is an exciting place to visit. Another Atlas Obscura pick – a resource known to travel enthusiasts for highlighting unique things to do worldwide. Particularly of interest to those that dive. I'm glad that we experienced this. The only drawback is that this is not a day attraction. It's an experience for a couple of hours. You get two hours to snorkel, but this is ample time. As a result, if you are planning to check this out, I suggest you combine it with another activity or have plans for the rest of your day.
Here are some of the most popular springs in Florida:
We participate in the Amazon Services LLC Associates Program, an affiliate advertising program designed to provide a means for us to earn fees by linking to Amazon.com and affiliated sites.
Brit On The Move™ Travel Resources
Ready to book your next trip? Use these resources that work:
Need more help planning your trip? Check out our Resources Page, highlighting the great companies we trust when traveling.