I think most Floridians have seen a video or heard of The Devil's Den Florida. A couple of years ago, a spree of promotional videos captivated the imagination of any of us that did not already know about this spring. If you've seen any of those videos or pictures like me, you probably wonder what it's like to visit. Most specifically, you probably want to know what the experience entails. Devil's Den Prehistoric Spring is a privately-owned scuba diving training center that you can also snorkel to experience.
Essentials You Will Need To Enjoy The Devil's Den Florida
Let's Get Wet!
Once you float or jump off the entrance platform, you begin to experience what everyone comes to see — the underwater view of the cave system. The water is clear but only for a few feet. You will see the fish that live here, and if you are lucky, you'll see one of the resident turtles. As you swim around floating on the top, you will see diver after diver exploring and many returning up from below with flashlights to guide them to the surface. The divers seem to appear from nowhere. You can be gazing at rock formations, and suddenly you see the light followed by a diver. It is unusual and creepy at the same time. Then there are the snorkelers, be prepared to bump into each other. It's almost unavoidable.
Perhaps the most captivating view of all is the karst window – the opening above the cave allows the sun to shine through. It is covered in moss, which dangles down, giving the cave an overgrown menacing look, but it's fitting. We spent about an hour taking in the beauty of both before we decided to ascend.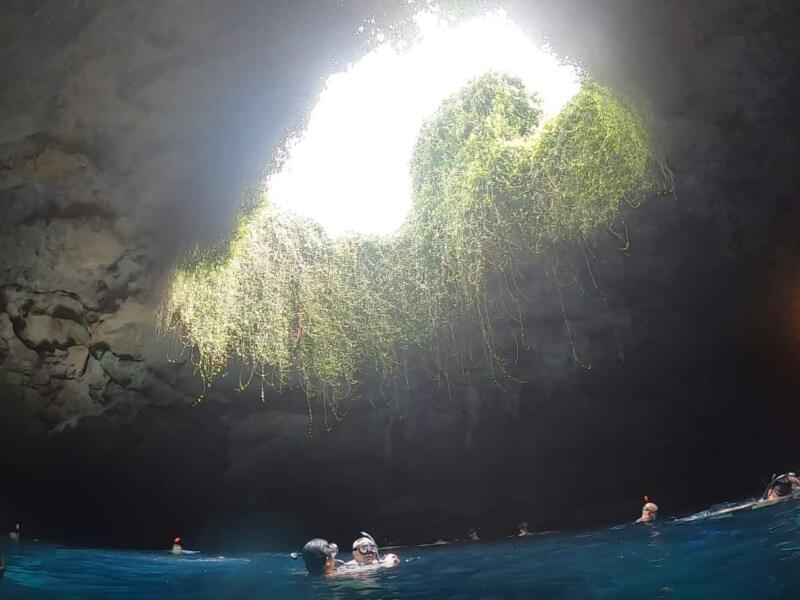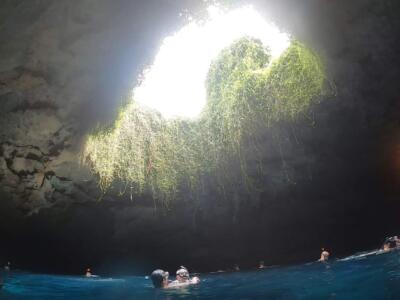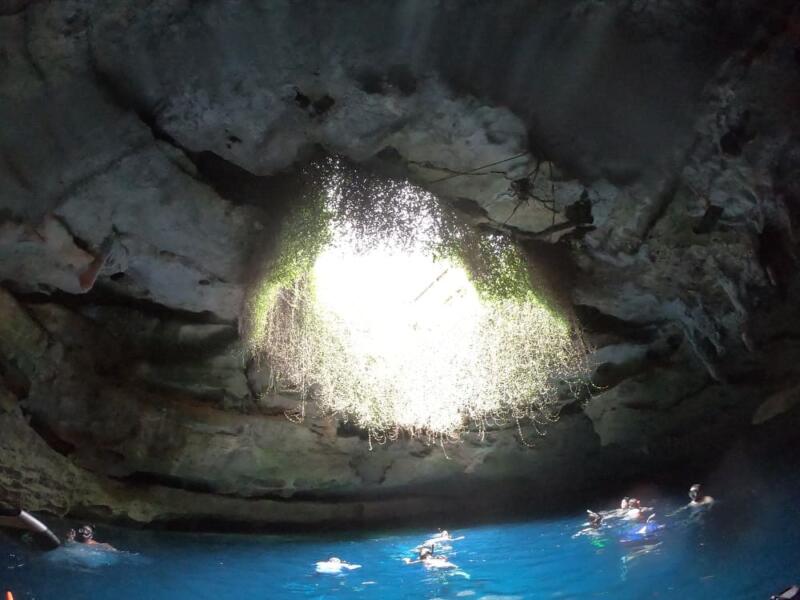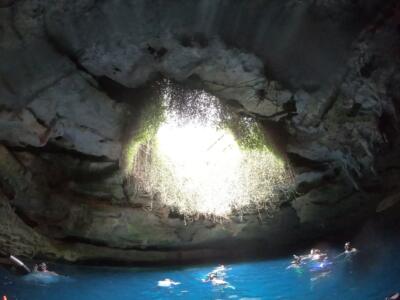 Where To Stay Close To The Devil's Den Prehistoric Spring
You can stay onsite in a cabin, RV, or tent. Or you can choose to stay in one of the hotels in the area.
My recommendation is to stay at the brand-new Quality Inn Suites that was built in 2014 in Dunnellon which is about 24 miles away. If you stay here you can also take in the Rainbow River.
Alternatively, chose other options here:
We are a participant in the Amazon Services LLC Associates Program, an affiliate advertising program designed to provide a means for us to earn fees by linking to Amazon.com and affiliated sites.
Travel Planning Resources
Looking to book your next trip? Use these resources that work:
Are you interested in Volunteer Vacations and Working Holidays? Check out the complete guide to how here!
Need more help planning your trip? Make sure to check out our Resources Page, where we highlight all the great companies that we trust when we are traveling.