Heidiland is a region of Eastern Switzerland packed with high mountains, clear lakes, diverse nature, and original postcard-worthy villages. A total of 32 communities in an area of 24 square miles. It's also home to Heidi Village, the original site of the world-famous Heidi story. A short-day trip from the Bavarian region of Germany, Austria, or Switzerland is a must for anyone familiar with Heidi's story or those looking to experience dramatic Swiss scenery.
We stumbled across Heidiland while searching for day trips from Germany to Switzerland, which was a brilliant choice. Not only did we get to experience Heidi Village, but we also got to explore Bad Ragaz, a picture-perfect spa town – a bonus we did not expect. To top off the experience, we ate in Vaduz, the capital of Liechtenstein, another country that is literally across the river.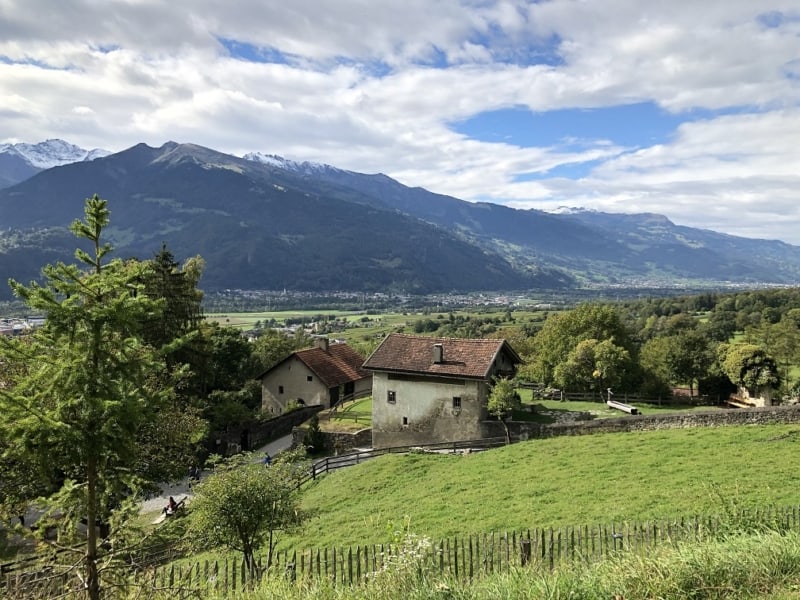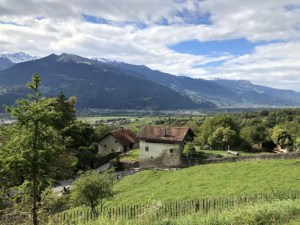 This post may contain affiliate links. Please read our disclosure and privacy policy for more information.
Heidiland History
The region of Heidiland inspired Johanna Spyri's "Heidi," one of the best-selling Swiss books and by far one of the best-known pieces of Swiss literature. Although Heidi is fiction, the Heidiland area inspired Spyri, and it's what she envisioned for Heidi's home. Spyri even used a few real names of places in the area in the book.
Heidi is an endearing children's classic about Heidi's life in the Swiss Alps, written in 1881. It's since been re-written and adapted along with approximately 25 film or television productions. It is also available in 50 languages.
Heidi Story
At age five, little orphan Heidi is sent to live with her grandfather in the Alps. Everyone in the village is afraid of him, but Heidi is fascinated by his long beard and bushy grey eyebrows. She loves her life in the mountains, playing in the sunshine, and growing up amongst the goats and birds. But one terrible day, Heidi is collected by her aunt and is made to live with a new family in town. Heidi can't bear to be away from her grandfather; can she find a way back up the mountain, where she belongs?
About the Author
Johanna Spyri (1827–1901) is an icon in Switzerland and worldwide. She wrote more than fifty stories for children and adults.
Heidi The Movie
About 25 film or television productions of the original story have been made. The first production is a 1937 American musical drama film directed by Allan Dwan and written by Julien Josephson and Walter Ferris, loosely based on Johanna Spyri's 1881 children's book of the same name.
1937 Heidi Film
1952 Heidi Film
1965 Heidi Film
1986 Heidi Film
2005 Heidi Animated Film
2005 Heidi Live-action Film
2015 Heidi Film
There have also been numerous other television adaptations.
Heidi Village
The Heidi House was opened to the public in 1998. It was purchased from a private owner by the local government of Sargans. Sargans is the administrative "capital" of the Heidiland region.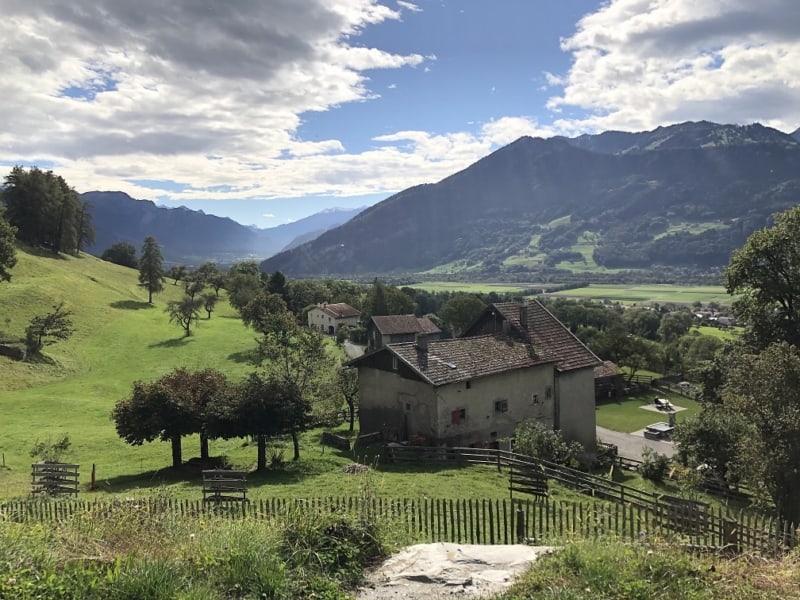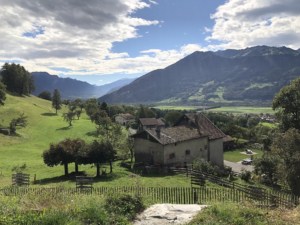 Heidiland Village is home to the peaceful hamlet houses of the original Heidi house, the cabin with the furnishings of Heidi's time, Heidi's alpine hut, a replica of the loving home of Alpöhi, and the exhibition Johanna Spyri's "World of Heidi." Heidi's animals are already waiting in the village. The village shop with souvenirs is Switzerland's smallest post office with a unique post stamp.
Inside Heidi Village
Once you arrive at the village, you'll park at the Hotel Restaurant Heidihof Bovelweg. From there, it's a brief ten-minute walk to the actual village. As you walk to the village, you'll often stop to admire the beauty below you. The views are outstanding! Not only will you see the alps on both sides, but you'll see the villages dotted below. You'll hear all of the cowbells from the milk cows below as you walk. Walking to Heidi Village sets the stage for everything you ever imagined Heidi's place to look like. If you are not familiar with the story or have not read the book, don't worry. It's worth the visit because it's what you believe Switzerland looks like.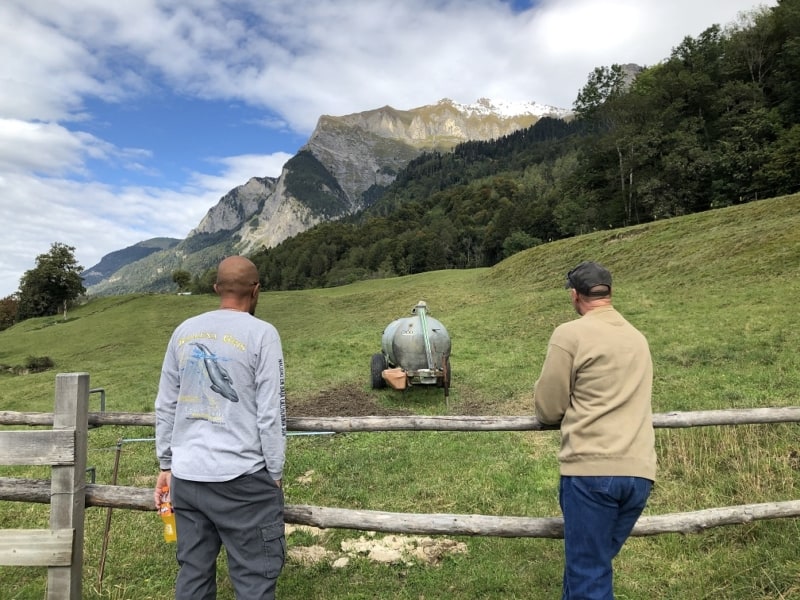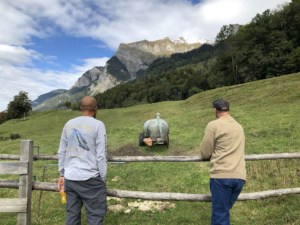 Three things are included in your admission, which cost approximately 12 euros. The original Heidi house, Heidi's alpine hut, a replica of the loving home of Alpöhi, and the exhibition Johanna Spyri's "World of Heidi." It only takes about an hour to view all of it.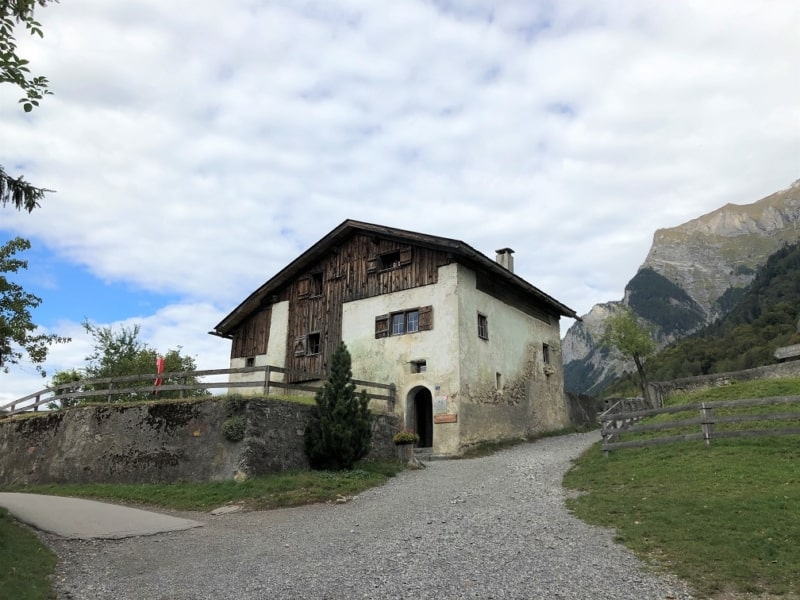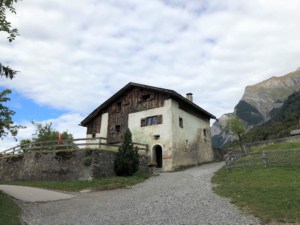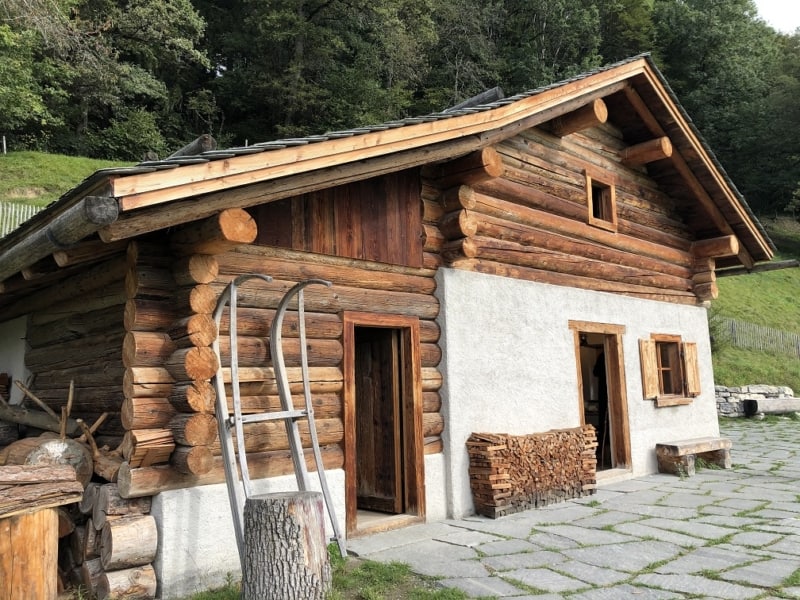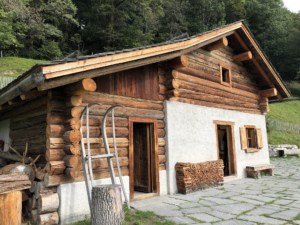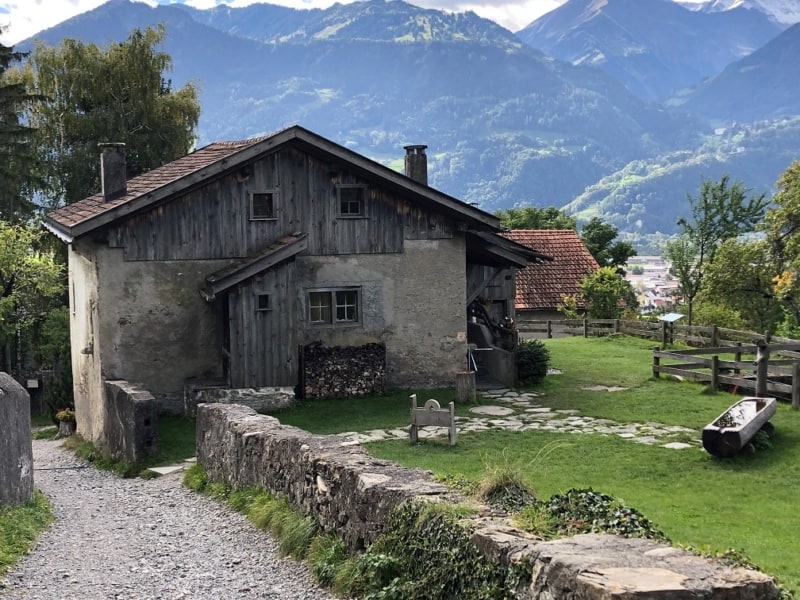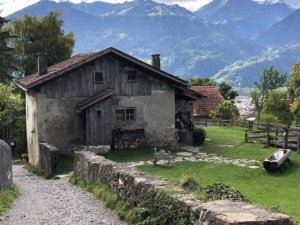 Once you've taken in all the marvels of Heidi's life, it's time to feed the animals. You can buy goat or chicken feed for one euro, and it's worth it to interact with the animals.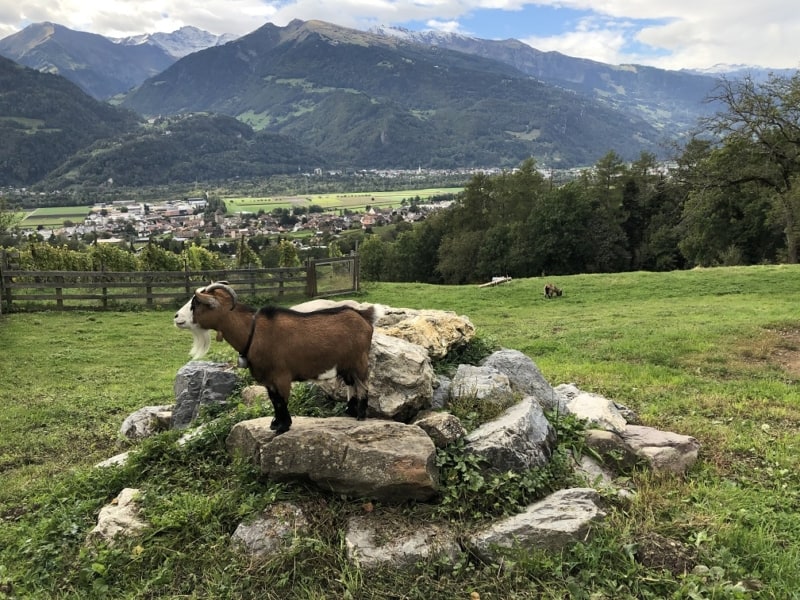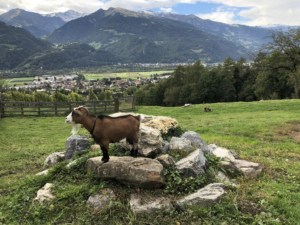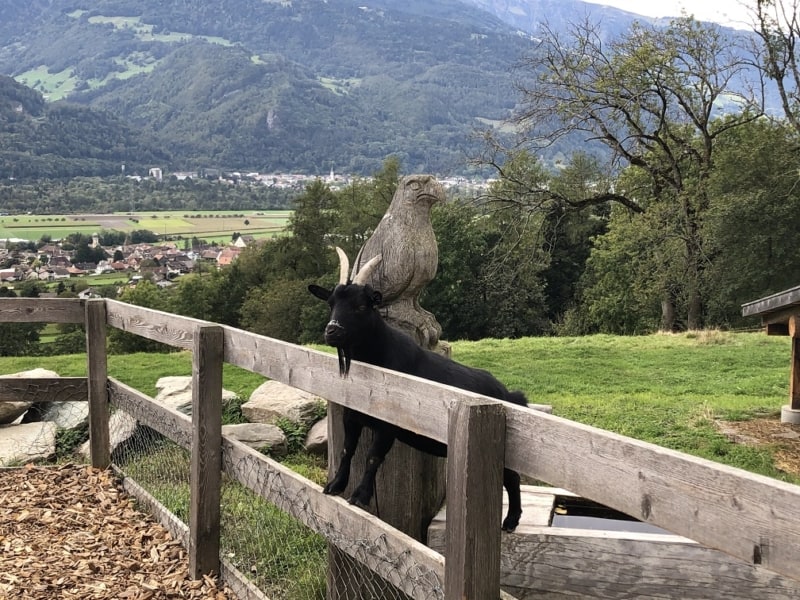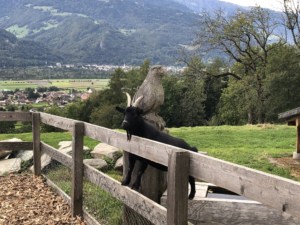 From here, you can then hike or walk the area or, if like us, take some silly photos with the life-size cow statues! Or, get some pictures of yourself with Heidi and Peter.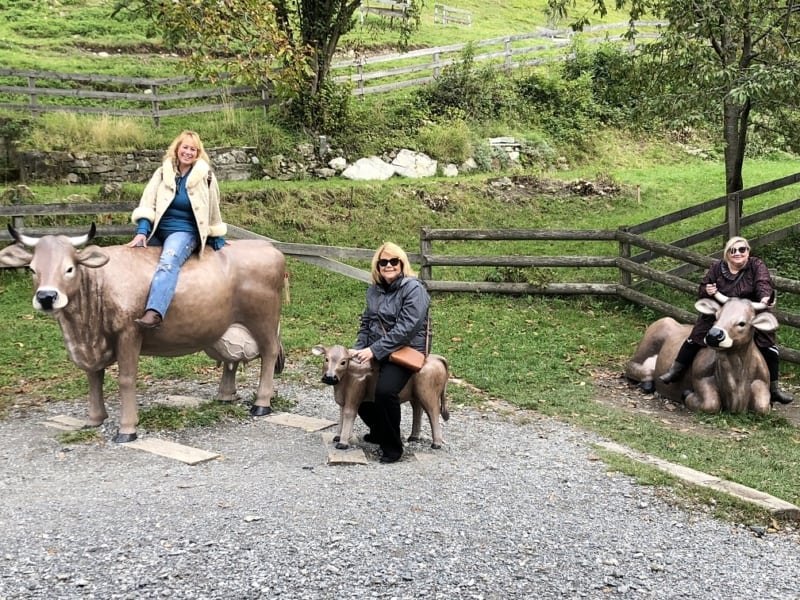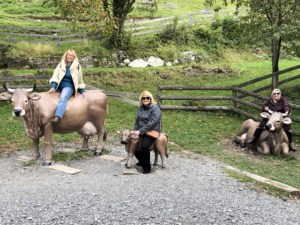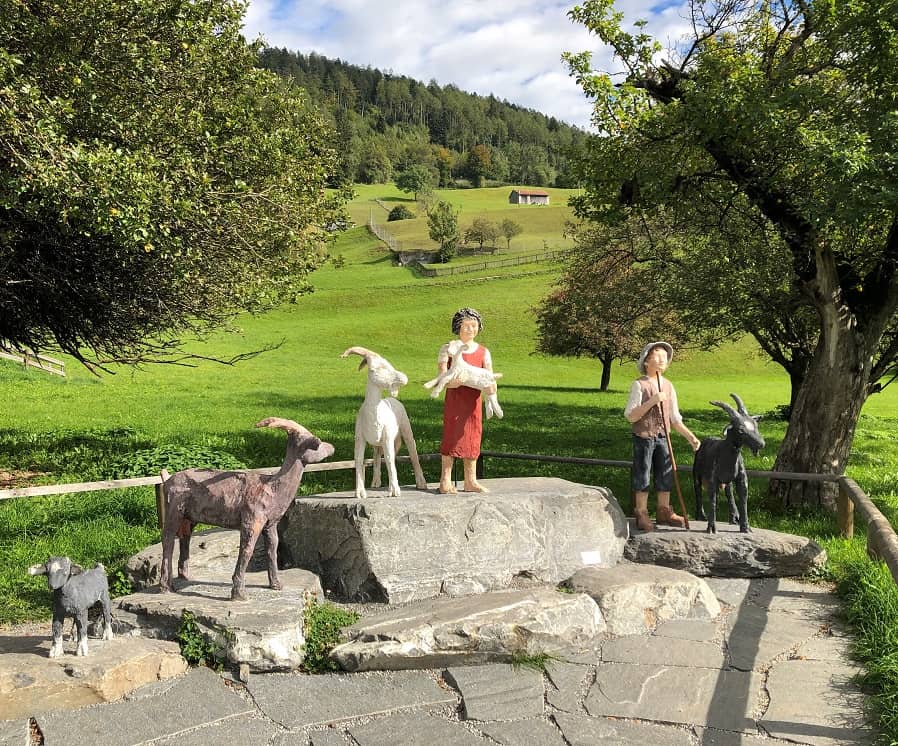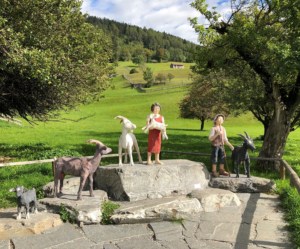 Bad Ragaz
A beautiful village you will pass en route to Maienfeld. It's best known for the Bad Ragaz resort Quellenhof, home to the thermal waters that helped relax and revitalize author Spyri. The Quellenhof resort has an 18-hole golf course and provides luxury spa services.
There is the classic center dressed in colorful storefronts of the many boutiques that are here in town. Pubs and eateries are plentiful to be aware of, all close for long lunches.
A beautiful stream that runs through Bad Ragaz is worth looking at. Even the bridge is dressed in planters full of magnolias.
To bathe in the thermal waters of the Tamina Valley and the Rhine Valley, pilgrims have traveled to the Abbey of Pfäfers near Bad Ragaz since the mid-13th century. Paracelsus, a physician and philosopher became the first doctor in Bad Pfäfers in 1535 and attested to the healing powers of the thermal springs. A new era of spa tourism had begun. A bathhouse was built beneath the Benedictine Monastery in Pfäfers in 1716, making it the earliest baroque bathhouse in Switzerland.
Ragaz became a popular health resort after the thermal water was piped to it 4 kilometers away in 1840. Like the richly traditional Grand Hotel in Bad Ragaz, luxury hotels were built for wealthy travelers, including Russian nobility. Various medical and wellness packages are available today at the Tamina Thermal Spa in Bad Ragaz.
Winter In Bad Ragaz
There are 1600m to 2220m of vertical elevation in the Pizol ski region. Twelve railways and lifts, more than 40 km of pistes, a free-ride paradise, a winter sports school, cross-country trails, and exciting ski tours await winter sports enthusiasts. Snowshoe hikers will enjoy the marked snowshoe trails, and toboggan fans will rejoice at the 7 km toboggan run. A panoramic view is available from the footpath in the mountains.
Summer In Bad Ragaz
There are two golf courses in Bad Ragaz that complement the spa perfectly. A great biking and hiking area is Bad Ragaz's home mountain, the Pizol, as well as the plain of the Rhine Valley. Nearby Rhine Dam has a popular cycling and inline skating route. With its magnificent views of the eastern Swiss alpine landscape, the five-lake hike on mount Pizol takes about four hours and passes five crystal clear mountain lakes.
Among the rewarding excursions in Bad Ragaz are those to Heidi country, where Bad Ragaz belongs; to Liechtenstein; Chur; the Sargans castle; and St. Gallen.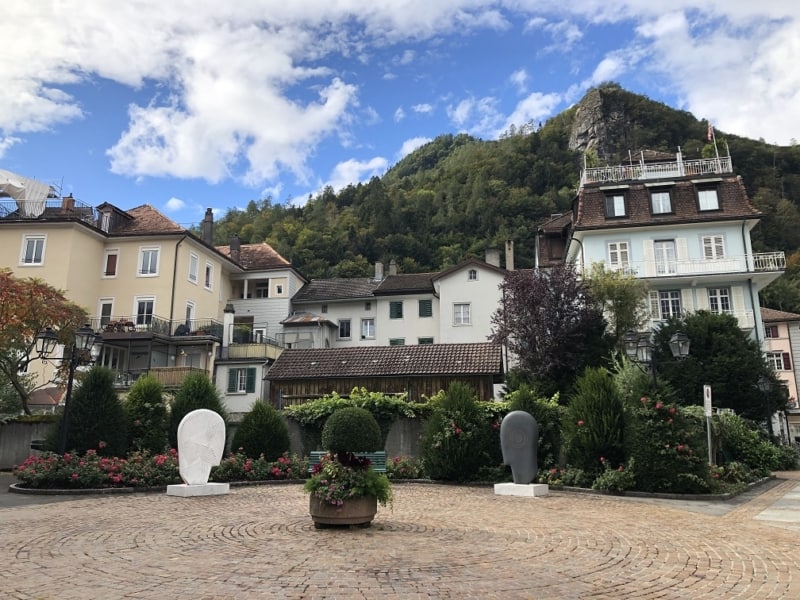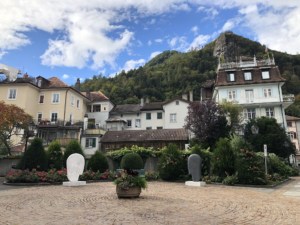 How to Get To Bad Ragaz
Most villages and towns in Heidiland are less than an hour from Zurich. If you are staying closer to the border, it's even less. We stayed at Missen Wiliams, a tiny town in Germany, and it took us about 45 minutes to drive there.
Hotels Near Heidiland and Bad Ragaz
Before you take a look at all the places you can stay, one famous and worth its call-out is the Grand Resort Bad Ragaz.
Grand Resort Bad Ragaz
There is no better place to relax and enjoy tranquility than the Grand Resort Bad Ragaz. Designed to heal, prevent disease, and assist in self-discovery in an alpine setting. Two five-star hotels make up the luxury and lifestyle resort, the Grand Hotel Quellenhof & Spa Suites and the Grand Hotel Hof Ragaz. Guests can enjoy 233 luxurious rooms and suites and an exclusive health and spa experience.
A top-notch healthcare and nutrition center is located on the resort. Doctors and therapists who use a unique holistic health philosophy support patients on their journey towards a healthier version of themselves. A variety of pools are available in the exclusive thermal spa, all using body-temperature thermal water. Massages and sauna rituals are also available to guests.
A total of seven restaurants provide exquisite culinary delights, including five Michelin stars and 76 GaultMillau points, along with three bars, a sushi takeaway, a bistro, and a café. The resort offers two golf courses, the Kursaal Meetings & Events Center, the public Tamina Therme thermal spa, and its Casino.
Frequently Asked Questions About Heidi and Heidiland
What is the story of Heidi about?
In this novel, grumpy, old, outcast, survivalist grandfather Adolph Kramer takes care of orphaned Heidi, age eight, after her selfish aunt Dete abandons her in the mountains. Heidi brings her grandfather back into mountain society through her angelic ways, sheer love, and adorable personality.
Is Heidi a true story?
It's technically children's fiction. However, this heart-warming story is based on Heidi Schwaller's real-life adventures near Chur, Switzerland, who grew up in the Swiss Alps.
What is the moral of, Heidi?
It is a story about a little girl with a big heart who triumphs over the narrow-minded attitudes of adults in her early years. She wins the hearts of her grandfather and two friends from opposite classes. Even during dark times, her smile never fades, and she always shows kindness, laughter, and love.
The moral is that kindness, laughter, and love always win.
What is Heidiland in Switzerland?
Heidiland is a region of Eastern Switzerland packed with high mountains, clear lakes, diverse nature, and original postcard-worthy villages. A total of 32 communities in an area of 24 square miles. It's also home to Heidi Village, the original site of the world-famous Heidi story.
Where is Heidi's house in Switzerland?
Heidi Village is in Maienfeld, Switzerland. Visitors can explore the Heidi Alp and Heidi House along the Heidi Trail.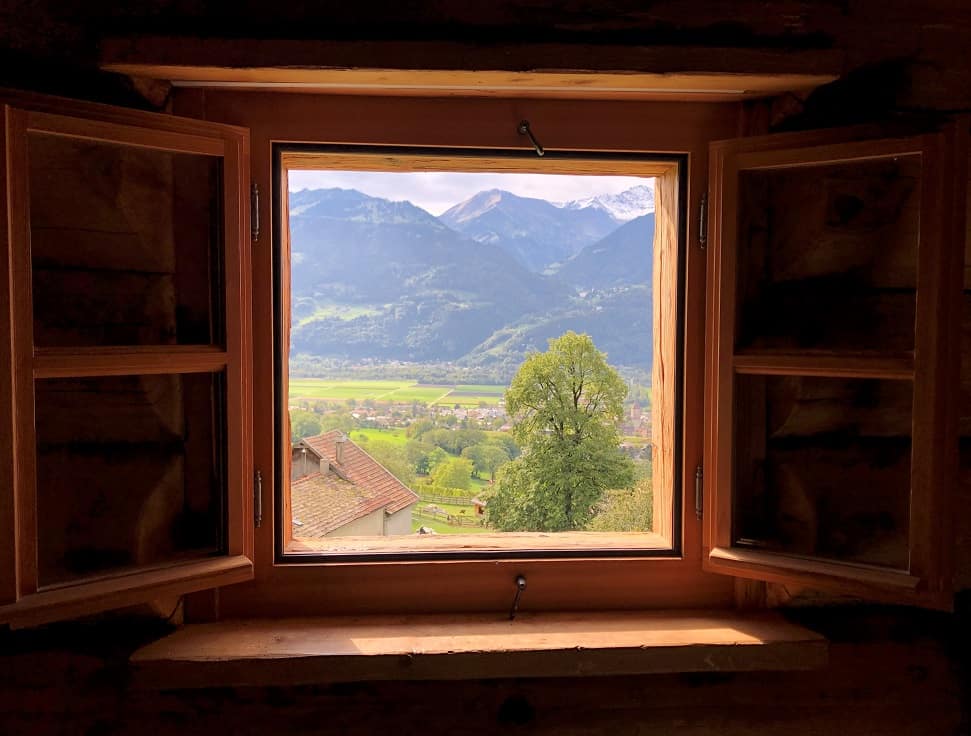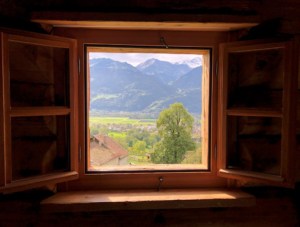 Where or where was Heidi's home?
Heidi's home is in Maienfeld Switzrland.
Address: Valenserstrasse 6, 7310 Bad Ragaz, Switzerland
Where is Heidi's country?
Heidi country is a region of Eastern Switzerland.
Where does Heidi live?
At Heidiland in Maienfeld Switzrland.
Can I watch Heidi on Netflix?
A Heidi 2015 cartoon version of Heidi is available on Netflix, starring Monique Hore, Sophia Morrison, and Peter McAllum.
Closing Thoughts
Outside of the apparent beauty of the region, a visit to Heidiland will activate the child within you! A visit to Bad Ragaz will place you inside the quaint towns with postcard-worthy views.
Looking for more places to visit close to Heidiland? Start here:
We participate in the Amazon Services LLC Associates Program, an affiliate advertising program designed to provide a means for us to earn fees by linking to Amazon.com and affiliated sites.
Brit On The Move™ Travel Resources
Ready to book your next trip? Use these resources that work:
Need more help planning your trip? Check out our Resources Page, highlighting the great companies we trust when traveling.