Heidiland is a region of Eastern Switzerland packed with high mountains, clear lakes, diverse nature, and original postcard-worthy villages. A total of 32 communities in an area of 24 square miles. It's also home to Heidi Village, the original site of the world-famous Heidi story. A short-day trip from the Bavarian region of Germany, Austria, or Switzerland is a must for anyone familiar with Heidi's story or those looking to experience dramatic Swiss scenery.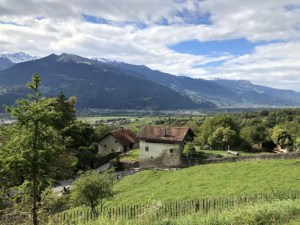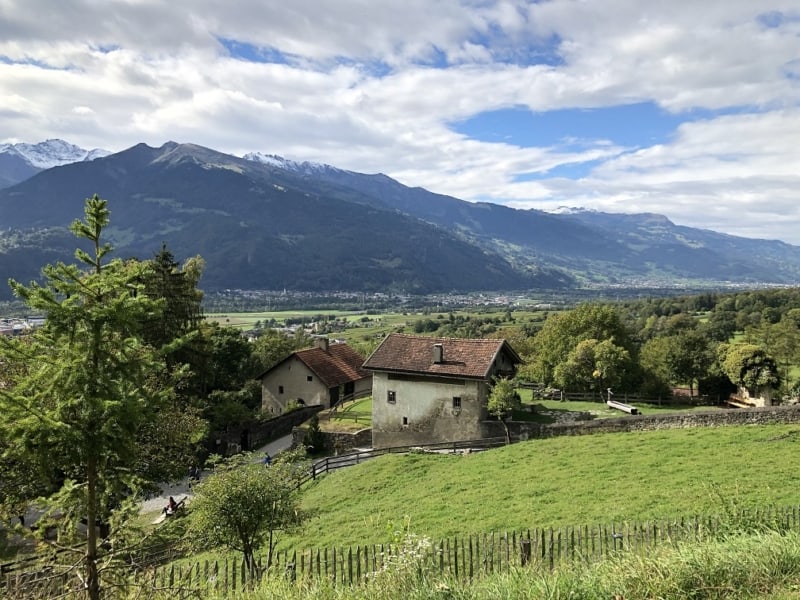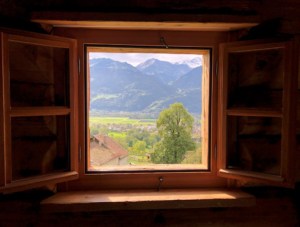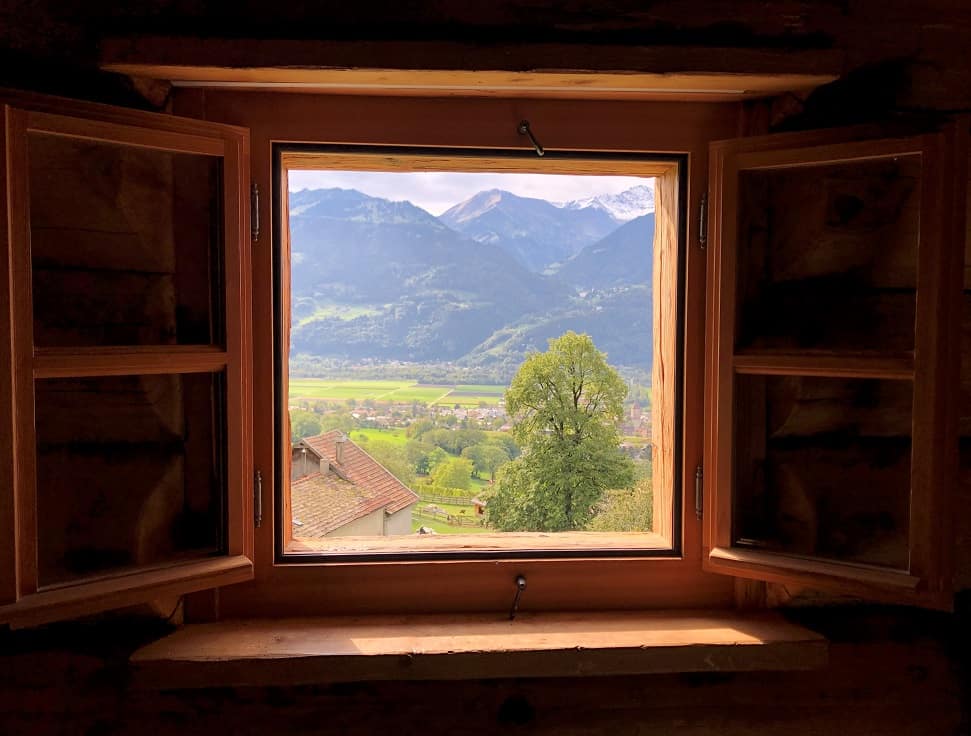 We stumbled across Heidiland while searching for day trips from Germany to Switzerland, and it was a brilliant choice. Not only did we get to experience Heidi Village, but we also got to explore Bad Ragaz, which is a picture-perfect spa town – a bonus we did not expect. To top off the experience, we ate in Vaduz, the capital of Liechtenstein, another country that is literally across the river.
This post may contain affiliate links. Please read our disclosure and privacy policy for more information.
Heidiland History
The region of Heidiland inspired Johanna Spyri's "Heidi," one of the best-selling Swiss books and by far one of the best-known pieces of Swiss literature. Although Heidi is fiction, the Heidiland area inspired Spyri, and it's what she envisioned for Heidi's home. Spyri even used a few real names of places in the area in the book.
Heidi is an endearing children's classic about Heidi's life in the Swiss Alps, written in 1881. It's since then been re-written and adapted along with approximately 25 film or television productions. It is also available in 50 languages.
Heidi Story
At the age of five, little orphan Heidi is sent to live with her grandfather in the Alps. Everyone in the village is afraid of him, but Heidi is fascinated by his long beard and bushy grey eyebrows. She loves her life in the mountains, playing in the sunshine, and growing up amongst the goats and birds. But one terrible day, Heidi is collected by her aunt and is made to live with a new family in town. Heidi can't bear to be away from her grandfather; can she find a way back up the mountain, where she belongs?
About the Author
Johanna Spyri (1827–1901) is an icon in Switzerland and around the world. She wrote more than fifty stories for children and adults.
Heidi Village
The Heidi House was opened to the public in 1998. It was purchased from a private owner by the local government of Sargans. Sargans is the administrative "capital" of the Heidiland region.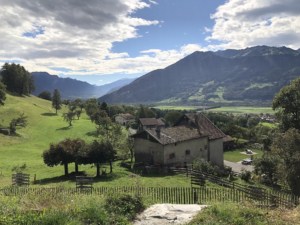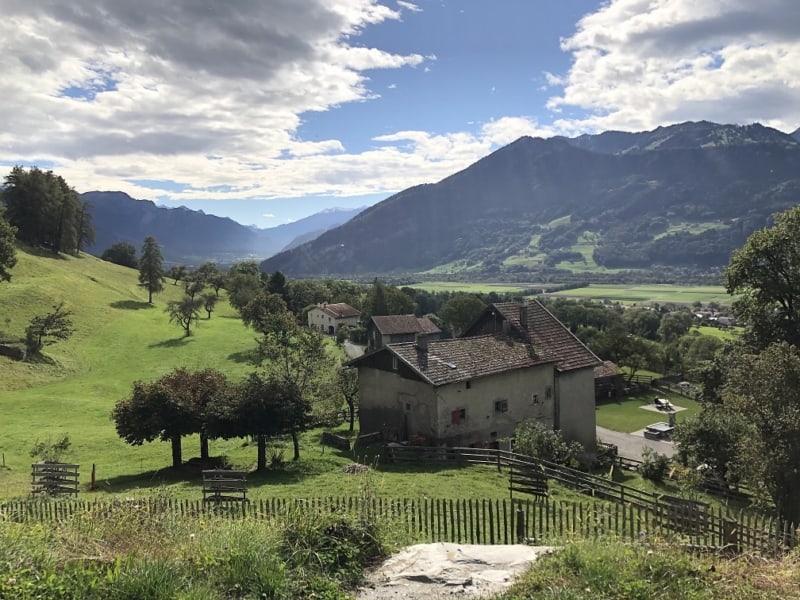 Heidiland Village is home to the peaceful hamlet houses of the original Heidi house, the cabin with the furnishings of Heidi's time, Heidi's alpine hut, a replica of the loving home of Alpöhi, and the exhibition Johanna Spyri's "World of Heidi." Heidi's animals are already waiting in the village. The village shop with souvenirs is Switzerland's smallest post office with the unique post stamp.
Inside Heidi Village
Once you arrive at the village, you'll park at the Hotel Restaurant Heidihof Bovelweg. From there, it's a brief ten-minute walk to the actual village. As you walk to the village, you'll stop many times to admire the beauty below you. The views are outstanding! Not only will you see the alps on both sides, but you'll see the villages dotted below. As you walk, you'll hear all of the cowbells from the milk cows below. Walking to the Heidi Village sets the stage for everything you ever imagined Heidi's place to look like. If you are not familiar with the story or have not read the book, don't worry. It's worth the visit because it's what you believe Switzerland looks like.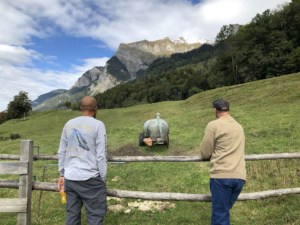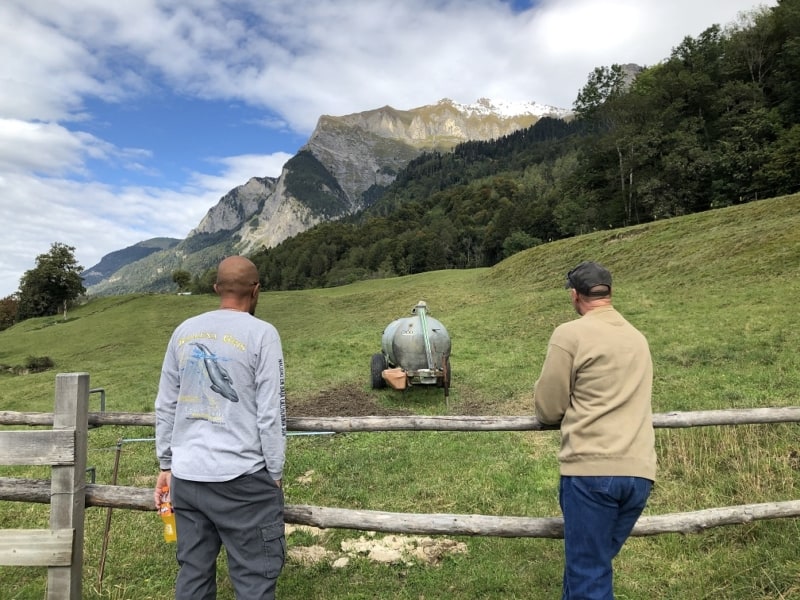 There are essentially three things included in your admission, which costs approximately 12 euros. The original Heidi house, Heidi's alpine hut, a replica of the loving home of Alpöhi, and the exhibition Johanna Spyri's "World of Heidi." It only takes about an hour to view all of it.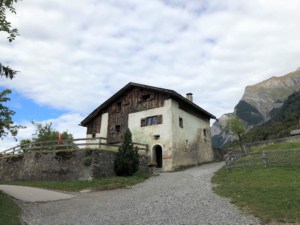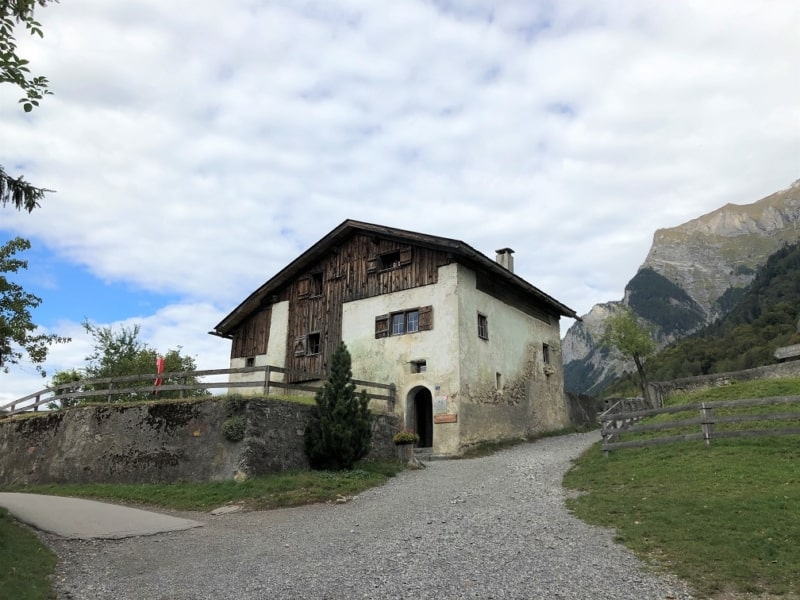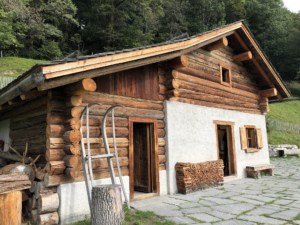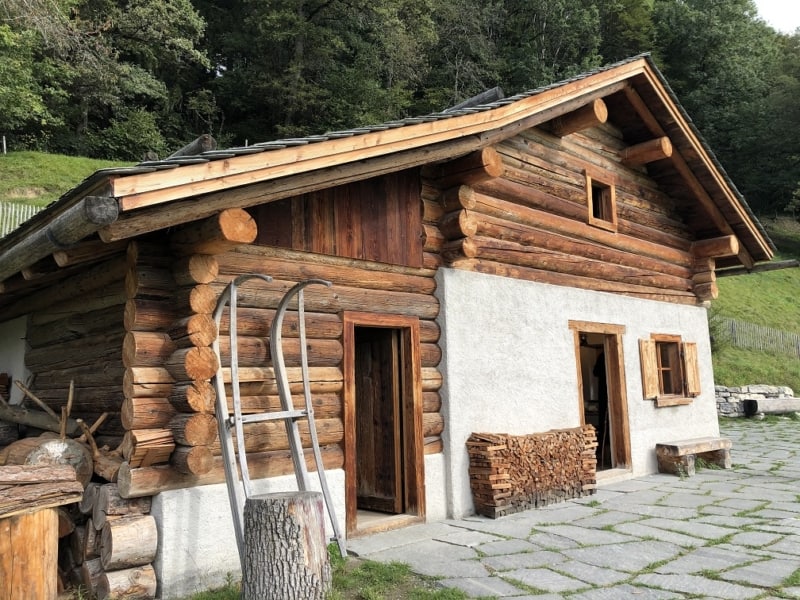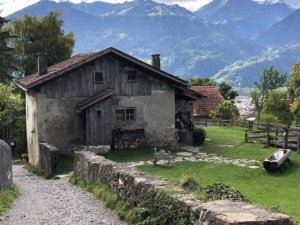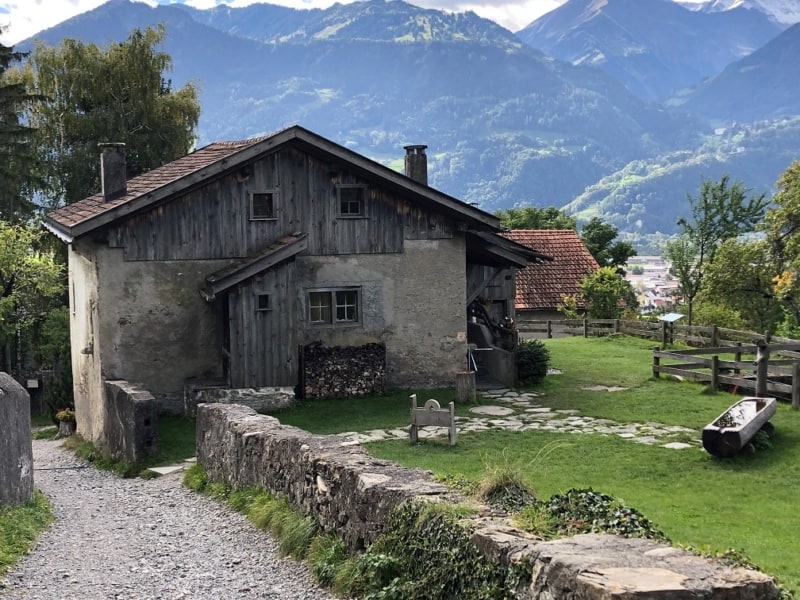 Once you've taken in all the marvels of Heidi's life, it's time to feed the animals. You can buy goat or chicken feed for one euro, and it's worth it to interact with the animals.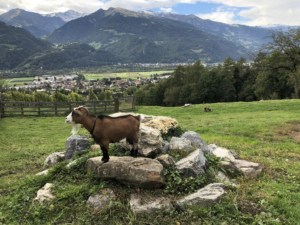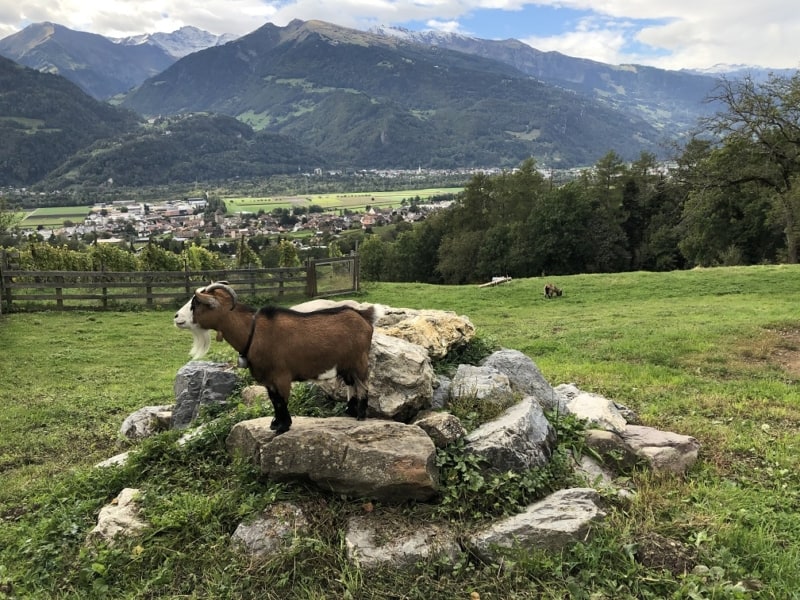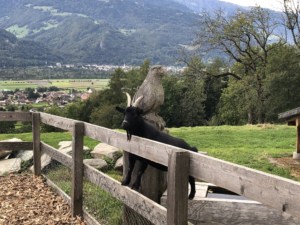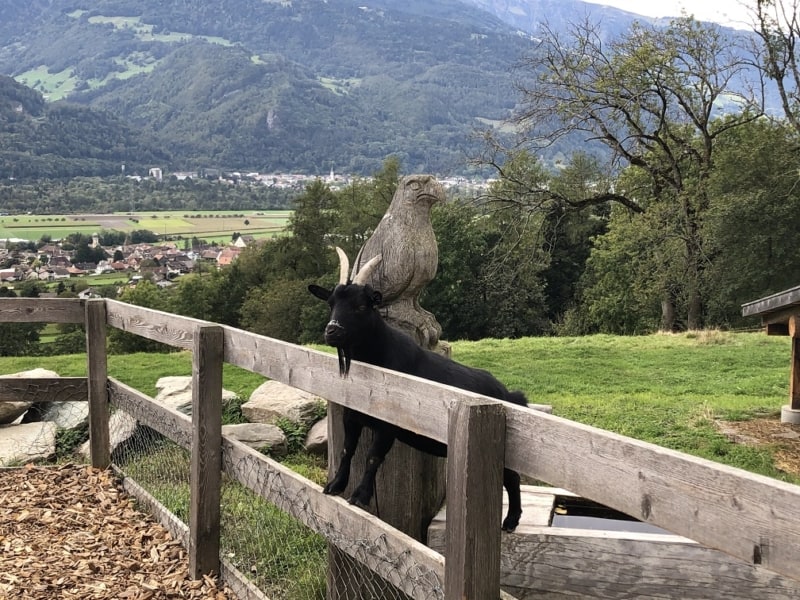 From here, you can then hike or walk the area or, if like us, take some silly photos with the life-size cow statues! Or, get some pictures of yourself with Heidi and Peter.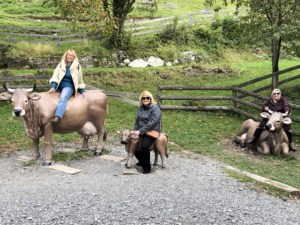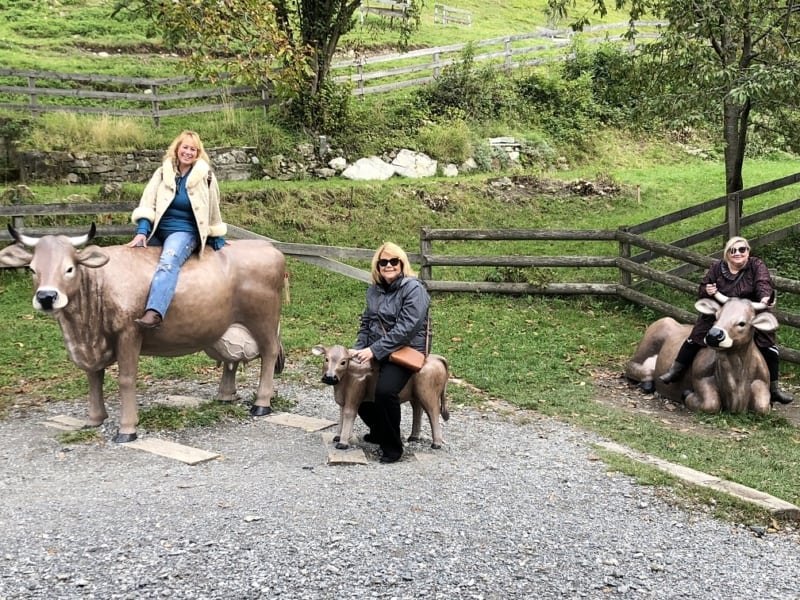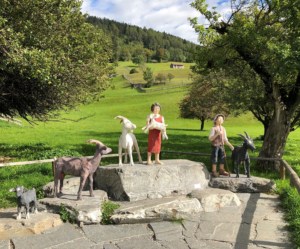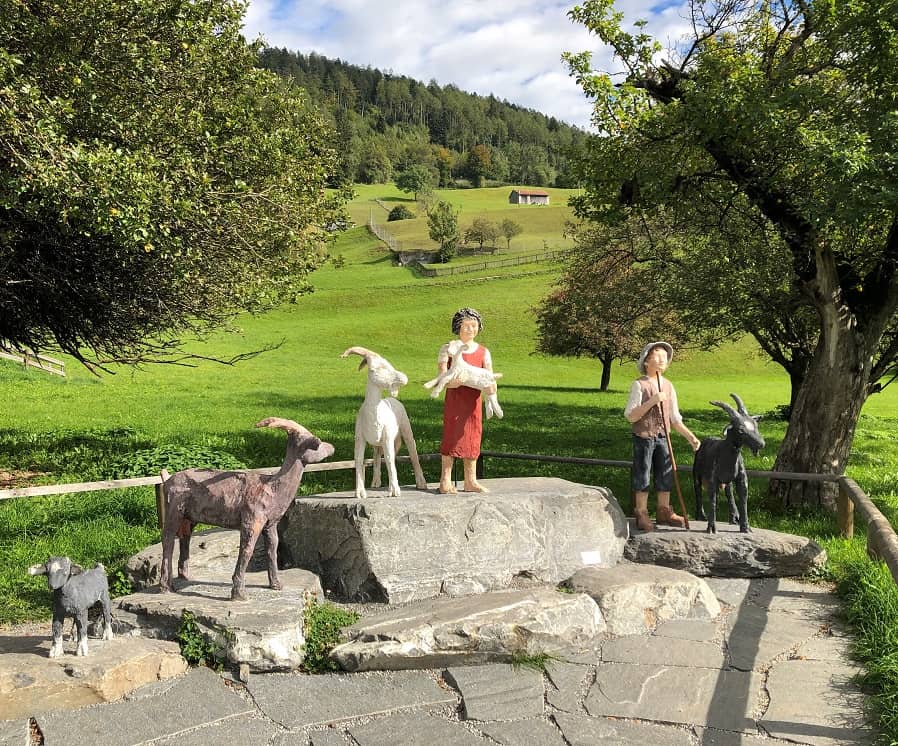 Bad Ragaz
A beautiful village you will pass en route to Maienfeld. It's best known for the Bad Ragaz resort Quellenhof, home to the thermal waters that helped relax and revitalize author Spyri. The Quellenhof resort has an 18-hole golf course and provides luxury spa services.
There is the classic center dressed in colorful storefronts of the many boutiques that are here in town. Pubs and eateries are plentiful to be aware of, all close for long lunches.
There is a beautiful stream that runs through Bad Ragaz that is worth looking at. Even the bridge is dressed in planters full of magnolias.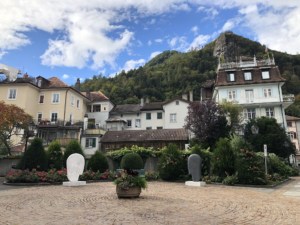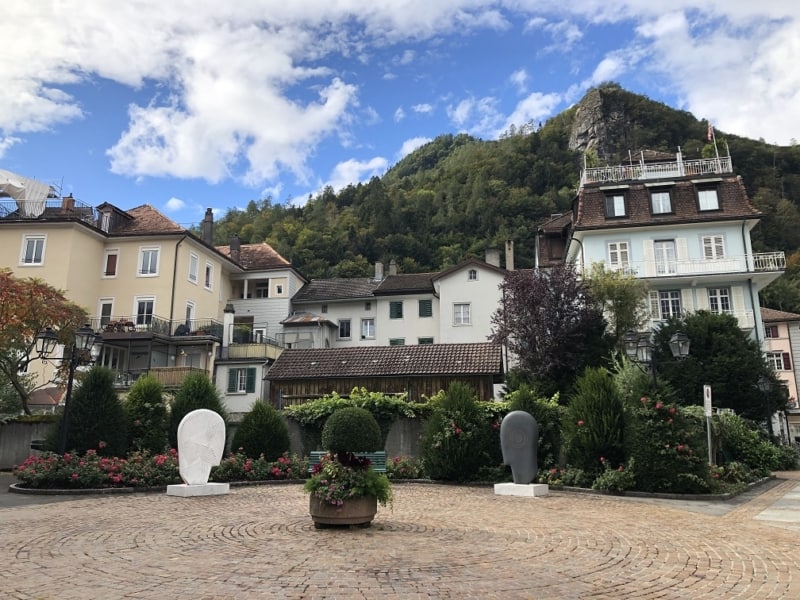 How to Get To Bad Ragaz
Most villages and towns in Heidiland are less than an hour from Zurich. If you are staying closer to the border, it's even less. We stayed at Missen Wiliams, a tiny town in Germany, and it took us about 45 minutes to drive there.
Hotels Near Heidiland and Bad Ragaz