Safari Wilderness – An African Safari in Florida!
An Africa Safari in Florida? Yes, really, and right in the heart of Central Florida. And, not a theme park imitation. An actual safari. Safari Wilderness is an authentic safari experience that enables you to ride through 260 acres of land where the animals roam free. Safari Wilderness is the only place in Central Florida where you can experience African animals in this setting. If an environment so realistic to home were not for the native species and Cyprus trees, you would have no idea you are in the middle of Central Florida.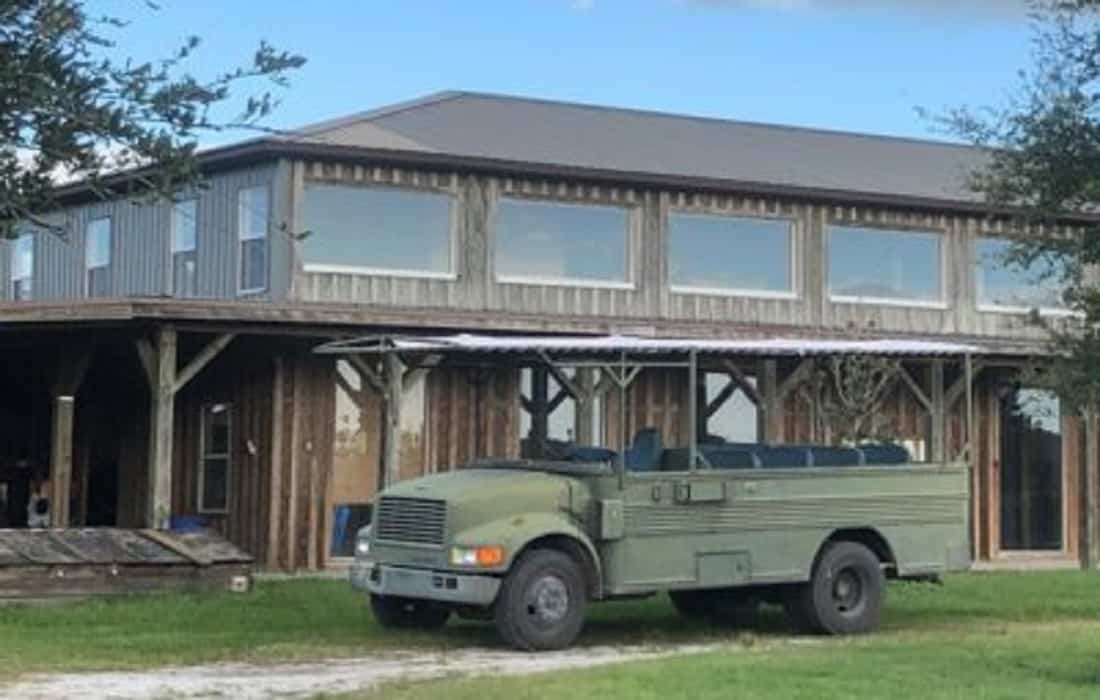 This post may contain affiliate links. Please read our disclosure and privacy policy for more information.
This is not a sponsored post but we were invited to visit Safari Wilderness. All the opinions are those of Brit on the Move™. And, you know the deal. I will tell you the good, the bad and the ugly.
The History of Safari Wilderness
Opening to the public on March 1, 2012, Safari Wilderness is the brainchild of Lex Salisbury, who has over 35 years of experience with exotic animals. Lex worked in zoos worldwide and was the former President and CEO of Tampa's Lowry Park Zoo. Having traveled the world and taken many trips to Africa, Lex wanted to bring the safari experience to those that may not have the opportunity to travel to Africa. Safari Wilderness is Lex's second safari ranch. He also owns the sister ranch Giraffe Ranch in Dade City, Florida. What he's created is magical.
The Location
Safari Wilderness is in Lakeland, which is in Central Florida. It sounds like an ordinary location; only it's not. Safari Wilderness is in the heart of The Green Swamp. Totaling 110,000 acres or approximately 870 square miles. The Green Swamp is the second-largest swamp in Florida after the Everglades. Spannings five counties: the Peace River's headwater, Withlacoochee River, Ocklawaha River, and Hillsborough River. The swamp is home to many indigenous animals, birds, and reptiles you will encounter on your trip. You may see alligators, bobcats, raccoons, or a whole host of the 500 species in Florida.
Safari Wilderness is located at at:10850 Moore Rd. Lakeland, FL 33809
The Animals of Safari Wilderness
There are over 450 animals on-site from 50 different species. Many animals can't be housed in traditional zoos because they live in large groups and require a lot of space to roam freely. Safari Wilderness is home to many exotic hoofstock species. For example, scimitar-horned oryx (a species that is extinct in the wild), defassa waterbuck, zebra, camels, ring-tailed and red-ruffed lemurs, red lechwe, nilgai, kudu, watusi, to name a few.
The Experiences at Safari Wilderness
There is more than one way to enjoy Safari Wilderness: a camelback and kayaking to the traditional safari vehicle. We opted for the Customized Vehicle Safari and have no regrets!
The Customized Vehicle Safari
The tour starts with you boarding a custom converted bus. The bus does have a canopy for shade, and it's comfortable with lots of viewing space. After you have boarded the bus, your guide will give you a brief history of the place and explain the safety rules. From there, off you go on your wild adventure!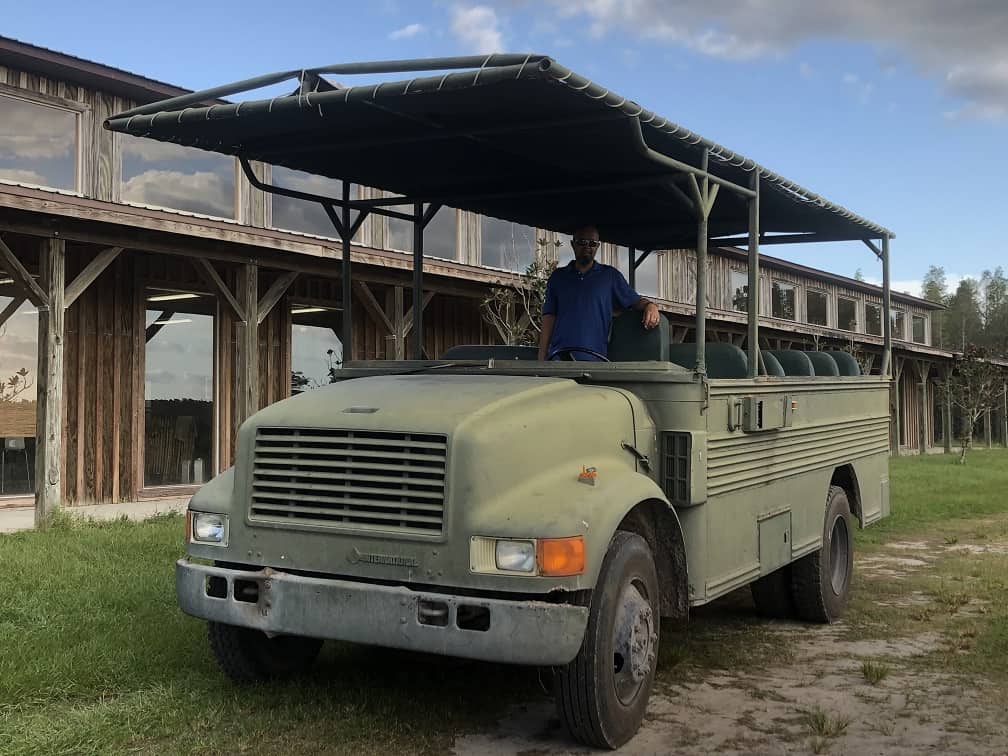 I want you to close your eyes for a moment.
Imagine arriving at a mysterious gate soon to open. You don't know what's behind the gate because you can't see. Your heart starts beating. Someone in our group yelled, "Jurassic Park," which is an accurate analogy of how it feels. Just on a tad smaller scale. As the anticipation builds, you enter and get your first glimpse of the pastures.
Lamas and an ostrich immediately meet you. You may have seen both up close, but these guys come right up to the vehicle. You can feed and pet them! This is not your ordinary safari experience. And, for the record, these are not domesticated animals. Instead, they have become accustomed to the tours and the treats in store.
Our tour guide, Art, lovingly referred to the female ostrich as "Mama" because she's the mother of the two brothers running around across the other side of the pasture. You'll meet her kids in person later. Mama is a sassy and pushy young lady! She followed us all over the tour, insisting on more treats. She's quite the character, running behind the vehicle to the next stop knowing there are treats. Mama does nip, but it's nothing to fuss about, as confirmed by one of the guests who had the privilege.
Meet Mama – The Unofficial Tour Guide of the Day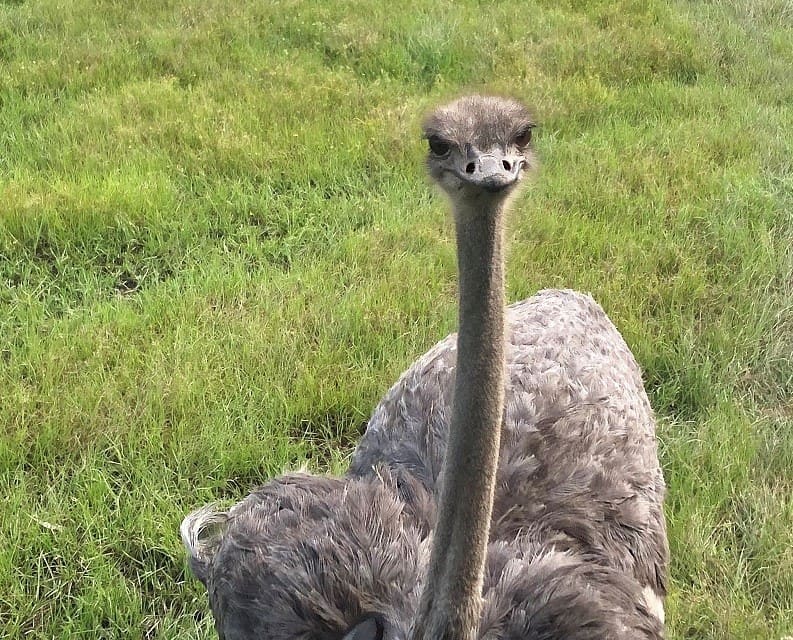 Then there are these guys, the llama everywhere, including border control. Yep is a run where various animals roam to keep things in order between the double-wide fence. The llamas are comical. Almost all of them need dental work! That's a joke, but they do have ugly crooked teeth!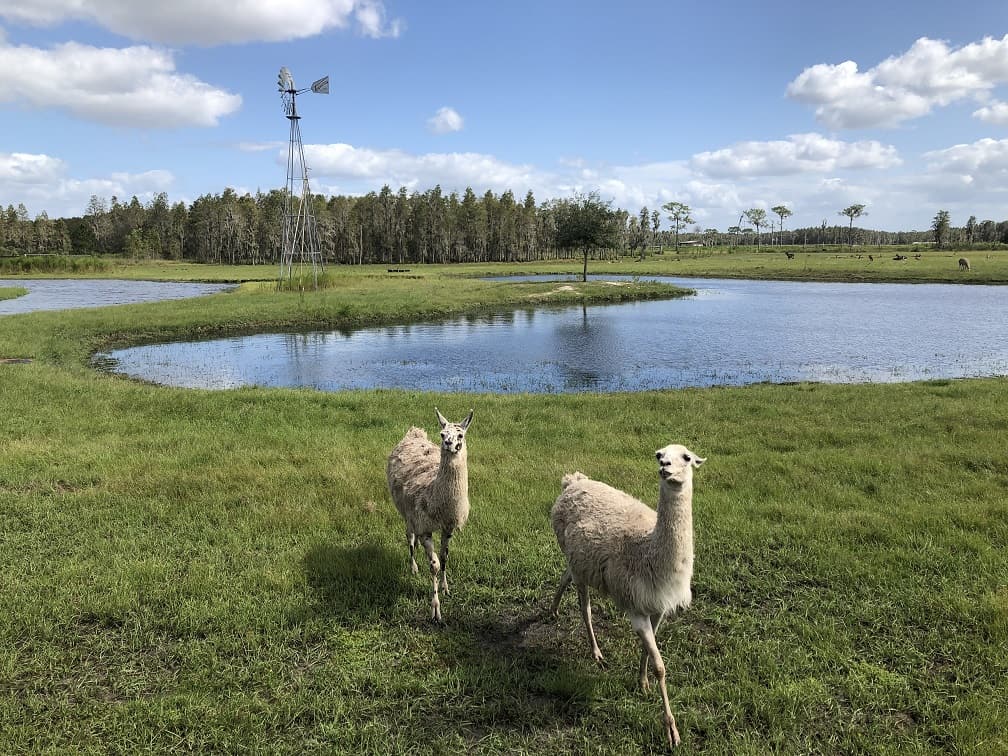 As you proceed further into the tour, you encounter various animals like the eland, red lechwe, sitatunga, waterbuck, balasingham, axis deer, fallow deer, nilgai, and more; unique and endangered species in large herds!
Defassa Waterbuck
The defassa is a large waterbuck with a brown-gray coat that emits an oily secretion from its sweat glands, which acts as a water repellent. Native to Africa south of the Sahara, they usually live in herds near water. Males of all species have long, heavily ridged horns that curve backward and upward.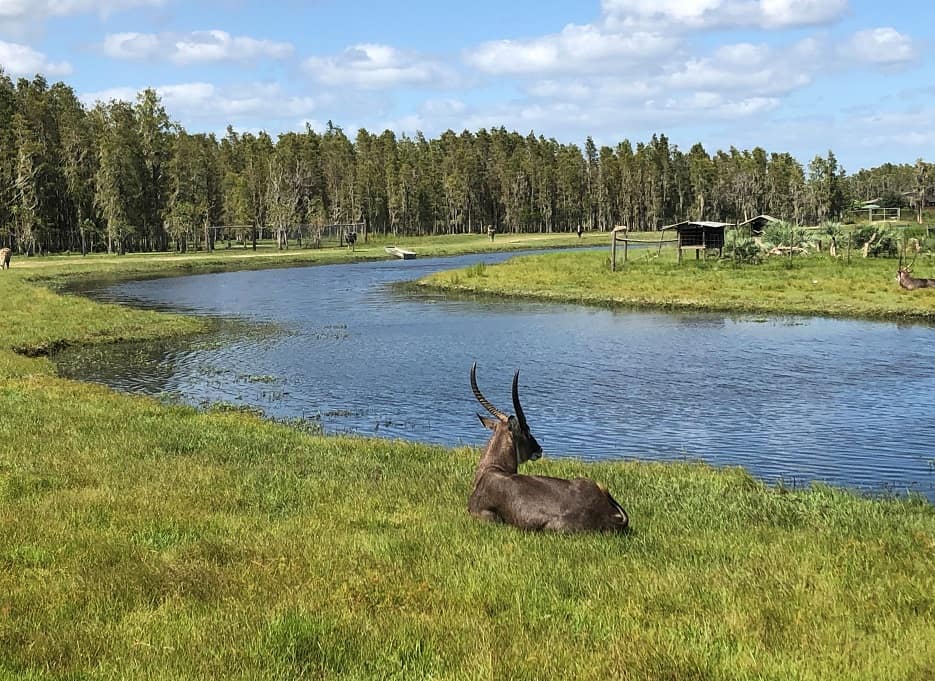 Watusi Cattle
This is not an ordinary cow, nor is it an American LongHorn. Another African native is well-known for their larger-than-life, upturned horns, which can each reach up to 5 ft in length. Watusi has many patterns and may be solid or spotted in color.
Grant's Zebra
There are dozens of zebras running through the pastures in herds. We got to meet this little fellow who was only a day old:
The zebras are fertile! There has been almost a baby a month this year, and one of the females was heavily pregnant, expecting an October baby.
Did you know that baby zebras can walk within ten minutes of birth? They must be able to walk so that they can move with the heard. If not, they risk abandonment.
What You Need To Enjoy A Safari
Water Buffalo
Before this experience, if you had told me that water buffalo are adorable, I would have raised an eyebrow. Having got up close and personal with them, I found them endearing and cute. Sure, they are a few thousand pounds of force, but Kelly from Visit Central Florida said it best. The buffalo come running up to the vehicle like kids to an ice cream truck. They are not aggressive; they drool all over you as you give them treats, and they enjoy petting. You should know cute as slobbery as they are; their hair feels like a thistle brush mat – it's not soft or fluffy.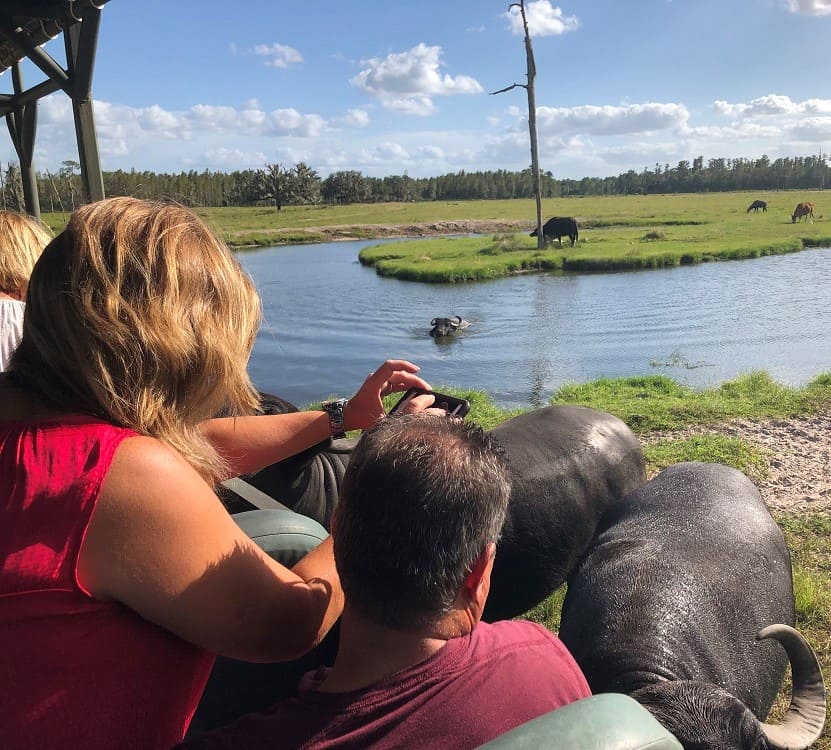 Meeting the water buffalo was the highlight of the tour for me. They have so much personality, and it was such an unusual experience. I wonder if my new neighbors will mind if I get a pet water buffalo?
Mama's Mate and Kids
Mama's mate did come up and say hello, but he was nowhere near as interested in us as his partner. Size-wise, they are similar; the only real physical difference is color. Personality-wise, it's apparent that Mama is the boss. Well, the kids of these two are a whole different story. Much like any kids, they are naughty, full of energy, and tried very skillfully to escape as we left. The two juveniles had us all in stitches as they crept up behind us as we began to move. They were kept away with treats!
Here is Mama with her other half approaching: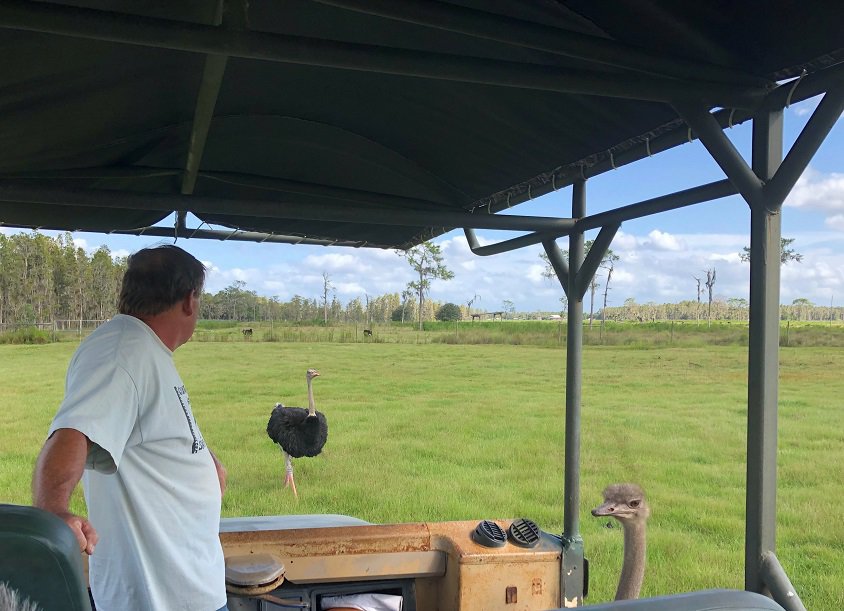 Here is one of Mama'sboys hanging with the zebras: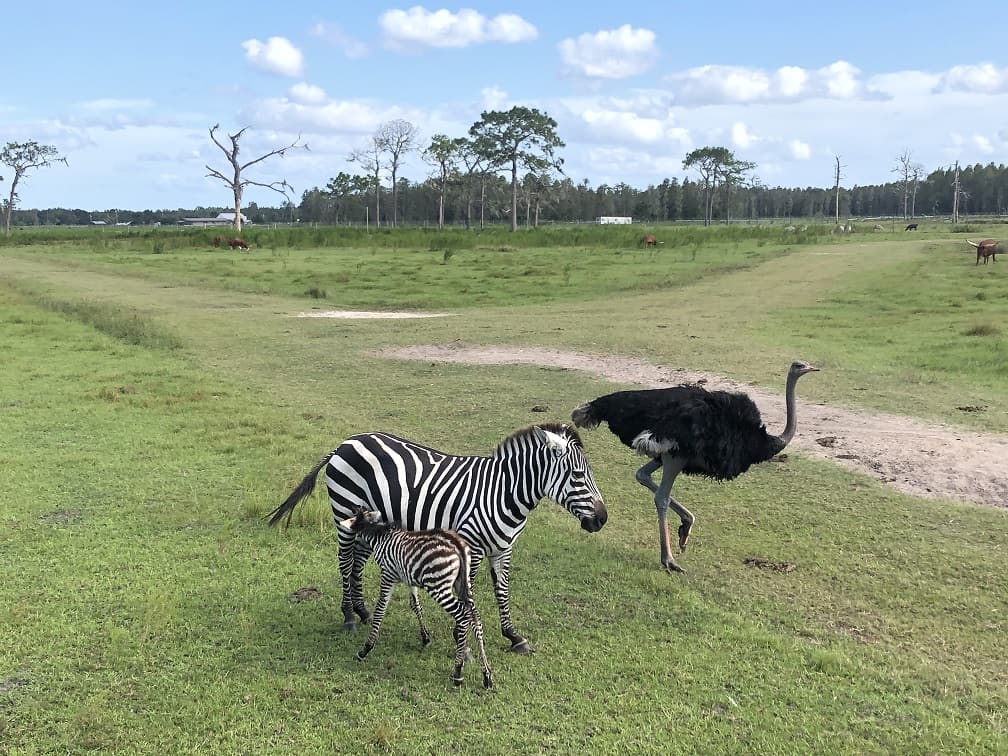 We saw many other species during our safari. The ones above are just a few that stood out or that we interacted with. Here are some photos of the other species you will run into:
Camel Expedition
You probably think of the Middle East or Africa when you think of riding a camel. I've been lucky enough to experience this in several locations, most recently in Dubai. I never for one minute thought someone could experience this in my backyard. And, until now, I did not know there was such a thing as a camel ride in Florida – much less a camel safari.
Safari Wilderness developed the only full-on camel backed game-viewing safari outside of Africa.
Can you imagine touring 260 acres of wilderness on the back of a camel? Having ridden them, I can't because it takes some getting used to riding them, but this should not dissuade you. If camel riding is on your bucket list, book the camel safari.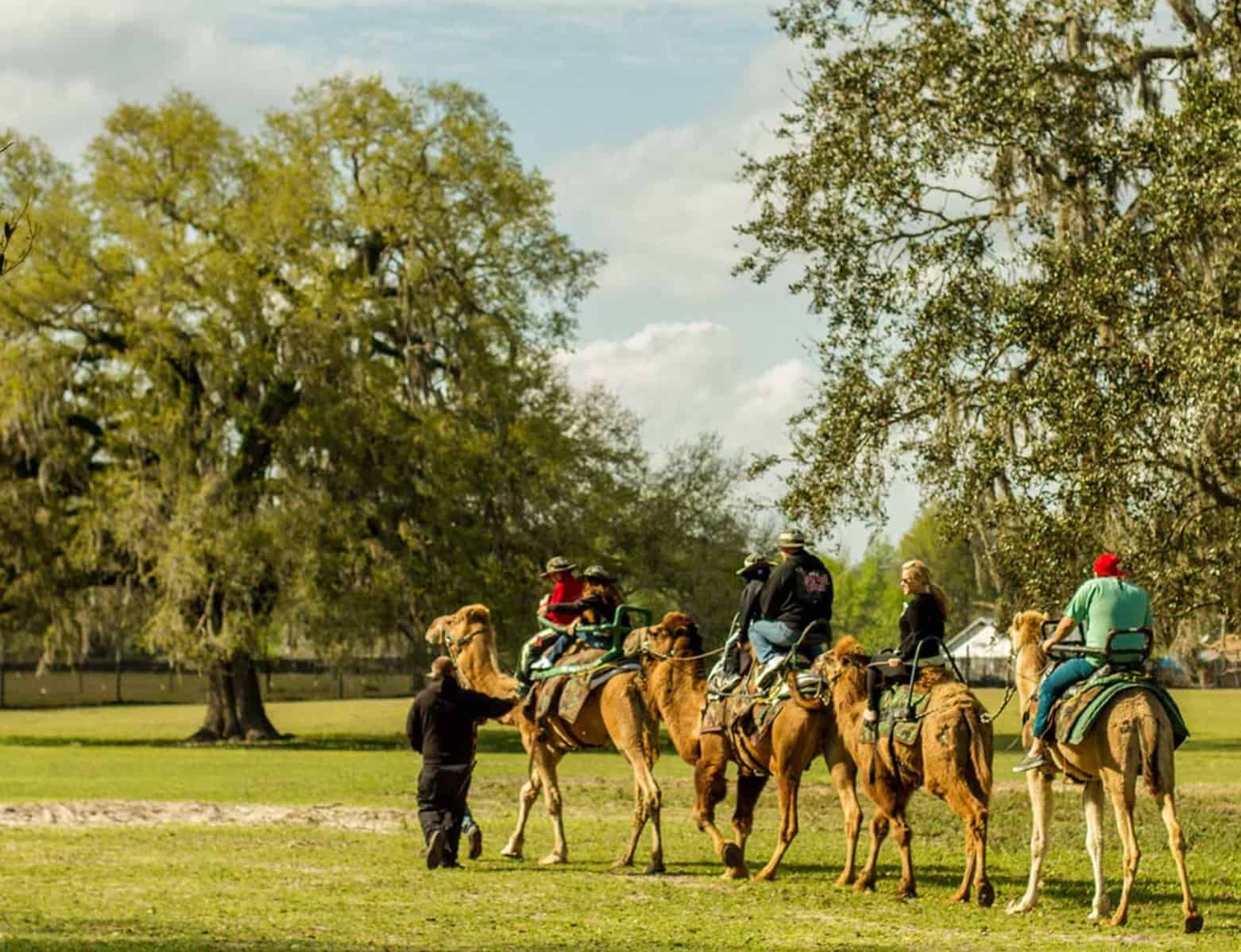 Image courtesy of Safari Wilderness
If you want to do both the customized vehicle safari and ride a camel, you can choose to do a mini camel trek. Wilderness Safari has both dromedary (one hump) and Bactrian (two humps) camels.
Even if you don't ride the camels, you will get to meet them at the end of your tour and pet them. They are pretty friendly and enjoy the attention.
Drive Through Safari
As we all know, most businesses need to adapt to the Pandemic. Safari Wilderness is no different. Given social distancing requirements, they now offer a drive-through safari! Drive through the 260-acre ranch from the comfort of your vehicle.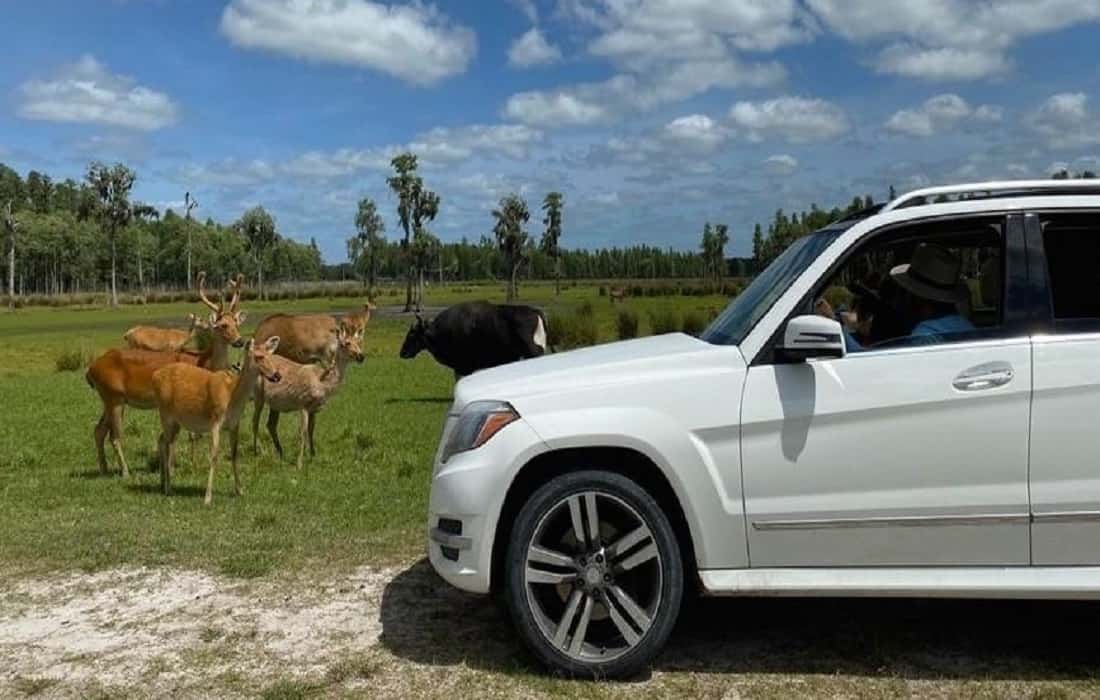 Image courtesy of Safari Wilderness
These tours are conducted through reservation only and will last approximately one hour. Visitors will be experiencing and viewing the exotic animal reserve while maintaining social distancing.
The best part? This tour is $125 per car. So it's an affordable way for you to do the tour!
ATV Safari
A new offering is the guided all-terrain vehicle (ATV) safari! Groups of up to 5 guests over 16 years of age will be able to join an ATV Safari led by an experienced naturalist guide through the ranch.
On this safari, you will get a sense of freedom and exhilaration while viewing hundreds of animals in natural herd configurations on vast landscapes. The tours are approximately 1 hour on the ATVs and an introductory walking tour of the animals. A finale includes private feeding of eland or waterbuck herd for your group from a customized safari vehicle.
Kayak Safari
If you are in the mood for some light exercise while also getting your safari on, kayaking might be for you. You will kayak through the ranch only via the waterways like the vehicle drive. Like the camel safari, this is a unique perspective that is adventurous and educational!
Midway through your kayak safari, you will navigate to the lemur island, where you'll hand-feed grapes to two different species of lemurs. This experience lasts about an hour and a half.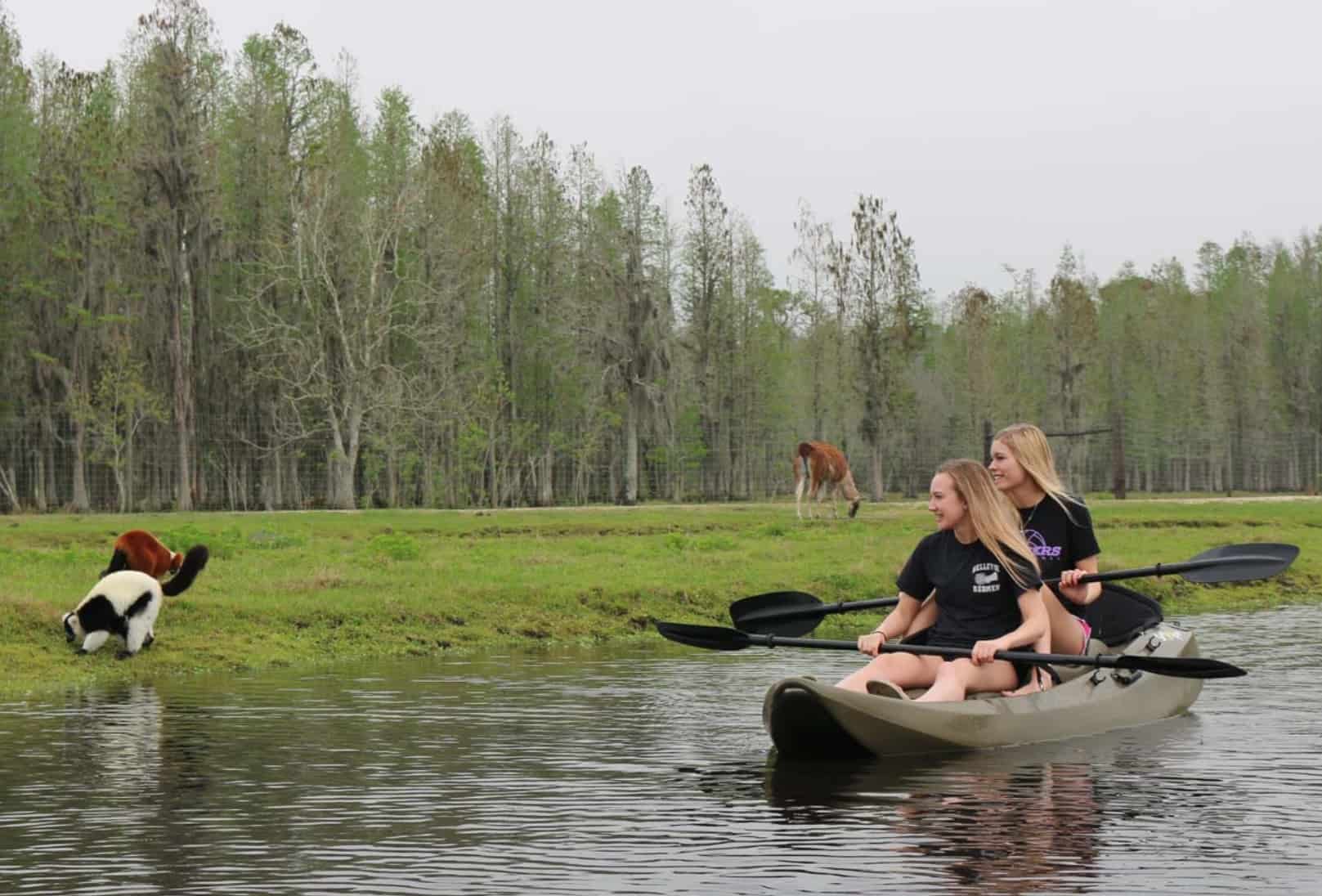 Image courtesy of Safari Wilderness
After all the safaris, you'll tour the smaller animals on sites such as the lemurs, the giant tortoise, or the coatis. From here, it's off to meet the camels.
Host an Event at Safari Wilderness
Safari Wilderness is perfect for any occasion, from weddings, birthdays, showers, and business events. The venues can host any event you can imagine. There is ample space to accommodate any group, but there are also a couple of sites to choose from, and all have stunning views!
The Safari Lodge
An elegant 13,000 square foot Safari Lodge. The lodge has a soaring 226'ceiling, large picture windows, and looks over herds of African antelope, including scimitar-horned oryx, a species extinct in the wild. The lodge is heated and air-conditioned, with a verandah surrounding the lodge and a large open, covered area. Don't be fooled by this photograph. The lodge is not dressed here as no events are in progress. Pay attention to the dramatic size of the rustic charm, and imagine the potential.
Whenever I see a well-done barn or lodge, I immediately think of weddings. Even if you are a city sleeker, there is something eternality romantic about barns and lodges alike.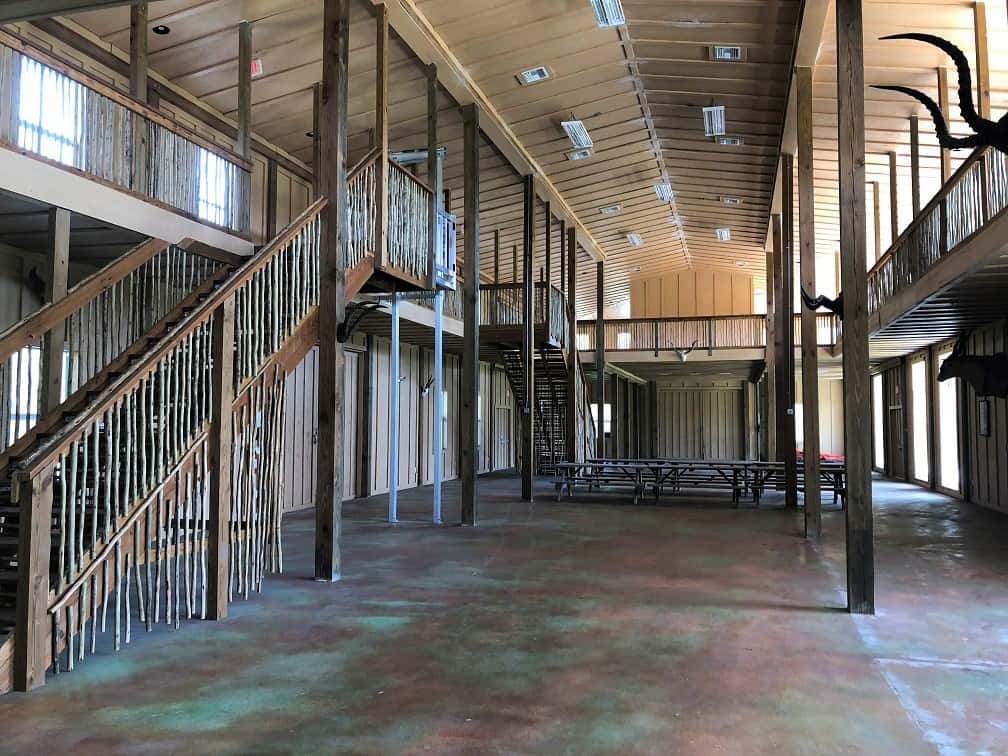 The Treehouse
For a more dramatic setting, ask about the elevated Treehouse, which provides a 360-degree treetop panoramic view of the wildlife. The Treehouse overlooks a gorgeous lake and landscape with roaming herds. It is located in the center of the reserve and enclosed gardens.
The Verandah
The Verandah is located on the north end of the Safari Lodge. A 1,500 square foot, covered, open-sided facility with concrete floors and its equipped with picnic tables. The Verandah has a direct view of the African veldt, and antelope/lemur island, along with a vast walkthrough aviary and lemur habitat.
Stay On-Site At Safari Wilderness
Over the years, guests have asked Safari Wilderness if they could spend the night. Now they finally can! Safari Wilderness glamping tents opened on December 15, 2021. You can read all about what it's like to stay overnight with the animals in a traditional African tent here:
What You Need to Know
Kids are more than welcome to join. Be sure to check the age requirements based on the safari you select. There are some age restrictions for some activities.
Tours go out, rain or shine. If a trip is available and you book it, you're going out no matter what. Well, except for a hurricane!
Reservations are required; you cannot just show up, period, so plan and reserve.
You will need good sunscreen regardless of the tour option you select. There is no shade on the pasture. The ssafari's customized vehicle has a canopy, but the sun will still reach you.
Tours last approximately two hours but vary based on which one you choose.
You can add on several experiences, such as feeding the lamas or guinea pigs.
There is a gift store on site that is full of memorabilia. The gift shop also sells sunscreen and water. You need both, so get them here if you forget to bring yours.
Be aware that there are no bathrooms once you've left the main lodge. The staff on-site will remind you but know you've got at least a two-hour ride ahead of you before you'll get the chance to go again.
Pricing depends on which activities you decide to do. Check with Visit Central Florida for deals and packages.
Due to county restrictions, there are no signs to guide you to the location. Make sure your GPS is up and running before you get into the swamp, as cell service was one bar at best.
A nominal fee is required to park on-site.
The staff love and care for these animals; it's apparent in how they treat them.
No animals were cohered into interacting with visitors. Likewise, the animals are not relying on a tour for food.
Closing Thoughts
A common thought in the travel community is to explore your own backyard before exploring others. I'm a firm believer in this concept and enjoy all that Florida offers. What amazed me about this experience is how rare and unique the experience is. Further, I'm still scratching my head about why we have not stumbled across this wonderland before now.
Safari Wilderness Ranch is not a theme park experience. It is not a zoo, nor is it packed with the typical lines we expect from Floridan attractions. A visit here gets you up close and personal with the exotic game that runs wild. This is your opportunity to interact with the game that you otherwise would not have the chance to. This is an experience that guarantees you'll see and meet the residents in person.
Safari Wilderness is a Florida agri-tourism project accredited by the Zoological Association of America (ZAA) and licensed by the USDA.
Last and not least. Thank you to Kelly from Visit Central Florida for introducing us to this fantastic experience. And, a massive thank you to Safari Wilderness for hosting us. Art, thank you for sharing all of your stories and humor with us. We enjoyed our time with you and thoroughly enjoyed meeting your furry, wooly, hairy, and feathered friends.
Looking for more posts on Central Florida? Start here:
We are a participant in the Amazon Services LLC Associates Program, an affiliate advertising program designed to provide a means for us to earn fees by linking to Amazon.com and affiliated sites.
Subscribe to our newsletter and get the best travel tips and inspirational stories delivered monthly. No spam, no sales pitches – TRAVEL!
Brit On The Move™ Travel Resources
Ready to book your next trip? Use these resources that work:
Need more help planning your trip? Check out our Resources Page, highlighting the great companies we trust when traveling.