The Best Swimming Holes in Vermont
While Vermont is generally known for maple syrup and cheese, tons of swimming holes in Vermont are fantastic days out. Vermont offers mesmerizing landscapes, including hike trails and fishing spots. It is a state for all seasons and offers many activities tourists can enjoy.
For us, the swimming holes in Vermont are a major attraction.
The best part? It is one of the least populous states, which allows you to escape the crowds and enjoy the vacation in peace. Besides fishing and kayaking, you can also take a dip in the water hole to cool off. Some of these swimming holes in Vermont include:
This post may contain affiliate links. Please read our disclosure and privacy policy for more information.
Bingham Falls, Stowe
North of the Stowe Village, Bingham Falls is spectacular. Multiple falls are creating several swimming holes and cascades. As the gorge is very narrow, the water sound intensifies, which is suitable for a change, especially when you are tired of listening to traffic noise.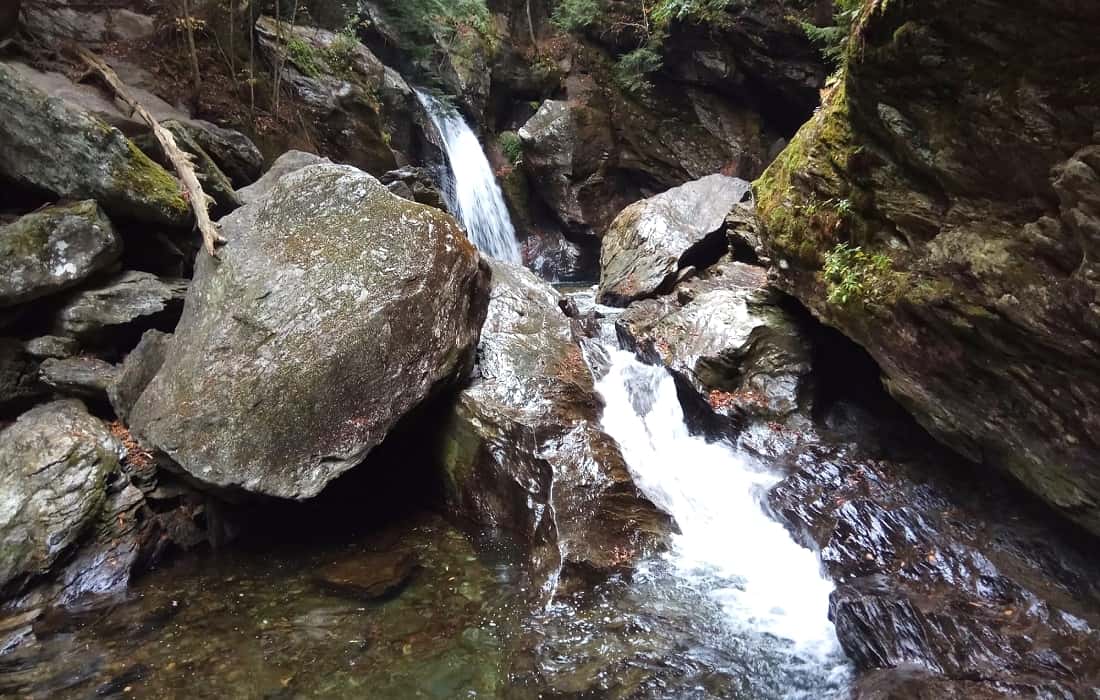 The spot is excellent for both kids and adults alike. Pools with varying depths invite everyone to take a swim. The deepest pool at the falls is about 30ft, and for kids, you would find several shallow pools in the area. Water quality is clean as it flows, and the site is also well maintained. The landscape around the pool is green and offers a peaceful vibe also looks brilliant in photos.
Bolton Potholes, Bolton
The Bolton Potholes are a local favorite. My friends who grew up in Vermont shared these with us. This is an off-the-beaten-track place to hang out, and it's completely free.
Bolton Potholes are located on the Joiner Brook River at Bolton, VT. The facility is run by a conservatory and is pretty well kept. Tourists have tons of spots to swim between the lush green mountainous landscape. Some of the holes are narrow and circular-shaped, like potholes, hence the name. Depth is also different, but no hole is too deep to threaten tourists.
The spot remains open to the public throughout the year. And the best part? The conservatory body has put no entry fee. Tourists can enjoy cliff jumping from a high top and soak the sun at the shores of the potholes. Rocky surroundings also make an excellent picnic spot. The destination is popular so expect to see other tourists around you.
Bristol Falls, Bristol
Bristol Falls, also known as Bartlett Falls, is a 14-feet waterfall located in the middle of woods and surrounded by rocks that make it a breath-taking landscape. The waterfall drops into a swimming hole situated on Bristol's New Haven River. Spot's beauty increases as the sunshine when gets more crowded.
Visitors can enjoy cliff jumping, a casual swim in the hole, or even organize a picnic at the rocks. A little away from the central pit, a shallow-water pool is also present where young kids can enjoy themselves. Parking is available nearby, but there is some distance that you would have to travel on fit. So, be there early, find a sunny spot for families and wear appropriate footgear.
Salmon Hole, Jamaica State Park
Located at the end of the west river, Jamaica state park is about a mile and a half away from downtown. One of Vermont's most prominent waterfalls is located about three miles upstream, accessed via hiking. Park is developed by the authority and even provides tents for tourists who want to stay. Picnic shelter and nature center are also available next to the water hole and picnic areas.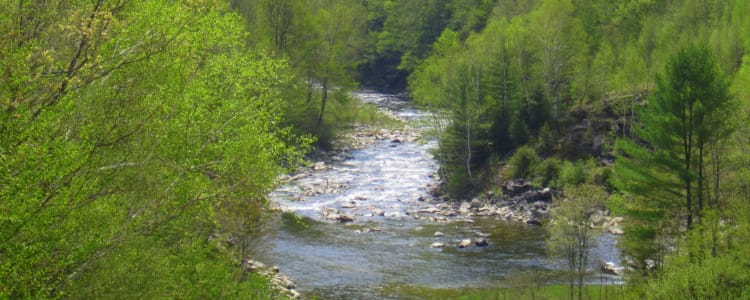 While tourists can enjoy swimming in holes, it is not advised in the river due to the fast current. Twelve deaths have been reported of the tourist that went against the advisory. The park's landscape is surrounded by woods, providing visitors with an escape into nature. It remains pretty uncrowded throughout the years, which can be great for families looking for a peaceful vacation.
Pikes Falls, Jamaica State Park
Pike Falls is also located inside Jamaica state park and is an excellent place for kids to enjoy themselves. The falls are 10 feet inclined rocks that make a natural slide. Kids can slide down onto the shallow waters, which brings a lot of giggles on their faces. Water quality is relatively clean and is surrounded by trees.
The shore is filled with pebbles which look great in the picture. But appropriate footwear is a must as you have to hike to the hole, and also the shore can also be pretty slippery. Best part? You can have the entire place to yourself as not many tourists visit the water hole.
Warren Falls, Waitsfield
Warren Falls is a spot popular with both locals and tourists. Located on the Mad River, it is one of the most beautiful landscapes. Two waterfalls, about 7-8 feet tall, fall into the hole, neither too shallow nor too deep. And because of this ideal depth, it is one of the best swimming holes in Vt. Tourists can even go near the fall without subjecting themselves to any danger. Water quality is immaculate and cold, which can cool off in summers after a long hike.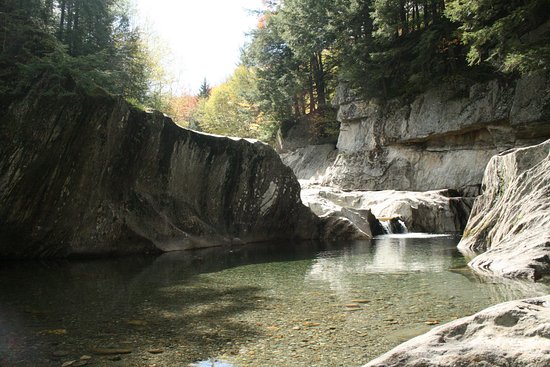 Besides swimming and fishing at nearby rivers, tourists can also organize picnics at the spot. You can also interact with other visiting families and play fun games to make the day worthwhile.
Marble Street Quarry, Rutland
Marble Street is not a natural swimming hole but rather an abandoned quarry filled with water. Nonetheless, this 90ft deep water hole is a great place to hang out for picnics and take pictures. The spot is prevalent in scuba divers because of its depth. But you can also take a calm soak under the sun while looking at trees in the surroundings. It also remains uncrowded, which is excellent for people looking to escape from the hustle and bustle.
That said, adequate precautions are a must, even if you are an expert swimmer. Jump in the water only if you wear life vests; otherwise, it is simply too dangerous.
Four Corner Falls, Jay Branch Gorge
Situated on Jay Brach, Four Corner Falls makes stunning Vermont swimming holes. The height of the waterfalls is about 12 feet, and shedding intensity is medium to high depending on the season. The area is accessible via a hiking trail which is easy to moderate in difficulty. You can enjoy swimming in the cold water and partake in cliff jumping. But do not jump from every cliff that you see. There are rocks underneath the water which may produce an injury.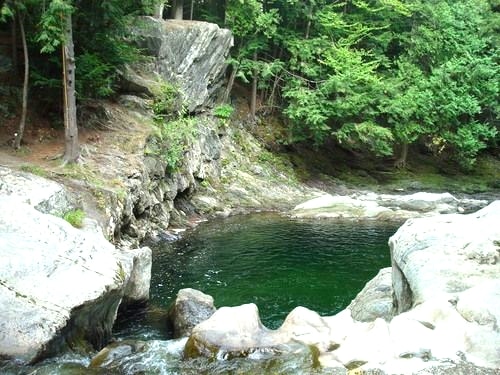 Hence, ask the other tourists about the safe spots for that activity. Besides that, the landscape is filled with free lush green trees, which make a stunning background in the photos. Water is running, so it is as clean as it gets.
With that said, you can only visit the spot between May and Oct. Be mindful of that while planning a trip to these Vermont swimming holes.
Timber Crib Dam, Guilford
Timber Crib Dam is located on the Green River and was built back in 1800. After the flood damage, it was rebuilt in 1998. The spot offers stunning views, and since the forest around it is not too dense, decent sunlight falls on the area. It keeps the water temperature to an optimal level. Visitors can swim, fish, and enjoy a picnic at Timber Dam.
Cliff Jumping is also possible, but it is not as thrilling as the height of walls is not that high. Nonetheless, it is an excellent place to spend a weekend with friends and family and take social media photos.
Buttermilk Falls, Ludlow
Buttermilk is a stunning waterfall at Ludlow that is accessible only via hiking. The hiking trail is easy even for beginners and is just a few minutes long. The waterfall itself is not that big, but it is beautiful nonetheless. The overall environment is peaceful and relaxing. You can take a swim in the swimming holes and calm yourself.
Families can also organize a picnic near the falls and spend the day with fun activities. Water quality is clear and clean. A parking facility is also available at the start of the hiking trail.
Three Holes, Montgomery
Located at Trout River Montgomery, Three Holes is unique between the lush green forest. It was named because of the three waterfalls that cascade into three pools. The spot remains uncrowded and makes an excellent place for spending private time with friends and family.
Gibou Road Hole, Hectorville
Gibou Hole is a tranquil swimming pool that is shallow but long and leads to an underwater cliff followed by a narrow channel and waterfall. You would likely have the entire place to yourself as not many tourists know about it. The hole is approximately 3 miles away from the city center but accessible only via 4-wheel drive.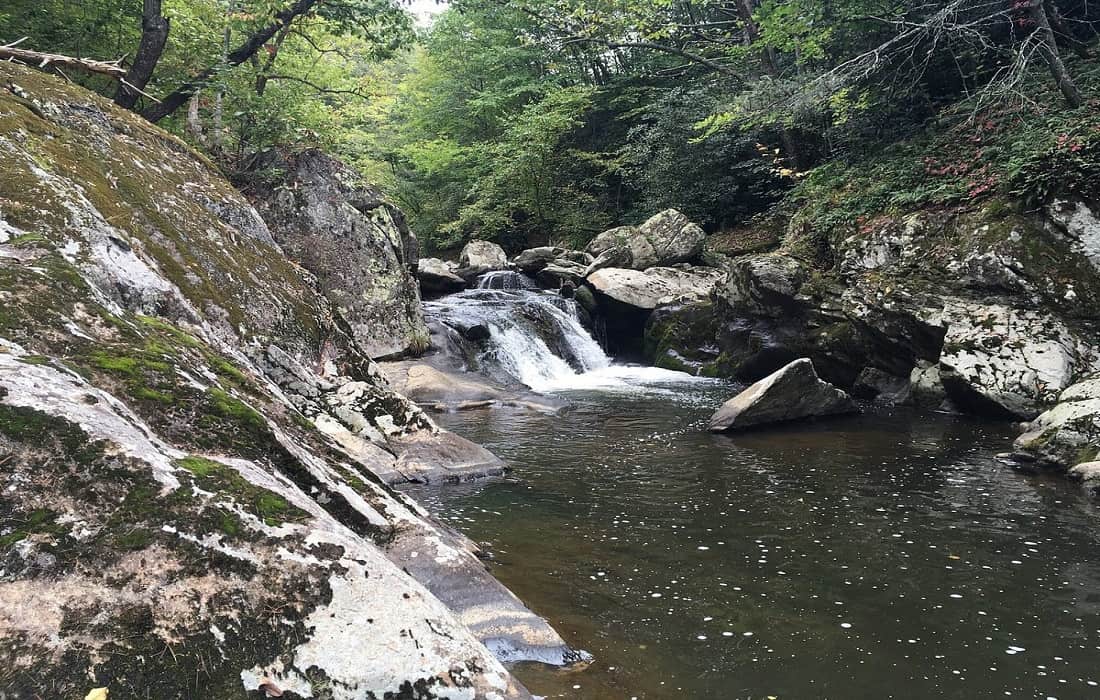 Jeff Falls, Jeffersonville
Nothing beats the satisfaction of a warm water bath after a hike, and Jeff Falls provides you with precisely that. Located on the Brewster River, there is a ton to explore at Jeff Falls. The main pool is surprisingly deep, and the sun shines directly on the east beach in the evening. Besides the main 7 feet fall, there are plenty of smaller waterfalls.
Terrill Gorge, Morrisville
Terrill Gorge is a small but beautiful waterfall famous amongst locals and tourists. Its popularity is partly because there are only a few waterfalls in the area, most inaccessible. The fall is about 5 feet tall, but 10 feet in width certainly adds charm. The pool depth is also decent enough at about 10-15 feet filled with cold water. Cliff jumping is famous, but it is not recommended given the underwater terrain and relatively shallow pool depth.
Lareau Hole, Waitsfield
Lareau Hole is a great place to hang out with families with young kids as it caters to adults and kids alike. Kids can learn to tread on the water at the shallow shore while the adults can dive 12 feet deep hole surrounded by a boulder. The place also has a sandy bank and grassy area, making a brilliant picnic spot.
Dorset Quarry, Dorset – Dorset Marble Park
It is an abandoned marble quarry filled with water and converted into a park by authority. The area is one of the hotspots for a picnic amongst locals, and cliff jumping is also very popular. The site is covered with thick forest, making an incredible landscape. At the banks of the hole, tourists can soak the sun after diving into deep water.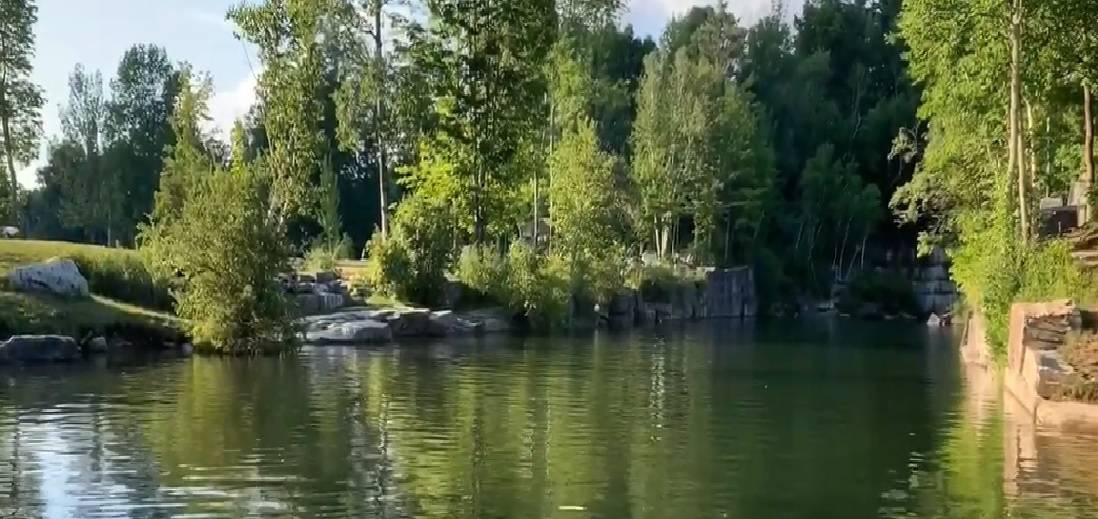 Dog River, West Berlin
Dog River is a designated picnic situated in West Berlin. It is often termed a "Jacuzzi" swimming hole because of the large pool over an exciting mix of bedrock. The hardwood and hemlocks surround the area, and the collection itself is below a natural amphitheater with a bench and picnic table overlooking the river. Trout is abundant in the area so expect to see a lot of anglers around you.
No Name Hole, Arlington
This spot is not precisely a swimming pool but a fun place to hang out and click photos. As the water is shallow, kids can take a dip in, but adults can only immerse themselves in nature while getting their feet dipped into the water. Surrounded by green vegetation and the sound of water connects you with nature. And since there are not many tourists in the area, you and your loved ones can have the entire place to yourself.
Where To Stay In Vermont
We stayed at our timeshare in Stowe, Vermont, and drove over. Yes, we have a timeshare that we use all over the world!
The timeshare we stayed in was three bedrooms, two baths, two stories, and had a private sauna in it! Not too shabby….
Think we are nuts? Not really; I paid $207 for it on eBay!If you do not have a timeshare, you can stay at any of these hotels in Vermont and access all of the swimming holes in Vermont:
Closing Thoughts
There is no better way to cool down than taking a dip in nature-made swimming holes. You would find a number of these holes while trekking and exploring Vermont. The swimming holes in Vermont are not just a source to cool down but also an opportunity to experience nature at its closest. So, if you are planning to visit Vermont, do not forget to put Vermont swimming holes on the itinerary.
Looking for more posts to inspire you? Start here:
We are a participant in the Amazon Services LLC Associates Program, an affiliate advertising program designed to provide a means for us to earn fees by linking to Amazon.com and affiliated sites.
Subscribe to our newsletter and get the best travel tips and inspirational stories delivered monthly. No spam, no sales pitches – TRAVEL!
Brit On The Move™ Travel Resources
Ready to book your next trip? Use these resources that work:
Need more help planning your trip? Check out our Resources Page, highlighting the great companies we trust when traveling.