Located in Polk County, referred to as the "City of Oaks and Azaleas," Bartow, Florida, is unheard of by most. Like many small towns, the first appearance is the same: the classical main street, a four-way stop, the local courthouse, and the silence of empty storefronts.
As you arrive on a Saturday, finding parking on Main Street, Bartow is simple. There is no shortage of free parking spots right on the main street. Another indication that this town is not yet booming. Above all, this is changing in Bartow, Florida, because of successful revitalization.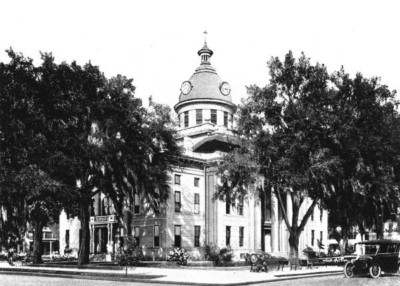 Old Polk County Courthouse: Bartow, Florida On Wikipedia (Creative Commons)
This eclectic little town is attracting local businesses to return to the main street area. It is home to many locally-owned restaurants, boutiques, antique stores, and cafés. The most impressive may not be directly on the main street, but they are here, and it's worth your time to explore.
This post may contain affiliate links. Please read our disclosure and privacy policy for more information.
Bartow Florida's History
Sixty-three miles east of Tampa and fifty miles southwest of the Orlando area. A part of Polk County, the town of Bartow, was founded in 1851. Initially, Called Fort Blount was re-renamed to honor Francis S. Bartow, a commander from the American Civil War.
The current population is 18,705, and Bartow, Florida, is considered one of the best places to live in Florida. Mining and agriculture used to dominate the economy. The largest employer is Mosaic, which employs over 3,000 people in the area. Mosaic is a phosphate mining company. Moreover, mining lives on; other job sources are county and state government positions, schools, sheriffs, tax collectors, etc.
Most residents own their homes here and enjoy the suburban feel. All anticipate that growth will continue to thrive. Above all, due to the work of Main Street Bartow, Inc., An organization dedicated to the preservation-based economic revitalization of Bartow, Florida.
Shopping in Bartow Florida
Every second Saturday of the month, Bartow hosts the Bartow Antique Fair. A group of locals displays their antiques & collectibles on tables along with Main Street Bartow. We were lucky enough to be there to participate. Most importantly, there is something tremendously nostalgic about walking historic Main Street Bartow while the locals offer their treasures for sale. If you are a collector of any sort, you'll want to check this out.
Many stores weave through the Main Street Bartow district, but a few stand out. Visiting Bartow is worth it for these stores alone:
Prepare to indulge and splurge. Leah and I knew we'd be spending some cash walking in here. The smell alone will entice you, but you will be in trouble once you comb through the vast collection!
Rafa Natural offers locally crafted, natural, vegan, and organic skincare and bath and body lines as a family-owned company. Are you looking for a bath bomb or a bar of soap? Overwhelming options await. In the market for natural and affordable skincare? Check. And cheap is an understatement.
We bought goodies from eye cream, face scrub, body scrub, soaps, and serums. Check out their website to see the pricing. You can't beat the pricing. I'm halfway through my Aha Facial scrub, which I love, and I will get more. The lemon sugar body scrub is unlike others, it lathers into a creamy yet abrasive texture, and it's not oily. I only bought the sample of the scrub, which was a mistake. As a result, I will be ordering more of the lemon sugar body scrub.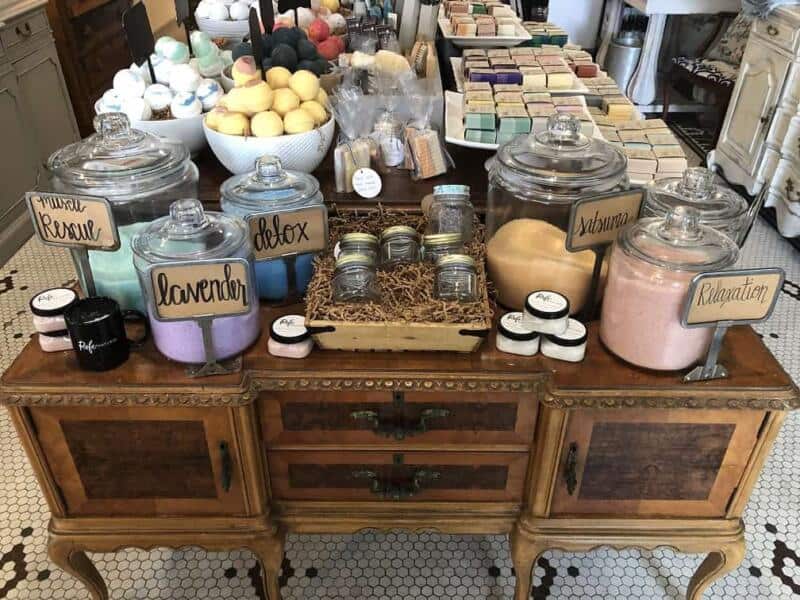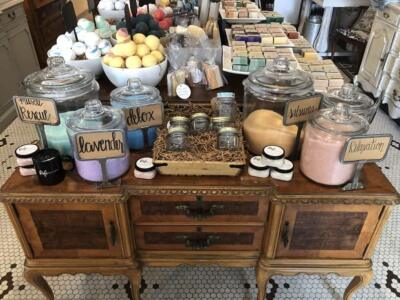 Rafa Natural makes their products onsite, and they have a considerable household selection that's as impressive as the beauty products.
This store should be on any girls' list of stores to check out, and it's worth the drive. Between Fancy Flea Cottage and Rafa Natural, I encourage you to make the trip to these stores alone.
I don't even know where to start with Fancy Flea Cottage! Shall we say an explosion of shabby chick vintage fare that is eloquent and tasteful? I would buy everything in this store if I did not share my home with Brian! A girl's girl store with everything you ever dreamed of having in your house — the things our husbands loathe.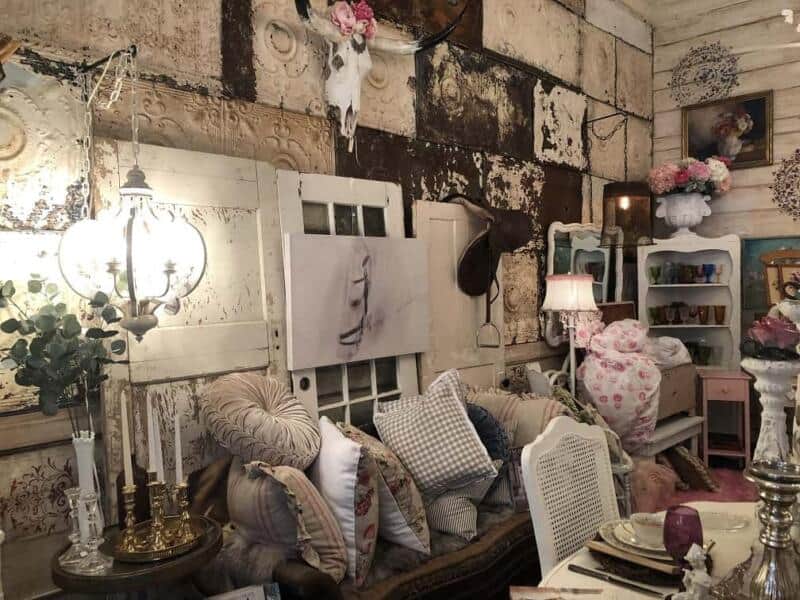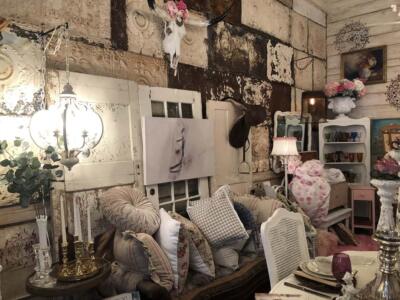 Hues of pink dominate the vintage collection. Rustic reclaimed metal elements enhance the display, and there is an abundance of ceramic ware and wooden furniture to indulge in. The mirror on the right is what I am after!
There were a couple of items I wanted here, but there was only one of each item. For example, I am building a house and need two mirrors for my bathroom. Unfortunately for me, there was only one mirror available. The same concept with throw pillows for the spare bedroom. Only one in the color I wanted. I hope the owner can eventually find me pairs of the items I need. Naturally, I left my information, hoping I would get lucky.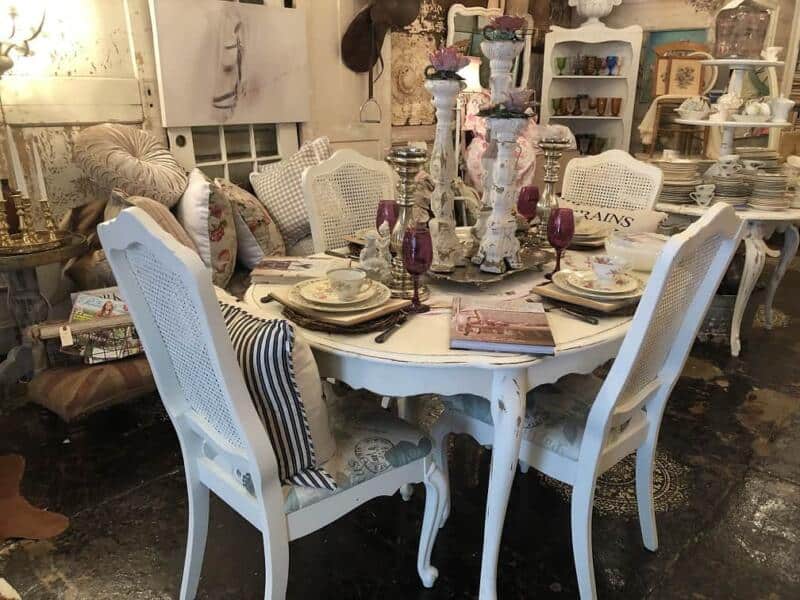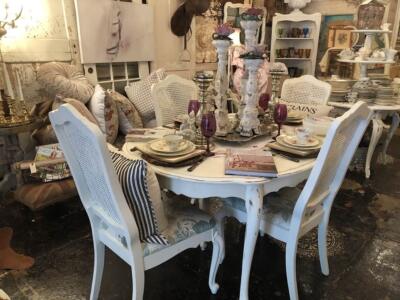 Arts on Central
This store also offers various crafting classes, a haven for stained glass, and local art. The artwork here is unique, and the jewelry is divine! Leah and I purchased necklaces here, which were also tremendously inexpensive. When you enter, take note of the flooring. Each store in Bartow, Florida, has an unusual floor.
Restaurants and Cafe in Bartow, Florida
I must admit I was shocked and pleasantly surprised by the different choices of restaurants. Some of which are themed to mirror a 50's dinner. Many places have outdoor seating adding to the ambiance, and there is plenty of shade should you opt to eat outside.
We choose to have lunch at Hacienda, Mexico. Let's be honest. How can you pass up having a margarita at lunch while on vacation? The food here is spectacular. Do not let the casual appearance or the dining hall feel fool you. The menu here has everything you would expect from a traditional Mexican, and it's all 100% fresh. I had fajitas, and Leah had tacos. The portions are enormous; we could have shared.
Eating is a necessity, but let's talk margaritas! Holly wow! We indulged in the traditional strawberry skinny margarita's that we were to die for. There are so many choices for food in Bartow, and Mexican might not be your thing. Regardless, stop in and partake in a skinny margarita. It's impossible not to enjoy it.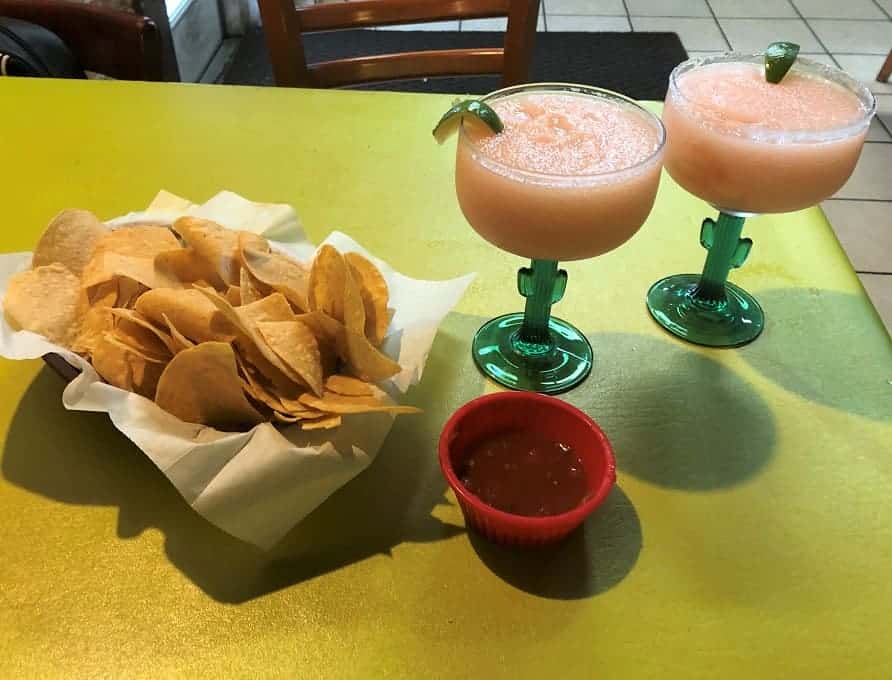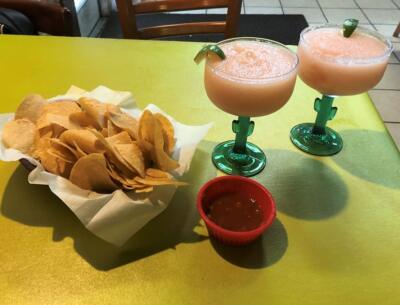 Bartow Events
Despite being a small town, Bartow, Florida, hosts many events. Some are annual traditions; others are weekly events. If you are planning a trip, consider some of these events:
Bloomin' Arts Festival: Held every March.
Bartow Annual Craft Fair: Craft booths & vendors and a classic car show. Held in November, this is entirely free.
Bartow's First Friday: The 3rd Friday of every month is a street festival with live music, food, games, and local vendors.
Cricket Club Halloween Parade and Carnival: Held in October, this event is all about the costumes and cake!
Fourth of July Celebration: Held at Mosaic Park.
Downtown Yard Sale: Held the 3rd Saturday of every month.
George Street Christmas Lane: The town is lit up with holiday lights & decorations.
B. Brown Heritage Festival: Every February, held at the Historic L. B. Brown House. Jazz, gospel and contemporary music, dancers, storytellers, and more.
Movies on the Lawn: The 4th Friday of most months.
New Year's Eve Christmas Tree Burn: Christmas trees are piled around a telephone pole for a bonfire. A tradition that has taken place over many decades.
SyFy Bartow: A large part of why Bartow is enjoying renewed industry and interest is the Syfy Bartow Festival. Held every February in 2019, 30 000 people attended. On the eve of SyFy hosts the traditional Friday fest. This free family festival features a costume contest, an art show, superhero karaoke, food, live music, science fiction vendors, large size props including Doctor Who's Tardis, a movie and television car show, a play area for kids, local authors, and stars, cosplayers, face painting, steampunk-themed activities, and many more surprises. Thank you to Gary Potter for sharing this information:)
Weekly Farmer's Market: Held every Wednesday.
Historical Buildings of Bartow Florida
We chose to spend our time shopping and eating. We got carried away in the stores. Because of this, we did not have the opportunity to explore these historic buildings. This gives us a reason to return. Like food and shopping, there are plenty of historic buildings.
The Polk County History Center
It is situated inside the Polk County Courthouse, which was built in 1908. The Museum serves the Polk County community through special events, volunteer opportunities, and educational programs. The Museum's exhibits and programs continue to grow and change as new information and artifacts become available.
John J. Swearingen House
She was also known as the R.H. Langford House or The Swearingen House. This impressive two-story Colonial Revival home belonged to local state senate John J. Swearingen. The house is listed on the U.S. National Register of Historic Places.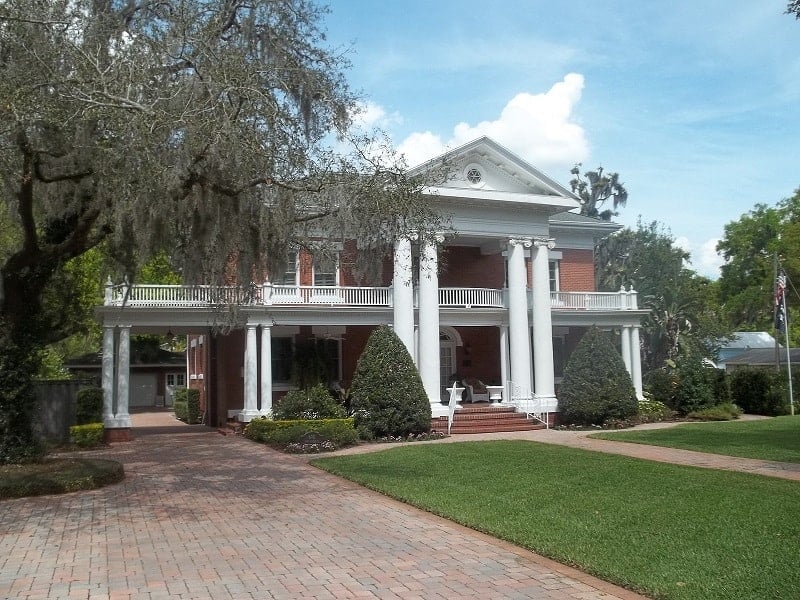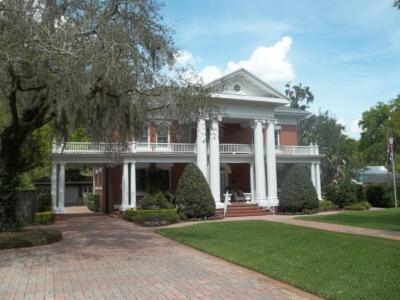 Ebyabe On Wikipedia (Creative Commons)
Thompson and Company Cigar Factory
Thompson and Company Cigar Factory is a national historical site located at 255 North Third Street, Bartow, Florida, in Polk County. It was used by Thompson Cigar, established in Florida in 1915. We can only hope it gets purchased and repositioned in dire need of renovation.
B. Brown House Museum
It was built by Lawrence B. Brown, a freed slave, in 1892. If any, Brown received a very minimal formal education yet became a highly respected leader and relatively wealthy entrepreneur.
Conrad Shuck built it in the 1920s after he was given one year to live. Doctors suggested a warmer climate would extend his life. Shuck moved to Florida and started to build his dream home. Architecturally ahead of its time, Shuck, who lived to 94, opened the house to the public in 1934. Following his death, the house fell into disrepair.
The new owners, Drew Davis, and Krislin Kreis, have since renovated it and re-opened it to the public.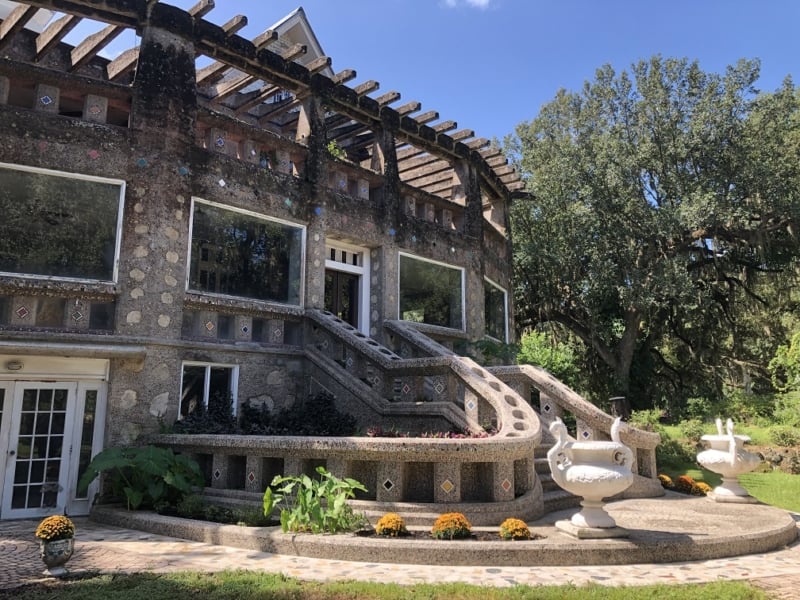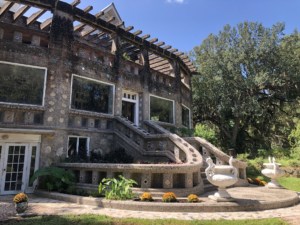 Thank you, Karen McCroan and Carol, for this recommendation! This is officially on my Florida bucket list. I am a massive fan of historical buildings that have been restored.
When checking out small towns, the Florida Humanities Council has downloadable, free, walking tours that highlight locations of historical interest. Thank you Sean McCall for sharing this great tip!
Frequently Asked Questions About Bartow Florida
Closing Thoughts
We were staying at the Streamsong Resort for the weekend. The men spent their time golfing. We decided to check out the local area. We stumbled across Bartow, and I'm thrilled that we did. A long-time history fan enjoys almost anything off the beaten path. To sum it up, I loved Bartow. The charming town of Bartow is devoid of crowds of tourists. It's packed with good food and shops. Swimming in small-town tradition and beauty. Well, it's safe to say that I found Bartow to be a slice of heaven.
Looking for more posts on Florida? Start here:
We participate in the Amazon Services LLC Associates Program, an affiliate advertising program designed to provide a means for us to earn fees by linking to Amazon.com and affiliated sites.
Brit On The Move™ Travel Resources
Ready to book your next trip? Use these resources that work:
Need more help planning your trip? Check out our Resources Page, highlighting the great companies we trust when traveling.