With so many activities to select from in Singapore, how do you determine the top-rated attractions in singapore that you should not miss? There are so many you're bound to fall in love with them all. This city has so much to offer that you'll never get bored exploring it! The city is brimming with fun things, and it is hard to pin down the ones that genuinely excite you.
By taking a ride on the Singapore Flyer, you can take in the city's captivating skyline. The Gardens by the Bay, one of Singapore's most popular tourist attractions, is a beautiful place for families to spend time together. As a group traveler, you must visit Universal Studios to see its spectacular attractions! As the sun goes down, the city of Singapore comes to life like a swarm of millions of stars. There are people and families, the weather is refreshing, and many bars and clubs provide appealing beverages and finger food until the wee hours of the morning. Families and couples can also enjoy a fun experience at the Singapore Zoo.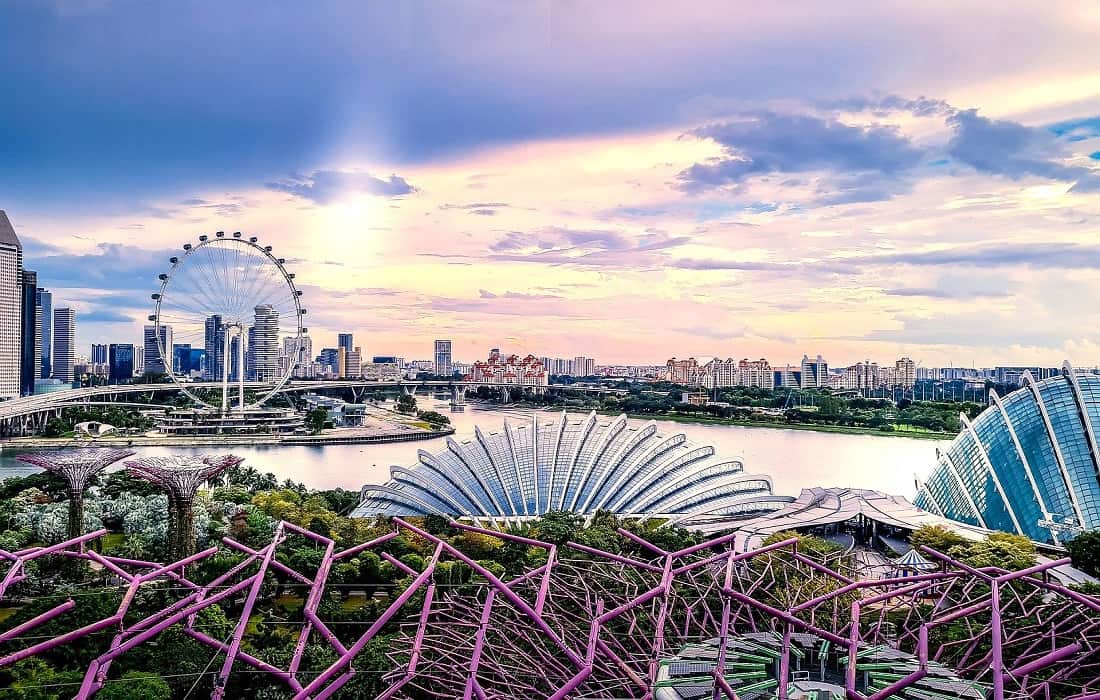 This post may contain affiliate links. Please read our disclosure and privacy policy for more information.
10 Top-Rated Tourist Attractions in Singapore
The experience will stay with you for a long time to come. At the Jurong Bird Night Safari in Singapore, you can get up close and personal with some of the city's nocturnal exotic species. Here is the list of the best top-rated tourist attractions to visit in Singapore:
Singapore Zoo
The Singapore Zoo, located on the island's north-western shore, is a haven for exotic animals and a must-see for animal lovers. Since it first opened its doors to the public in 1973, this well-loved establishment has grown into one of its best rainforest zoos. In addition to housing over 2,800 animals from 300 different species, the zoo has won numerous international and local honors.
From Forbes Traveler to Asian Attraction Awards to STB 22nd Tourism Award for Best Leisure Amusement Attraction Experience, this zoo has received numerous accolades for its quality. Do explore the Singapore Zoo for much more fun and exciting activities.
Opening Times: 8:30 AM to 6:00 PM
Entry Fee: INR 2700/- each ( 48 SGD)/($35)
Universal Studios
Universal Studios Singapore, the region's first Hollywood movie theme park, offers a wide range of fun for kids and adults alike. This theme park is a well-known name, and the term itself conjures up images of some of the best movies ever made. Imagine a theme park where all of the characters and tales are brought to life in an immersive way. The theme park has several themed zones, such as Hollywood, New York, Sci-Fi City, Ancient Egypt, The Lost World, Far Far Away, and Madagascar, many of which have ties to popular culture. Transformers: The Ride, Accelerator, Resurrection of the Mummy: The Ride, Canopy Flier, Dina Soarin', Enchanted Airways, Magic Potion Spin, and Madagascar: A Crate Adventure are just a few of the tremendous and fascinating rides that you can find at Six Flags Magic Mountain.
Opening Times: 12:00 PM to 7:00 PM (Thursday- Sunday)
Entry Fee: INR 3880/- each ( 69 SGD)/($50)
Garden by the Bay
The Bay South, Bay East, and Bay Central Gardens make up a wildlife preserve along the water's edge. Attractions include the OCBC Skyway, the Cloud Forest and Far East Organization Children's Garden, the Supertree Grove, the Flower Dome, and the World of Plants. The Bay by the East, the Dragonfly and Kingfisher Lakes, the Heritage Gardens, the Sun Pavilion, and the art sculptures are just a few more.
Garden tours, Outdoor garden cruiser tours, self-guided tours, and conservatories audio guides are all available. Additionally, Gardens by the Bay features a wide variety of restaurants and shops to choose from and a wide variety of presents and souvenirs. The best-kept secret is if you book a premier king garden view room, at The Marina Bay Sands you can watch the night show from your balcony.
Jurong Bird Park
Jurong Bird Park is a great place to personalize with some of the world's most beautiful and unique birds. More than 5,000 birds from 400 different species call this park home, covering 20.2 hectares in the western part of Singapore.
You'll get a chance to see a variety of species, including the crested guinea fowl, iridescent starling, and turaco, during the daily feeding sessions.
It is Singapore's first wildlife park and Asia's largest bird park. Conservation and education are significant themes at the park, featuring numerous exhibits and shows.
Opening Times: 8:30 AM to 6:00 PM
Entry Fee: INR 2140/- per person ( 38 SGD)/($27)
Trickeye Museum
The universe of masterpieces is the first. It's a place where people can learn about the four-dimensional world's hidden secrets. Media art, the Ames room, and dining rooms are all shown here.
The second zone is the thrill zone, which features exciting optical illusions that make you appear to be escaping a big beast or other scenarios. The supernatural zone is the third zone, where you can become the group leader and engage in paranormal activity thanks to an illusion of a friendly ghost.
The fourth zone is the fantasy zone, which will bring back childhood memories even if you are an adult. The fantasy zone is the fifth zone. It's like stepping into a dreamland, where magical fantasy regions come to life right before your eyes. The trick world, or the sixth zone, is where you'll find some of the trickiest eye exhibitions.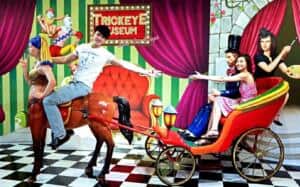 Image Credit: Singapore Trickeye Museum
Opening Times: 11:00 AM to 06:00 PM
Entry Fee: INR 1782/- per person ( 32.25 SGD)/($23)
Singapore Flier
The Singapore Flyer, Asia's most giant enormous observation wheel, is the best place to get a 360-degree panoramic perspective of the country. Located on Raffles Avenue in Singapore, this gigantic wheel is 165 meters above the ground and stands as tall as a 42-story structure, allowing visitors to enjoy a breathtaking perspective of the city.
In one of the 28 fully air-conditioned glass capsules, it was a fantastic experience lasting 30 minutes. From the Flier, you can see Raffles Palace, the Singapore River, Merlion Park, Marina Bay, Padang, and Empress Palace from above.
Wine and dine high in the sky with Singapore Flier's in-flight dining packages feature delectable cuisine and refreshing beverages.
Opening Times: 8:30 AM to 10:30 PM
Entry Fee: INR 1855/- per person ( 33 SGD)/($24)
Singapore Botanical Garden
The Singapore Botanical Garden is now considered on the list of UNESCO Heritage Sites. It is a botanical garden. It is home to several plantations and trees. Apart from being a garden consisting of trees and plants, it also has a massive pond inside where you will find white swans swimming.
Apart from being the epitome of natural beauty, this place is perfect for cycling and other activities. Now, there are several cafes and eateries available for the comfort of tourists.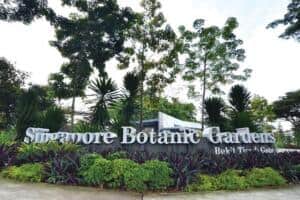 Opening Times: 5:00 AM to 12:00 AM
Entry Fee: INR 5000/- per person ( 9.05 SGD)/($6.60)
National Museum
The National Museum of Singapore is the city's oldest and most significant museum, reflecting Singapore's and Asia's rich history and culture. This museum was once known as the Raffles Library and Museum since it was a part of the Singapore Institution's library from 1849 to 1887 and had an area of 18,400 sq. m.
It is one of the most well-known national monuments, located in a neoclassical structure that has been modernized.
It features a variety of temporary exhibitions, yearly festivals, film screenings, seminars, lectures, and thought-provoking performances and various historical items and permanent & live displays. Although the museum is a historical monument in the country, its architecture and collections are cutting-edge in their arrangements and designs.
Opening Times: 10:00 AM to 07:00 PM
Entry Fee: INR 483/- per person ( 8.74 SGD)/($6.00)
Snow City
If you are traveling to Singapore with kids, it makes sense to visit Snow City. It is Singapore's first snow center and is located in Jurong East. You will be amazed to know that the center covers an area of 3,000 sq. m. It has been 20 years since it was built. Moreover, it is continuing to draw crowds due to its unique attractions. If you want to escape the sub-tropical heat, visit Snow City at an affordable price.
You can make your holiday memorable by visiting the unique Snow City. There are slides, games, and activities for all ages. You will also enjoy original snowfall while engaging in a few other activities.
You will be taken to the AirLock chamber once you head there. Moreover, it is essential for your acclimatization at 10 degrees Celsius. The temperature inside the actual arena can be as low as -5 degrees Celsius.
The Snow Chamber is the main arena, around 1200 sq. m in dimensions. And the fun part is it is covered with snow all year.
Moreover, there is at least 40 cm of snow all year round. So, you can enjoy the chills at all times. Despite being a sub-tropical country, temperatures emulate those of the Arctic region.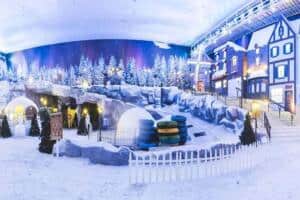 Opening Times: 10:00 AM to 05:00 PM
Entry Fee: INR 658/- per person ( 11.91 SGD)
Adventure Cove Waterpark
One of the best family-friendly attractions with thrilling rides such as the dueling racer, which you can enjoy with your friends. Adventure Cove Water Park is the perfect water park to escape the heat. The pipeline plunge, the most exciting ride at this waterpark, the riptide rocket, and spiral washout, among many.
One of the main attractions of adventure cove waterpark is the rainbow reef, where you can snorkel with a stunning reed and encounter up to 20,000 fishes and marine animals. The instructors will help you with training for your ride and help you with the equipment.
Opening Times: 10:00 AM to 05:00 PM
Entry Fee: INR 1752/- per person ( 31.71 SGD)/($8.50)
Other Attractions in Singapore
While those mentioned above are some of the country's major attractions, many other spots are also worth visiting. Once you have taken a trip to these major attractions, here are some other tourist spots that you can add to your list:
National Orchid Garden
Sands Skypark Observation Deck
Supertree Grove
Closing Thoughts
While you are here in Singapore, apart from visiting the tourist attractions, many other things to do. Taste the local cuisine and do not forget to experience the tradition and culture of the country that will surely mesmerize you. You have planned everything to not miss out on the major attractions and things to do while being in Singapore.
Looking for more posts on Singapore? Start here:
We are a participant in the Amazon Services LLC Associates Program, an affiliate advertising program designed to provide a means for us to earn fees by linking to Amazon.com and affiliated sites.