I am somewhat reluctant to write this article because the Rainbow River Florida is unlike anything you will ever experience. It is not full of tourists, nor is it full of city slickers. A real, old-fashioned, watering hole, where people tube the river, drink beer, connect tubes and drag their stash behind them in a cooler and chill. People still live on the river in houses that need updating and time does stand still here — a slice of paradise in my local backyard.
Should I be successful in tempting you to follow my lead to this oasis, I may contribute to increased traffic. Potentially, recommending the only nice place to stay will make reservations harder to come by. So why am I writing this? There are a few reasons. The main one being, I am always asked by people, who don't live in Florida, where do we all go that is off the beaten track? People want to know the real Florida and returning visitors are over parks and beaches. Lastly, my love affair with boating started here along with my appreciation for raw oysters!
This post may contain affiliate links. Please read our disclosure and privacy policy for more information.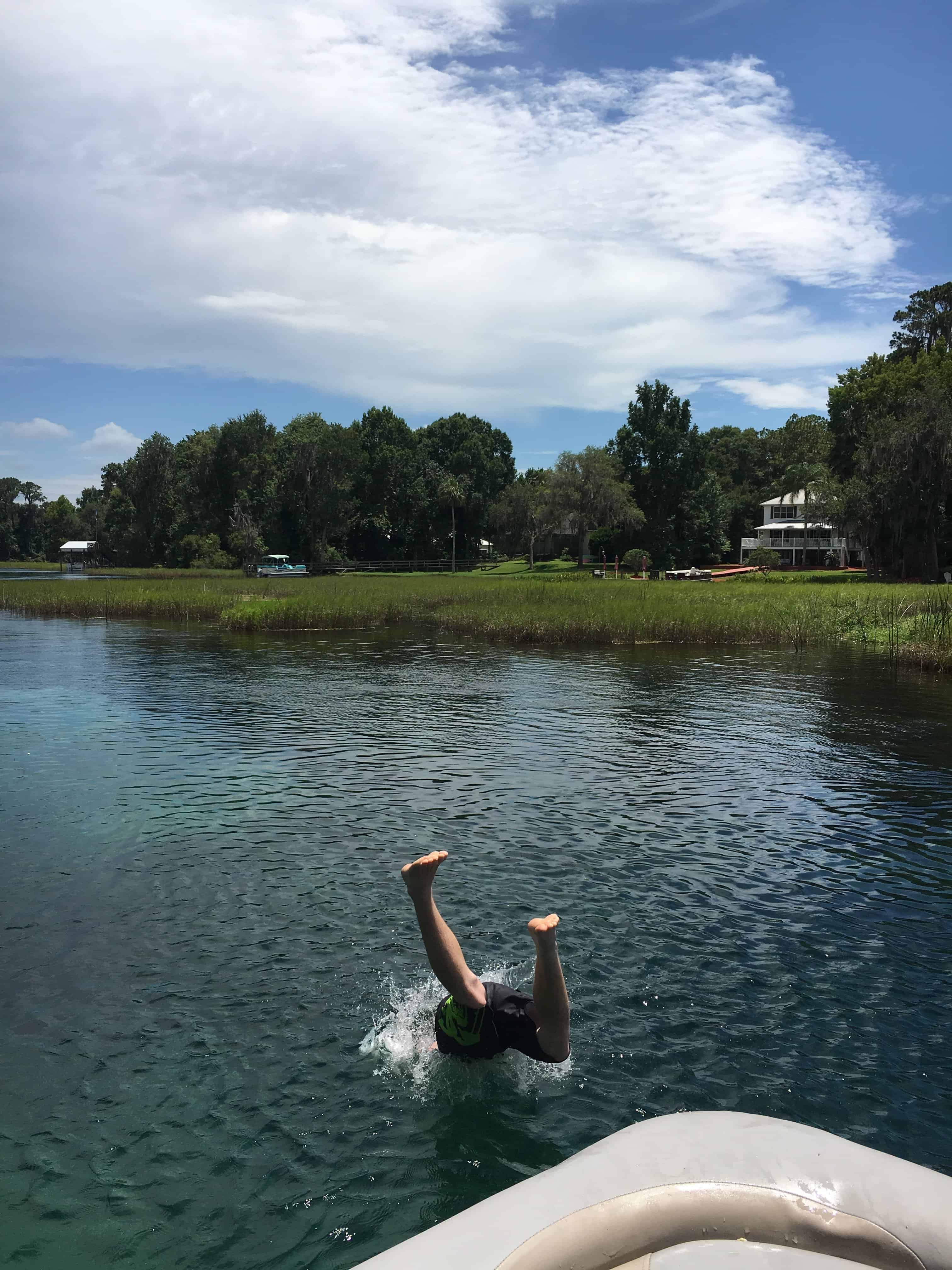 The Rainbow River Florida Background
A friend (the Editor in Chief of Brit on the Move) told me about this slice of heaven. She had read and heard about the spring-fed river, white sandy bottom and crystal-clear water River. I had heard about the Crystal River, but I had never heard of the Rainbow River Florida. After much research, my friend found a place that checked off all our boxes — rustic cabins at a resort that I will name and shame later. The photos depicted an idyllic place to spend a weekend. We could rent a pontoon boat and would be on the water.
We started trying to book and found that there was a waiting list. Really? Yes, really. And what does a waiting list do? It makes you want it even more. Being the suckers that we are, we immediately signed up — fast forward a few weeks. I'm at work, and my phone started blowing up. There was a cancellation at the cabin resort for July 4th weekend, and we needed to book it now or lose it. We booked there and then. What could go wrong? If you follow me, you'll know quite a lot can and will go wrong. Before I tell you, what went wrong, let me explain the beauty of this place. To find out what happened at the cabins, see the name and shame section below.
Oh, Beautiful
The Rainbow River Florida is quite possibly the most beautiful place that I have seen in Florida. There are only a couple of other places as stunning and unique. Some of my friends will disagree when they read this. After all, this is Florida, and it is still a river. To date, I have not seen river water this clear or diverse in color in Florida. There's a reason it's named Rainbow River. It's aglow with green and turquoise blues that flicker with the reflection from the sun. If you want to check-out of the rat race and feel refreshed with a swim in clear spring water, head to the Rainbow River Florida.
We rented our first boat from the "cabin resort" which was cool. We could walk from our place, down the bank, to the river and jump on our rental boat. From the minute that we hit the water and started to drive up towards the head of the spring, I was in LOVE. Not just with the water, all of it. Being in the middle of nowhere was a sensory overload. It was so peaceful, relaxing and stunning. Wildlife was abundant, including several families of otters that were exciting to watch — unspoiled, uncommercialized, old-fashioned Florida. It was a scene straight from Huckleberry Finn.
What To Do
Tubing the river downstream is a popular option, although we have never done it. We always boat up the river, but we often drag tubes behind our boat. Brian dislikes dodging all the tubers. Quite frankly, if you are on a boat, they are a pain in the butt. It's like a real-life game of Frogger. But I think it's worth it since many spots will be void of the tubers.
For sure, once you have passed KP hole, no more tubers! Once on the water, you can swim, snorkel, dive and explore the many orifices. There are plenty of sandbars to pull the boat up to, many swings to jump off and several trees that provide the perfect diving board given their slant. You can also explore the sandbars that travel through the backwoods to dry land. You can fish or not fish. We have caught bass here several times. Realistically, this place is all about relaxing, relax and relax some more.
How we spend our days
Often, our days consist of driving upriver as far as we can. We stop at the entrance to the spring head since it's not accessible to any motorized vehicles. We typically find a sandbar, turn on the music, eat our lunch and then enjoy the water. On our returns, a restaurant named Swampy's has become a tradition of ours. Brian enjoys docking here; we enjoy eating here! I recall my first visit here well when they still served raw oysters. I have tried oysters before, but this place prepared them perfectly. Unfortunately, they do not sell them anymore. They do sell a Shrimp Ceviche that tastes fantastic. FYI, I don't care for fish in Ceviche.
If you rent a boat from the Blue Gator or stay overnight in Dunnellon, you must eat at the Blue Gator. This place gets packed, so much so, they will valet your vehicle to the boat parking across the road. On the weekend, the Blue Gator always has a live band which creates a downright homey country feel. This place still serves oysters (raw, cooked and grilled). You can sit outside or inside, your choice. I recommend out as this is where all the action is. For us, a weekend at the Rainbow River is not complete without a night at the Blue Gator.


Accessing the Rainbow River Florida By Boat or Personal Water Craft
There is a public boat ramp on the opposite side of the road from the Blue Gator.
Rent a boat from the Blue Gator and launch from there.
You will launch into the Withlacoochee River, hook a left under the first bridge and proceed on up to the Rainbow River.
If you are boating up from the Withlacoochee River, you will go under two bridges. The first has plenty of clearance; the second that connects to the Rainbow River is very low. Before you even attempt the second bridge measure your boat height. It's only about 9 feet maximum when water tables are low. We have to take our Bimini top down to fit under it.
You can launch boats and watercraft from KP Hole. We've never seen anyone do it. You would have a hard time around 10 am as you will not find parking, much less parking for a boat.
By Tube, Kayak or Paddleboard.
If you want to tube down the river, start at KP hole, or you can contact one of the many Tube and Ride companies. You can bring your tube, but all of the outfits charge a fee to take you back to your starting point. Prepare, going down the river from KP Hole takes about 2-3 hours on a tube. It's nearly 4-hours from head springs.
With a Ride and Tube Company. Here are some options. I cannot vouch for any of them, because as previously mentioned, we boat instead of tubing.
Rainbow Springs State Park
Ride and Tube
Rainbow River Kayak Adventures
Nature Quest



What you Need to Know
Disposable drink containers are prohibited. No glass, no cans, no plastic. You will need to transfer drinks into reusable containers and have reusable cups.
There are police on the Rainbow River, and they frequent pull people over.
Alcohol is prohibited as it is in most parks, so get creative!
The entire Rainbow River is a no-wake zone.
If you start from the boat launch, you are going up the river.
If you start at the park, you can float down the river with the current.
There are two fabulous restaurants:
o Swampy's – at the lower end of the Rainbow River
o Blue Gator – on the Withlacoochee River
Both restaurants are down the river. The tubes float from the park down river and exit near Swampy's.
If boating upriver, these are the last facilities you will have. You can dock at Swampy's to enjoy the view, facilities, and great food.
You must take water to drink, again no facilities after Swampy's
Sunscreen is a must. I can't tell you how many scorched bodies I've seen at the end of a four-hour tube ride!
Despite being unknown to many, the Rainbow River can be busy on the weekend. It is particularly busy over holiday weekends. It is known to those that like to tube. If you plan to tube, you need to be on the water no later than 10 am. Most tubing operations cut off all tubing at noon, but usually earlier.
Name and Shame: The Rainbow Rivers Club
Regrettably, for us, we booked and prepaid for what we thought was a rustic cabin, not a riverfront villa. When we arrived at the check-in, we came to find out that the so-called resort was in two locations — the address provided for registration and one a couple of miles away that we wanted to stay at. As you can guess, we were not at the location we would consider a resort. Nope.
We were on the river but in a villa. Our entrance to the villa was through the parking lot of an old-school bingo hall, sexy. My friend and I knew that something less than savory awaited behind the door. Sure, as can be, the first experience was that the front door opened into a small, old bedroom. Yes, we had to walk through a bedroom from the parking lot to get to the living room, and it just got worse from there.
The Room
I would describe this place to be 1920's motel-style accommodations that got brushed up somewhere around 1960. Acceptable if it was clean or stylish. It was far from both of those. This place was an absolute s*** tip. I am sure there are more eloquent ways to say this, but I would prefer to give it to you straight. The carpets were threaded barren and dirty. The utensils had food from the prior guests burned into what was left of them. The oven was filthy. It was definitely, overdue aa deep clean.
The furniture was worn and torn, and none of it matched. The TV was from the '80s and had a channel or two without a remote. Lucky for us, we did not come here for TV and brought our music with us. If you need to plug in a phone, forget about it! You would blow your phone up here. The beds had mattresses that are about 6 inches thick and foam particle pillows. Come on folks, who still uses foam particle pillows?
Why Not Leave?
So, why didn't we leave you might ask? We tried but it was the Fourth of July weekend, and there was nothing available within 20 miles. We also had pre-paid for the room along with booking the rental boat. Long story short, we decided to suck it up and make the most of the outside. Over the years, I've come to learn that the NW coast of Florida does not have a lot to offer in the realm of accommodations. I will write another article at some point detailing accommodations at the Crystal River. Mostly, all these older towns have charm and natural attractions, but they lack in accommodations for the sophisticated.
So, there we were, with what we thought was a brilliant deal, in this highly sought-after place, that was on my Florida Bucket List. The accommodations turned out to be an absolute nightmare, but the Rainbow River more than made up for this. Avoid this place at all costs!
The Best Kept Secret of the Rainbow River Florida
You can all tip me for this secret later! A 2014 brand-new Quality Inn Suites was built about half a mile away. It's not on the river, but there are no accommodations other than Airbnb rentals unless you dare to try out The Rainbow River Club. This place is new, modern, clean and has huge rooms and suites. It's not luxurious, but I've stayed in Hilton's that cannot compete with this place. Breakfast is included, it's affordable and has everything you need. We have stayed in almost every hotel in Dunnellon, Crystal River, and Homosassa. The only one we will stay at when doing the Rainbow River and I will move dates to ensure this.
Looking for more posts on Florida? Start here:
We are a participant in the Amazon Services LLC Associates Program, an affiliate advertising program designed to provide a means for us to earn fees by linking to Amazon.com and affiliated sites.