Chatsworth House is home to the Duke and Duchess of Devonshire. Located in North Derbyshire, England, it has been passed down through sixteen generations of the Cavendish family. A stately home, which means a large house or mansion in the English countryside. Chatsworth is often chosen via surveys as Britain's favorite country house. I can understand why; this is the first stately home I visited as a child, and it's where my obsession with mansions began.
This massive house sits in a beautiful garden, which is almost 105 acres. An almost two-mile-long wall surrounds it. The beautiful enormous heritage house is over three hundred years old, and the house's interior carries all signs of the aristocracy and the elegance of England. This heritage building served as the seat of the Cavendish family from the year 1549.
Chatsworth House England has been used as a filming location for several films. The most famous is Pride & Prejudice, where Mr. Darcy's estate scenes are shot at Chatsworth House. We almost get to see the beautiful infrastructure of Chatsworth House in the movie.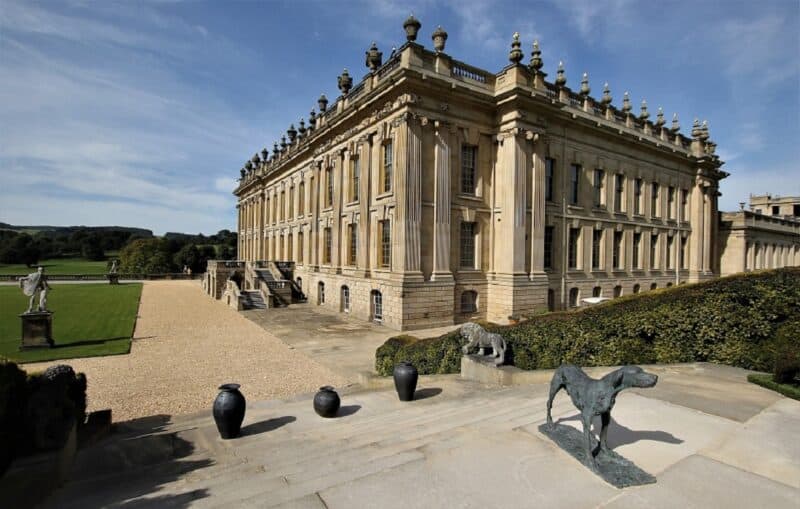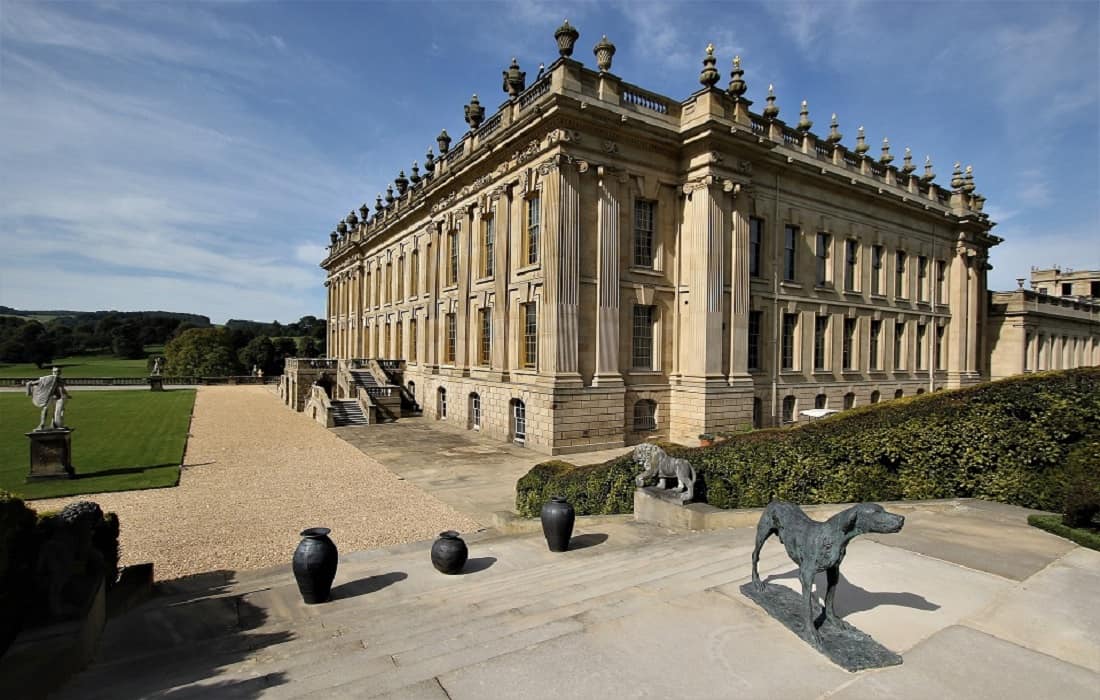 This post may contain affiliate links. Please read our disclosure and privacy policy for more information.
Note: Due to COVID, you can not enter the house at this point. However, you can still visit the grounds and gardens.
Why Visit Chatsworth House?
Most people that travel to England flock to London in the south. Understandable as London is the capital and is home to many attractions that most people want to visit. Yet, London is only one of the highlights of England.
I'm from the north, so naturally, I recommend you visit the north. In this case, North Derbyshire. In other words, you can't possibly appreciate all England offers unless you venture north.
Why Chatsworth House? Well, as mentioned above, it's renowned and a favorite for many. It encapsulates the luxury and grandeur of the rich and noble. It takes you on a historical journey through the estate's life and the families that own it, and it gives you the chance to explore the magnificent gardens that are an intricate part of country estates. The house also played a role in the famous story of Mary, Queen of Scots. Mary was imprisoned several times at Chatsworth House!
For me, it's just divine. I've visited many times, often as a child, then returned several times as an adult ex-pat. This estate will give you a real taste of English country life. And the opulence that comes along with it.
Sometimes referred to as "the jewel in the Peak District's crown," let's explore.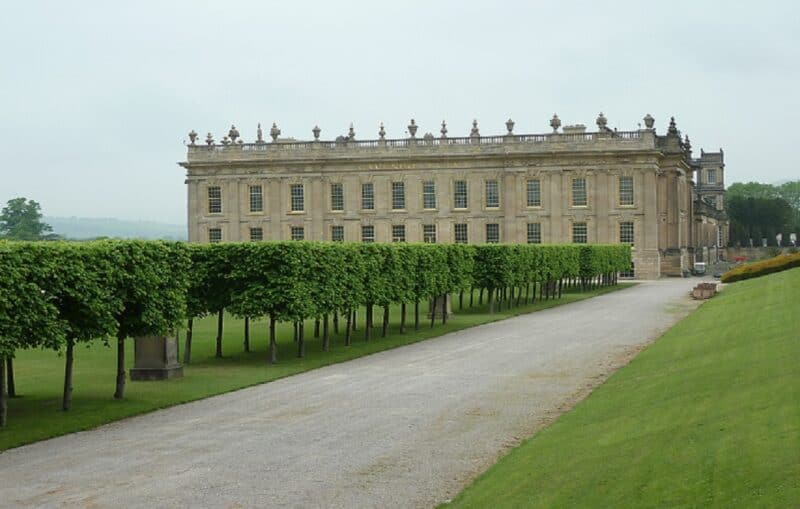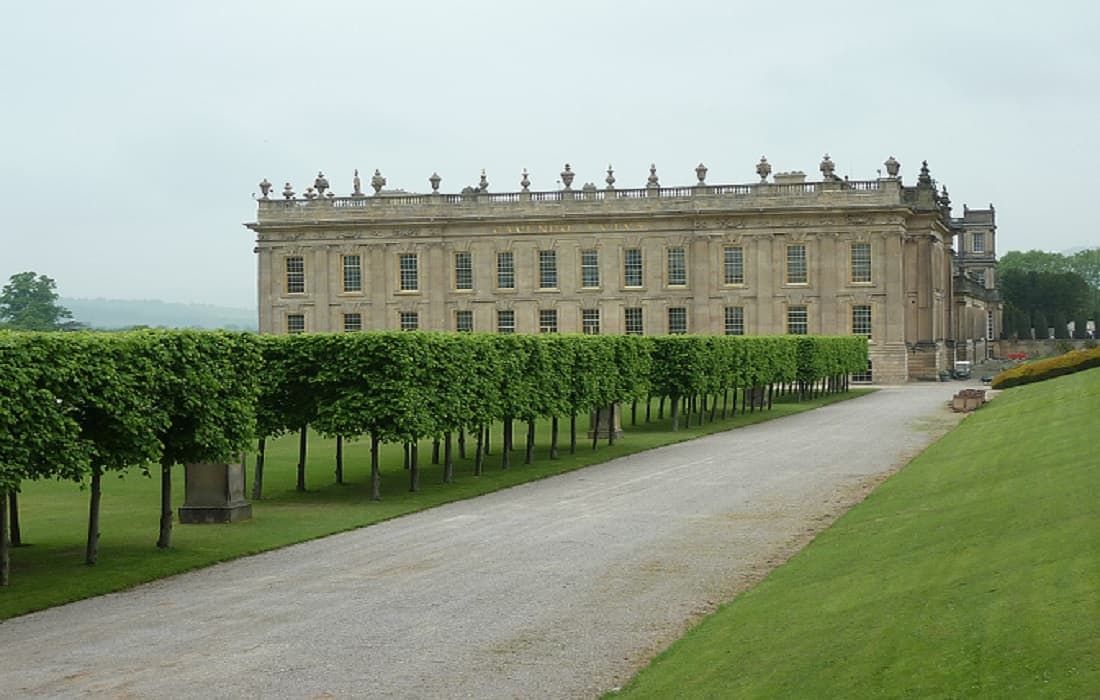 The History Of Chatsworth House
Sir William Cavendish, the Treasurer of the King's Chamber, commissioned the building in 1553 for his wife, Bess of Hardwick. Cavendish passed before the completion. However, his wife continued the build. The house was completed in 1560, and Bess continued to live there with her fourth husband, George Talbot, 6th Earl of Shrewsbury. When Bess died, her eldest son Sir Henry Cavendish inherited the estate, but he sold it to his brother William Cavendish, 1st Earl of Devonshire, for £10,000.
The ranking system for British nobility known as the peerage works like this in descending order, Duke, Marquess, Earl, Viscount, and Baron.
The house was passed down through 16 generations of Earl and Dukes of Devonshire through the centuries. Fast forward to the 20th century. Spencer Cavendish, 8th Duke of Devonshire, who owned Chatsworth House, died in 1908. As a result of the social reform of the 20th century, £500,000 of death duties became due. The estate was already in debt from prior owners overspending. This death tax resulted in the family selling off a vast book collection, including Shakespeare artifacts and thousands of land acres.
The War Era
In 1939 the house became a public school for girls—a wise move from the then-owner – Edward Cavendish, 10th Duke of Devonshire. At this time, country estates were being used as barracks for World War II. Due to this, the savvy Duke anticipated potential damage from being a barrack and came up with the idea of using the estate as a school. This move paid off; Chatsworth House was spared damages.
Following the war, Edward Cavendish transferred all of his assets to his son Andrew Cavendish, 11th Duke of Devonshire, to avoid death taxes (death duties). Sadly, the timing of his death did not enable the lifetime exemption to apply. This resulted in the current owner Andrew Cavendish acquiring a £7 million debt on the estate.
The Revival of Chatsworth House
Despite the debt, Andrew Cavendish, 11th Duke of Devonshire, decided he wanted to keep the family house. Andrew sold thousands of acres of land, more of the estate artwork, and transferred Hardwick Hall to the National Trust instead of a tax. Despite these efforts, it took 17 years to complete tax negotiations on the estate. The Chatsworth Settlement Trustees were established in 1946 to manage the estate.
In 1959 Andrew Cavendish, his wife, Deborah Mitford, and their children moved back into Chatsworth House. In 1981, Chatsworth Settlement Trustee created a new Chatsworth House Trust to preserve the house and open it to the public. This new trust manages the home but allows the Duke and his family to continue living at Chatsworth House.
Almost 300,000 travelers and tourists visit Chatsworth House every year. A fraction of the 1.4 million visitors that The Biltmore Estate in North Carolina enjoys.
The Interior Of Chatsworth House
When you are in the Chatsworth House, England, you will immediately understand why this house is Britain's favorite country house.
When you enter Chatsworth House, the main greeting room is the Painted Hall. It's an unusual grand hall as it is square, has a wrap-around balcony, and on each corner, there is are circular overlooking balcony. The Painted Hall has murals completed in 1694 by Louis Laguerre.
The Painted Hall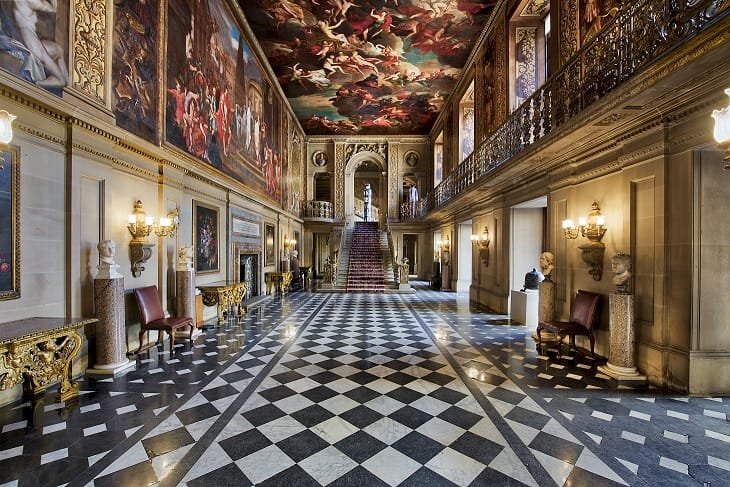 Simon Broadhead & Chatsworth Marketing Team, Courtesy Photo
From Painted Hall, you then begin the tour. Chatsworth has 126 rooms, and you can only view 26 of them. As you tour, you see the artwork of Louis Laguerre and Antonio Verrio.
The Great Dining Room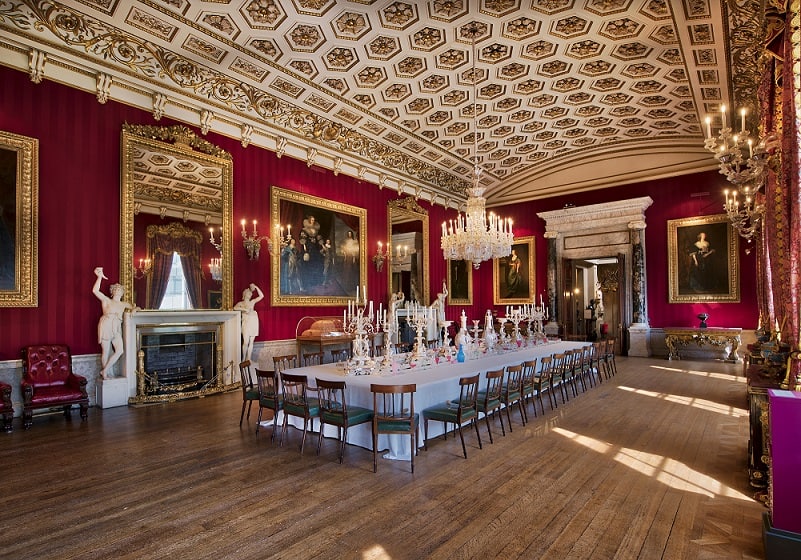 Simon Broadhead & Chatsworth Marketing Team, Courtesy Photo
The State Drawing Room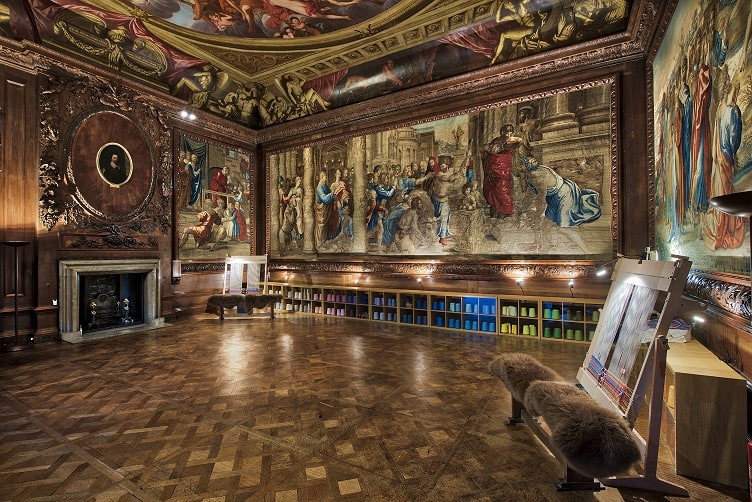 Simon Broadhead & Chatsworth Marketing Team, Courtesy Photo
Despite selling various artifacts over the years, the house is still full of masterpieces, and there is plenty to see inside this home.
The Gardens Of Chatsworth House
For me, the gardens of Chatsworth House are where the natural beauty lies. Don't get me wrong; the inside is beautiful and exciting. The gardens are breathtaking – especially if you experience them during the summer.
The Cascade and Cascade House
The Cascade, for me, is the most stunning part of the garden. I have fond memories of playing in the water and enjoying a picnic. Thomas Archer designed the Cascade. Initially built in 1669 and rebuilt in 1701, the grand baroque Temple or Cascade House was added in 1703. This Cascade is another English favorite. In 2004 the Cascade was voted the best water feature in England by Country Life.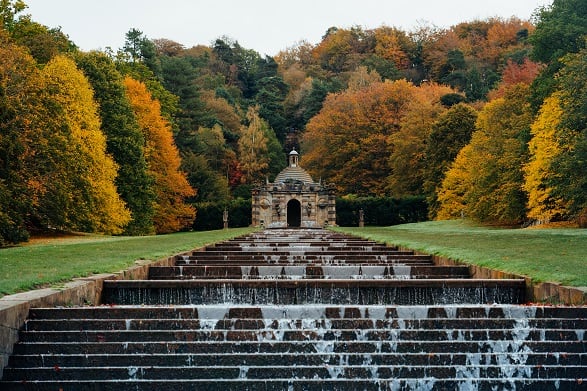 DPC Photography & Chatsworth Marketing Team, Courtesy Photo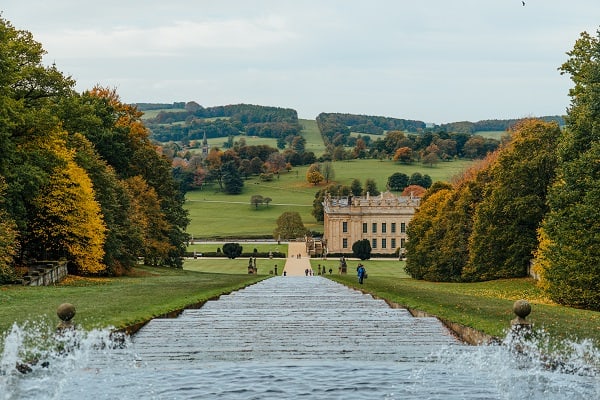 DPC Photography & Chatsworth Marketing Team, Courtesy Photo
The Maze
Ah, the maze! Many mansions and estates of this era across the world have a maze. Often they are called "labyrinths." Despite being referred to as the same, they are different. A labyrinth consists of a single pathway, and a maze has many.
While a standard feature of many estates, what's the actual purpose? Well, there are a few. You can compete and see who can complete it, get lost, or meet your secret love out of sight as many period films depict.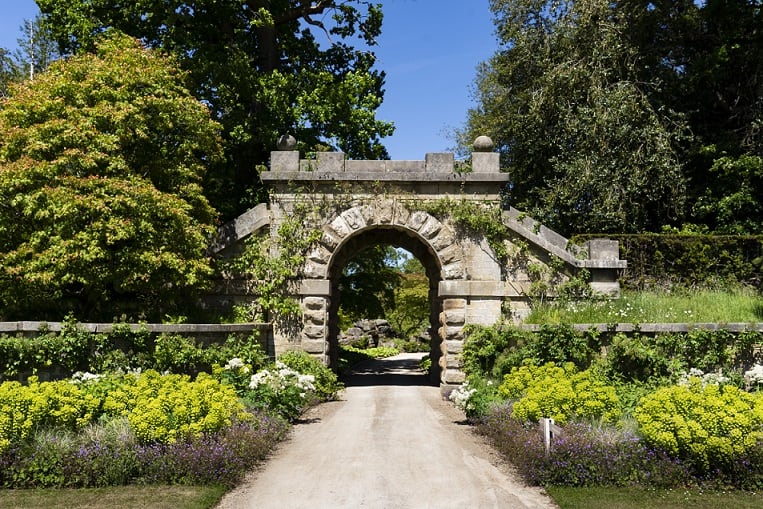 Simon Broadhead & Chatsworth Marketing Team, Courtesy Photo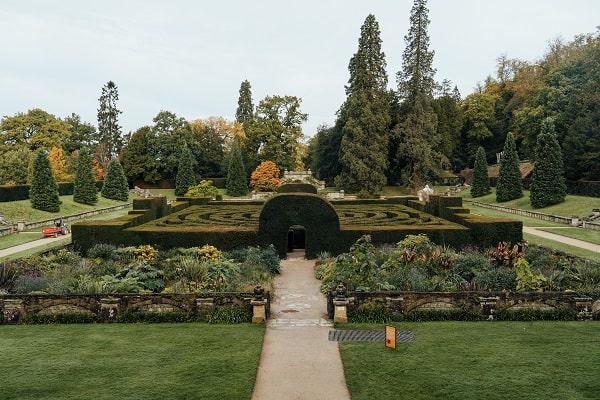 Chatsworth Marketing Team, Courtesy Photo
The gardens are vast; you could spend an entire day viewing the gardens alone. Here are some highlights:
Canal Pond – This artificial lake is the long rectangular lake to the south of the house.
Seahorse Fountain – Sitting in the circular pond on the lawn between the house and the Canal Pond.
Willow Tree Fountain – This is not a real tree. It is an imitation tree that squirts water out of its branches.
The First Duke's Greenhouse – Located by the main lawn and is fronted by a rose garden.
Flora's Temple – This contains a statue of the goddess Flora by Caius Gabriel Cibber.
Then there are several other gardens and greenhouses scattered across the estate for you to view. The River Derwent is just beside the house, and you can enjoy the views of the low hills between the Derwent and Wye valleys from the banks of the river.
The Location Of Chatsworth House
The address of the house is Bakewell DE45 1PP, United Kingdom.
At the M1, take junction 29, Chesterfield, and follow the brown signs: 16 miles.
Beginning at Matlock, take the A6, then the B6012: 8 miles.
From Manchester, take the A6 and A623: 38 miles.
A 30-minute drive from Chesterfield railway station.
A 40-minute drive from Sheffield railway station.
Where To Stay Near Chatsworth House
While you can't stay in the main house, there are several options to remain in the park's estate:
Chatsworth House Stables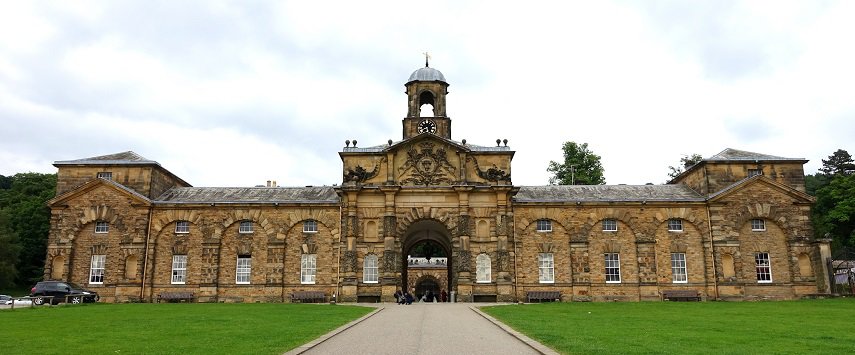 Photo By Daderot
Estate Farm Shop
This is not an ordinary farm shop. The farm shop is another award winner for Chatsworth House. You can purchase a variety of items that are locally sourced:
Meats and fresh fish
Fresh fruit and vegetables
Well-stocked delicatessen
Delicious patisseries
Wines, beers, and soft drink
Park And Woods
Free of charge, Chatsworth park covers about 1,000 acres. This vast park is home to tenant farmers or smallholders. It also boasts several fish ponds and a bridge over the river to the old village of Edensor,
Pro Trip: If this is your first visit to England be sure to check out Edensor. It's a charming little village with a lovely church that is worth exploring.
The park has The Hunting Tower and public paths through the area. Chatsworth offers guided tours with commentary in a 28-seater trailer pulled by a tractor.
Farmyard & Playground
A favorite for the children, the farmyard at Chatsworth lets children meet ponies and lambs, take a trailer ride, swing, climb and splash around. There are also special activities during Easter, Halloween, and Christmas.
Events At Chatsworth House
Chatsworth Country Fair – September
They feature spectacular grand ring displays in the air and on land, demos from celebrity chefs, and entertainment for the family.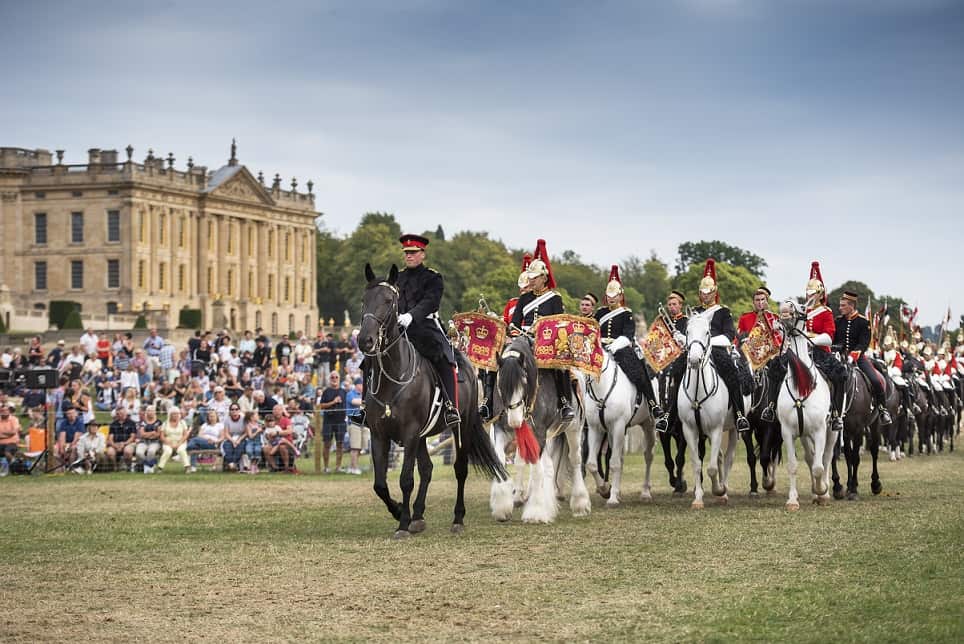 Chatsworth Marketing Team, Courtesy Photo
Dodson & Horrell Chatsworth International Horse Trials – May
Enjoy the world-class competition from elegant dressage and exciting show jumping to gripping cross country.
Christmas
There's nothing better (in my opinion) than visiting mansions and estates at Christmas. If for nothing else, an overdose of Christmas decorations is guaranteed to get you in the Christmas spirit.
But let's assume you already have the Christmas spirit. Mansions are known for being outrageous; no expense spared decorations. Often, unique themes in each room with a variety of color schemes. And, each year, new themes appear.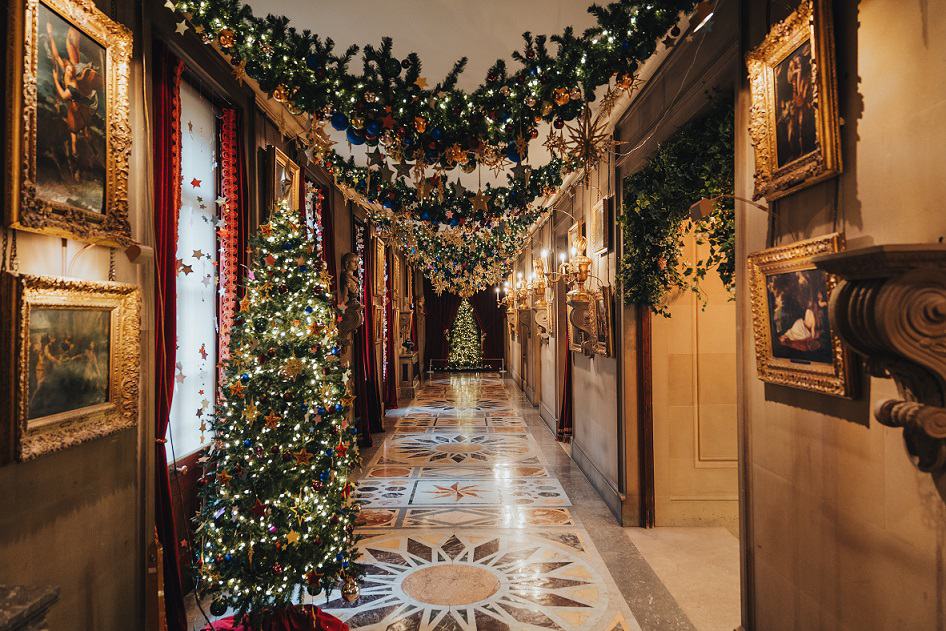 DPC Photography & Chatsworth Marketing Team, Courtesy Photo
Chatsworth also runs two annual rural skills weeks, in which demonstrations of agricultural and forestry are given to groups of schoolchildren on the estate farms and woods.
Frequently Asked Questions About Chatsworth House
The Duke and Duchess of Devonshire live in Chatsworth House and occupy a private flat in the house.
Who are the Duke and Duchess of Chatsworth House?
Chatsworth House is no stranger to films! Pride and Prejudice, The Duchess, and The Wolfman are just some examples.
Closing Thoughts
Chatsworth House England is a classic estate everyone visiting England should have on their radar. Much older than American estates and with hundreds of years of lineage, this home will not disappoint. At one point, Queen Victoria decided that Hampton Court's state apartment interior design should mimic that of Chatsworth House. This alone should tell you that it's well worth a visit.
Contributor: Jais Frank is a freelance content writer and enthusiastic blogger. He contributes to many authority blogs such as rslonline.
Looking For More Castles and Estates To Explore? Start Here:
We participate in the Amazon Services LLC Associates Program, an affiliate advertising program designed to provide a means for us to earn fees by linking to Amazon.com and affiliated sites.
Brit On The Move™ Travel Resources
Ready to book your next trip? Use these resources that work:
Need more help planning your trip? Check out our Resources Page, highlighting the great companies we trust when traveling.