Cape Romano Dome House History
The Cape Romano Dome House is not technically on Marco Island, Florida.  It is on the next Island down called Ten Thousand Island, which is only accessible via water. The island belongs to a larger group of Ten Thousand Islands.  Built by Bob Lee, a now-deceased retired oil producer, in 1980. The self-sustaining solar-powered dome homes started as a dream vacation home.
Lee started the construction in 1980 and completed it by 1982. Lee purchased a barge to move the necessary supplies needed to build the dome homes.  The masterpiece consisted of six connected dome structures for a total of 2,400 square feet. The house boasted three bedrooms and three bathrooms.

This post may contain affiliate links. Please read our disclosure and privacy policy for more information.
Why Build The Cape Romano Dome House?
According to the family members and locals alike, Lee did not like corners. For Lee, angles are a waste of space. He also built a dome style to capture runoff water to use as the house's main supply.
In 1984, the Lee family decided to sell the dome house but repossessed it in 1987. A few years later, the family moved in, and the dome house became their primary residence. That is until 1992, when Hurricane Andrew hit South Florida. While some windows broke, the structure remained intact.
Fast forward to 2005, at this point, the family decides to sell the property to John Tosto of Naples, Fl.  Tosto planned to renovate the house, but a sea wall was required and sadly never built. In 2005, Hurricane Wilma damaged the home and severely eroded the beach ending the dream of renovation.
As the years went on, the beach eroded more and more, making the once dream beach home an abandoned water-logged ruin of its former self. In 2017, sadly, Hurricane Irma hit, and two of the original six domes sunk. You can still see the tops of the domes, but they are submerged. By 2016, the house was approximately 180 feet offshore. Today, the dome house stands about 200 feet away from the beach.
Own A Piece  Of The Cape Romano Dome House
As mentioned, the Dome House will not be here forever. It will eventually sucum to the elements. Before that happens, grab a picture or piece of memorabilia:
Why Visit The Cape Romano Dome House?
I have always had an obsession with dereliction.  It's a thing called "Urban Exploration" (often shortened as UE, urbex, and sometimes known as roof-and-tunnel hacking). Who knew?
It started when I was growing up with a neighbor full of empty buildings filled with vintage goodies.  I thrived on rummaging through the left behind artifacts of years gone past. A favorite for me was an old hotel at the end of our street where the other kids and I would explore for hours.  I find myself daydreaming about how and why a place is derelict. The mystery of places frozen in time is chilling and surreal.  It provokes imagination followed by a burning desire to research why. Which is the second part of the fascination – I love history!
Given my obsession with visiting The Cape Romano, Dome House was a must! I've done many tours seeking various abandoned places from homes, mansions, castles, and cities! But never have I explored a water-bound abandoned house.
Seeing The Cape Romano Dome House in person is an exhilarating experience. When the domes appear in the distance, you will recognize the alien-like shapes. The sun is beaming down on top of the birds that now call them home. As you get up close, you will see the graffiti that now adorns them. You will also look at the sunken domes' rims – a stark reminder of the decrepit state. Every abandoned building has a story, but Cape Romano Dome House is unique. Most of all, it will not be with us much longer. It's only a matter of time before another storm crumbles the remaining four, eliminating this treasure forever. The Cape Romano Dome House survived the 2019 hurricane season, and fortunately, Dorian did no damage.
Photos of the Florida Dome Homes While On Land

The Bob Lee Dome House
How to Visit The Cape Romano Dome House?
If you plan on visiting Cape Romano, you will have to get there via water. There is no bridge to the island. Some people kayak, some go on paddleboards, some boat. Depending on where you start, it could be as much as a five to seven-mile trek, so plan carefully. Here are some maps so you can see:
Cape Romano Florida Map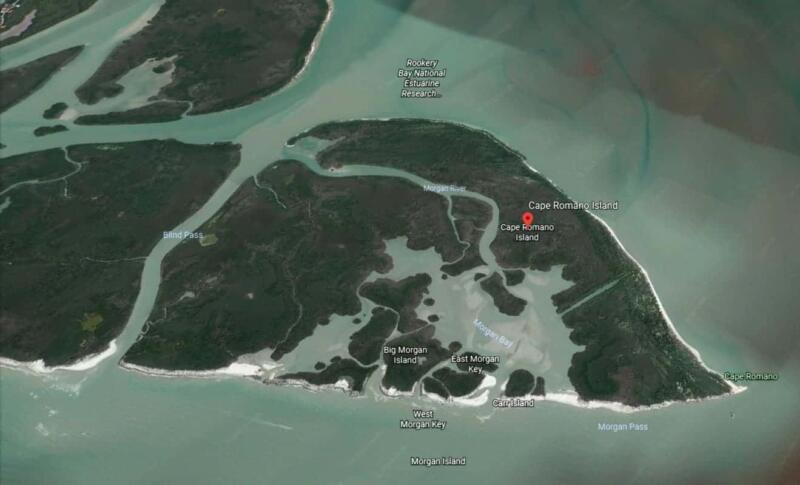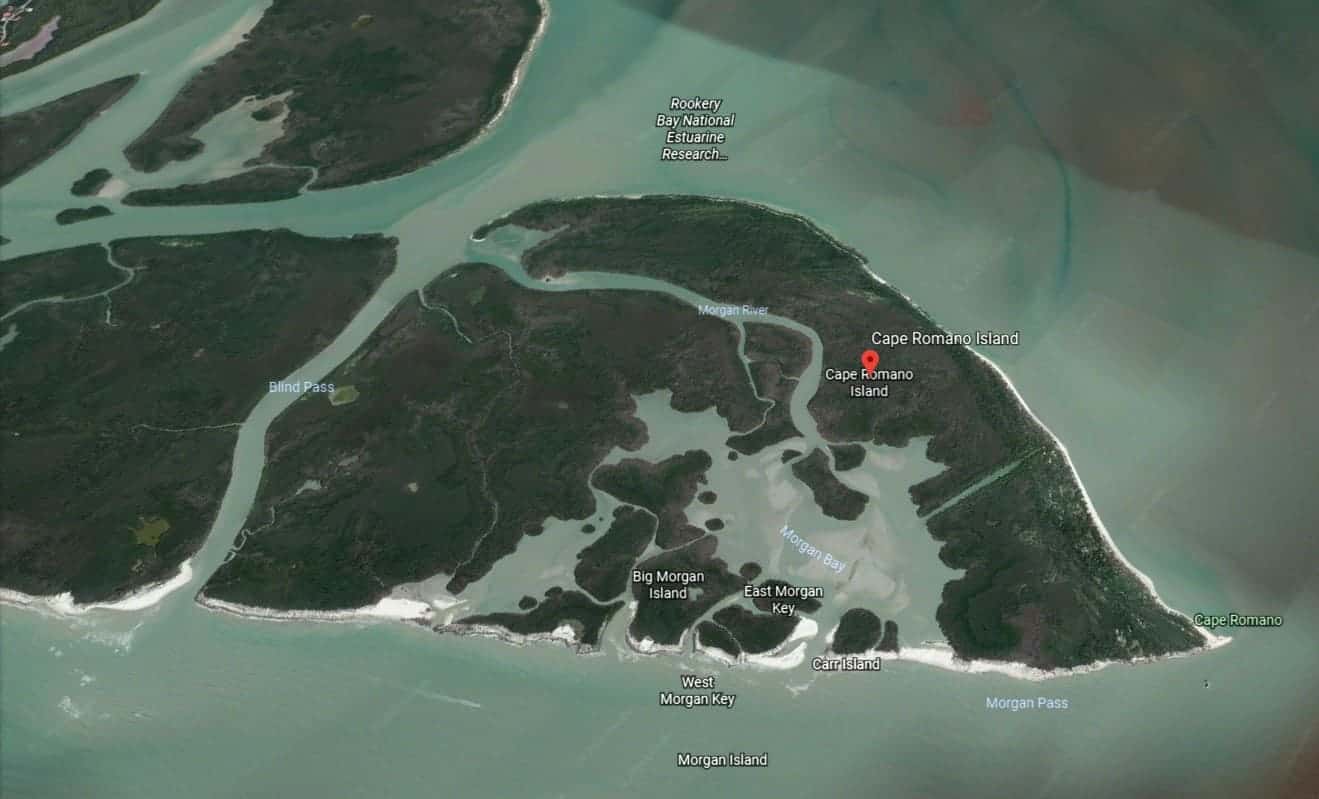 Jet Ski to The Cape Romano Dome House
We chose to take a jet ski tour to explore the islands and the dome houses. A brilliant decision for several reasons.
If you are not familiar with this area, there is a strong potential to get lost.
We wanted a guide that knew the area and who could give us the local knowledge.
Neither of us fancied paddling anything for five to seven miles with or against the tide.
We took a 2.5 hour to with Wow Jetskis. Our guide, Ryan, was fantastic! A local Floridian knows not only the waterways like the back of his hand but also an expert skier! I can't say enough good things about this tour. The tour guides carefully navigate you through no-wake zones while stopping along the way to capture photographs of you!
We booked through Trip Advisor because I could not find the specific tour we were trying to do anywhere else.  Please don't do this. Go to their website directly to book. If you ask, the owner might give you 10% of what other sites list if you call direct. Ask for Ryan – you will not be disappointed.
In addition to seeing The Cape Romano Dome House, we also got up close and personal with a family of dolphins! An added and much enjoyed the bonus.
Where To Stay On Marco Island, Florida
Photos of The Cape Romano Dome House Today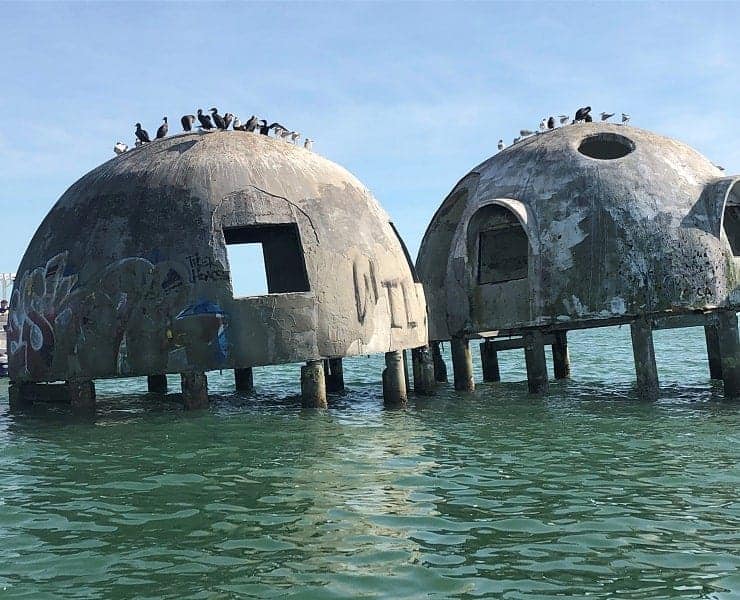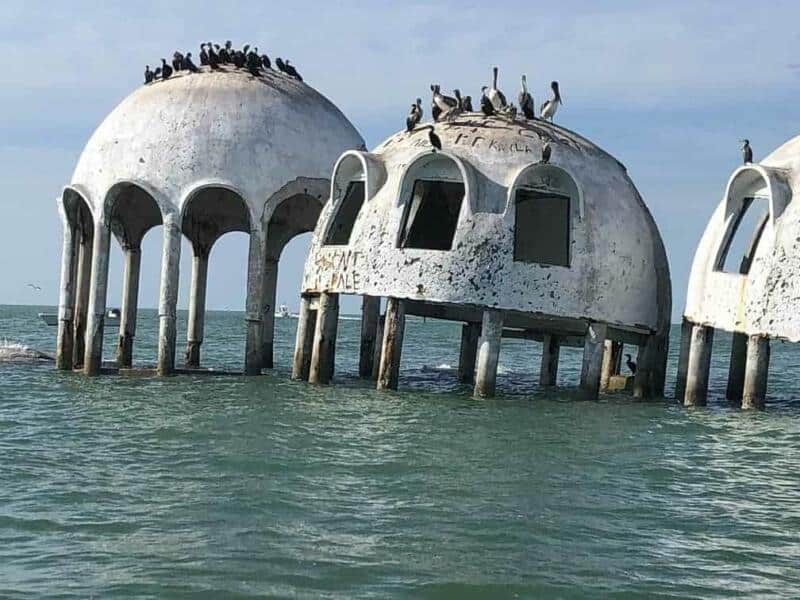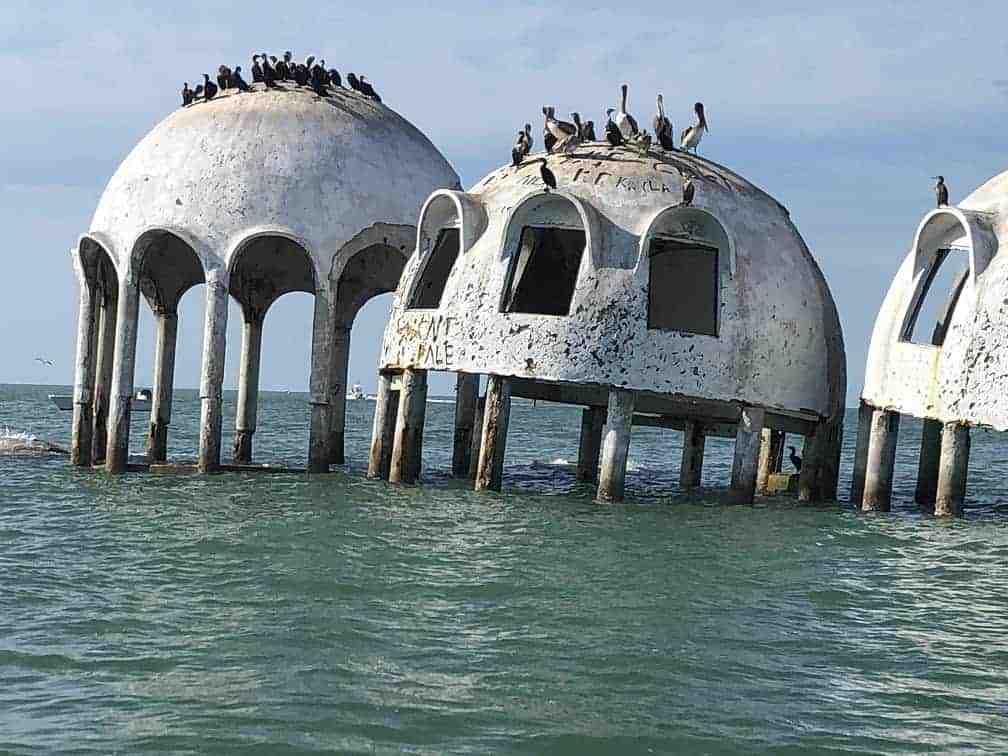 See more photos and keep up with the dome homes' status on The Dome Houses of Cape Romano Facebook Page.
Photo Credits:  Vintage pictures credit to Kristian Maples (Bob's grandson) and Coastal Breeze News. Brit on the Move took all other photos.
Are you planning to explore The Cape Romano Dome House? If so, share your experience here!
Looking for more posts on Florida? Start here:
We are a participant in the Amazon Services LLC Associates Program, an affiliate advertising program designed to provide a means for us to earn fees by linking to Amazon.com and affiliated sites.