Brian has lived in Florida most of his life, and I have lived here for over 20 years. We still have a Florida bucket list. On the things on our list was to visit a Florida rodeo. The Westgate River Ranch and Rodeo was once on this list until we enjoyed it March of 2017. What is the attraction? Long before we experienced it, I had heard from others that it was a unique place that had a ton of things to do on site, one of which is a real competition rodeo. I had also heard this was one of the best Florida Rodeo's.
This post may contain affiliate links. Please read our disclosure and privacy policy for more information.
Westgate's Florida Rodeo
Neither of us had been to a Floria rodeo or a ranch, so I started watching for a deal. Before I tell you all about this place, let me clear up some of the obvious that you have likely read elsewhere. Yes, the accommodations are expensive. Not a budget trip if you pay to stay on site. Yes, the standard rooms are in what was once apparently a motel, and yes, the pool is not like resort pools. Based on other reviews, I had low expectations, yet I found this place to be amazing. You could spend a week here. Having experienced it myself, I don't understand what people were expecting – it's a ranch in the middle of nowhere.
This Florida rodeo caters to adults and children alike, which I think is one of its unique draws. It's nothing like a typical park built for kids with a beer stand. One of my favorite places we have stayed at in Florida, and I can't wait to go back. Now that we have cleared that up let me get why I think it's so fantastic.
The Room:
We booked a Lodge Guest Room. No glamping or teepee for us. They were way out of the affordability range. I will say that I would splurge on this for a special occasion. There was a wedding there while we were visiting, and I immediately started thinking about event possibilities. People staying in a Luxe Teepee or glamping raved about their experience, and no one was complaining about the cost. It's also worth mentioning that everything except food and boat rentals is included if you book the Luxe Teepee. View the specials. There is often a 20% off deal.
Overall, while the hotel building is a motel style all the rooms are entirely renovated tastefully. The beds were comfy, the linens plush and aside from the exterior ascetics, it is what you would expect from Westgate. Our room was great, no complaints, what so ever. If you don't mind roughing it, you can camp on site with your equipment for as little as $50 a night. Say you own an RV, bring it! If staying overnight is too costly, I would still recommend you go for the day if you are in Florida. There is plenty to see and do:
The Rodeo:
The main lure here is the Florida Rodeo, which only happens on a Saturday night. You are nuts if you don't plan your trip to include a Saturday night to experience the rodeo. Tickets are $20 for adults, $10 for children and what value for the money. It is a real competition and combines show elements in between. At the halfway point, they let kids chase a calf to grab a piece of string loosely tied on its tail.
No one gets hurt; it's just silly fun. If you are lucky (and we were), your kids will get to meet a real cowboy that participated in the rodeo. Following the rodeo, there is a street party that is free. Line dancing outside the saloon that kids can join in and likewise, an adult version inside the saloon. I'm not an expert, but I can see why people say this is one of the best Florida Rodeo's.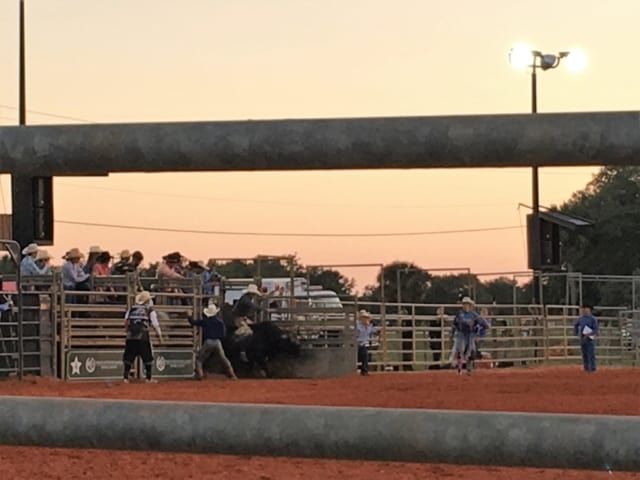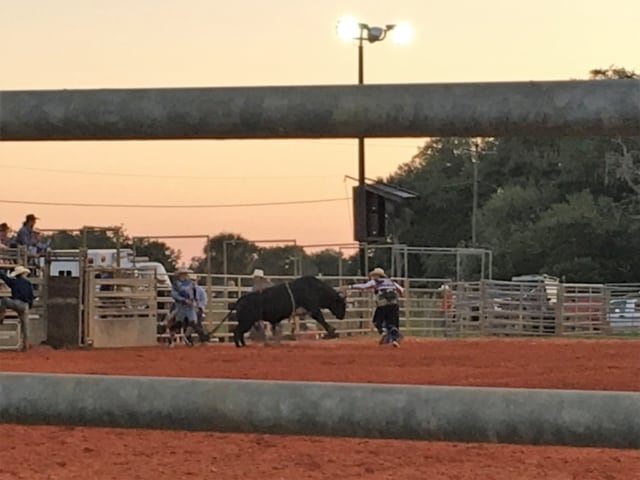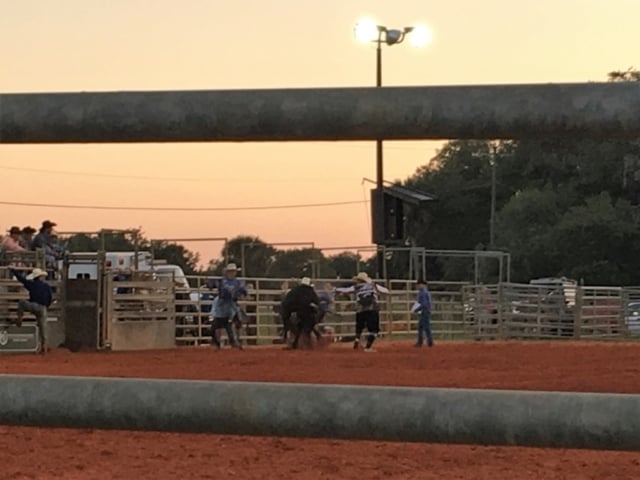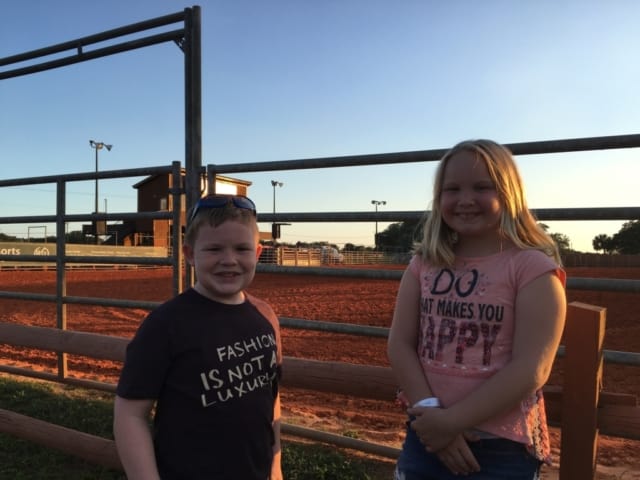 The Saloon:
Centrally located, I would say this is the hub of the place. You can eat here, drink here, and it conveniently has a game room attached for kids. Night time in here gets kicking with a live band, line dancing and the typical country atmosphere you imagine from an old-school saloon. If that's not your cup of tea, grab your water and head to the porch and enjoy watching everyone outside. Or, if you want peace to retreat to your digs. At night there is also a fire pit in front of the saloon and next to the kids' adventure park. They do smores and the typical fire story telling. FYI, drinks were reasonably priced, nothing over the top. Don't forget your cowboy boots and hat.
Kids Adventure Park:
There is a kid's adventure park that includes everything from a zip line, wall climbing to a mechanical bull. It's not huge, but it is in front of the saloon. Think of enjoying a cold one while watching rug rats play and you'll get the gist. And, it's priced fairly. I think it was $25 for a day of unlimited or close to. What I liked about having all day passes for this is we could come and go. The highlight of the kids' adventure park is the mechanical bull and adults can ride too!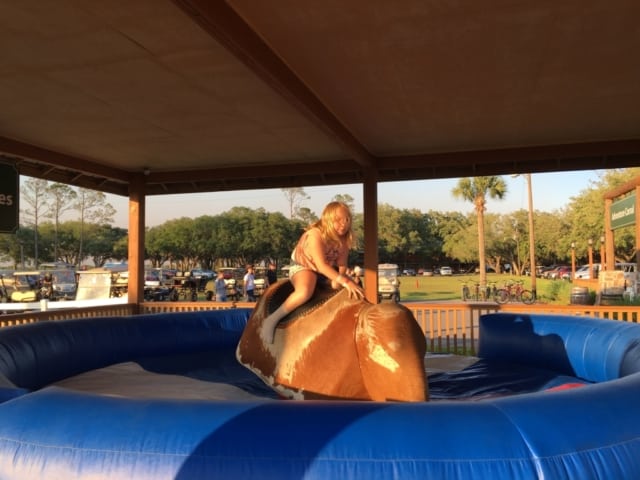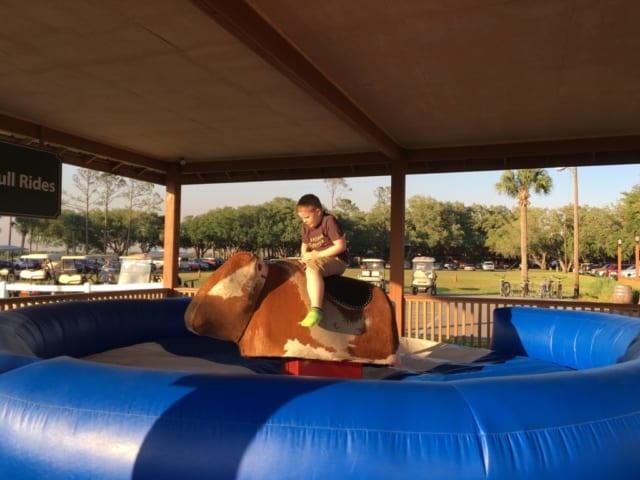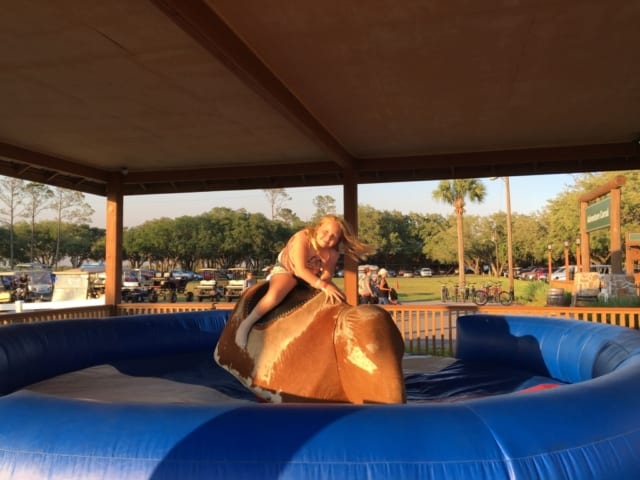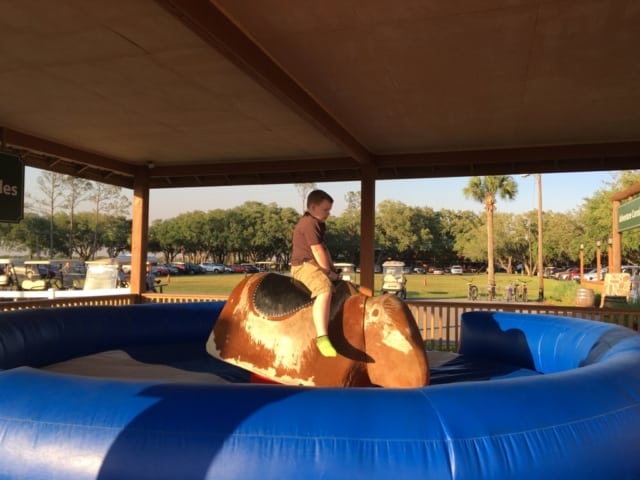 Water Activities:
The place has a full-service marina (BYOB), or you can rent a boat for $71.50 per hour. They also do airboat rides for $30 for adults, $20 for children (ages 2-12).  There are swamp buggy rides for $30 for adults, $20 for children (ages 2-12). Not liking those options? Bring your gear and fish for free.
Golf Carts:
This place is huge; you either need to drive or rent a golf cart once on site. Most people rent golf carts. Why? Cause it's cool…. It costs $60 for one day and $50 per day if you book more than one day.
There are many other activities like horse riding, miniature golf, a 9-hole golf course, archery, trap & skeet range, etc. Trust me when I tell you there is plenty to do.
Closing Thoughts:
From what I can tell, this place is not set up to entertain through the week. No rodeo and many of the activities are closed. If you are planning to go through the week, you need to verify what is open and what is not.
Once you are on site, you can let the kids roam free. Outside of the kids' adventure park, there are animals all over and a petting farm that is free. You'll see kids feeding and petting goats all over! Food was ridiculously cheap in comparison to the cost of the rooms. I felt that this made up for the cost as I expected to be paying Disney prices and not even close. Most activities were reasonably priced, so overall while rooms may be pricy the place is not set up to price gouge you.
We took my nephew (8) and his friend (9) with us. Two months prior, we took the same two children to Disney World for four nights and five days. We stayed at Disney's Animal Kingdom Villas – Kidani Village with a Savannah view. Guess what these same two kids said? They said that the River Ranch blew away Disney. Maybe it's the lack of lines, no crowds or being able to do everything 50 times. I am not sure, but they have been asking to go back. Every time we talk through plans, the River Ranch comes up. Now, if that's not an endorsement, I don't know what is.
Looking for more posts on Florida? Start here:
We are a participant in the Amazon Services LLC Associates Program, an affiliate advertising program designed to provide a means for us to earn fees by linking to Amazon.com and affiliated sites.