Westgate River Ranch is somewhere that should be on everyone's list that is visiting Florida. Brian has lived in Florida for most of his life, and I have lived here for over 20 years. We still have a Florida bucket list because there is so much to see and do. One of the things on our list was to visit Westgate River Ranch. That is, until we enjoyed it for ourselves.
What is the attraction? Where do we start? Long before we experienced it, I had heard from others that it was a unique place with many things to do on-site, including a real live competition rodeo. I had also heard that this is one of the best Florida Rodeos. If you are unfamiliar with Rodeo, riding a bull or a bucking bronco is a competition. The goal of competition riding is to stay on the animal the longest.
I love the traditional elements of Florida. I'm a long-time fan of the south, a lover of cowboys, and an outdoor enthusiast. The mere idea of being on a ranch is exciting, much less a ranch that hosts a rodeo in style!
Many refer to Westgate River Ranch as Westgate Ranch, The Dude Ranch Florida, or River Ranch Resort. The official name is Westgate River Ranch Resort and Rodeo, located east of Lake Wales and south of Kissimmee. Or, if you live in Orlando as we do, it's about an hour and forty minutes away.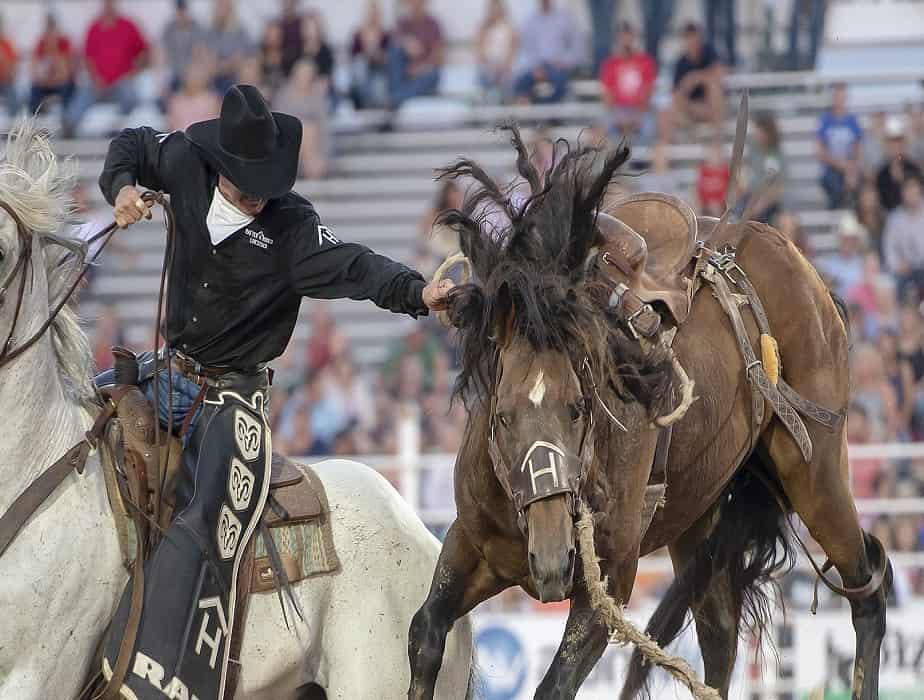 This post may contain affiliate links. Please read our disclosure and privacy policy for more information.
History Behind Westgate River Ranch Resort and Rodeo
The resort covers an area of 1,700 acres and offers a wide range of activities, such as horseback riding, airboat rides, fishing, archery, and more. The resort also has a weekly rodeo and various annual special events.
The land that the resort is located on was originally owned by the Seminole Indians and was later used as a cattle ranch by a man named Bud Adams. In the 1960s, the land was purchased by the prominent Florida family Lykes Brothers and turned into a hunting and fishing lodge called the River Ranch Hunting Lodge.
In 1971, the property was sold to investors who turned it into the Westgate River Ranch Resort. The resort featured various outdoor activities and amenities and quickly became a popular tourist destination.
In the 1980s, the resort added a rodeo arena and began hosting weekly rodeos. The Rodeo quickly became a popular attraction and helped to establish the resort as a premier destination for western-themed entertainment.
In 2001, Westgate Resorts, a timeshare company based in Orlando, Florida, purchased the resort. Under Westgate's ownership, the resort underwent a major renovation and expansion, adding new accommodations, restaurants, and attractions.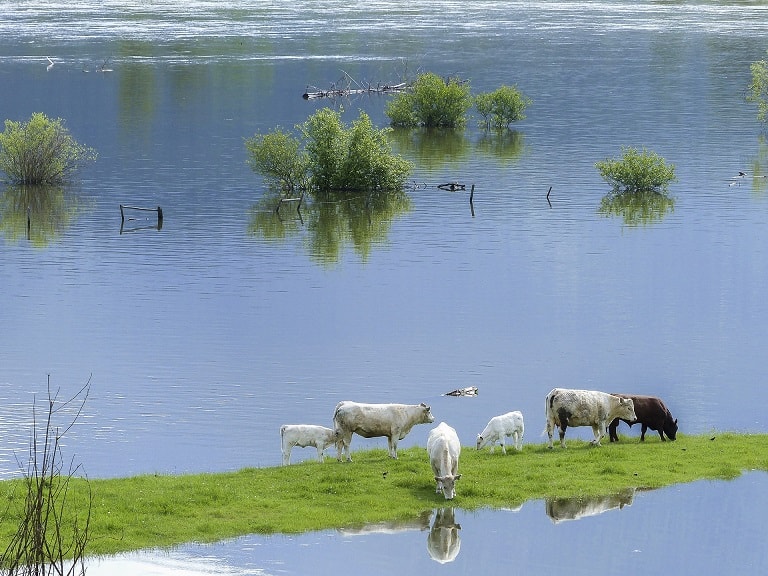 Location
3200 River Ranch Road, River Ranch Florida
About Westgate River Ranch Resort and Rodeo Today
Considered by many to be the best Rodeo in Florida, I'd been curious for a long time. Neither of us had been to a rodeo or a ranch, so I started watching for a deal. Before I tell you about this place, let me clarify some of the apparent concerns you have likely read elsewhere. Yes, the accommodations are slightly expensive. Not a budget trip if you pay to stay on-site. Yes, the standard rooms are motels, and the pool is unlike resort pools. But Westgate's Rodeo and amenities make up for this.
I had low expectations based on other reviews, yet I found this place excellent. You could easily spend a week here. Having experienced it myself, I don't understand what people expected – it's a ranch in the middle of nowhere. But, it is a ranch that is jam-packed with things to do. Just because the name includes "resort" does not mean you should be expecting a ritzy Carlton-like resort. This is a river ranch rodeo resort. Or, if that does not resonate, this is a cowboy joint—the deep south at its best.
Westgate River Ranch caters to adults and children alike, which is one of its unique draws. It's nothing like a typical park built for kids with an occasional beer stand. Nor is it a park that is designed just for kids. This place is family-orientated, but it caters to all with intention.
I can't wait to return to Westgate River Ranch, one of my favorite places in Florida. Now that we have cleared that up let me explain why I think it's so fantastic.
Westgate River Ranch Resort Rooms
There are several rooms: Lodge rooms and suites, glamping tents, saddle club cabins, saddle rail cars, cottages, cabins, and luxe teepees. Also, you can pitch your tent or bring your RV.
We booked a lodge guest room. No glamping or teepee for us on this trip. They were way out of the affordability range for the dates we chose. I will say that I would splurge on the luxe teepees for a special occasion, and I'm seriously considering it for next year.
There was a wedding there while we were visiting, and I immediately started thinking about event possibilities. You could get married, have your birthday party, anniversary and so on. You could host and celebrate any event here with ease.
We talked to many people staying in a luxe teepee or glamping, and they raved about their experiences. No one complained about the cost; most said they felt it was reasonably priced. It's also worth mentioning that everything except food and boat rentals is included if you book the luxe teepee.
Lodge Rooms
Lodge rooms are newly renovated, each with a Queen Bed and in-room kitchenette. Each Lodge Suite features new dark-wood furniture, a Queen Beautyrest mattress, lighting, hardwood flooring, and luxurious linens and bedding.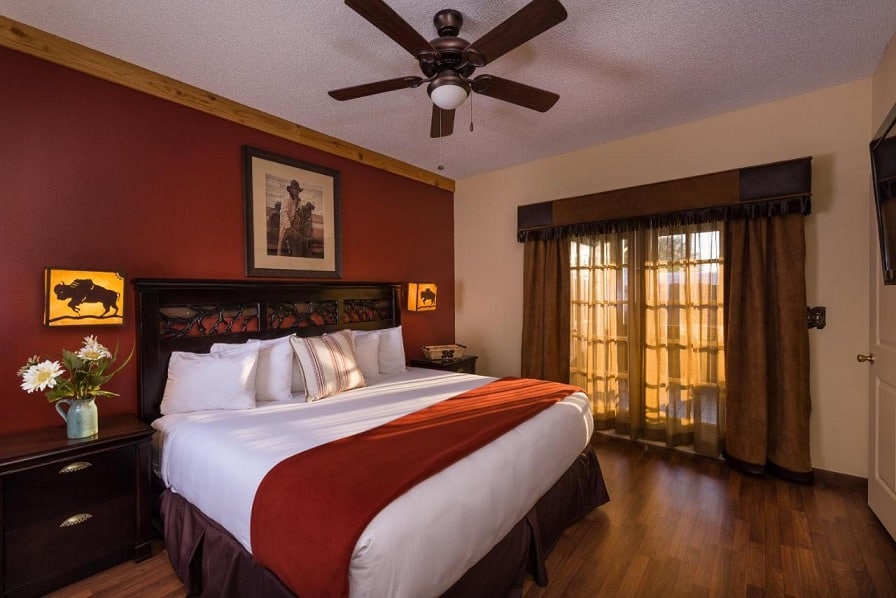 Overall, while the hotel building is a motel style, all the rooms are entirely renovated tastefully. The beds were comfy, the linens plush, and aside from the exterior ascetics, it is what you would expect from Westgate. Our room was great, with no complaints whatsoever. And if you are just visiting for Westgate's Rodeo, this is all you need.
Lodge Suite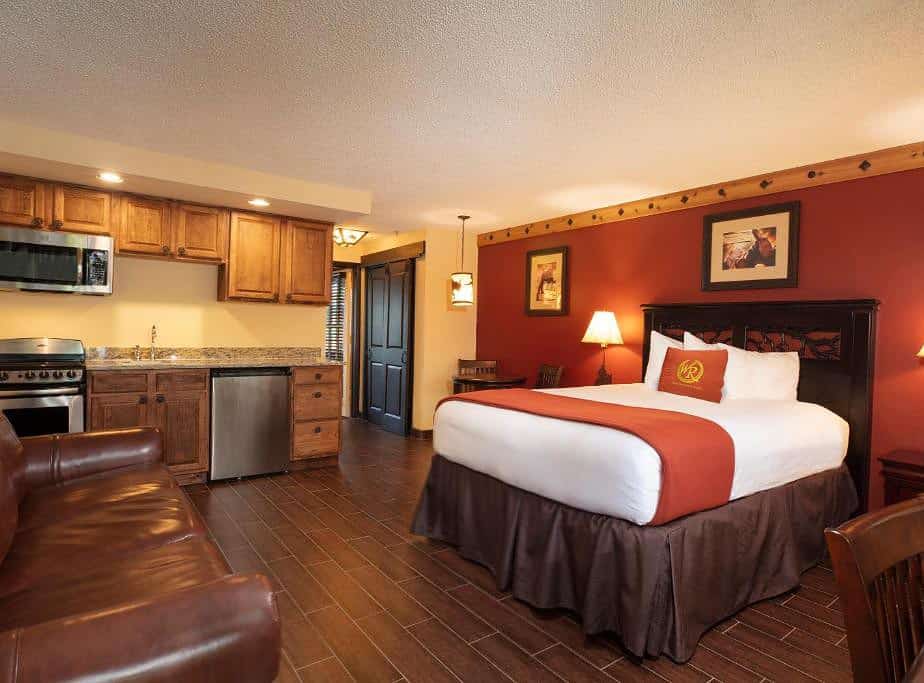 Deluxe Lodge Suite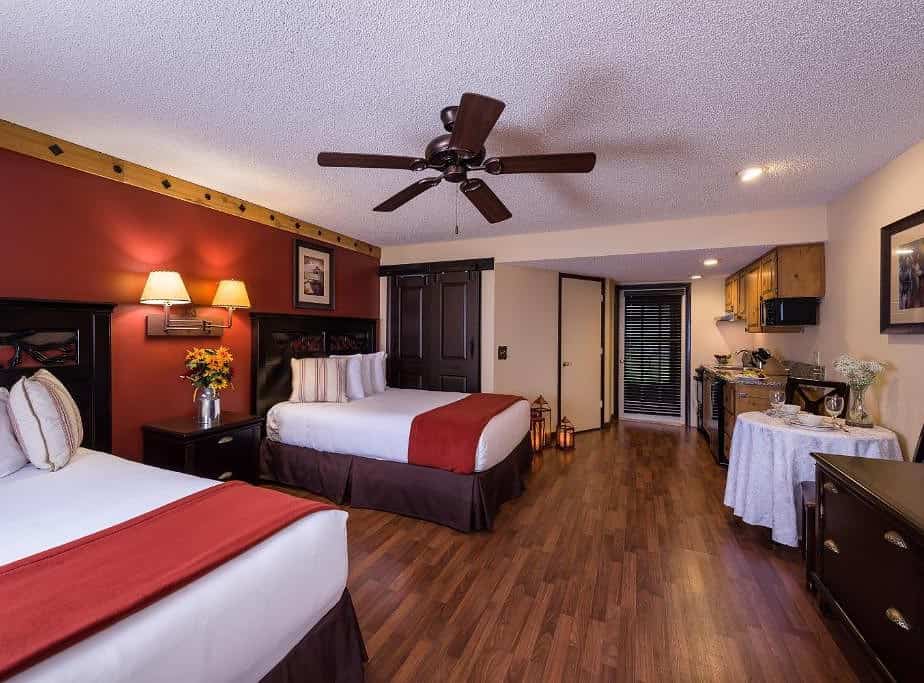 Club Studio Cabin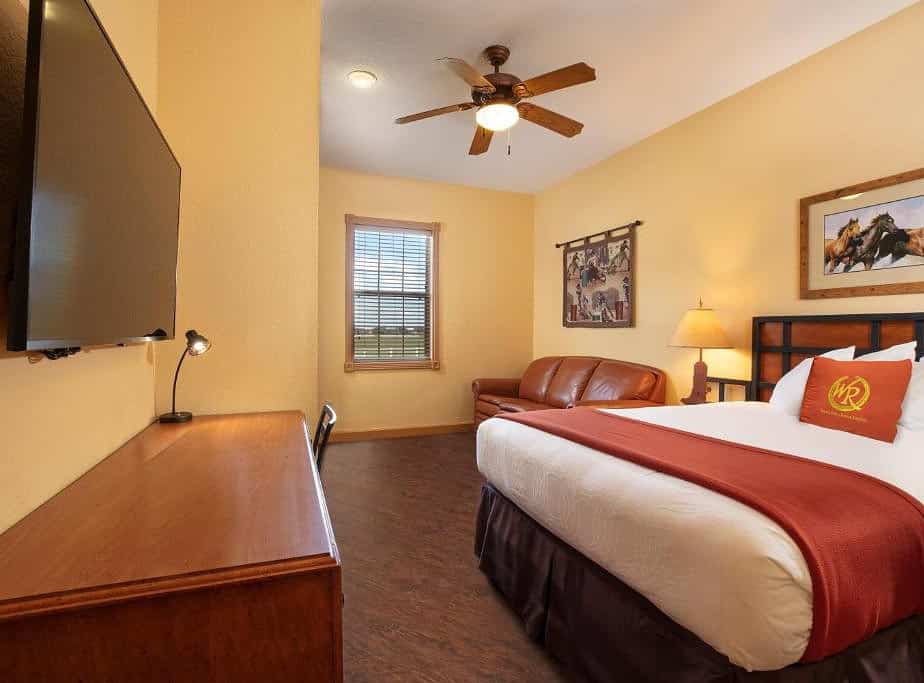 Saddle Club Cabins
These are available in one bedroom, two and three so you can pick the size you need.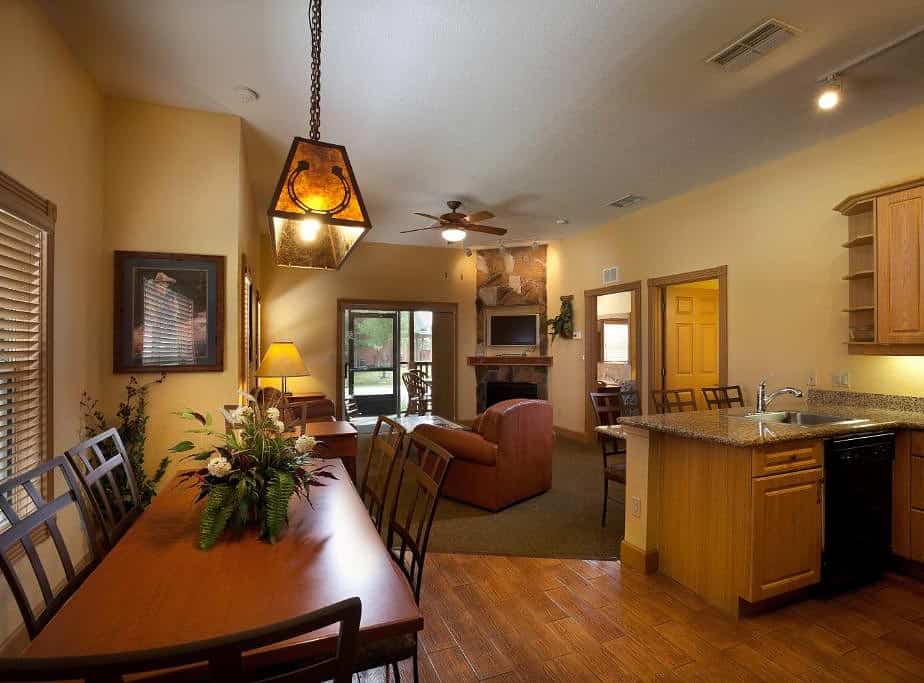 Cottages
These are available in one bedroom and two, so you can pick the size you need.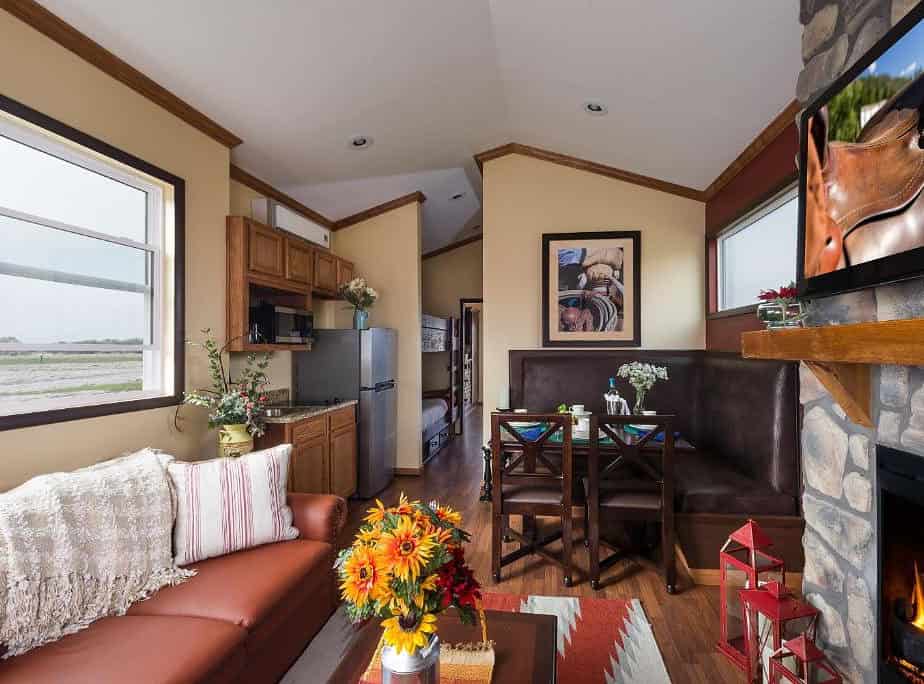 Luxe Teepees
This is where you start to splurge. Luxe Teepee's offers a variety of unique amenities such as a double-sided stone rock fireplace, two leather chairs with authentic cowhide ottoman, luxury linens, plush towels, and toiletries; porcelain cast iron claw bathtub and shower; two rocking chairs and bug netting on a private patio deck. Escape from the ordinary and experience the great outdoors like never before.
Teepee guests enjoy exclusive benefits such as a personal Luxe Concierge, all resort activities, VIP rodeo tickets, seating at Saturday night's Rodeo, resort golf cart, morning coffee service and pastry delivery, and nightly campfire prepared for s'mores and fireside storytelling.
Note: Teepees are available with a 2-night minimum length of stay. Pricing is based upon double occupancy. Extra-person charges will apply. Complimentary stay in Luxe Teepees for children four and under. Children 4 and under are included in the occupancy count for each teepee. Each teepee has a maximum occupancy of 4, regardless of age. Pontoon boats are excluded from the all-inclusive activity options.
Luxury Glamping
Glamping, also known as luxury camping or glamorous camping, is camping in style! Westgate River Ranches' glamorous camping sites are set on platforms in a beautiful wooded area with spacious, fully furnished, air-conditioned canvas tents.
Another expensive option starts at $399 per night. In the Luxury "Glamorous Camping" areas, spacious, fully-furnished, air-conditioned/heated canvas tents are set on platforms in a beautiful wooded area. Additionally, the Luxury Glamping Accessible tents feature custom-made furniture and an en-suite private bathroom with a double vanity and walk-in shower. You can relax on the porch rocking chairs and listen to nature's sounds. While sharing campfire stories, indulge your sweet tooth at the nightly firepit with s'mores. The Luxury Glamping Accessible tents also come with a golf cart so that you can explore the resort's activities and amenities. Westgate provides danish delivery service to your tent, and the Glamping Concierge provides the morning coffee.
Luxe Conestoga Wagons
One of the most expensive accommodations, the Luxe Conestoga Wagons, starts at $600 per night! The Luxe Conestoga Wagon is a large, heavy-covered wagon used in the late eighteenth century to transport cargo by horse or oxen but is now equipped with modern amenities.
If you've never experienced staying in a wagon read this: Glamping In Florida In A Covered Wagon
Luxe Conestoga Wagon guests enjoy unparalleled benefits, including a personal Luxe Concierge, all resort activities, VIP rodeo tickets and seating at the Saturday night Rodeo, resort golf carts, morning coffee and pastry delivery, and a nightly campfire ready for s'mores and fireside stories.
The price only includes four guests, but the wagon will accommodate up to six people. Suppose there are more than four guests, you must add the information to the reservation, and the pricing will be adjusted accordingly.
Better yet, you don't mind roughing it; you can camp on-site with your equipment for as little as $50 a night. If you own an RV, bring it and stay in it!
If staying overnight is too costly, I recommend you go for the day in Florida. There is still plenty to see and do. Just make sure you go on Saturday to watch the Rodeo.
Essentials You Will Need To Enjoy Westgate River Ranch Resort and Rodeo
Book A Room At Westgate River Ranch Resort and Resort
Westgate Rodeo
It has been a long-standing tradition for many Central Florida families to attend the Saturday Night Rodeo at Westgate River Ranch Resort near Lake Wales. Rodeo clowns perform tricks, bull rides, calf ropings, barrel races, and calf riding at this real-life Rodeo. Classic country songs are played during the patriotic, flag-waving tribute. There is a real "calf scramble" at the end of the Rodeo for your kids.
If you are unfamiliar with "calf scramble," it's a game. With the drop of a cowboy hat, a calf is released into the arena with a piece of cloth on its tail. The kids chase and attempt to catch. No calves are injured during this harmless play.
Adults $25 / Children (ages 5-12) $15. Children 4 & under are complimentary.
Street Party at River Ranch
Immediately following the Saturday Night Rodeo, join us for an energetic, fun Street Party on the stage directly in front of River Ranch Saloon! Dance to lively tunes as a DJ entertains the crowd with Western line dance moves. It's a party you won't want to miss! Sing, dance, and play games!
River Ranch Saloon
The immensely popular River Ranch Saloon is a short walk from the Rodeo Arena. You can enjoy live country-western foot-stomping entertainment and line dancing on Friday and Saturday nights. You can take a line dancing lesson on Friday evenings and listen to live music. River Ranch Saloon offers a full bar.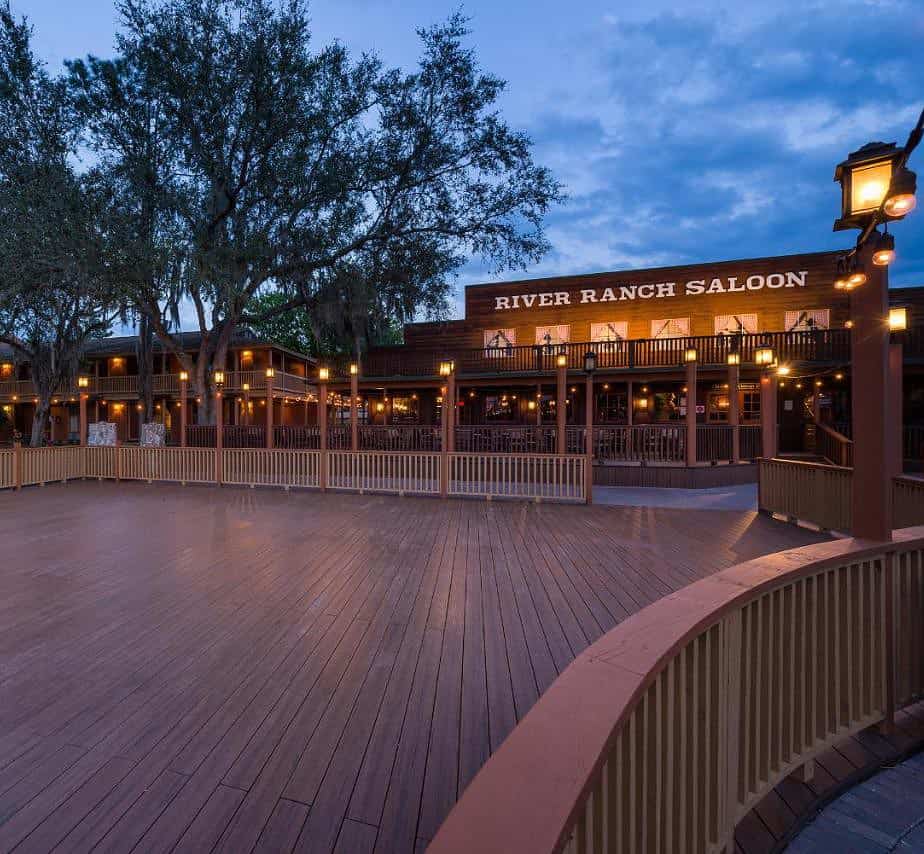 Kids Adventure Park & Mechanical Bull
A kid's adventure park includes everything from a zip line and wall climbing to a mechanical bull. It's not huge, but it is in front of the saloon. Imagine enjoying a cold one while watching the rug rats play, and you'll get the gist. And it is cheap. I think it was $25 for a day of unlimited or close to. What I liked about the day passes is you can come and go as you want. The highlight of the kids' adventure park is the mechanical bull, and adults can ride it too!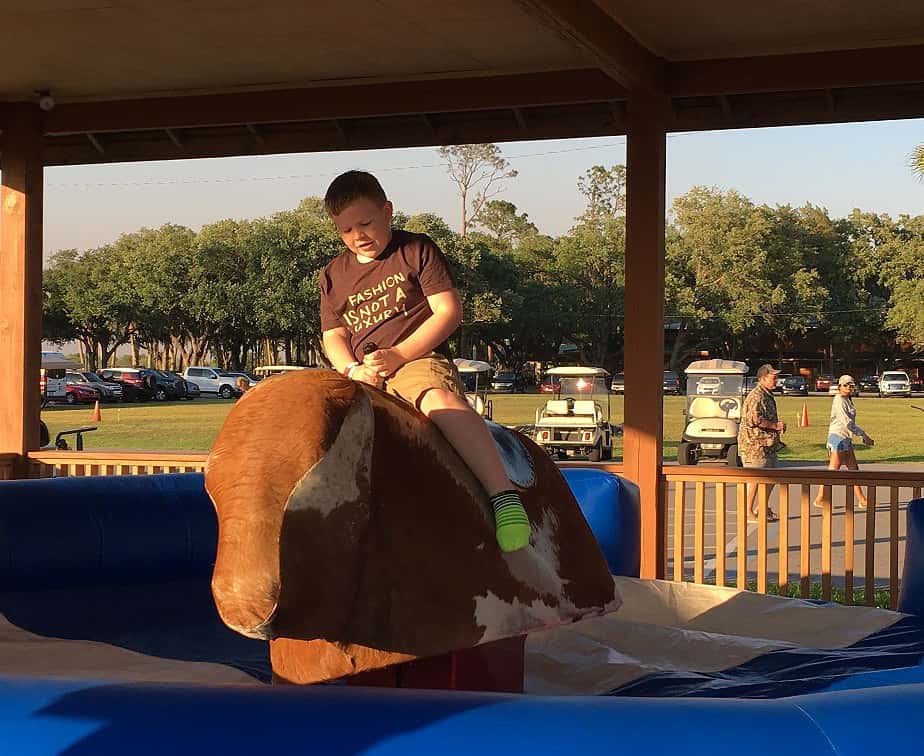 Water Activities
Westgate River Ranch has a full-service marina (BYOBoat), or you can rent a boat for $71.50 per hour. They also offer airboat rides for $30 for adults and $20 for children (ages 2-12). There are swamp buggy rides for $30 for adults and $20 for children (ages 2-12).
Don't like any of the above options? Bring your gear and fish for free.
The Pool
Lots of people ask whether Westgate River Ranch has a pool. Yes, the answer is yes; it has a pool; however, it's a pool, not a lagoon, and it's a tad dated by anyone's standards. There is also a hot tub that is very relaxing.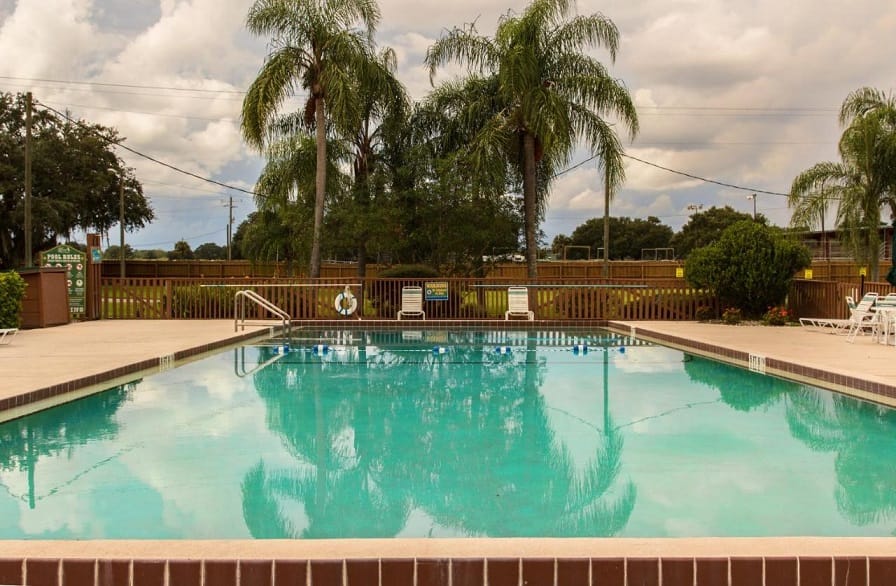 Golf Carts
Westgate River Ranch Resort is enormous, 1,700 acres, to be specific. You either need to drive or rent a golf cart while on site. Most people rent golf carts. Why? Cause it's cool…. It costs $60 for one day and $50 per day if you book more than one day. I regret not renting the golf cart. I must have been having a rock-bottom moment. Well, maybe. This trip was also on the heels of an on-site stay at Disney, which cost a bit. Perhaps that's why I did not go all out.
The next time we visit, we get the golf cart or stay in the luxe teepee where it's included.
Escape Room
You and your family have been nabbed for one of the worst crimes in the Old West, Cattle Rustling! Work together to solve themed puzzles and riddles to escape before the Marshall arrives to take you into custody.
What Else Is There To Do At Westgate River Ranch?
Horseback Riding – $48.15 per ride per person.
Petting Farm – Free.
Pony Rides – $8 per child per ride.
Trap or Skeet Shooting – $45 per person.
Archery Range – $10 per person.
Pontoon Boat Rental – $71.50 per hour.
Swamp Buggy and Air Boat Rides – $30.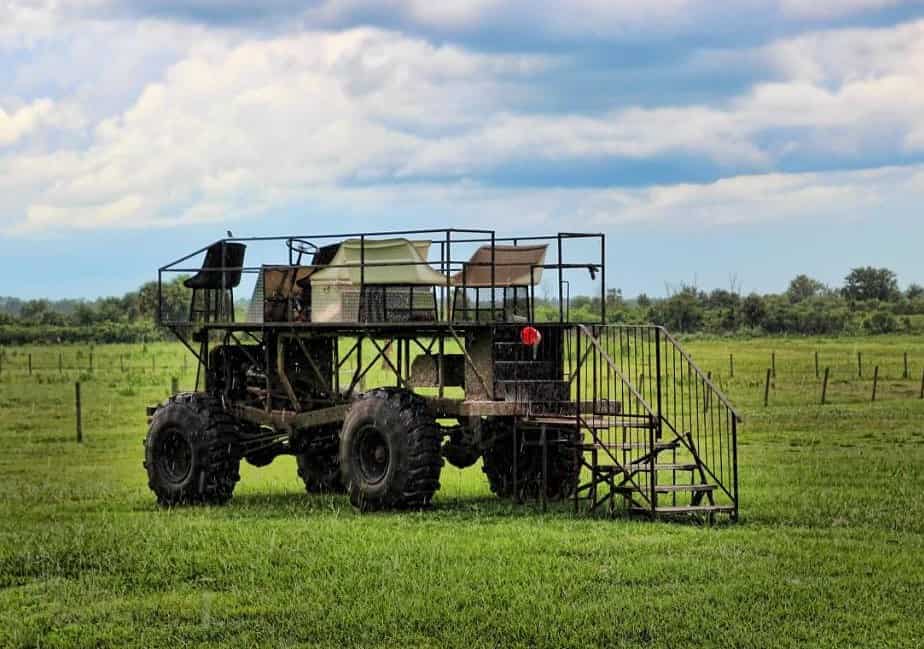 Golf Course – $32 per 9 holes.
Driving Range – $5 per basket of golf balls, and golf club rentals are available.
Bicycle Rentals – $15 per bike plus tax and deposit.
Sports Equipment Rentals – $3-5 rental fee for 24 hours for tennis, basketballs, horseshoes, volleyballs, kickballs, soccer balls, and more.
Escape Room
If you can't find something to do at Westgate River Ranch, I want to hear from you because we were spoiled with choices!
Note: All activities are subject to availability and many require a reservation. Not all activites are available daily and prices are subject to change. Please call ahead to schedule activities.
Restaurants OnSite
Westgate River Ranch Resort & Rodeo features several onsite dining and restaurant options, from the newest fine dining steakhouse, the River Ranch Cattle Company, to the casual magic of Westgate Smokehouse Grill, from the satisfying country charm of the River Ranch Saloon to the quick service Deli at the General Store, and the top-notch catering services for your group needs.
Westgate River Ranch Resort Map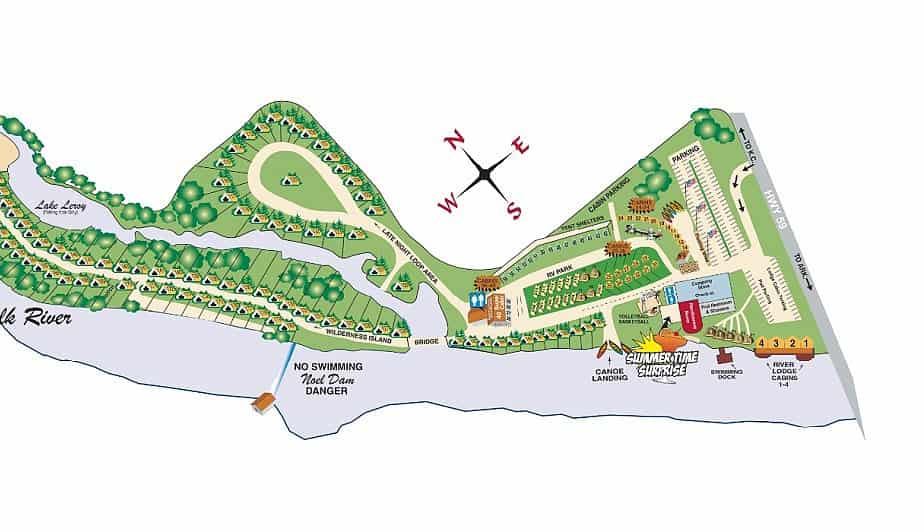 Frequently Asked Questions
When is the Westgate River Ranch Rodeo?
The Rodeo is every Saturday from 7:30 pm – 9:30 pm.
Does Westgate River Ranch have a pool?
Yes, there is a pool.
How far is River Ranch, FL, from Orlando, FL?
About an hour and forty-five minutes.
How many acres is Westgate River Ranch?
1,700 acres.
Are dogs allowed at Westgate River Ranch?
Yes, you can bring a dog up to 60 lbs for an additional fee of $175 per stay, plus a $100 refundable deposit.
Looking for more Florida? Start here:
We participate in the Amazon Services LLC Associates Program, an affiliate advertising program designed to provide a means for us to earn fees by linking to Amazon.com and affiliated sites.
Brit On The Move™ Travel Resources
Ready to book your next trip? Use these resources that work:
Need more help planning your trip? Check out our Resources Page, highlighting the great companies we trust when traveling.