Central Florida's east coast beaches are not known for tropical blue waters. Every magazine and every article will show you tropical blue water. I've lived here for over 20 years and done my fair share of east coast beaches. Usually, you don't see the blue water until you get to West Palm. There are some exceptions. For example, a clear, calm day at Disappearing Island in New Smyrna will rival any Caribbean beach with its luminous hues of blue. So, is there such a thing as turquoise aquatic blue water synonymous with the Caribbean in Central Florida? Yes, on the west coast. However, a less-known gem is slightly south of Central Florida. Let me acquaint you with Vero Beach, a tropical paradise!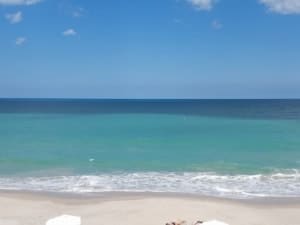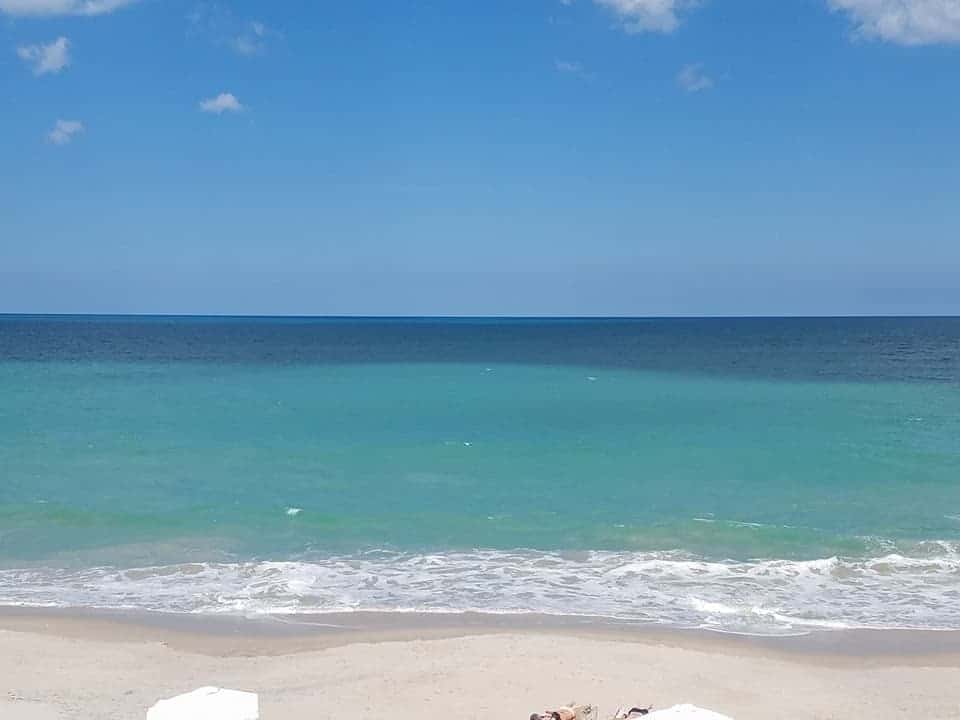 This post may contain affiliate links. Please read our disclosure and privacy policy for more information.
Why Visit Vero Beach?
The first time we went to Vero Beach was for a specific reason. Melbourne hosts the Big Green Egg Festival, and Brian is an Egghead. The festival is informative and provides all those who love eggs the opportunities to learn about the Big Green Egg, get new recipes, and mix with Eggheads. Given that we were down south, we decided to combine the festival with a beach stay. We chose Vero Beach rather than Melbourne and immediately fell in love with the area.
Vero Beach is a beautiful coastal Florida destination. There are many reasons to visit Vero Beach. Some people visit to enjoy the beautiful beaches; others enjoy the arts and culture, and others visit for the excellent golfing. No matter your reason for visiting, you will surely enjoy all this beach town offers.
When you want a great beach vacation, head to Florida's Vero Beach. The two miles of beach are beautiful and offer a variety of activities for all ages. The town is also filled with delicious restaurants, great shopping, and fascinating museums. Vero Beach is a quaint, family-friendly destination that offers something for everyone.
The History Of Vero Beach
Vero Beach is a small community in Indian River County that is known for its miles of white-sand beaches and stunning natural beauty. The area has long been a paradise for fishermen and is home to the historic Vero Beach Pier.
The community was first settled in the 1800s by a group of settlers from the Bahamas. The community was initially called Vero, meaning "true" in Spanish, and was named after the Vera Cruz Parish in the Bahamas. The name was shortened to Vero Beach in 1925.
The Location Of Vero Beach
Vero Beach is located in Indian River County, Florida. The city sits along the Atlantic Ocean and the Indian River Lagoon, a barrier island lagoon that separates the mainland of Florida from the barrier islands to the east.
The area is near the Atlantic Ocean and the Indian River Lagoon. This location is excellent for those who want to experience the Atlantic Ocean but also have access to freshwater and saltwater fishing. There are also some great attractions to visit, like the Vero Beach Museum of Art and the Indian River Lagoon.
Things To Do At Vero Beach
Vero Beach is a great place to visit. Besides, Vero beach weather is excellent year-round. Even in Florida's winter season, people visit the beaches. There are many things to do, and it is easy to get around. Here are some of the most popular attractions:
Beaches
Vero Beach has some of the most beautiful beaches on the East Coast. You can go swimming, boogie boarding or relax on the beach. The weather will blow your mind. The beaches have lifeguards on duty during the summer, and plenty of facilities are available, including restrooms, showers, and picnic tables. The best part is that they are free!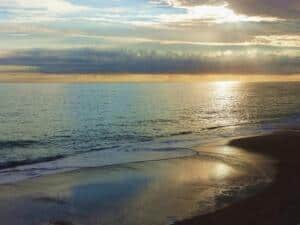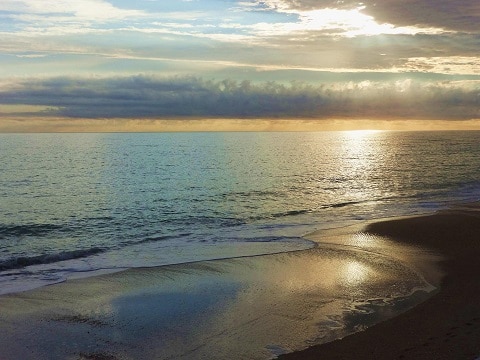 Golf Courses
Vero Beach has several world-class golf courses that are open year-round. They offer everything from public access to luxury villas with golf carts for your stay. The courses also have restaurants if you want to grab a bite after your round of golf.
Here are the public golf courses in Vero Beach, Florida:
Fairwinds Golf Course
Sandridge Golf Club
Sebastian Municipal Golf Course
Biking
Vero Beach has miles of bike paths along the Intracoastal Waterway, which runs through and around town in various locations. There are also several places where you can rent bikes for an afternoon ride along the beach or around town (be sure to wear a helmet!).
Fishing
Fishing is permitted in many areas along both sides of the Intracoastal Waterway and other bodies of water within city limits. Or, if you prefer, hire a fishing guide or go on a fishing charter.
Downtown Vero Beach
Downtown Vero Beach is full of culture, history, and beautiful scenery. This place has been a destination for centuries and is now home to some of the most popular restaurants, bars, and art galleries. From the beach to the downtown area, you'll find things that are sure to impress, such as the iconic Vero Beach Pier and the historic Manhattan Casino. You can experience the wonderful atmosphere.
In addition to its historical character, Downtown Vero Beach offers plenty of outdoor activities such as golfing, fishing, and boating at Sebastian Inlet State Park or Vero Beach Municipal Golf Course just south of downtown Vero Beach. There are also several parks within walking distance from downtown, including Coquina Park on South A1A, which has a playground for children with disabilities and a picnic area that is great for families with young children.
Shopping At Vero Beach
Shopping is the best way to enjoy Florida's beautiful, sunny days! Vero Beach has shopping to suit any shopper. There are malls with dozens of shops, boutique stores, and even a farmer's market on Sundays.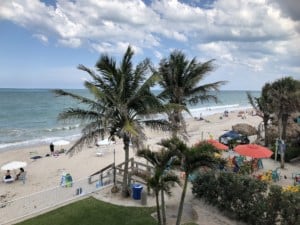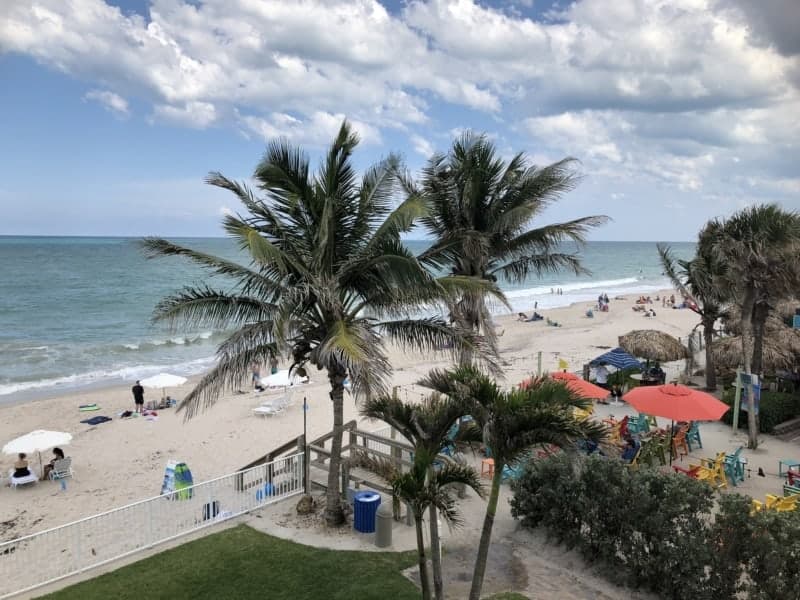 While there are plenty of places to shop, you can visit the places mentioned here to get a great shopping experience:
Shopping At The beach
If you're in the market for some retail therapy in the Florida sunshine, head to the shopping district of Vero Beach on the west coast of Florida. This stretch of coastal highway from State Road 60 to the Vero Beach Causeway is lined with everything from international fashion chains to a variety of locally-owned boutiques and upscale consignment shops. It's easy to spend the day browsing, trying on clothes, and sampling finds from the eclectic mix of restaurants and other retail options.
Shopping Downtown Vero
The shopping in the downtown area of Vero Beach is excellent. Many shops offer everything from clothes and jewelry to electronics and other items that can be purchased at amazing prices. You will also find plenty of restaurants where you can eat while you are there.
If you have children with you on your vacation, there are plenty of activities for them to enjoy. There are many parks where they can play games or relax while away from home. The beaches are clean and beautiful, so you should also take some time to go swimming there.
Disney's Vero Beach
Vero Beach Disney Resort is a vacation destination you and your family will never forget. The resort has it all: an incredible beach, pools, pools with slides and kiddie pools for the little ones, tennis courts, basketball courts, and more.
The resort has two pools for families to enjoy. The main pool is perfect for the kids! The lifeguards and their friends will entertain them. You can relax in a lounge chair or go for a swim. The other pool is located near the Spa and Fitness Center. There's something for everyone at this resort!
Restaurants At Vero Beach
Many Vero Beach restaurants offer delicious food and friendly service at a reasonable price. Here are just some of them:
Ocean Grill
Ocean Grill is an excellent restaurant for a date night or to get together with friends and family. Located on the ocean front in Vero Beach, Fl they have some of the best food in town, but I'm sure you already know. The atmosphere at Ocean Grill is perfect for celebrating any occasion or enjoying an evening out with your family or friends.
Francesca's Italian Kitchen
Francesca's Italian Kitchen offers authentic Italian cuisine in a cozy and quaint atmosphere. You can enjoy your favorite dishes like spaghetti bolognese, lasagna, and eggplant parmigiana.
The Tides
The Tides has a full bar and live entertainment nightly. They offer a wide variety of food items, including salads, sandwiches, and burgers. They also have great appetizers like fried calamari, crab cakes, and oysters Rockefeller.
Riverside Cafe
The Riverside Cafe is a favorite local restaurant with great food and service. The staff at this restaurant is amicable and will do just about anything for you. They have a wide variety of foods, including steaks, chicken, and seafood dishes. They also offer many vegetarian dishes and drinks made from fresh fruits and vegetables from local farms in Florida.
Restaurants In Downtown Vero Beach
If you're visiting Vero Beach, Fl, there are plenty of restaurants to choose from. Downtown Vero Beach is a great place to eat because it's close to the beach and Atlantic Avenue.
Here are some famous restaurants in downtown Vero Beach:
The Bird & The Bread Bistro
The Brickyard Pub & Kitchen
Riptides Beach Bar & Grille
The Saltwater Grill at Indian River Marina
Festivals and Events At Vero Beach
Vero Beach is a beautiful place to visit any time of year, with many festivals and events to enjoy. Here are just a few of the most popular Vero Beach festivals:
Sebastian Riverfront Fine Art & Music Festival.
Fellsmere Frog Leg Festival.
Florida Craft Brew & Wingfest.
Annual Highwaymen Heritage Trail Art Show & Festival.
Grant Seafood Festival.
Firefighters Fair.
Where To Stay In Vero Beach?
Vero Beach is a great place to enjoy the beach and all that comes with it. This town has a lot to offer, and it's easy to find the things you enjoy. Many Vero Beach hotels will give you a good deal at an affordable price, and The hotels in Vero Beach, Florida, will make you feel at home. Whether you're a family looking for a vacation destination or an individual looking for a weekend getaway, Vero Beach has something for everyone.
If you're not familiar with Vero Beach, there are many places to stay in the area. Hotels, resorts, condos, and other options will fit your needs perfectly. Here you can enjoy the weather of Vero Beach, Florida, wonderfully.
If you're looking for a hotel or resort, there are several places that you can choose from, including the Vero Beach Resort & Spa at Indian River Shores and The Ritz-Carlton Golf Resort & Spa. There are also several golf resorts available if golf is your thing!
Where We Stay In Vero Beach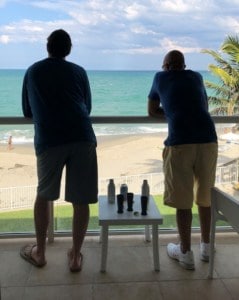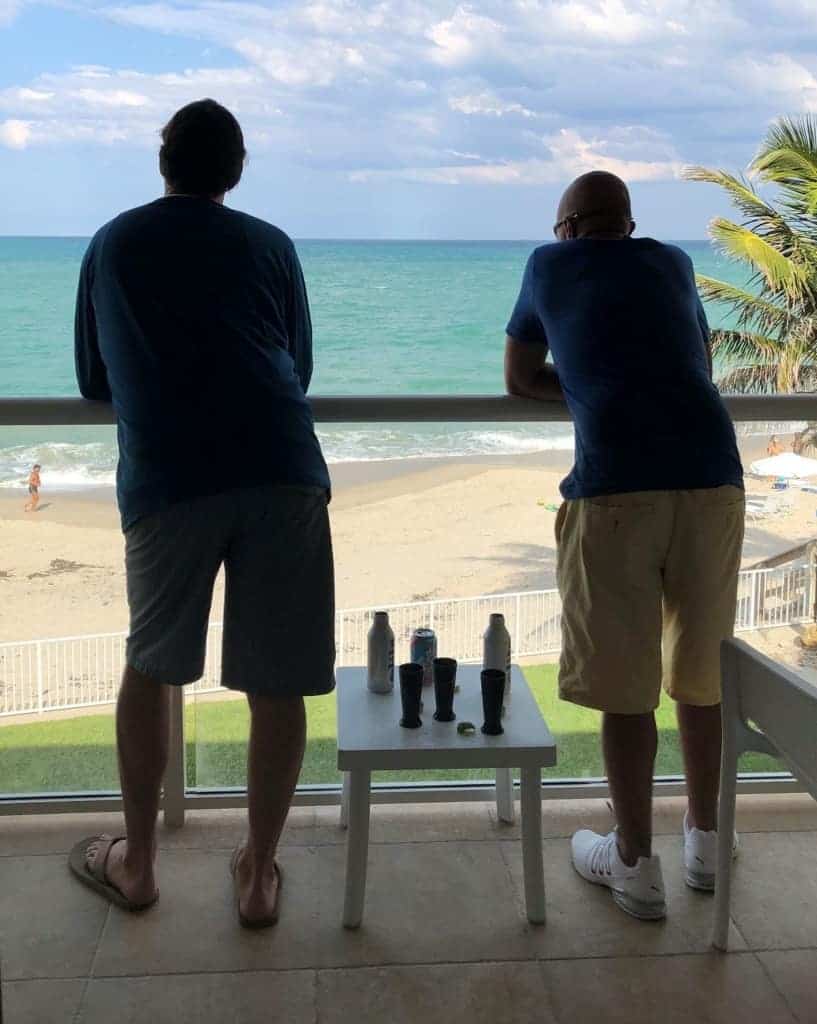 We stay at the Holiday Inn & Suites Vero Beach-Oceanside. A lucky find for several reasons:
It's oceanfront, literally 20 feet, and you are on the Beach.
It was only 10K points a night via the IHG Club.
Being a member of IHG, we got upgraded to a suite.
It's home to Mulligan's Beach House. A laid-back bar and restaurant with live music and inside and outside dining. Or, grab an anorak chair beachfront and have a drink.
Several quaint boutiques surround the hotel.
I think we hit the jackpot regarding location and amenities because we did not have to drive anywhere to enjoy it all. There are plenty of hotels in Vero Beach, approximately 25, and I can only speak for the one we stay at. Vero is home to Disney's Vero Beach Resort, which seems to excite many people when I share our experience. So, if Disney is your thing can have the best of both worlds.
Book your stay at one of the many hotels in Vero Beach, and you'll be ready for a vacation you'll never forget!
Vero Beach Florida Hotels
What is Vero Beach known for?
Vero Beach is one of the most popular tourist destinations in Florida. Visitors come from around the world to enjoy its beautiful beaches, fine restaurants, shopping, and nightlife. The city is also home to several historic sites and landmarks, including the Old Indian River County Courthouse Museum and Green Turtle Cay Maritime Museum. The Barrier Island Center for Education & Research provides educational opportunities for children in grades K-12 while providing hands-on learning experiences with marine life found in nearby estuaries. These are the things that make Vero Beach known.
Is Vero Beach wealthy?
In addition to having a high concentration of wealth, Vero Beach is also home to many financially comfortable retirees. The average household income in Vero Beach is $63,058, more than Florida's median household income.
Is Vero Beach a nice place to live?
Vero Beach has many beautiful attractions you can visit during your stay here in this wonderful city. You can go on an adventure with your family or friends at Jungle or enjoy your time at the beach while listening to live music at Vero Beach Waterfront Park. There are also plenty of shops and restaurants where you can spend your time having fun or just relaxing while enjoying delicious food!
Vero Beach is the perfect place for people who want a peaceful and secluded life.
Does Vero Beach have lovely beaches?
Vero Beach is home to some of the most beautiful beaches in the country. With wide-open, sandy beaches, warm water, and a tropical climate, Vero Beach is the place to be in Florida.
This beach is a favorite among locals because it has a lot to offer. There is paved parking, restrooms, showers, ADA beach access, and covered pavilions. This is a great place to spend time with family or friends.
Why is Vero Beach so cheap?
Unhealthy weather, low property taxes, whether for Vero beach Florida and 3% lower living costs than nearby West Palm Beach make this coastal town an affordable option, with excellent surfing on sandy shores and the east coast.
Has Vero Beach ever been hit by a hurricane?
Vero Beach has experienced 73 hurricanes since 1930. The most significant hurricane of the Frances group was the 2004 hurricane. Hurricane Anna hit Vero Beach in 2015. Hurricane Irma of 2016 was much more extensive.
Closing Thoughts:
So, what makes Vero Beach a tropical paradise? The water! If you did not know better, you would assume that you are in the Caribbean. We were stunned at how clear and blue it was. You could see sandbar after sandbar from our balcony. A place where all you need to do is grab your beach gear and go. You can rent loungers and boogie boards, and nothing else is required.
It's a quicker and more beautiful drive from Orlando to Vero Beach than driving to the west coast. It's scenic; there is less traffic – both bonuses. The town of Vero is both charming and old world. If you venture downtown, you will find a place reminiscent of the '50s. Then, there is the Beach! A beach so beautiful you will return many times.
Finally, Vero Beach is a superb tropical town. From the beaches to the restaurants, bars, and attractions, there is no shortage of things to do in Vero Beach, Florida. Best of all, it has a great community with a great local feel. We highly recommend a trip and taking a look for real estate or none!
Looking for more posts on Florida? Start here:
We participate in the Amazon Services LLC Associates Program, an affiliate advertising program designed to provide a means for us to earn fees by linking to Amazon.com and affiliated sites.