Are you visiting England and looking for something unusual to do? Want to get up close and personal with baboons? If you are interested in an exciting day out and seeing animals run wild, then Knowsley Safari Park near Liverpool is the perfect place. Here, we will share everything you need about this safari park in England.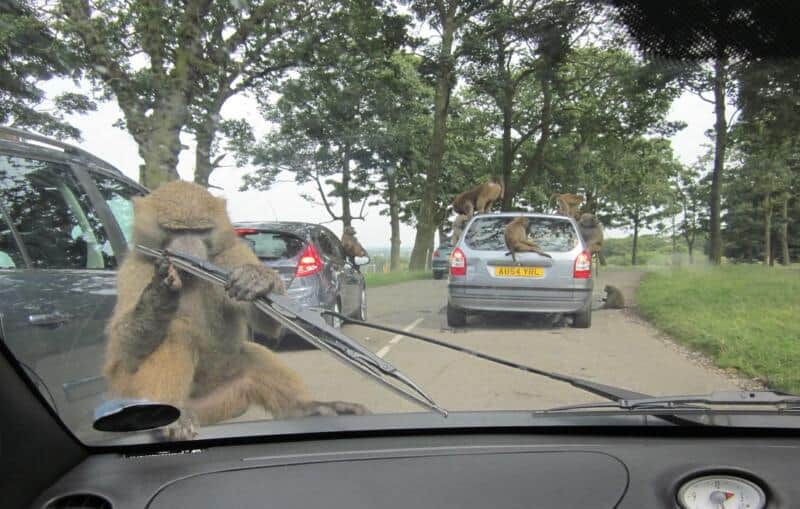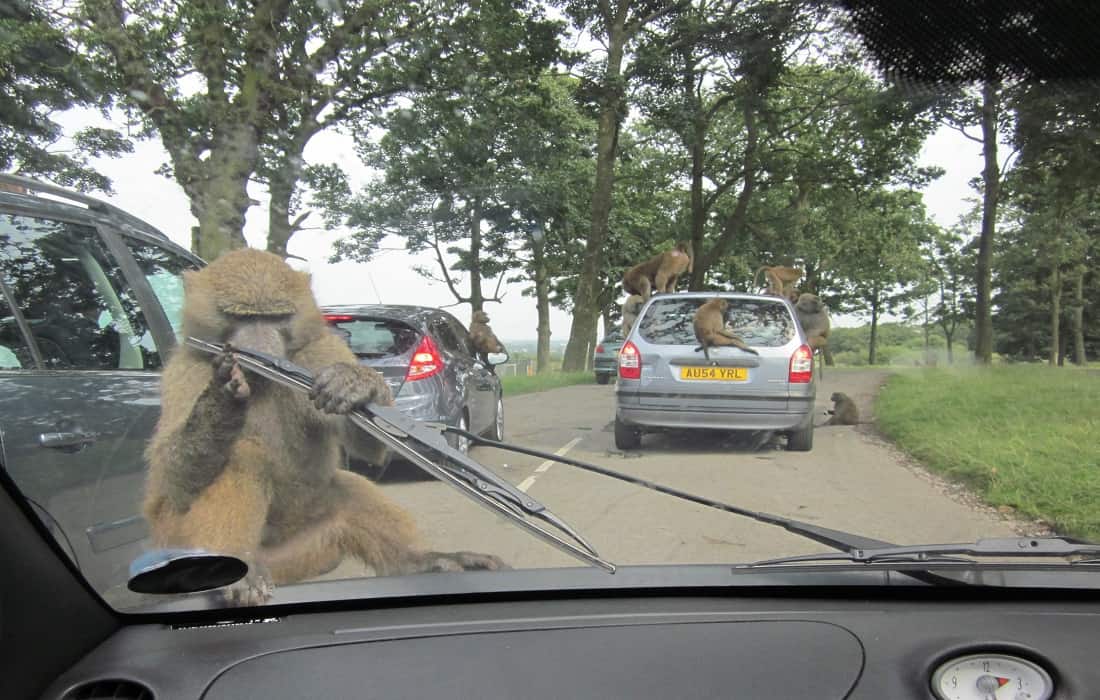 This post may contain affiliate links. Please read our disclosure and privacy policy for more information.
About Knowsley Safari Park
Knowsley Safari Park is exactly as the name implies – a safari park. However, it's not your ordinary safari park. At Knowsley Safari Park, you can drive your vehicle through the park and get up close highly close to the wildlife. They are so close that some will mount your car if you choose to drive through the baboon encounter!
In England, this safari park is a part of the British and Irish Association of Zoos and Aquariums (BIAZA). It's a well-known attraction situated in Prescot, England. Knowsley Safari's primary goal is to conserve different animal species and research them. Knowsley Safari also participates in preservation projects. The park is in northern England, close to Chester, Liverpool, and Manchester universities.
Knowsley Safari Park's History
The founders are Jimmy Chipperfield and Edward Stanley. They opened the park in 1971. The original drive was 3.5 miles through the park when it first opened. Tourists can drive by lions, elephants, antelope, giraffes, and zebras. After a while, the park became popular among tourists, and because of this, the drive route was extended by 1.5 miles. Since 1973, additional animals have been added, and visitors can observe camels, rhinoceros, buffalo, and tigers. It's now the longest safari drive in England.
As the park evolved, it added new attractions. For example, there are two baboon sections – self-drive or the Baboon Bus.
Knowsley Safari Park Animals
Knowsley Safari aims to help people get closer to the animals. There are approximately 500 animals within. One of the most popular is the baboons. They are so popular because they jump on your car if you ride through their enclosure in your vehicle.
And I can tell you from experience that they WILL damage your vehicle. I've been many times, and if you make it through the baboon enclosure only missing a windscreen wiper, you should consider yourself lucky. I have lost windscreen wipers, a side mirror, and an antenna!
Then there's the fact that they might flash you, so if you have children be prepared to explain anatomy!
Flashing Baboons
About The Baboons
These animals are considered to be in a group of the biggest primates. They have been living on the planet for about 2 million years already! Five species of baboons exist now:
Olive
Yellow
Chacma
Guinea
Sacred
The size of baboons varies by species. Generally, these primates live 30 years. Baboons are not endangered, but the anthropogenic impact might cause a population decline.
Self Drive The Baboon Enclosure
This, people, is where you will experience the baboons jumping on your car and will pull off a piece or two. If this concerns you, you can opt to take the Baboon Bus.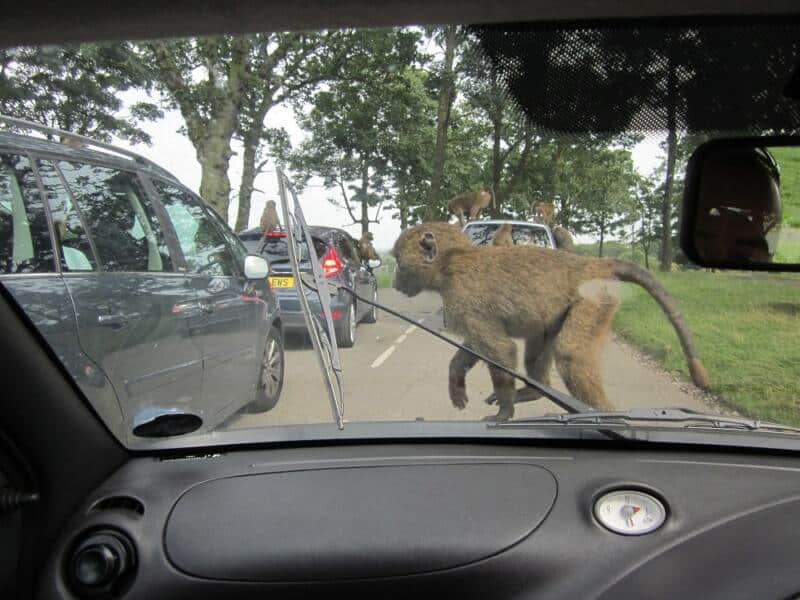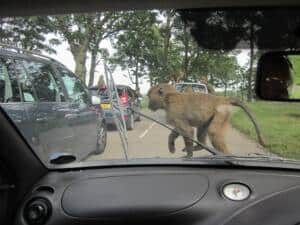 Take The Baboon Bus
Many people want to lose a piece of their car, so Knowsley introduced the car-friendly route, the Baboon Bus.
If you take the bus, you don't have a car or are worried about your vehicle becoming damaged. You can book a seat on the Baboon Bus for just £6.50 per person on top of the standard admission price.
Amur Tigers
Endangered tigers inhabit the eastern parts of Russia and can also be found in China. They have thick pale orange fur that is covered with dark stripes. Tigers roam long distances, hunting for food. However, the natural habitat of these animals suffers from agricultural expansion and logging. These factors cause population decline.
In Knowsley Safari Park, you will meet two Amur Tigers – Sinda and Miron, who came to participate in the tiger breeding programs. A special drive with tigers was opened for tourists in 2018. The territory is equipped with small forests, streams, and ponds.
White Rhinos
The white rhino is the biggest of all rhinoceros. White rhinoceros possess a huge, strong bodies with a small neck. Their heads are big, and their natural habitat is savannah or grassland. Rhinos consume grass and drink water two times per day. These animals also like to rest in mud pits because it helps cool their bodies.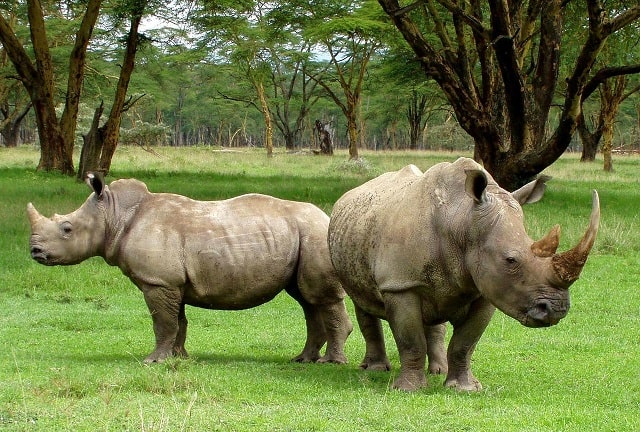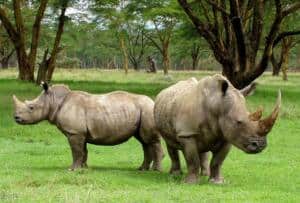 Knowsley Safari Park possesses the biggest white rhino group for breeding. It is considered to be the largest and the most successful in Europe. As you drive through the park, you get to observe them.
Bongos
Almost extinct, with an estimated 140 left in the wild, this is a rare opportunity to see these antelopes. These antelopes are distinct because of their striking reddish-brown coat with black-and-white markings or white-yellow stripes.
These animals have two horns, spiraling slightly. The natural habitat is tropical jungles. Bongos like to consume roots, grass, and leaves. The greatest danger for them is deforestation and hunting, which have caused the population to decline to near extinction.
You can see bongos while driving by the sixth zone of the African Savannah route.
Other Animals
In addition to the baboons, tigers, and bongo, there are lions, emu camels, giraffes, elephants, meerkats,s and many other species.
Animal Experiences
If you've ever dreamed of getting close to a giraffe or wanting to feed a meerkat its breakfast, then the Animal Experiences are just the adventure you're looking for!
Knowsley Safari Park offers a range of animal experiences, so you can find something on your bucket list. And you'll get an up-close animal encounter that is the best animal experience around.
All Animal Experiences must be PRE-BOOKED using vouchers. Contact the park directly to check availability and book using your voucher. Email [email protected]
Knowsley Safari Park Programs
Knowsley Safari park has several exciting programs you can participate in.
Junior Rangers Program
This event is for children from 11 to 14 who like nature and are interested in the animal world. Kids work with park representatives and try their hand as a zookeeper.
Kids experience multiple interactions with the park's inhabitants, such as animal care and enclosure cleaning. The program provides special lessons connected with the wildlife of the park. There is also a possibility of enjoying a safari drive on a Baboon Bus or exploring the small forests within Knowsley Safari Park. At the end of the program, every kid gets a certificate with a memory photo.
The Junior Rangers program lasts for two days during the weekend. It begins at 9:00 am and ends at 3:30 pm.
Knowsley Academy
This special weekend event is for people aged 15 to 18 who want to become educators, veterinarians, or zoologists.
The program includes various theoretical lessons and practical get first-hand experience with the animals. Participants will study biology and discover more information about the inhabitants of Knowsley Safari Park. The other activities are animal care, visiting carnivores, and behavioral research. Woodland activities and foot and drive safaris are also possible. At the end of the event, participants receive a special certificate, guidebook, and portfolio.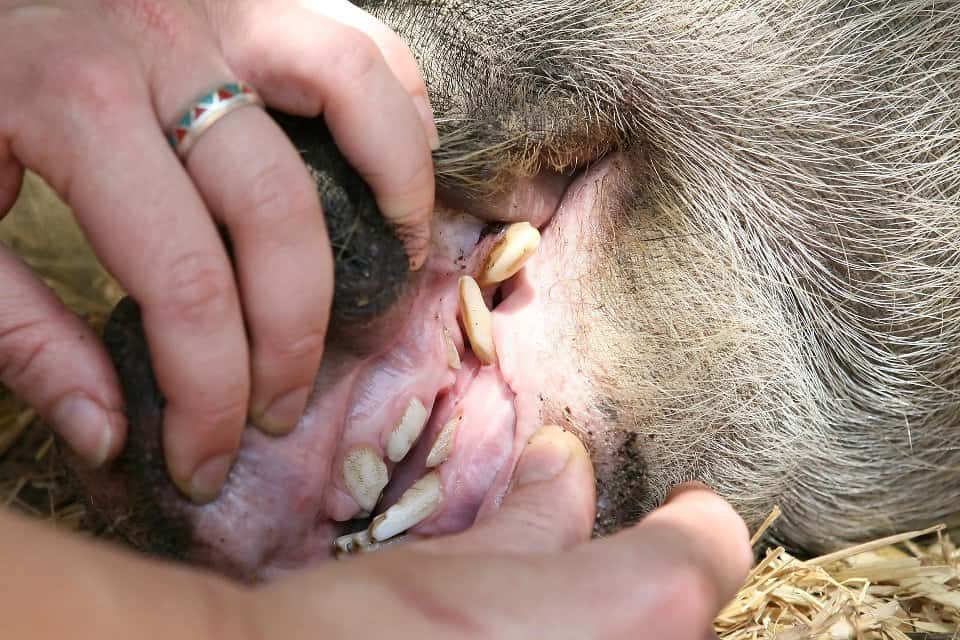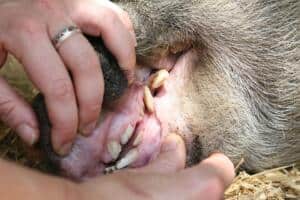 Knowsley Academy lasts two days, and the opening hours are from 9:00 am to 4:00 pm.
Mini Explorers
Designed for children from 6 to 7. This is a great outdoor activity for wildlife lovers!
During the Mini Explorers event, participants observe the inhabitants and have an opportunity to make unique gifts for the animals at the park. There are also various crafts and outdoor games. The members of the Learning team run all of the activities.
The program lasts three days, starting at 9:30 am and ending at 3:00 pm daily.
Events At Knowsley Safari Park
Every year there are new events at the park. In 2012, the Olympic torch relay took place here. Six thousand plus families and children watched. It was also the venue for the Britain cycling tour stage two in 2012. The same tour was hosted in September 2013.
Knowsley Safari Park Opening Hours
The park is open from 10:00 am to 5:30 pm on weekdays and 10:00 am to 6:00 pm on weekends. The last entry to the drive is 4:00 pm.
Knowsley Safari Park Tickets
You can buy tickets online before you visit.
Standard Tickets
The standard ticket includes the following:
Safari on a vehicle
Safari by foot
Animal shows
Adult tickets start at $12, and there are various discounts like children or seniors, and you can buy a family ticket. You can also add extra activities to the standard ticket. Some examples of add-ons are:
Baboon Bus
Junior Rangers Programme
Knowsley Academy
Mini Explorers
Carers Enter For Free
Disabled people can bring a registered carer to enter the park for free. However, this option is available only if the full-price pass is bought and if the proof documents are brought, such as:
Where To Eat At Knowsley Safari Park
Food Court
The food court is located outdoors and is accessible during the foot safari. It is close to the enclosures with bush dogs. Visitors eat pizzas and loaded fries or choose their favorite dessert.
The Oasis Restaurant
The specialty of The Oasis Restaurant is fresh dishes, such as salads, bespoke sandwiches, or carvery. The homemade cuisine menu provides fish and chips, penne bolognese, and more! There are also special menus for vegetarians.
Outdoor Grill
You can go to the Outdoor Grills, which is near the Oasis Restaurant. Tourists are welcome to try sausages, burgers, hamburgers, chorizo, beef, pork bratwurst, and more!
The Coffee House
If you like sweets and warm drinks, go to the Coffee House. This place serves homemade cakes, coffee, and other light meals. The location of Coffee House is located near the children's playgrounds.
How To Get To Knowsley Safari Park
Knowsley Safari is in Prescot, not that far from Liverpool. There are various ways to get there:
By Car
It's one of the most convenient ways to get to the park and the most fun! After all, if you arrive by car, you can drive through the baboon enclosure and the lion enclosure.
If you don't have your own vehicle, it's an excellent option to book a 9-seater car hire in Liverpool, especially when you bring friends! It takes only 14 minutes to drive there from John Lennon Airport. If you need to have your luggage with you, try a 9-seater minibus hire in Liverpool.
The route is quite simple. From A561 Speke Road, turn to Knowsley Expressway, and then lead to M57. When you get there, leave the road at the second junction. Look for the signs of Knowsley Safari, situated by the roundabout, and you will reach the park.
On Foot
The road from the center of Prescot to Knowsley Safari Park takes 12-15 minutes. You can walk the footpath that will lead you straight to the main gates of the park.
Frequently Asked Questions
The best time is around 10 am during the summer weekends when the schools are out. Or, go when the kids are in school!
Closing Thoughts
Knowsley Safari Park is one of the most unusual days out in England. Kids absolutely love it! Even though you might have to replace an element of your car, it's worth it. There's nothing quite like a baboon that's showing off its lower regions while taunting you as it tears off the windscreen wiper.
The lions at the park are huge, and when you drive through their enclosure, they will come up to the cars, so keep your windows closed! Now you know that there is a safari park in England, add it to your list of "must-dos."
Looking For Other Places To Explore In England? Start Here:
We participate in the Amazon Services LLC Associates Program, an affiliate advertising program designed to provide a means for us to earn fees by linking to Amazon.com and affiliated sites.
Brit On The Move™ Travel Resources
Ready to book your next trip? Use these resources that work:
Need more help planning your trip? Check out our Resources Page, highlighting the great companies we trust when traveling.