Most people in my age group travel to Matlock Bath for two reasons. It's either to explore Matlock Bath, a village on the side of the River Derwent in the heart of England Peak District. Or they're spending a weekend with their kids and visiting Gulliver's Kingdom. Growing up as a child. I often went to Matlock Bath and fondly remembered the area. Given it was the end route to Exhale, I figured I would spend the night here and see what Matlock Bath is like today.
I made a quick decision to book Explorers Retreat. The logic for this was quite simple – I am into themed rooms. Actually, I am into everything themed, so the rooms appealed to me. I was immediately lured by the idea of staying in the princess castle building next to a theme park – Gulliver's Kingdom, that I used to frequent as a child.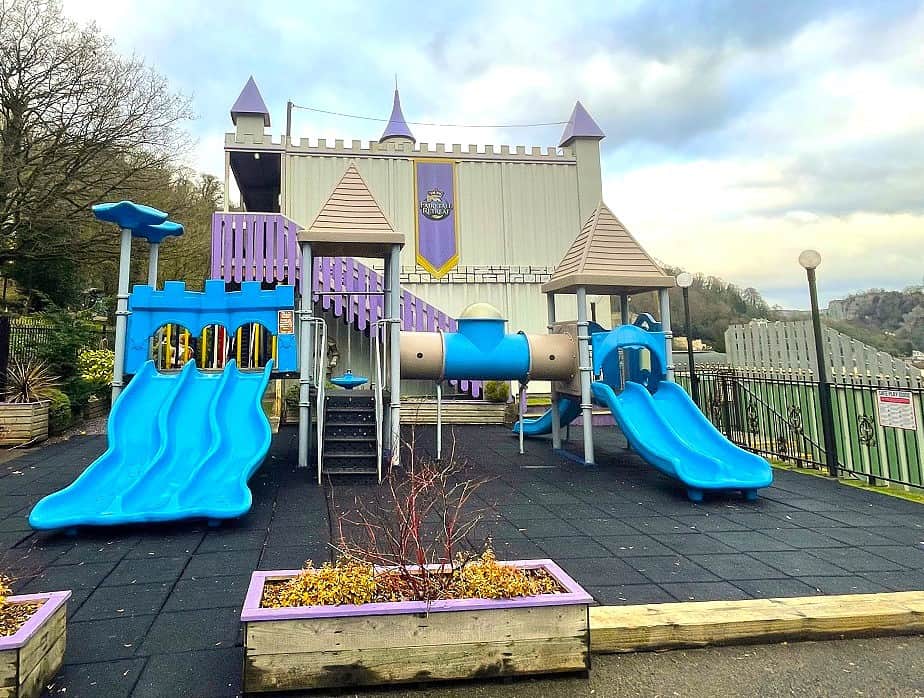 About Matlock Bath
Matlock Bath is a village located in Derbyshire in England, United Kingdom. It is situated on the River Derwent, about 15 miles north of Derby, and is part of the Peak District National Park. The village is known for its natural hot springs, which the Romans discovered over 2,000 years ago. The hot springs led to the development of Matlock Bath as a spa town in the 19th century, and many of the original spa buildings and hotels still exist today.
Matlock Bath is also a popular tourist destination because of its scenic location in the Peak District, with attractions such as the Heights of Abraham, a hilltop park reached by cable car, and Gulliver's Kingdom, a theme park aimed at young children. The village also has a range of shops, restaurants, and pubs.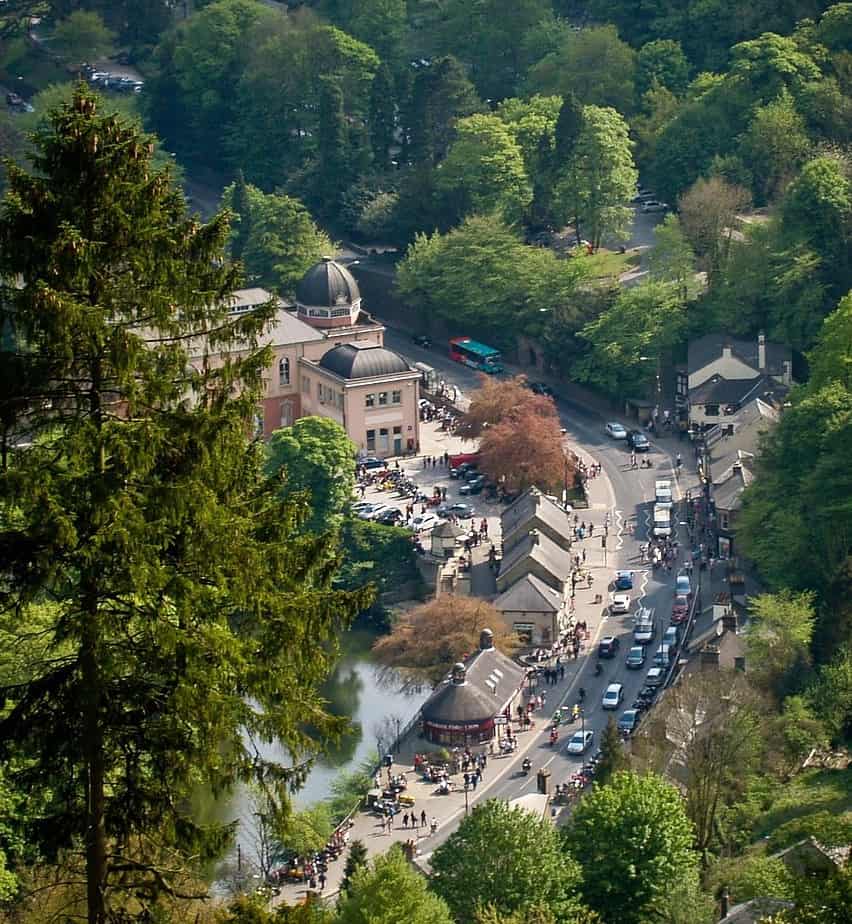 About Gulliver's Kingdom
Gulliver's Kingdom is a theme park located in Matlock Bath. It is one of the oldest theme parks in the UK, having opened in 1978. The park is based on the novel Gulliver's Travels by Jonathan Swift and features various rides and attractions based on the different lands visited by the main character, Lemuel Gulliver.
The park features a range of rides suitable for all ages, including roller coasters, water rides, and themed play areas. Some popular rides include the Gulliver's Travels roller coaster, the log flume, and the pirate ship ride. In addition to rides, Gulliver's Kingdom also offers live entertainment, including magic shows, puppet shows, and character meet and greets. The park is set in a beautiful woodland area, with stunning views over the surrounding countryside.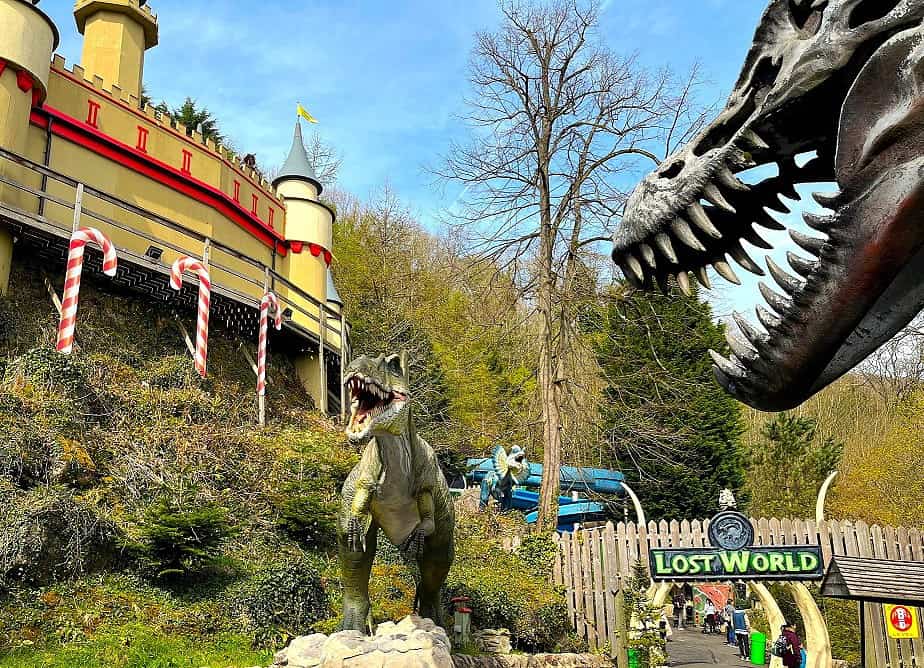 About Explorers Retreat Matlock Bath
Explorers Retreat is a resort that offers unique accommodations at the base of Gulliver's Kingdom. It offers themed accommodations, from swashbuckling pirate cabins to promenade rooms, princess suites, and wizard suites.
Related: What's It Like To Stay at Legoland Hotel in Florida and Is It Worth the Cost?
What Is It Like To Stay At Explorers Retreat in Matlock Bath?
First, I didn't realize that Explorers Retreat is inside the ground of Gulliver's Kingdom. Secondly, I did not know this was anything but a resort. Upon arrival, it was clear that this is not a resort – it is not even a hotel. It is more of a motel with separate buildings that are themed. Not necessarily an issue, but not really what I had envisioned.
I mentioned that I picked out the princess building, so let's talk about the room in the princess building. And, before we get to the details, I evidently picked the Wizard Double Deluxe Room vs. the Princess Double Deluxe Room.
You can book rooms directly here: Wizard Double Deluxe Room vs. the Princess Double Deluxe Room.
Wizard Room At Explorers Retreat
The room is quite cozy and set up well for families. A deluxe room will accommodate a family size of five. There is a double bed and a kitchenette. There is a huge desk area, a microwave, plates, pans, and almost everything you need.
The theme is very Harry Potter or wizard-like. There's plenty of detail that will occupy the kid's imagination. The entryway has a side section with three stacked double beds that are adorable and perfect for children. This room closes with a curtain giving the little ones their own room with a separate TV. Children will have a blast in the bunk bedroom.
The bathroom is plain, not themed or flashy, but it's spotless and meets the need. Lastly, there's a great balcony overlooking Matlock Bath with fantastic views.
What Did I Like About Explorers Retreat?
Location, location, location!
The overlook view of Matlock Bath is priceless.
Explorers Retreat is woven through Gulliver's Kingdom, which is super cool.
The staff are local and really friendly.
It's low-key, not boujee – a must for many families.
What Did I Like About The Room At Explorers Retreat?
It's dirt cheap, at around $65 a night, and insanely affordable for a family of five.
I loved the theme, all be it a tad on the budget side.
The small sprog's room is clever. It's like a separate cabin space for them to disappear.
There's a patio with a view directly over Matlock Bath. This alone is worth the money.
The view, notice you can not only see Matlock Bath but also the rides inside of Gullivers Kingdom whizzing around you: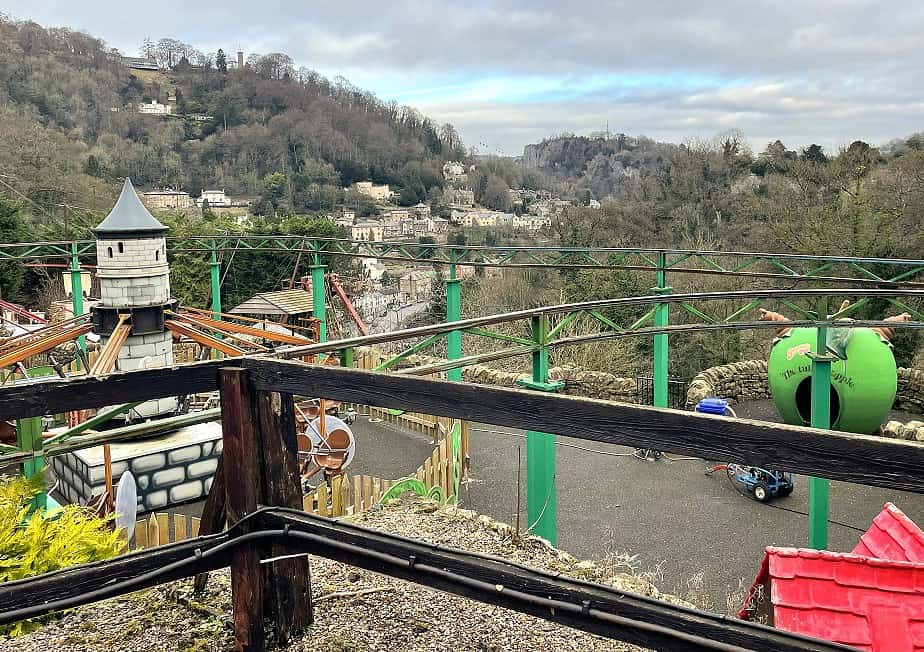 The rooms are spotless. You can't complain about that. This is always a good thing.
For children, this is a great option. The bunkbeds alone are going to keep them entertained.
If you're traveling with children, there are slides and things along those lines at a play area.
What Didn't I like About Explorers Retreat?
Checking is a little bit weird. The hotel is extremely funny about check-in time. If you're thirty minutes to an hour early, you should pay an extra $25. I don't understand this logic. If the room is ready, why would you charge? And there was no crowd, folks. Me and I think one other group. The place was dead. I was not charged, but an early check-in fee is new for me.
There are absolutely no facilities on site. No food, no coffee, and no amenities.
The only thing in the room was tea, and there wasn't even any powdered milk to accommodate the tea, so I thought this was tacky.
There is no swimming pool or spa. I did know this is going in. But hindsight is a beautiful thing.
The rooms are absolutely freezing. It takes a good hour and a half for it to heat up. I did not appreciate this at all.
The double bed is tiny. I cannot stress to you how tiny it is. I am only five feet two, and my feet touched the very end of the bed. This is a small bed. I also rolled out of bed during the middle of the night. I think that is probably the smallest bed I slept in, and maybe since I was under ten years old, in a single bed at home.
The bed is not neither paexceptionallyomfortable nor luxurious, but it was fair at the price point. The entire room's water is based on a water tank system. It takes two hours to heat the tank for one bath. If more than one person travels or you've got children, you will struggle with this.
Where Else To Stay in Matlock Bath?
Assuming you don't have sprogs like me, there are many options. One place, in particular, stands out – New Bath Hotel & Spa.
New Bath Hotel & Spa
The New Bath Hotel and Spa is an 18th-century property with 5 acres of landscaped gardens. Although this hotel and spa does not score as high as others in the area, it's the only one with a thermal pool. Which many people visiting Matlock Bath are in search of. And the thermal pool here is an adult-only pool which will appeal to many.
Other Hotels In Matlock Bath
FAQs
Is parking available at Explorers Retreat at Gulliver's Resort Matlock Bath?
Yes, there is ample parking at it's included in the cost of your stay.
What type of rooms can I book at Explorers Retreat Matlock Bath?
Room options at Explorers Retreat Matlock Bath include double and family rooms and various themes to choose from.
Is there WIFI at Explorers Retreat Matlock Bath?
Yes, there is complimentary WIFI available for all guests.
Closing Thoughts
Overall, this is a decent place to stay for the price point. However, there are plenty of other places in the region. To be fair, this hotel does not fit my age or lack of small children.
I would have said it was great if I had traveled with the Monkey when he was under ten. Traveling solo was a total bust for me. Yet, I picked the resort and the room.
My nostalgia got the better of me, and this is an experience I would have enjoyed more when the Monkey was young – or as a child myself.
Now, with that said. If you have young kids, this place is great value and a very affordable stay.
Looking For Other Places To Explore In England? Start Here:
We participate in the Amazon Services LLC Associates Program, an affiliate advertising program designed to provide a means for us to earn fees by linking to Amazon.com and affiliated sites.
Brit On The Move™ Travel Resources
Ready to book your next trip? Use these resources that work:
Need more help planning your trip? Check out our Resources Page, highlighting the great companies we trust when traveling.