The Native's Guide To Blue Spring In Florida
Blue Spring in Florida, not to be confused with Ruth B. Kirby Gilchrist Blue Springs, is the first spring I ever swam in. It's also the first place where I saw a manatee. Blue Spring State Park will always hold a special place in my heart, as many of my summer days have been spent here. Considered by many to be one of the best springs in Florida, it's a playground for manatees in the winter. There is an old-fashioned swimming hole for Floridians, a wonderland for divers, and a nature lovers' paradise. Add to this; Blue Spring is close to Orlando, a short thirty-minute drive.
This post may contain affiliate links. Please read our disclosure and privacy policy for more information.

Image Credit: Florida State Parks, Photo By: Jacklyn Fisher
In Florida, the St. Johns River is the largest, coming in at 310 miles long. This river is the home of many different springs across numerous counties. The springs are all from natural sources of water for us to enjoy. Located in Volusia County, we have the beautiful Blue Spring State Park. This park is home to a large population of manatees, a record number of 724 as of 2022. In addition to the "sea cows," the spring is filled with fish that attract various wading birds, ospreys, eagles, and kingfishers. Visitors can hike along the spring run or on the Pine Island Trail to see the park's wonders. Visitors can also launch a canoe or kayak (rentals are available at the park) or take a guided riverboat cruise.
Here are some reasons to visit Blue Spring in Florida:
You will learn a lot about manatees and see them in real life.
During Florida's hottest months, it is a fantastic swim, the perfect place to cool down.
Snorkeling at Blue Spring is a magical experience unlike any other.
You can rent canoes and kayaks and practice many water sports in Blue Spring.
If you scuba dive, Blue Spring is a hot spot.
Blue Spring is an ideal destination for adventurers who like to hike, bike, camp, or fish.
The History Of Blue Spring In Florida
The history of Blue Spring begins long ago when the Timacuan tribe took advantage of the crystal clear waters of the springs or swamps in Florida. When England took possession of Florida, a famous botanist named John Bartram sailed up the St. Johns River. This man found this excellent spot to continue his royally mandated research in his travels.
Additionally, Blue Spring became a state park in 1972, thanks to oceanographer Jacques Cousteau. This man created a film called "The Forgotten Mermaids" on this beautiful spring.
Blue Spring in Orange City is often mistaken for Ruth B. Kirby Gilchrist Blue Springs. Ruth B. Kirby Gilchrist Blue Spring is located in High Springs, Florida, in Gilchrist County.
The Location Of Blue Spring In Florida
Blue Spring is located in Orange City, Volusia County. The exact address of Blue Spring State Park is:
2100 W. French Ave. Orange City, FL 32763
Things To Do At Blue Spring State Park
When people visit me in Florida, they ask where the locals spend their time or what's off the beaten track and truly Floridian. My standard answer is "springs and airboat riding." The average tourist that visits Florida never experiences a spring because they do not know they exist. If you want to see natural Florida, then a Floridian spring should be on your list. And, given this spring's proximity to the east coast beaches in Florida, there's no reason not to give it a shot.
Watch Manatees
Locals will tell you repeatedly that this is the spring to visit if you want to see manatees in the wild. It's not the only one; there are several places in Florida where you are guaranteed to see manatees in the winter. For example, Three Sisters Springs or Homosassa Springs and also famous for the manatees that flock there during the winter.
Suppose your goal is to watch manatees. Bear in mind that they come inside the spring from mid-November to March. This does not mean you can't see them at other times. You can, but it's not for sure, and they will likely be in the St. Johns river vs. the spring.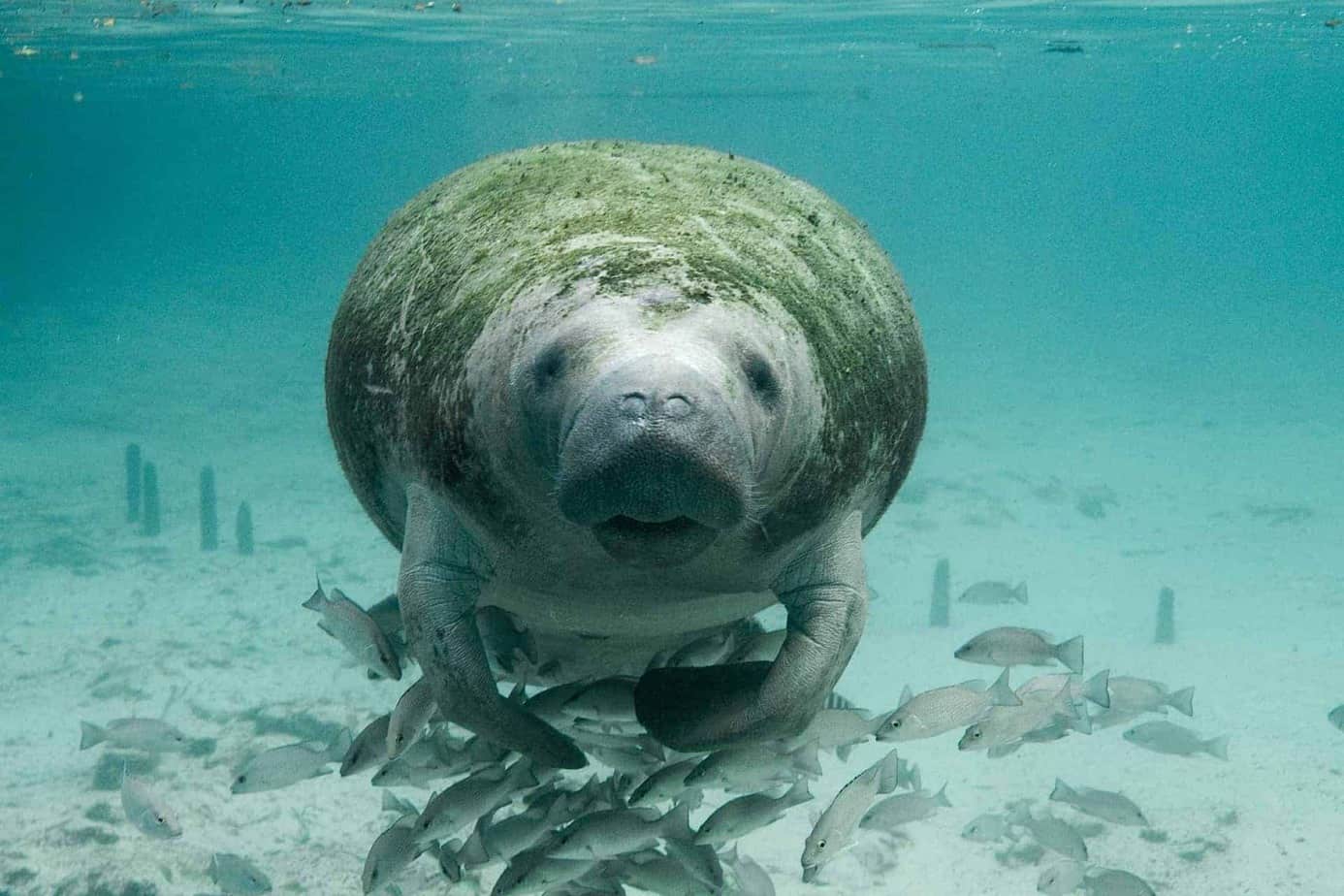 Note: You can not swim with the manatees here or swim in the spring when the manatees are inside the spring. Blue Spring is a designated manatee refuge. If you want to swim with manatees, you need to head to the Crystal River.
Kayaking or Canoeing
People love to kayak or canoe down springs as traditional as swimming and tubing. If you want to kayak or canoe Blue Spring Run and the St. Johns River, you can rent from Blue Spring Adventures along the St. Johns River.
Hiking
If you love walking, Blue Spring has a great trail. There is an accessible boardwalk that leads visitors on a self-guided tour through the jungle-like forest to Blue Spring.
The Pine Island Trail is 3.6 miles in length (one way). If you take this trail, you will see all kinds of native plants, and you'll get some fabulous views of the St. Johns River.
Water Activities
Some of us go to the springs to catch a tan and swim; it can be this simple. Or, if you are adventurous, snorkeling is the way to go. You'll see gigantic catfish, tarpons, spotted gar, and many other species. When you snorkel at Blue Spring for the first time, it's like an underwater safari. Some of the fish are so big they can be slightly intimidating at first. Don't worry; they will not bother you; they swim away if you swim close to them.
Tubing
One of the best ways to enjoy a day in the spring is to tube. Imagine relaxing on turquoise blue water in a tube and simply floating. You can rent tubes through Blue Spring Adventures at 833-953-2583 or bring your own! You enter the water at the upper entry, swim to the spring boil, and float back down to the main swim dock. The length of this float run is approximately 1/8th of a mile.
Scuba Diving
Blue Spring State Park is a popular park for scuba diving or learning to scuba dive. There's a cave system to explore. However, cavern and cave diving are available only to certified cave divers. It's very common to see divers at Blue Spring year-round.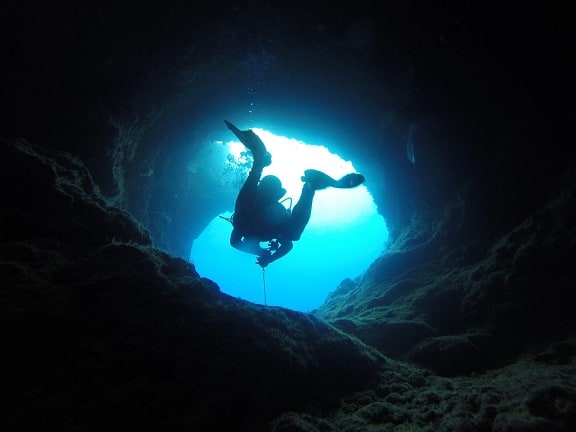 To dive, the following criteria must be met:
All divers must show proof of certification before diving and leave credentials visible on the vehicle's dashboard.
All divers must have a dive buddy and remain together for each dive.
Cavern and cave diving are available only to certified cave divers.
Open water divers are permitted to 50 feet but are not allowed to carry lights.
Instructors conducting a class must have a commercial dive permit.
Divers dive at their own risk.
No solo diving is permitted.
Dives cannot extend past 5 pm.
Divers must keep a distance of 50 feet between themselves and manatees.
Bird Watching
Scrub-jay, an endangered native, inhabits Blue Spring, State Park. The Florida scrub-jay is a blue and gray bird about the size of a blue jay. You can spot the scrub-jays from their iconic blue wings, head and tail, and a whitish forehead and neck. This species does not have black markings or a crest, unlike blue jays. Many people see the scrub-jay or hear them calling.
Note: Feeding Florida scrub-jays is against the law and can cause significant harm to the birds.
.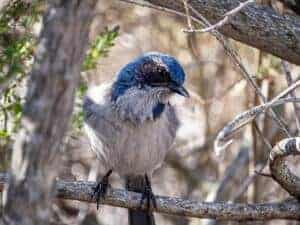 Gift Shop, Food Service & Camp Store
The Manatee Gift Shop, Food Service, Camp Store, and Water Activities Rental Station are located near the public swimming area.
River Cruises
Blue Spring Adventures provides two-hour narrated Nature and Ecological Cruises on the St. Johns River. They also offer canoe or kayak rentals and a guided kayak experience.
For land-lovers, they offer a guided wilderness escape segway tour. Blue Spring Adventures is located inside the park at the St. Johns River. For more information, cost, and seasonal hours, contact Blue Spring Adventures at 386-775-0046.
Tour Thursby House
Built by Louis Thursby in 1872, this house became the center of activity on the St. Johns River. The home hosted steamboat passengers as they made their way up and down the river. Thursby House offers numerous exhibits throughout the year that are worth checking out. The house itself only takes about thirty minutes to view.
Camping at Blue Spring In Florida
Camping is a fantastic way to relax and become one with nature. It's a family tradition for many to camp in state parks, and Blue Spring is a popular place to camp. Blue Spring State Park has 51 campsites that can accommodate vehicles up to 40 feet long. Some of the amenities are:
Concrete pads
Picnic tables
Water intake
Socket for electricity
Barbecue grills
Dump station for recreational vehicles
Camping costs $24 +tax . However, you must also pay a $6.70 non-refundable reservation fee. If you use a recreational vehicle, you will have to pay an additional $7.
Cabin Rentals At Blue Spring State Park
Camping is excellent, but Glamping is even better, and a cabin is a way to go if you want to stay and "glamp" at Blue Spring State Park. I love Glamping, and you get to combine the traditional camping experience with modern-day amenities.
Blue Spring State Park has six two-bedroom cabins. Each cabin can accommodate up to six people. All cabins have a gas fireplace (from November through March), central heating and cooling, bathroom, fully equipped kitchen with stove and refrigerator, screened porch, outdoor grill, and picnic table. Linens, pillows, blankets, towels, and cooking and eating utensils are provided. Linens are not changed daily.
There is a minimum of a two-night rental, and they book way in advance, so if you have your heart set on staying in a cabin, call now to reserve: 800-326-3521.
Blue Spring State Park cabins cost:
$95 each night + taxes
$6.70 non-refundable reservation
$7 utilities per night
If you really love springs, then you need this book! Florida is home to over 1000 natural springs between the sun-soaked beaches of the Gulf of Mexico and the Atlantic Ocean, which have drawn people to the state for thousands of years. Long before theme parks came to town, the freshwater springs were the top tourist attraction in the state. Join us across the state to explore 40 of the best springs in Florida that you can still visit today. Filled with vivid photos from the past and present, this guide will show you a side of the Sunshine State you won't see in commercials. Complete with information on conservation and a key for activities offered, this book is a must-have for locals and tourists alike.
FAQs About Blue Spring In Florida
Closing Thoughts
There are many state parks in Florida, and each one has a different appeal. Blue Spring has an exciting story to tell and can give you a haven when you feel like you need a cool, peaceful place to unwind after a long week of work. IIt'stranquil if you visit through the week when it is less crowded. Blue Spring State Park frequently reaches capacity during the week and weekends, during both the winter and summer months. To avoid waiting, please visit the park early.
Here are some of the most popular springs in Florida:
We participate in the Amazon Services LLC Associates Program, an affiliate advertising program designed to provide a means for us to earn fees by linking to Amazon.com and affiliated sites.
Subscribe to our newsletter and get the best travel tips and inspirational stories delivered monthly. No spam, no sales pitches – TRAVEL!
Brit On The Move™ Travel Resources
Ready to book your next trip? Use these resources that work:
Need more help planning your trip? Check out our Resources Page, highlighting the great companies we trust when traveling.