Michigan's Great Lakes is where the beauty of nature meets the hustle and bustle of city life. It's a place where the past and the present coexist, creating a unique and diverse landscape. As the plane descends and the view of the Great Lakes comes into view, you can't help but feel a sense of awe and wonder.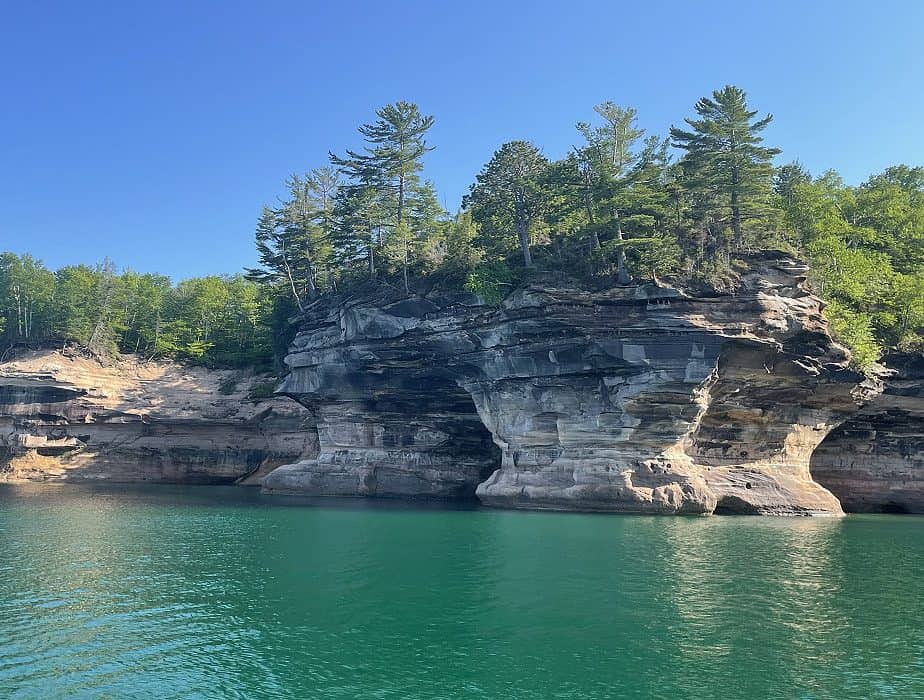 This post may contain affiliate links. Please read our disclosure and privacy policy for more information.
Michigan, also known as the Great Lakes State, is a beautiful state located in the mid-western region of the United States. With its diverse landscapes, rich history, and scenic beauty, Michigan is the perfect destination for adventure seekers, nature lovers, and anyone looking to escape city life.
Michigan is home to The Great Lakes, a vast expanse of five gigantic lakes as far as the eye can see. The lake's colors change with the sun's movement.
The Great Lakes are not just a body of water but a way of life for Michiganders. They provide endless opportunities for boating, fishing, and swimming in the summer and ice fishing and snowmobiling in the winter. Travelers looking to escape to this amazing destination must look for cheap flights to Michigan to fly on a budget.
About The Great Lakes
The five Great Lakes are the largest collection of freshwater lakes in the world in terms of total area and are located in North America's northeast region.
These large freshwater bodies are called Lake Superior, Lake Huron, Lake Michigan, Lake Erie, and Lake Ontario. They are connected by a series of canals and waterways, which form an important transportation route for cargo ships.
The Great Lakes region is also known for its abundant natural resources, including timber and minerals, and is home to a diverse range of wildlife.
The Great Lakes are also famous for recreational activities such as boating, fishing, and swimming. They also play a crucial role in shaping the climate and environment of the surrounding region.
Great Lakes United States Map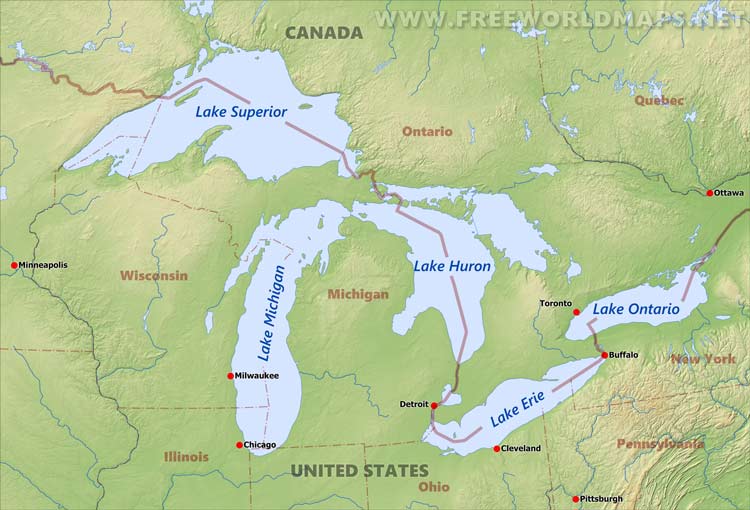 The Great Lakes are the heart and soul of Michigan and are a must-visit for any traveler. From the sparkling blue waters of Lake Michigan to the stunning sunsets over Lake Huron, the Great Lakes provide a breathtaking backdrop for outdoor activities.
For those looking for a more relaxed experience, there are many parks and beaches along the shorelines where you can enjoy picnics, bird watching, or just soaking in the sun.
The Upper Peninsula
The Upper Peninsula (UP) of Michigan is a rugged and sparsely populated region known for its natural beauty, outdoor recreational opportunities, and rich mining and logging history. Separated from the Lower Peninsula by the Straits of Mackinac and is bordered by Lake Superior to the north and Wisconsin to the west.
Home to several state and national parks, including Pictured Rocks National Lakeshore and the Hiawatha National Forest.
The UP is known for its mining industry, particularly copper and iron mining, and its logging history. This region of Michigan has a distinct culture, with many residents tracing their ancestry to the Finnish, Swedish, and Cornish immigrants who came to the area to work in the mines.
So Why Visit Michigan's Great Lakes?
Michigan, the Great Lakes State, is a land of abundant natural beauty and scenic coastline. Whether you're a resident or a tourist, the Great Lakes have much to offer, and in this article, we'll explore some of the many reasons why you should visit.
Unmatched Scenic Beauty
The Great Lakes provide breathtaking views of sparkling waters and majestic shorelines. From dunes to forested areas, there's a range of landscapes to explore and admire. Michigan's Great Lakes are a perfect destination for outdoor enthusiasts, with opportunities for activities like boating, fishing, hiking, and beachcombing.
Thriving Tourism Industry
The Great Lakes are a significant tourist attraction in Michigan, attracting millions of visitors each year. From world-class resorts to charming bed and breakfasts, the state offers a range of accommodation options to suit every budget.
In addition to its natural beauty, Michigan also boasts a thriving arts and culture scene, with museums, theaters, and music venues for visitors to explore.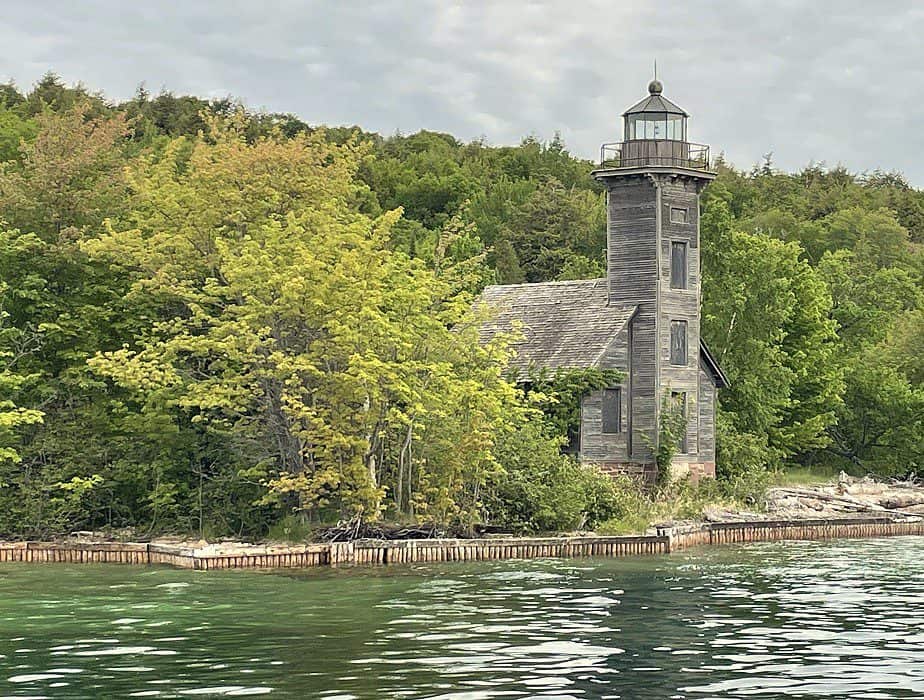 Plenty of Chances for Leisure Activities
Michigan's Great Lakes provide countless recreational opportunities for residents and visitors alike. Whether you're looking for a quiet day of fishing, an exciting day of boating, or a scenic hike, you'll find it all on the Great Lakes.
The lakes are ideal for swimming and sunbathing in the summer, while in the winter, they offer ice fishing, snowmobiling, and cross-country skiing opportunities.
Valuable Economic Resource
The Great Lakes are a valuable economic resource for Michigan and the surrounding region. The lakes support a variety of industries, including shipping, tourism, and fishing, which provide jobs and economic growth. The state's ports and harbors provide crucial access to international markets, making the Great Lakes a critical component of Michigan's economy.
Things To See and Do Exploring Michigan's Great Lakes
Before we jump into what to see and do, you have to bear in mind how much time you have. It is impossible to cover the entire Upper Peninsula in a week. Before you explore this region, determine what you want to see and how much time you have.
We spent eight nights exploring the Upper Peninsula. Our focus areas were Mackinac Island, Newberry, and Munising. Eight nights were enough. However, it was an action-packed nine days with lots of driving.
Mackinac Island
Mackinac Island is a small island located in Lake Huron, between Michigan's Upper and Lower Peninsulas. The island is a popular tourist destination for its well-preserved Victorian-era architecture, beautiful beaches, and historic sites.
Cars are not allowed on the island, so visitors can only get around by foot, bike, or horse-drawn carriage.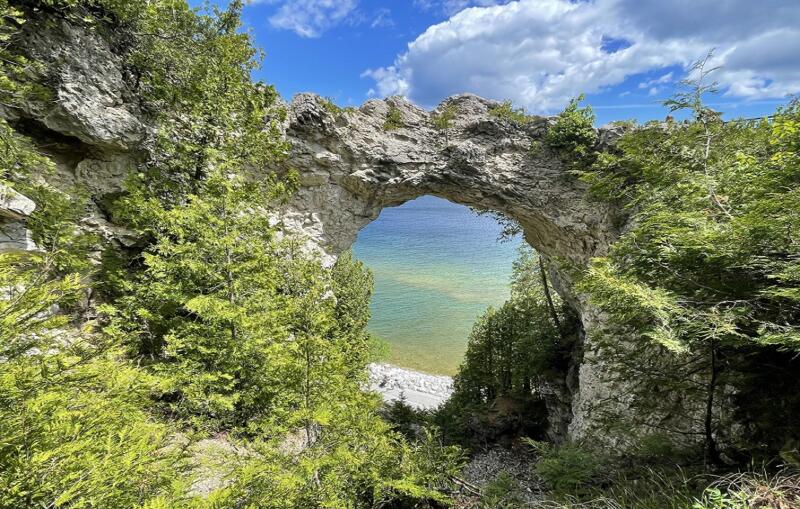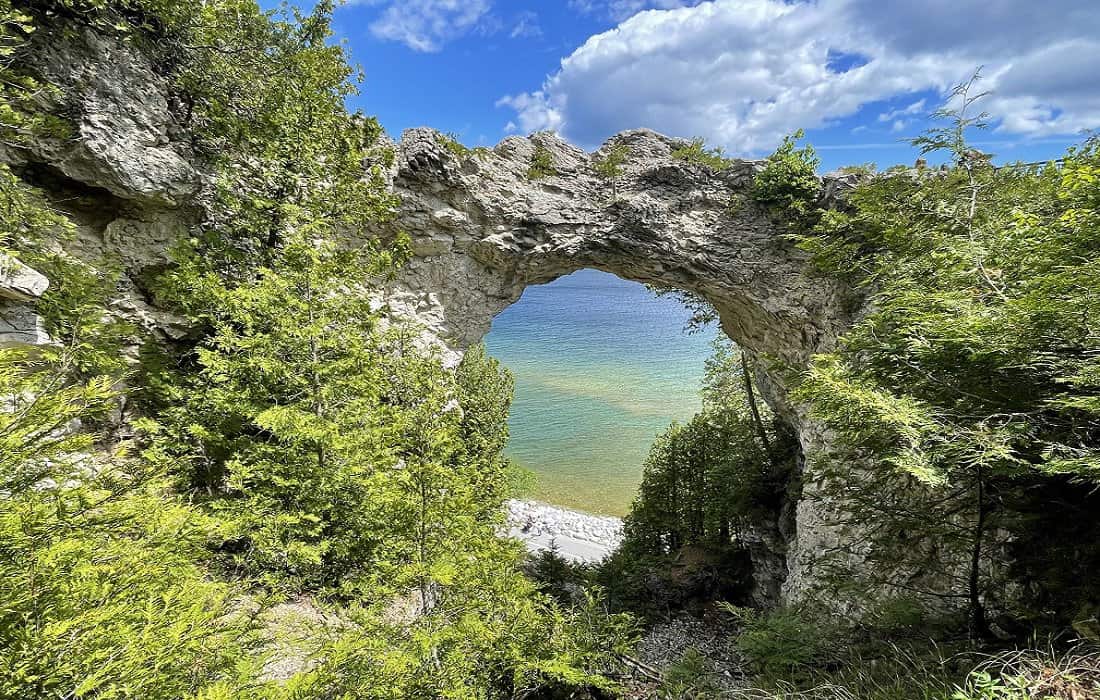 The island is also home to several historic sites, including Fort Mackinac, an 18th-century British fort, and the Grand Hotel, a luxurious hotel in operation since 1887.
The island's primary industry is tourism, with many visitors coming to enjoy the island's natural beauty and unique atmosphere.
Pictured Rock Lake Superior
"Pictured Rocks National Lakeshore" is a National Park located on the south shore of Lake Superior in Michigan, USA. It is named after the colorful sandstone cliffs, arches, and rock formations that line the shore.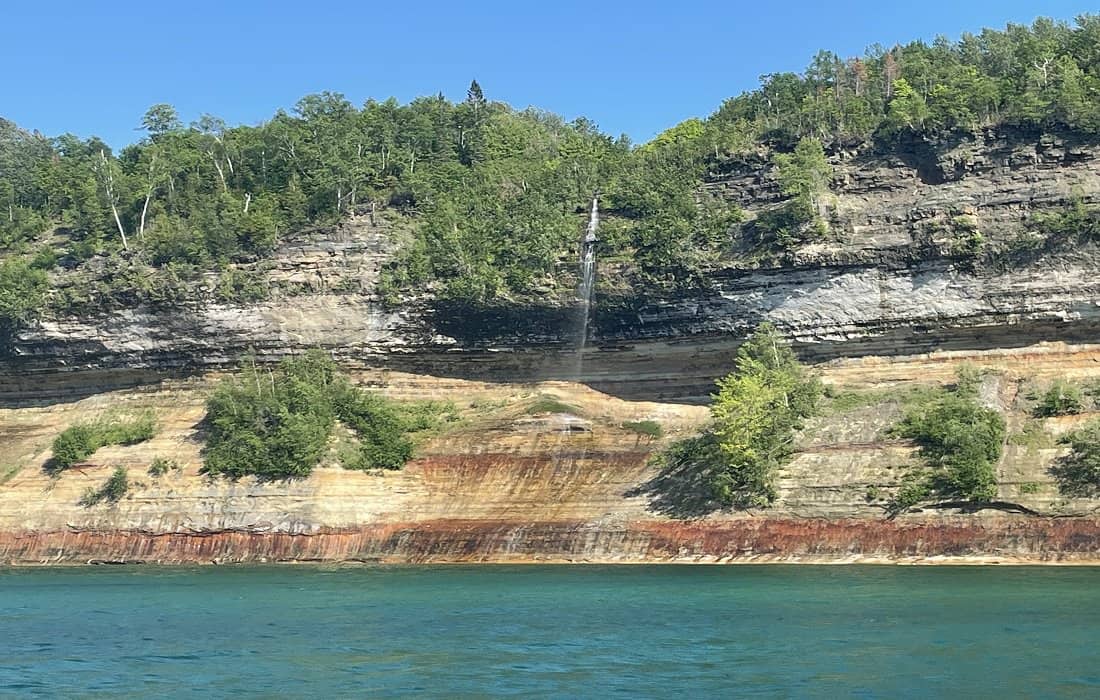 The park provides scenic views, hiking trails, waterfalls, camping, fishing, and kayaking opportunities.
Visitors can take boat tours along the shore to see the "Pictured Rocks" up close or hike the trails for a more immersive experience.
We took the sunset tour with Pictured Rocks Cruises, LLC, a local provider. I highly recommend taking this tour at sunset to see the variety of colors as the sun sets over the lake.
The Soo Locks are a set of parallel locks located on the St. Marys River between Lake Superior and Lake Huron in Sault Ste. Marie, Michigan. They allow ships to navigate the 21-foot drop in elevation between the two lakes.
The locks are an essential component of the Great Lakes shipping industry, allowing for transporting goods such as iron ore, coal, and grain. The Soo Locks were first built in the late 1800s and have undergone several renovations and expansions to accommodate larger ships.
The Valley Camp is a former Great Lakes bulk freighter that has been converted into a museum ship. It is located in Sault Ste. Marie, Michigan, USA, and serves as a floating museum showcasing the history of Great Lakes shipping.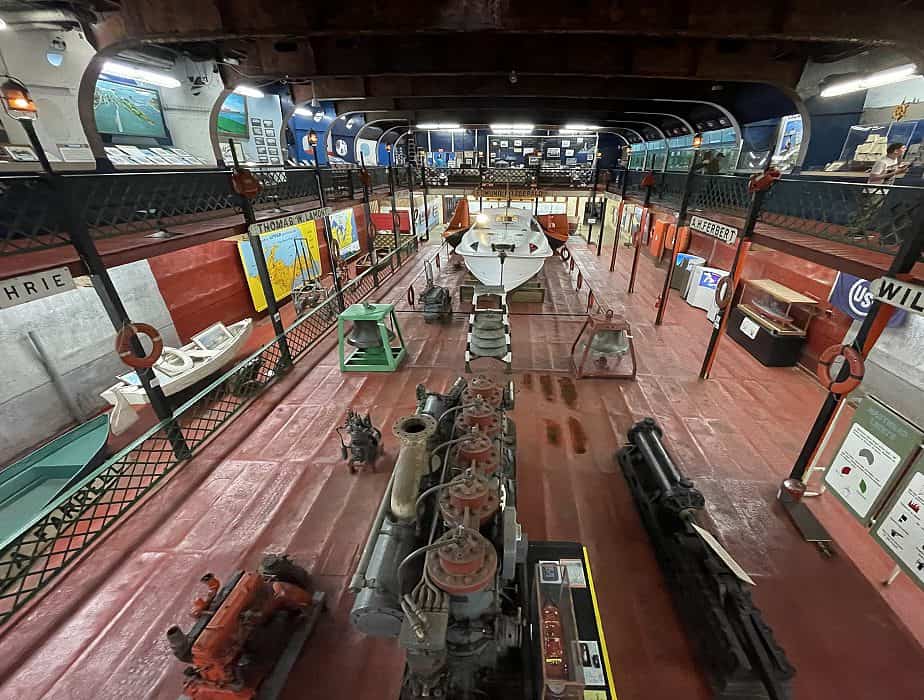 The ship was built in 1917 and served as a working freighter for many years before being retired and converted into a museum. Visitors to the Valley Camp can explore the ship's interior, including the engine room, cabins, and cargo holds, and learn about the history of Great Lakes shipping and its role in the region's development.
Shipwrecks of the Great Lakes
The Great Lakes region of North America has a rich maritime history, and as a result, many shipwrecks have occurred in the Great Lakes over the years. Some of the most famous shipwrecks include the Edmund Fitzgerald, which sank in Lake Superior in 1975; the Carl D. Bradley, which sank in Lake Michigan in 1958; and the Atlantic, which sank in Lake Erie in 1852.
Many of these shipwrecks are popular destinations for divers and historians due to the exciting stories and histories surrounding them.
Glass Bottom Shipwreck Tours
We took a tour with Glass Bottom Shipwreck Tours, Munising. Glass Bottom Shipwreck Tours are a popular tourist activity in Munising, Michigan. The tours allow visitors to explore shipwrecks in the Great Lakes region while riding in a boat with a glass bottom.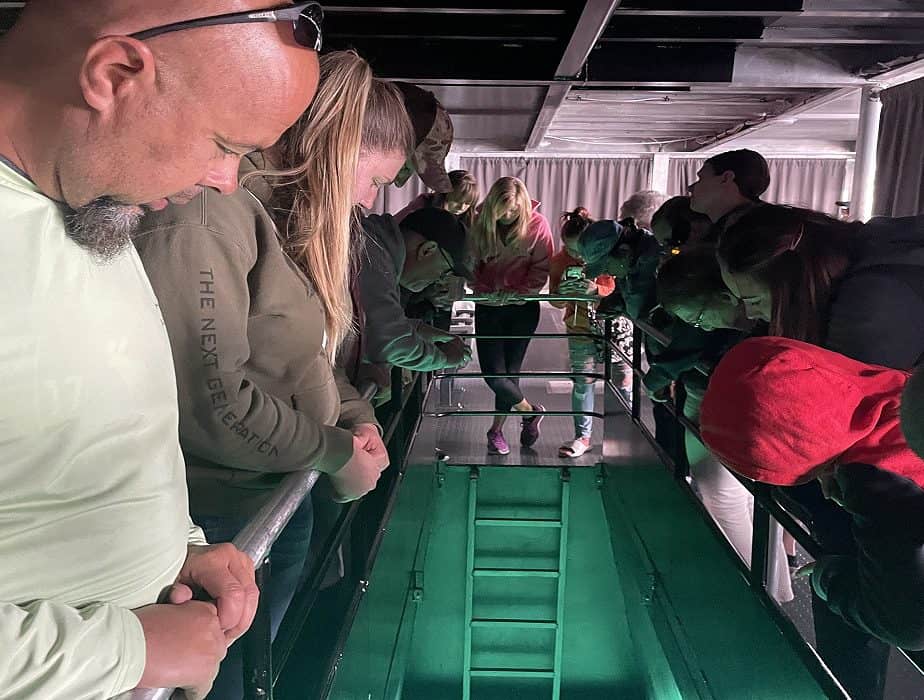 The clear view through the bottom of the boat allows guests to see the shipwrecks without getting wet!
As you glide over shipwrecks, the captain will turn off all the lights and illuminate the glass viewing area so you can see the shipwrecks below you.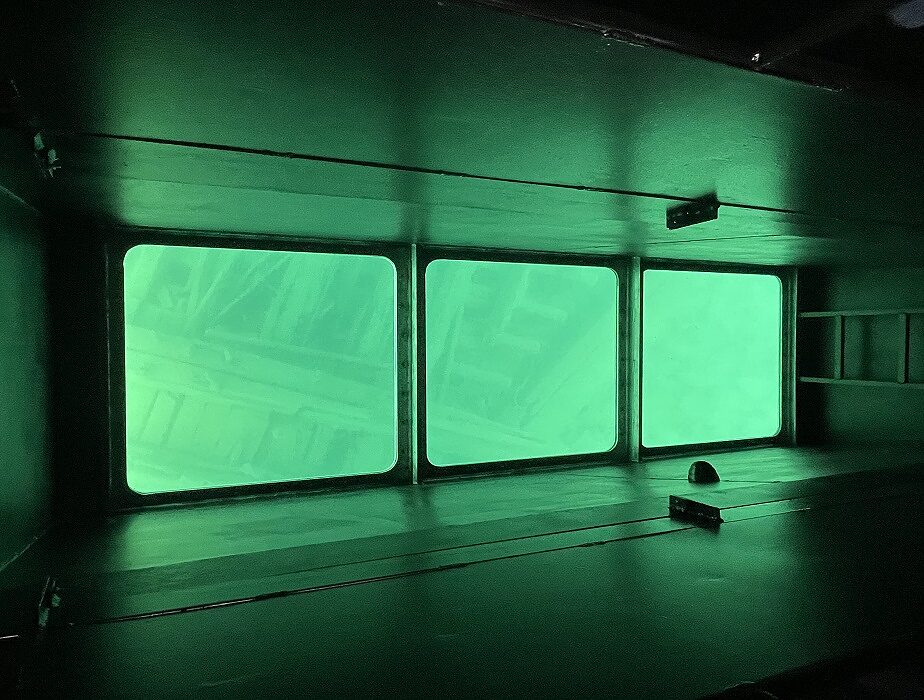 The shipwrecks around Munising are well-preserved, making them popular sites for diving and sightseeing. These tours are a unique way to experience the history and beauty of the Great Lakes region.
Aside from Mackinac Island, this was one of the trip's highlights. There is something so mysterious about seeing shipwrecks on the bottom of a lake the size of an ocean. And, if you can only choose one boat trip, I liked the shipwreck tour more than the Pictured Rock tour.
Tours Of Michigan's Great Lakes
There are several tour options available for exploring Michigan's Great Lakes region. Some popular options include:
Boat tours: Take a scenic boat tour of the Great Lakes and enjoy the stunning views of the lakefront, lighthouses, and nearby islands.
Lighthouse tours: Discover the history of the Great Lakes and visit some of the region's most iconic lighthouses, including the Point Betsie Lighthouse and the Grand Traverse Lighthouse.
Winery tours: Visit some of the Great Lakes region's most renowned wineries and sample local wines while enjoying the beautiful scenery.
Island tours: Explore the islands of the Great Lakes, including Mackinac Island, which is known for its Victorian-era charm and scenic views.
Hiking tours: Take a guided hiking tour and discover the natural beauty of the Great Lakes region, including its forests, beaches, and dunes.
Many tour companies offer these and other tour options in the Great Lakes region.
Cruises To The Great Lakes
Cruises to the Great Lakes are popular tourist attractions in North America, offering scenic views of the waterways, cities, and islands. Some popular cruise lines that provide Great Lakes itineraries include:
Victory Cruise Lines
Pearl Seas Cruises
Blount Small Ship Adventures
American Queen Steamboat Company
These cruises typically depart from Chicago, Milwaukee, Toronto, or Detroit and visit destinations such as Mackinac Island, Niagra Falls, and the Thousand Islands.
The Great Lakes cruises usually last for a week or more and offer a variety of activities and excursions, as well as comfortable onboard accommodations and dining.
Great Lakes National Cemetery
Great Lakes National Cemetery is a cemetery located in Holly, Michigan. A U.S. Department of Veterans Affairs national cemetery provides interment services for eligible veterans, their spouses, and dependents.
The cemetery offers traditional in-ground burial, columbarium niches for cremated remains, and memorialization options. The cemetery also provides various services for veterans and their families, such as a memorial walkway, an honor guard, and a committal shelter.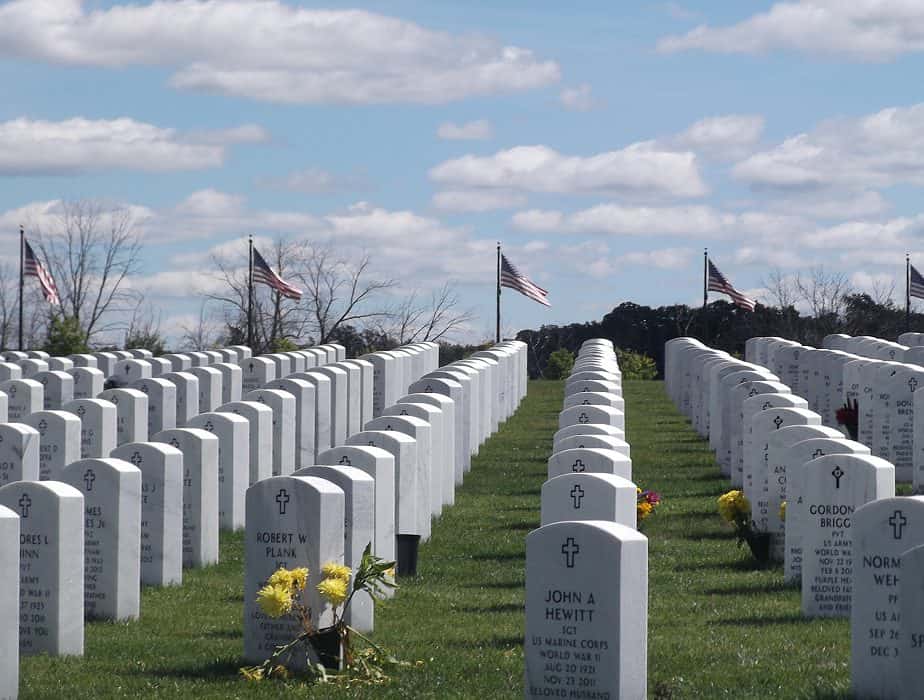 More Of Michigan
For those looking for a bit of city life, Michigan is home to several vibrant cities, including Detroit and Ann Arbor. Detroit, known for its rich musical heritage, is a must-visit for fans of Motown, jazz, and rock and roll.
On the other hand, Ann Arbor is a vibrant college town with a thriving arts and cultural scene and excellent dining and shopping options.
The Henry Ford
The Henry Ford is a museum and educational center located in Dearborn, Michigan. It is dedicated to American innovation and ingenuity, focusing on the history of transportation and industrialization.
The museum features exhibits on automobiles, airplanes, bicycles, and more, including the famous Model T and the Rosa Parks bus. It also includes a replica of a typical street from the early 20th century, a collection of American folk art, and a display of historic home appliances.
The museum also features Greenfield Village, a living history exhibit that recreates a small town from the early 19th century and includes historic buildings, such as Thomas Edison's laboratory and the Wright brothers' bicycle shop. Henry Ford also offers a variety of educational programs and activities for visitors of all ages.
The Motor City
Motor City, also known as Detroit, is located in the U.S. state of Michigan. It is known as the "Motor City" because it was once the center of the American automobile industry, with major car manufacturers such as Ford, General Motors, and Chrysler having their headquarters there.
Detroit has a rich history, from the early days of the auto industry to the city's rise as an important center for music, particularly in the genres of soul and jazz. However, in recent decades, the city has faced economic challenges, with a decline in the auto industry and population loss. Despite this, Detroit has a resilient community and continues to work towards revitalization and renewal.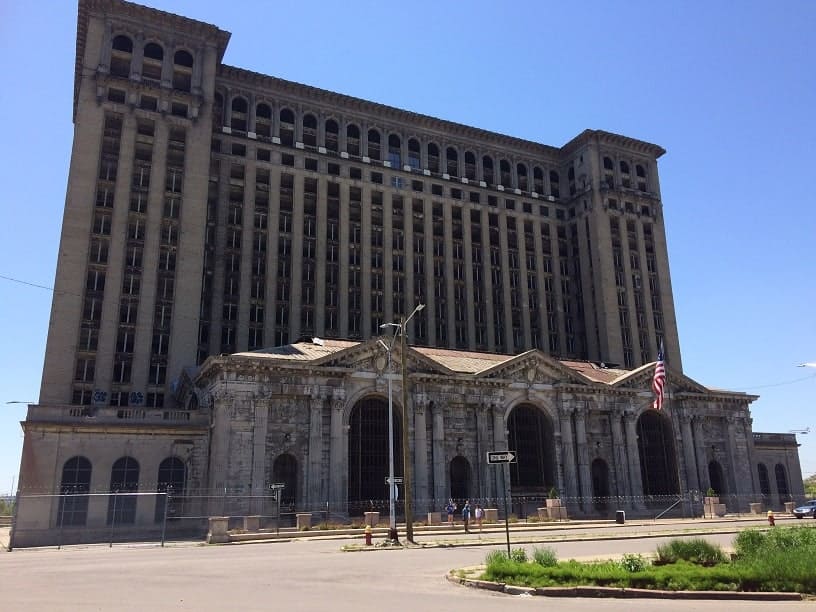 FAQ's
What is Michigan known for?
Michigan is known for its Great Lakes, scenic coastline, and abundant natural beauty, including forests, lakes, rivers, and dunes. The state is also famous for producing automobiles, furniture, and processed foods.
How many great lakes are in Michigan?
Michigan is bordered by four Great Lakes: Superior, Huron, Michigan, and Erie. Michigan has four of the great five.
How many great lakes are there in us, and what are the 5 great lakes' names?
There are five Great Lakes in the United States: Lake Superior, Lake Huron, Lake Erie, Lake Michigan, and Lake Ontario.
What are the famous tourist destinations in Michigan?
Some famous tourist destinations in Michigan include Mackinac Island, The Henry Ford Museum, Upper Peninsula State Park, Sleeping Bear Dunes National Lakeshore, Michigan's Adventure, Belle Isle Park, and the Detroit Institute of Arts.
What is the weather like in Michigan?
Michigan has a varied climate with cold winters and warm summers. The average temperature in January is around 20°F, while in July, it is around 70°F. Winter temperatures can drop below freezing, and snow is common in many parts of the state.
What is the best time to visit Michigan?
The best time to visit Michigan depends on personal preference and the type of activities you plan to do. Summer is the warmest and most popular time for tourists, while fall offers stunning foliage and mild weather. Winter is excellent for winter sports, and spring is a beautiful time to see the state's natural beauty.
What is transportation like in Michigan?
Michigan has a well-developed transportation system with options like car rental, taxis, public buses, and trains. The state's significant airports include Detroit Metropolitan Wayne County Airport and Gerald R. Ford International Airport. Public transportation is also available in major cities like Detroit and Grand Rapids.
Closing Thoughts
With so many great places to visit, Michigan is a destination that will delight visitors of all ages. Whether you're looking for natural beauty, historical sites, or cultural experiences, Michigan has something to offer everyone. From its breathtaking natural beauty to its rich history and vibrant cities, it is a destination you should not miss. So pack your bags, grab your camera, and get ready to explore the Great Lakes State!
Looking For More Michigan? Start Here:
We participate in the Amazon Services LLC Associates Program, an affiliate advertising program designed to provide a means for us to earn fees by linking to Amazon.com and affiliated sites.
Brit On The Move™ Travel Resources
Ready to book your next trip? Use these resources that work:
Need more help planning your trip? Check out our Resources Page, highlighting the great companies we trust when traveling.