Last summer, I had the opportunity to ride dunes in Michigan at Silver Lake State Park. An activity that many of us do know is a "thing." It is not just a thing. It is a "big thing" in states like Arizona. California, Colorado, and Michigan. Unknown to many, the western coastline of Lake Michigan boasts one of nature's marvels – the largest collection of freshwater dunes in the world. Dunes that offer up a variety of tourist attractions, including riding the dunes.
So, what does riding sand dunes entail? Essentially, you ride jeeps, buggies, all-terrain vehicles (ATVs), utility terrain vehicles (UTV's), motorcycles, and sandrails. Do not worry; I will cover the vehicles later! Summed up, riding dunes is an extreme sport that involves driving up, down, and across large dunes and the rugged terrain that accompany them. And, for the brave, it also includes jumping these dunes and performing various stunts.
Think self-driven roller coaster meets Evel Knievel.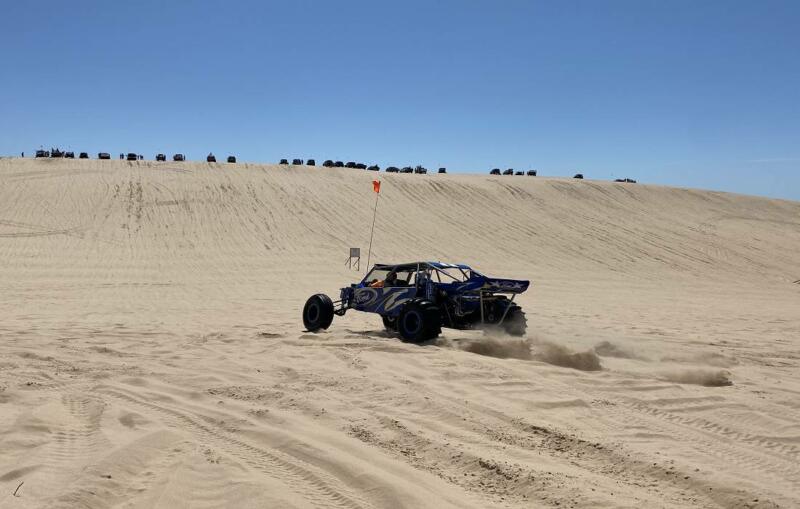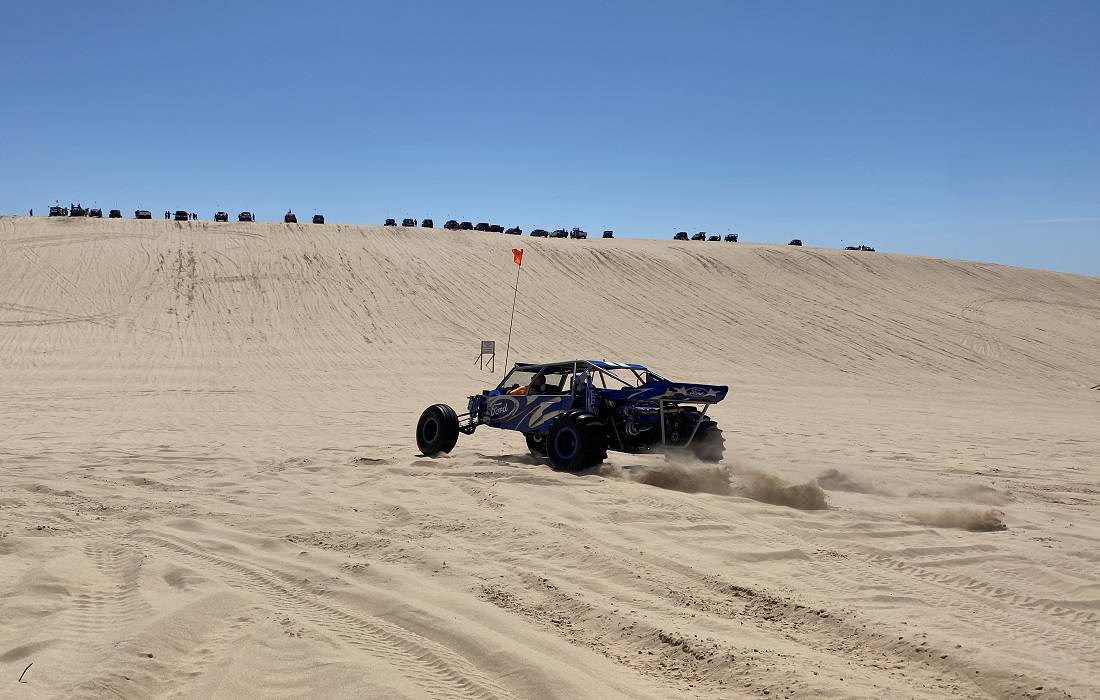 Riding dunes is not for the faint of heart. On the other hand, it is a ton of fun – even if you only spectate.
Fortunately for me, I came across the dunes in Michigan because a dear friend lives in Michigan, and her entire family rides the dunes. This summer, a couple of us made a point to hit Michigan. Not only to visit with our friends but to experience riding the dunes in Michigan for ourselves.
And one of the sweetest things about riding dunes in Michigan is the scenery. Yes, the scenery!
This post may contain affiliate links. Please read our disclosure and privacy policy for more information.
Lake Michigan
You will be riding around Lake Michigan. If you are not familiar with Lake Michigan, here are a few facts:
The third-largest Great Lake by surface area and the sixth-largest freshwater lake in the world.
The surface area of 22,404 square miles is the second-largest of the Great Lakes by volume at 1,180 cubic miles.
The average depth is 279 feet, and its greatest depth is 923 feet.
Wisconsin, Illinois, Indiana, and Michigan share Lake Michigan from west to east.
Lake Michigan has many beaches and is considered the "Third Coast" of the United States.
I have experienced Lake Michigan from Chicago and Indiana. Sand dunning was my first opportunity to experience it from Michigan and my first time seeing the beaches.
Who knew that Michigan had beautiful beaches like this? Michigan will surprise you with what it has to offer!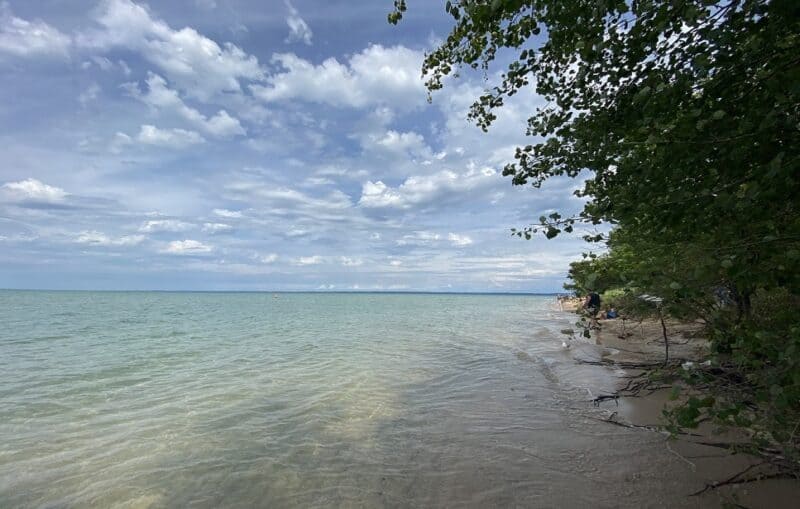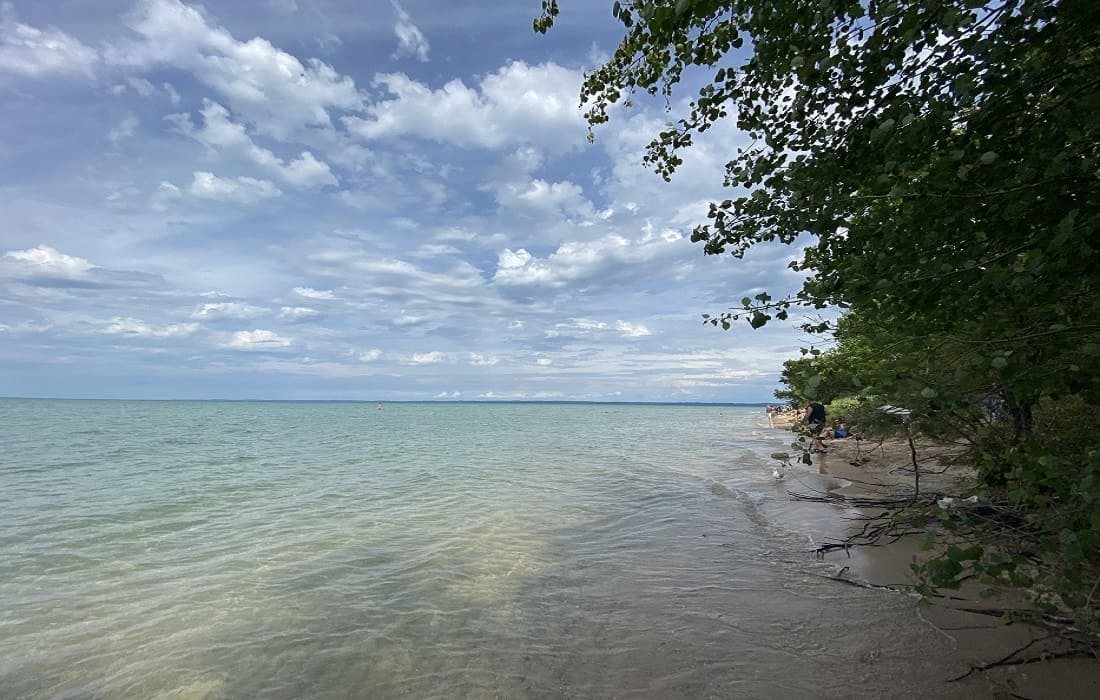 History of Silver Lake State Park
In 1920 Carrie E. Mears, the daughter of lumber baron Charles Mears donated 25 acres on the east side to be a park. The Federal Government followed in 1926 by adding 900 acres to form "Sand Dunes State Park." Mears donation and the government's land merged in 1949, and new boundaries were dedicated in 1951.
History of Riding Sand Dunes
In the 1930's Malcolm "Mac" Woods offered rides on a "dune scooter," essentially a ten-wheeled Model A Ford converted with balloon tires. The focus of the tour was on providing thrill whilst stopping at scenic lookouts.
After that, Woods added scooters and other vehicles to his Mac Woods Dune Scooter Rides business. Most importantly, still, open today and still operated by the family. The Wood family, by all accounts, started the trend at Silver Lake State Park.
How Were Silver Lake Sand Dunes Created?
The sand is made from quartz dumped by glaciers from Canada. Following the ice age, the wind blew the sand grains to form dunes as high as four-story buildings.
There Are Four Main Types of Sand Dunes
Barchan – A barchan is a crescent-shaped dune.
Transverse – A long sandy dune with a wavy ridge running along the length.
Blowout – A sandy depression in a dune ecosystem caused by the wind's removal of sediments.
Linear – Straight or slightly sinuous sand ridges are typically much longer than they are wide.
Also, composite is a blend of linear and traverse dunes that accumulate up to 400 meters high. I am not an expert on types of dunes, but Silver Lake has a combination of all from what I experienced.
Tours and Rentals at Silver Lake Sand Dunes
While there are many dunes in Michigan, the only ridable one is Silver Lake. Silver Lake State Park is the only dune east of the Mississippi River open to off-road vehicles.
As mentioned, you can ride your own vehicle if you have one. If not, you can take a tour or rent a vehicle.
Mac Wood's Dune Rides: This is a tamer experience, more of a tour of the dunes. Appropriate for kids, this option allows you to experience the dunes on a slower scenic ride.
Parrot's Landing Jeep Rentals and Tours: Here, you can rent jeeps and buggies. You can either rent and go or take a tour that you drive but follow a tour operator.
This is the tour we did, and I highly recommend it. This enables you to experience the full effects (minus dune jumping) but with an expert.
Silver Lake Buggy Rentals: As the name implies, here you can rent a buggy, and off you go.
Janna Banana taking it all in: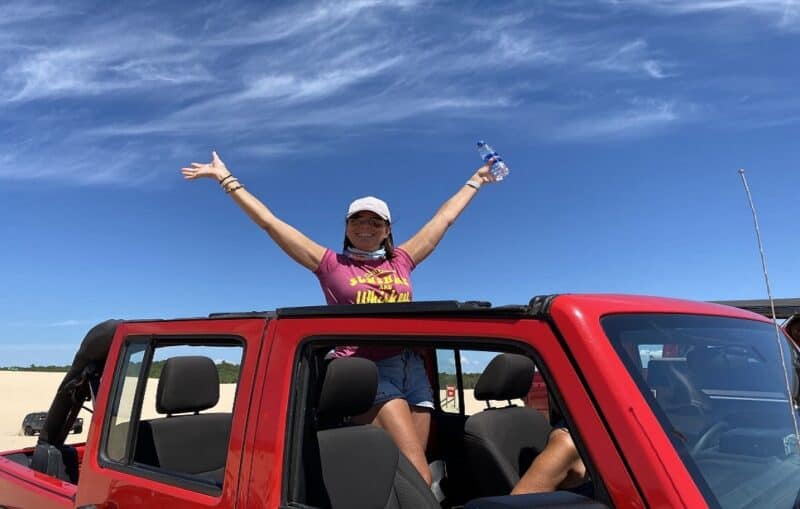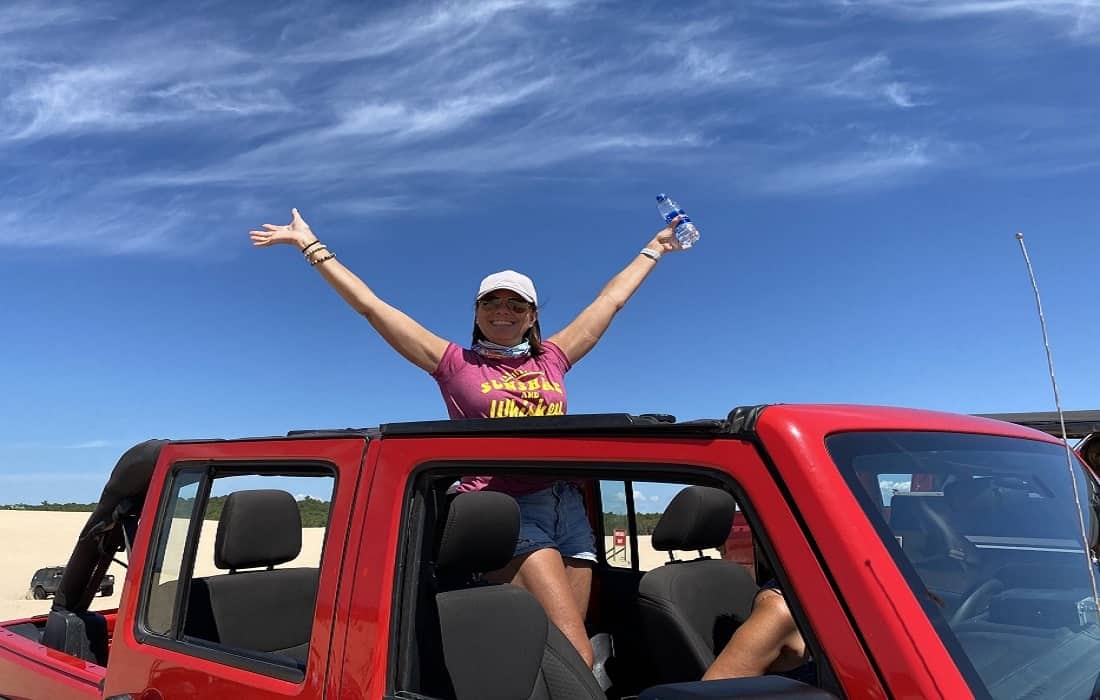 Cathi and I took turns driving!
Videos of Riders at Silver Lake Sand Dunes
Recall I said spectating is as much fun as riding? Trust me when I tell you that you can go and watch – it is equally entertaining.
Vehicles for Riding the Sand Dunes in Michigan
While you will see people on the dunes in cars, it is not advisable. Meanwhile, we saw plenty of people in cars which baffled me. And, while hundreds of experienced drivers take on the dunes, I seriously do not recommend that you head out there without taking a tour or lessons first.
Most vehicles fall into two categories All-terrain vehicles (ATVs) and Utility terrain vehicles (UTV's).
What is the Difference Between an ATV and a UTV?
All-terrain Vehicles (ATV)
An all-terrain vehicle (ATV) is typically a quad or a four-wheeler and for single riders, sometimes double riders. It the more maneuverable and can handle tight turns and dense timber or brush with ease.
Popular ATV's
Arctic Cat Alterra 300
Polaris Sportsman 450
Textron Alterra VLX 700
Honda Fourtax Foreman 4×4
Suzuki Kind Quad 750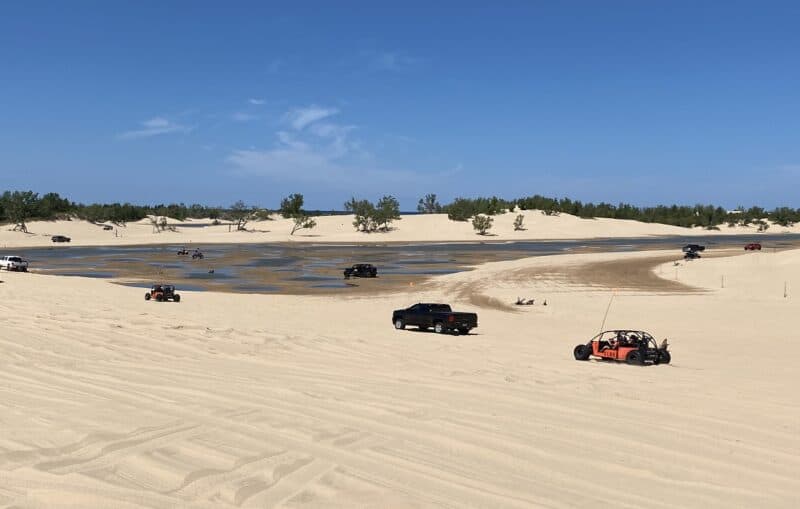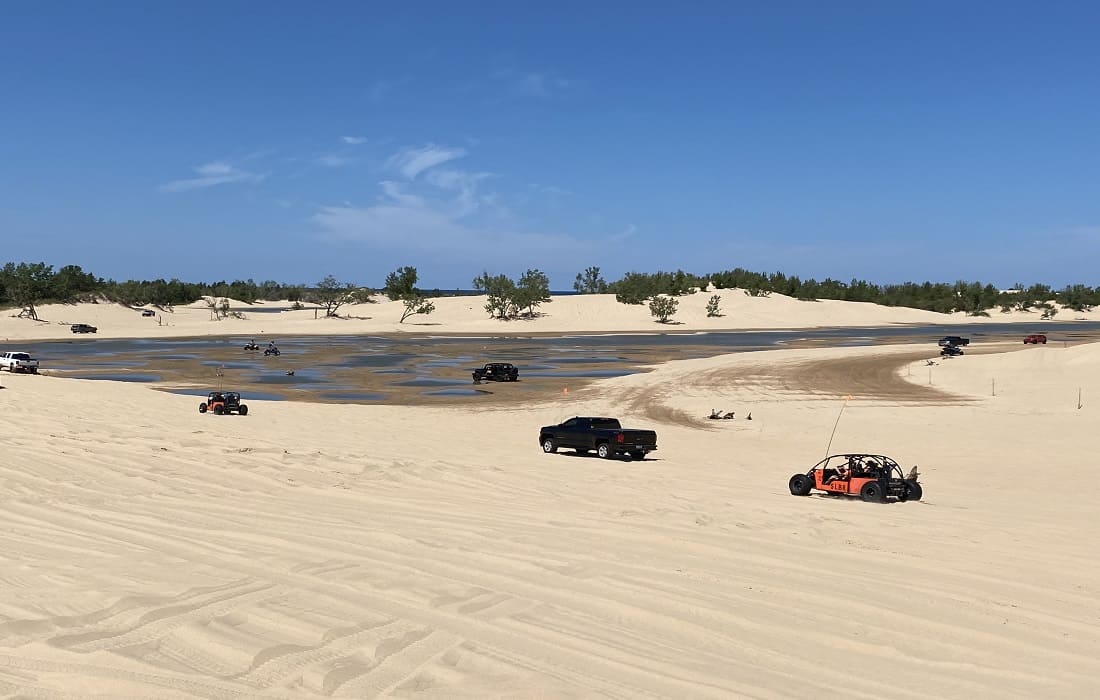 Utility Terrain Vehicles (UTV)
A utility terrain vehicle (UTV) is an off-road vehicle that seats between 2 and 4 people. They are built to handle rougher terrain and hauling. They are often called side-by-sides (SXS).
Popular UTV's
Can-Am Commander
Can-Am Maverick
Honda Talon
Kawasaki Teryx
Polaris Ranger
Polaris RZR XP
Yamaha YXZ
Buggies
Sand buggies, dune buggies, and beach buggies are recreational motor vehicles with large wheels and wide tires specific for dunes, beaches, roads, or desert recreation.
Sandrails
A sandrail, or "sand crawler," is a lightweight off-road motor vehicle specifically built for traveling in sandy terrain. Similar in some respects and often mistakenly referred to as a dune buggy or sand car. However, a sandrail is a different specialty vehicle type.
I think it is safe to say that sandrails are all the rage, which are big-ticket items. Here is a custom one; notice the "Made In Detroit" flag?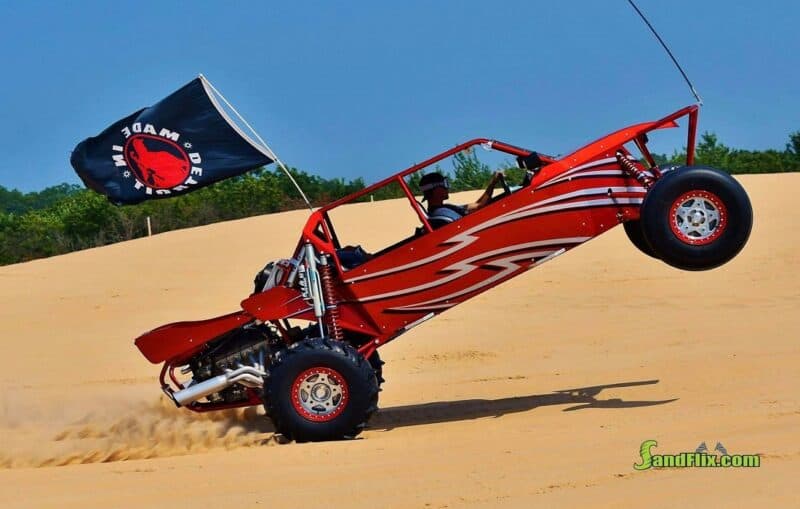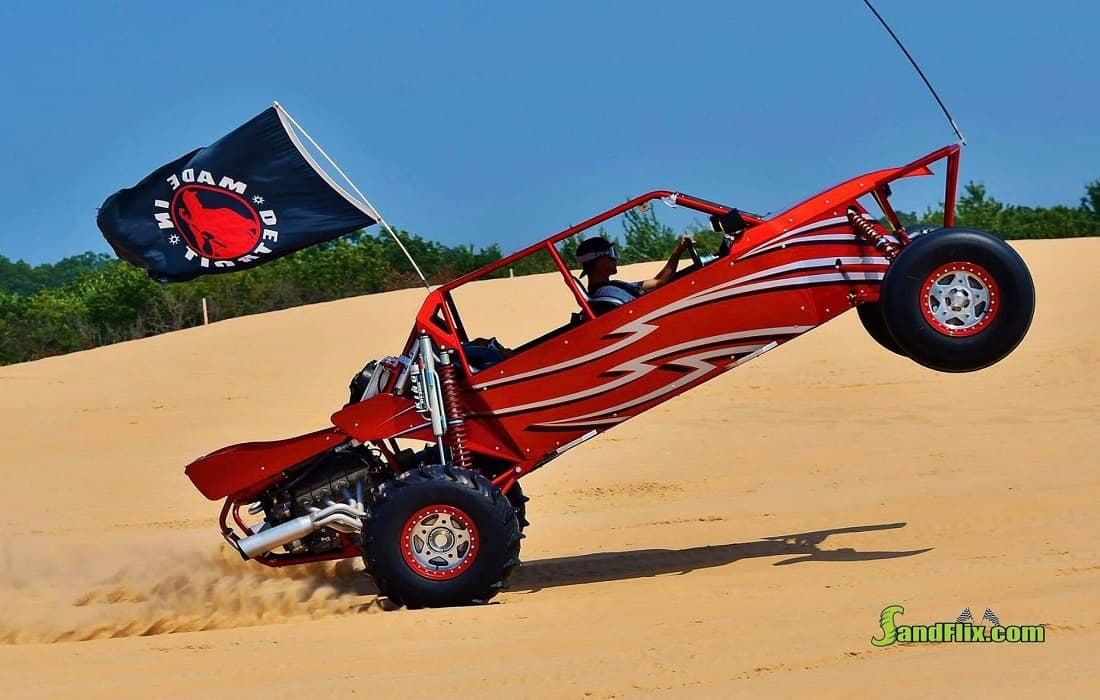 Photo courtesy of Sandflix.com
SandFlix.com is dedicated to providing you with photos and videos of the majestic Silver Lake State Park Sand Dunes.
Nearly all sandrails are custom. People buy the rail frame and drop huge engines in them. Sandrailfab is a custom sandrail builder, and they have several "base styles" to choose from.
Other Vehicles For Riding Sand Dunes
Jeeps – The same types you see on the road, only tire pressure is lowered to handle the dunes.
Motorcycles – Otherwise known as dirt bikes or sand dirt bikes, they are adapted to handle dunes.
Essentials You Need For Riding Sand Dunes
If you rent, most of this equipment is provided for you. If going in your own vehicle, you need the following:
Map of Silver Lake Michigan
Situated on the shoreline between Muskegon and Ludington, in the northeast side of Michigan: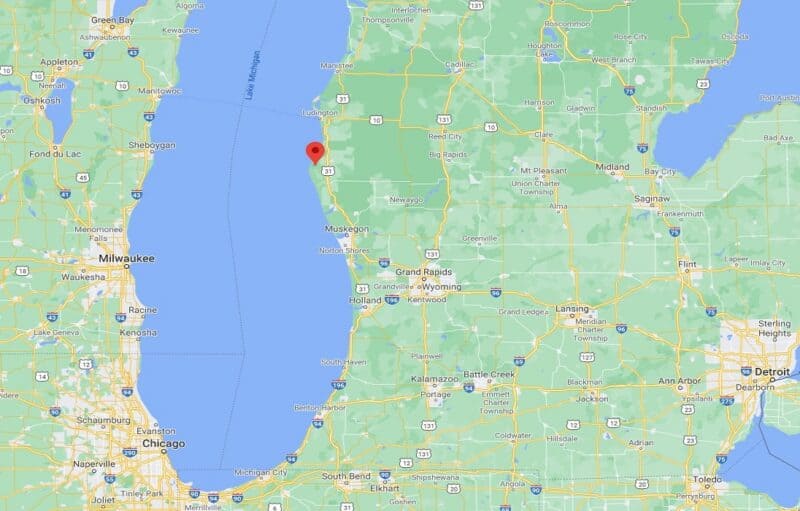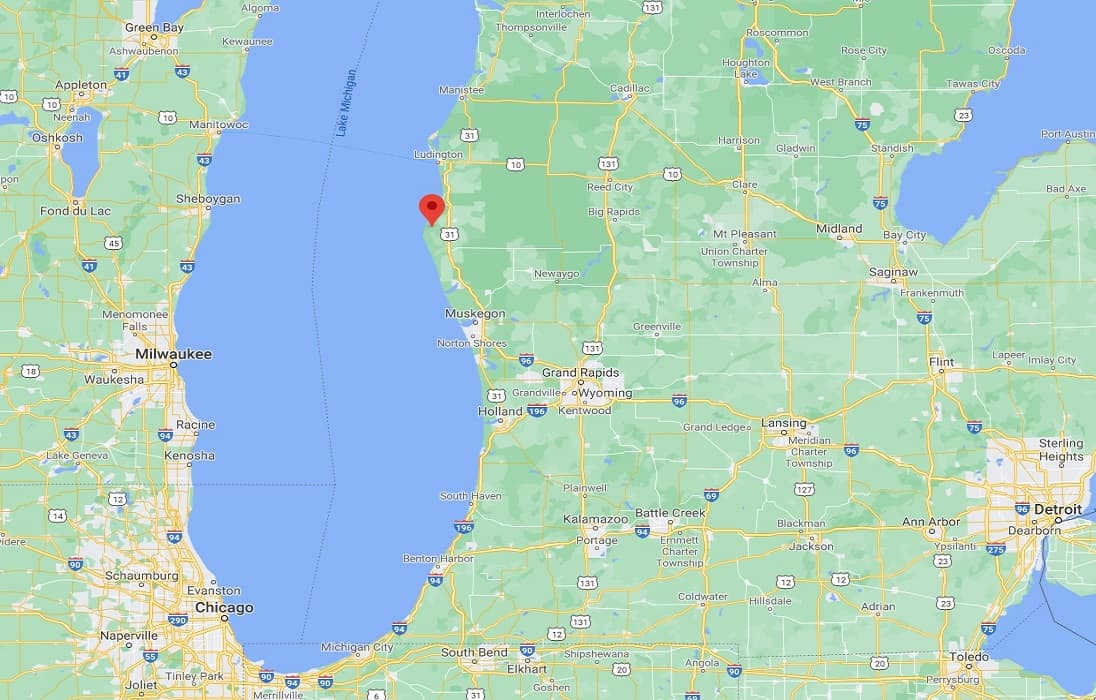 Where to Stay at Silver Lake
Travel Planning Resources
Looking to book your next trip? Use these resources that work:
Are you interested in Volunteer Vacations and Working Holidays? Check out the complete guide to how here!
Need more help planning your trip? Make sure to check out our Resources Page, where we highlight all the great companies that we trust when we are traveling.