Mackinac Island – The Complete Guide To Seeing It All
Mackinac Island is world-renowned for being a relaxing car-free getaway. Over 80 percent of the island's cliffs, ravines, natural bridges, caves, and rock formations are in state parks. However, Mackinac Island's natural appeal lies in its unique historic ambiance, punctuated by a lack of motorized vehicles. Various attractions await you, such as historic forts, golf courses, horse-drawn carriage tours, world-famous fudge, and leisurely bicycle rides along the lakeshore. Whether traveling alone or with a group, Mackinac Island has something to offer everyone. Mackinac Island has a lot more to offer than what is listed here. Here are a few reasons why Mackinac Island should be your next vacation destination.
So let's explore why you should visit Mackinac Island.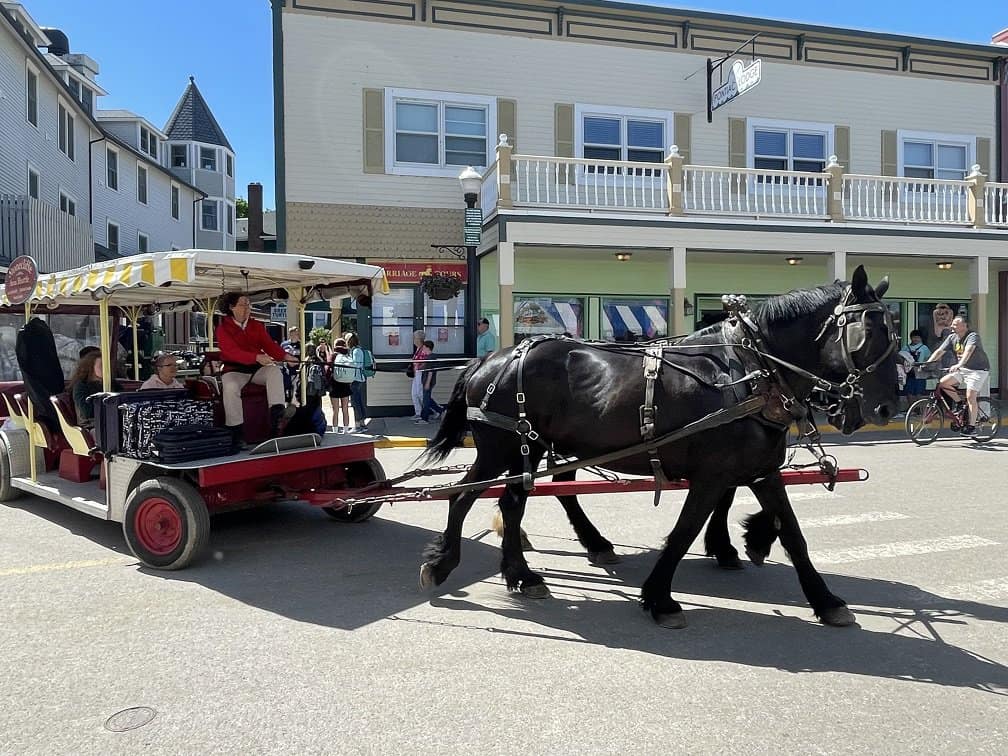 This post may contain affiliate links. Please read our disclosure and privacy policy for more information.
History of Mackinac Island
The island of Mackinac was formed when the glaciers of the last Ice Age melted around 13,000 BC. In addition to the Great Lakes, the surrounding area was also formed at that time. Examining artifacts uncovered on the island has established that Native Americans (Anishinaabe) lived there as early as 900 AD. It is believed that the name Mackinac is a shortened form of the Ojibwe word "Mishikinaak" or "Mitchimakinack," which means "Big Turtle." Before European exploration began in the seventeenth century, the island was home to a Native American settlement. The British built Fort Mackinac on the island during the American Revolutionary War. Mackinac Island became a famous summer colony and tourist attraction in the late nineteenth century. It has undergone extensive historic preservation and restoration, making it a National Historic Landmark in its entirety.
It represents Mother Earth and signifies good health and long life. A trip to Mackinac Island is like stepping back in time, as the magnificent living history experience the island offers is so immersive.
What is Mackinac Island Famous For?
The first is the island is 100% car-free; there are no cars on the island. As such, it's also famous for horse-drawn carriage rides and bicycle riding. It's also renowned for fudge, caramel corn, and saltwater taffy. Lastly, it's famous for the Grand Hotel.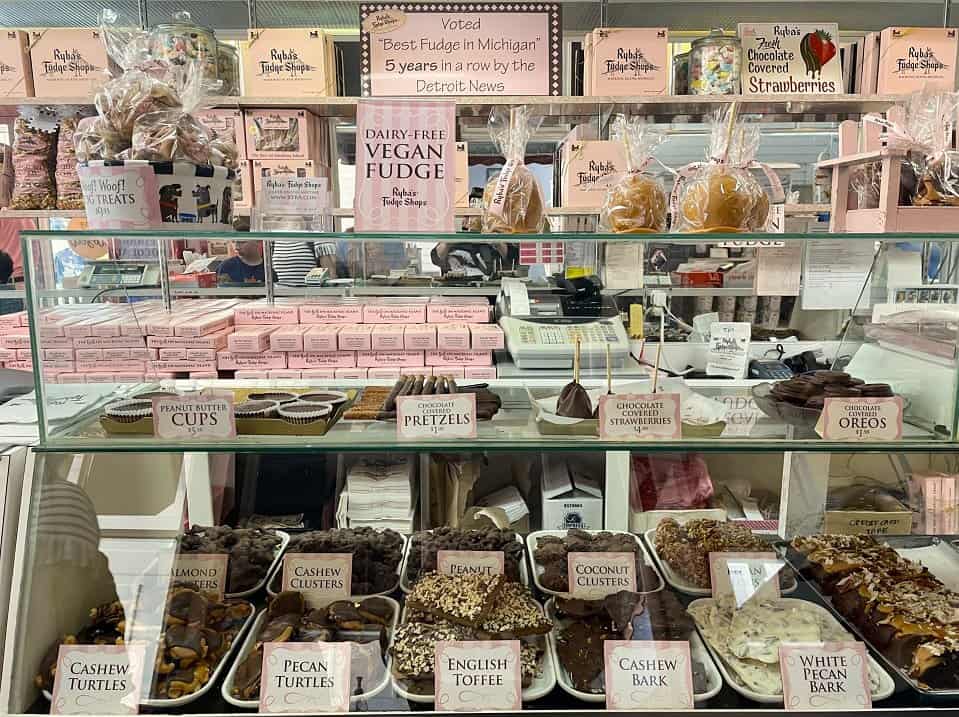 The island has been featured in many TV shows and films, some of which were at the Grand Hotel.
Movies And TV Shows Filmed On Mackinac Island
Somewhere in Time (1980)
This Time for Keeps (1947)
Ice Bridge: Mackinac Island's Hidden Season (2008)
Mackinac Island (1944)
Decision at Midnight (1965)
Roaming Through Michigan (1950)
The Plague of Willow Bay (2013)
American Sailors (2009 TV Movie)
Extreme Makeover: Home Edition (2003–2020) Episode: The Vardon Family (2004)
Postcards from Buster (2004–2012)
Episode: The Mitten of Mackinac Island (Mackinac Island, Michigan) (2006)
Dirty Jobs (2005– ) Episode: Wild Goose Chase (2007)
Dirty Jobs (2005– ) Episode: Crew Unemployment (2010)
Location Of Mackinac Island
Mackinac Island is a small island covering an area of 3.8 square miles (9.8 km2) in the U.S. state of Michigan. On the shores of Lake Huron, at the eastern end of the Straits of Mackinac, on the border of the Upper and Lower Peninsulas of Michigan.
Mackinac Island vs. Mackinaw City
Mackinaw City is a small town on the northern tip of Michigan's Lower Peninsula. It's the gateway to Mackinac Island. To reach Mackinac Island, you must drive through Mackinaw city, where you will park your car. Although if you have time, you can explore Mackinaw City as well.
Summer in Mackinaw City is excellent for boating, exploring the parks, walking the city, and visiting Mackinac Island. In the fall and winter, Mackinaw City is more low-key with fewer tourists, allowing you to walk the beach and explore the town more peacefully. There are also cheaper hotel rates during the off-season; you can stay at these hotels before heading to Mackinac Island.
Pro Tip: Many people choose to stay in Mackinaw City vs. on Mackinac Island. It's a lot less expensive and regardless of where you stay you still need to take the ferry over the the island.
The Mackinac Bridge
The Mackinac Bridge is a suspension bridge over the Straits of Mackinac, linking the Upper and Lower peninsulas of Michigan. It connects the north end of St. Ignace with the south end of Mackinaw City. The bridge was opened on November 1, 1957, linking two peninsulas. According to official documents, the bridge was the world's longest suspension bridge between anchorages. You can drive to Mackinaw City using the bridge to get to Mackinac Island and then take a flight or ferry to Mackinac Island.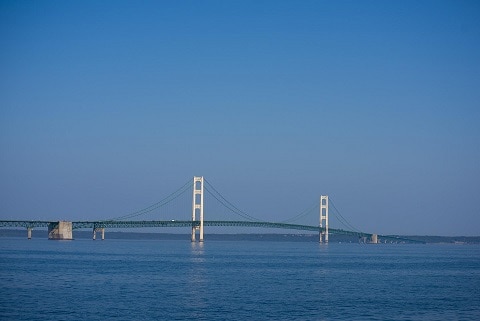 Getting To Mackinac Island
Mackinac Island has no connecting bridge to the mainland. Motorized vehicles are prohibited, and you can't drive there. The only way to reach the island is by ferry or plane.
Mackinac Island Ferries
There are three ferry services you can choose from:
Star Line Mackinac Island Ferry Company – Island Dock #1
7271 Main St · In Mackinac Island Tourism Bureau (800) 638-9892
Shepler's Mackinac Island Ferry
7451 Lake Shore Dr · In Mackinac Island Tourism Bureau (231) 436-5023
Star Line Mackinac Island Ferry Company – Island Dock #2
106 Main St, Mackinac Island, MI 49757 (800) 638-9892
There are ferry lots in Mackinaw City and St. Ignace where day-trippers can park their cars for free. At the dock, you can buy ferry tickets or purchase them online (usually at a discounted rate).
You will end up at your ferry company's arrival dock on Mackinac Island, where you will exit the boat and gather the luggage or bicycles you brought with you. Once that is done, you can choose a place on the island for your stay.
Fort Mackinac
During the American Revolution, Fort Mackinac was founded. The British moved Fort Michilimackinac to Mackinaw Island in 1780 after determining that Fort Michilimackinac was too vulnerable to American attack. American control was established in 1796. Fort Washington was captured by the British in July 1812, the first land engagement of the War of 1812. American forces attempted but failed to retake Fort Washington in 1814. After the war, it was returned to the United States. In 1895, the fort ceased to be active. Mackinac Island transformed from a fur trade center to a summer resort during these years.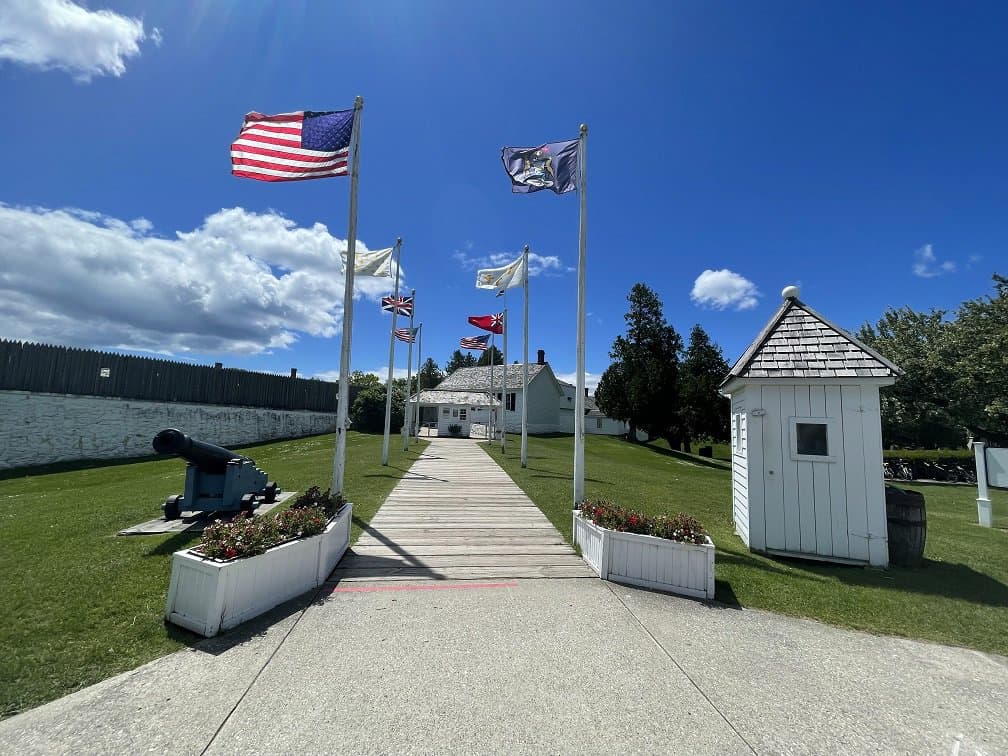 It is a tourist attraction full of informative exhibits and various unique weapons.
The site contains 14 historical buildings, including Michigan's oldest building. Interpreters tell stories about Mackinac Island's past and the lives of its residents. Children can also interact with interactive exhibits at the museum. From May to October, Fort Mackinac is open seven days a week. A great place to spend time with your children and learn about history.
Pro Tip: If you take the horse drawn carriage tour of the island you can end the tour at Fort Mackinac which saves you having the climb the steep hill up to it.
Cannon Firing Display
One of the most exciting displays is the cannon firing!
You Fire The Cannon
This is a scarce opportunity for cannon enthusiasts! At Fort Mackinac, you can fire the first cannon volley of the day.
For only $75 ($50 for Mackinac Associates (excluding Heritage Level)), you can FIRE the iconic Fort Mackinac cannon. This unique experience is available for one person every morning for the first cannon firing (8:45 a.m. May 3-June 4, 9:15 a.m. June 5-October 9, 10:45 a.m. October 10-October 23) through October 23. You need a reservation to fire a cannon.
Things To Do Mackinac Island
The top attractions on Mackinac Island use living history interpreters to immerse tourists in various experiences. National Historic Landmarks, including Colonial Michilimackinac and Fort Mackinac, make the area a great place to explore history. There are plenty of hotels, fine-dining options for tourists, and plenty of things to do day and night.
Motor vehicles are not permitted on the eight-mile main highway that surrounds the island. The island is strewn with rock formations and caves formed by glacial activity. Besides its geological wonders, the island is home to over 70 miles of hiking trails, nearly 15 fudge shops, and beautiful Victorian homes and churches.
Arch Rock
Anishinaabe-Ojibwe tradition holds that the Great Creator first inhaled the breath of life 150 feet above the water at Arch Rock. There is no doubt that Mackinac Island's natural limestone arch is one of the most photographed sites on the island. You can ride a carriage or bike or walk there. Don't miss this one; the view is breathtaking.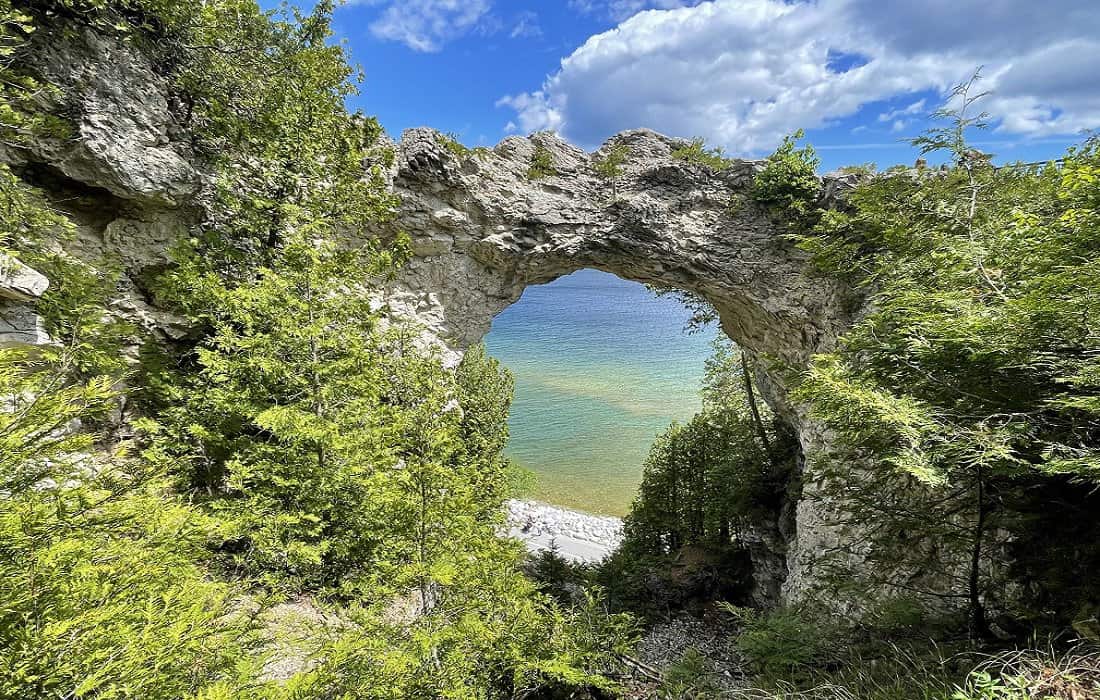 Take A Horse Drawn Carriage Ride
You can take a horse-drawn carriage ride to see most of the island's attractions and its state historical park. Operators line Main Street with their carriages. It is possible to hire a horse-drawn taxi outside the downtown area, or you can drive a rented horse and buggy outside the area. You can choose a private tour or a group tour.
You will be doing yourself a disservice if you don't take the horse-drawn carriage tour. If you take this tour, you'll get to see almost every attraction on tour. And, if you choose a private tour, you can customize the route.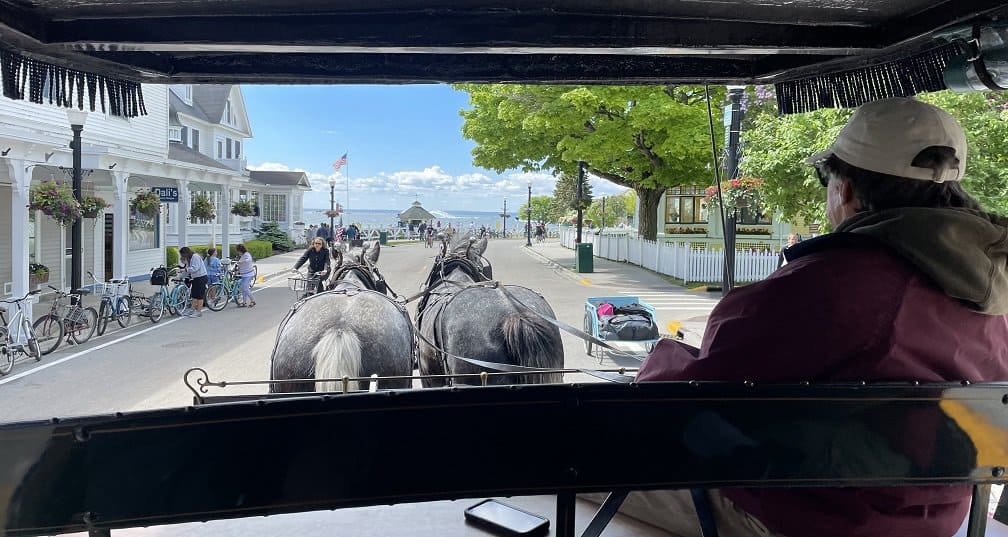 Bike Ride
A bicycle ride around the island is a fantastic experience since no other vehicles are allowed there. You can rent a cycle or tandem from one of the many Mackinac Island outfitters or bring your own, and then head around the round tour that follows the rocky shoreline around the island. There's no shortage of bicycle rentals on the island!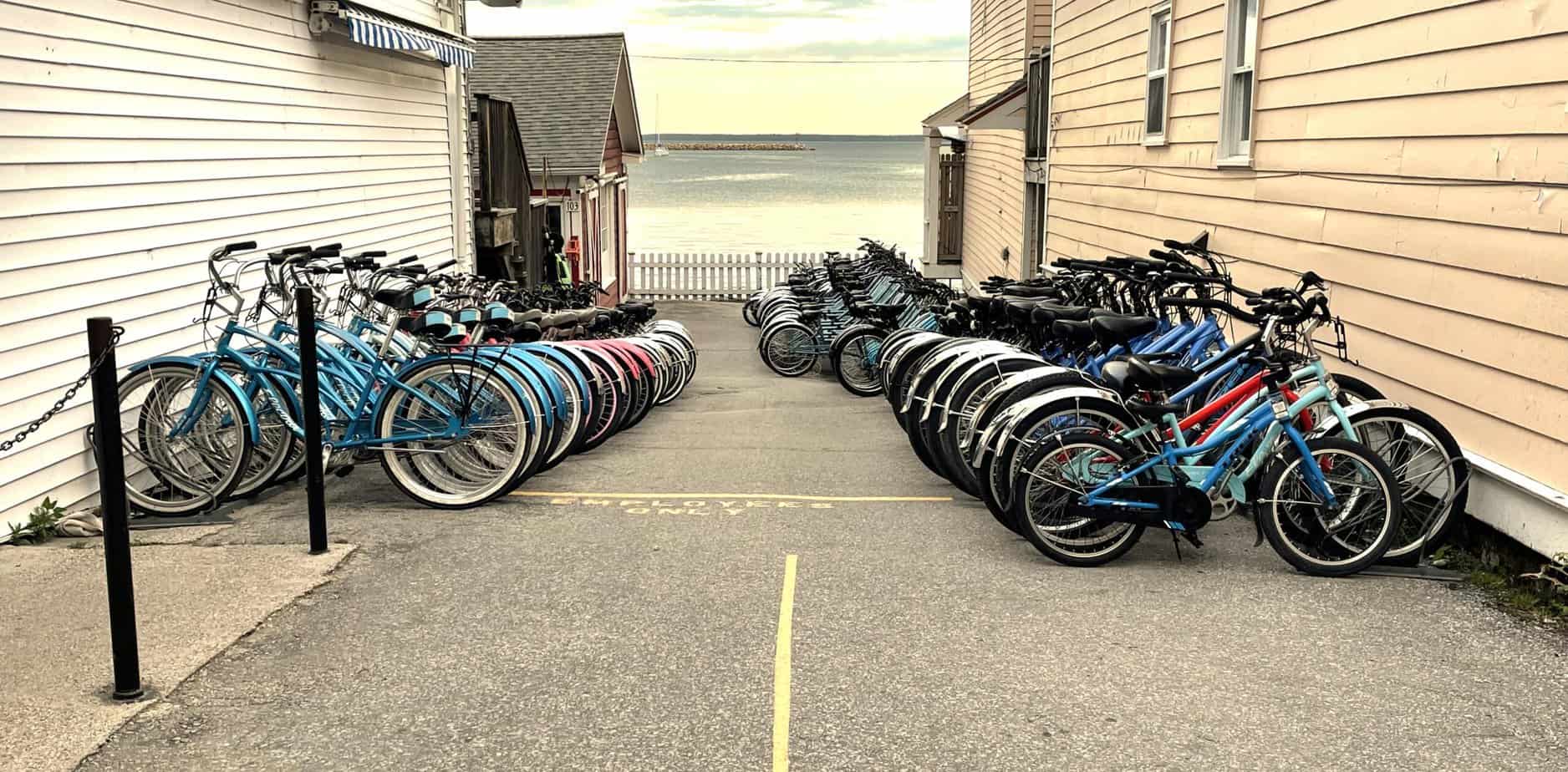 Hike
As you navigate the island, you'll encounter tons of people hiking. Some people follow hiking paths and some walk around the island's entire perimeter. Here are some of the most popular hiking trails:
Mackinac Island Outer Loop – Length: 8.0 mi•Est. Two h 21m
Arch Rock – Length: 2.0 mi•Est. 47m
Mackinac Island Inner Loop – Length: 7.5 mi•Est. Two h 35m
Tranquil Bluff Trail – Length: 6.1 mi•Est. Two h 23m
Arch Rock via Shoreline Trail and Spring Trail: Length: 2.3 mi•Est. 50m
Tour Historic Downtown
A living history museum, Historic Downtown Mackinac, is open during summer. The district is home to several historic homes and businesses that provide a glimpse into life during the fur trade era of the 1820s and 1930s. Costumed interpreters perform demonstrations and answer questions in each building, focusing on different aspects of life and culture.
Visitors can see Mackinac's original general store, complete with grocery items, housewares, and clothing, at the American Fur Company Retail Store in Historic Downtown. A gunshot wound sustained by a customer in the store inspired Dr. William Beaumont to discover the digestive system in the Dr. Beaumont Museum within the same building.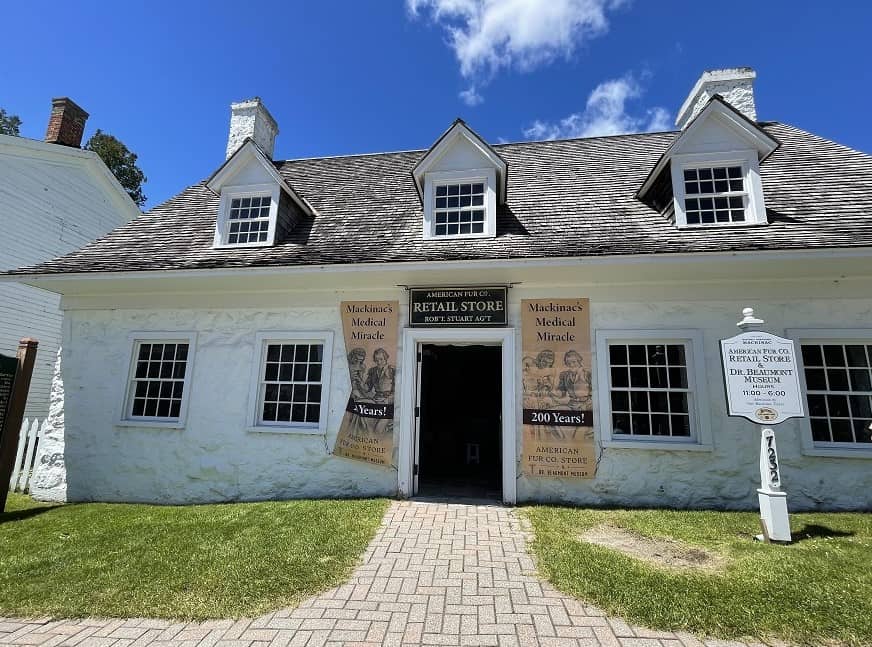 Biddle House
Initially built in 1820, the Biddle House has been fully restored to its 1820s merchant-class state. Domestic life is the focus here, and the interpreters go about their daily chores of cooking and taking care of household needs. In addition to knitting and sewing, sheep's wool is converted into yarn.
McGulpin House
As part of the same theme, the McGulpin House examines architecture and how a building was restored to its original state. Built on the mainland and relocated to the island in 1780, this "working-class" home was initially constructed on the mainland. There are also models and exhibits showing various aspects of Canadian-French architecture within the building and information about its restoration and original construction.
Get Married
Believe it or not, Mackinac Island is a wedding destination!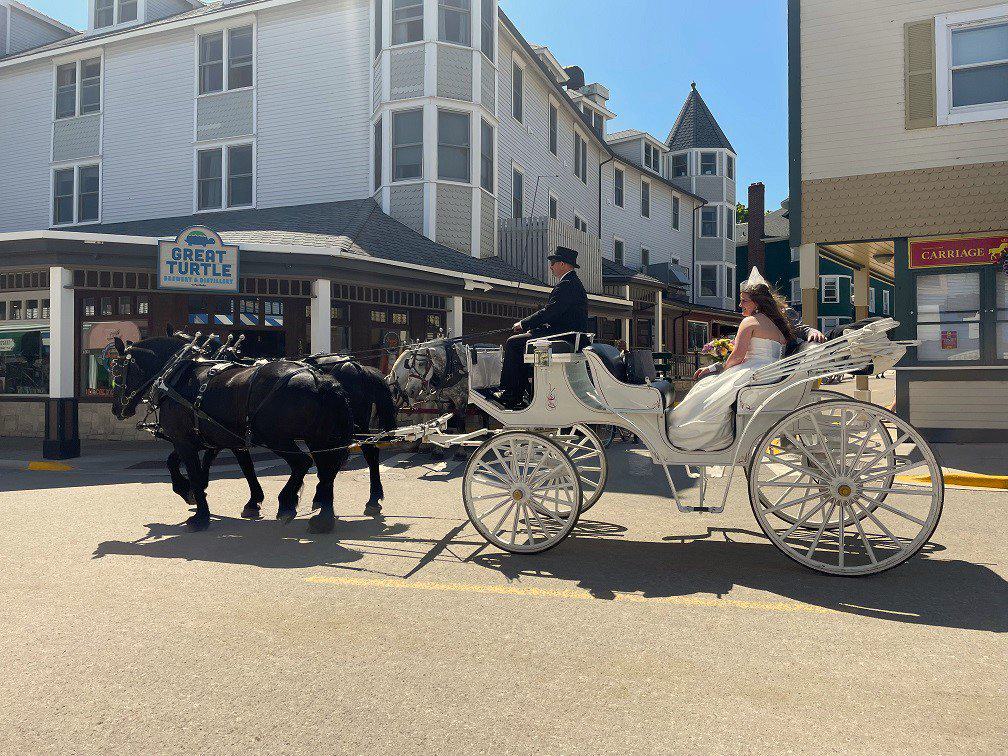 Explore by Kayak
Although Great Turtle Kayak Tours hasn't been on the island long, the public quickly caught on to the beauty of paddling toward the sunrise or watching the sun sink behind the Mackinac Bridge in the late evening. While you pass the famed rock sculptures above, knowledgeable guides also discuss history in geology in their casual narration, which will provide you with a never-before experience.
Visit the Butterfly Houses
There are a couple of butterfly houses on the island. Wings of Mackinac and Island Butterfly House & Insect World
Island Butterfly House & Insect World is both educational and beautiful. It features a tropical plant garden with butterflies. The original Mackinac Island Butterfly House is the first of its kind in Michigan and the third oldest LIVE butterfly exhibit in the United States.
Become a Blacksmith
Experience the thrill of forging your own knife in this blacksmith shop! Chad Osborne, a two-time Forged in Fire competitor, will guide you through the process. Knives are available in 3 sizes and range in price from $25 to $100, depending on the size. You get a sheath with every knife. This activity is perfect for you if you want to Forge a Memory while visiting Mackinac Island.
Explore Sugar Loaf
A rock called Sugar Loaf rises 75 feet out of Mackinac Island's forest. A limestone spire was formed as Lake Algonquin's high waters drained away and eroded the surrounding rock, creating the tallest limestone stack on the island. The Native Americans revered Mackinac Island as a sacred place centuries ago, so they told a story to explain Sugar Loaf's existence.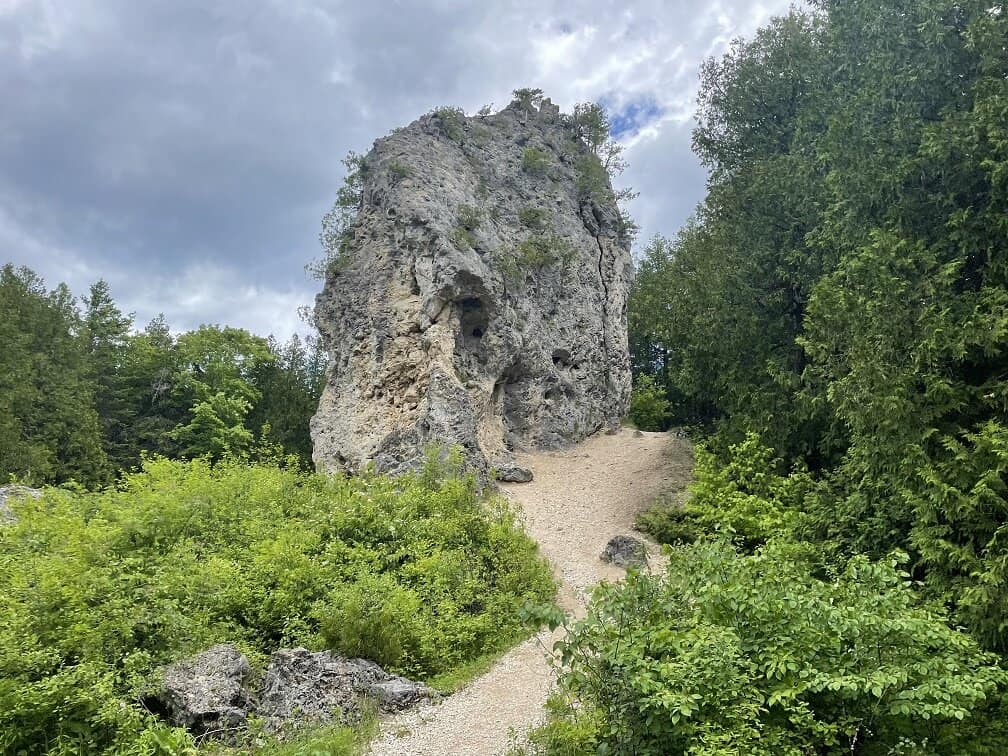 According to legend, Gitchi Manitou dwelt at Sugar Loaf. According to Gringhuis, Manabozho created the Rock of Ages in his old age, a half-human, the half-divine messenger of the Great Spirit.
Other Tours On Mackinac Island
Mackinac Island Grand Hotel
There are some renowned hotels on Mackinac Island. The most famous of these hotels is The Grand hotel. The Grand Hotel stands on the island's south shore, one of the most stately in the country, and is home to many famous guests, including Madonna, James Earl Jones, Mark Twain, and President John F. Kennedy. The Grand Hotel is rich in history and offers exceptional accommodations, each with unique decorations, making it a great place to stay.
Not only is it "grand," but it's formal. If you stay here, there's a dress code in place. Men have to wear a coat aka "dress jacket," and women cannot wear slacks aka "pants" after 6 pm. While some may think this is stuffy, I think this is the perfect opportunity to play dress-up.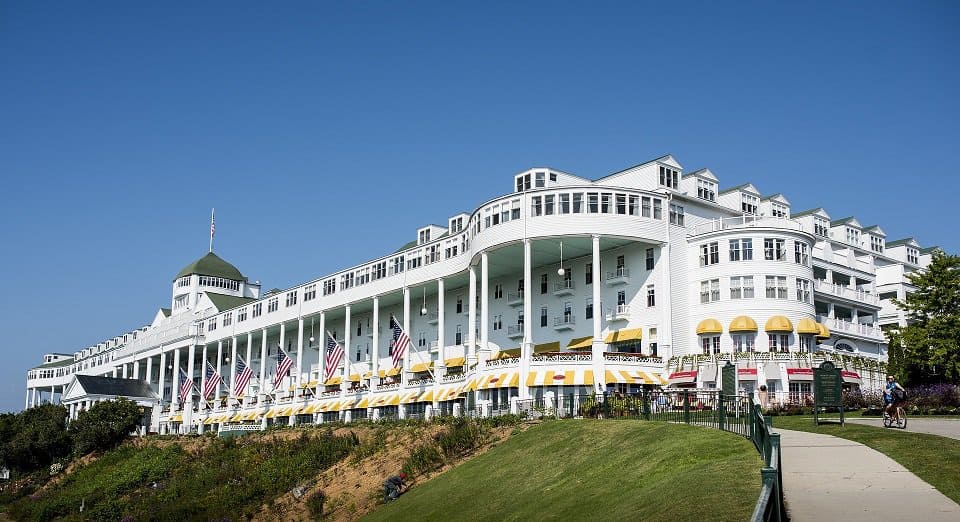 History of Grand Hotel
In 1887, the Grand Hotel opened as a summer retreat for vacationers traveling to Michigan on trains, steamers, and boats. A single-family maintained the hotel throughout its history as America's Summer Place. This National Historic Landmark impresses guests with old-world hospitality, charm, and inspired enhancements.
About Grand Hotel
Grand Hotel is continually recognized as one of the country's most family-friendly resorts due to its unique accommodations and wide range of dining options and activities. The dining experience at Grand Hotel has been a highlight for each guest throughout its history. Every meal is exceptional, with exceptional food by the chefs, unmatched service by the staff, and a distinct ambiance in the 14 restaurants and bars.
Most guest rooms include breakfast and dinner every day. Younger guests are free to stay and eat at the hotel. There's also a fantastic swimming pool that overlooks the bay.
Mackinac Island Hotels
Mackinac Island does not have any chain hotels. Hotel, resort, B&B, condominium, cottage, and home accommodations offer more than 1,600 unique rooms. There are numerous extraordinary places to stay, each one a one-of-a-kind, family-owned gem. Mackinac Island began blossoming into a summer vacation destination in the 1800s, and in many cases, the owners still own the properties. In Mackinac Island's historic places to stay, the timeless charm of that era lives on.
There are several hotels, bed and breakfasts, and two resorts on Mackinac Island. Be willing to flash some cash. Rooms on the island start at around $300 a night!
Chippewa Hotel Waterfront
Home to the Pink Pony bar and grill with outstanding harbor views, the Chippewa Hotel Waterfront is centrally located in downtown Mackinac. The Chippewa Hotel features two-room suites with balconies.
Grand Hotel
Grand Hotel is rich in history and offers exceptional accommodations, with each guest room uniquely decorated. Meals are an event and traditions such as Afternoon Tea in the Parlor.
Harbor View Inn is the perfect match if you're seeking a cozy place to stay on Mackinac Island.
Bicycle Street Inn & Waterfront Collections
Bicycle Street Inn and Suites is Mackinac Island's newest hotel, superbly located on Main Street in the center of downtown, featuring rooms and suites with walkout balconies and beautiful views.
This is where we stayed, and it was fantastic!
Hotel Iroquois
Conde Nast Traveler Magazine awarded a perfect 100 location points for its beautiful waterfront setting; Hotel Iroquois has 45 guest rooms and suites, classically sophisticated and comfortable with fine amenities.
Located in the Historic Downtown area, the Hotel Iroquois offers bright, spacious rooms on the beach. There are a variety of restaurants to choose from within an easy walking distance of the downtown area, including most of Mackinac Island's restaurants.
Inn At Stonecliffe
Situated high on the west bluff of Mackinac Island, the Inn at Stonecliffe lodging comprises a classic Tudor-style mansion with 16 bed and breakfast style guest rooms and the…
Inn On Mackinac
Enjoy peaceful luxury and friendly staff. Stay at "The Quiet Inn." Just a few minutes' walk from the hustle and bustle of downtown Mackinac Island.
Guests choose Island House Hotel for the gorgeous waterfront views & ideal location downtown. Long-time family stewards continue to add contemporary conveniences while preserving the historic ambiance of this…
Lake View Hotel
On the lookout for a vacation destination that fuses historic charm with island spirit? Mackinac Island offers the complete package. Located in the Straits of Mackinac, the Island boasts parks,…
Lilac Tree Suites
Lilac Tree Suites & Spa is an all-suite property located in the heart of downtown. A variety of spacious suites are available, including master suites with large balconies, two bedrooms…
Mackinac House
This boutique hotel has all the charm of historic Mackinac Island with updated features. Conveniently located on Market Street, Mackinac House is within walking distance of attractions and restaurants.
Main Street Inn & Suites
Central Street Inn's well-appointed 18 rooms and suites provide comfort perfect for honeymoon couples to large families. They offer affordable accommodations with many amenities, including a communal sitting room with…
Murray Hotel, located in downtown Mackinac Island, Michigan, offers affordable and beautiful accommodations in a historical setting.
Pine Cottage Bed and Breakfast is one of Mackinac Island's treasured hideaways, quietly tucked along Bogan Lane just steps away from Main Street.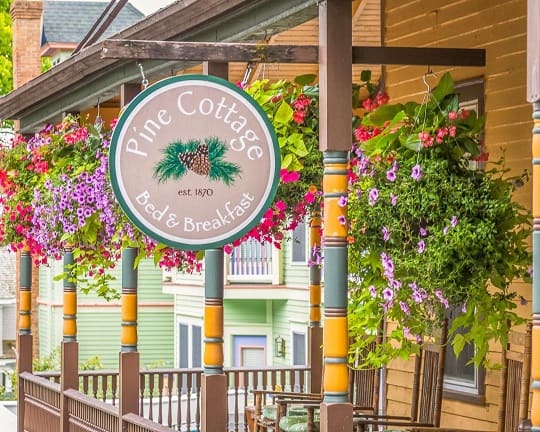 Mackinac Island Must Have's
FAQs About Mackinac Island
Is This Post Helpful to You?
If so, I would love to keep in touch with you and see your photos and comments about your experiences in America! You can follow me on Instagram or Facebook.
If you share your photos, I will share them with all of the other followers of Brit On The Move! Just tag BOTM at @britotmove or hashtag #britotmove
Keep Moving – You only get one life!
Closing Thoughts
Mackinac Island is the perfect place to get away from the bustle of traffic and step back in time. It should be at the top of your Michigan bucket list if you haven't visited Mackinac Island yet. For making vacation memories that last a lifetime, there's nothing like Mackinac Island.
Looking For More Travel Inspiration? Start Here?
We participate in the Amazon Services LLC Associates Program, an affiliate advertising program designed to provide a means for us to earn fees by linking to Amazon.com and affiliated sites.
Subscribe to our newsletter and get the best travel tips and inspirational stories delivered monthly. No spam, no sales pitches – TRAVEL!
Brit On The Move™ Travel Resources
Ready to book your next trip? Use these resources that work:
Need more help planning your trip? Check out our Resources Page, highlighting the great companies we trust when traveling.