Summer in Michigan is unlike anything else. Summer in the Upper Peninsula (UP) is something everyone should experience at least once. One of Michigan's most unique attractions, Kitch-iti-kipi, often called "Big Spring," is a natural water source 40 feet deep and 200 feet wide. In the early days, The Big Spring was also called the "Mirror of Heaven," and it's easy to see why. The crystal clear water is so clear that you can even see the springhead bubble! It is one of the most beautiful spots in Michigan's Upper Peninsula.
Kitch-iti-kipi is a part of Palms Book State Park in Manistique, Michigan. This spring should be on your list if you visit Michigan's Upper Peninsular. Let's learn more about Kitch-it-kipi and why it's worth the visit.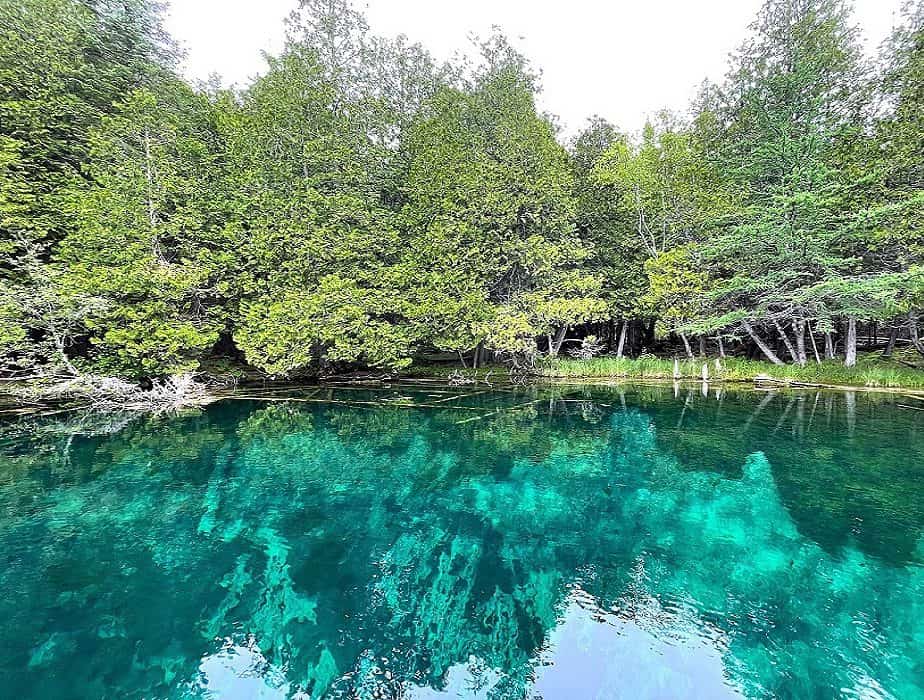 This post may contain affiliate links. Please read our disclosure and privacy policy for more information.
The Legend of Kitch-iti-kipi
Several Native American myths revolve around Kitch-iti-kipi. Kitch-iti-kipi got the nickname "Mirror of Heaven" from the Ojibwe people who first lived in the area.
Kitch-iti-kipi was believed to be named for a young chieftain who drowned in an attempt to impress a young woman in the icy waters of the big spring. He drowned when his canoe capsized in the freezing water. It turns out that the maiden was laughing at his silly display when she returned to the village. The spring was given the name Kitch-iti-kipi in honor of the young chieftain who allegedly drowned himself in the chilly waters to impress his ladylove.
Other Claims
Other myths claim the spring has extraordinary healing properties or that Chippewa parents would visit there to find names for their newborn children. Several other legends have been proposed, including a "love potion" made with honey and tamarack bark turning into gold. These seem to be more compelling myths than the tales of a young chieftain.
According to others, the term could mean a variety of things, such as "the great water," "the blue sky I see," and "the roaring, bubbling spring," among others.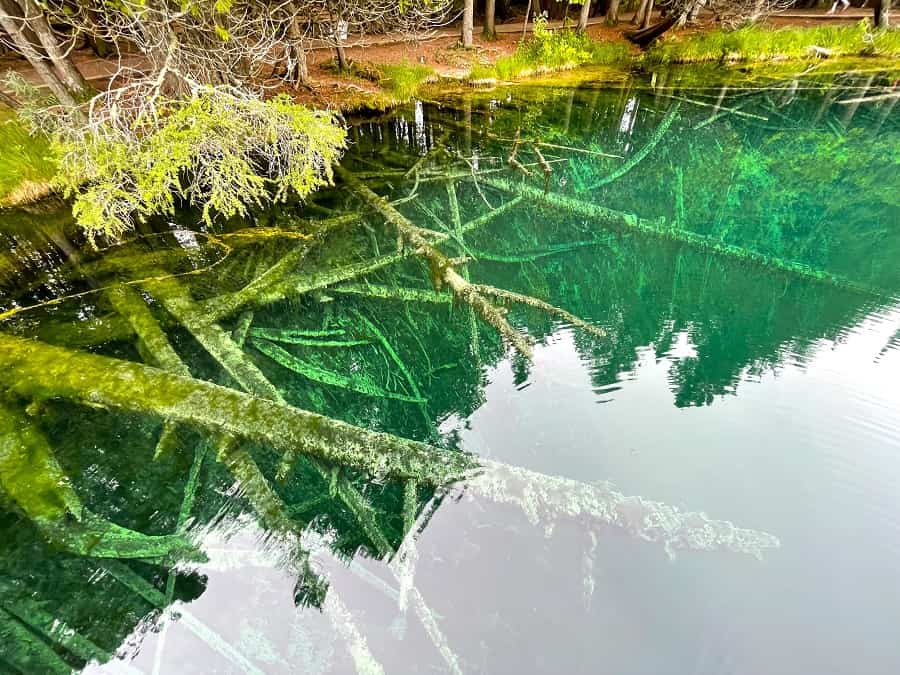 Carole Lynn Hare's 2020 book "The Legend of Kitch-iti-kipi," tells her tribe's version of the spring's legend. However, John Bellaire admitted to making up other stories in the 1920s to attract visitors to the area.
Location
Palms Book State Park is located at the northern terminus of state highway M-149, a 15-minute drive north of US-2 at Thompson.
History of Kitch-iti-kipi
John I. Bellaire, a businessman from Manistique, discovered this lovely peaceful spring in the 1920s while exploring a remote countryside. The enchanting waters were something he would visit almost every day. When first found, it was a black hole surrounded by fallen trees. Over the piles of trash left by a lumber company operating nearby, lush vegetation grew around the oval spring. There was not much difference in the Big Spring's formation from other sinkholes in the area, except that it was tapped into a fast-flowing spring. Despite the debris, Bellaire saw the beauty of the pool's emerald bottom.
Bellaire desired to let everyone enjoy the spring rather than own it himself. For $10, he convinced members of the Palms and Book families to sell 90 acres surrounding the spring to the State of Michigan. As stipulated in the deed, the land must remain a public park for the rest of its life. Over the next two decades, nearly 388 acres of land were added to Palms Book State Park.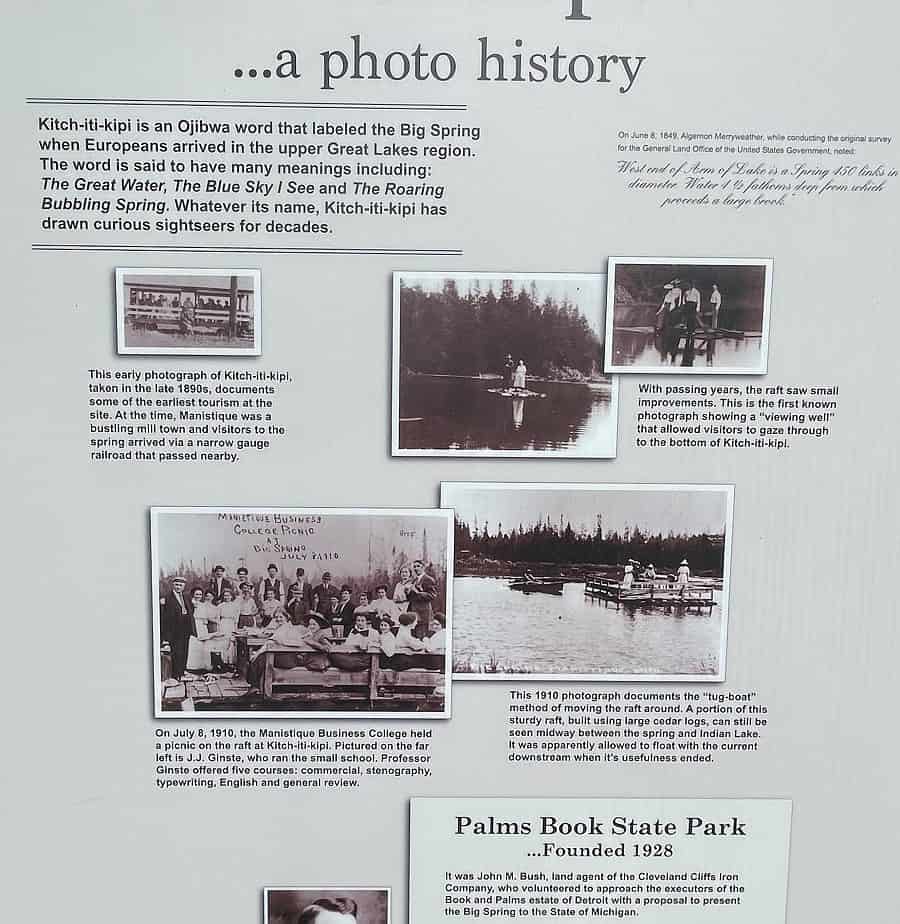 Kitch-iti-kipi Observation Raft
Michigan's Civilian Conservation Corps and Department of Natural Resources built the current raft, dock, concession stand, and ranger's quarters in 2003. Visitors can view the underwater sights from the raft that crosses the spring. The raft can be towed across the spring pool by park visitors or staff.
You must turn the propeller wheel forward and back to the dock to operate the raft. A glass section is located in the middle of the deck of the O-shaped raft. A fence surrounds the opening, and a roof above reduces glare from the sun. You will see large trout swimming below from this center observation spot, as well as ancient tree trunks, lime-encrusted branches, and sand clouds pushed up by the bubbling water.
The ramp is entirely free to use and very easy to operate. Our captains were kids who enjoyed navigating us across the spring. Given that the guests control the ramp, you can spend as much or as little time on the spring as you like. This gives you the perfect opportunity to see it at your own pace.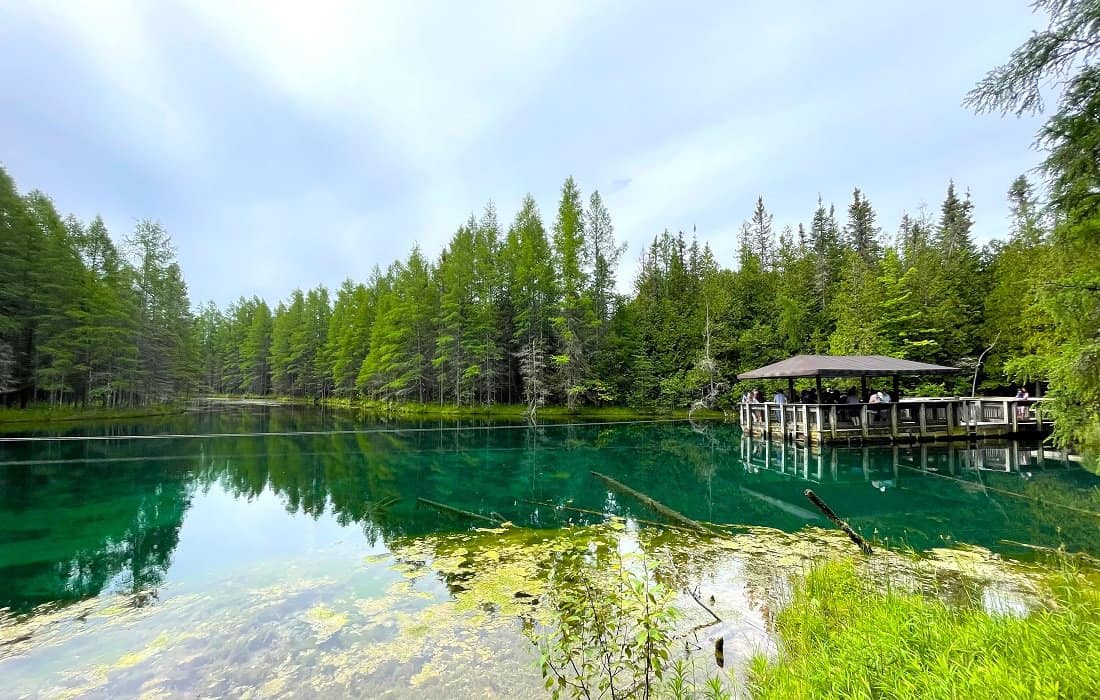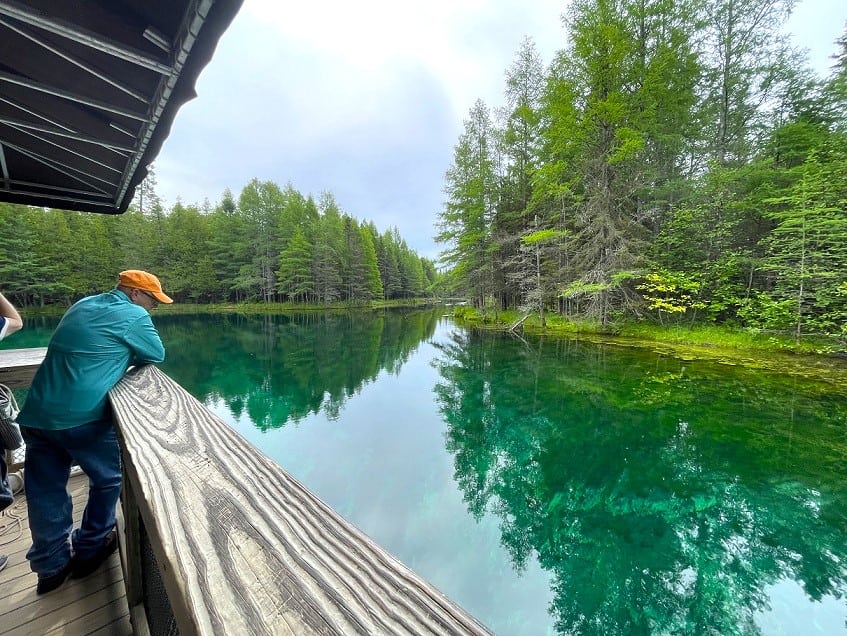 Where Does The Water Come From?
Lake Kitch-iti-kip's bottom is covered in limestone with many fissures. This keeps the water flowing in at 45 degrees all the time. The narrow openings in the limestone bottom layer allow over 10,000 gallons of water a minute to flow from the Big Spring. Sand moves upwards through fissures as water pushes it through. Due to this, the spring's bottom is constantly changing. Additionally, there is an ever-changing floor to gaze at and crystal-clear water.
The water is so pure and glass-like that you can see the sand spinning around at the bottom of the spring head: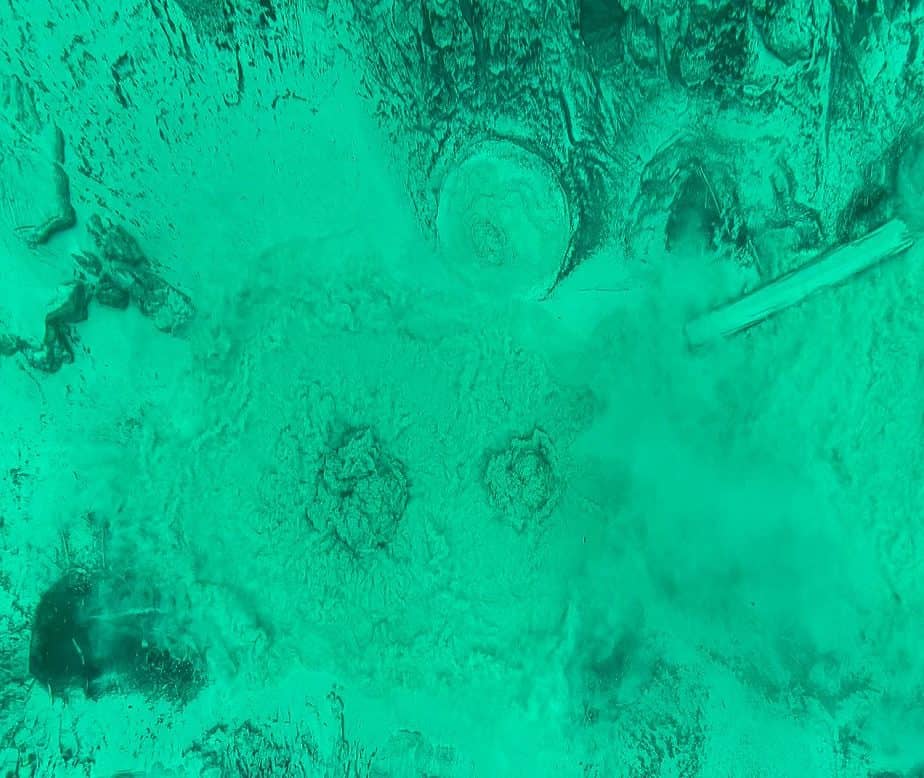 Fish Of Kitch-iti-kipi
In the crystal-clear waters of the spring, fish and old tree trunks with mineral-encrusted limbs are visible. The fish species lake trout, brown trout, and brook trout are always in the spring. It is sometimes possible to see yellow perch and other species that travel between Big Spring and Indian Lake. Indian Lake State Park.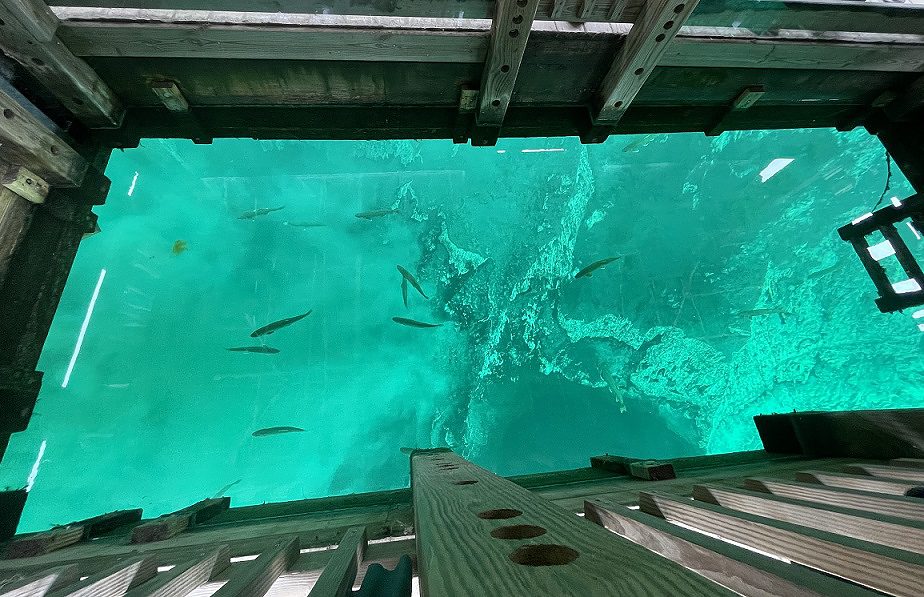 Wildlife At Palms Book State Park
Palms Book State Park (home of Kitch-iti-kipi is near the Hiawatha National Forest, Lake Superior State Forest, and Seney National Wildlife Refuge in the Upper Peninsula.
Year-round, these wilderness destinations offer berry picking, birdwatching, canoeing, fishing, off-road vehicle riding, hiking, hunting, skiing, snowshoeing, and snowmobiling.
The Kitch-iti-kipi area is a great place to observe fish. However, the entire region is home to various wildlife—birds, deer, coyotes, wolves, bears, and moose.
Picnic Within Yards of Kitch-It-Kipi
There is a concession stand at the dock where you may buy snacks, trinkets, and supplies for a picnic. Nearby amenities include contemporary restrooms, charcoal grills, and picnic tables.
Spend The Night at Indian Lake State Park or Nearby Hotels and Resorts
The Upper Peninsula's fourth-largest inland lake is where Indian Lake State Park is. Two campgrounds, one modern and the other semi-modern overnight accommodations, a well-liked swimming beach, a boat launch, a picnic area, two miles of hiking paths, and a quarter-mile paved, ADA-accessible walk around the lake are all located there.
Campgrounds Near Kitch-iti-kipi
Take advantage of your time in Northern Michigan and enjoy the great outdoors. There are plenty of campsites in the area.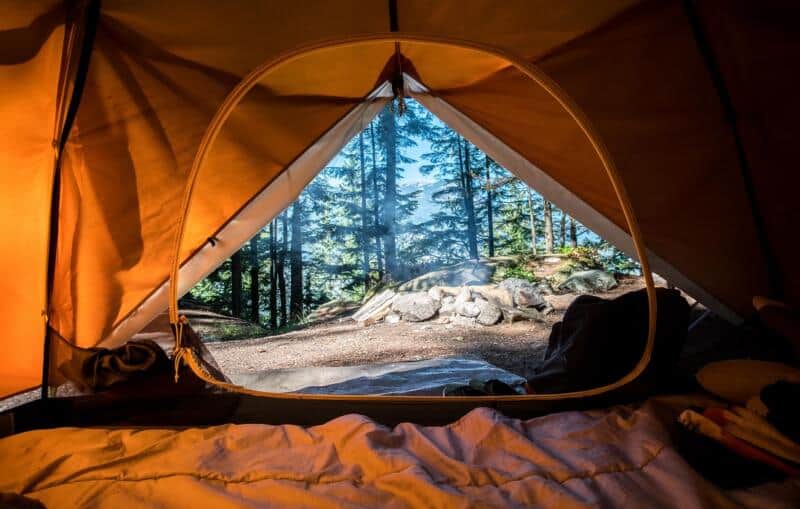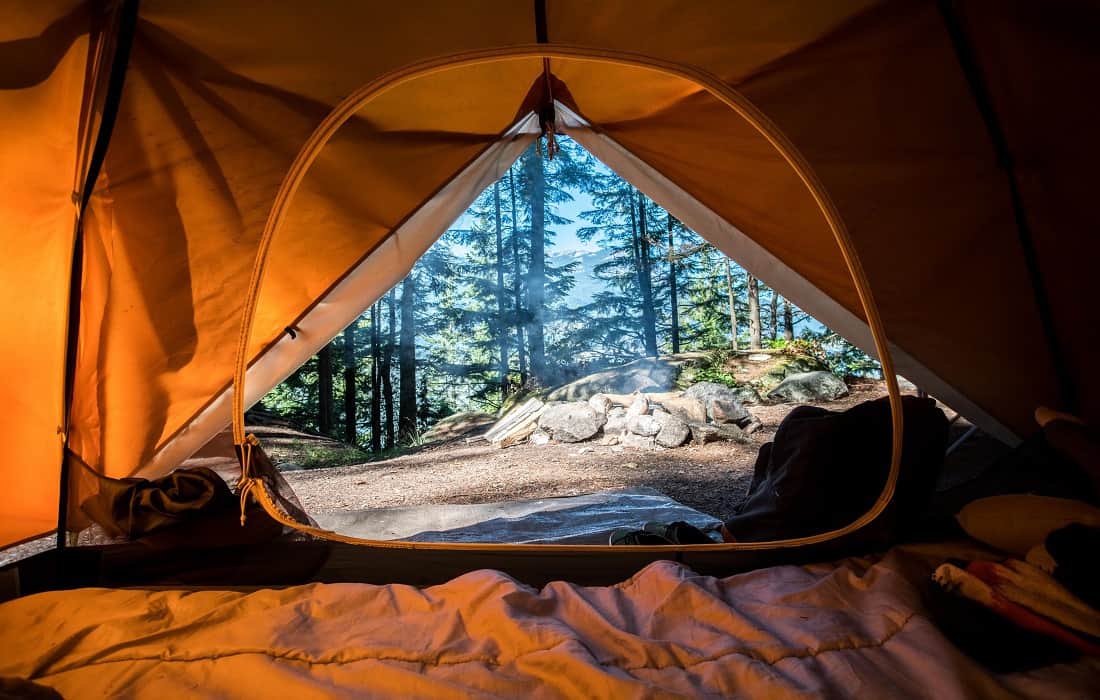 Elli's Lazy Days Resort and Campground – 606N Co Road 455, Manistique (2.1 miles away)
Friends of Indian Lake and Palms Book State Parks – 8970 County Highway 442, Manistique (5 miles away)
Geromettas Resort Indian Lake Manistique, MI – 9766W N Geromettas Dr, Thompson (0.6 miles away)
Indian Lake State Park – 8970W County Road 442 Box 2500 (4.9 miles away)
Jack Pine Lodge – 5350N State Hwy M94, Manistique (10.1 miles away)
Manistique Lakeshore Campground – 320 Traders Point Dr, Manistique, MI 49854 (7.2 miles away)
Sandy Shores Campground-Indian Lake – 9290W State Hwy M-149, Manistique (4.5 miles away)
Woodstar Beach Campground – 1786S Little Harbor rd, Manistique (8.4 miles away)
Facts About Kitch-iti-kipi
In addition to being one of Michigan's most popular attractions, it welcomes over 60,000 visitors yearly.
It is located 11 miles north of US-2 outside of Manistique.
It is Michigan's largest freshwater spring, with a depth of 40 feet and a diameter of 200 feet.
Teal water is crystal clear and has a constant temperature of 45 degrees. In the winter, the water rarely freezes.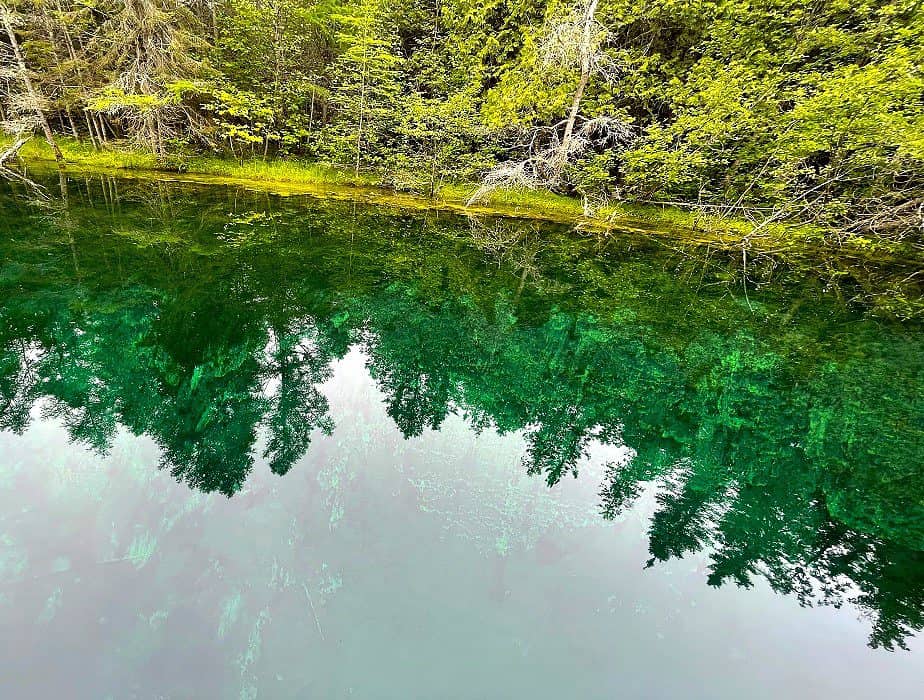 The limestone rocks at the spring's floor erupt with 10,000 gallons of water per minute.
Among its inhabitants are large lake trout, brown trout, and brook trout.
Indian Lake is fed by the spring overflow, which flows into a rushing stream that winds through the surrounding forest, which is ADA-accessible. As well as, the raft is ADA-accessible.
Pets are welcome in the park and on the raft if they are on a six-foot leash or shorter. Keeping your pet on shore is good if the raft is crowded.
A paved path leads from the parking lot to the observation deck and dock, which is ADA-accessible. As well as, the raft is ADA-accessible.
Pets are welcome in the park and on the raft if they are on a six-foot leash or shorter. Keeping your pet on shore is good if the raft is crowded.
Swimming is not allowed. There is no fishing allowed. Kayaking and paddling are not allowed. The nearby Indian Lake State Park offers swimming, fishing, and paddling.
Kitch-iti-kipi Fan Favorites
FAQs
How much does it cost to go to Kitch-iti-kipi?
$11 annual state park pass for Michigan residents (for your vehicle) and a $9 daily pass (display in your car) for non-Michigan residents.
How to get to Kitch-iti-kipi in Palms Book State Park?
Manistique is within a 15-minute drive of Palms Book State Park. Thompson's northern end of M-149 is located to the north of US-2. By taking M-28 to M-94, you may reach the park from Munising in an hour or approximately two hours on M-35 to M-149 from Menominee.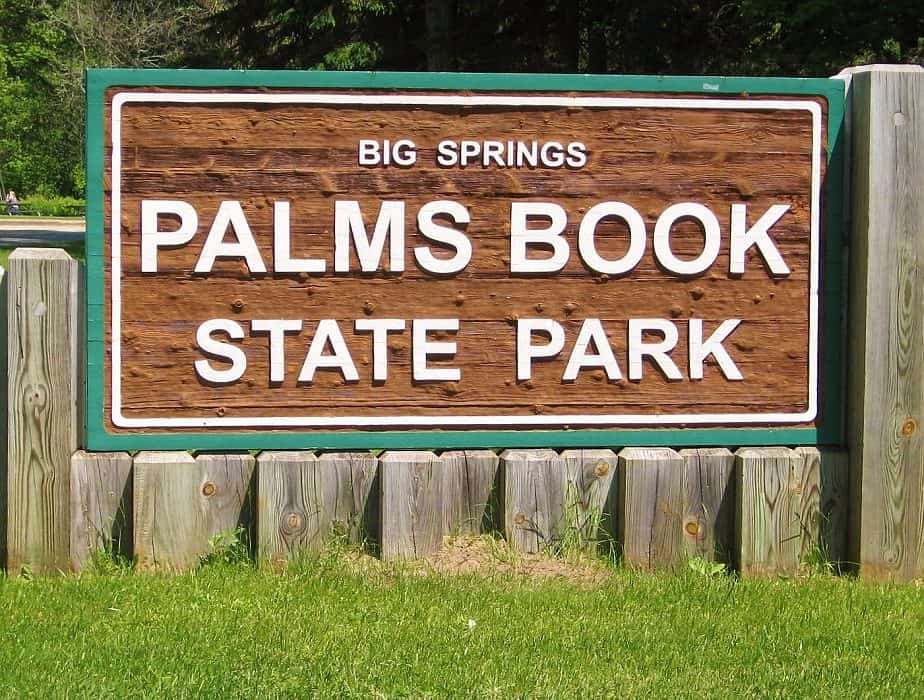 Why can you not swim in Kitch-iti-kipi?
No, you can not swim or fish at Kitch-iti-kipi. The state of Michigan owns and protects the spring. Swimming would be quite an experience and something no one should consider because the water is so cold.
What city is Kitch-iti-kipi in?
It is in the northwest of Manistique in Thompson Township of Schoolcraft County.
How deep is Kitch-iti-kipi?
Kitch-iti-kipi is 40-foot-deep, it istThe largest freshwater spring in Michigan, and it is 200 feet across.
Does Kitch-iti-kipi ever freeze?
The Big Spring in Manistique, also known as Kitch-iti-kipi does occasionally freeze. However, this is a rare occurrence.
Can you visit Kitch-iti-kipi in the winter?
Yes! There are four seasons to visit Kitch-iti-kipi: spring, summer, fall, and winter. Any time of year is beautiful! In the summer, the Upper Peninsula of Michigan's breathtaking Kitch-iti-kipi Springs (The Big Spring) in Palms Book State Park is one of the best places to visit.
Closing Thoughts
If you love springs or are a nature lover, then Michigan's Big Spring is one you will enjoy. The Big Spring is stunning, glistening, and somewhat enchanting. The simplicity of the raft that glides you over the water is a unique feature those of us from the south are not used to! Here in Florida, we swim in our springs. But then again, it's warm most of the time in Florida.
Kitch-iti-kipi is a popular side trip destination for visitors to the Upper Peninsula. The park is a popular side trip destination. Pictured Rocks National Lakeshore and some of the Upper Peninsula's impressive waterfalls, including Horseshoe Falls, are located in Palms Book, 44 miles southeast of Munising.
What are you waiting for? Get out on the road and explore all Michigan has to offer!
Looking for more posts to inspire you? Start here:
We participate in the Amazon Services LLC Associates Program, an affiliate advertising program designed to provide a means for us to earn fees by linking to Amazon.com and affiliated sites.
Brit On The Move™ Travel Resources
Ready to book your next trip? Use these resources that work:
Need more help planning your trip? Check out our Resources Page, highlighting the great companies we trust when traveling.