Saadiyat Island Abu Dhabi translates as 'Island of Happiness,' If you've been to Abu Dhabi, you'll know exactly why. This part of the city is home to a dazzling tourism and cultural project that mixes the best of the local arts scene with some international gems. And it all takes place on a beautiful, tranquil island, just 500m off the coast of the central city.
One of the things that visitors frequently say about Saadiyat Island is that it never stops surprising. It's diverse, it's exciting, and there's something for everyone. Read on to learn all there is to enjoy on the weekend or even a week on Saadiyat Island.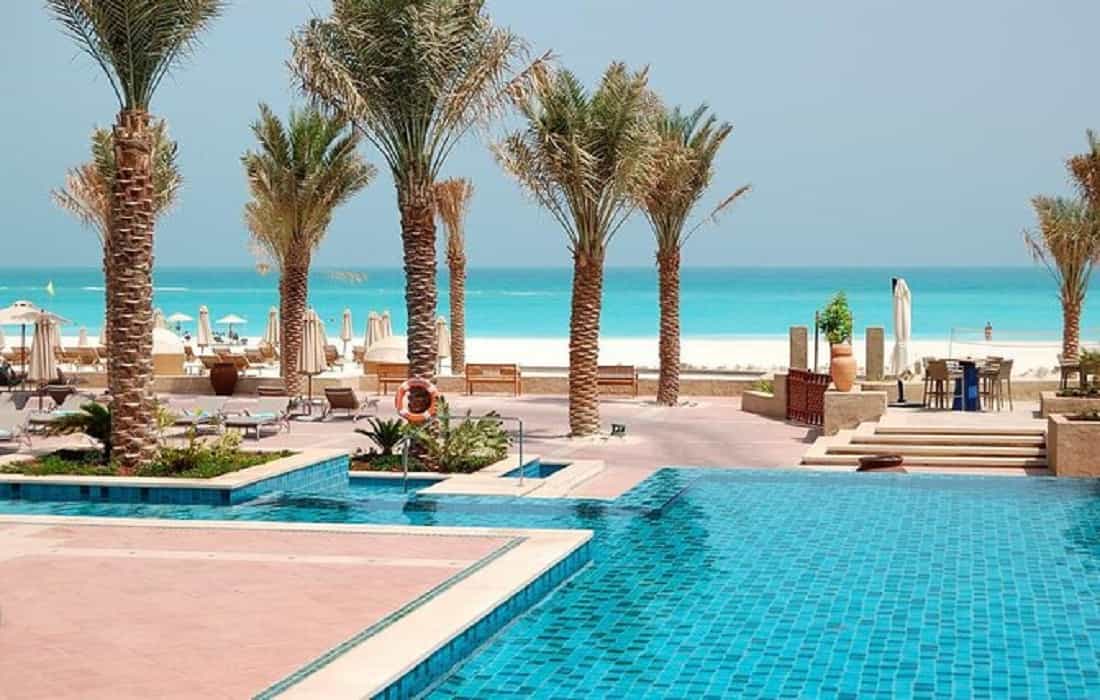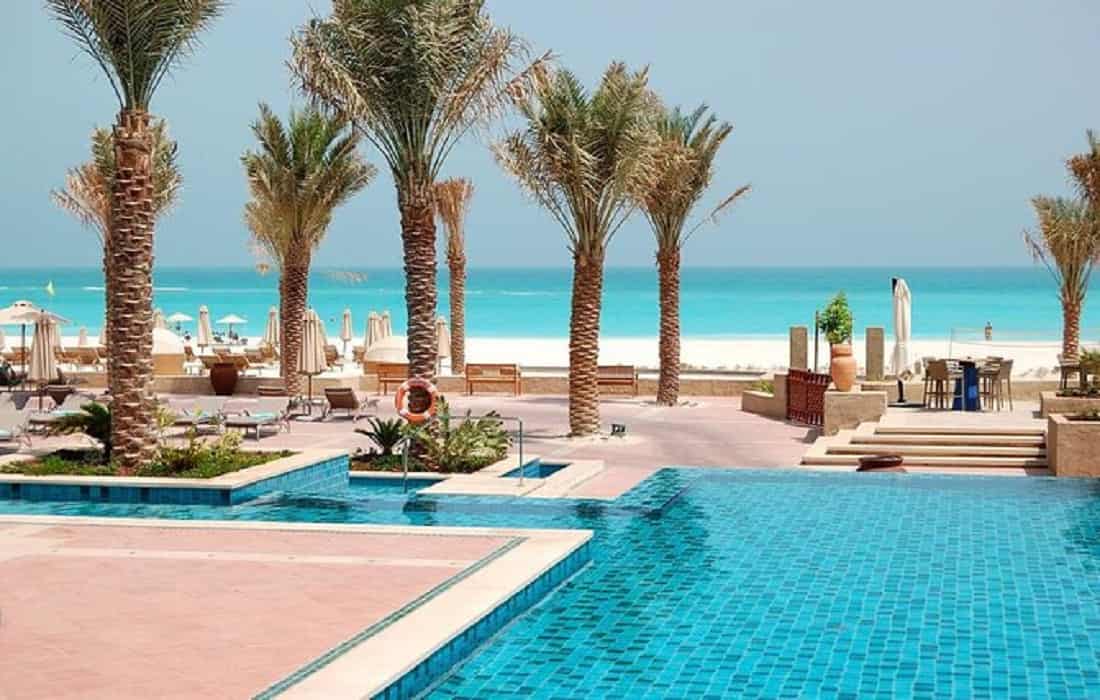 This post may contain affiliate links. Please read our disclosure and privacy policy for more information.
Saadiyat Island History
Saadiyat Island is an artificial island located off the coast of Abu Dhabi in the United Arab Emirates. The island has a rich history, dating back to ancient times when it was an important trading hub.
During the early 20th century, the island was primarily used as a fishing village, with a small population of Bedouins living on the island. In the 1960s, the island was used as a military base by the British Army, and it remained under military control until the 1990s.
In 2004, the Abu Dhabi government announced a significant development project for Saadiyat Island to transform the island into a cultural and tourist destination. The project involved the construction of museums, art galleries, luxury hotels, and residential developments.
The first phase of the development project included the construction of the Saadiyat Island Cultural District, which features several world-class museums and cultural institutions, including the Louvre Abu Dhabi, the Zayed National Museum, and the Guggenheim Abu Dhabi.
Saadiyat Island has since become a major tourist destination and cultural hub, attracting visitors from around the world with its stunning architecture, pristine beaches, and vibrant cultural scene.
Where Is Saadiyat Island Abu Dhabi?
Saadiyat Island is just a five-minute drive from the heart of Abu Dhabi. It's a large low-lying natural island connected by two road bridges, one that reaches back into downtown Abu Dhabi and another to neighboring Al Jubail Island. So, despite being easy to get, it has that upscale getaway feel.
On Saadiyat Island, you'll find Abu Dhabi's cultural district, home to The Louvre Abu Dhabi and other fascinating destinations. There are also several beautiful, secluded beaches. Luxury accommodations and fine dining venues are abundant. The island is devoted to culture and relaxation, so it's the perfect destination for your next vacation.
The Best Things To See And Do On Saadiyat Island
Here are the most popular Saadiyat Island things to do and a few surprise bonuses.
Visit The Louvre Abu Dhabi's International Art Collection
You're probably familiar with the name, The Louvre. It's an internationally renowned museum featuring the world's most outstanding art collection. Until 2017, art lovers would have needed to visit Paris to experience this awe-inspiring museum. However, opening a second site, The Louvre Abu Dhabi has brought the best art in the world to the UAE.
What is lovely about The Louvre Abu Dhabi is its diversity. Its principal aim is to foster openness between cultures. Local and ancient Middle-Eastern pieces from the cradle of civilization feature heavily. However, they are nestled amongst contemporary local art, works across Asia, modern Western art, and more.
You'll leave awe-struck, having witnessed the greatest art from worldwide and across the ages in the same space. Here are ten highlights from its 9,200 square meters of gallery space, in order of age:
Statue of Gudea, Prince of Lagash, Praying, Ancient Girsu (Iraq), circa 2120 BC
Bactrian Princess, Central Asia, end of 3rd beginning of 2nd millennium BCE
Portrait of Fayoum, Egypt, Antinoopolis, 225-250 AD
Leonardo da Vinci, La Belle Ferronnière, 1490
Jacques-Louis David, Napoleon Crossing the Alps, 1803
Claude Monet, La Gare Saint-Lazare, 1877
Osman Hamdi Bey, A Young Emir Studying, 1878
Vincent Van Gogh, Self-portrait, 1887
Paul Gaugin, Children Wrestling, 1888
Jackson Pollock, Number 26A: Black and White, 1948
Regular tours are available that will guide you toward the museum's very best work, even if you are short on time.
Saadiyat Island surprise bonus #1
The Louvre Abu Dhabi is also admired for its architecture. Even if you aren't an art lover, visiting the museum is still recommended. Prize-winning architect Jean Nouvel designed it.
The museum is very striking. It's a dome floating on the tranquil waters of the Arabian Gulf. The azure waters interplay, and the Arabian sky's reflected light is magnificent. Inspired by local architecture, the building is bold on a scale typical of the UAE's ambition. It's been described as a modern urban wonder of the world. Don't miss it.
Lounge on Kai Beach
Nothing spells out relaxation as well as a day spent on Kai Beach. Close your eyes and picture pristine white sand, emerald waters, and palm fronds. A warm, gentle breeze wafts by. This is where you can feel as close to nature as possible in Abu Dhabi, despite being less than a kilometer from the city. Close by, turtles and dolphins frolic.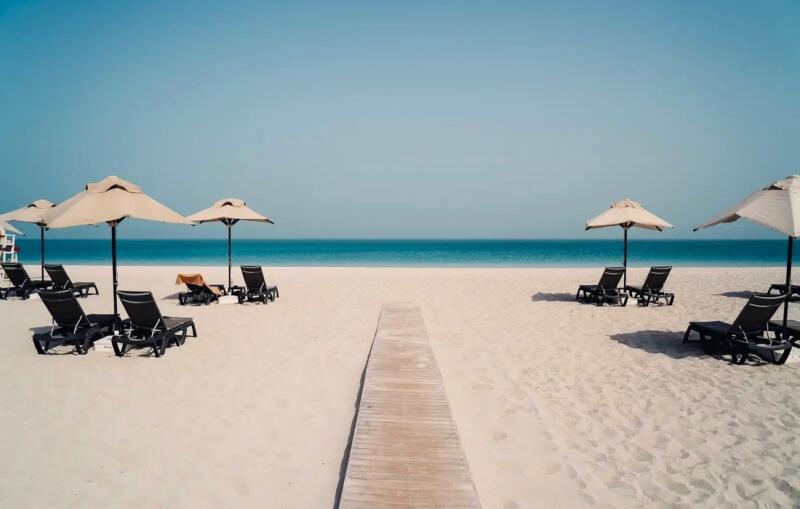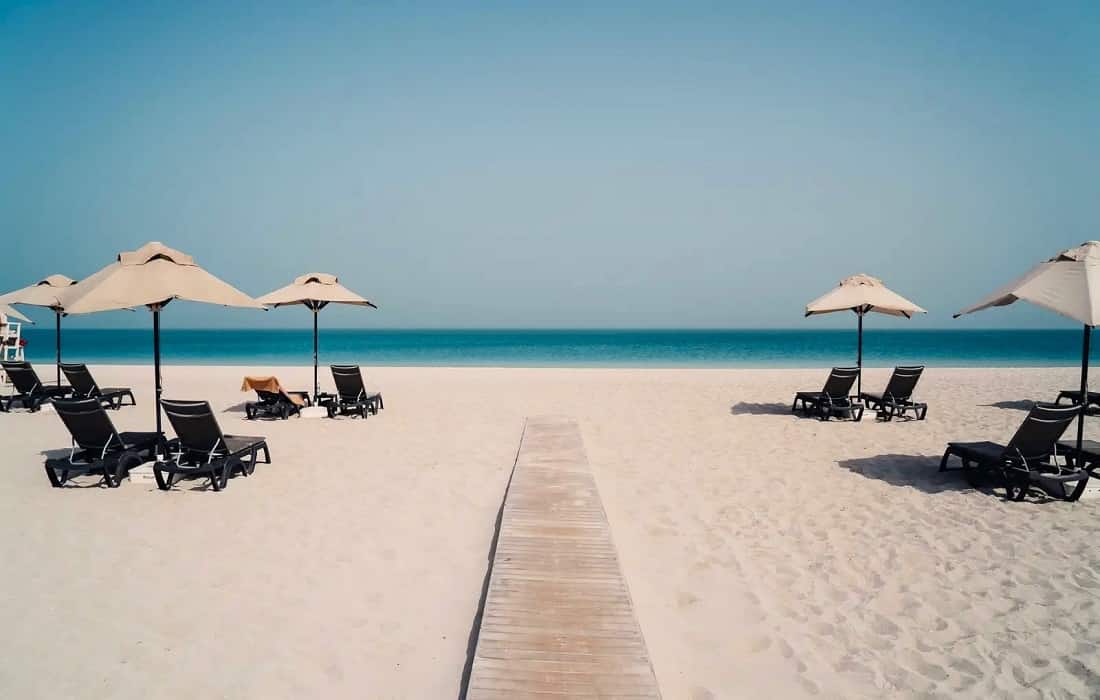 Kai Beach has the best boho vibe. Think macrame umbrellas, wooden walkways, and muslin tents. It's perfect for stepping off the treadmill of everyday life, sinking your toes into the sand, and just being. Stay for sunset to fully appreciate the breathtaking beauty of this place.
The beach has well-maintained changing facilities, an outlet for delicious food, and a ladies-only day so you can focus on relaxing and letting troubles float away on the gently lapping waves.
Kick Back at Saadiyat Beach Club
Saadiyat Beach Club occupies a genuinely particular spot on the shores of the Arabian Gulf. Let's make it clear: This is no ordinary beach club. World-class facilities and outstanding dining make for one of your most relaxing, indulgent experiences.
Saadiyat Beach Club can be described as a contemporary, sophisticated wellness destination nestled amongst nature and a picture-perfect location. A particular highlight is its 650-square-meter infinity pool, surrounded by elegant floating cabanas. However, there is also a plunge pool, spa and jacuzzi facilities, and the beach. Saadiyat Beach can only be described as a tropical paradise. Its charming, secluded spot is private and away from the crowds.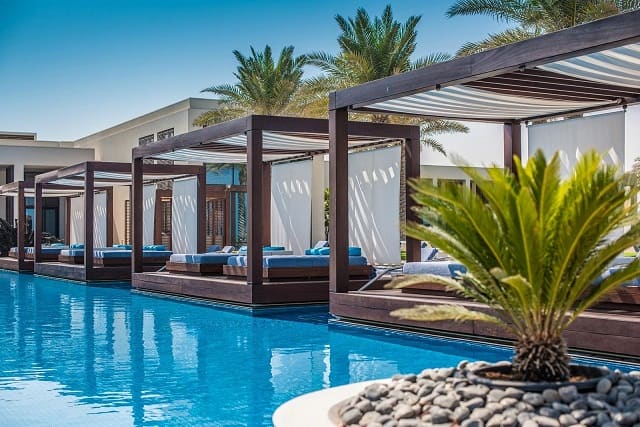 Saadiyat Beach Club's service and hospitality are internationally renowned. Two exceptional restaurants offer a choice of the finest Mediterranean or Provencal cuisine. In addition, the library and pool bar are beautiful places to kick back and relax. Friday brunches are a highlight of the week at Saadiyat Beach Club and make the best start to the weekend.
Saadiyat Island surprise bonus #2
Saadiyat Beach Club and Kai Beach are fantastic places to glimpse the local wildlife. The island is home to critically endangered Hawksbill turtles. Thanks to a local conservation project, more than 650 Hawksbill turtle eggs have hatched successfully on the island since 2010. Careful management of the island's beaches means this area is a haven for wildlife.
Get Creative at Manarat Al Saadiyat (MAS)
Manarat Al Saadiyat invites you to explore a range of artistic experiences. Photography and art Is a vibrant cultural hub celebrating Abu Dhabi's diverse cultures and grassroots creativity. There's something for everyone, no matter what your level of creative skill or experience.
Get some inspiration from exhibitions, art fairs, panel discussions, and talks. For those interested in getting creative, immersive workshops and idea-sharing sessions for creatives are held regularly. MAS supports the local Abu Dhabi community with educational initiatives and other special outreach events that involve everyone, from the youngest to the oldest community members.

The MAS space contains a photography studio, an art studio, three galleries that host visiting exhibitions, an atrium, an outdoor terrace, plus a 250-seat auditorium. It's worth checking out the MAS program to see what's on while you're in town.
Catch world-leading performances at the NYU Abu Dhabi Arts Center.
As well as The Louvre, NYU has also chosen Saadiyat Island as its Middle-Eastern home. Its provision of a performing arts center is another reason Saadiyat Island is one of the premier cultural destinations in Abu Dhabi. At NYU Abu Dhabi, you'll find an incredible performing arts program, open to the public, featuring the best of the arts.
NYU Abu Dhabi regularly hosts professional theatre, music, and dance performances. You can also catch talks and art exhibitions. Arrangements might be by world-leading visiting and Middle-Eastern performers or a showcase of upcoming local talent. The NYUAD Arts Center helps to foster a great appreciation for the arts in Abu Dhabi and is an integral part of the local and international arts community. It is always worthwhile to check the line-up if you are in town.
Saadiyat Island surprise bonus #3
Saadiyat Island will soon be home to yet more world-leading cultural destinations. The Guggenheim Abu Dhabi and Zayed National Museum are coming to the island shortly.
Tee-off at Saadiyat Beach Golf Club
Saadiyat Beach Golf Club makes the most of the island's stunning landscape. Leading course designer and former professional golfer Gary Player is the master mind behind this courses design. The area's natural features, such as dunes and saltwater lakes, are well-utilized to make the system both beautiful and challenging.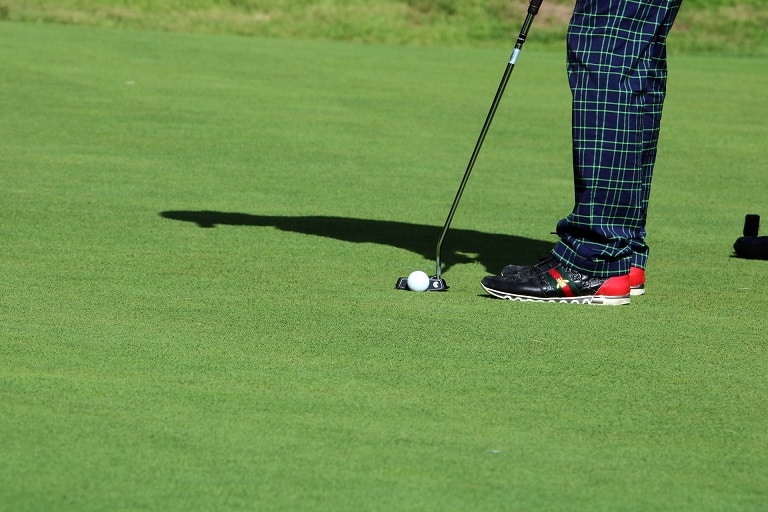 The course is a highly rated par 72 that will entice professional and amateur golfers. With a backdrop of white dunes and the blue waters of the Arabian Gulf, this is a course like no other. The playing experience is elevated further by an excellent clubhouse.
Saadiyat Island prides itself on being eco-friendly, helping to preserve both the wildlife and natural charm of Saadiyat Island.
Chill in Mamsha Al Saadiyat
Mamsha Al Saadiyat is an exclusive beachfront community. While it's a residential area of exclusive properties, it welcomes visitors to its enticing shops, entertainment, and restaurants.
You can find Mamsha Al Saadiyat on the shore of Saadiyat Island, close to The Louvre Abu Dhabi. It features a vibrant 1.4 km-long promenade overlooking the Arabian Gulf and many cafes and restaurants. It's an excellent place to unwind in the evening or to take a break during the day. Make a brief stop for coffee or street-style food. Or stay a little longer and enjoy a meal. Various cuisines include Asian restaurants, local eateries, and steakhouses.
Things To Do Near Saadiyat Island
Abu Dhabi has plentiful attractions should you wish to step off Saadiyat Island and into the city. Highlights include the opulent Sheikh Zayed Grand Mosque and the exciting destinations at Yas Island. This will give you a fascinating insight into the region's culture and heritage.
Sheikh Zayed Grand Mosque is an architectural marvel and draws inspiration from worldwide. It was created from the vision of Sheikh Zayed bin Sultan Al Nahyan, the Founding Father of the UAE, who aspired for a welcoming and inspiring cultural haven. The Grand Mosque was built on an incredible scale, using the handiwork of hundreds of craftspeople. There are vast mosaics, chandeliers, jewel-embellished columns, and the world's largest hand-woven carpet. Outside, marvel at the reflective pools and the four spectacular minarets.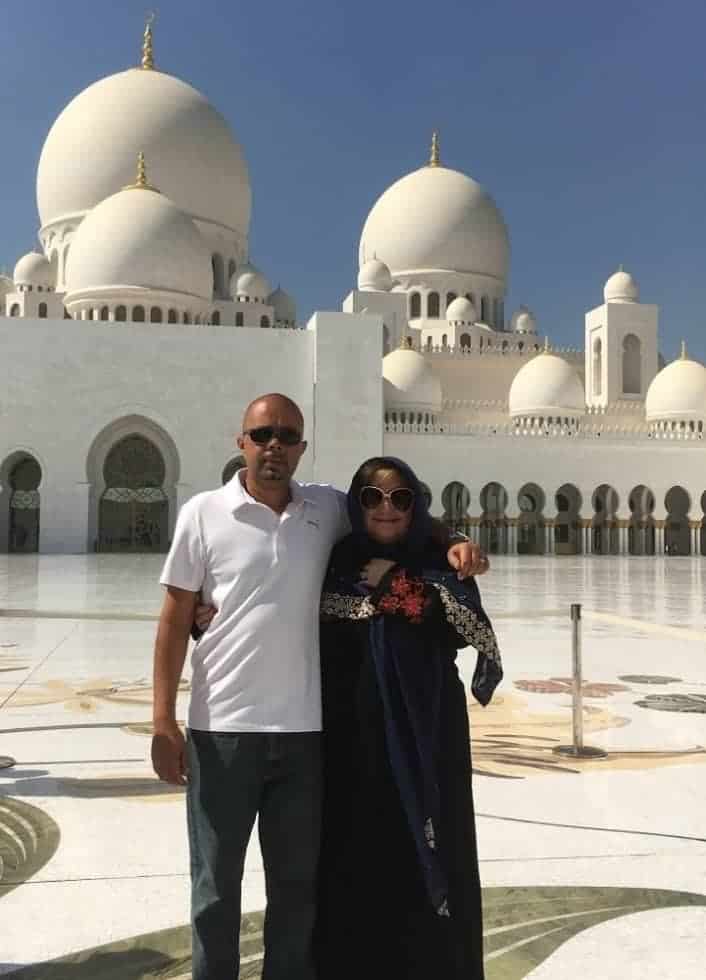 Yas Island is an entertainment and leisure destination east of Saadiyat Island and off the mainland. It is home to Yas Marina Circuit, the Grand Prix track, and Etihad Arena. Yas Marina is a great place for dinner, and Yas Mall is a one-stop shopping paradise. Yas Island's three theme parks are some of its biggest draws. Choose from Ferrari World Abu Dhabi, Yas Waterworld Abu Dhabi, or Warner Bros. World Abu Dhabi.
Where To Stay On Saadiyat Island Abu Dhabi
There are many excellent hotels on Saadiyat Island
Some of the most famous and indulgent are:
If these three are out of your budget, there are plenty of other options here:
Saadiyat Island FAQs
Is Saadiyat Island man made?
Saadiyat Island is a man-made island in Abu Dhabi, United Arab Emirates. The island was created through land reclamation, a process that dredges sand from the seabed and uses it to build up the island's surface above sea level. Starting in 2005, the work build took place in several phases, with the island gradually expanding.
What does Saadiyat mean in Arabic?
Saadiyat (also spelled Sa'diyat or Saadiyaat) is an Arabic word that means "happiness" or "bliss". It is a fitting name for Saadiyat Island, a cultural and leisure destination in Abu Dhabi, United Arab Emirates.
Can you walk around Saadiyat Island?
Yes, you can walk around Saadiyat Island. The island features several walking paths and trails that allow visitors to explore the island on foot.
One of Saadiyat Island's most popular walking routes is the Saadiyat Beach Promenade, a scenic 5-kilometer walkway stretching along the island's shoreline. The promenade features stunning views of the Arabian Gulf and is home to several public art installations.
In addition to the beach promenade, Saadiyat Island has several other walking trails and paths that wind through its lush green parks and gardens. These paths offer visitors a chance to experience the island's natural beauty up close and provide a peaceful and serene escape from the hustle and bustle of the city.
When is the best time to visit Saadiyat Island?
All year round! Abu Dhabi is hot in summer (July-August), but air-conditioning and a cool ocean breeze make it manageable. Winter is the most popular time of year for visitors. You'll find all the locations above are open all months of the year.
Does Saadiyat Beach Club offer day passes?
Yes, the club offers one-day passes. Memberships are available for one, three, six, or 12 months.
Closing Thoughts
With all this to do, Abu Dhabi has it all. So, why not make Saadiyat Island, the island of happiness, and Abu Dhabi your next destination?
Looking for more posts on The Middle East? Start here:
We participate in the Amazon Services LLC Associates Program, an affiliate advertising program designed to provide a means for us to earn fees by linking to Amazon.com and affiliated sites.
Brit On The Move™ Travel Resources
Ready to book your next trip? Use these resources that work:
Need more help planning your trip? Check out our Resources Page, highlighting the great companies we trust when traveling.