Some of the hotels in Dubai are as famous as Dubai and for a good reason! Hotels in Dubai pamper their guests with world-class amenities and extravagant service that few cities can match.
In a modern tourist destination like Dubai, most luxury hotels combine elements of style, elegance, charm, and opulence for a once-in-a-lifetime vacation. Here are some of the best hotels in Dubai!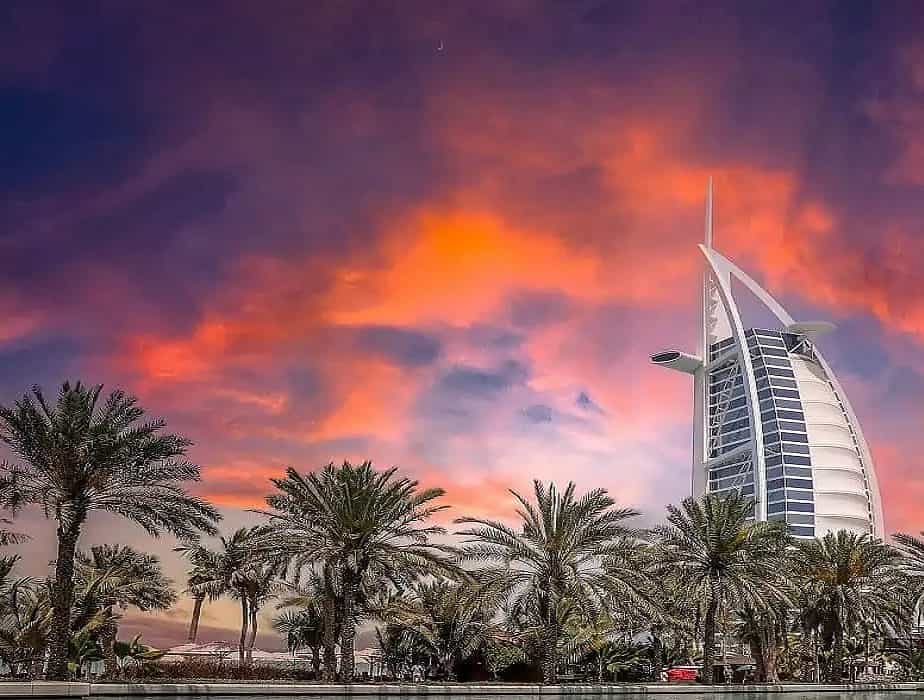 This post may contain affiliate links. Please read our disclosure and privacy policy for more information.
Popular for: Mind-blowing views of the mighty Burj Khalifa, popular dining spots, rejuvenating spa experience, your shopping mystery solver, the fantastic pool with a view, and the spectacular backdrop to feature in your next Instagram story.
Google Review: 4.6 stars
A famous hotel in Dubai known for its exquisite offerings. Each cozy room has a minibar, flat-screen TVs, and beautiful island views. Many suites offer sitting areas, while some also have whirlpool baths, terraces, and living rooms.
The hotel offers 24×7 room service, airport transfer, Wi-Fi, and currency exchange. There is also an exclusive kids club in this exotic hotel.
Popular for: Exclusivity and secluded tranquillity in the desert environment! The resort boasts a private temperature-controlled pool. The pool overlooks the gorgeous dunes and lush palms. Enjoy fine dining at the signature Al Diwan restaurant or multiple adventurers in the desert during your stay.
Google Review: 4.6 stars
Enjoy Bedouin-style luxurious living with world-class amenities set to enhance your comfort. Set amidst a Dubai desert safari, you can enjoy unique experiences with gorgeous views. Take in the rustic charm of the Hajjar Mountains, the sand dunes, and lush palm groves amidst the Dubai Desert Conservation Reserve.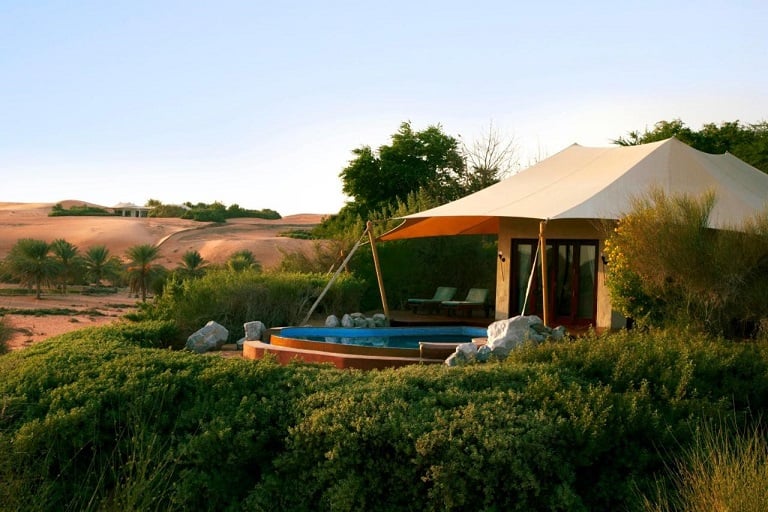 Each suite in this luxurious resort has its own private infinity plunge pool. You can enjoy various adventurous activities like the desert safari and horse & camel riding. Or, spot desert wildlife like the Arabian Oryx and Sand Gazelles.
Popular for: Thai-style architectural design with Dubai's first over-water villas. Here you can savor delicacies like Wagyu burgers at the Beach House. Or, Antipodean culinary delights at Bushman's Restaurant & Bar.
Google Review: 4.6 stars
The prettiest hotels in Dubai, especially when it comes to over-water rooms.
This Thai-themed hotel is placed on the secluded eastern crescent of Palm Jumeirah. It has villas set around the lagoon-style swimming pools.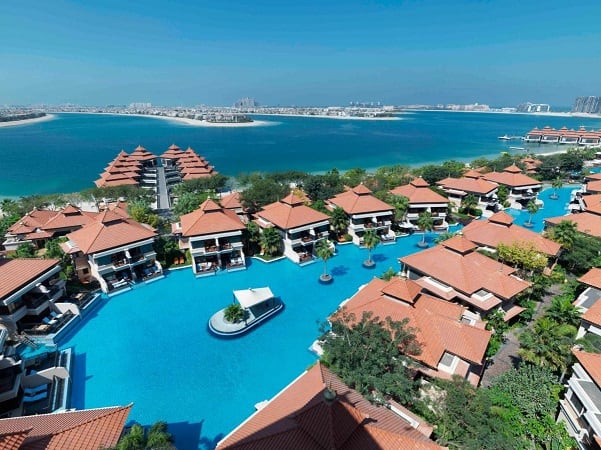 This hotel is a perfect romantic getaway. So much so that she was named among the best hotels in Dubai for romance.
The hotel has everything for a perfect honeymoon. Facilities include a hot tub, complimentary buffet breakfast, private pools, a spa, and 24-hour room service.
Popular for: Brunches at Armani and Mediterraneo & Armani Deli. This hotel features exclusive Armani-inspired designs, excellent service, and a serene atmosphere.
It's also inside the Burj Khalifa!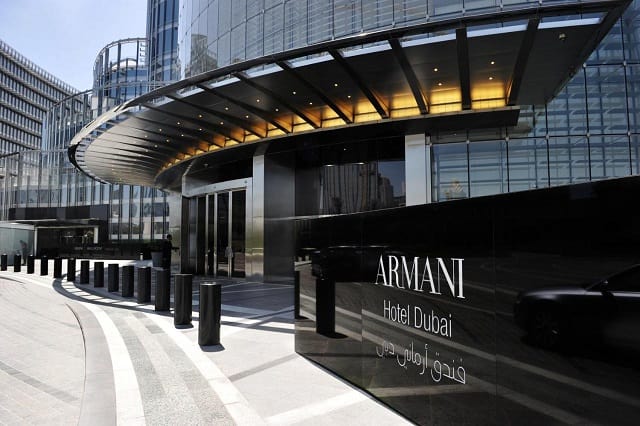 Google Review: 4.3 stars
The Armani Hotel Dubai is a stark contrast to the ultra-grand hotels in Dubai. It is the first of the two hotels designed by popular designer Giorgio Armani.
A home to impeccable taste, luxury, and elegance bought together in the mighty Burj Khalifa. The first eight floors and signature suites on the 38th and 39th floors of the Burj Khalifa belong to the Armani Hotel Dubai.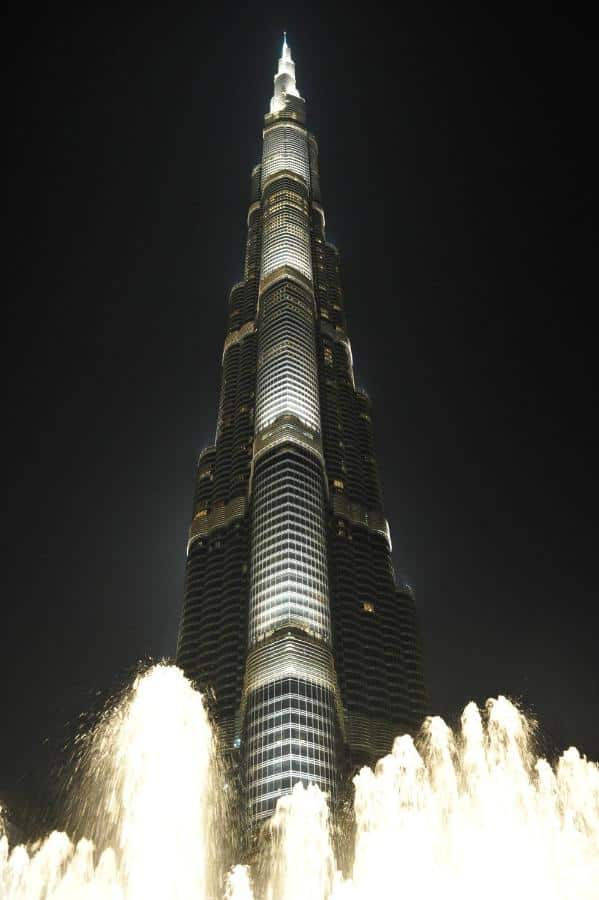 All rooms and suites are furnished with classic color schemes and composed tones. The Armani suites offer a rejuvenating and calm oasis in the modern city of the world.
You can enjoy shopping at the neighboring Dubai Mall. A mall with 1200+ retail outlets at your disposal. In addition, the Armani hotel provides exquisite flavor and fine ingredients of Italian culture.
You can also show your dance skills by watching live performances of international artists and DJs.
Popular for: Unrivalled views of the aquamarine Persian Gulf and underwater suites. Atlantis, The Plam offers exciting adventures at the Aquaventure Waterpark, an aquatic experience at the Ambassador Lagoon. Free indulgences for in-house guests and relaxing treatments at the ShuiQi Spa.
Google Review: 4.7 stars
A Royal Bridge connects the two towers of the iconic Atlantis, the Palm.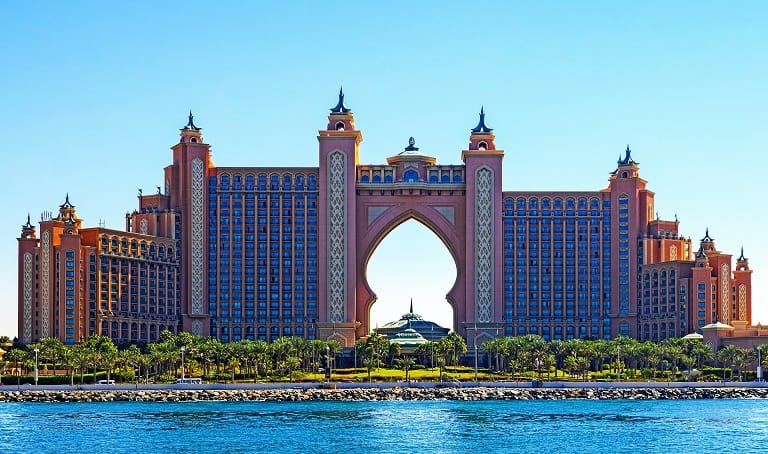 Built around a lost underwater theme city on the apex of Palm Island's outer crescent. You should stay in this hotel if you are an adventure lover.
Poseidon Underwater Suite
There are suites within the cistern of an aquarium with complete floor-to-ceiling views of the marine life.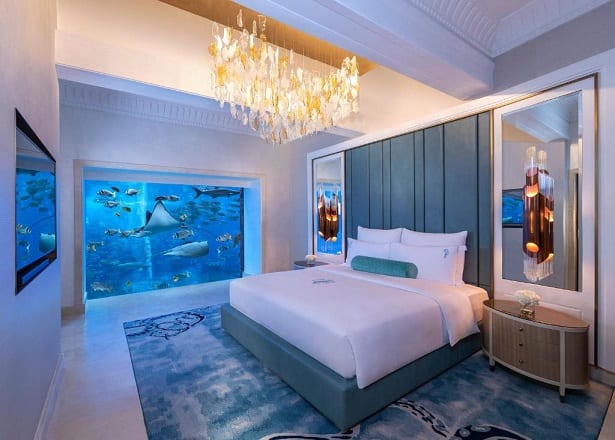 In addition, this hotel is among the best hotels in Dubai for a honeymoon. It is also perfect for families seeking fun at sea and in the sun.
The hotel has modern amenities like a pool, complimentary buffet breakfast, paid airport shuttle, and a spa.
Popular for: Unparalleled Bulgari lifestyle experiences in an urban sanctuary. The 52-berth Bulgari Marina & Yacht Club, original and authentic Italian culinary flavors at the IL Ristorante – Niko Romito
Google Reviews: 4.6 stars
Welcome to the paramount expressions of luxury style and award-winning designs crafted on a private island by Meraas. Just 300 meters from the Dubai coast. This hotel features six global destinations. Guests are pampered with the elegance, exclusivity, and richness of the Bulgari lifestyle blended with Middle Eastern traditions.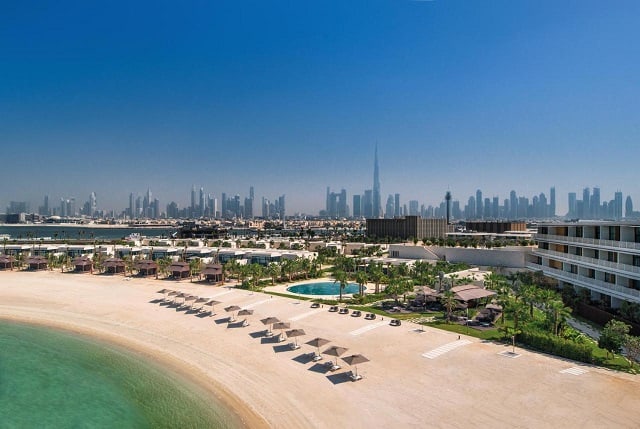 The award-winning jewelry brand Bulgari displays this architectural prowess with magnificent innovations.
Enjoy the much-wanted peace and harmony with nature with complementary elements like glass, wood, and limestone blending with the charming elegance of the fantastic hotel.
If that was not all, enjoy a round of top-class facilities. For example, a sports room, barbeque areas, restaurants, fitness clubs, spa, concierge service, and lush green-designed gardens.
Popular for: Its sail-shaped design, unrivaled benefits, and luxurious experiences. The Burj Al Arab is the only 7-star hotel globally. This beauty has breathtaking sunset views of the sun-kissed Mediterranean! There is afternoon tea at Shahn Eder and Sky Tea at Sky View Bar. Or, take a guided tour of Burj Al Arab Jumeirah,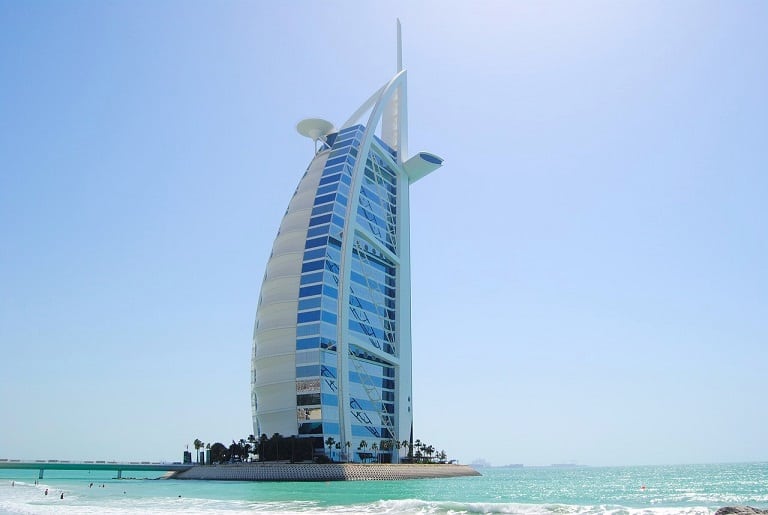 Google Review: 4.7 stars
If you are talking about luxurious stays in Dubai, then the ultra-opulent Burj Al Arab must be on the list. This architectural masterpiece is built on a man-made island.
Shaped as a sail standing proudly almost a thousand feet into the sky, this hotel is known for pampering its guests with opulent indulgences.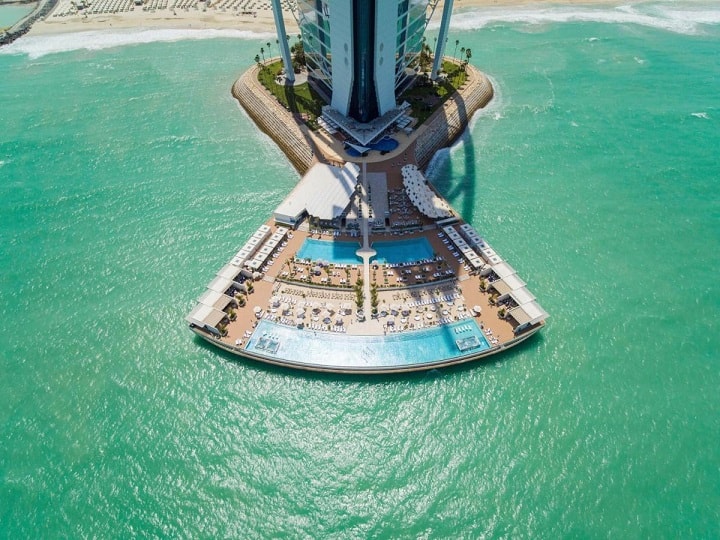 It features suite-only accommodation. Each suite in the hotel features two floors connected via a marble staircase.
Enjoy a round of luxurious facilities like the private beach, bar, spa, or pool.
A stay here includes a complimentary buffet breakfast, free Wi-Fi, and 24-hour room service. There is a business center, air-conditioned rooms, and a complimentary fitness center.
It is also the most photographed hotel in the world, with luxurious indulgences like a helipad and a Rolls Royce on call.
Popular for: Lush beachside idyllic experiences under a gold sunset. Enjoy Sicilian-inspired cocktails at the rooftop Mercury Lounge. Or, the gourmet cuisines at MINA Brasseries by Michelin-starred Chef Michael Mina.
Google Review: 4.5 stars
A modern retreat for people who want a retreat to unwind and recharge their batteries. Escape the city and enjoy some much-needed peace and tranquillity. This magnificent palace is awe-inspiring with its superb architecture that defines a classic Arabia.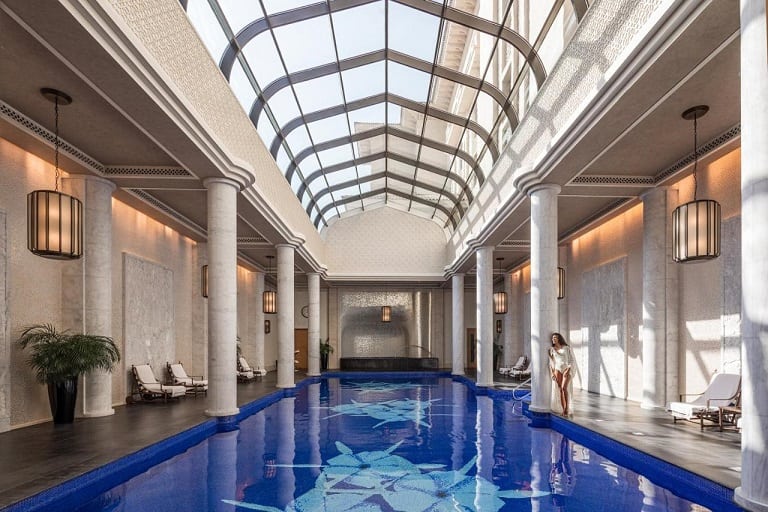 Admire the spectacular views of the Dubai skyline. Dig into the global cuisine crafted and prepared by world-class chefs. You will love the 237 rooms oozing with elements of charm and luxury in every corner.
Lush green landscaping, two refreshing swimming pools, and private cabanas for sunbathing make this feel like your own island getaway.
Popular for: Being the tallest hotel building in Dubai and for expensive spa treatments at the Saray Spa. This hotel features the UAE's only Dead Sea floatation pool.
Google Review: 4.6 stars
The JW Marriot Marquis Hotel Dubai comprises 72 floors across two towers. It is a fan favorite with guests for its world-class amenities.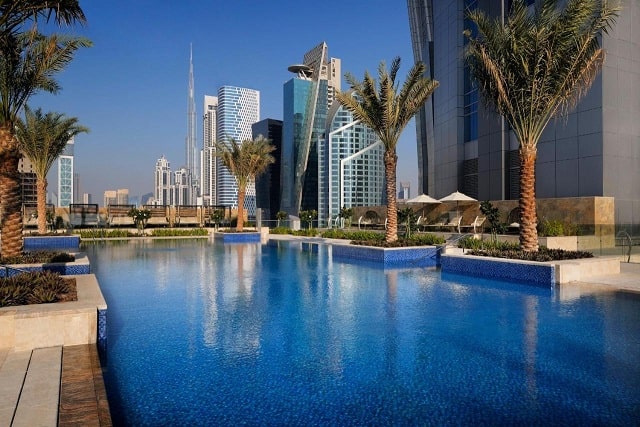 There are apartments and suites and several restaurants offering global cuisines that will match the taste buds of every international traveler.
The ultra-luxurious and spacious Saray Gym features one of Dubai's most stylish health facilities. Each room in this luxurious stay features rain showers and spectacular panoramic views of Dubai. The hotel facilities include a swimming pool and housekeeping services.
Popular for: Exquisite French dining by 3-star Michelin stars chef Yannick Alleno. Restorative treatments at Guerlain Spa and breathtaking views of the Arabian Gulf.
Google Review: 4.7 stars
This luxurious chic hotel offers magnificent views of the Dubai Marina and the Jumeirah Beach Residence waterfront.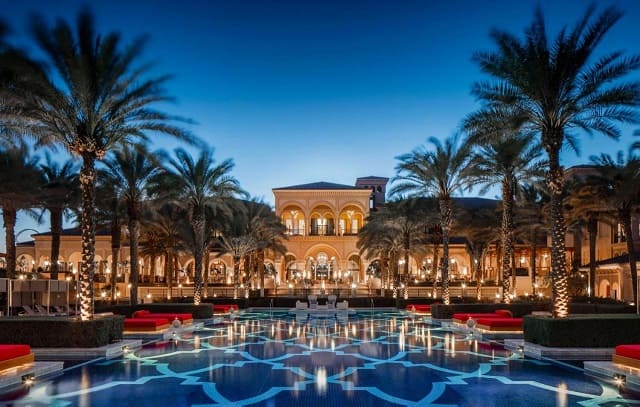 With its serene ambiance and luxurious beachfront villas, guests get needed privacy in a secluded atmosphere away from the busy city life.
Enjoy world-class facilities like a spa, pool, bar, complimentary buffet breakfast, free Wi-Fi, 24-hour room services, paid airport shuttle, and complimentary fitness center.
Popular for: It's eight Versace-themed restaurants offering al fresco dining options and sunset views. And Moroccan hammams at the wellness spa.
Google Review: 4.6 stars
An incredible fusion between Italy luxury and Arabian architecture is what Palazzo Versace Dubai brings to the table.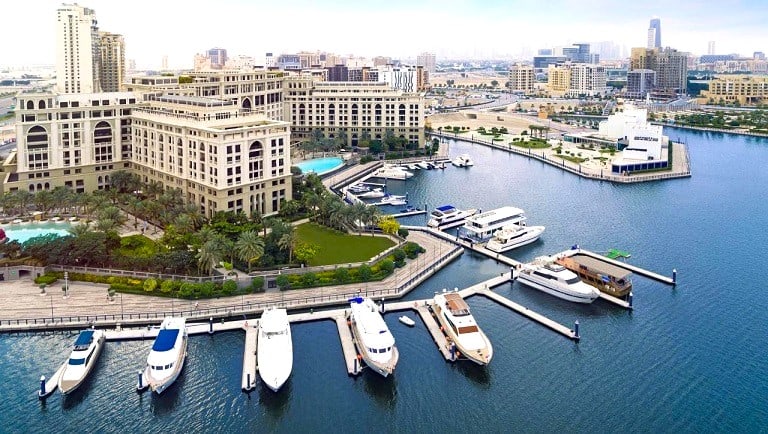 There are three lagoon pools and a spa to pamper their guests with world-class amenities. This 16th-century Italian palace has mind-blowing architecture, stunning interiors, and gorgeous exteriors.
Additionally, it features an exclusive club lounge and kids club.
Popular for: Picturesque water-facing rooms. Overwhelming treatments at the Amara spa. Flavorsome global culinary delights at NOEPE and Casa de Tapas.
Google Reviews: 4.5 stars
Nestled within a peaceful Golf and Yacht Club. The Park Hyatt is only ten minute's drive from the Dubai International airport, the Dubai Museum, and the gold souk.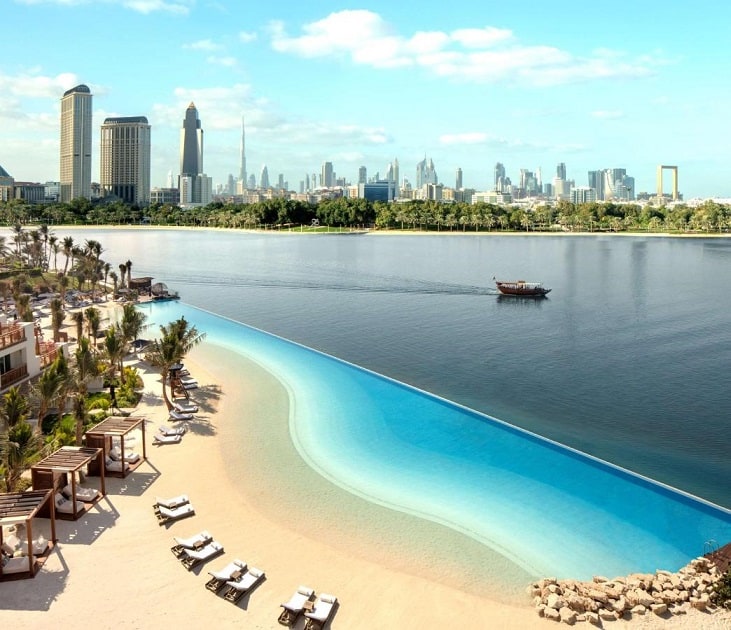 All 223 rooms have a complimentary buffet breakfast, an in-house terrace, Wi-Fi, and opulent marble washrooms.
Culinary options from a shisha lounge, Café Arabesque, and a Thai and Middle Eastern restaurant can be found here.
Popular for: The Ritz-Carlton Club Lounge with unlimited beverages and a dedicated business auxiliary. The Ritz-Carlton Bedouin Village, a private beach and world-class services.
Google Reviews: 4.6 stars
Twenty-eight thousand square feet of luxurious space along the popular JBR Walk. And, just a five-minute walk from the Dubai Marina lies the fabulous Ritz Carlton Dubai. The ultra-luxurious 294 rooms and suites offer magnificent views of the Dubai Marina and private balconies.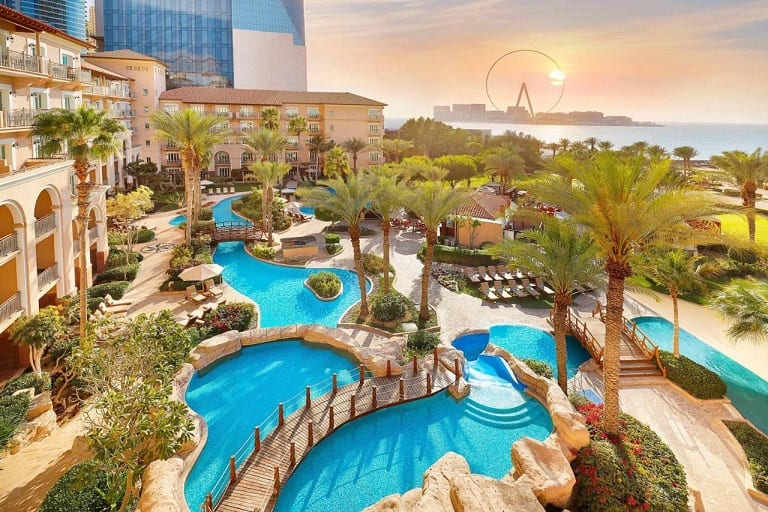 Enjoy world-class spa treatments or relax at the six outdoor swimming pools. Be inspired by the beautiful exteriors. The architecture offers a blend of traditional Mediterranean values and Arabian artwork.
The classical furnishing and vibrant colored rooms complement the surroundings well. Enjoy culinary delights at the Palm Grill, the Café Belge, or the Flair 5 Lounge. The Ritz Carlton has nine restaurants to fulfill your gastronomical desires.
Popular for: Visually appealing contemporary artwork and modern designs. The best of Khamas hospitality and culinary delights at the award-winning restaurant Signature by Sanjeev Kapoor.
Google Reviews: 4.3 stars
This luxurious 5-star boutique hotel in Dubai is right in the heart of old Dubai. It was here before the first skyscraper rose in Dubai.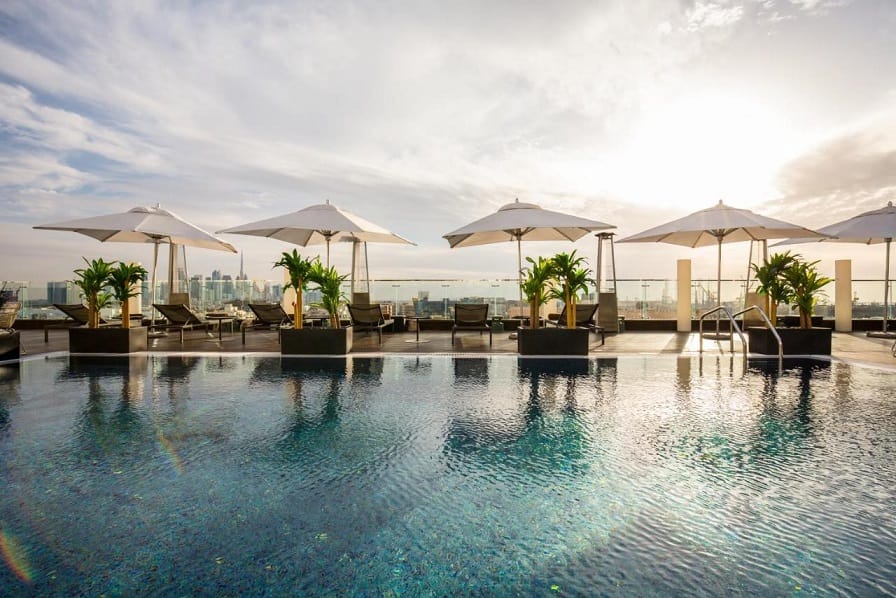 The Myst Spa will help you relax and rejuvenate as you soak into the most oversized private jacuzzi in the region.
The hotel also features modern facilities like a steam room, swimming pool, free Wi-Fi, public areas, spa, and fitness center.
Closing Thoughts
There are hundreds of hotels in Dubai, and Dubai is home to some of the most luxurious resorts in the world. Which one is your favorite?
Looking for more posts on The Middle East? Start here:
We participate in the Amazon Services LLC Associates Program, an affiliate advertising program designed to provide a means for us to earn fees by linking to Amazon.com and affiliated sites.
Brit On The Move™ Travel Resources
Ready to book your next trip? Use these resources that work:
Need more help planning your trip? Check out our Resources Page, highlighting the great companies we trust when traveling.