You'll be spoiled for choice regarding the theme parks of Abu Dhabi & Yas Island, located in the United Arab Emirates. Abu Dhabi (the state or emirate) has three central regions: the UAE capital city of Abu Dhabi, the city of Al Ain in Eastern Abu Dhabi, and Al Dhafra in Western Abu Dhabi. However, there's a clear stand out if you like thrills and theme parks: Yas Island Abu Dhabi in Abu Dhabi. This epic, artificial adventure island is home to not one, not two, but three world-class theme parks.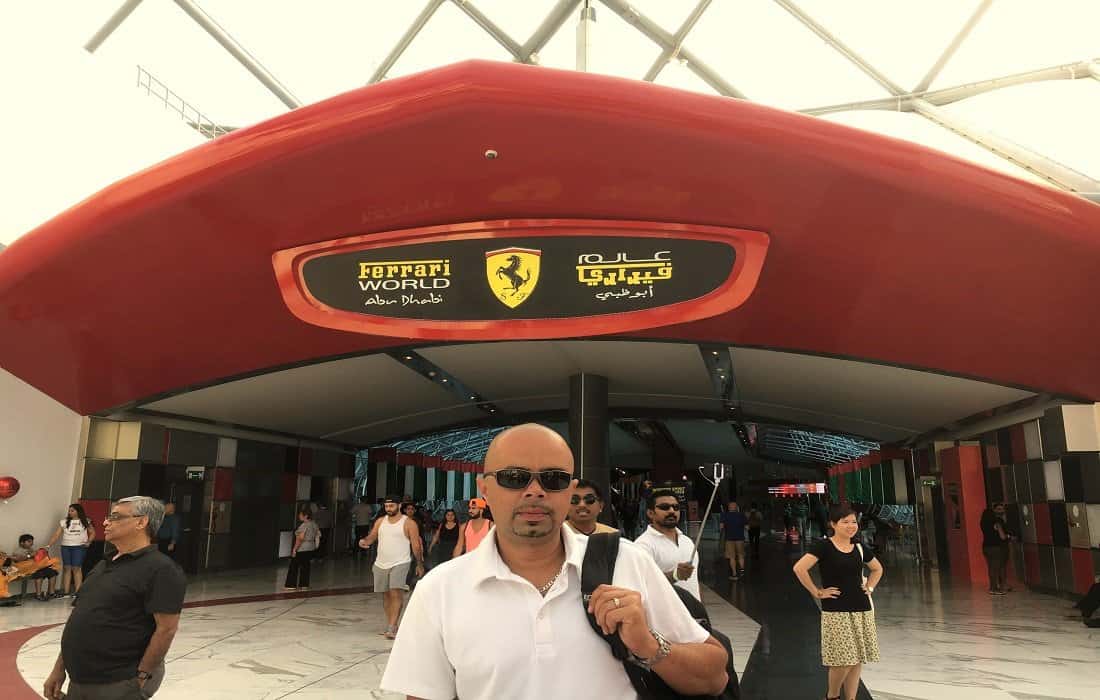 This post may contain affiliate links. Please read our disclosure and privacy policy for more information.
Ferrari World Abu Dhabi
You can't miss it. It is undoubtedly an iconic structure — one of the most iconic, in fact — on Yas Island.
Its most impressive feature is the 50-meter high, 200,000-square-metre (2,152,782-square-foot), silver-edged, Ferrari-red roof, held aloft by a steel-frame structure constructed out of 12,370 tonnes of steel. It looks twisted and otherworldly, inspired by the voluptuous curves of the Ferrari GT chassis. Adorning the roof is a Ferrari logo. It is the most prominent Ferrari logo globally, measuring 65 meters (213 ft) by 48.5 meters (159.1 ft).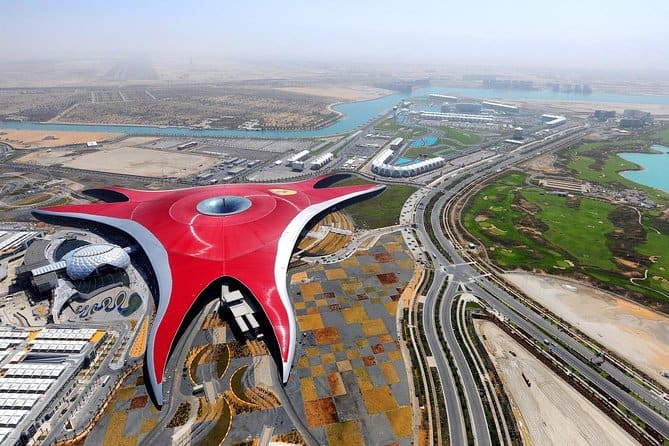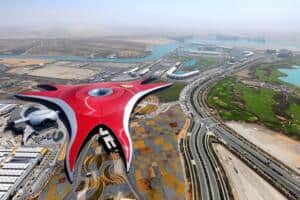 Impressive as it is, Ferrari World Abu Dhabi's architecture isn't its most significant draw. Thrill-seekers flock to this mostly indoor, Ferrari-branded theme park for its more than 40 electrifying attractions, including many unique rollercoaster rides and its two record-breaking rides: Formula Rossa and Flying Aces.
Formula Rossa: The World's Fastest Roller Coaster
Formula Rossa holds the record for the world's fastest rollercoaster.
This sleek, 16-seater train has seats resembling pared-down Ferrari Formula One racer. The rollercoaster has no complex security harness system to distract the eyes from its elegant form factor. Only a deceptively simple yet secure lap bar holds a rider down to his seat.
This doubtless adds to the excitement as the roller coaster climbs up to 52 meters (170.60 feet) and goes from zero to its top speed of 240 kph (149.129 mph) in just 4.9 seconds. The Formula Rossa is so fast it will let you experience 4.8 g, comparable to the g-force experienced by Formula One drivers when cornering (4-6 g) and braking (5 g).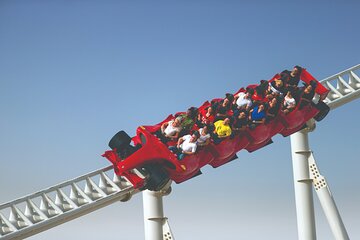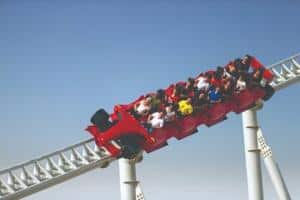 Flying Aces: The World's Tallest Non-Inverted Roller Coaster Loop
The Flying Aces is a military bi-plane-themed wing coaster. Flying Aces are not as flashy or as fast as Formula Rossa, but it remains one of the most thrilling rides in Ferrari World. This is particularly true if you choose one of the outer seats, where your feet can hang freely underneath.
This ride has twists, turns, and drops aplenty. It climbs 63 meters at a 51-degree incline, landing at the world's top spot for the tallest non-inverted roller coaster loop.
Yas Waterworld Abu Dhabi
Yas Waterworld Abu Dhabi is the pearl of Yas Island and is a stark contrast to the ultra-sleek, markedly modern structure of Ferrari World.
Inspired by the UAE's pearl-diving heritage, this waterpark showcases traditional Emirati architecture. Spread over 37 acres (14.97 hectares), it is a land of interactive water-based adventure and offers more than 40 exhilarating rides, slides, and experiences for everyone in the family.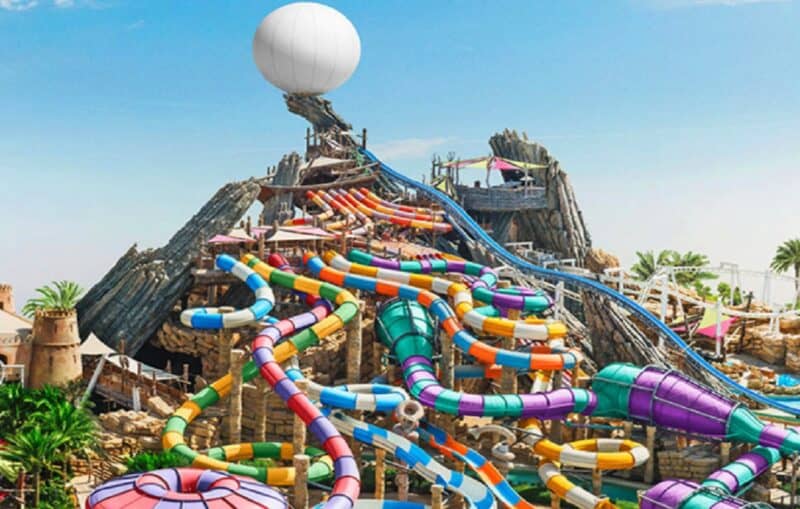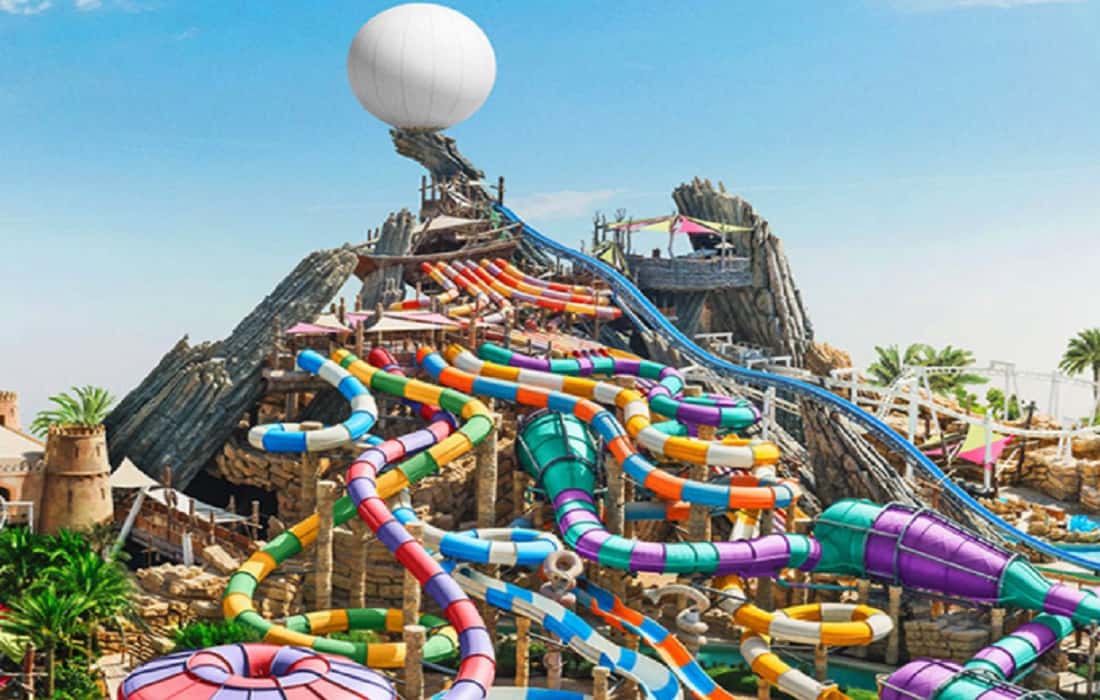 The following are some of the most memorable attractions in Yas Waterworld.
Dawwama
Dawwama is the world's largest six-person tornado water coaster and has the longest six-person slide in the world. You and your party will sit on a round, six-person doughnut raft, which will get launched down the mountain-high water slide. You will loop, twist, turn, climb, and fall (it's a roller coaster experience, only on a water slide instead of tracks) just before you get swirled down a 20-meter-high tornado funnel. It's so much fun; you'll want to go again.
Bubbles Barrel
If you love surfing, this flow boarding ride is for you. Its claim to fame? The world's largest sheet wave! Ride your board standing up, crouched, or on your stomach. You can do whatever you like and as your skill allows.
Jebel Drop
If you want an extreme adrenaline rush, you must not miss Jebel Drop. This is the steepest water slide in the waterpark. Gravity and water will take you down a hair-raising, 10-story drop. Remember to keep your body straight, arms on your chest, and lower legs crossed to minimize friction and ensure the fastest fall possible.
Liwa Loop
The Liwa Loop is a body-speed water slide just like Jebel Drop. However, Liwa Loop has a single-person launch capsule. At the count of three, the floor will fall from under you, and you will go through a vertical-drop water chute. You know the chute will protect you from falling over the side of the slide, but it can still be a scary eight-second ride.
Warner Bros. World Abu Dhabi
This is the first Warner Bros.-themed park globally. This is the place to go if you want to meet Batman, Superman, Wile E. Coyote, Fred Flintstone, and the many other famous characters from Warner Brothers' films, TV shows, and comic books.
Spread over an area as big as 21 football fields (15.33 hectares or almost 38 acres), Warner Bros. World Abu Dhabi is officially the world's largest indoor theme park and one of the top destinations for leisure and recreation worldwide. It has 29 rides, attractions, and many spectacular seasonal events to enrich your visit.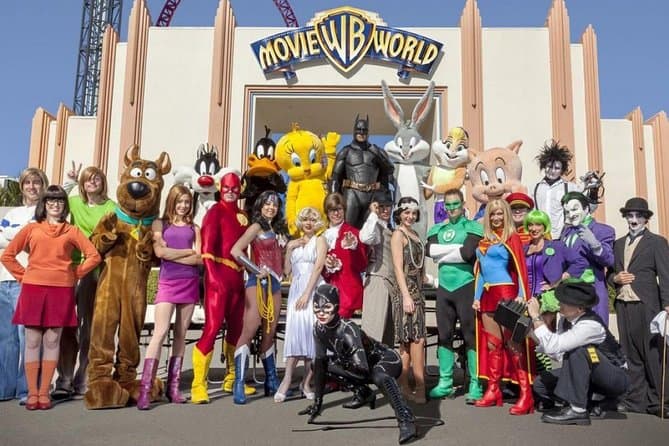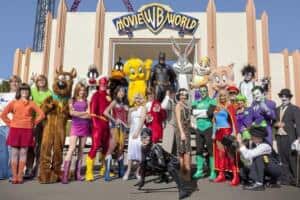 Warner Bros. World has one central plaza and five zones or lands. Each land has its theme and related attractions.
The Warner Bros. Plaza
This is the central plaza and the gateway to all the other lands. Although the entire park is indoors, the plaza gives visitors the illusion of being outdoors with its incredibly high ceiling, complete with a midday sky.
Bedrock
Bedrock is a land that will forever remain in the Stone Age. Meet the Flintstones and the Rubbles. To complete your visit, ride The Flintstones Bedrock River Adventure, get a gigantic burger from Bronto Burgers & Ribs, and buy bedrock souvenirs from Bedrock Boutique.
Dynamite Gulch
This is the Southwest American desert with its mainstays, Roadrunner and Wile E. Coyote, the Jetsons, Marvin the Martian, and Yosemite Sam. This zone's must-try experience is the Fast and Furry-ous, an inverted roller coaster ride that will make you feel like Wile E. Coyote trying to catch Roadrunner.
Cartoon Junction
Meet your favorite childhood cartoon characters in Cartoon Junction. Ride the Tom and Jerry Swiss Cheese Spin and join Tom as he goes after Jerry, who is fixated on chasing the cheese. You can also enjoy a ride through the Scooby-Doo Museum of Mysteries. For something a little more active, try the Daffy Jet-Propelled Pogo Stick.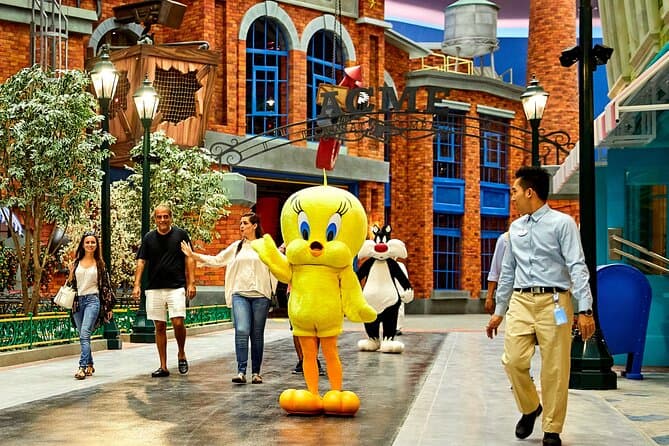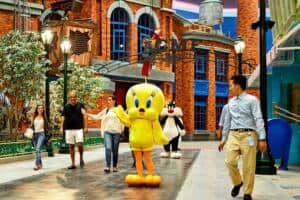 Gotham City
This is Batman country. Visit Gotham City to meet the bat-costumed hero and his memorable supervillains. Batman: Knight Flight is a high-tech ride with you climbing, dropping, and twisting in Gotham City's night sky. If dizzying spins are your thing, ride the Scarecrow Scare Raid, where you'll ride a jet-like rig attached to a perennially spinning arm, which is, in turn, affixed to a rotating column. The Riddler Revolution is a disc that slides, teeters, and totters on its tracks in an old abandoned warehouse.
Metropolis
Metropolis is the city of the well-loved superhero Superman. Warner Bros. World is home to 3D, 4D, and 5D experiences. Superman 360: Battle for Metropolis, an immersive 3D projection show. Green Lantern Galactic Odyssey, a 4D flying theatre, and Justice League: Warlord Attacks, an immersive 5D ride.
How to Get to Yas Island Abu Dhabi
Get a car hire or ride a taxi to Yas Island Abu Dhabi. It is less than 15 minutes by car from Abu Dhabi International Airport and around 25 minutes from downtown Abu Dhabi. Following the driving directions on Waze or Google Maps should be easy.
You can ride the free Dubai-to-Yas Island shuttle service if you're coming from Dubai. You can also drive your vehicle. Either way, reaching Yas Island should take one hour or longer.
Once you're on Yas Island, finding Ferrari World, Yas Waterworld, and Warner Bros. World should be easy. All three theme parks are adjacent to Yas Mall and directly accessible through Yas Dr. St/Yas Leisure Dr.
Tips to Make the Most Out of Your Yas Island Adventure
Here are some tips that will let you make the most out of your trip.
Buy the Unlimited 3 Days 3 Parks Ticket
If you plan to visit all three theme parks, you can save considerably if you get the "Unlimited 3 Days 3 Parks" ticket.
A single-day adult ticket at Yas Waterworld costs AED 270, while the same type of ticket costs AED 310 at Ferrari World and Warner Bros. World. That's AED 890 for all three tickets. In contrast, an Unlimited 3 Days 3 Parks ticket costs only AED 545, saving you AED 345 per adult or GBP 74.90.
With the Unlimited 3 Days 3 Parks ticket, you will have one full day to enjoy each park and 14 days to visit all three parks. Thus, after seeing one park, you will have 13 days to visit the remaining two parks.
Thus, you don't have to rush to visit all three parks. You can see one park, rest for a few days, then go to your second park. After a few days — as long as it is within the 14-day allowance — you can visit your third park.
You can buy the Unlimited 3 Days 3 Parks ticket online from any theme park.
Stay at a Yas Island Hotel
Visit the Yas Island website to check for Yas Island offers and promotions. In particular, check Yas Island hotels for theme park packages.
Many hotels in Yas Island provide free theme park access for every night of stay. Thus, staying one night, you can get tickets to one theme park. If you stay three nights or longer, you will get access to all three theme parks.
Yas Island Hotels
Use the Yas Express
This is the free shuttle bus service. It has three routes, two of which stop at Ferrari World, Yas Waterworld, and Warner Bros. World.
Come Early, and on a Weekday
Avoid long queues by visiting on a weekday and coming early. This will let you maximize the value of your ticket — i.e., you can go on more rides.
Dress Modestly but Comfortably
Abu Dhabi has a warm desert climate, so pack comfortable albeit modest clothes. Of course, you can still be fashionable. How about some hip urban street style?
Bring a Refillable Water Bottle
Keep yourself hydrated by bringing along a refillable water bottle. Just fill it at any of the many water stations in the parks.
Closing Thoughts
If you're a fan of theme parks, visit Yas Island Abu Dhabi. It has three world-class, record-breaking theme parks: Ferrari World Abu Dhabi, Yas Waterworld Abu Dhabi, and Warner Bros. World Abu Dhabi. Yas Island truly is the ultimate adventure hub in Abu Dhabi.
Looking for more posts on The Middle East? Start here:
We participate in the Amazon Services LLC Associates Program, an affiliate advertising program designed to provide a means for us to earn fees by linking to Amazon.com and affiliated sites.
Brit On The Move™ Travel Resources
Ready to book your next trip? Use these resources that work:
Need more help planning your trip? Check out our Resources Page, highlighting the great companies we trust when traveling.