How to Explore Dubai – The Complete Guide
Dubai is a beautiful city with the newest, trendiest, and oldest of so if you're gearing up for a visit here, this exclusive "How to Explore Dubai" travel guide that covers almost everything you need to know about the destination, including the recent COVID-19 guidelines.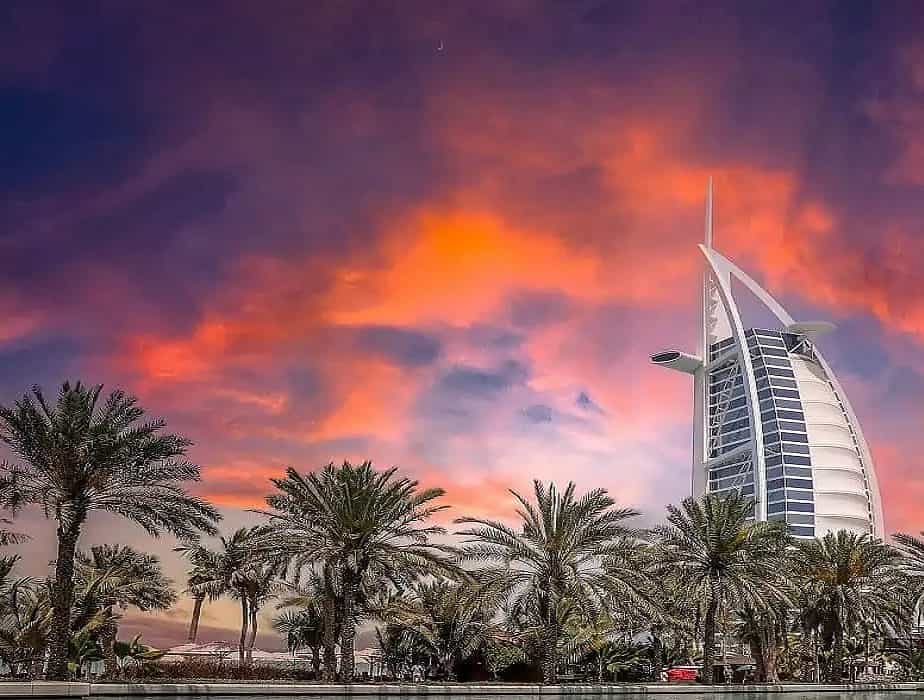 This post may contain affiliate links. Please read our disclosure and privacy policy for more information.
Dubai Fact File
Dubai's Emergency Numbers:
Police: 911
Ambulance: 998
Fire: 997
Electricity compliant: 991
Water issues: 922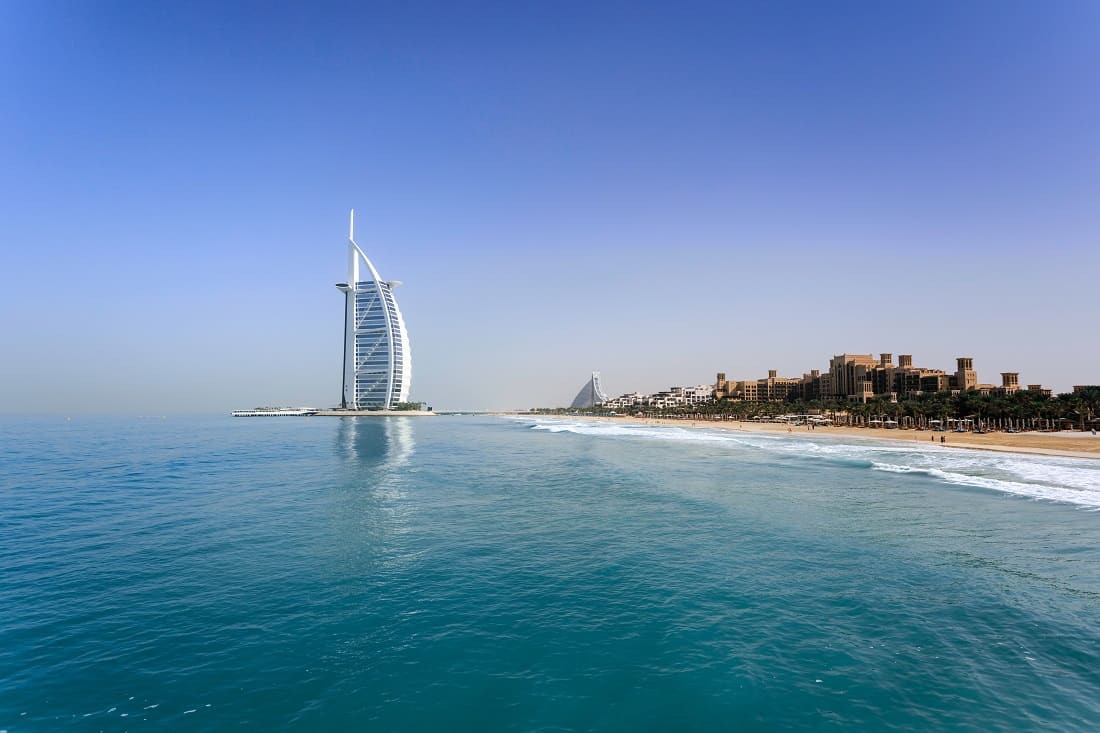 When To Visit Dubai?
Anytime! Yes, every season and month in Dubai offers various reasons to visit Dubai. Winter, November through March, is undoubtedly the best season with perfect colder weather accompanied by a pleasant warmth. Winter is ideal for several outdoor adventures. It's also when Dubai is home to tons of events and seasonal attractions like Dubai Miracle Garden and Global Village. This festive vibe reaches its peak in the deep winter months – December through February, thanks to grand Christmas and New Year's Eve celebrations and the Dubai Shopping Festival, Dubai World Cup, etc.
Although summer months in Dubai are considered off-season (due to extremely high temperatures), a trip still promises excellent experiences during these months. This guide – How to Explore Dubai – would be incomplete if it missed the incredible indoor attractions people flock to Dubai for in the summer.
The indoor attractions in Dubai are diverse. There are theme parks like Ski Dubai and IMG Worlds of Adventure to leisure and entertainment options, including Dubai Dolphinarium, Dubai Ice Rink, and La Perle by Dragone show. Additional perks of visiting Dubai in the summer are fewer crowds, discounted accommodation, unbelievable shopping deals, and summer events like Dubai Summer Surprises (DSS).
Before we get to explore Dubai, let's look at some pre-travel guidelines that you must understand.
Dubai Travel Prerequisites and Visa Requirments
First and foremost, you'll need the right visa to travel to Dubai. Make sure that you get this right for stress-free travel. Use an experienced visa service provider unless you have a visa exemption. For example, the visa on arrival, or are you are eligible for visa-free travel.
Make your accommodation reservations. Then, buy your airline tickets and sightseeing tours far in advance, which will help save a lot of money.
Once you have a visa, if needed, and get a clear "Ok to Board" (OTB), move to COVID.
An OK to Board is mandatory for all travelers once you've received your approved UAE visa. The major carriers like Jet airways, Fly Dubai, Etihad airways, Emirates airlines and Saudi airlines provide OK to Board for free. But other low cost carriers such as Spice Jet, IndiGo and Air India charge a small fee.

For Airlines that provide OTB for free, you don't have to apply for OK to Board approval online before your flight. Just present all the necessary travel documents when you check in at the airport.
Dubai COVID-19 Guidelines
Before heading to Dubai, you will need a polymerase chain reaction (PCR) test. This test detects the genetic material of the virus. A health care worker collects fluid from a nasal or throat swab or from saliva to administer this test.
The PCR test should be conducted within 96 hours of your arrival in Dubai.
Download the COVID-19 DXB app:
Complete the health declaration form; this ensures that you don't have any COVID-19 symptoms and will take care of all expenses if you've to undergo any treatment for COVID-19.
Keep the reports of your PCR test with you at all times.
Arrival Into Dubai
Upon touch down at Dubai International Airport, proceed to complete the immigration procedures.
Following immigration, submit your PCR test reports.
If you arrive WITHOUT a PCR, be prepared to undergo this test at the airport. And you will be asked to isolate yourself until the test result comes.
If the test result is negative, you don't have to wait anymore. But if the test is a definite case, you'll have to undergo additional quarantine as well as proper treatment.
Accommodations in Dubai
You are spoilt for choices; regardless of the category of accommodation you're looking for in Dubai, there are plenty of options! Nothing can outdo Burj Al Arab and Atlantis or The Palm for an island retreat enveloped in luxury.
Are you dreaming of a secluded desert getaway? You can't go wrong staying in Al Maha Desert Resort. Armani Hotel Dubai, Raffles Dubai, and the Bvlgari Resort are other hotels that guarantee absolute luxury and style.
Suppose the central location is a goal for your Dubai holiday, which is a good idea! You'll find some excellent accommodations in Barsha, Downtown Dubai, Palm Jumeirah, and Dubai Marina areas. They are expensive, but their strategic location allows for easy access to the region's main attractions. Dubai caters to budget travelers, too, with some fantastic choices in Bur Dubai, Deira, and Karama regions.
Essentials You Will Need To Enjoy Dubai
Popular Things To See And Do
Burj Khalifa – Enjoy Dubai from Above
Climb atop this celebrated Dubai structure, which is the highest of its kind in the world. It's alright if you want to limit your Burj Khalifa experience to a snap against its background. But if you're willing to shell out a few dirhams, it's worth taking the fastest ever elevator to its observation decks on the 124th level. Jaw-dropping views from its floor-to-ceiling windows and outdoor terrace treat you with the most jaw-dropping views over Dubai's skyline, ocean, desert, and more. Take this sky-high viewing experience to the next level by going higher up to its Sky Deck on the 148th level. It's also the world's tallest observation deck.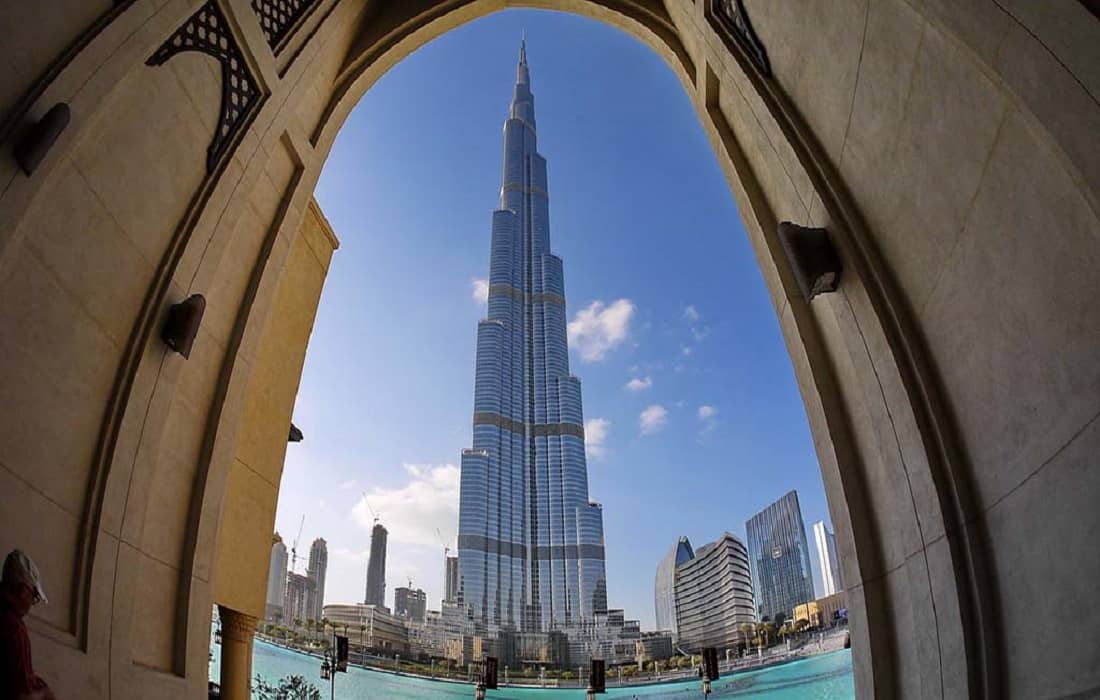 Visit Dubai Mall & See Dubai Fountain Show
Whether you're inclined to shop or not, the biggest of its kind, Dubai Mall, is massive. Over 1200 outlets, this enormous mall will wow you with its many exciting and entertaining sections such as Dubai Aquarium and Underwater Zoo, Dubai Ice Rink, KidZania, VR Park, and more. This mall is adjacent to Burj Khalifa and has attractions like Souk Al Bahar and Dubai Fountain nearby.
The choreographed water and light Dubai Fountain show is the highest fountain show globally for those who don't know. And you don't have to spend a single penny to watch this spellbinding show.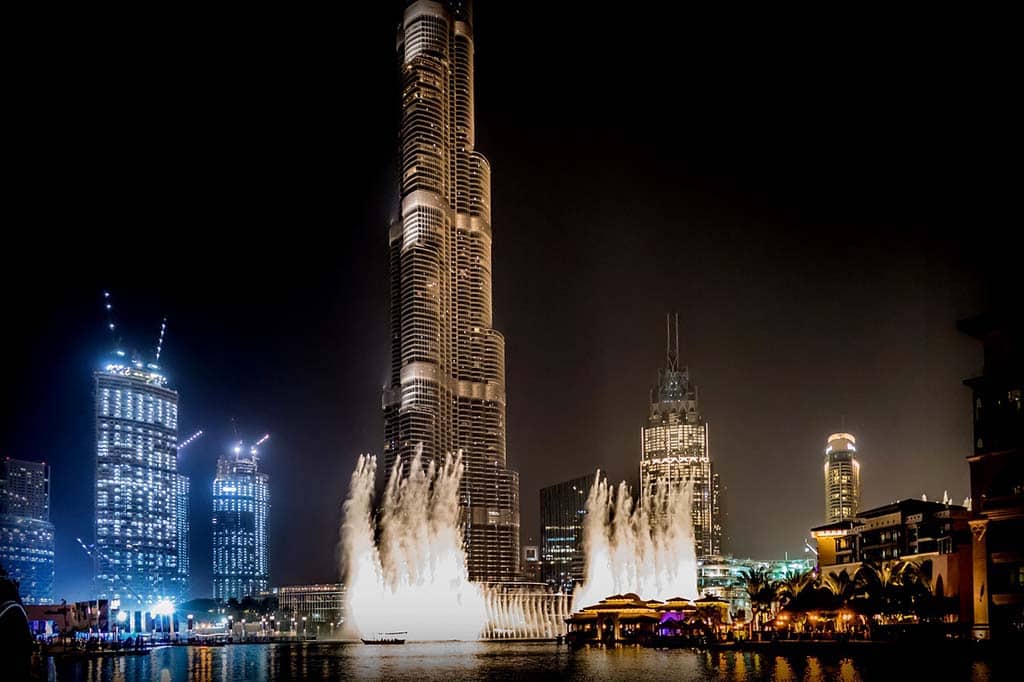 Set out on a shopping spree
Shopping in Dubai knows no limits with some of the most lavish malls on the planet. Dubai malls hail the coolest designer outlets and offer up the most attractive traditional Arabian bazaars (souks) to their credit. Be it Dubai Mall, Mall of the Emirates, Ibn Battuta Mall, Burjuman Centre, Dubai Festival City Mall, or Wafi Mall, each of the city's more than 70 shopping malls are magnificent and wondrous. You'll find flagship stores of almost all famous brands in each mall.
You can dig deeper into Dubai's retail scene by heading to its timeless souks Gold Souk, Textile Souk, and Perfume Souk. Now, if you don't know where to shop or what to shop for, sign up for a professionally organized shopping tour.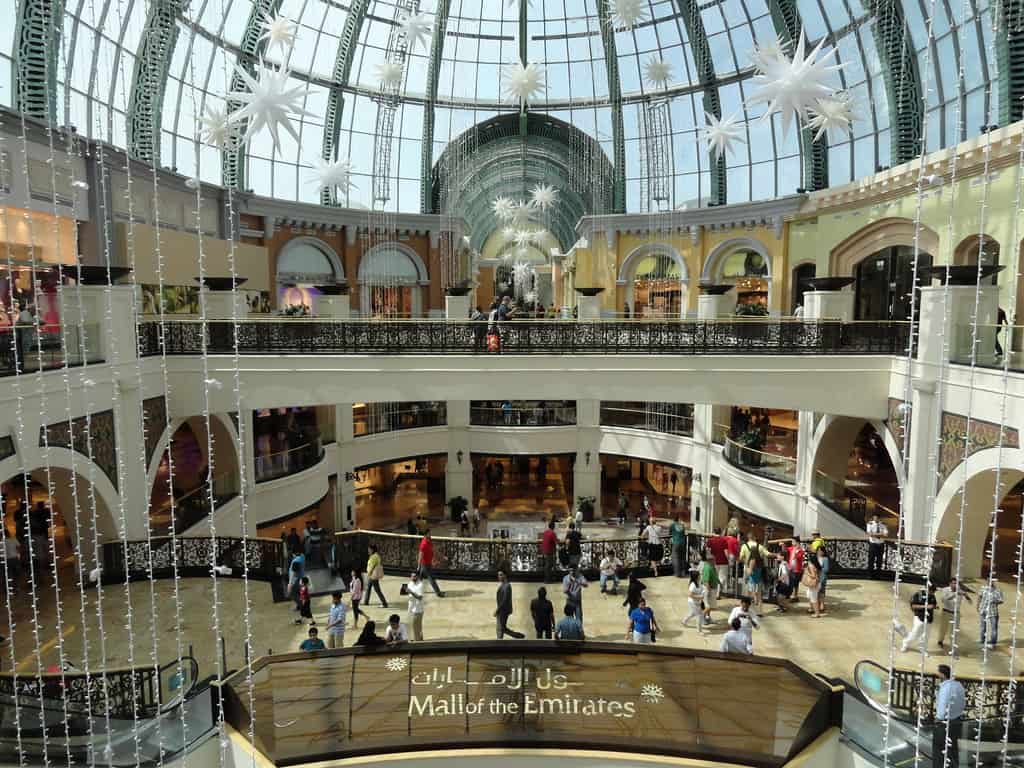 Embark on a Dhow Cruise
A Dhow Cruise gives you a unique chance to see Dubai's skyline from the water. More than that, it lets you enjoy an exciting sail onboard a dhow (traditional wooden vessel), which was formerly used for fishing and pearl farming in ancient times. Breathtaking views, along with good food and an awesome Tanura show, promise you an unforgettable evening in Dubai. The cruise typically starts after sunset, and the duration is approximately two hours. Dhow cruise locations include Dubai Creek, Dubai Marina, and Dubai Canal.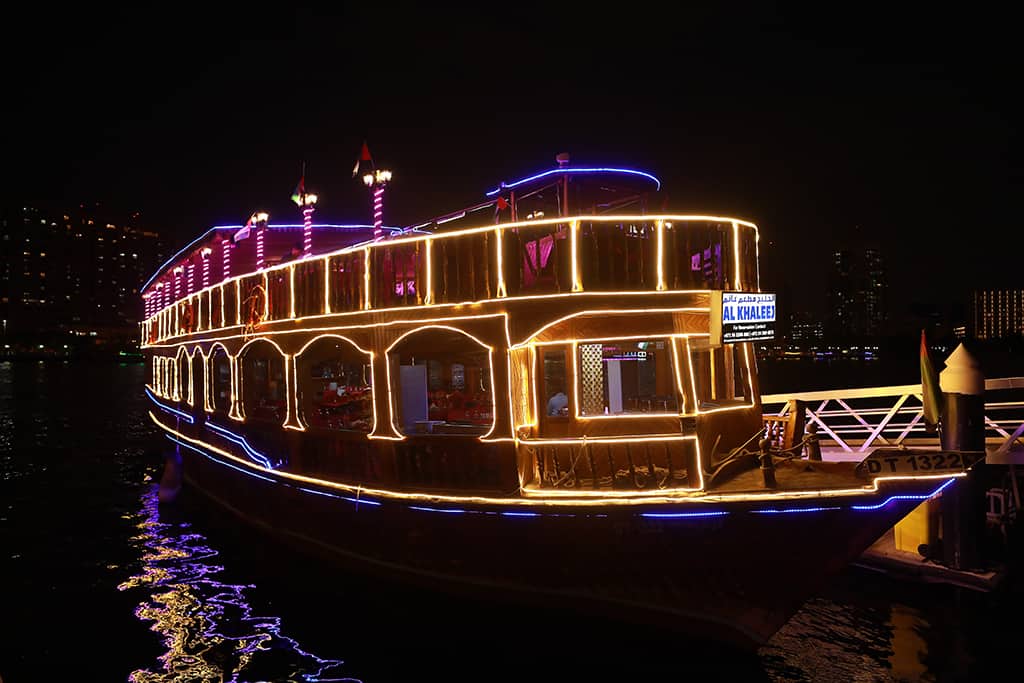 Tour at least one theme park
In recent times, Dubai has grabbed attention and gained immense praise for its diverse theme parks. So make it a point to visit at least one of its theme parks.
Ski Dubai is an all-time favorite due to its perennial chilled environment. Simultaneously, IMG Worlds of Adventure blows you away with its five zones themed around Marvel superheroes, iconic Cartoon Network characters, and primitive dinosaurs. But if it's a theme park holiday you're after, don't look further than Dubai Parks and Resorts. A theme park lovers' haven with three theme parks (Motiongate Dubai, Bollywood Parks Dubai, and LEGOLAND Dubai) and a water park (LEGOLAND Water Park) within its premise.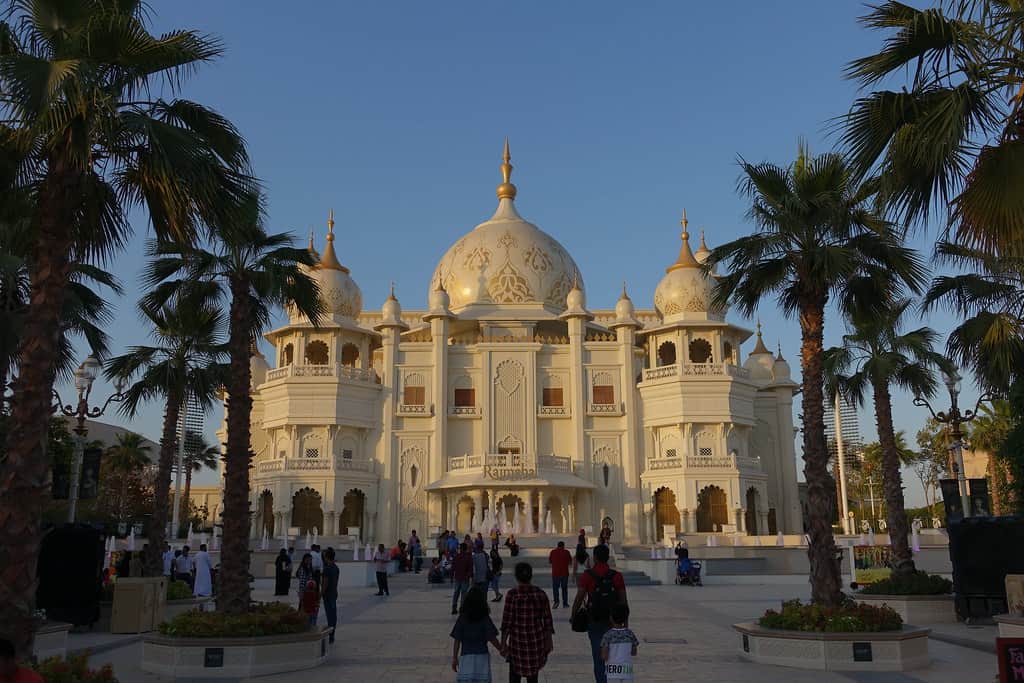 Eat Cuisines from all over the world.
Nationalities from over 200 countries make Dubai a melting pot of cultures, customs, and ethnicities. This is reflected in Dubai's gastronomic scene. It is not just authentic Arabic or Emirati dishes. You'll get to taste here; come prepared to savor the culinary flavors and specialties of different parts of the world.
There are dining venues for all cuisines, from Chinese, Indian, Japanese, American, and English to Turkish, Mediterranean, Moroccan, or everything your taste buds crave. Moreover, you can choose to make your dining session in Dubai as extraordinary, lavish, or pocket-friendly as possible.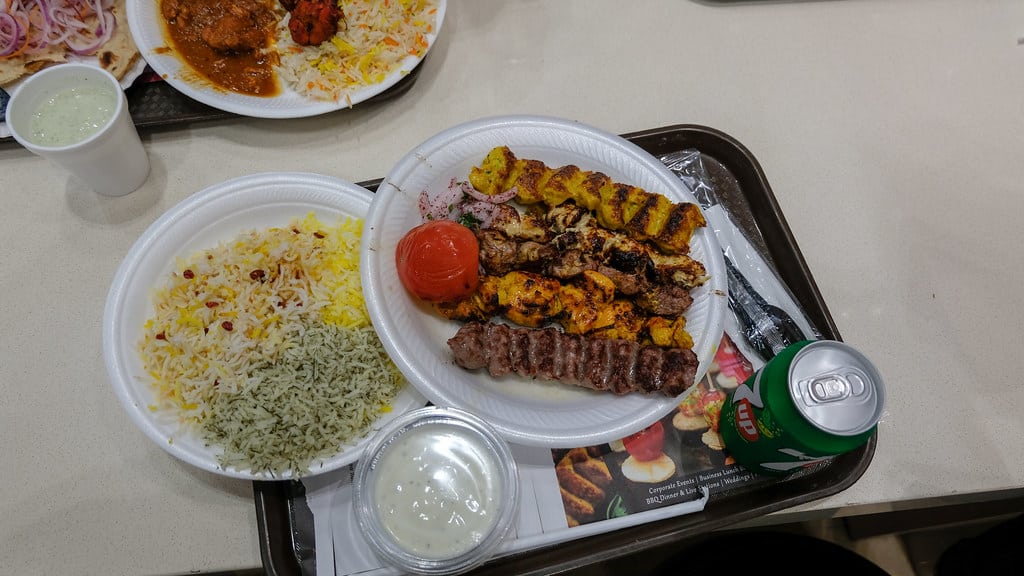 Discover Al Bastakiya Quarter
Seeing Dubai's modern sights is just half the story. Stepout to its well-preserved historical neighborhoods, particularly Al Bastakiya Quarter, to see the other half. You can't help but fall for its charming old-world vibe with its quaint narrow lanes, modest sandstone structures that date back to the 19th century. There is also the region's oldest fort Al Fahidi, where the Dubai Museum is housed.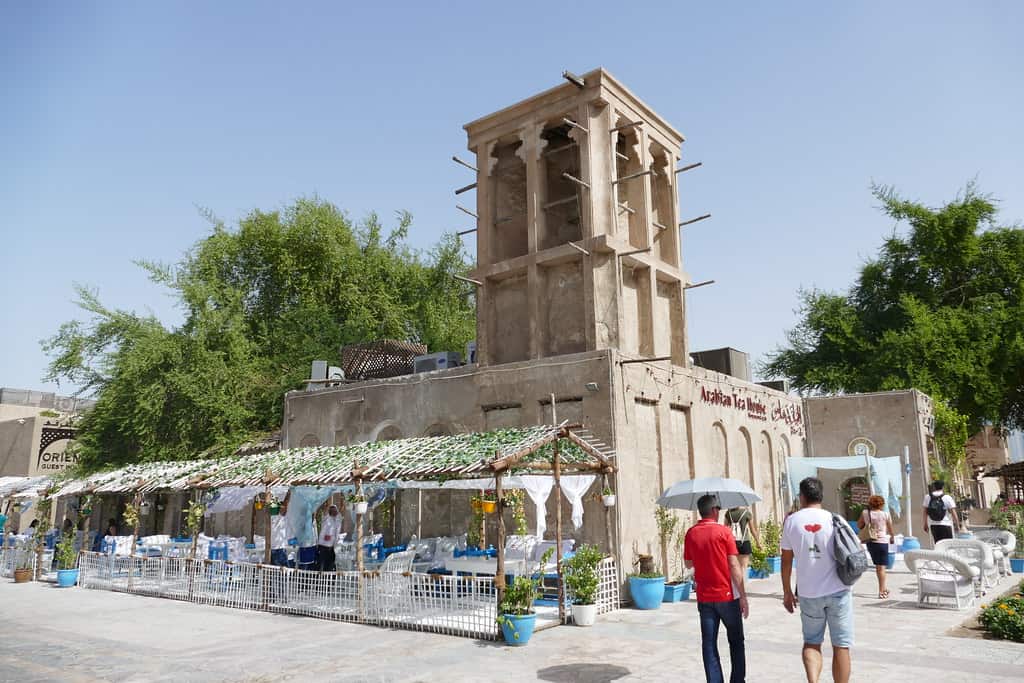 Desert Safari
If you think its desert landscape is lifeless, take a Dubai desert safari. You'll realize that this whole part of the city is abuzz with fun activities and cultural experiences. Dune bash, camel ride, Shisha smoking, quad biking, sandboarding, and henna tattooing are just a few to mention.
Go for a morning safari if you want to keep your desert adventure short. For an absolute thrill, amusement and entertainment, take an evening desert safari with BBQ dining and traditional shows covered.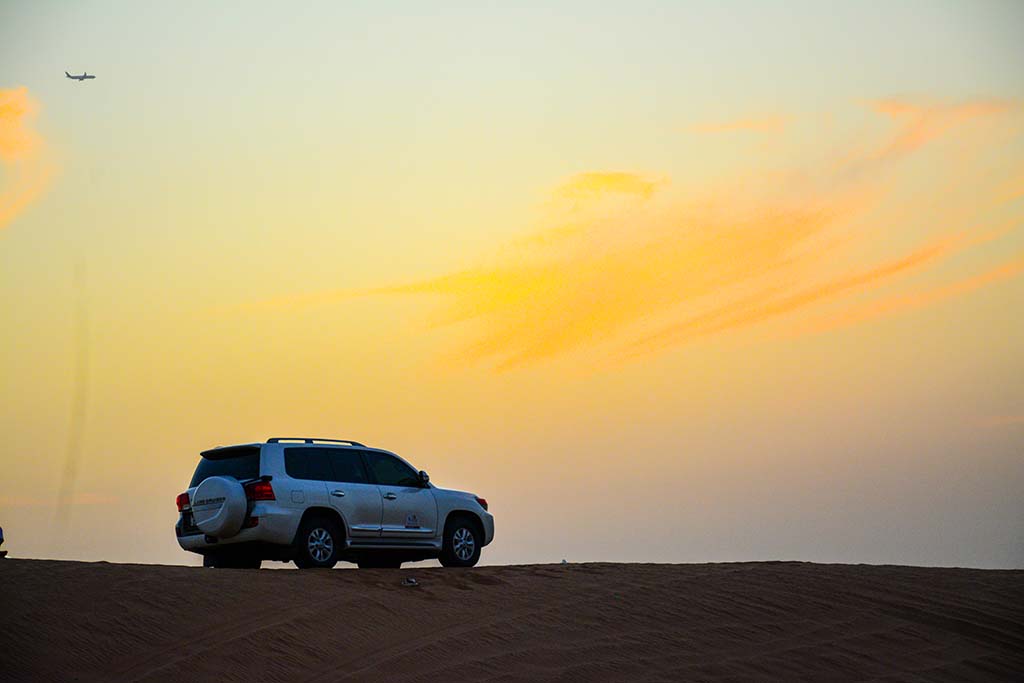 Visit Palm Jumeirah
Almost every guide written on how to explore Dubai covers Jumeirah. Arguably some would say this is a new wonder of the world. The imposing palm-like island is one of Dubai's most recognized symbols.
Take a monorail ride to see the grandiose sights that cluster the region. But if you don't mind a splurge, you can take to the skies on a Sky Dive session or helicopter ride. This allows you to see the unrivaled majesty of this island in its pure form.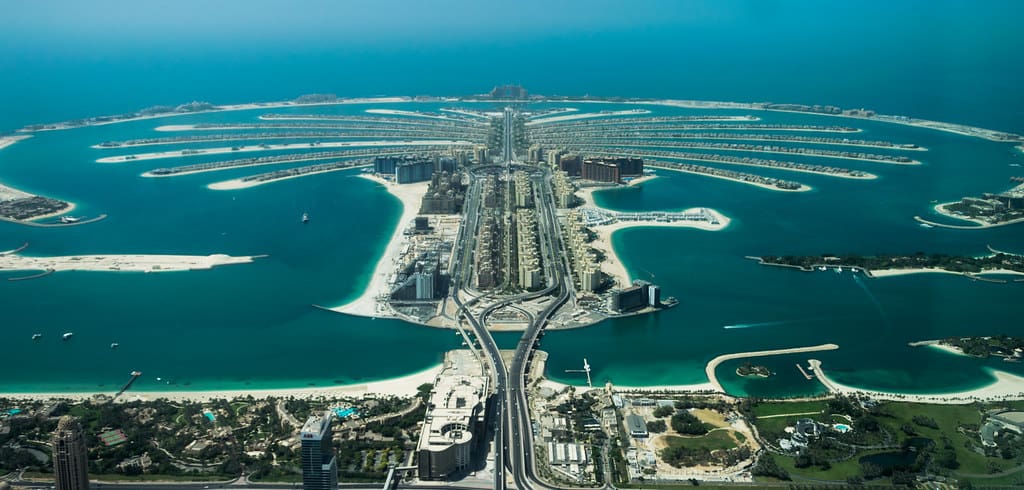 Don't miss Dubai's Newest Neighborhoods.
First-timers adore the city, while the return visitors are eager to check out its newest attractions.
After all, Dubai is a city that stuns the world now and then with the most futuristic sights and altogether new neighborhoods. Dubai Creek Harbour, Dubai South, La Mer, and Bluewaters Island prove this and should not be missed.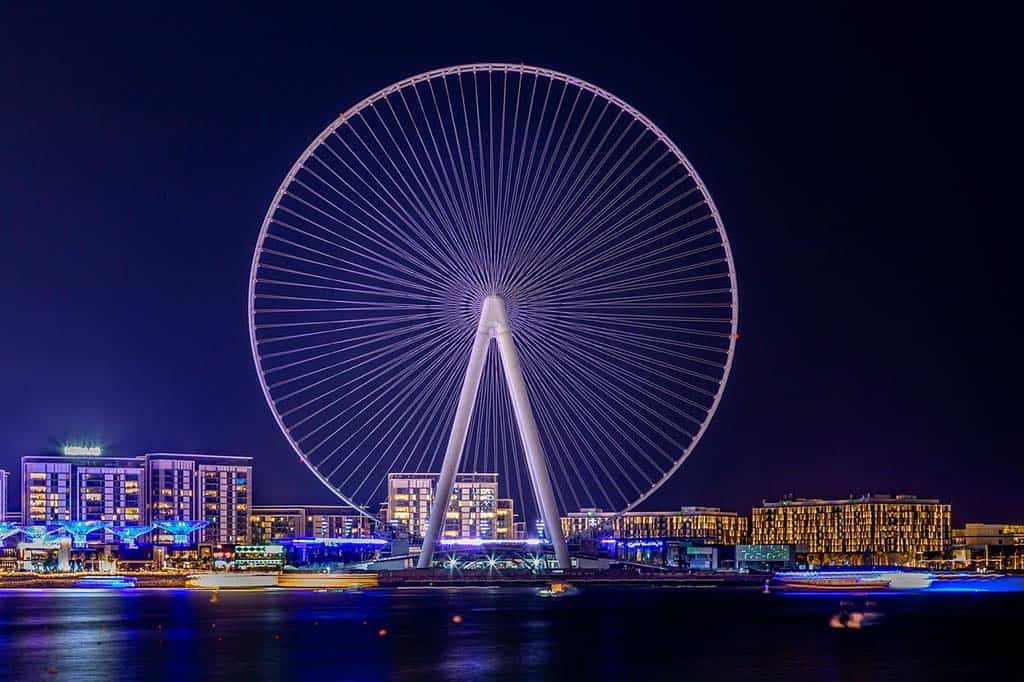 Closing Thoughts
Whenever you plan to visit Dubai for a layover, a week or longer, you can count on creating unforgettable memories in Dubai. If this list was not enough, you can also visit the Ripe market and buy some high-quality Medjool dates and exotic spices for your family. There are an endless number of markets in Dubai. And with this comprehensive guide, you'll be able to make your Dubai visit a total success. And, just like that, now you know how to explore Dubai!
About the Author: Neha Singh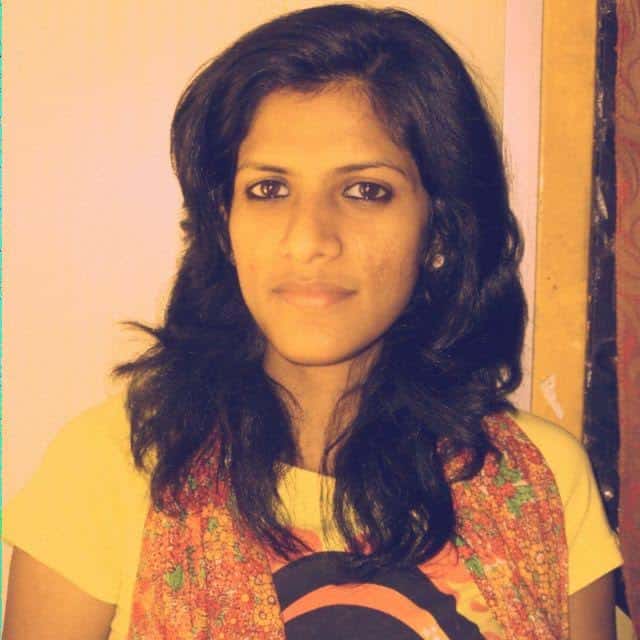 Neha Singh is passionate about travel; Neha effortlessly blends her experiences with writing. She is a post-graduate in Mass Communications. She loves adventure, travel, and music.
Looking for more posts on The Middle East? Start here:
We participate in the Amazon Services LLC Associates Program, an affiliate advertising program designed to provide a means for us to earn fees by linking to Amazon.com and affiliated sites.
Subscribe to our newsletter and get the best travel tips and inspirational stories delivered monthly. No spam, no sales pitches – TRAVEL!
Brit On The Move™ Travel Resources
Ready to book your next trip? Use these resources that work:
Need more help planning your trip? Check out our Resources Page, highlighting the great companies we trust when traveling.