10 Fun Water Activities in Abu Dhabi
Abu Dhabi is the United Arab Emirates' capital city and represents many of its culture and values. So it is no surprise that Abu Dhabi has plenty to offer you and your family. From incredible theme parks to unforgettable water activities, this island location means that there is no shortage of water activities in Abu Dhabi, from jet skiing, paddle boarding, and boat cruises.
This post may contain affiliate links. Please read our disclosure and privacy policy for more information.
Murjan Splash Park
If you have more minor children, this is probably where you'll want to take them. This is a smaller water park without the larger crowds. This park features an undercover main splash structure with a shallow pool, four small slides, a crawl tunnel, and a tipping bucket. You'll also find a small-scale lazy river to float in as well if that's what you're looking for. Kids also have access to water guns, bumper boats, and surf wrangler.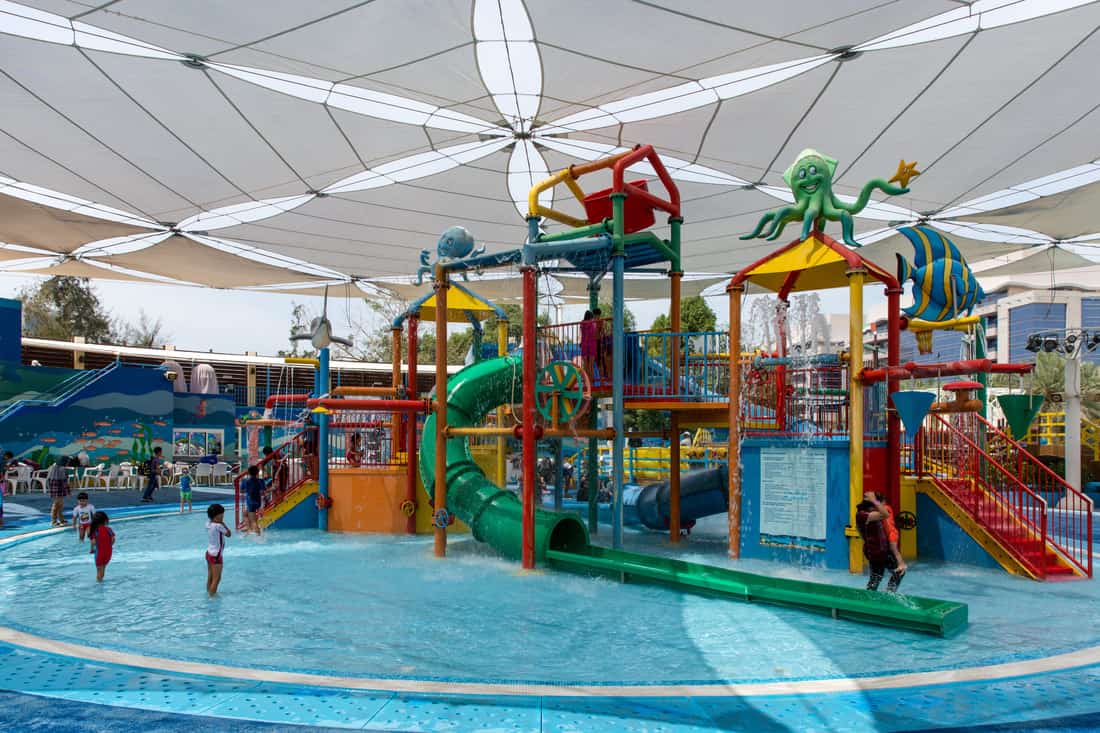 Musical Water Fountain At Yas Marina
Who doesn't love dinner and a show? You don't want to miss out on this spectacular musical water fountain that your kids will definitely be mesmerized by! Seven restaurants on Yas Marina give you the perfect view of the musical performance that takes place every thirty minutes. The water dances to different music, including Arabic and Western melodies, with lights to accentuate the presentation. Get ready to enjoy your meals in a way you haven't before.
Jubail Mangrove Park
Spend a therapeutic day in nature with your family. Jubail Mangrove Park is a beautiful park that has a lot to offer. Walk around the grounds and make your way to the floating platform with a see-through net where you can look at the marine life swimming beneath you. Let your kids play in the area designated for them or go for a kayaking adventure on the water.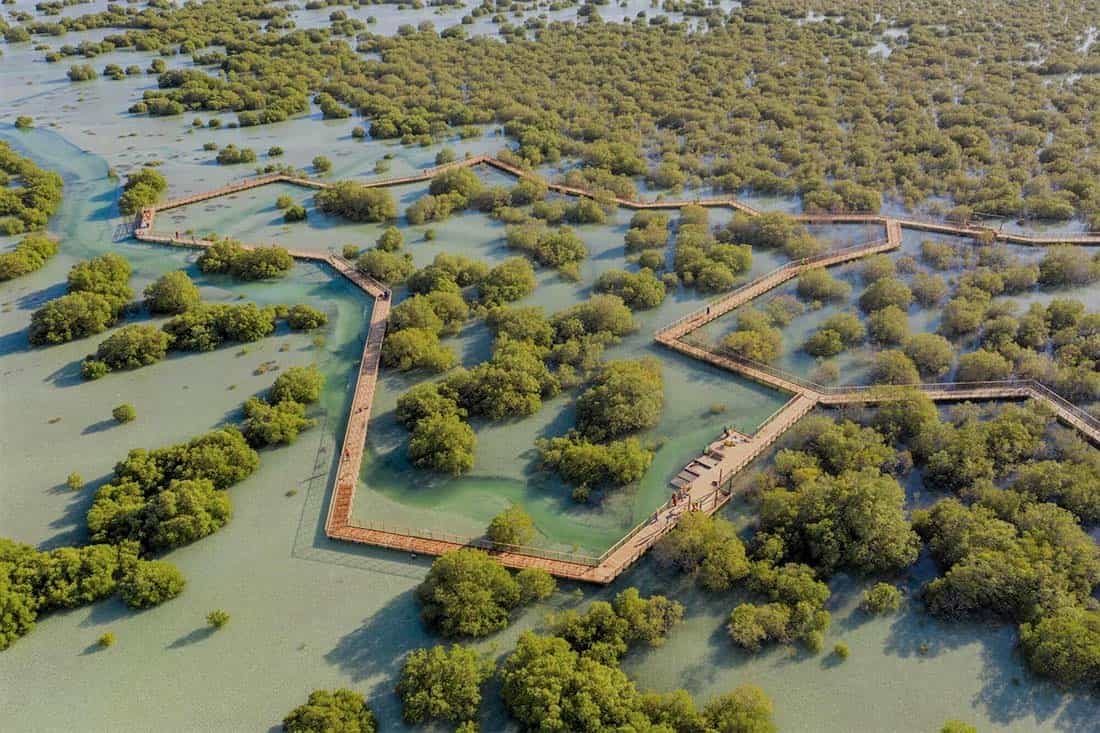 Or, if you prefer not to kayak, they also offer a standing paddleboard tour. Ever wanted to try paddleboarding, here is your chance! If you are a beginner, you'll be pleased to know that the waters are usually calm, making this the perfect place for your first experience. And, you'll be able to observe birds and other wildlife in their natural habitat!
Kids Zone Club
Marriott offers the Marriott Al Forsan's Kids Zone club great water activities for your kids. Part of what they offer is indoors, but they also feature an outdoor playground with swings, slides, and a zip line. The best part is the kids' pool and splash pad area that contains themed waterfalls and a variety of water sprays. There will be plenty to entertain your kids and allow them to stay cool in the water as they play with their friends.
Essentials You Will Need To Enjoy Water Activities in Abu Dhabi
Abu Dhabi Dhow Cruise
Water activities in Abu Dhabi are never boring and are diverse. Sign up for an evening trip on the water with dinner served aboard this majestic cruise ship. Whether you go with friends or family, it is sure to be a lovely experience. Enjoy a buffet filled with various foods that cater to different tastes. As you cruise on the Persian Gulf, you'll have a panoramic view of Abu Dhabi. If you book a dhow cruise, the reservation includes pickup and drop off from your hotel.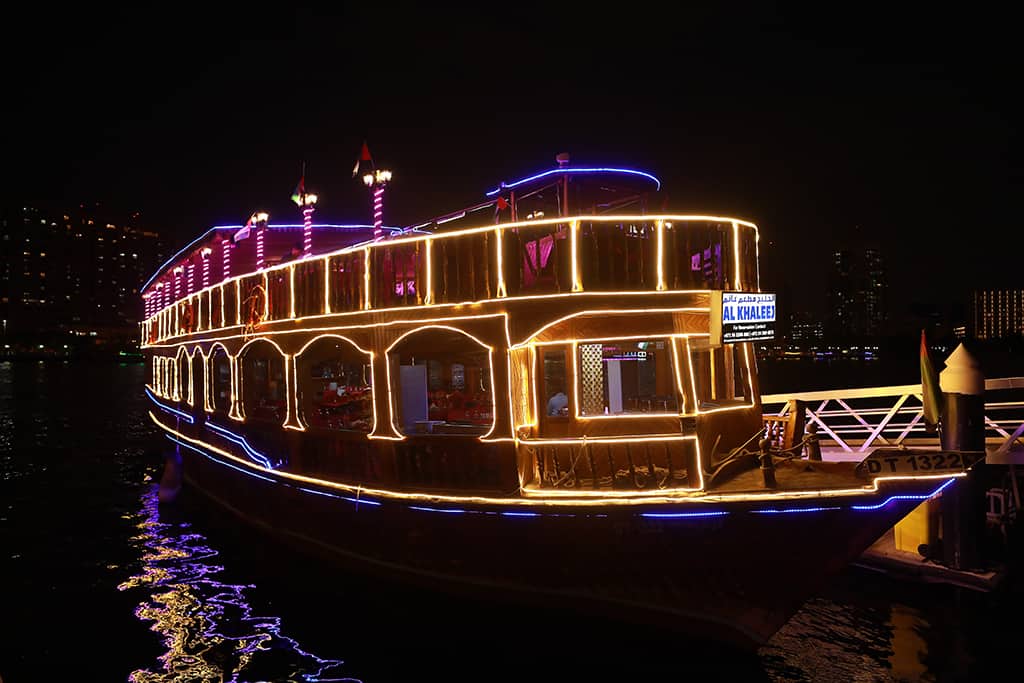 Yas Waterworld Abu Dhabi
As soon as you buy your tickets for Yas Waterworld Abu Dhabi, you know you're in for a fun-filled adventure. You will instantly fall in love with its family-friendly environment and all the attractions you can choose from. Make sure to bring your curiosity and thirst for fun! Yas Waterworld features pools, slides, and a lazy river, among other attractions like the Bandit Bomber coaster, Jebel Drop slide, and the Dawwama tornado. The Dawwama is the world's largest six-person tornado water coaster. Al Raha River is the lazy river's name and might be exactly what you're looking for. You can lay back and float down this 300m and enjoy the scenery.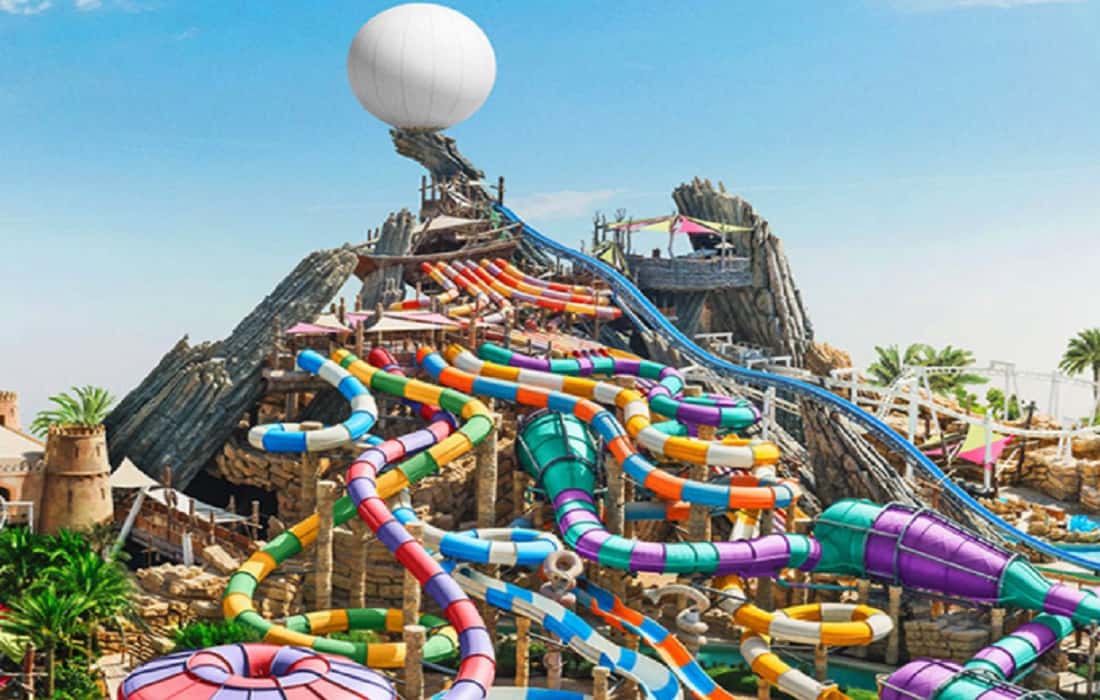 Water Sports At Zara Nurai Island Beach
Zara Nurai Island offers you and your family a cornucopia of options if you're interested in water sports and spending a fun day on or in the water. It's the perfect destination if you are looking to try a new water sport or hone your skills. You can also rent a yacht or reserve a boat cruise if that is what you're looking for. It is a great place to cross things off your bucket list and do things you've always wanted to do. You can even sign your kids up for classes in a water sport of their choice, where they will have the chance to learn and practice with professional instructors.
Al Bateen Beach
Water activities in Abu Dhabi wouldn't be complete without you being able to walk barefoot in the beautiful white sands of Al Bateen Beach. You'll have gorgeous island views as you spend the day in the sun at this beach. A lovely place to play, unwind with your family, and splash around in the water. Choose from a variety of water sports you can participate in as well.
Dolphin Bay
Take a day trip with your family on the water into Dolphin Bay. A tour boat will escort you to the destination, where it will dock for about four hours. Once the boat is anchored, you will disembark onto a beach that provides chairs and umbrellas, and toys for your little ones to play in the sand. They'll be able to build sandcastles, fill buckets, dig with shovels, and collect seashells. You'll have plenty of time to soak in the sun or go for a swim.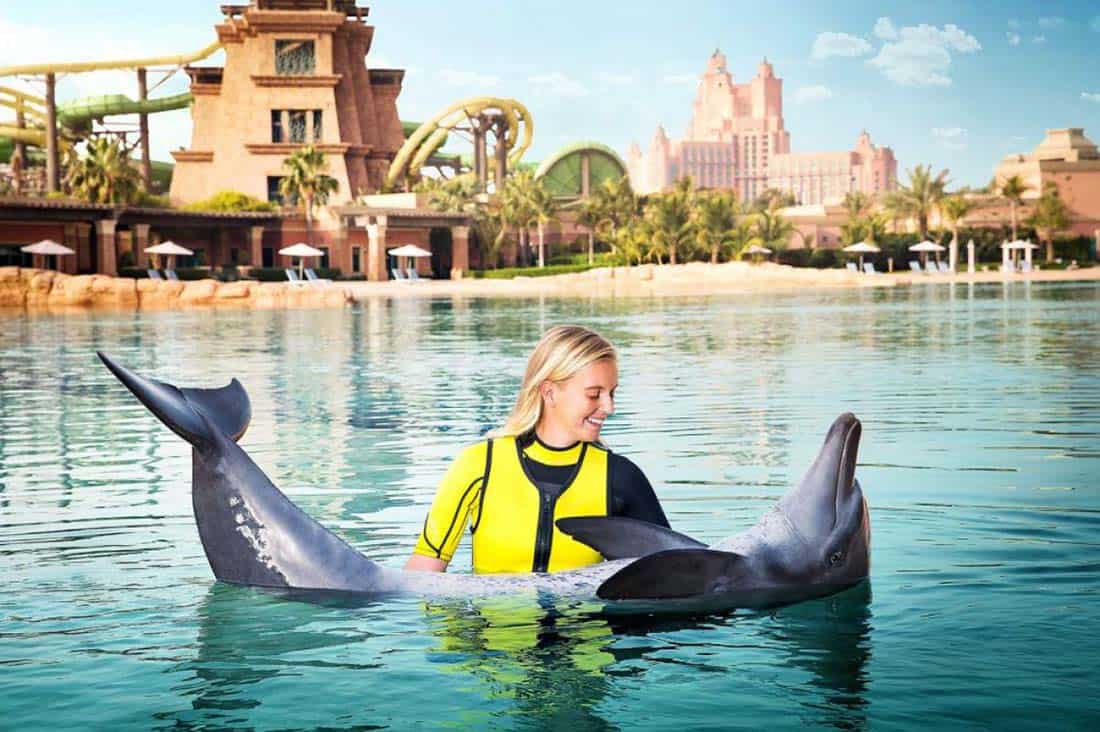 Kayaking At Louvre Abu Dhabi
After you take a museum tour, Louvre Abu Dhabi also offers kayaking tours for you and your family. The interesting part is that the tour focuses on the Louvre Abu Dhabi's architecture and its history. The tour lasts an hour, and the professional instructors are there to ensure your safety and give you tips at the beginning. The tour fee includes the life jackets, kayak, paddle guide, fruit salad, and bottled water.
Other Things To Do in Abu Dhabi
Closing Thoughts
Whenever you travel to a destination known for the heat, you need to find some activities that provide relief; this usually means hitting the water!
Regardless of your interests, Abu Dhabi has many options for you to get wet and cool down.
Which of these attractions have you been to, and which is your favorite?
Looking for more posts on The Middle East? Start here:
We participate in the Amazon Services LLC Associates Program, an affiliate advertising program designed to provide a means for us to earn fees by linking to Amazon.com and affiliated sites.
Subscribe to our newsletter and get the best travel tips and inspirational stories delivered monthly. No spam, no sales pitches – TRAVEL!
Brit On The Move™ Travel Resources
Ready to book your next trip? Use these resources that work:
Need more help planning your trip? Check out our Resources Page, highlighting the great companies we trust when traveling.