Florida might need to change its nickname from The Sunshine State to The Golf Cart State. And, on Anna Maria Island, Golf Cart Rentals are a norm. These open-air vehicles are everywhere as Floridians continue discovering their utility and practicality for living, playing, and working outside. And with electric-powered vehicles gaining popularity, Floridians (native and visiting) have even more transportation options when planning vacations.
With millions of golf carts moving around in Florida's retirement communities and beach resorts, these 4-wheeled buggies mingle with other cars in a random grouping of vehicles. The result is an assortment of slow-moving golf carts, low-speed vehicles, and fast-moving highway traffic. In many areas where residents mix with tourists, local authorities needed new laws and regulations for golf cart operation. What does that mean for you? Be careful when choosing a golf cart because some require the same licensing as cars.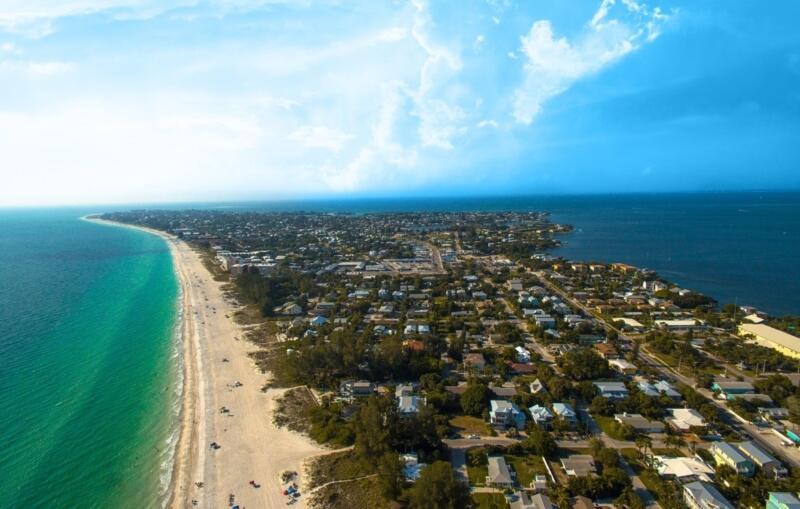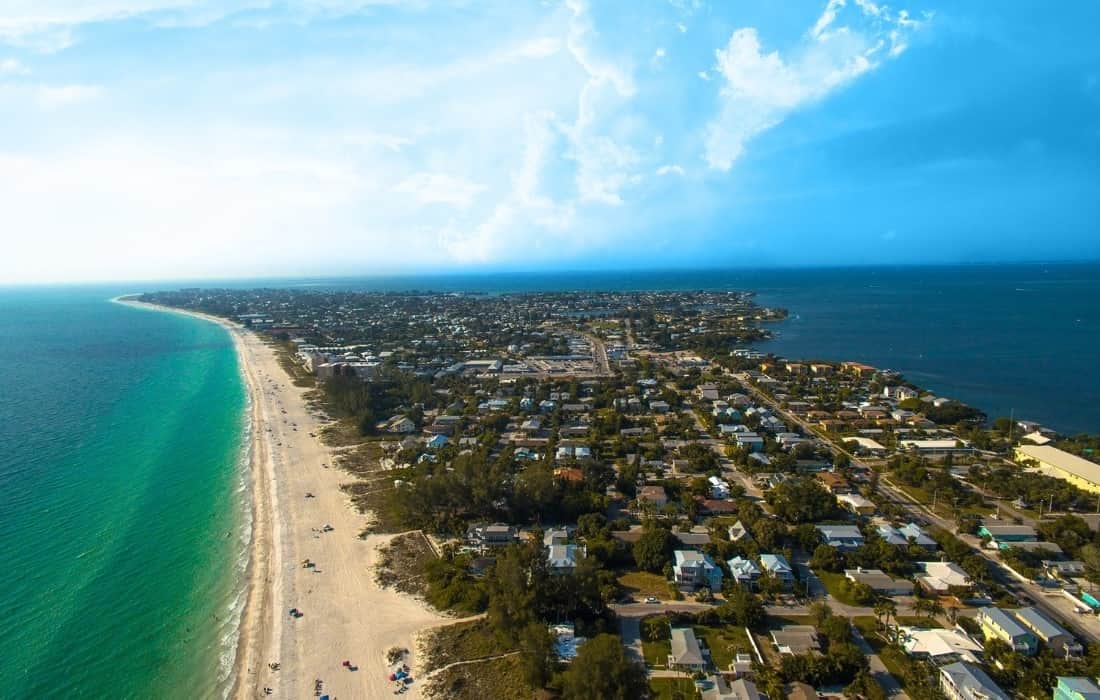 This post may contain affiliate links. Please read our disclosure and privacy policy for more information.
Florida has a golf cart culture, and carts are used by residents who run errands and for touristy-type things. Many residents who stay on Anna Maria Island year-round buy golf carts for personal use and convenience. The original golf carts were first made for people with mobility issues. The culture and lifestyle associated with golf carts began in Florida in the fifties with lead acid batteries that needed two charges to get through 18 holes.
Today, golf carts are "cool" as many customize them with custom rims and unique accessories. Many places are constructing dedicated paths for golf carts. However, golf carts are sometimes classified as LSVs and require different certifications.
Anna Maria Island Golf Cart Rentals
Florida's coastal communities and resorts build on a foundation of being outside under the sun with boats, jet skis, swimming, and other fun things. These communities want everything close so that the beach culture attracts tourists. Those who buy vacation packages should understand their transportation options before checking in.
Anna Maria Island has three distinct municipalities along its 7 miles of beaches. Anna Maria is the northernmost, followed by Holmes Beach and Bradenton Beach going to the south. Dozens of businesses that allow you to rent golf carts are scattered throughout the Island. In addition to golf carts, many of these locations also provide bike rentals, beach chair and umbrella rentals, and more. Once you settle into your vacation spot, you'll have access to anywhere on the Island on the same roads cars use. This means all roads because the speed limit does not exceed 35 mph anywhere on the Island.
Anna Maria Island is a tourist hot spot. You'll see thousands of other golf carts in all shapes, designs, and other customizations. The Island has numerous things a family can do together. Just make sure you get a golf cart with enough seats. The six-seater is a popular choice. Tourists visit Anna Maria Island for its white sand beaches and turquoise water. The west-facing beaches look out across the Gulf of Mexico and the warm water for swimming.
Golf carts and LSVs are not allowed on the beach. But don't worry, as a golf cart culture, there are plenty of parking spaces for Anna Maria Island visitors. We listed five of the best golf cart rental companies to ease the confusion.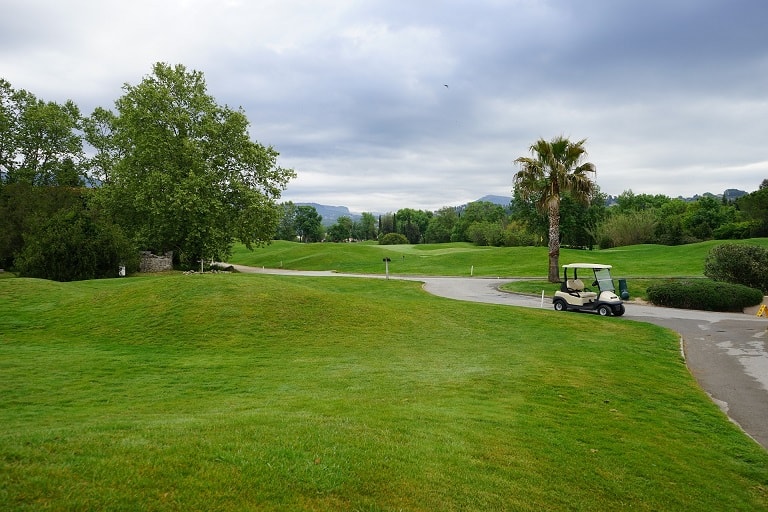 ZoomAround
With 314 Google reviews and counting, ZoomAround Anna Maria Island has a 4.9-star Google rating and is a favorite golf cart rental company among vacationers. The Anna Maria Island location is locally owned, operated, and well-established in the Holmes Beach community. One Yelp review highlighted excellent customer service with the cart waiting for them at the rental.
ZoomAround has a fleet of gas and electric-powered golf carts in 4 and 6-seat versions that service Florida and North Carolina. With a high volume fleet, ZoomAround regularly updates their vehicles with new ones, so customers always get the latest golf cart. The company only does golf cart rentals. They deliver your golf carts to your rental door, then return later to pick them up.
AMI Golf Cart Rentals
AMI Golf Cart Rentals owners take pride in providing personalized customer service as proprietors of a locally owned and operated business. This company boasts 214 Google reviews and a 5-star rating. Another 58 reviews on Tripadvisor gives AMI Golf Cart Rentals 5 stars. One reviewer praised AMI's personal touches, making their vacation more memorable.
One of AMI's best features as a locally owned business is its modern golf carts. All models are 2021 and newer. They use an all-electric fleet of golf carts with Bluetooth capability for music. AMI golf cart rentals will also deliver your cart right to your rental. Batteries last all day and recharge overnight, so you'll have a full charge the next day.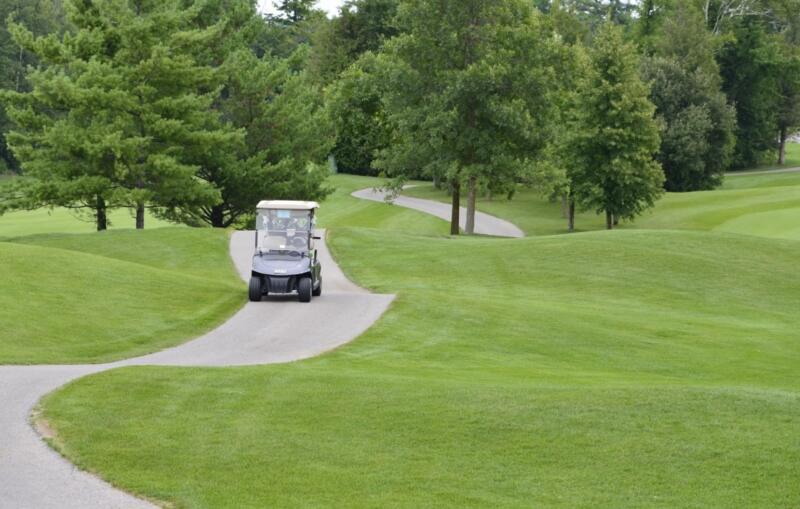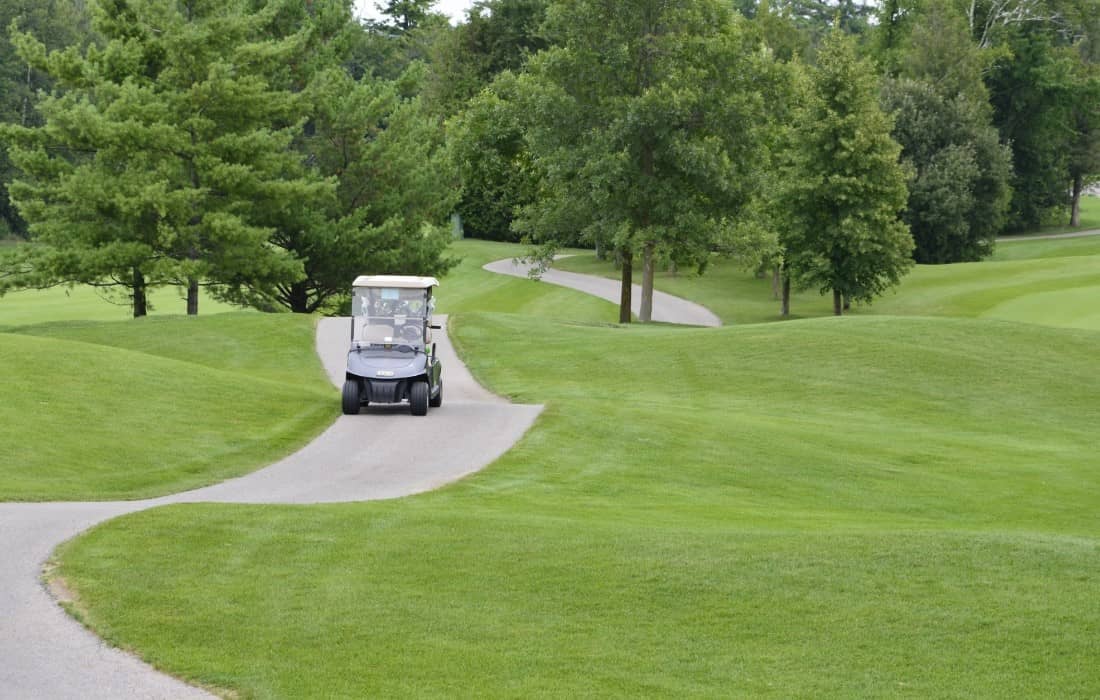 Beach Bums Recreational Rentals & Gift Shop
According to their website, Beach bums have an island attitude. The company has 234 Google reviews and a 4.7- star rating. Over at Yelp, Beach bums have 55 reviews and a 5-star rating. One of the most popular comments is about the store's location on the main strip. Because beach Bums rents other fun vacation equipment, they are a one-stop shop with high volume and competitive prices.
With the local delivery right to your rental, Beach Bums golf carts consistently provide customer service that leads to a positive review. They have 4, 6, and 8 seats that are meticulously maintained. Beach Bums is eco-friendly because they do not rent cars or gas-powered golf carts. Reasonable rates for daily, weekly, and monthly rentals make Beach Bums a popular tourist choice.
Robinhood Rentals AMI
Robinhood Rentals AMI promotes island fun with four and 6-seat golf carts. They have 129 reviews and a 4.5-star Google rating. Tripadvisor lists 14 reviews and a 4-star rating. Robinhood Rentals is another one-stop shop for all your Anna Maria Island vacation needs, including gas carts, bicycles, and other equipment.
As stated above, their golf cart rentals seat 4 or 6 people, and you can waive the deposit with a one-time fee. In addition, you can rent for the hour or the whole day. One reviewer noted how quick it was to walk up and rent the golf cart.
The Toy Barn
The Toy Barn is located in the center of the Island in Holmes Beach. The business has a 5-star Google reviews rating with 20 reviews. The Toy Barn is by appointment only and offers four and 6-seater golf carts. Yelp lists them with seven reviews and another 5-star rating. With reasonable and competitive pricing, the Toy Barn's Anna Maria Island golf carts aren't fancy like other luxury brands.
Lazy Turtle Beach Rentals – An Anna Maria Island Golf Cart Rentals Honorable Mention
If you only need a golf cart rental, Lazy Turtle Beach Rentals might be overwhelming. They rent numerous beach life equipment and toys, including golf carts. They have 72 Google reviews and a 4.8-star rating. As a one-stop shop for beach fun, one reviewer walked by the Lazy Turtle and, as a spur of the moment, rented a golf cart. Tripadvisor gives them a 5-star rating with 13 reviews.
Gas or Electric Powered Golf Cart?
While there are plenty of gas-powered golf carts on Anna Maria Island, the electric vehicle revolution is in full-on mode. Top-rated golf cart rental shops and dealers now use fleets of electric golf carts. Using lithium-ion batteries, many models last for 60 miles between charges. New electric golf carts use quick charge technology, ideal for vacation renters who only need a short recharge to keep having fun.
If you need a golf cart rental, there are over fifty dealers on the Island. All of them are not created equal under Florida law, which in several places favors slow golf cart operations. You'll need an understanding of the two types of golf cart rentals available in Anna Maria Island, Florida: slow standard golf cart rentals you can't drive on streets and LSVs that can.
The Florida coast attracts millions of tourists each year from all over the world. Inevitably, some tourists will be surprised that they cannot drive the golf cart rental because they didn't bring a license. Upper-tier golf cart rentals cannot go over 35 mph and require a driver's license. This law is just one of many Florida had to pass because of golf cart popularity.
Anyone looking for golf cart rentals in Anna Maria Island must know the laws beforehand. We listed the fundamental rules below so you'll have a guide for renting precisely what you need.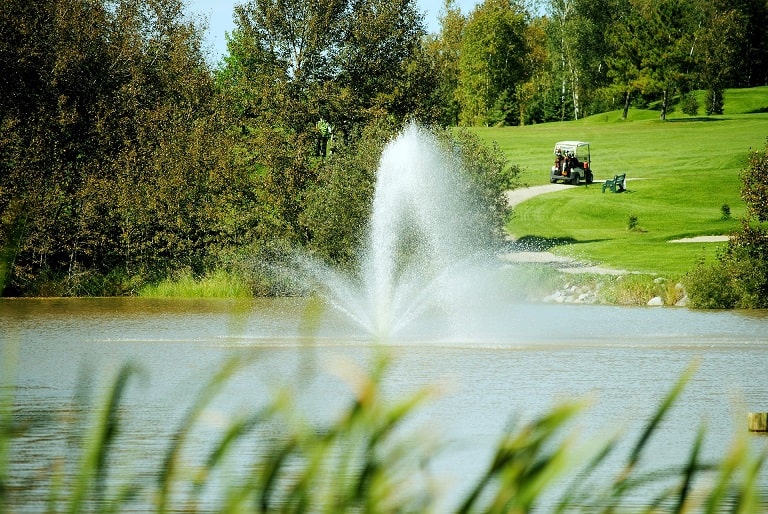 Florida Golf Cart Laws
Florida law distinguishes golf carts and low-speed vehicles (LSVs). State and local legislators did this because traditional golf carts made for golf courses can't go fast enough for public streets. These golf carts don't exceed 25 mph, a perfect max speed for a leisurely drive to the next hole.
Traditional golf carts aren't street-legal and can be driven by anyone 14 and older. This limits where you can drive the golf cart.
LSVs designed to look and perform like golf carts are street-legal on roads below a posted 35 mph. These vehicles need everything a standard car uses for directions and safety, i.e., seat belts, brake lights, etc. LSVs can only be used after dark (sunset to sunrise) with special permission for headlights and brake lights.
You must be at least 21 with a valid driver's license and insurance to rent and drive an LSV on Anna Maria Island. Some vendors won't rent to drivers under 25.
There's a statute in the Florida code that states golf carts can only cross significant highways (45 mph) if the road divides the community or neighborhood.
While driving on the streets on Anna Maria Island, all traffic laws apply. You can get a ticket and even a DUI as the operator.
As you consider where to stay in Anna Maria Island, verify the golf cart vendor's rules beforehand. Most deliver golf cars right to your rental. Some vendors have gas-powered golf carts that must be picked up. Make sure you check before you book online.
Frequently Asked Questions About Anna Maria Island Golf Cart Rentals
Can I bring my golf cart on vacation?
Most rental properties will allow for the use and parking of personal golf carts. However, you must follow their street-legal requirements to operate your golf cart on Florida's roadways. If you want to make your golf cart compliant with Florida's laws, ensure that you purchase your golf cart parts and accessories from a reputable source.
Can I rent a golf cart for just a few hours?
Most golf cart rental locations operate on daily rates, but a few allow for hourly use. As a result, most places on the Island that allow you to rent a golf cart will charge you for a full day, regardless of how long it is used.
How much does it cost to rent a golf cart?
A standard daily rate for golf cart rentals is between $250-$300. However, most golf cart rental locations provide deals; the longer the rental, the better the rate.
How fast do golf carts travel?
By Florida law, golf carts cannot travel over 25mph. However, if your golf cart is registered as a low-speed vehicle, you can travel on roadways with a 35mph speed limit.
Can I get my rental golf cart delivered to me?
Some golf cart rental locations provide delivery and pickup of the golf cart at an additional cost but not all. If you need your golf cart rental delivered and picked up, call around before booking your cart.
Do golf cart rentals come with insurance?
Some golf cart rental locations have insurance built into the cost, but others provide rental insurance at an additional cost.
Where can I park a rental golf cart?
Street-legal golf carts must be parked in a legal parking spot like other street vehicles. Parking a golf cart on the sidewalk or other unauthorized locations may result in a ticket.
Closing Thoughts
Anna Maria Island isn't very far from Tampa Bay. However, visiting the historic 7-mile stretch of beach feels like you're far away from suburban life. With white sand and turquoise water (hello, Coquina Beach), Anna Maria Island is ideal for families. Available with four, six, or eight seats, the whole family has a place in the sun and open air.
Anna Maria Island golf carts can't go on beaches. However, they can go anywhere else on the Island a car can go, like the famous wooden pier built in the 1920s and the other old architecture around the Island. When you rent a golf cart for use while vacationing on Anna Maria Island, you enter a world built for golf cart life. Many golf carts are new electric models with extended use between charges. Your vacation awaits you.
Looking for more posts on Florida? Start here:
We participate in the Amazon Services LLC Associates Program, an affiliate advertising program designed to provide a means for us to earn fees by linking to Amazon.com and affiliated sites.
Brit On The Move™ Travel Resources
Ready to book your next trip? Use these resources that work:
Need more help planning your trip? Check out our Resources Page, highlighting the great companies we trust when traveling.