Obsessed with collecting shark teeth and want to know where the best shark tooth beaches in Florida are – let us help you! There is nothing more exciting than collecting fossils as a hobby. Shark teeth are one type of fossil many people collect, regardless of age. Florida's beaches are abundant with shark teeth, so no swimming is necessary to find them. In this article, we've compiled a list of the best shark tooth beaches in Florida, where you are sure to find plenty!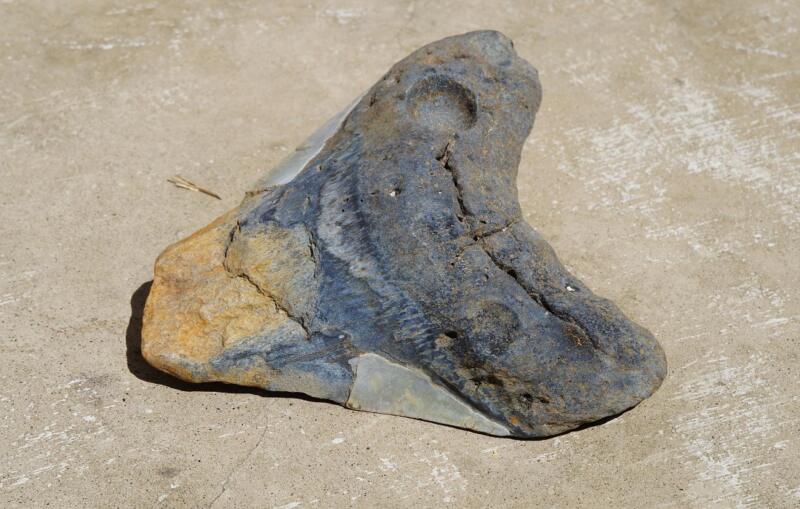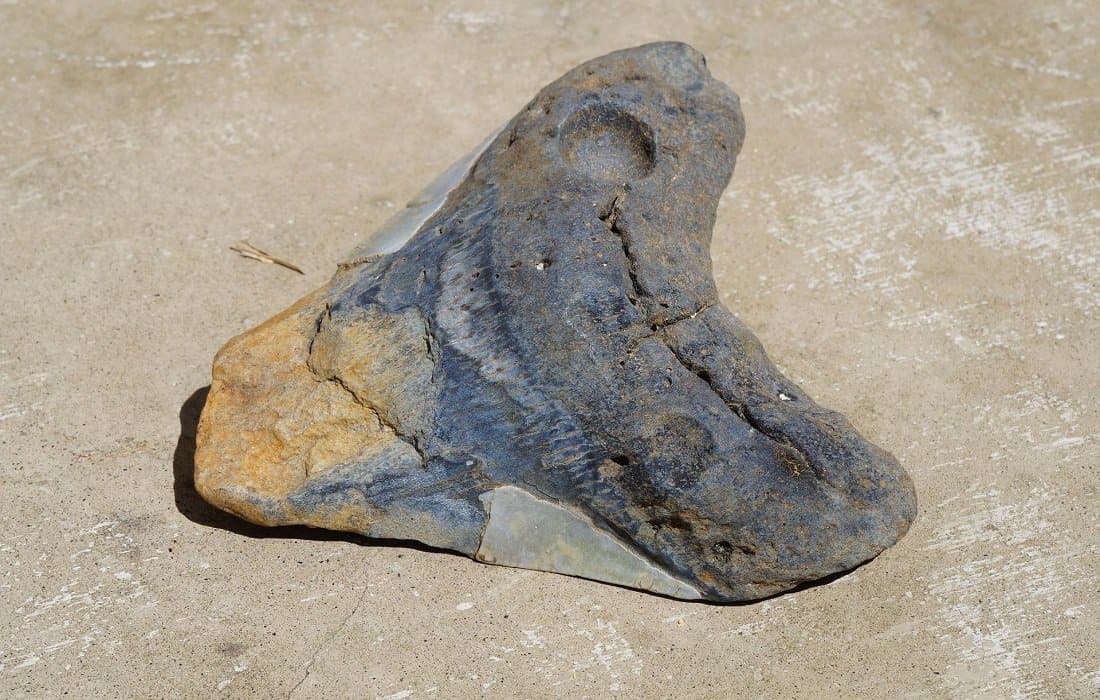 This post may contain affiliate links. Please read our disclosure and privacy policy for more information.
About Sharks Teeth
A single shark can produce between 30,000 and 50,000 teeth in a lifetime. Multiply that by billions of sharks in the ocean at any given moment, multiply that by thousands of years, and you've got yourself a lot of shark teeth to find! Millions of years ago, Florida was home to many sharks as it was submerged underwater. It has risen to the surface, but shark teeth remain widespread on its beaches as a reminder of its history. Shark teeth hunting is an exciting way to spend the day at the beach. If you're shark teeth hunting fan, you should check out Florida's beaches.
How to Identify Shark Teeth
It's unlikely you'll stumble upon a bundle of shark teeth. In place of shark teeth, you'll find seashells and seaweed scattered among the seaweed and seashells. Shark teeth are usually triangular. Occasionally, shark teeth can be long and pointy like a needle. New teeth are white. The majority of shark teeth in Florida are fossilized, so they're usually black or brown. A sand sifter or shark tooth sifter will help you find many shark teeth if you dig carefully through the sand.
The Best Shark Tooth Beach Tools
If you are serious about shark tooth hunting, you need to get yourself the right tool!
How To Find Sharks Teeth
A fossilized shark tooth from a prehistoric shark, such as a Snaggle Tooth, a Mako, or the Megalodon, that ate Megabus, has turned brown to black over the last few thousand years is not what you're looking for. You're looking for quarter-sized black or white teeth that blend into sand and coral. Once at a spot, place the sand, shells, and coral through a sand or shark tooth sifter and collect the shark's teeth. And most of the teeth you'll find will be black or dark brown, making them easy to spot once you've sifted through your haul.
Location, location, location – you can't find them unless you are at a beach that has them! Here are the best beaches in Florida where you can find shark teeth!
The Best Shark Tooth Beaches in Florida
Amelia Island – Fort Clinch State Park
Amelia Island is home to Fort Clinch State Park, located on the east coast of Florida. It's a great place to hunt for shark teeth since the park has various beaches with shark teeth. The park also has vast green landscapes, allowing you to feel the breeze of nature. Aside from that, the park houses many historical monuments dating back to the Civil War for history enthusiasts to enjoy! Other activities in the park are fishing and camping. Wildlife can also be viewed there. There are more than 250 species living there, including birds, raccoons, and squirrels.
Popular tours in Amelia Island
Fort Clinch State Park is located at the southern tip of Amelia Island, the perfect spot. Occasionally dredged sand from the nearby shipping channel is dumped onto the beach at Fort Clinch, resulting in an abundance of shark teeth to be found. Many people find Fort Clinch State Park exciting because it combines nature and history! Remember, however, that the park is open from 8 am to 5 pm, and you have to pay to park.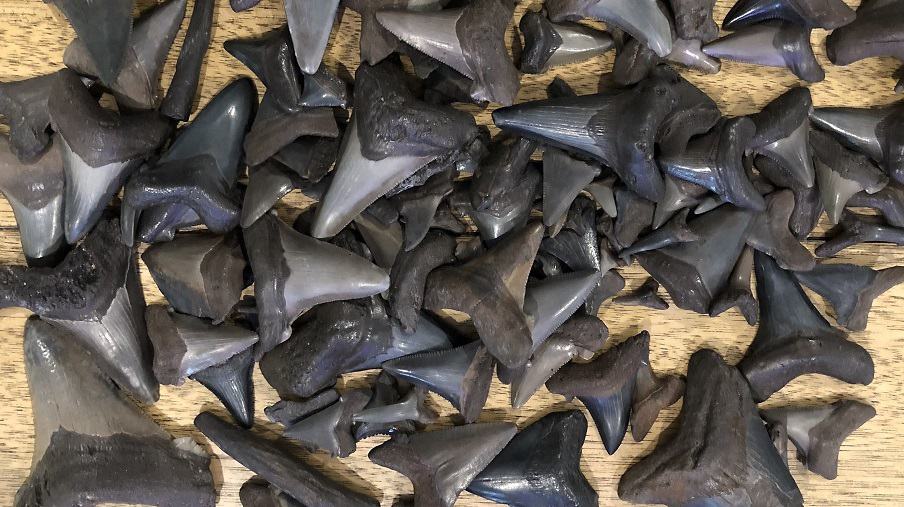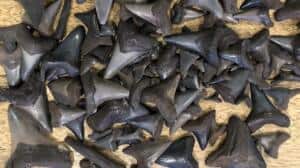 Caspersen Beach
The Mecca of shark tooth hunting for seasoned shark tooth hunters is unofficially Caspersen Beach. Caspersen Beach is located on Venice Island, the Shark Tooth Capital of the World. Unlike Venice Beach, Caspersen Beach offers an open, expansive space away from the crowds. This makes it an ideal place for shark tooth hunting without any distractions.
The shoreline of Caspersen Beach stretches for 1.5 miles. Most of it remains in its natural state, offering more privacy. You can enjoy quiet time alone on Caspersen Beach since it's more peaceful and more immense than Venice Beach. There are thousands of shark teeth at Caspersen Beach, which have existed for millions of years. Additionally, there is a coastal hammock along the beach where you can enjoy the beautiful green and blue surroundings. The beach offers restrooms, fishing piers, picnic areas, and playgrounds. In addition to canoeing and biking, you can also watch wildlife on the beach. There are many different types of birds at the park, which tourists always love to photograph.
Casey Key
Casey Key is a small island south of Siesta Key in Nokomis, Florida. Florida's Casey Key is a barrier island. It's a bit famous, and celebrities like to stay on this fancy island. Consequently, you'll see a lot of charming beach houses along the island. Not only that but there's more. Shark teeth can also be found on the island's beach. Additionally, you'll observe a spectacular view while hunting for shark teeth in the crystal clear water.
There are only two public access points, Nokomis Beach and Jetty Park. Shark teeth can be found at Casey Key in Florida, and the crystal-clear waters make it even more enjoyable. You can find shark teeth just a few minutes stroll north up the beach from the southern portion near the beach access points.
Jupiter Beach
The warm 78-degree average water temperature at Jupiter Beach makes it no surprise you might find shark teeth there. According to shark experts, Jupiter Beach is one of the best beaches on the east coast for finding shark teeth due to the warm waters offshore.
Manasota Key
Manasota Key, a quiet neighbor of Venice and Sarasota, is another excellent place on Florida's west coast to hunt for shark teeth. Since Manasota Key is secluded and rarely crowded, there are plenty of shark teeth to be discovered. On Manasota Key, shark teeth can be found in Stump Pass Beach State Park, surrounded by so much natural beauty. If you're out shark tooth hunting, you can't miss Stump Pass Beach State Park at the southern tip of Manasota Key!
Mickler's Landing Beach
Mickler's Landing (pronounced "Mike-Lers") is another east coast beach to check out here in Florida. Ponte Vedra Beach is a secluded spot where shark teeth can be found. The pink, coquina sand beaches of Mickler's Landing will add to the enjoyment of your shark tooth adventure. To enjoy a beautiful Florida sunrise before your shark tooth hunt, get to Mickler's Landing early on a clear day.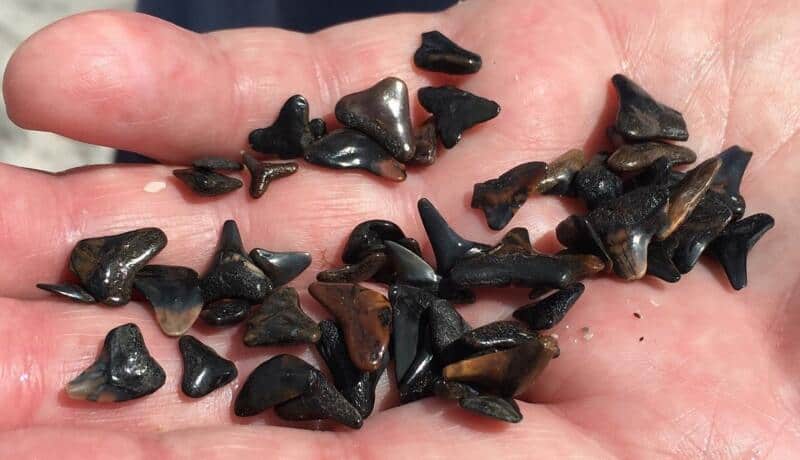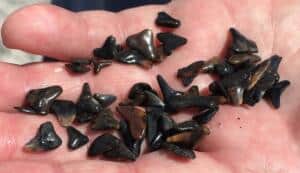 Palm Beach Island
Those seeking lighter-hued shark teeth should head to Palm Beach Island. The shark teeth on Palm Beach Island are white, cream, and occasionally orange-hued. There are plenty of shark teeth at Palm Beach Island's beach sand drop-off, making it the best place to find shark teeth.
St. Augustine Beach
Florida's Northeast Coast is home to St. Augustine Beach, located in the city of St. Augustine. As one of the oldest cities in America, St. Augustine has a long and glorious history that you will enjoy.
Shark tooth hunting can be done here, and you will find some. After a storm, comb the beach for shark teeth since the crashing waves and extra water churning awaken the fossilized teeth from their slumber beneath the layers of sand. Don't miss the chance to visit St. Augustine, the oldest city in North America, and enjoy all this Florida gem has to offer.
Venice Beach
The Shark Tooth Capital of the World is Venice Beach, located on Venice Island. A Florida landmark, this beach is renowned for its beauty. Shark teeth, turtle nests, and seashells are among the fossils you'll find on it. Dolphins can be spotted from the beach because it overlooks the Venice Fishing Pier. Furthermore, there are picnic areas, a food concession, and free parking at the beach. Remember that camping, fires, alcohol, and tobacco are prohibited on Venice Beach.
Frequently Asked Questions About Hunting for Shark Teeth
What's the Best Time to Go Hunting for Shark Teeth?
People generally disagree on the best time to hunt for shark teeth. Some people argue that it's best to do it when the tide is low, so the beach is clear and you can find shark teeth quicker. Others argue that the best time for shark teeth hunting is when there's a high tide or after a storm. They believe that the waves clear the waterline of sand and push out the fossils in the deep waters.
Closing Thoughts
No matter if you're heading to Florida's West Coast or East Coast, if you know the proper beaches, there is a good chance you will find a shark tooth or many. So, whether you're visiting Florida while on vacation or a Florida local looking to enjoy a long weekend at the beach, with a millennia' worth of shark teeth hidden amongst the sand and shores, just a little hard work, a good eye and you'll be well on your way to finding that elusive shark tooth treasure.
We guarantee you'll enjoy each of the recommended beaches since each one offers a unique experience.
Looking For More Florida Travel, Start Here?
We participate in the Amazon Services LLC Associates Program, an affiliate advertising program designed to provide a means for us to earn fees by linking to Amazon.com and affiliated sites.
Brit On The Move™ Travel Resources
Ready to book your next trip? Use these resources that work:
Need more help planning your trip? Check out our Resources Page, highlighting the great companies we trust when traveling.