With a history stretching over four centuries, Saint Augustine, Florida, isn't just the oldest city in the United States—it's a vibrant mosaic of unique activities and attractions that beckon explorers from far and wide. From maritime adventures that allow you to dance with dolphins to the time-weathered fortresses and museums that whisper tales of yore, St. Augustine is a treasure trove of enchantment waiting to be discovered.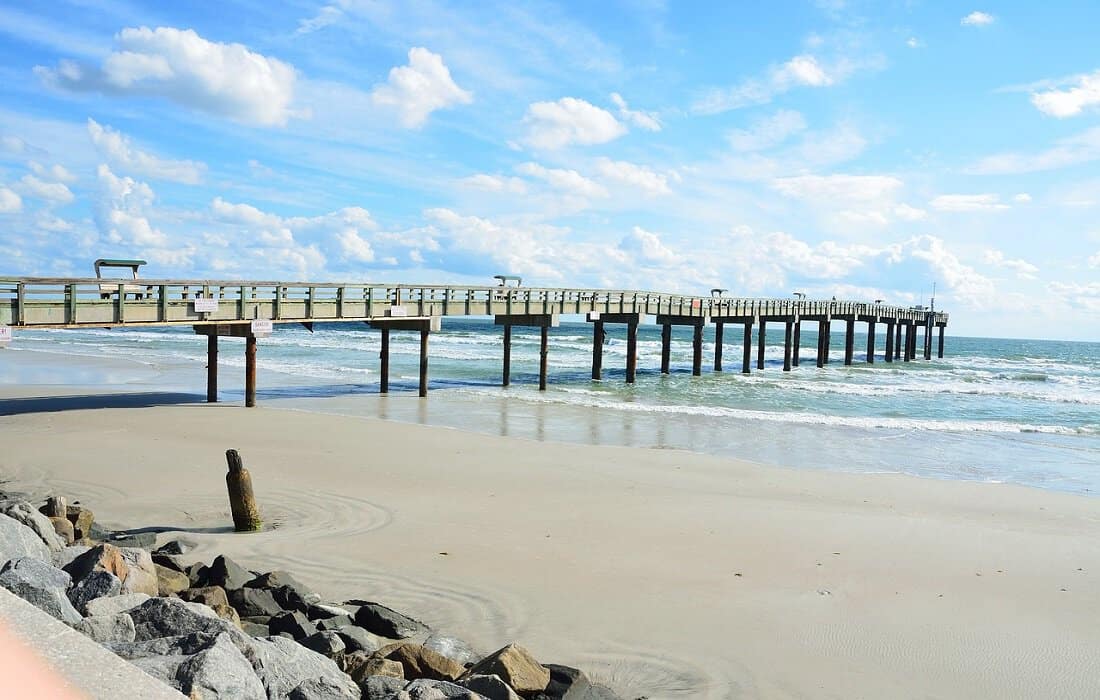 This post may contain affiliate links. Please read our disclosure and privacy policy for more information.
This guide is your comprehensive compass, pointing you toward the unique experiences that make St. Augustine an irresistible destination. So lace up your adventure boots and start exploring St. Augustine, where history isn't just a fact; it's a way of life.
Beach and Marine Adventures
Immerse yourself in the coastal wonders of St. Augustine with beach bliss and thrilling marine adventures. From the exhilarating experiences at sea to the tranquil shores of St. Augustine Beach, this destination offers various activities to satisfy every beach and water enthusiast.
Embark on a Scenic Sunset Cruise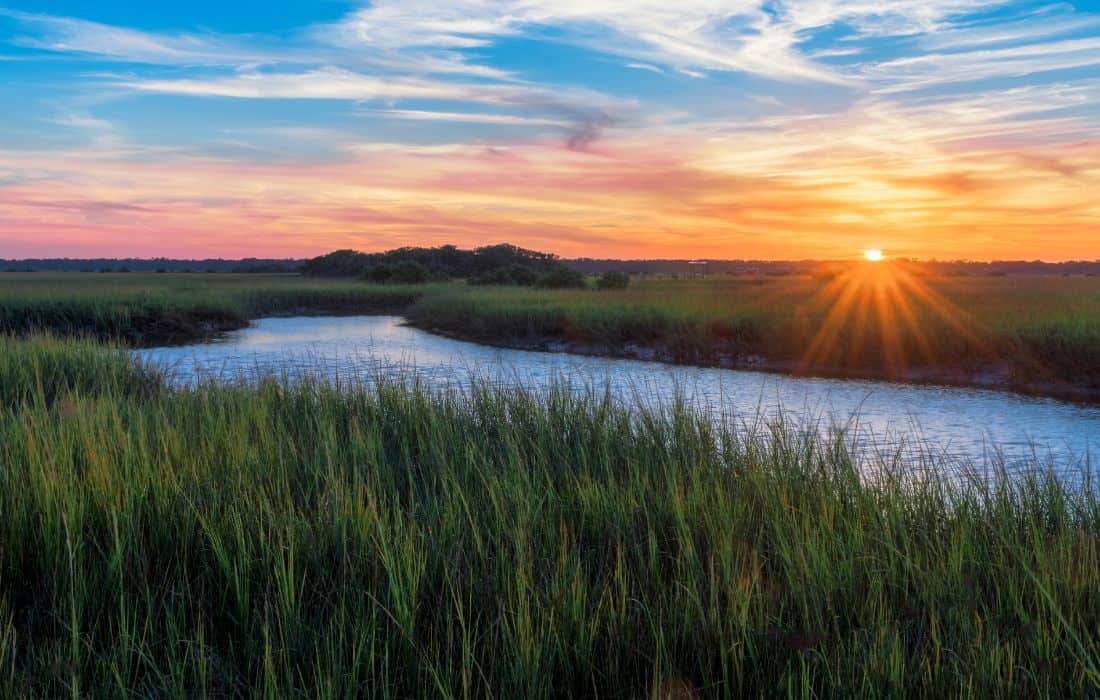 A scenic sunset cruise is one of the best things to do in St. Augustine. The serenity of the sea, punctuated by the gulls' cries and the rhythm of lapping waves, sets the stage for an unforgettable spectacle as the sun dips behind the horizon. Painted in gold, pink, and red hues, the evening sky transforms the cityscape into a canvas of extraordinary beauty. This tranquil journey lets you view St. Augustine's historical landmarks bathed in the soft glow of twilight, providing a unique perspective that can only be experienced from the water.
Sightseeing Boat Tour & Dolphin Encounter
Prepare to be delighted by a sightseeing boat tour in St. Augustine that showcases the city's stunning natural beauty and introduces you to its charming aquatic residents – the dolphins. Watch in awe as these playful creatures leap alongside your boat, showcasing their agility and friendly nature. The tour provides an unbeatable blend of scenic sightseeing and up-close wildlife encounters, making it a must-do activity for any visitor to St. Augustine.
Kayaking and Old Town Cycle Cruise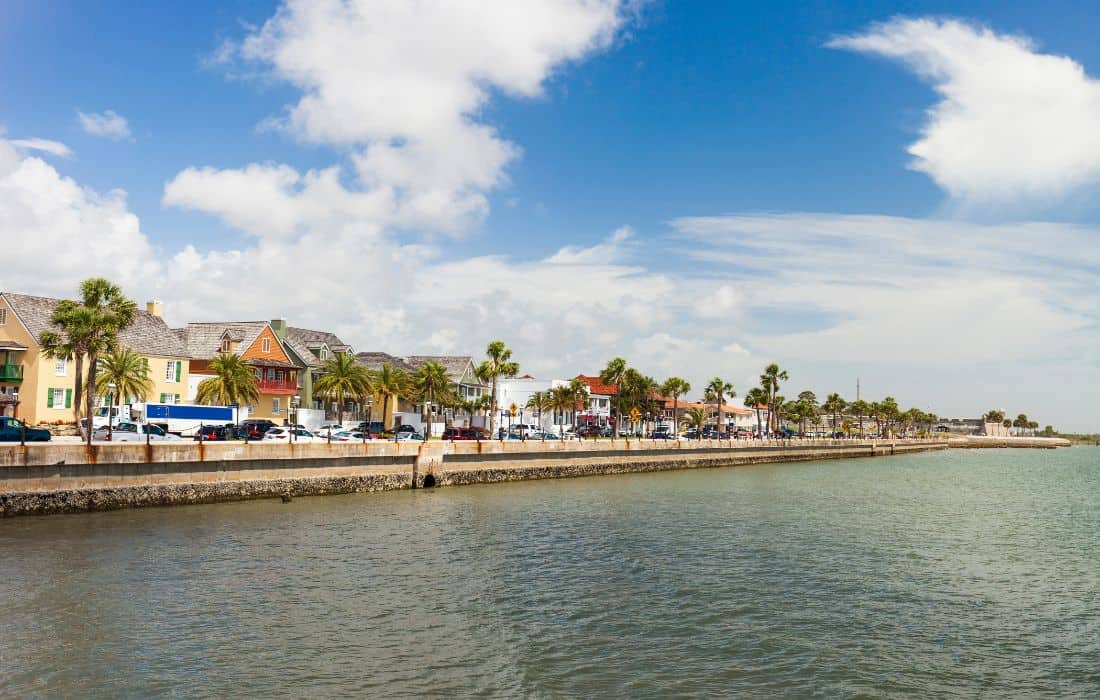 Discover St. Augustine from a new vantage point by indulging in a kayaking adventure, weaving through the peaceful inlets and across the vibrant coastal waterways. As you paddle, keep your eyes peeled for the local wildlife, from curious otters to wading herons.
Follow this up with an Old Town Cycle Cruise, a delightful fusion of sightseeing and light exercise. Pedal your way through the city's heart, soaking in the sights and sounds of its bustling streets, historic architecture, and inviting local shops. It's the perfect way to acquaint yourself with the city's charm intimately.
Trophy Fishing and Pirate Adventures on the Black Raven
Immerse yourself in the city's maritime heritage with two unique marine adventures. First, try your hand at trophy fishing, where you can test your skills against some of the finest sport fish in Florida's waters. Whether you're a seasoned angler or a first-timer, the thrill of reeling in a big catch is unbeatable.
Next, set sail on the Black Raven, a replica pirate ship that promises an adventure filled with swashbuckling and other fun things to do. Complete with live performances and interactive storytelling, this cruise lets you experience the thrill of life on the high seas during the golden age of piracy.
Stroll along St. Augustine Beach
While St. Augustine offers many marine adventures, don't miss the opportunity to explore the stunning St. Augustine Beach. With its pristine shores and breathtaking vistas, this coastal gem is a must-visit destination.
Stroll along the sandy shores, and feel the gentle ocean breeze caress your face. The beach is perfect for sunbathing, building sandcastles, or enjoying a refreshing dip in the clear waters.
St. Augustine Beach is not just a place for relaxation—it's also a hub for various water activities, such as surfing, parasailing, and jet skiing. The beach is dotted with shops and eateries, allowing you to indulge in delicious beachside treats or browse for unique souvenirs.
Whether you're seeking tranquility or excitement, St. Augustine Beach offers an idyllic coastal escape, inviting you to immerse yourself in the natural beauty of Florida's coastline.
Discover Historic Sites & Museums
St. Augustine, the oldest city in America, is rich in history that can be traced back over 450 years. As such, it's home to an extensive range of historic sites and museums that tell captivating tales of its past. Here, every brick and cobblestone has a story to tell, from haunting ghost stories to the remnants of a pirate-filled past. Let's explore some of these fascinating sites.
Ghost Tour and Historic District Exploration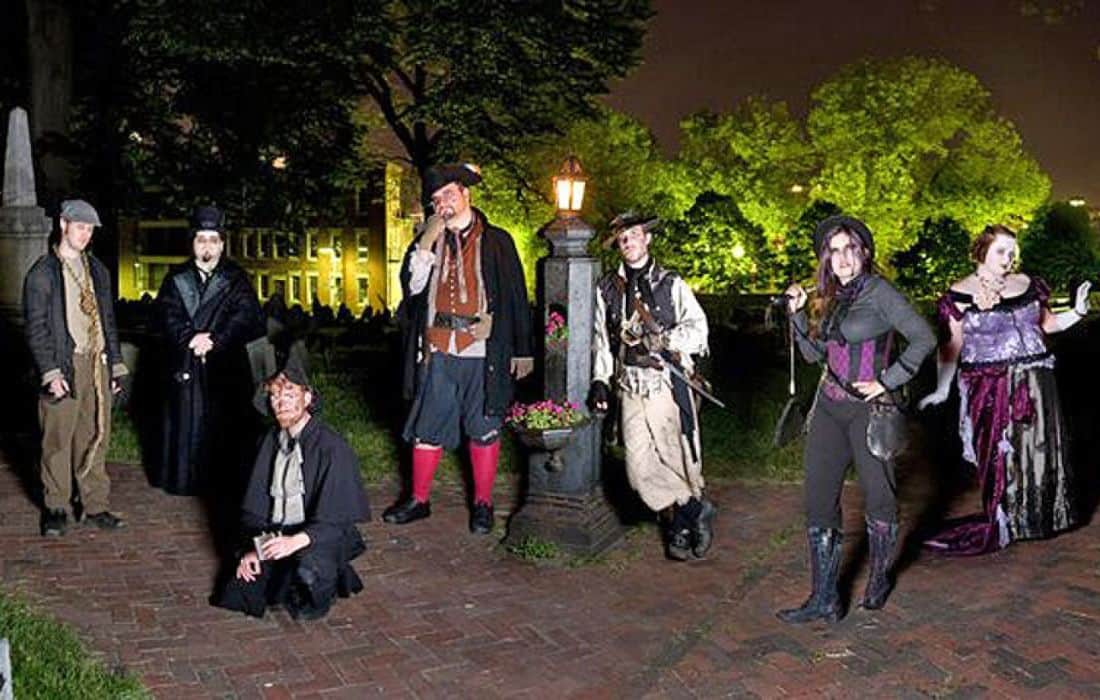 Uncover the mysteries and spine-chilling tales of St. Augustine with a thrilling ghost tour; I LOVE these types of terms and stories. As you traverse the narrow, cobblestone lanes of the Historic District under the cloak of darkness, you'll discover a different side of the city—one that's steeped in lore and legend.
These nightly tours often explore the city's most haunted locations, where the lingering spirits of the past are said to dwell. Equally exciting is exploring the district daily, where the city's vibrant history, stunning colonial architecture, and historical landmarks captivate visitors.
The Storied Past: Old Jail Museum, Oldest Store Museum, and Oldest Wooden School House
Journey back in time and experience St. Augustine's storied past with a visit to the Oldest Jail Museum, Oldest Store Museum, and the Oldest Wooden School House. These sites offer a tangible link to the city's history. The Oldest Jail gives you a glimpse into the harsh conditions of 19th-century incarceration, while the Oldest Store Museum allows you to enter a general store from the same era. The Oldest Wooden School House, dating back to the early 18th century, offers an insight into the early colonial period's education system.
Step Back in Time: Pirate & Treasure Museum, Classic Car Museum, and Potter's Wax Museum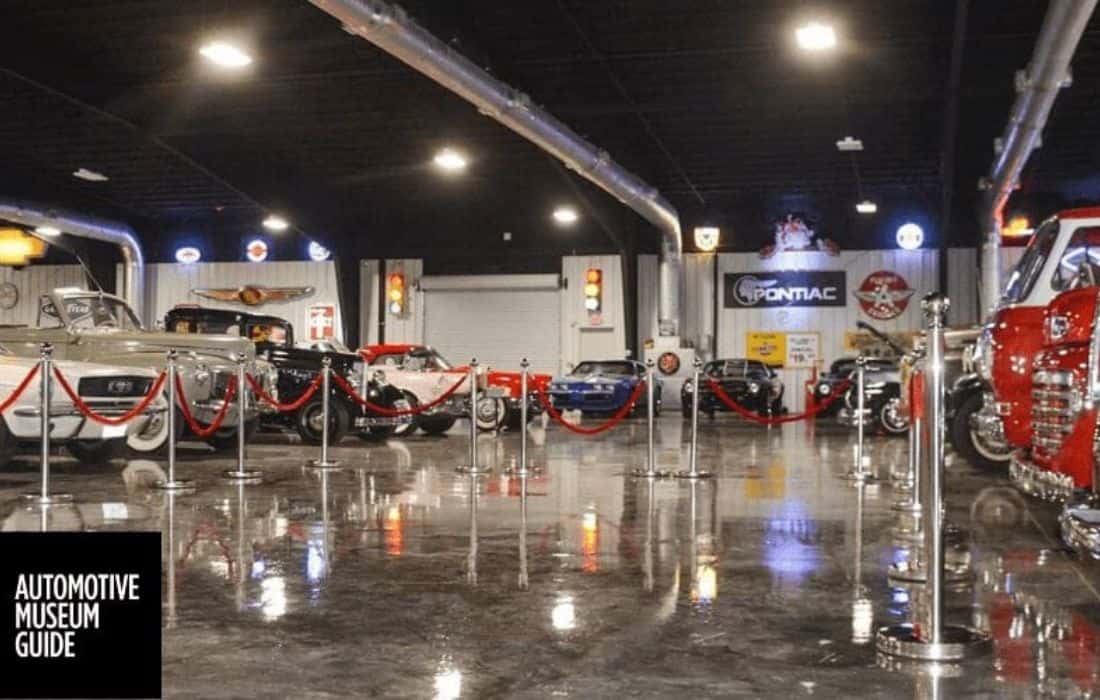 Further delve into St. Augustine's colorful past at the Pirate & Treasure Museum, Classic Car Museum, and Potter's Wax Museum. The Pirate & Treasure Museum will regale you with tales of high-seas adventure, showcasing a collection of authentic pirate artifacts. The Classic Car Museum houses a collection of vintage automobiles that span the auto industry's history. Meanwhile, Potter's Wax Museum will dazzle you with its life-like wax figures, from historical figures to pop culture icons.
Experience Historic Houses: Villa Zorayda Museum & Oldest House Museum
Experience a slice of St. Augustine's residential history by visiting the Villa Zorayda Museum and the Oldest House Museum. The Villa Zorayda, inspired by Spain's Alhambra Palace, will captivate you with its architectural splendor and collection of antiques. On the other hand, the Oldest House Museum Complex offers a peek into daily life in St. Augustine over the centuries. Each home's unique architectural style and vintage furnishings vividly depict the city's residential evolution.
Other Historical Places to Explore
Several other landmarks shouldn't be missed as you continue your journey through St. Augustine's historic tapestry.
Ximenez-Fatio House Museum: This well-preserved 18th-century coquina house is a window into Florida's territorial period, showcasing how a middle-class family lived.
St. Augustine Lighthouse & Maritime Museum: This historic lighthouse, accompanied by its museum, guides you through St. Augustine's rich maritime history while offering a breathtaking view from the top.
Castillo de San Marcos & Fort Matanzas: These iconic monuments, built by the Spanish to protect the city, stand as powerful reminders of the city's colonial past and are listed on the National Register of Historic Places.
St. Augustine History Museum & Spanish Military Hospital Museum: These museums house diverse artifacts and exhibits that provide a comprehensive overview of the city's history, from early indigenous cultures to the modern era.
Ponce de Leon's Fountain of Youth Archaeological Park: This attraction offers a unique chance to explore where Ponce de Leon supposedly landed, making it a must-visit for anyone interested in the lore and legend of St. Augustine's early explorations.
Outdoor & Nature Experiences
Immerse yourself in the stunning natural beauty of St. Augustine as we introduce you to an array of exciting outdoor activities and attractions. From thrilling adventures to serene strolls, there's something to captivate every nature lover here.
Adrenaline Rush: Airboat Safari and Zip-Line at Alligator Farm Zoological Park
Experience an exhilarating adventure with an airboat safari that whisks you through marshy waters, spotting wildlife as you go. Add a trip to the Alligator Farm Zoological Park to this adrenaline cocktail, where you can zip line over alligator-filled swamps. This high-flying experience provides a unique perspective on the Park's inhabitants and will surely make your heart race.
Nature Stroll: St. Augustine Wild Reserve and Anastasia State Park
For a calming contrast, stroll in the St. Augustine Wild Reserve, where you'll see rare and exotic animals up close. Extend your nature exploration to Anastasia State Park. Its diverse wildlife, expansive beaches, and lush marshlands offer a soothing retreat where you can reconnect with nature.
Anastasia State Park provides a picturesque camping experience with 139 sites nestled amidst the scenic maritime hammock, just a short distance from the beach. These sites cater to both RVs and tents, offering amenities such as:
Campsites nestled within the maritime hammock, providing a scenic and serene atmosphere.
Accessible tables and grills are available at specific sites, ensuring convenience for all visitors. Though there is plenty of space, bring a comfortable camping chair to accommodate plenty of seating.
The Bedtime Story Camper Lending Library offers a collection of picture books for young campers to enjoy during their stay.
For added convenience, a communal dump station is available for campers, and a Bedtime Story Camper Lending Library is provided for young campers to enjoy.
A Wander through the Charming Colonial Quarter and St. Augustine Aquarium
Finally, don't miss a chance to wander the charming Colonial Quarter. This living history museum transports you back to the 16th, 17th, and 18th centuries, allowing you to experience life as it was in Spanish colonial times. Its cobblestone streets, rustic houses, and historic fortifications make it a walk to remember.
Complementing this beach experience, the St. Augustine Aquarium invites you to explore the vibrant aquatic life beneath the waves, offering interactive exhibits that entertain and educate.
City Experience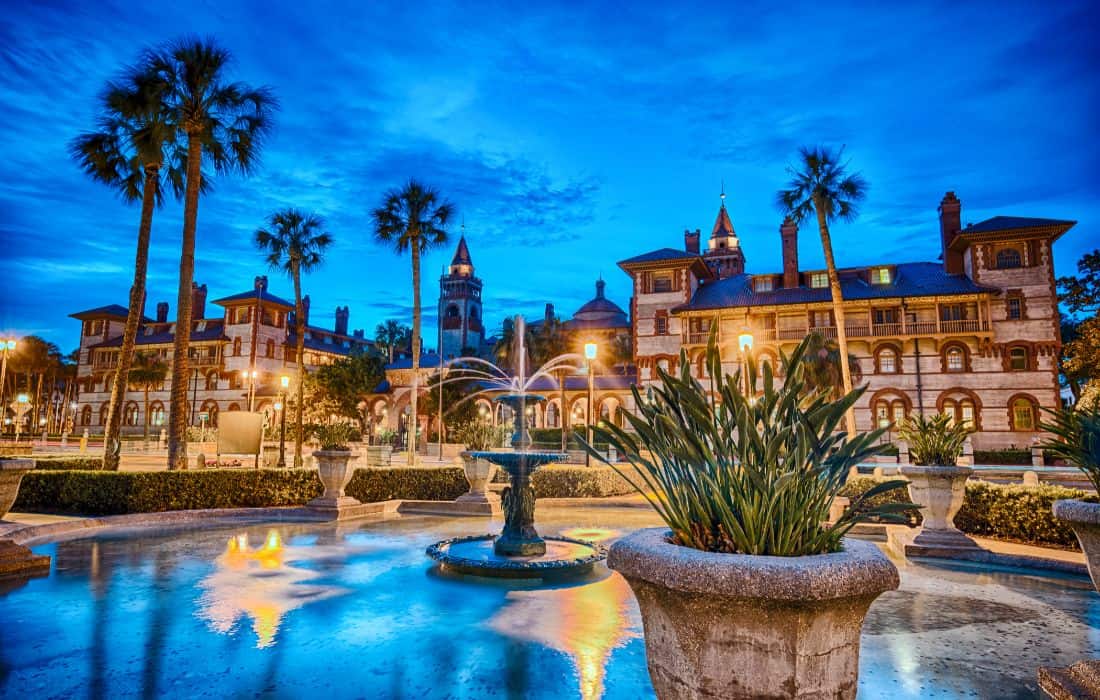 Experience the heart and soul of St. Augustine as you embark on city adventures filled with culture, cuisine, and exploration. Here's how to delve into the city's unique character and make unforgettable memories.
Explore at Your Pace: Hop-On-Hop-Off Trolley and Private Golf Cart Tours
St. Augustine's rich history is best enjoyed at your own pace. Consider the convenience of a Hop-On-Hop-Off Trolley Tour, which lets you explore various attractions without worrying about transportation and is one of the best ways to explore St Augustine with kids. For a more personalized experience, rent a private golf cart and meander through the city streets, discovering hidden gems and local favorites on your own time.
A Taste of St. Augustine: Distillery, Chocolates Store, and Wine Tasting Tour
St. Augustine's gastronomic scene is ripe for exploration. Embark on a sensory journey at the St. Augustine Distillery, where handcrafted spirits are made. Sweeten the experience at the Whetstone Chocolates Store, then top off your culinary adventure with a Wine Tasting Tour through George Street, offering a diverse selection of local and imported wines.
Engage in the Great City Scavenger Hunt
Add excitement to your city exploration with the Great City Scavenger Hunt. This interactive activity combines sightseeing with puzzle-solving, encouraging you to see St. Augustine from a fresh perspective. It's a fun and engaging way to learn about the city, whether traveling solo or with a group.
Cultural Immersion: Art at the Lightner Museum and the Wednesday Farmers Market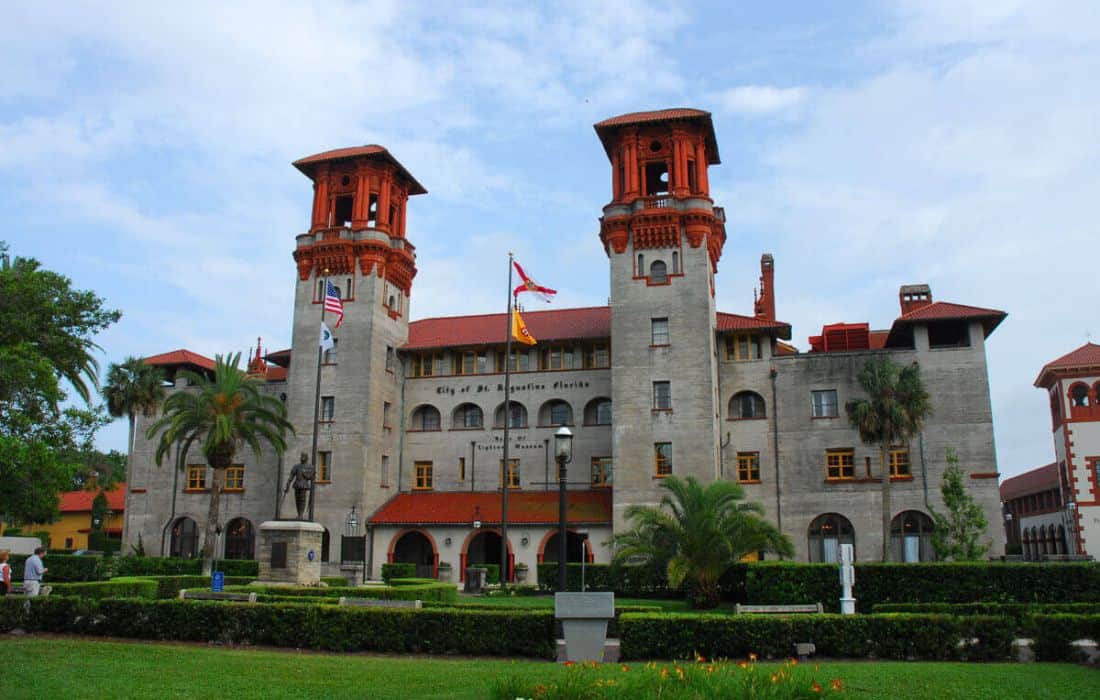 Immerse yourself in St. Augustine's vibrant art scene at the Lightner Museum, which houses an impressive collection of 19th-century art. Then, get a taste of local life at the Wednesday Farmers Market. Here you'll find fresh produce, handmade goods, and a lively community spirit, offering a delightful glimpse into St. Augustine's local culture.
Nourish Your Body: Wednesday Farmers Market
Immerse yourself in the local culture and pick healthy goodies at the Wednesday Farmers Market at the St. Augustine Beach Pier. Reap the rewards of Vitamin C with the renowned Florida Oranges. Not only will you be supporting local farmers, but you'll also be giving your body the nourishment it needs.
Food & Dining Experiences
St. Augustine's culinary landscape is as diverse as its history. Discover the vibrant flavors and culinary creativity that shape local gastronomy. Prepare your taste buds for a journey through time and across cultures.
Delight in Local Cuisine: Featured Restaurants and Treat Spots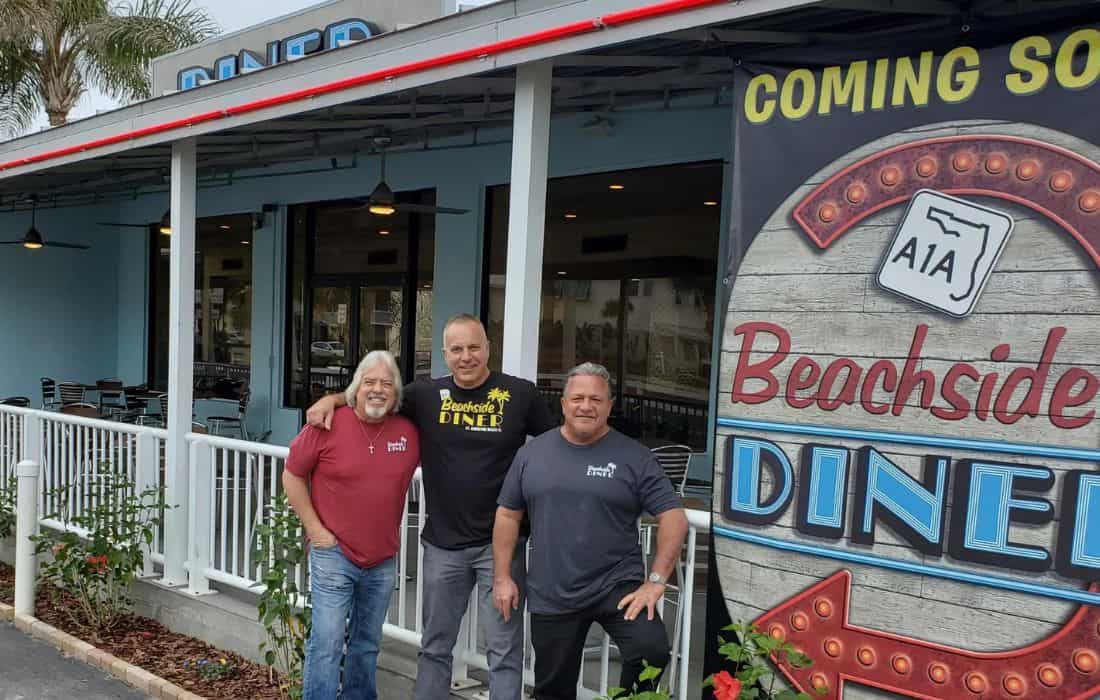 St. Augustine is a haven for food enthusiasts, where each dining venue serves as a flavorful testament to the city's culinary heritage. Explore the local cuisine at standout restaurants such as the Sunset Grille, Harry's Seafood Bar and Grille, and Catch 27, each offering unique menus celebrating regional produce and recipes. Don't forget to cap off your dining experiences with a visit to The Hyppo and Cousteau's Waffle and Milkshake Bar.
These popular dessert spots offer a range of tempting sweets that reflect the city's laid-back, indulgent ethos. St. Augustine's food scene promises to satisfy every craving and curiosity, from savory local specialties to innovative sweet treats.
Historic Lodging & Travel Tips
In a city as historic as St. Augustine, even your lodging can be a journey through time. With our travel tips, you'll find the perfect place to rest and continue your immersive historical experience even after the tours end.
Immerse in History: Staying at a Historic Hotel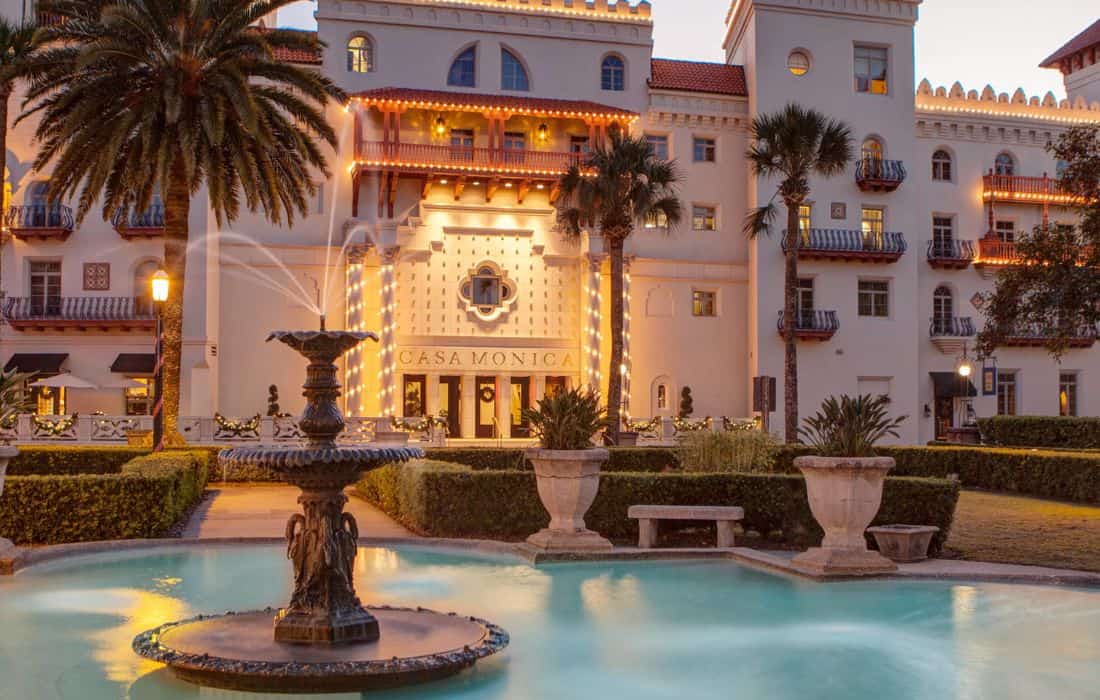 History enthusiasts will be thrilled that St. Augustine's dedication to preserving its past extends even to its lodging options. Stay at a historic hotel to absorb the city's rich backstory. Options like the iconic Casa Monica Resort & Spa or the St. George Inn are luxurious accommodations and living pieces of history. These venues often feature antique furnishings, stunning architecture, and stories that date back centuries. From your room, you'll see the cobblestone streets and iconic landmarks of St. Augustine, truly living and breathing the city's history. It's a unique opportunity to extend your historical journey into your dreams.
Essential Travel Guide: Getting to and Around St. Augustine
Your epic journey in St. Augustine starts with the first steps you take in planning your trip. Where to stay? What's the best way to plan your trip with kids? And what should you explore next after enjoying all that St. Augustine has to offer? This essential travel guide will answer all these questions.
Tips and Tricks Flying into St. Augustine
When traveling to St. Augustine, flying into the Northeast Florida Regional Airport (UST) is often the best option. It offers convenient and efficient access to the city. Located just a short drive away, this regional airport offers a range of flights and services, making it a popular choice for visitors.
For those traveling with kids, flying can sometimes be a daunting experience. Here are a few tips to make your journey smoother:
Plan: Arrive at the airport early to allow time for check-in, security procedures, and any unexpected delays. This will help reduce stress and buffer your family from any unforeseen circumstances.
Pack smart: Bring essential items for your children, such as snacks, entertainment (books, toys, tablets), and comfort items like blankets or stuffed animals. Don't forget to bring the best travel stroller for flying that fits your needs.
Stay organized: Keep important documents, such as passports and boarding passes, easily accessible. Consider using a backpack or carry-on with multiple compartments to keep everything organized and within reach.
Be prepared for security: Follow the Transportation Security Administration (TSA) guidelines regarding liquids, electronics, and other restricted items. Wear comfortable and easy-to-remove footwear for ease during security checks.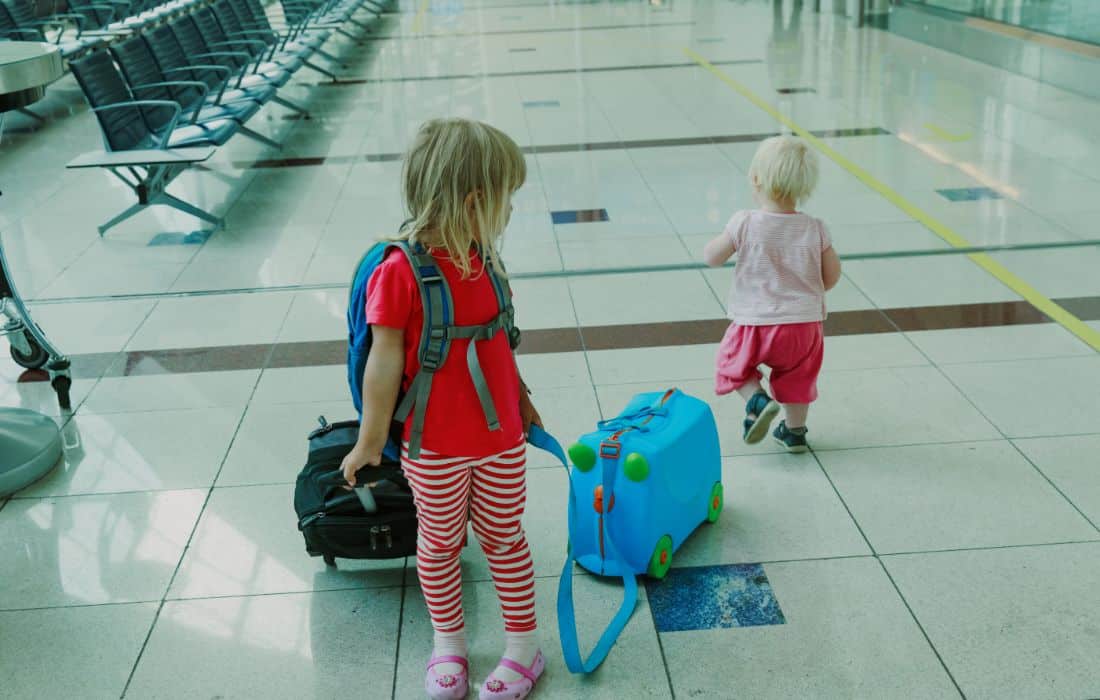 Flying with kids can be an adventure. Proper planning and preparation can ensure a smooth and enjoyable journey for the whole family. Below we will mention some specific tips on traveling with kids in St. Augustine.
Traveling With Kids in St. Augustine
St. Augustine is a treasure trove for families with diverse experiences that kids love. There are many things to do with kids here, making it an ideal destination for family vacations.
Firstly, preparation is essential when traveling with kids. Pack plenty of snacks, drinks, and essentials like sunscreen and hats to protect your little ones from the Florida sun. Always carry a first aid kit for emergencies.
The St. Augustine Alligator Farm Zoological Park allows kids to run freely and burn off some energy. They will enjoy watching exciting live alligator feeding sessions.
The Castillo de San Marcos provides a hands-on history lesson for older kids. Interactive exhibits give kids a sense of life when the fort was operational.
Don't miss out on the St. Augustine Pirate & Treasure Museum either. It's packed full of interactive displays that make history fun. Your kids will get an immersive experience that's both educational and exciting.
With an array of beaches, museums, parks, and historical sites, St. Augustine offers lots of fun things for kids of all ages. The memories you create here will undoubtedly last a lifetime.
Where to Stay: Accommodation Recommendations
Choosing the right place to stay is crucial for your comfort and the overall success of your trip. Thankfully, St. Augustine offers a variety of accommodations to suit every taste and budget.
Casa Monica Resort & Spa: Indulge in luxury at the Casa Monica Resort & Spa. Lavish décor, exquisite dining options, and a perfect location near the city's heart create an unforgettable stay.
St. George Inn: Immerse yourself in the historic ambiance of St. Augustine by staying at the St. George Inn, nestled right in the heart of the historic district. Experience the city's charm as you step outside your door to explore the iconic landmarks and vibrant streets.
Bayfront Marin House: If you prefer a cozy and charming atmosphere, the Bayfront Marin House is for you. They offer a delightful bed and breakfast experience. Wake up to stunning views of the bay, indulge in gourmet breakfasts, and enjoy impeccable service that will make you feel right at home.
Cedar House Inn: Experience warm hospitality and a cozy ambiance at the Cedar House Inn, a charming bed and breakfast known for its comfortable accommodations and personalized service. Relax in the peaceful surroundings and unwind after a day of exploring the city's treasures.
With these accommodation recommendations, you can find the perfect place to stay in St. Augustine. You are ensuring a memorable and enjoyable experience during your visit.
Beyond St. Augustine: Suggested Next Stops
While St. Augustine is full of exciting activities and attractions, the surrounding areas also have much to offer. Make the most of your trip by adding a few nearby destinations. Consider visiting Jacksonville, just a short drive north, for a taste of big-city life in Florida. The coastal city offers a vibrant arts scene, diverse food options, and beautiful beaches. Further south, you can explore the sprawling city of Orlando and its world-famous theme parks, including Walt Disney World and Universal Orlando Resort. If you're up for a longer drive, the scenic Florida Keys is a paradise for lovers of sun, sand, and sea.
FAQs
What are the top things to do in St Augustine, FL?
St Augustine has plenty of things to see and do! Some top attractions include visiting the historic Castillo de San Marcos, checking out the St Augustine Lighthouse, wandering the historic district streets, and exploring unique things like the Fountain of Youth and the Wax Museum.
Is St Augustine an excellent place to visit with kids?
Yes! St Augustine is a great place to visit with kids. There are plenty of things that kids will love. For example, the Augustine Alligator Farm Zoological Park, the Augustine Pirate and Treasure Museum, and the Augustine Wild Reserve. Plus, many tours of St Augustine are great for families.
What is the Augustine Amphitheatre?
The Augustine Amphitheatre is an outdoor concert venue that hosts many performers, including musicians, comedians, and more. It's a great place to catch a show and enjoy the beautiful Florida weather.
What are some unique things to do in St Augustine?
There are plenty of unique things to do in St Augustine! In addition to the Fountain of Youth and the Wax Museum, you can check out the Old Jail, take a pirate-themed tour, and visit the Ponce de Leon statue.
What are some of the best things to do in St Augustine with kids?
Some of the best things to do in St Augustine with kids include visiting the Augustine Alligator Farm Zoological Park, taking a pirate-themed tour, exploring the Augustine Wild Reserve, and checking out the Old Jail.
What are some famous tourist attractions in St Augustine?
Some famous tourist attractions in St Augustine include the Castillo de San Marcos, the St Augustine Lighthouse, St George Street, and the Augustine Pirate and Treasure Museum.
What is the history of St Augustine?
St Augustine has a rich history dating back to the 16th century when Spanish explorers founded it. It has played an essential role in American history and is home to many historic sites like the Castillo de San Marcos and the Cathedral Basilica of St Augustine.
What are some unusual things to do in St Augustine?
If you want something different in St Augustine, check out the Augustine Wild Reserve, take a ghost tour, or even go on a pirate-themed adventure.
Where should I stay in St Augustine?
St Augustine offers many great places, from historic bed and breakfasts to modern hotels. Some popular options include the Casa Monica Resort and Spa, the St George Inn, and the Hilton St Augustine Historic Bayfront.
Is the Augustine Alligator Farm Zoological Park worth a visit?
Yes! The Augustine Alligator Farm Zoological Park is a great attraction for visitors of all ages. In addition to alligators, you can see various other animals, including birds and primates.
Closing Thoughts
Encapsulating the St. Augustine experience in a few words is akin to capturing the ocean in a seashell. St. Augustine isn't just a location—it's a living tapestry of history, culture, and natural splendor. It's where stories of centuries past echo off ancient walls and the aroma of delightful cuisines entwined with the ocean breeze.
From the thrill of marine adventures to the hushed reverence of historic sites, every aspect of St. Augustine reveals a new facet of its unmatched charm. It's where the past and present converge, creating a vibrant panorama that captivates every visitor.
Looking For More Florida Beaches, Start Here?
We participate in the Amazon Services LLC Associates Program, an affiliate advertising program designed to provide a means for us to earn fees by linking to Amazon.com and affiliated sites.
Subscribe to our newsletter and get the best travel tips and inspirational stories delivered monthly. No spam, no sales pitches – TRAVEL!
Brit On The Move™ Travel Resources
Ready to book your next trip? Use these resources that work:
Need more help planning your trip? Check out our Resources Page, highlighting the great companies we trust when traveling.