Sarasota Florida – Here's Why It's The Best Getaway!
Sarasota, Florida, has become one of the best beach vacation destinations in Florida. Furthermore, Sarasota City, on Florida's Gulf Coast, has much to offer in addition to its pristine beaches. For example, cultural and architectural attractions and a city with magnificent lotus buildings fronted by crystal clear waters surrounded by sailboats. Whatever it is, the place has everything you desire to keep yourself occupied while having a great time. So, if you're thinking of Sarasota, Florida, as your next getaway, invest a few minutes learning more about the awe-stopping city on the Gulf of Mexico.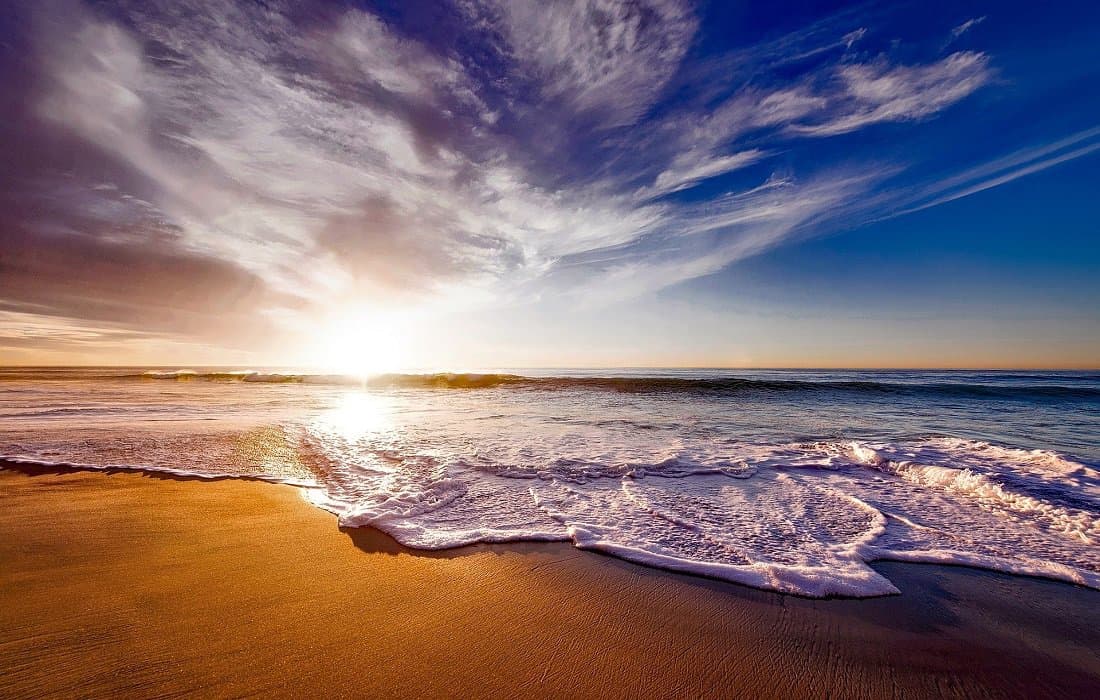 This post may contain affiliate links. Please read our disclosure and privacy policy for more information.
Why Is Florida Called The Sunshine State
Florida is located in the most southern state in the continent of the United States, with panhandle landmasses and peninsula. Florida is known because of its remarkably sunny yet humid tropical climatic conditions owing to its proximity to the Equator and the Tropic of Cancer.
Apart from other states' monikers for Florida, such as "Everglade State," "Orange State," and "Alligator State." Then there's Florida's official nickname, "Sunshine State," approved by the Florida Legislature in 1970. Florida has a warm and moist subtropical to tropical climate. There's plenty of sunshine and a daily average temperature of 71°F (22°C).
Notwithstanding the temperatures ranging from near 100°F (38°C) to sub-zero throughout the year, Florida is the sunniest city in the United States. Furthermore, Florida's most significant advantage is to be known as the "Sunshine State" since a significant portion of the state's economy is built on tourists eagerly awaiting pleasant southern weather throughout the gloomy northern winter season.
So, what are you waiting for? Pack up and get ready to book on nextvacay.com flight deals to experience the amazing weather and destination spots at Sarasota, Florida.
Overview of Sarasota, Florida
Sarasota is the county seat and main central city of the Sarasota metropolitan area. It currently has approximately 56,000 inhabitants, with an average age of 46.5 years and an average household income of roughlytely $43,400.
Retirees make up roughly one-third of the community. In addition, the city has a 64.1 percent Caucasian population, an 18.2 percent Hispanic population, and a 14.6 percent African American population. Sarasota, Manatee, and Charlotte Counties, with over 600,000, are Florida's seventh-largest and third-fastest-growing economies.
It is also one of the wealthiest areas within the state since Sarasota draws numerous tourists and relocators because of its picturesque beaches, rich cultural history and culture, endless amount of popular tourist attractions, and world-class facilities, in addition to being a booming market.
Geography of Sarasota, Florida
Sarasota is situated about 61 miles south of Tampa on Florida's southwestern coast, along Sarasota Bay, and encompasses a few barrier islands that differentiate the bay from the Gulf of Mexico. Lido Key, Bird Key, St. Armands Key, Coon Key, Otter Key, Casey Key, and sections of Siesta Key are among the islands that belong within the city's boundaries.
Map of Sarasota, Florida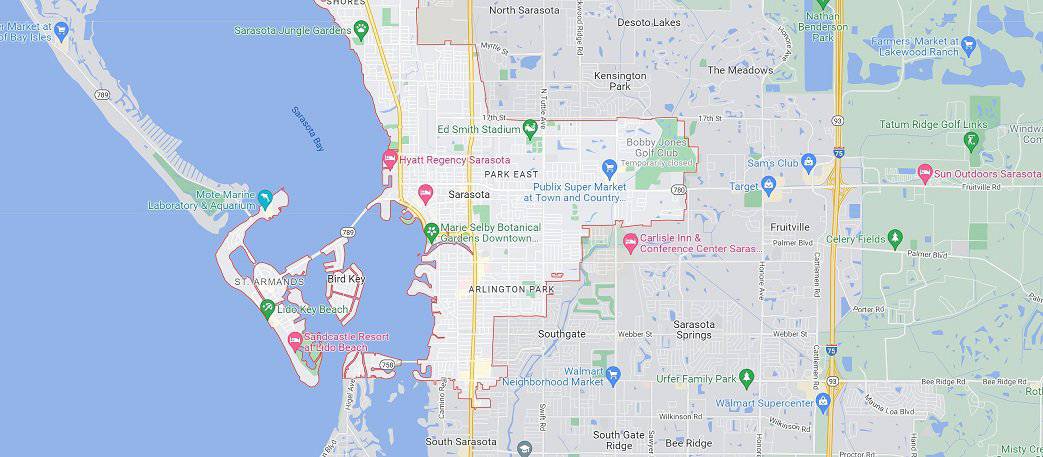 History of Sarasota, Florida
William H. Whitaker, the first permanent European settler, came to the Sarasota area in 1851 after being granted 114 acres of land on Sarasota Bay. In 18manyr of Scottish colonists showed up in Sarasota after an Edinburgh-based company purchased 60,000 acres of land in the neighborhood and opted for the settlement as the focal point of its business venture.
Transportation in Sarasota, Florida
Sarasota's public transit system allows moving around a breeze. Since Sarasota County Area Transit (SCAT) provides high-quality transport services across the county as well as interconnection with the Manatee County Area Transit.
There are many well-known places to visit across the city, for instance, the Siesta Key Beach, Ringling Museum, and the Marie Selby Botanical Gardens. However, countless 'hidden gems' are scattered throughout Sarasota, Florida.
The Ringling Mansion and Museum
Here are some of the hidden gems of Sarasota that might catch your interest!
Van Wezel Performing Arts Center
Hit Broadway musicals, symphony orchestras, famous comedians, local Sarasota dance and ballet groups, and other global performers are all featured at Van Wezel, one of Sarasota's lesser-known "cultural treasures." Moreover, you can also take backstage and art tours when you visit the center.
Siesta Key Village
Siesta Key is more than just a beach; it is an 8-mile barrier island with fantastic nightlife, shopping, entertainment, and food places. When visiting Sarasota, exploring the hidden tucked-away spots throughout the village is essential, which offers unrivaled shopping and entertainment along Midnight Pass Road.
South Florida Museum
The South Florida Museum, essentially located in Bradenton, is the most significant natural and cultural history museum on Florida's Gulf Coast, an immense hidden gem in the Sarasota area. There are also immersive exhibits, educational services, and thrilling time-limited displays.
Popular Tours In Sarasota
Sarasota Florida Hotels
Why Sarasota, Florida's Beaches Are Famous
Sarasota is blessed with pristine sands, dazzling waters, and clear blue skies. It is a city well-known for its sprawling coastline, which includes a wide range of beaches, each with its stunning features and identity. There are several sandy beaches in the Sarasota area, and each has unique features that make it worthwhile to visit. the most famous beach is Siesta Key Beach, which has gained international acclaim for its white, sugar-fine sand.
Here are some of the most beautiful beaches located in Sarasota, Florida, that you might want to spend the weekend or your entire summer vacation with:
Siesta Key Beach
Siesta Key is one of the best beaches in America. Its white quartz sandy shores and crystal clear water different from any other beach. This award-winning beach on Florida's Gulf Coast is widely recognized for its delicate, sugar-white fine sand. Furthermore, a trip to Siesta Beach can provide countless opportunities to see wildlife such as pelicans, manatees, and dolphins.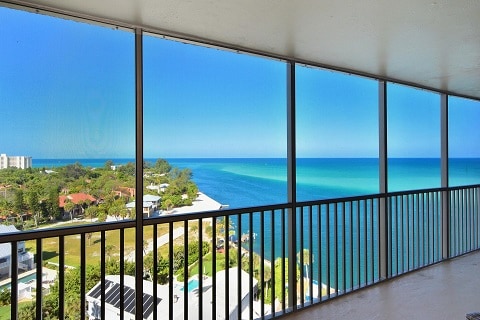 Lido Beach Park
Between 1940 and 1969, Lido Beach Park was home to a legendary casino. Currently, it's one of Sarasota's most famous beaches, particularly among families.
Caspersen Beach
Caspersen is a 1.5-mile-long beach along the Gulf of Mexico that is ideal for wildlife viewing and shelling. You may also come across prehistoric shark teeth and sea turtle nests while shell hunting around the beach's shore.
Nokomis Beach
Nokomis Beach is a hidden gem equally gorgeous as beaches further north but not as crowded or difficult to locate. Furthermore, it is the longest living beach in Sarasota County, and one of the with has a beach square stated on the National Register of Historic Places.
Longboat Key Beaches
Sarasota's northernmost and longest island, with 12 miles of coastline. Longboat Key is a calming vacation spot with views of the Gulf of Mexico, smaller crowds, and a laid-back ambiance.
Weather In Sarasota, Florida
The best time to visit the Sarasota part of Florida is from late February to mid-May and from mid-October to the end of November, when the weather is at its best. Also, December and January are pleasant. There are unexpected cold spells throughout these months. This means it might not be as tropical as expected.
Moreover, it is incredibly scorching and humid during the warmer months. 90+ degrees during the day may make most outdoor adventures during your visit uncomfortable unless you are accustomed to such heat. The main drawback of visiting during the "season," from January to April, is the crowds.
During the winter months, many individuals swarm to the city to live, and the beaches are bombarded with spring break tourists from the northern states for most of March.
Travelers may also take a trip between June and August for partially reduced crowds and lower hotel and travel expenses rates. However, tourists should expect loads and loads of downpours and humidity, in addition to typical summer season peaks in the low 90s.
Restaurants in Sarasota
Sarasota's food scene is unlike any other due to the abundance of flavors and cuisine. Furthermore, it can satisfy the most refined cravings of any food lover. Sarasota and the surrounding neighborhoods have dozens of restaurants to choose from. Sarasota, Florida, has everything from Mexican food to seafood and even dinner cruises that you won't be able to get enough of.
Because it is also home to numerous cultural influences that find their way into the dining scene, it offers a one-of-a-kind dining experience. It's no understatement that Sarasota is renowned for its outdoor dining. Still, Sarasota city also takes pride in its indoor dining options' atmosphere, making it perfect for any romantic date or family gatherings.
Here are some of the best food spots around Sarasota, Florida, that you need to visit when you're there:
Owen's Fish Camp
Located in the heart of Downtown Sarasota's Burns Court is the hustle and bustle spot serving new and creative seafood dishes in an unusual setting. Owen's makes some of the best seafood in the neighborhood and does it in a vibrant Old Florida cabin with a live performance in the garden playing melodic folk music.
Duval's Fresh Local Seafood
Duval's Fresh Local Seafood, situated in the heart of downtown Sarasota, Florida, is an absolute favorite of both tourists and locals. They offer daily retail prices on all fresh catch of the day's seafood, so you are unlikely to go wrong with anything on their menu.
Shore
Shore, located in St. Armands Circle, is a beautifully decorated bar and restaurant that serves unique seafood dishes, burgers, salads, and beverages. You should try their famous Goat Cheese & Spinach Quiche with hollandaise, poached eggs, smashed fingerlings, and spinach English muffin on their Sunday brunch menu.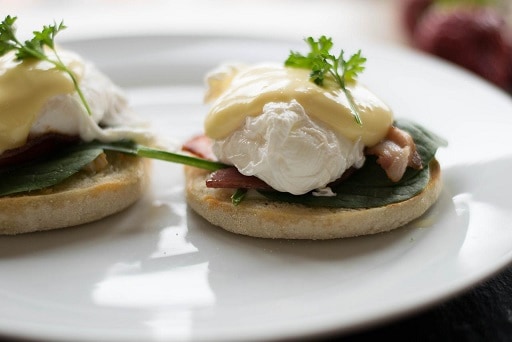 Indigenous
Indigenous, which opened in 2011, is a delightful, elegant-looking, recently refurbished home serving creative, innovative, expertly sourced American cuisine. So, If you're looking for exquisitely plated inventive dishes like lemon pickled shrimp and corn or swordfish with green BBQ, zucchini, and eggplant, check out Indigenous, which is led by one of Sarasota's famous chefs, Steve Phelps.
Blu Kouzina
Blu Kouzina is located in St. Armands Circle. It is an authentic Greek-style restaurant that serves fresh and top-quality products from locally produced farmers in the Sarasota neighborhood. A major selling point of their menu is that it notifies customers about which recipes are vegan, vegetarian, and keto, making ordering faster and more efficient.
Shopping in Sarasota Florida
Shopping in Sarasota provides access to a variety of entertainment in a city. Known for its endless beaches, which include everything from art to clothing and preowned goods to home furnishings. The city's shopping malls, outdoor shopping centers, and shopping areas have just about everything you need.
Furthermore, St. Armand's Circle in Sarasota is home to over 150 coffee shops and restaurants. Indeed, the phrase "shop 'til you drop" was invented for Sarasota, which has every store imaginable in one location. Numerous locally-owned shops sell one-of-a-kind items you can take home as presents or souvenirs from your weekend getaway. Sarasota's downtown district also contains numerous superb shops to explore while still in town.
Some of the best places are on Main Street and in the Burns Court area, but other locations are worth exploring. Also, if you have the opportunity, the historic town center of Venice has a gorgeous shopping area that you should visit.
FAQs About Sarasota Florida
Closing Thoughts
Sarasota has fantastic sights and weather, so it makes sense to spend your getaway there. You'll get more than enough sunlight, unwind on the fantastic beaches, eat delicious food, and enjoy the beautiful sights. What are you waiting for? Visit Sarasota, Florida, to make lasting memories and experiences!
Looking For More Florida Travel Inspiration, Start Here?
We participate in the Amazon Services LLC Associates Program, an affiliate advertising program designed to provide a means for us to earn fees by linking to Amazon.com and affiliated sites.
Subscribe to our newsletter and get the best travel tips and inspirational stories delivered monthly. No spam, no sales pitches – TRAVEL!
Brit On The Move™ Travel Resources
Ready to book your next trip? Use these resources that work:
Need more help planning your trip? Check out our Resources Page, highlighting the great companies we trust when traveling.