Bali for tourists is a hidden gem in the Pacific Ocean. With its traditional culture, beautiful architecture, and scenic nature, there's no shortage of what makes this place so unique. The locals here pride themselves on their craftsmanship which can be seen throughout all aspects from clothing items such as textiles or artwork towards more practical creations like furniture made out of natural materials–wooden beams carved with intricate patterns. Visitors come from around Indonesia and Asia plus decades ago; enough Westerners started coming.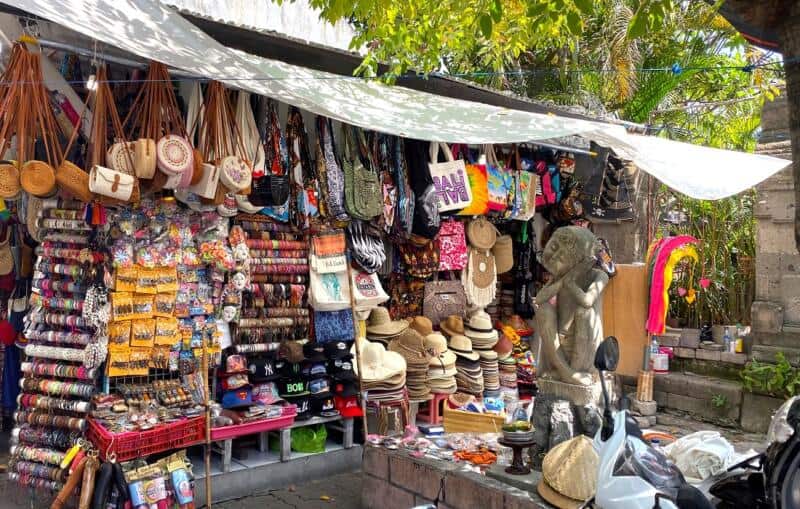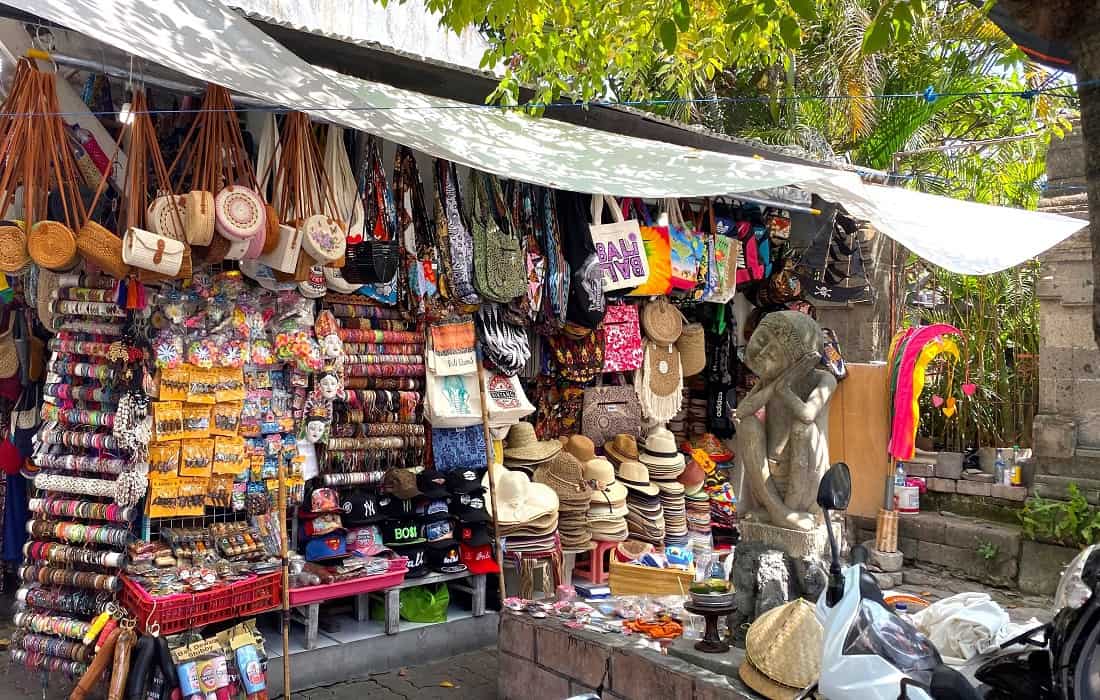 Bali's rich culture and scenic beaches make it one of the most popular tourist destinations when travel resumes. A trip to this island is incomplete without some retail therapy. Luckily, Visitors can find cheap clothes at reasonable prices thanks to decades worth of cosmopolitan tourists who have significantly contributed towards opening up shops throughout this beautiful land's fashion scene. Additionally, international malls house brands both local or imported into fruition. In addition, there is an abundance of smaller stores lining each street corner, waiting patiently just outside tourist areas.
Bali's shopping experiences are as diverse and exciting to explore as the island itself. There is something for everyone in this tropical paradise, from modern malls offering international brands, like Nike or Adidas, to artisan villages specializing in traditional crafts and art forms such as batik printing.
This post may contain affiliate links. Please read our disclosure and privacy policy for more information.
Top 7 Shopping Malls Bali For Tourists
Shopping in Bali is more than just picking up some souvenirs. The island has an abundance of world-class shopping malls with plenty to offer for all ages and interests, be it family fun or dining out on delicious food.
1. Discovery Shopping Mall
One of the hottest places to shop in Bali is the Discovery Shopping Mall. This mall has been around for years. It is always crowded with visitors from all over Asia – especially the Chinese. The Discovery Shopping Mall in Kuta is a great place to visit if you want some shopping and relaxation. It has easy access right on the beach, so visitors can enjoy their time while window-shopping or taking advantage of this picturesque natural setting.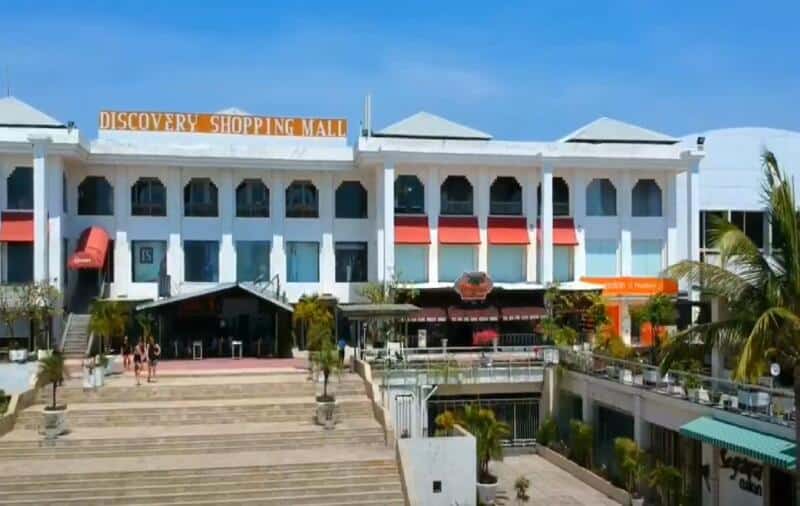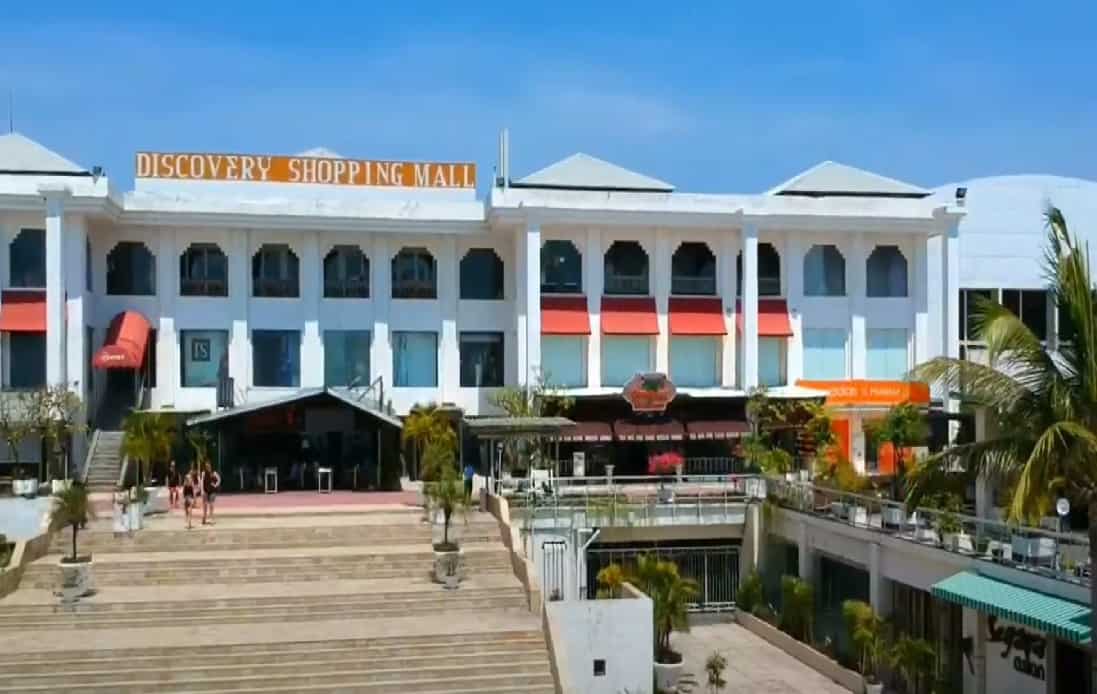 Discovery Shopping Mall is a large, three-story shopping mall located on Jalan Kartika Plaza in Kuta. Fashion and lifestyle brands from renowned national and international companies can be seen in the mall. In addition, there are various food outlets for both fine dining restaurants & fast food franchises alike.
2. Mall Bali Galeria
Mall Bali Galeria is an iconic landmark in the tourist haven of Kuta. To many, it's known as a one-of-a-kind shopping destination that caters to Balinese locals and foreign visitors looking for something special on their trip abroad before coming back home again.
This mall is a family-friendly complex that houses several international fashion brands, an ACE Hardware store, and a supermarket chain with many stores in Bali. It also contains a movie theatre for weekends or nights when you want to catch up on your favorite hits without returning home. Mall Bali Galeria is a fantastic place to hang out on the weekends with its variety of food options, fun entertainment acts, and family-friendly environment.
3. Seminyak Village
To provide a more convenient option for travelers who are looking to stay in one place while visiting the many attractions, Seminyak has been developed for that purpose. It includes its famous street cuisine and fabulous hotels. The new Seminyak Village opened in 2018 and is a prime spot for dining and shopping.
The Seminyak Village Mall is also a great place to shop if you're looking for modern designs and fashionable brands. Lifts, escalators, or stairs conveniently interconnect the two levels of this mall. It has plenty to offer with its walk-by foot traffic, plus it is only stepping away from some great restaurants.
4. Lippo Mall Kuta
If you are looking for a mall with the closest location to Ngurah Rai International airport, look no further than Lippo Mall Kuta. It's only 750 meters away from Discovery Shopping Mall. If your shopping list has items that need buying before heading into town, then this is an ideal stopover spot.
Lippo Mall Kuta is a mall that provides everything from fashion and food to entertainment. It's located in one of Indonesia's most popular tourist destinations, making it suitable for visitors looking for local traditions alongside world-class culture when they visit this beautiful country.
5. Beach Walk Mall Kuta
Located near Kuta beach, Beachwalk offers many shopping options for travelers. It's also one-of-a-kind because it has an extensive mall with many different stores and restaurants open 24/7. There are a lot of things to do in Kuta Bali. However, if you love shopping or just hanging out with your friends, Beachwalk Mall will be appropriate for this occasion. It's one of the largest malls on the island and offers a fantastic design that can't compare to any other place.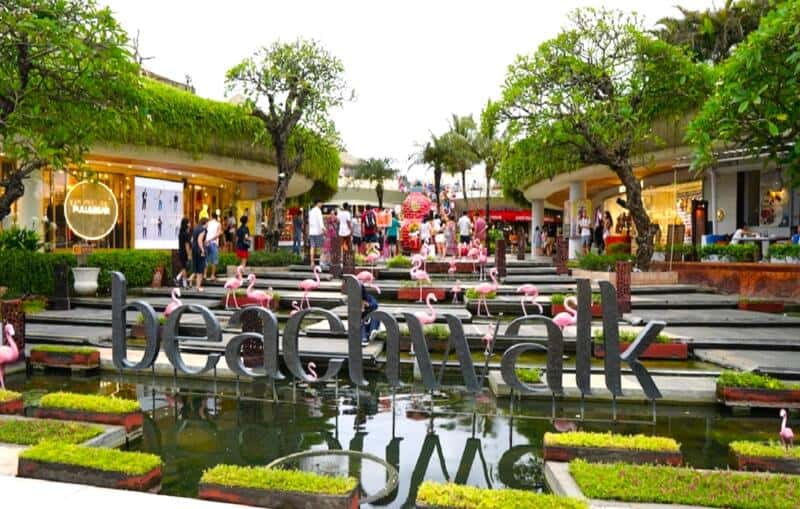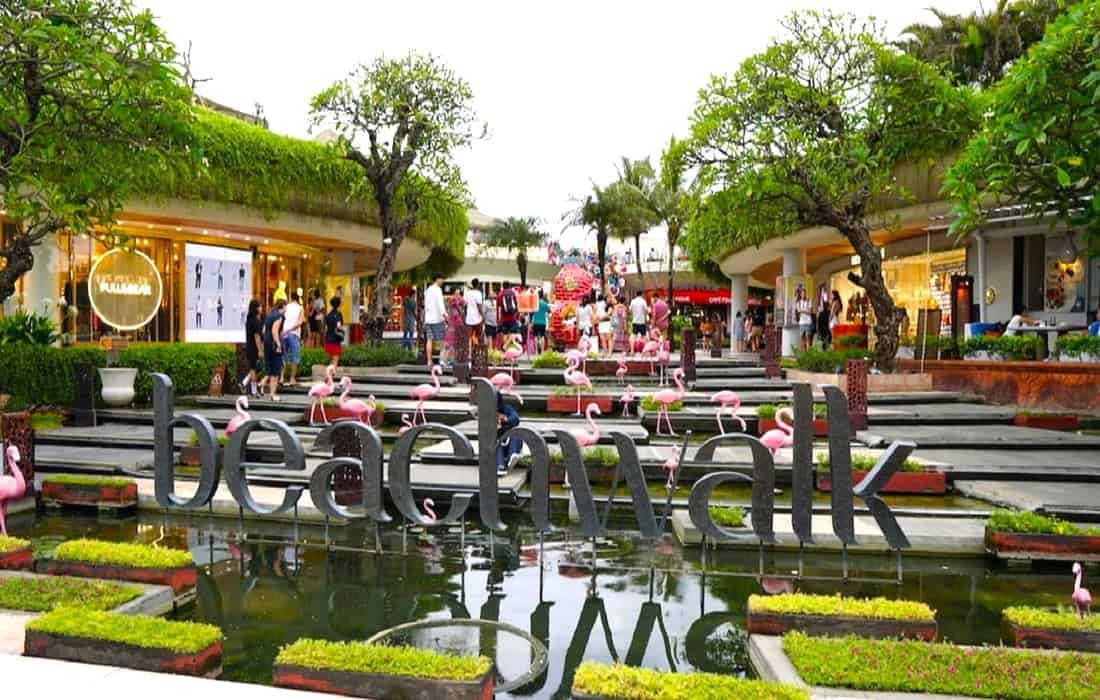 Stroll through the lush green environment of Bali Beachwalk Shopping Centre while enjoying a cool sea breeze. The mall has an open space concept that provides you with plenty to see and do, unlike other shopping malls around town.
6. Level 21 Mall
Level 21 is an exciting upscale mall in the heart of Denpasar, the capital of Bali, that offers a classy lifestyle with all amenities. The shopping mall is one of the most modern shopping malls in Denpasar, with various stores that range from fashion to food and beverage outlets. It also houses entertainment spots for people who want some plug-time while shopping or need something different from what's offered at other places around town.
7. Sidewalk Jimbaran
The most popular gourmet foodie center in Bali is, without a doubt, Sidewalk Jimbaran. Serving up fresh and healthy meals for all cultures to enjoy with an international product range that's quite impressive. Immerse yourself in the culture of different countries when you dine out at this mall. Head to one restaurant for Japanese or Korean food on your free days, followed by a trip down the American fast-food lane where Richeese is forever waiting.
Sidewalk Jimbaran is surrounded by some of Indonesia's most famous tourism destinations, such as the beach and waterfall at Garuda Wisnu Kencana. It also lies near an ancient temple known for its impressive lingam statue called Uluwatu Tope.
Top 5 Markets In Bali For Tourists
Bali shopping is a must-do activity while in Bali. With so many shops to choose from, you're sure to find the right souvenir or gift for someone back home. Whether you're looking for traditional Balinese handicrafts or something a bit more modern, Bali has something for everyone.
If you're looking for some great shopping in Bali, then look no further than the island's numerous markets. No matter what your taste or budget, there's sure to be something to suit your needs. If you're after some traditional Balinese handicrafts, then be sure to check out these markets.
1. Krisna Oleh Oleh Bali
Suppose you want to enjoy a hassle-free shopping experience, head over to the one-stop store called Krisna Bali. This is a one-stop shopping paradise for tourists who wish to buy souvenirs and gifts. Several of the store's products are made in Indonesia, such as batik, handicrafts, and snacks. It's open 24 hours, so you can find anything your heart desires here – no matter what time it might be or how tired our bodies may feel after an outing.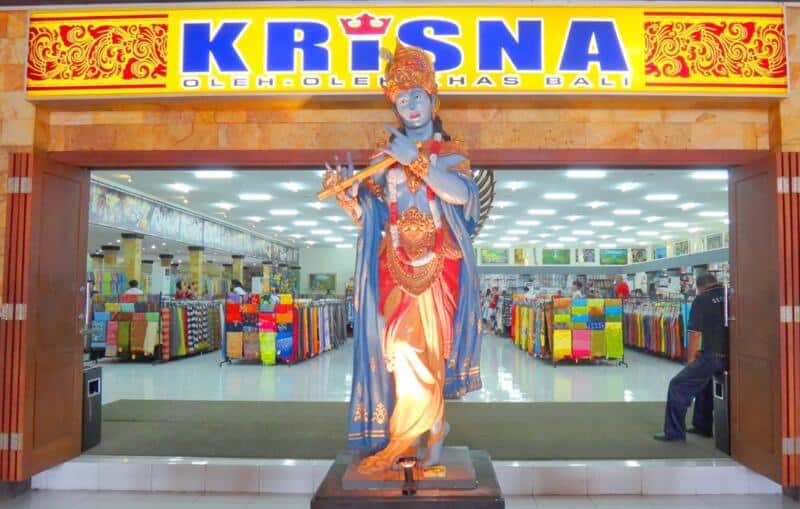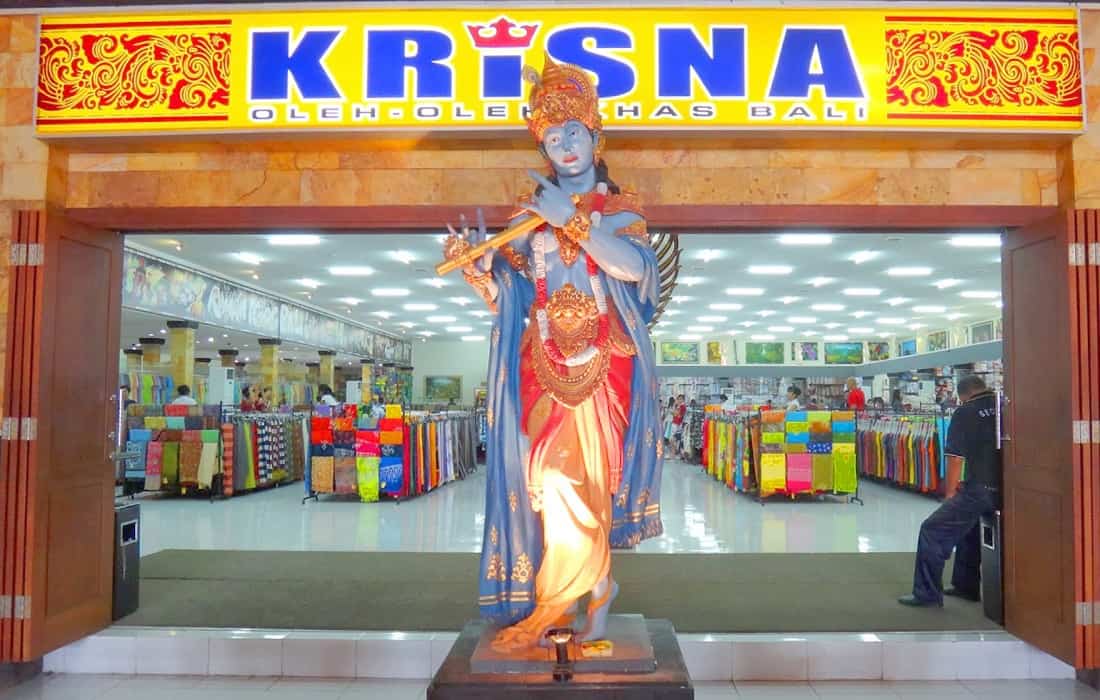 2. Legian Street
If you're looking for various souvenirs, head to Legian Street in Bali. You'll find shops that sell everything from jewelry and clothes (both casual or formal), batik fabrics-to art pieces made by local artists who live on this island paradise. Some luxury brands are available in your shopping list contain anything worth owning.
The most enjoyable way to enjoy the atmosphere of Legian Street is by walking. There are plenty of shopping alleys to be found on this famous street, but if you want the most extensive selection and prices, then Poppies Alley is where it's at. Nighttime can get pretty hectic here, so you can consider visiting during daylight hours when things aren't quite so crowded.
3. Nusa Dua Night Market
The Pasar Senggol night market is one of the finest places to explore what local flavors are available in Bali. With food from all around Indonesia and even some Malaysia, this spice-heavy marketplace has something for everyone.
Night markets are a great way to enjoy traditional and cultural nights in Bali. One of the most popular ones is Nusa Dua Night Market which features dance performances out on the streets for tourists who want an up-close view of island culture.
4. Ubud Art Market
The Ubud Art Market is a famous place for shopping in Bali. The multiple buildings and one long street are lined with vendors selling similar items, but it's the handmade crafts that make this market unique; perfect to take home as souvenirs or just something special while you're on vacation.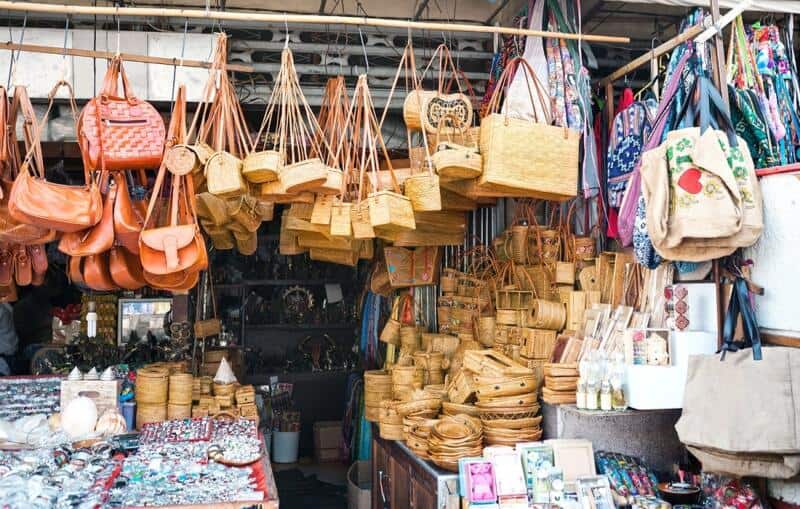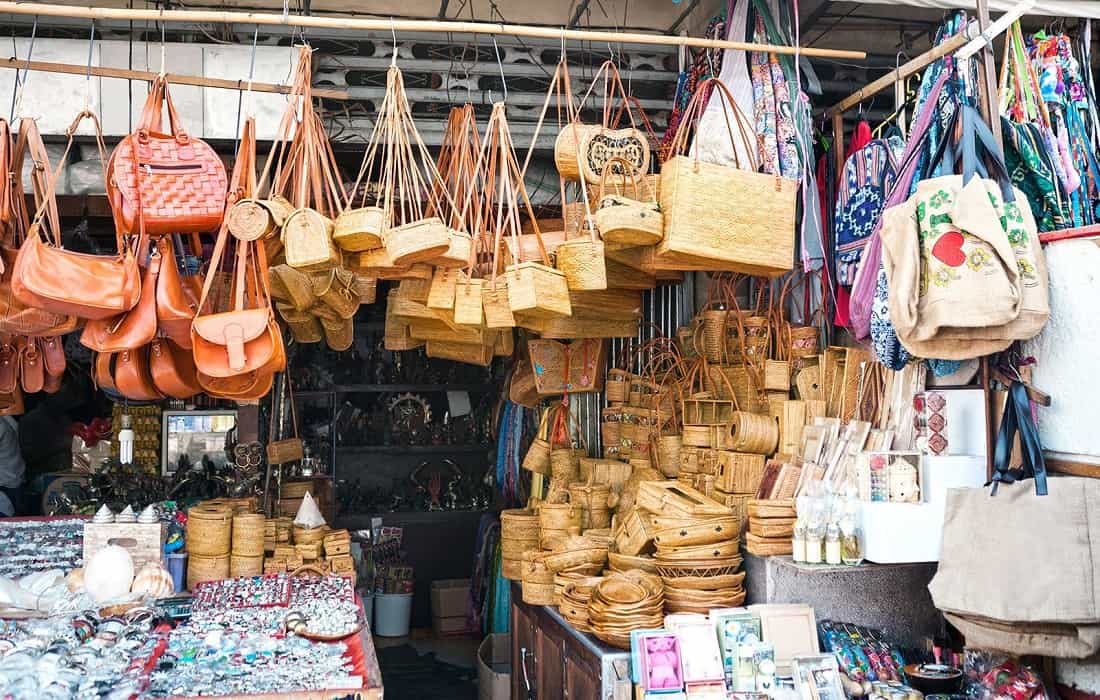 The market is more than just a place to buy food and tourist attractions. It's also home of the movie Eat Pray Love, which shows Julia Roberts opposite her male character strolling through the vendor stalls where foreign visitors can often see them in real life. The market has two main areas, one of which is open until late at night. It's divided into several stalls that sell all kinds of produce from around the world – you're sure to find something you'll like.
5. Badung Market
The Bali shopping guide is never-ending! The next stop on our list brings us to one of the largest traditional markets in all of Indonesia, Badung Market or Pasar Badung. This market not only has a lot for you but also does so at an affordable price with its abundance of goods and services available here as well. This is due to the talented artisans who dwell in Kumbasari Art Complex.
Closing Thoughts
When you come to Bali for your next vacation, don't forget about the shopping. It is easy to find YouTube video ideas about how great it is. Indeed we cannot deny that shopping in Bali for tourists is a fantastic experience. And, it is well worth the trip to shop alone. You can find everything you need there, as well as some incredible souvenirs to take home with you. The prices are also very reasonable, so you can save a lot of money by shopping in Bali. Just be sure to bargain with the sellers, and you'll get the most favorable deals possible. So if you're looking for a worthwhile shopping destination, be sure to add Bali to your list.
Looking For More Travel Inspiration, Start Here?
About The Author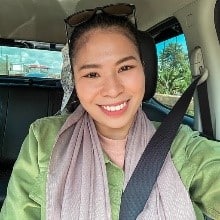 Hannah is a passionate content marketer from VEED who loves building connections and publishing her creative work to top-notch websites. As an expert content creator, she doesn't miss a sip of espresso during her busy days.
We are a participant in the Amazon Services LLC Associates Program, an affiliate advertising program designed to provide a means for us to earn fees by linking to Amazon.com and affiliated sites.
Brit On The Move™ Travel Resources
Ready to book your next trip? Use these resources that work:
Need more help planning your trip? Check out our Resources Page, highlighting the great companies we trust when traveling.