Bali swings have become more and more popular attractions in recent times and are considered one of the best activities to do in Bali. One of the most adventurous activities in Bali, swings are not for the faint of heart as they are located at over 25 feet above the ground. All the swings launch over epic scenery, be it a rice field or a waterfall, making them a photographer's dream. One of the most famous swings is the Alas Harum swing, where you can enjoy an incredible view and many other outdoor activities. The Blangsinga Waterfall Swing is another place that provides one of the most beautiful views overlooking a waterfall.
The natural Bali swing receives tourists coming over from worldwide and has nine swings to choose from, including single and couple swings. If you are looking for something affordable, you can head over to the terrace river pool swing, which has three options with a beautiful view and a giant bird's nest amazing to click some beautiful pictures.
Almost all swing parks now have a plethora of bird nests for you to climb into and get some of the most unusual and beautiful photos. Riding a Bali swing and getting "the photo" in a bird's nest is now almost a must if you visit Bali. The nests have become so popular that they pop up all over Bail, even at places like The Gates Of Heaven Bali At Lempuyang Temple. There's one right down the street from the temple!
Given that there are so many choices, how do you pick the right one? In this guide, we will share the most famous ones and share with you the tips and tricks you need to decide which ones to visit.
A Typical Bird Nest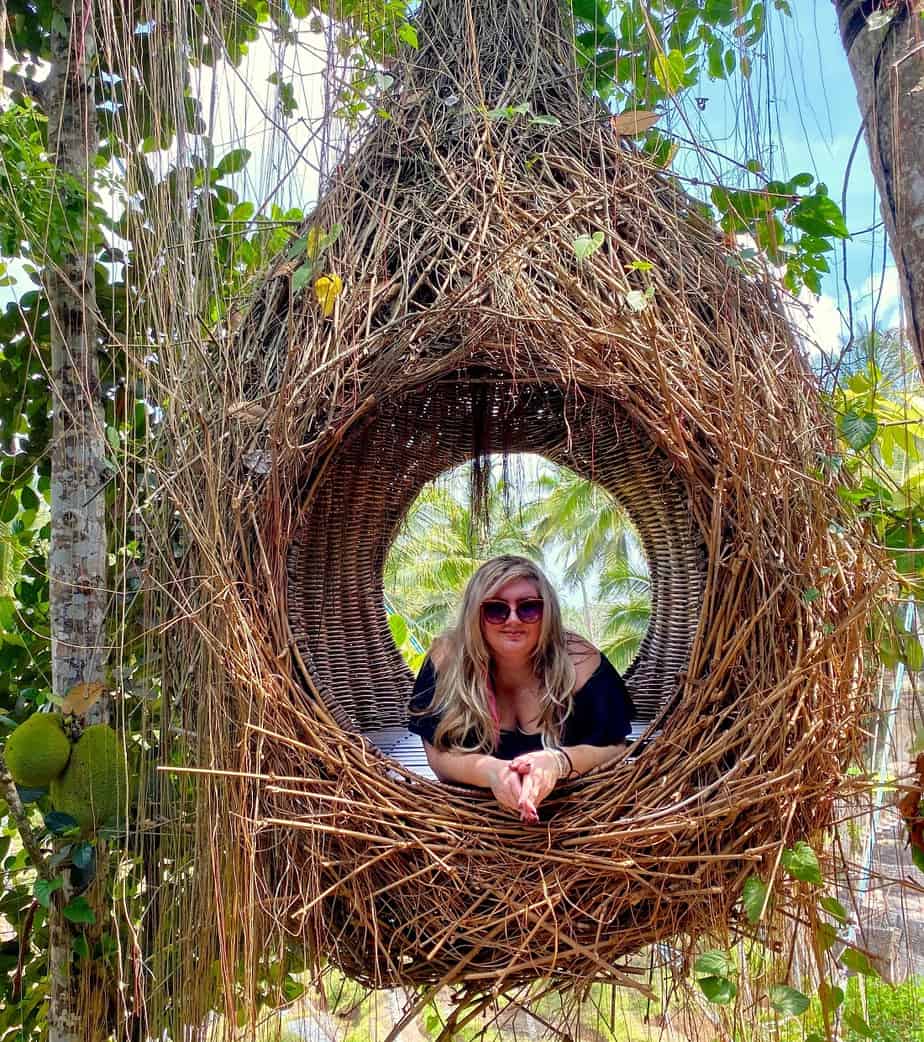 This post may contain affiliate links. Please read our disclosure and privacy policy for more information.
What You Need To Know About Bali Swings
First of all, you need to pick a suitable swing park. This can be overwhelming because there are so many. Before you decide on a park, think about your ultimate goal. Is it the Bali swing, the bird's nests, chicken nests, or a Bali swing bed? It might be all, but you need to know what each park offers. Then there's the location. They are scattered all across Bail from the north to the south. Depending on where you stay, you might want to consider one close by.
And, I recommend that you combine your visit with another tour. You don't need a whole day to experience everything a swing park has. Nor do you need an entire day to capture all the photographs you want. Don't forget to bring your camera. You need it to get that perfect shot. However, if you forget, there are photographers in all the parks who will take the photos. Some parks will take your pictures with your camera for free; others charge. Some parks also have the option for professional photos where the photographer uses their camera.
Almost everyone in these parks is after the "perfect photograph." Everyone's posing, adjusting, and taking shot after shot. You might have to wait for a little at each location until the person before you get their perfect photograph, but it's to be expected. And, I can say, hand on my heart, that in a Bali swing park, you will not look like an "Instagram addicted idiot" when you strike your pose and pout. Everyone, young and old, is striking "a pose."
The Bali Swing Dress Shot
We have all seen dreamy photos of girls swinging high across a waterfall or a lush green jungle in flowing dresses. While you can bring your clothing, it's not needed. Almost all parks have dresses or long flowing skirts you can rent. There are fitting rooms in many swing parks so that you can change. And, if you are obsessed with catching a few different shots, it's an option. You can rent several different colors and make wardrobe changes. Naturally, if you don't want to go for the flowing dress shot, you can ride the swings in whatever you are comfortable in.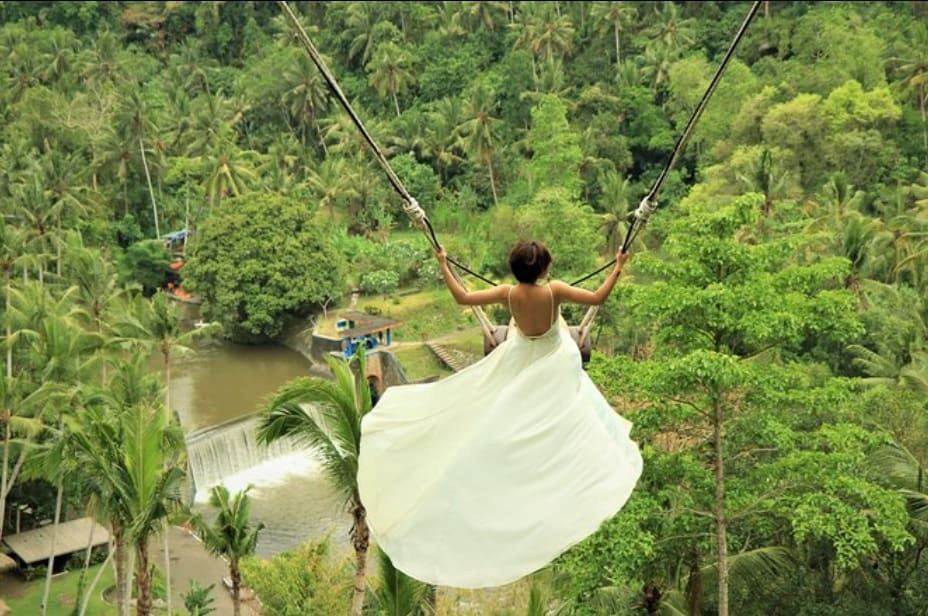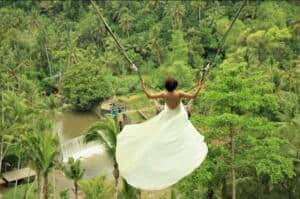 Photo Credit: Bali Swing Pioneer
Bali Nests
Bali bird nests, chicken nests, and bed nests are over Bali. I don't think there's a place you'll visit that has not mounted a nest. And all nests come in a variety of shapes and sizes. For example, some mimic a hummingbird's nest. Others are shaped like a love heart. The nest photograph is almost as famous as the Bali swing photograph. Many people choose to do professional shots in the nests. You'll see everything from proposals to wedding photos and back. Some nests are mounted on platforms; others are suspended from trees. They are easy to access, and they do create magical photographs.
Bali Jungle Beds – Swing Beds
As these swing parks have evolved, many are adding what's known as a swing bed or a jungle bed. The concept is the same. Only you swing over the rice fields in a suspended bed.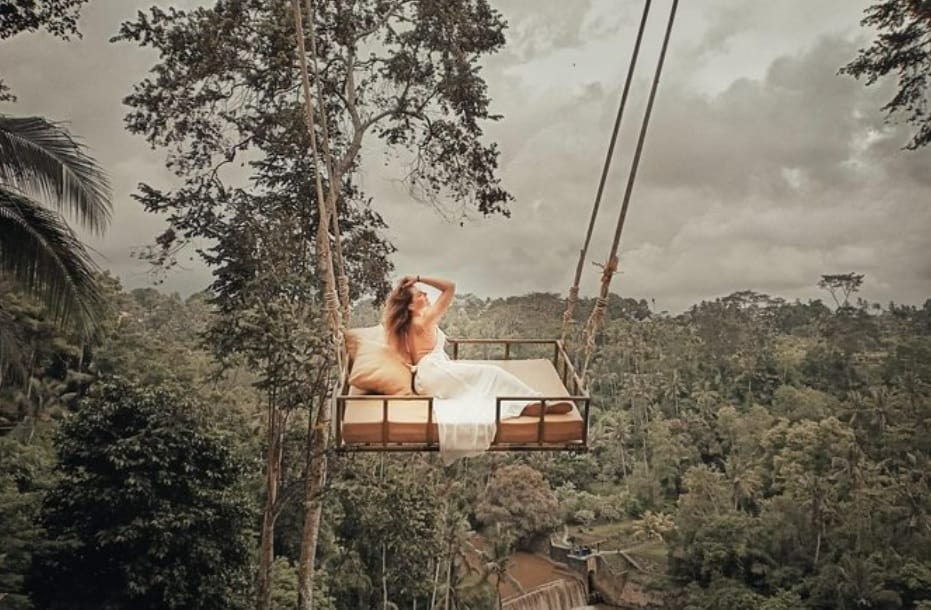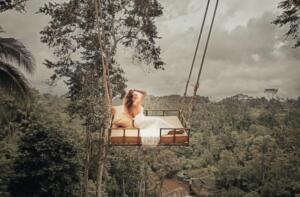 Photo Credit: Bali Swing Pioneer
Aloha Ubud Swing – Ubud
The largest Bali swing park is located 30 minutes from Ubud's center. Aloha Ubud Swing Park has nine swings, including six single swings, two tandem swings, and one romantic swing. You can also click beautiful pictures in seven cute nests, including four bird nests, two chicken nests, and a bed nest.
You can also enjoy the stunning view of the Tegalalang rice terraces. Along with swinging, you can enjoy other outdoor experiences such as the flying butterfly, coffee experience, and much more.
Location: Jl. Raya Tegallalang, Tegallalang, Kabupaten Gianyar, Bali 80561, Indonesia
Opening Times: 8:00 AM – 5:00 PM
Alas Harum Swing – Ubud
One of the most beautiful Bali swings is the Alas Harum Swing, located just 20 minutes from Ubud. This swing is 82 feet above the ground and gives you an incredible view of the rice fields. Not for the faint of heart. Also known as one of the most Instagrammable swings, you can enjoy other activities also, such as riding a sky bike or the flying fox, which is a zipline. If you are a coffee lover, prepare to enjoy the fantastic coffee experience and learn to make a Luwak coffee and other incredible outdoor experiences.
This is the one that we chose and for several reasons. You can ride swings, zipline, ride the sky bike (a bike over a tightrope), or pose next to the giant gorilla carved into the field's side.
The Swing:
Sky Bike
The Birds Nests
Location: Jl. Raya Tegallalang, Tegallalang, Kec. Tegallalang, Kabupaten Gianyar, Bali 80561, Indonesia
Opening Times: 9:00 AM – 7:00 PM
Bali Swing – The Original One
The original Bali Swing is one of the most popular swings in Bali. It's considered Bali's most Instagrammable spot, and it was the first "swing park." Soar high over the jungle on your choice of 13 swings, or pose for shots in the adorable nests. Other attractions include the Butterfly Garden, Helicopter, Heart-shaped Rock, and Huge Stone—all of which come with a magnificent view overlooking the valley and the canyon and waterfall.
Location: Jl. Dewi Saraswati, 80352 Bongkasa Pertiwi, Kapubaten Bandung, Bali
Opening Times: 8:00 AM – 5:00 PM
Bali Swing Pioneer – Ubud
At Bali Swing, Pioneer ride with a backdrop of pictures in the form of valleys, coconut trees, and rivers. The swing ride here is off a cliff with a significant altitude. The park has two single swings, one romantic swing, one bird nest, two sky beds, one chicken nest, and love stones.
Blangsinga Waterfall Swing – Sanur
Head over to the Blangsinga Waterfall Swing to enjoy riding the swing overlooking a beautiful waterfall. The Blangsinga waterfalls are a fantastic place to spend with your loved ones and enjoy this adventure-filled activity.
You can enjoy other outdoor activities like swimming, and this place also has a bar, restaurant, and fantastic selfie spots to take your pictures. You can also chill in the lounge or sunbathe in the beautiful natural environment.
Location: Banjar Blangsinga, Jl. Raya Blangsinga, Saba, Kec. Blahbatuh, Kabupaten Gianyar, Bali 80581, Indonesia
Opening Times: 6:30 AM – 6:00 PM
Campuhan Ridge Walk Swing
If you are an adventure enthusiast, this swing is perfect for you as you can also have a short hike through rice fields, jungles, and palm tree farms. The trail is pretty straightforward and also has a beautiful river. This swing is comparatively tiny, but it has a beautiful view of the vista. You can also walk around and explore lovely cafes and eateries and enjoy leisure.
Location: Jalan Bangkiang Sidem, Ubud, Gianyar Regency, Bali.
Opening Times: 7:00 AM – 6:00 PM
LeKaja Bali Swing
Another beautiful location, the Lekaja Bali swing, offers three swings and nests to take beautiful pictures. This place also has a fitting room and photography to help you get that perfect picture for an additional cost. The best time to visit is between 11:00 AM – 2:00 PM, when you can capture your perfect moment.
Location: Jl. Tukad Ayung XI No.13, Carangsari, Petang, Kabupaten Badung, Bali 80353, Indonesia
Opening Times: 9:00 AM – 5:00 PM
Sidemen Bali Swing
A popular swing in east Bali, Sidemen Bali Swing, is located between substantial coconut trees and a hill and has a spectacular view of the river hills and the rice fields. This place is known as a relaxing spot with serene views.
The guests are greeted with a welcome drink, lunch, and a cool towel. You can also spend time with the locals and look at their traditional dye weavings. You can also take souvenirs and have an experience of a lifetime.
Location: Jl. Semarapura-Karangasem, Sidemen, Kec. Sidemen, Kabupaten Karangasem, Bali 80864, Indonesia
Opening Times: 9:00 AM – 8:00 PM
Swing at Bas De Atayana – Swing in Love
If you are looking for something different, you can head over to the Bas De Atayana to swing in the beautiful heart-shaped swing. Swing in Love at Bas De Atanaya is a vast love heart you swing through. BAS De Atayana (formerly known as I Love BAS Agrotourism) is the first agrotourism spot in Bali. The love swing at Bas De Atayana is famous for its unique heart-shaped swing. The Love Bali Swing is one of the most popular and has thousands of tourists every year. They have over nine swings to choose from and also a lunch buffet. Take amazing pictures for your Instagram and walk around and explore local coffee, vanilla, and other spices produced by Bas De Atayana. One of the best places to walk around and have leisure time.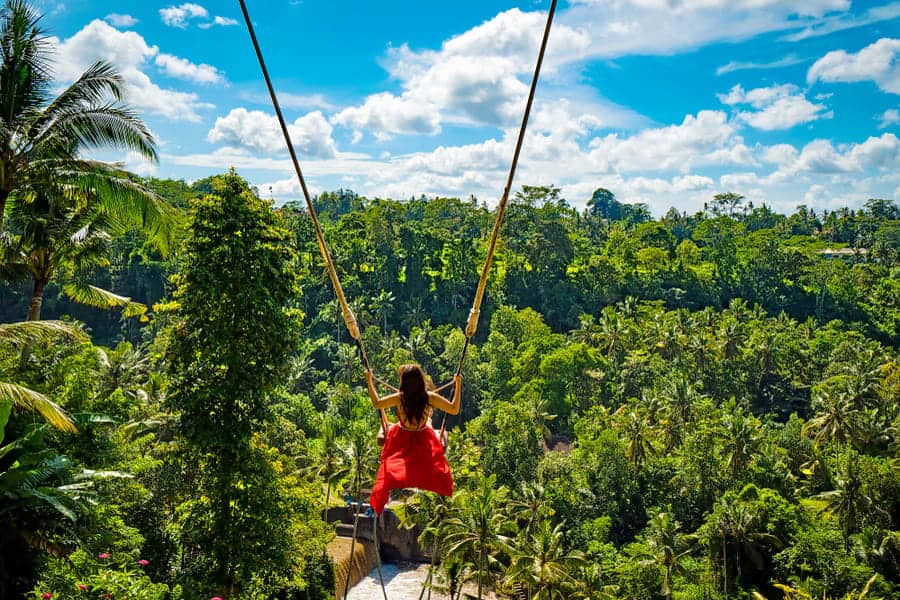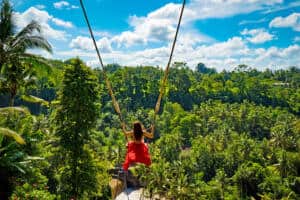 Location: Jalan Raya Jurusan Tampaksiring – Kintamani Br. Sribatu, Penglumbaran, Kec. Susut, Kabupaten Bangli
Opening Times: 9:00 AM – 8:00 PM
Tegalalang Rice Terrace Swing – Gianyar
Tegalalang Rice Terrace Swing is located in the village of Tegalalang, Gianyar, north of Ubud. The main attraction of this swing is that you fly over rice-paddy terraces. There are two swings at Tegalalang Rice Terrace, and they both offer amazing views.
Location: Jl. Raya Tegallalang, Tegallalang, Kec. Tegallalang, Kabupaten Gianyar, Bali
Opening Times: 8:00 AM – 7:00 PM
Terrace River Pool Swing
If you are looking for some affordable options, this one's for you. At Terrace River Pool Swing you can choose from three options, extreme swing, super-powerful swing, and the couple swing. The super-powerful swing is perfect for people who love the adrenaline rush, and you can enjoy swinging over 150 feet high.
You can also take cute pictures in a bird's nest and your partner, and the park itself has many places where you can take beautiful pictures.
Location: JI. Raya Ceking Tegalalang, Ubud
Opening Times: 9:00 AM – 8:00 PM
Uma Pakel Swing – Ubud
Uma Pakel Swing is located in the village of Tegalalang, Ubud, Bali. This park is next to the Tegalalang Rice Terraces and close to Luwak coffee. You can ride the swing after your swing ride, pose in the humming bird's nest and capture amazing shots of the rice fields.
You also can try seven kinds of tea and coffee for free.
Location: H75J+C64, Jl. Raya Tegallalang, Tegallalang, Kec. Tegallalang, Kabupaten Gianyar
Opening Times: 8:00 AM – 7:00 PM
Wanagiri Hidden Hills Swing – Sukasada District
This swing park is a popular spot located in the Wanagiri and Munduk. Wanagiri Hidden Hills Swing Park has a magnificent panoramic view overlooking the beautiful Lake Buyan. You can enjoy this swing solo or ride along with your loved one. This park-like many of the others, have an Instagram nickname. They call this one the "Instagram Park." This one's a very popular option because you can capture the epic photographs of yourself swinging over Lake Tambingan and Lake Buyan. Well, not actually over the lakes but with the lakes in the background.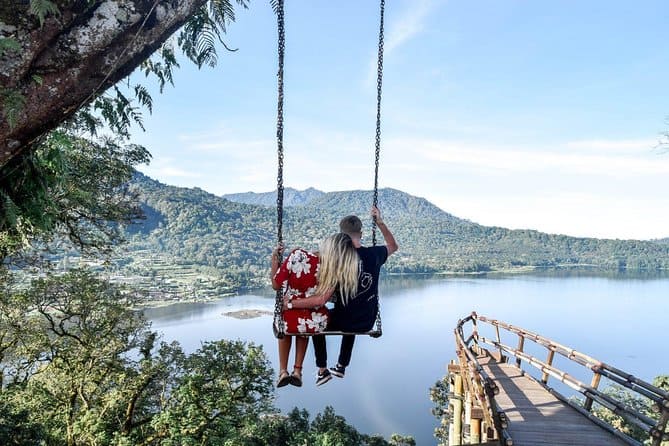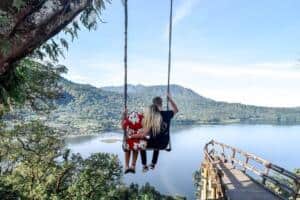 It takes about two hours by car from the Kuta area or Bali airport. The park has 12 single swings with heights ranging from 10 feet to 255 feet above the ground. It also has an old-school tandem swing, six nests, a butterfly garden, a helicopter, heart shaped rock in the jungle, and huge rocks over the edge above a valley, all with a great view of the jungle.
Location: Alan Munduk – Wanagiri, Wanagiri, Sukasada, Pancasari, Kec. Sukasada, Kabupaten Buleleng, Bali
Opening Times: 6:30 AM – 7:00 PM
Zen Hideaway Swings – Ubud
Located between coconut trees, you can reach zen hideaway swings in 30 minutes from Ubud. You can visit here if you want to experience peace and serenity. The swing is on the hilltop, which gives you an incredible view of the lush green forests and a river view. You can also witness a mini waterfall and Mount Agung and capture some great photos. You can also book a cottage here and enjoy the view and swings for the weekend.
Location: Jalan Dewi Saraswati, Banjar Tegalkuning, Bongkasa Pertiwi, Abiansemal, Badung Regency, Bali 80352, Indonesia
Opening Times: 12:00 PM – 2:00 PM
Closing Thoughts
Ubud is one of the best places to stay in Bali to explore swings and lush countryside. This said, these parks are everywhere in Bali. Even if you don't want to swing or are afraid of heights, you'll get to experience phenomenal scenery and, at a minimum, get a photo in one of the bird's nests!
Which park are you choosing – and why?
Looking for more posts on Bali? Start here:
We are a participant in the Amazon Services LLC Associates Program, an affiliate advertising program designed to provide a means for us to earn fees by linking to Amazon.com and affiliated sites.
Brit On The Move™ Travel Resources
Ready to book your next trip? Use these resources that work:
Need more help planning your trip? Check out our Resources Page, highlighting the great companies we trust when traveling.