The Hello Kitty Flight – What To Expect
Hello, Kitty enthusiasts worldwide all long to experience a Hello Kitty flight. This is something you can only experience on Taiwan's EVA Air. And, long before people embark on the Hello Kitty flight, they frequently ask, "What's it like to experience a Hello Kitty flight?".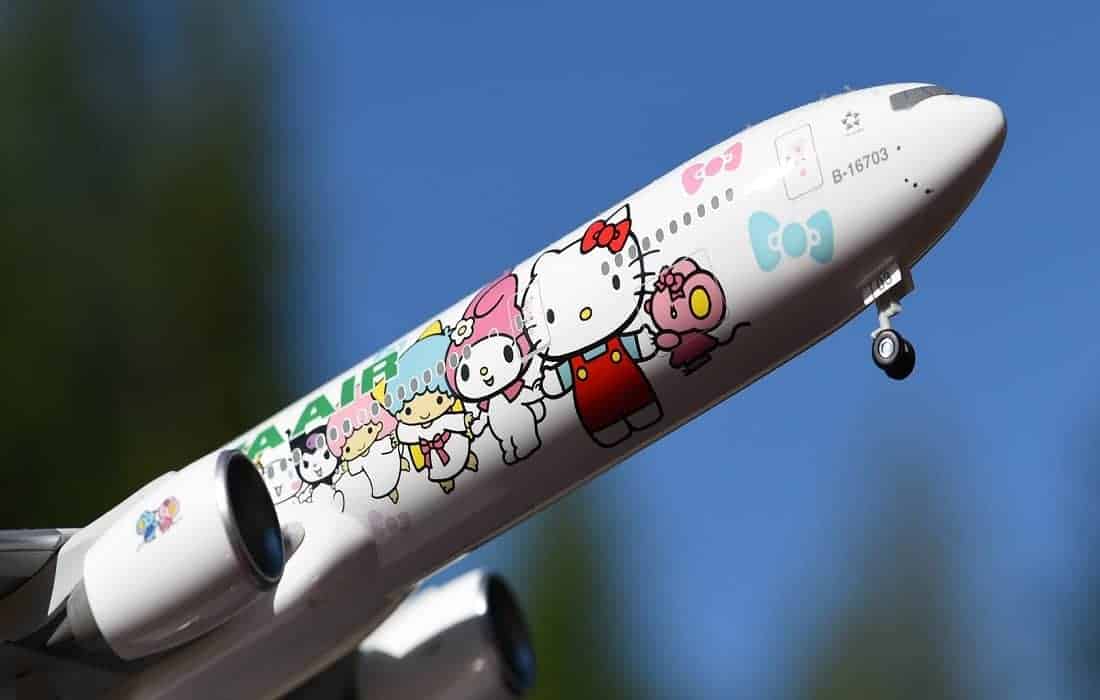 This post may contain affiliate links. Please read our disclosure and privacy policy for more information.
Hello Kitty
Created in 1974, Hello Kitty, or Kitty White, is a fictional character that the Japanese company Sanrio produces. Contrary to popular belief, Hello Kitty is a female cartoon character, not a cat. And Hello Kitty, the girl owns a pet cat called Charmmy Kitty and has a sister called Mimi. Originally popular in Japanese pop culture, the character has become a global multi-billion media franchise.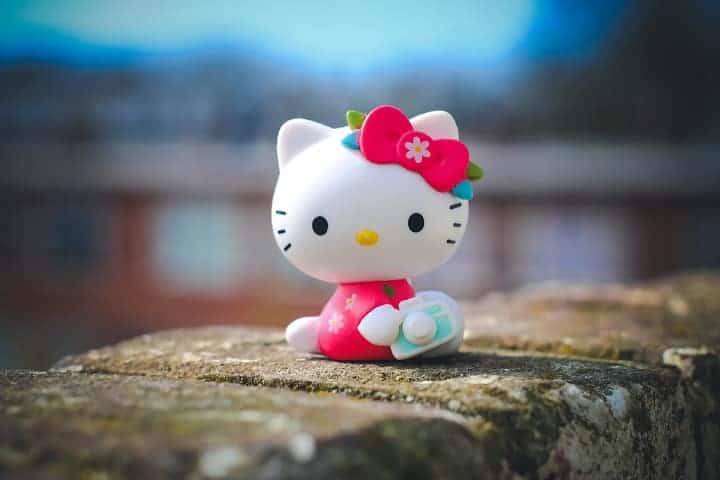 Unusual Facts About Hello Kitty
She is not a cat! Despite her feline-like appearance, Hello Kitty is a little girl approximately five apples tall and weighs the same as three apples.
This kitty has her own theme park. Sanrio Puroland is a theme park in Tokyo, Japan, dedicated to Hello Kitty and other Sanrio characters.
Hello, Kitty was created to appeal to preteen girls in Japan but has since become popular with people of all ages and genders worldwide.
Her real name is Kitty White.
Hello, Kitty has a twin sister named Mimmy who wears her bow on the opposite ear and is right-handed, while Hello Kitty is left-handed.
She has appeared on everything from clothing to home appliances and even has her own credit card.
Hello, Kitty was designed without a mouth because her creators wanted her to be able to express any emotion through her eyes.
Her popularity has led to collaborations with major brands like McDonald's, Sephora, and Puma.
She has a Guinness World Record for being the most successful and popular character ever created.
Hello, Kitty's 45th anniversary was celebrated in 2019 with a large-scale exhibition in Los Angeles featuring art installations, performances, and other interactive experiences.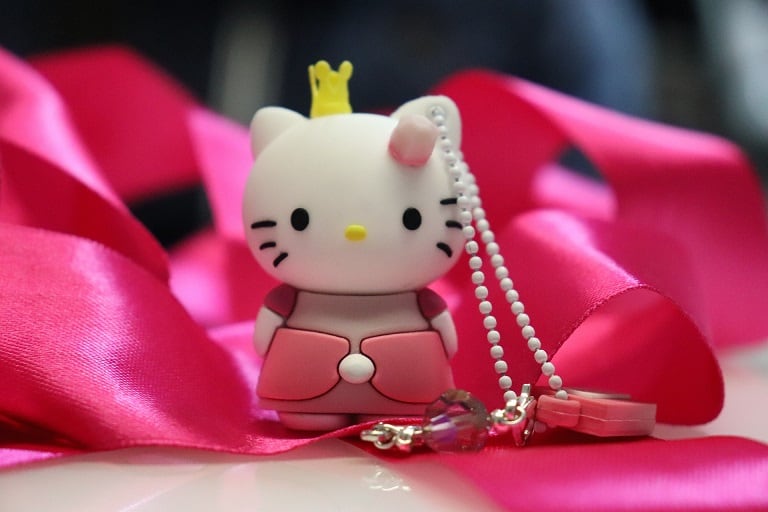 History of Hello Kitty Flights
The first Hello Kitty Airbus A330-200 debuted in October 2005. A second was introduced one year later. In 2009 Kitty disappeared when the initial product license ran out. Fast forward to 2011, and she returned in 2011 to celebrate EVA's 20th anniversary and Sanrio's 50th.
EVA Air now has seven jets decorated in the Hello Kitty theme. The Hello Kitty jets are called EVA Special Livery Jets.
The character is larger than life on the aircraft's sides, and each plane features a different scene. One of the aircraft depicts the adorable sight of Hello Kitty holding hands with other Sanrio characters.
The Seven EVA Special Livery Jets
Shining Star: EVA Air takes passengers through the starry sky to destinations around the globe. Little Twin Stars Kiki and Lala join Hello Kitty and Melody on the delightful trip. We invite passengers to reach for the stars with us.
Sanrio Family Hand in Hand: Sanrio Family extends a warm hand of friendship to all Sanrio Family Hand in Hand passengers and makes passengers feel all the love and care. Let us take each other's hand and build a bridge of happiness and friendship.
Celebration Flight: Enthusiastic and full of energy, fun-loving Sanrio Family members accompany you for the journey of a lifetime.
BAD BADTZ-MARU: Travel Fun. Cute and naughty Bad Badtz Maru is exploring the world! Checking in for a cheerful flight with his friends, sun hat, and camera in hand, he is off for fun, relaxing, laughter-filled holiday.
Joyful Dream: Hello Kitty, Kiki and Lala, cute Pom Pom Purin, and many other Sanrio Family members parade along the length of the plane on a magical path where dreams come true in destinations waiting to be explored.
Comfort Flight: The Lazy Egg, Gudetama, takes his time packing his luggage since he is on an overseas vacation. Therefore, the Comfort Flight concept invites passengers to escape from monotonous life and travel at their pleasure. Let's all get on board, lay back, and carry out the "Gudatama's philosophy of laziness"!
Friendship Bows: Hello Kitty's red bow symbolizes friendship. Board our Flight of Friendship Bows and let us take you around the world, exchange bows with Hello Kitty, and make friends where you go!
Friendship Bows is the jet we got to experience!
Where Do The Hello Kitty Planes Fly
Fortunately, some routes come to America; here are the current routes starting from Taipei, and all have return service:

EVA Air Helly Kitty Routes © EVA Air
How to Book a Ticket on a Hello Kitty Flight?
The airline has a unique website dedicated to Hello Kitty flights. You can book directly here: Book a Hello Kitty Fight.
Note: Due to the impact of COVID-19, EVA Air temporarily suspends our Hello Kitty Jet service from 2020/04/01. The special livery aircraft are subject to route adjustment and do not provide Sanrio-themed inflight service items.
What to Expect on a Hello Kitty Flight?
Taking a Hello Kitty flight is full of surprises! When you board, the flight attendants greet you dressed in pink Hello Kitty aprons. After that, you will go through the sea of Hello Kitty headrest covers. You will notice that Hello Kitty is present everywhere to welcome you! From an adorable Hello Kitty pillow to your safety instructions manual, everything here is cute, joyful, and a must for Hello Kitty fans.
The bathrooms have specially created Hello Kitty toilet paper, Hello Kitty-themed handwash, shampoo, hand cream, air fresheners, and more!
The acute attention to detail is impressive. From the completely edible Hello Kitty meal to the adorable Hello Kitty cutlery, there's plenty of detail that all fans will appreciate.
What's the best part? The flight attendants even serve bubbly pink champagne to make your travel experience celebratory!
Hello, Kitty. Airbus A330-300s has something even more special. You get a meal service on this flight, including an assortment of seafood designed by a fine Michelin-star chef Motoke Nakamura. You also receive amenity kits and personalized Sanrio gifts and can purchase various Hello kitty duty-free items at a significant discount! As this fun flight takes you worldwide, many friends join you on this adventure, from Little Twin Stars Kiki and Lala to Hello Kitty and Melody!
Once you hit the air, there are numerous in-flight amenities. For example, wifi, movies, and an inflight entertainment system allow passengers to relax while enjoying the trip. And, you guessed it! Everything is Hello Kitty-themed, even the TV station.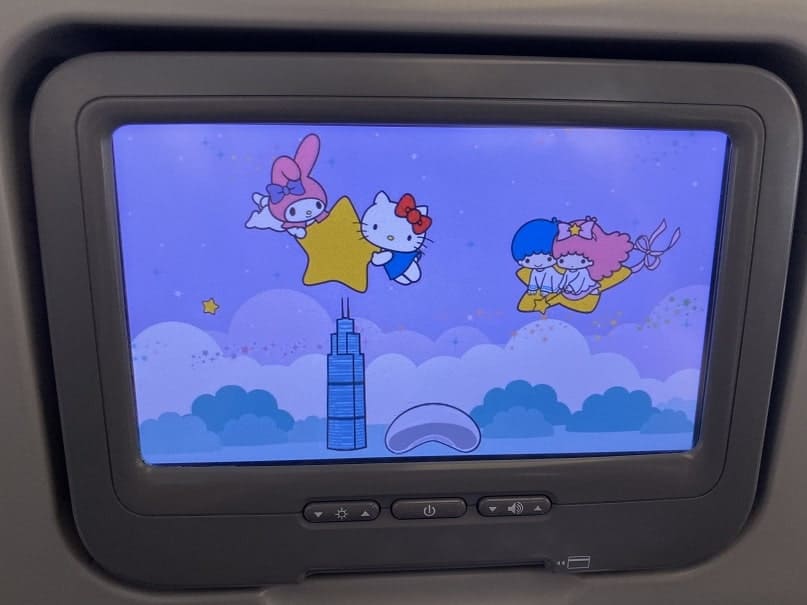 Is The Hello Kitty Flight Worth It?
Absolutely!
Fans all over the world want to experience these unusual flights. For Hello Kitty enthusiasts, this is the perfect flight.
When arriving at Taoyuan International Airport or departing, you will notice Hello Kitty everywhere. A unique Sanrio store sells one-of-a-kind, exclusive merchandise that isn't available anywhere else.
Some of the features are specifically for children, like the playroom. With details like ceilings painted with clouds, this is a paradise for children. There is a small pink slide, colorful chairs, and seating cushions for anyone who wants to play. The playroom is decorated with adorable artwork, pink couches, and cotton clouds for you to get lost in this magical fantasy land. And there are plenty of ports for you to recharge your phone.
It is well worth it; it's remarkably unique.
A New Age Ambassador of Change
Hello, Kitty was appointed the United Nations Travel Ambassador in 2017 to promote safe and responsible travel. Her duties included encouraging people to travel and using travel to promote positive change. She also became a representative at the Osaka World Expo in the same year.
Hello, Kitty may look like an adorable character, but she's much more than that. She's a highly responsible influencer changing the world, one message at a time.
The Hello Kitty Flight To Nowhere
Given that no one can travel, EVA Air developed the novel idea to allow the guests to take a trip to nowhere! Are you suffering from travel itch and thriving a dose of Hello Kitty? Well, this trip to nowhere is the perfect cure for you. The plane takes off from Taipei Taoyuan Airport, circles the skies for a while, and returns to the same destination. This entire trip lasts approximately three hours, but the entertainment is guaranteed.
The Hello Kitty flight is like none other. Joy and laughter are included for free! Leave your worries back home because this adorable experience will make you smile, even if you are not a fan.
Closing Thoughts
I never set out to fly on a Hello Kitty flight; it happened by pure chance. We were connecting through Taiwan en route to Bali. We had no clue that we would be on a Hello Kitty flight. I have to say it was an unexpected pleasant surprise. Before my experience, I thought that the main lure was the exterior paint of the jet. The exterior is just the beginning. The amount of detail tickled me. There isn't one element of the flight that is not in the Hello Kitty theme – even the food is in the Hello Kitty theme.
Looking for more posts on things to do in Asia? Start here:
We participate in the Amazon Services LLC Associates Program, an affiliate advertising program designed to provide a means for us to earn fees by linking to Amazon.com and affiliated sites.
Subscribe to our newsletter and get the best travel tips and inspirational stories delivered monthly. No spam, no sales pitches – TRAVEL!
Brit On The Move™ Travel Resources
Ready to book your next trip? Use these resources that work:
Need more help planning your trip? Check out our Resources Page, highlighting the great companies we trust when traveling.