Diana's Baths, also known as "Diana's Falls," are a must-see for anyone visiting New Hampshire. Even if you are not into chasing waterfalls, the hike here alone is worthy of your time and attention.
Located in Bartlett, these falls are fed by Big Attitash Mountain and cascade. The entire trail to the top is decorated with rock pools and miniature falls on the route to the main waterfall at the top.
Diana's Baths is an easy hike for anyone to accomplish. The elevation is gradual and mild. And there's a little obstruction to reaching the top.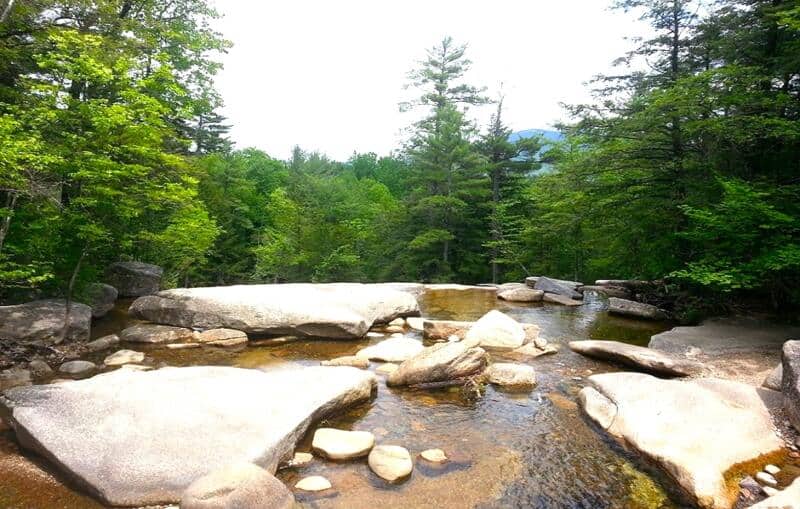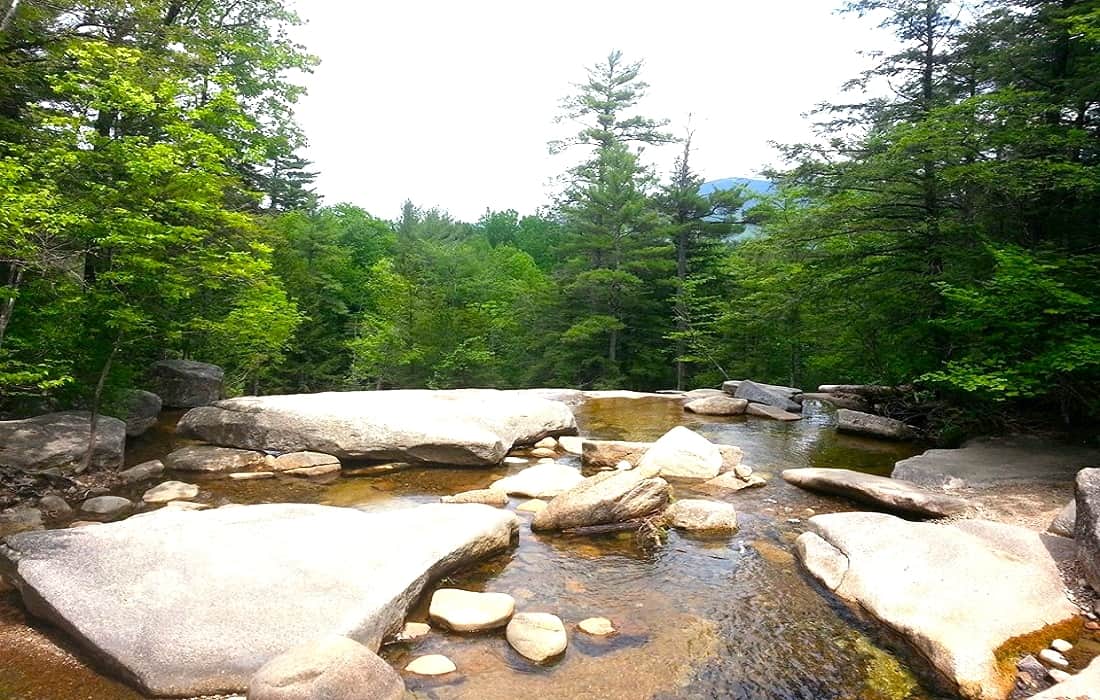 This post may contain affiliate links. Please read our disclosure and privacy policy for more information.
History Of Diana's Baths
George Lucy built a home here in the 1860s and then created a water-wheel-powered sawmill. George went on to make a boarding house to visit the site.
In the 1930s, the Chesters then built some concrete to upgrade from the water-powered wheel. The new dam fed a turbine system to power the sawmill.
The US Government purchased both as part of National Forrest Land. The original buildings were removed in the 1960s, but you can see remnants of the old dam system and turbine gears.
Getting To Diana's Baths
Address: 3725 West Side Rd, Bartlett, NH 03812
The closest town is North Conway, NH.
Where To Stay Near Diana's Baths
We stayed at our timeshare in Stowe, Vermont, and drove over. Yes, we have a timeshare that we use all over the world!
The timeshare we stayed in was three bedrooms, two baths, two stories, and a private sauna in it! Not too shabby….
Think we are nuts? Not really; I paid $207 for it on eBay!If you do not have a timeshare, you can stay at any of these hotels nearby:
Camping At Diana's Baths
It is not possible to camp inside the park. However, there are plenty of camping sites in the area along with vacation rentals.
Exploring Diana's Baths
The hike up the falls is three-quarters of a mile. As I mentioned, the elevation is low, in many places flat.
You start the hike by walking through the woods on a lovely gravel paved walkway.
Once you have navigated the walkway, you will begin the easy climb up the pools, aka baths. We visited more than ten water holes and waterfalls in this region, and Diana's Baths was everyone's favorite. Easily, this one is the most enjoyable.
Why? Here's Why!
I mentioned this is an easy hike. This makes it leisurely, and there is no intensity of the climb.
It is heaven on earth, literally! I cannot even begin to describe how scenic it is. The views are stunning, the water is crystal clear, and the air is the cleanest you'll breathe.
You can cool off in the pools as you go up. And you can slide down small natural rockslides in some of the pools.
Many rock formations are large enough to sunbathe on or even hang out for the day. Find your rock and claim it!
The Waterfall
There is only one major waterfall at the top of the trail. It is a 12-foot plunge over smooth granite, and you can stand under it.
The perfect spot for an Instagram-worthy shoot if that is your thing.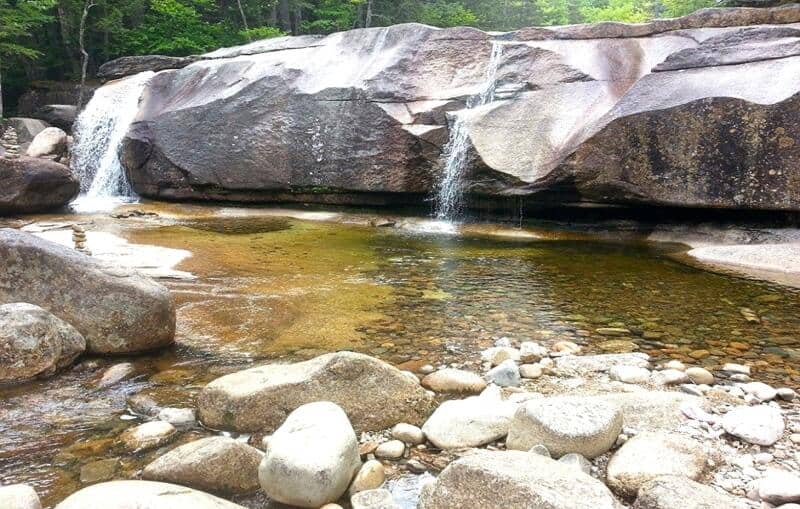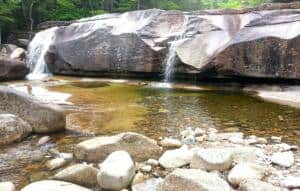 Water Levels
As with any natural body of water, flows change. The water volume here varies based on how much rainfall and season. April is when the water will be at its most intense. As such, be careful crossing the pools when the water is gushing.
Rock Cairns
Rock cairns are human-made piles of rocks. You will have seen them all over the world. You will encounter rock cairns at Diana's Baths. However, they are frowned upon, so please do not create your own.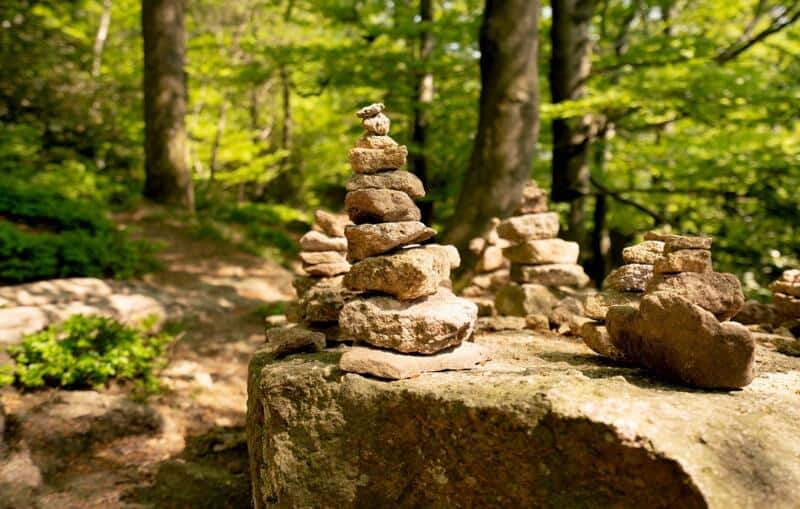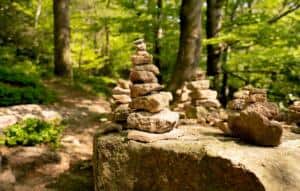 Parking At Diana's Baths
There are tons of parking at Diana's Baths. However, like with all parks, it has first come, first served. This place is packed on the weekend, and it is hard to get a parking spot. If you have your heart set on visiting Diana's Baths, I advise avoiding school holidays and weekends.
It cost $5 to park. There is a self-service pay station where you get a ticket to display your vehicles.
Frequently Asked Questions About Diana's Baths
How long of a hike is Diana's bath?
It is ¾ of a mile.
Can you swim in Diana's Baths?
You can dip and soak in the pools, but they are not big enough to actually swim in. Well, not big enough to swim laps!
Why is it called Diana's Baths?
It is named after the Roman goddess of the hunt, the moon, and nature.
What You Need to Know When Visiting Diana's Baths
Bug spray is a must! Sadly, we did not take any with us, and the sheer number of bugs cut down our time in this dreamland. Ironically, we are not novices to trails. We should have known better. However, we had visited many falls before this one and did not experience the bugs. So, be forewarned you need bug spray to spend a long time here.
It would be best if you had walking shoes for the trail. If tackling this in winter, you need walking shoes with a firm grip.
It would help if you had water shoes for the pools.
This might seem obvious, but you need sunscreen. There are several areas with no shade.
There is a bathroom at the entrance.
Dogs are allowed along the trails, but you must clean up after them.
Do not litter the area and leave no trace behind.
Closing Thoughts
There are few places left where you can enjoy a day out for $5! This is not just a cheap day out; it is a beautiful day out. Everyone who enjoys being outdoors will love Diana's baths.
Pack a picnic, your bathing suit, and supplies, then hit the water.
It is extremely relaxing to wade through the pools and take in the stunning scenery.
Looking for more posts to inspire you? Start here:
We are a participant in the Amazon Services LLC Associates Program, an affiliate advertising program designed to provide a means for us to earn fees by linking to Amazon.com and affiliated sites.
Brit On The Move™ Travel Resources
Ready to book your next trip? Use these resources that work:
Need more help planning your trip? Check out our Resources Page, highlighting the great companies we trust when traveling.