When you arrive at the temple, you will be dropped off at the bottom of the hill. Entrance is free; however, it's customary to donate. I recommend around 10,000 – 20,000 IDR per person, or if you are a couple donate 50,000 IDR. 50,000 IDR is approximately $3.60, extremely affordable.
Once you have donated, you will receive a wrap that is required to enter the temple. You can bring your own wrap. If your outfit coordination is important to you, you will want to pack your own wrap or be at the mercy of available.
The locals will "wrap" you up, and then off you go up the steep hill to the entrance.
Inside Lempuyang Temple
The second you walk into the temple, you will see hundreds and hundreds of people. In fact, it's quite shocking to see. Everybody is sat under the shaded huts waiting for their turn to take their photograph at the Gates Of Heaven.
To the right of the entrance are three Candi Bentars. You cannot climb or access these: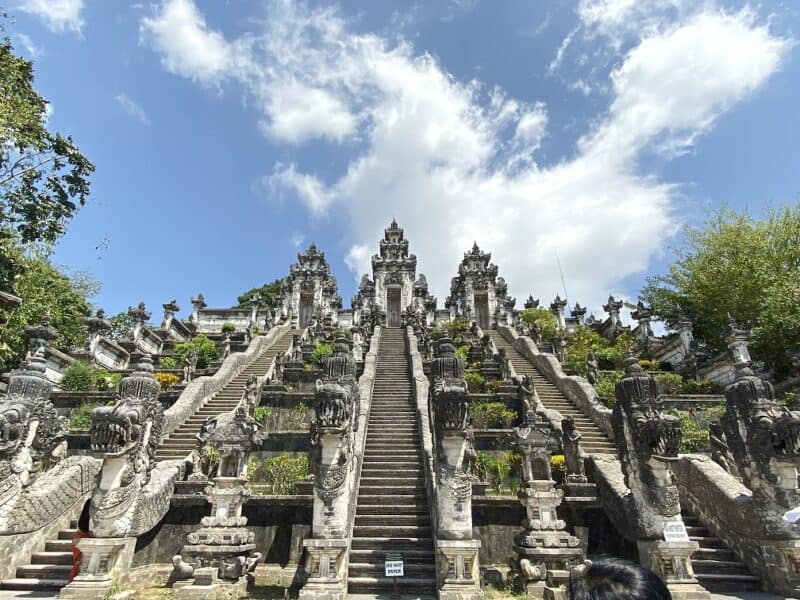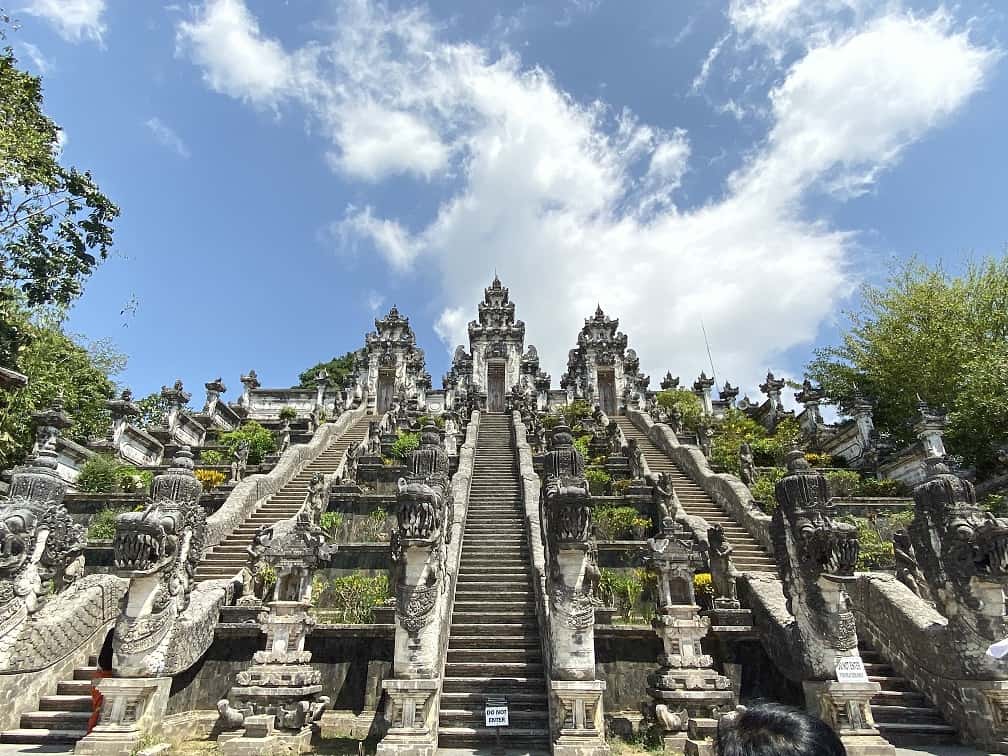 Video Of Inside Lempuyang Temple
What To Wear At The Gates Of Heaven
Recall that I mentioned you need a cover-up? Here are some popular choices:
Frequently Asked Questions
How much does it cost to park?
The parking fee is 5,000 – 10,000 IDR.
Are there toilets on-site?
Yes, there are some toilets at the base of the temple.
How far is The Gates of Heaven from Ubud?
There are about 50 miles from Ubud, and it takes anywhere from two to three hours to drive the route.
Closing Thoughts
Everyone will tell you that no visit to Bali is complete with visiting The Gates Of Heaven. I agree in the sense that you are already there, so why not? And, let's be honest. We all want to experience the things we see that motivated us to visit in the first place. This being said, Lempuyang Temple is hard to reach, is tiny compared to many other temples, is a tourist trap, and is underwhelming.
We traveled hours to get to Lempuyang Temple and spent a total of twenty minutes there. Brian, completely irritated at this point, said he'd be happy never to see another temple again. When I asked him why he said, "they are all the same, all have the same gates." He is correct. All of the temples have gates!
So does this mean you should not go – absolutely not? You are already in Bali so go for it. Just know what to expect. And, if your time is limited, Lempuyang Temple is not the most beautiful or impressive.
Looking for more posts on things to do in Asia? Start here:
We are a participant in the Amazon Services LLC Associates Program, an affiliate advertising program designed to provide a means for us to earn fees by linking to Amazon.com and affiliated sites.
Travel Planning Resources
Looking to book your next trip? Use these resources that work:
Are you interested in Volunteer Vacations and Working Holidays? Check out the complete guide to how here!
Need more help planning your trip? Make sure to check out our Resources Page, where we highlight all the great companies that we trust when we are traveling.