Wizz Air Review: Launched in 2004, Wizz Air is a Hungarian low-cost carrier serving Europe, Northern Europe, and the Middle East.
I recently flew Wizz Air to Cyprus. I returned today. Not a lot can be said about them that is good. Wizz Air is terrible, and here's why!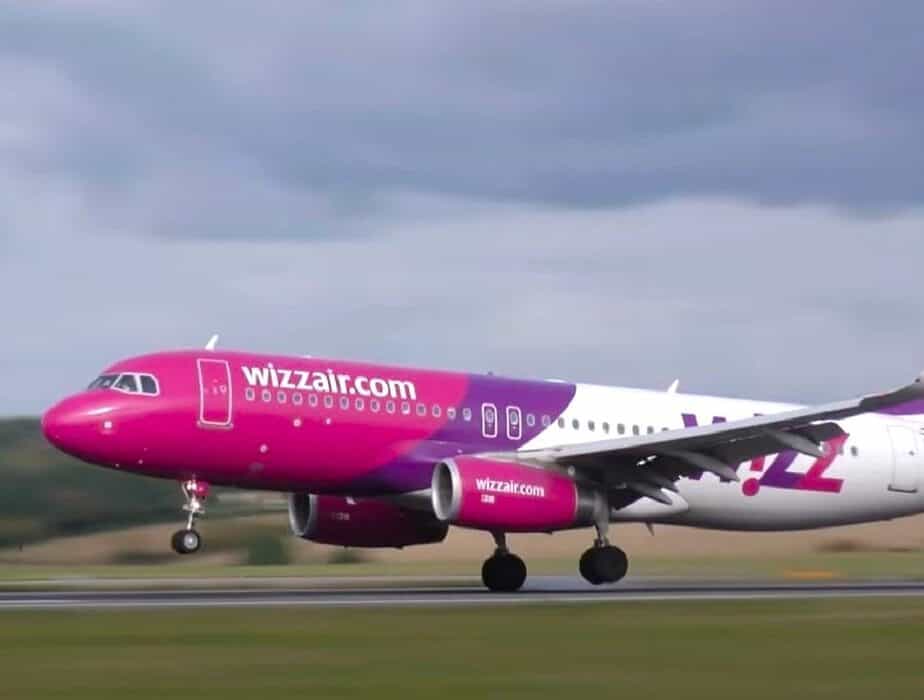 This post may contain affiliate links. Please read our disclosure and privacy policy for more information.
Wizz Air's Pricing Is a Joke
We all know and accept that if you choose a low-cost carrier, you must travel without luggage or pay for check bags.
Wizz Airlines takes the piss here – pun intended.
A flight that costs 27 euros with one checked bag will quickly wrap up to over 150 euros each way once you've checked one bag.
Add insult to injury; you can't find accurate pricing online until you begin the purchasing process.
Wizz Air's Online Check-in Is Designed to Cost You More
So, you've bought your tickets and are ready to check in.
Good luck!
First, you MUST have an account with Wizz Airlines. This account will prompt you repeatedly to sign up for their specials.
No thanks, I don't think I'll be flying with you again.
Then comes the real trickery! As you begin checking in, the system will prompt you to ask for a boarding pass which is 2E per person extra. It will also automatically prompt you to pick seats.
Then it will ask you if you want to check more baggage even if you've already paid for what you plan to check.
There's a total of seven steps, half of which are to lure you into thinking you need these additional ones. You don't need any add-ons. Just fill in the passenger information and navigate through to the end.
Wizz Air's Check-in At the Airport Is a Joke
We all know we must arrive two hours before an international flight – it's standard.
People, you could arrive four hours early and still not make your flight.
Wizz Air does not open check-in until two hours before departure, and there is not enough staff to manage the volume of people checking in.
This is compounded by those who overpack standing there, taking up the few agent's working time and station. No common sense here at the Wizz Air check-in, no urgency. The staff could ask the over-packers to move over and continue checking people in, but no. That's too logical.
Wizz Air's Baggage Policy Is By Far The Craziest One Globally
You must wonder who comes up with this nonsense. Talk about taking bag fees to the next level. This is the first time in my life that I've seen an airline delineate between a personal item and a bag.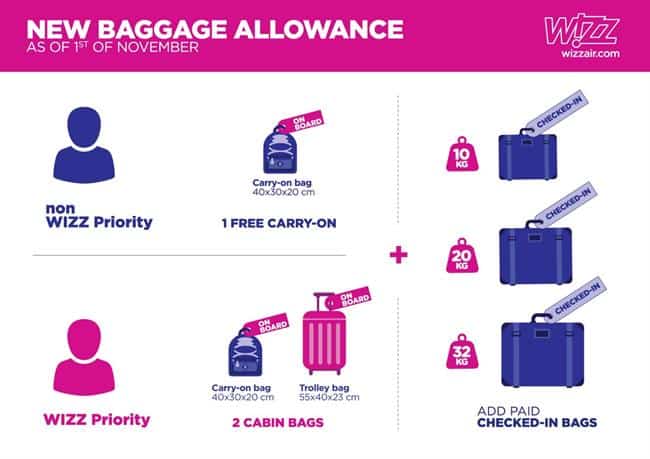 Let me put this in context for you. Ladies, you have a purse and a laptop bag. They expect you to pay for the laptop bag as it's not a "personal item."
Let's call a spade a spade here. This is bullshit.
And there's a fancy priority boarding package you can buy for this – how considerate.
To add insult to injury, Wizz Airlines somehow found a company to manufacture them a bag sizer that has not two but three bag sizes to make sure they stick the personal item vs. a bag to you.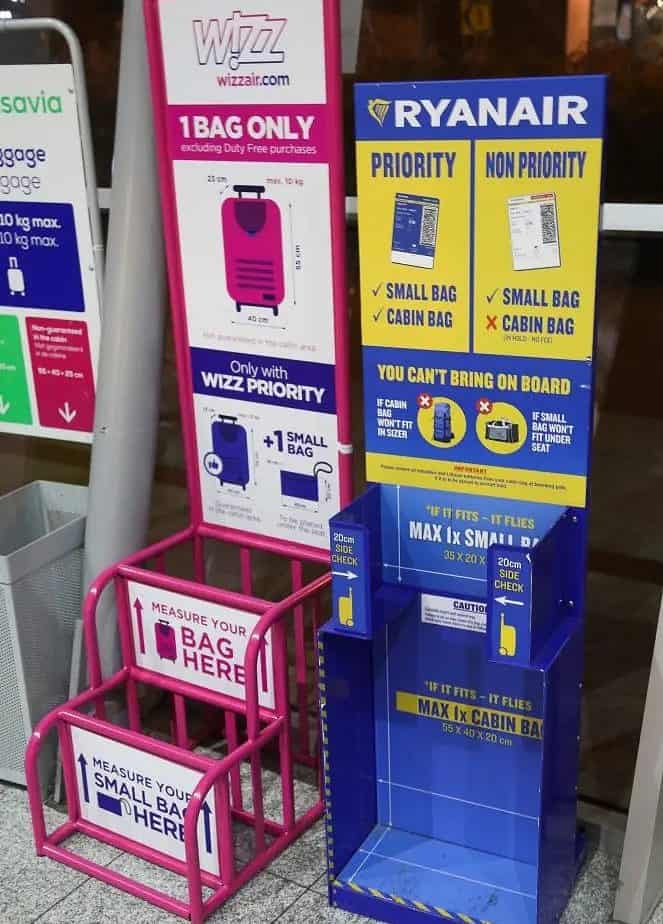 Wizz Air's Airplane Bathrooms Are Filthy
The main cabin of the flight is clean, but the bathrooms are not. Sadly, a gentleman had left the seat up, and I got to see the condition of the toilet. This was about twenty minutes into the flight. It's apparent this was not the result of a long flight.
GROSS and unacceptable.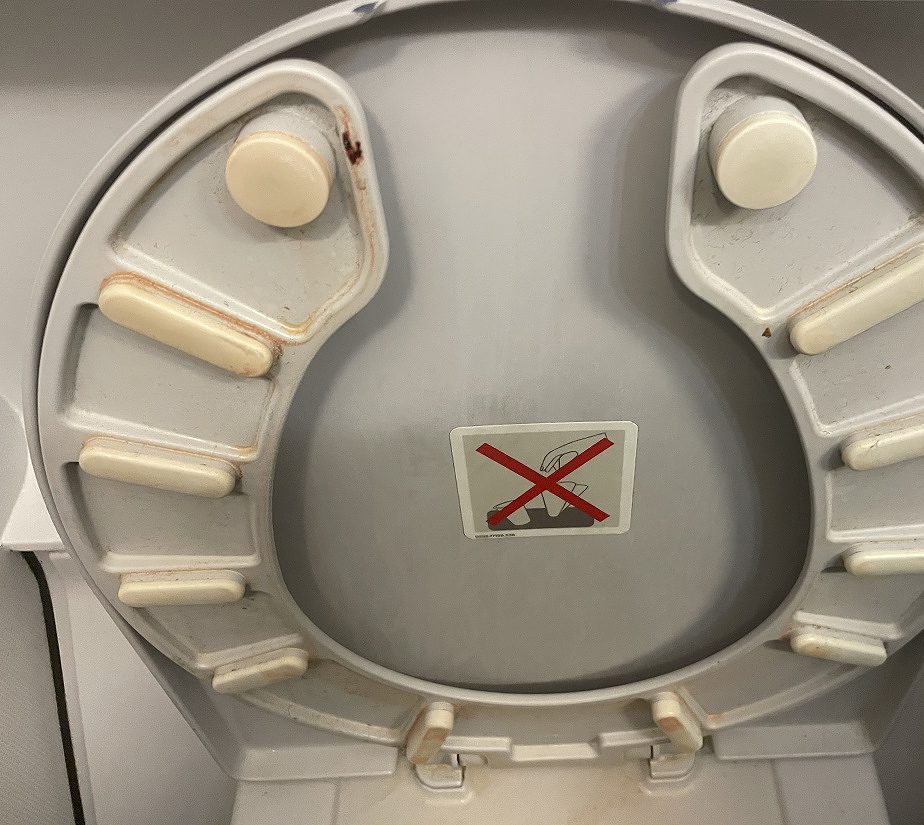 Wizz Air Send You Out Of Date Information
I am still shaking my head on this one.
How do you send an email stating that you need a mask on the plane and upon landing in a country when neither applies?
Wizz Air's Staff Are Obnoxious
Let's begin with England's "we don't give a flying F" staff. The staff that is more concerned with creating a more uniform line that deceives the extent of the line you are in—is an excellent way to disguise the issue. However, had these two staff members joined the team, checking people in the line would not be as long as it is.
Then there is the London-based crew that either has a hard-on for power or takes their authority too far.
This Happened On My Flight
A gentleman boards. His seat in the bulkhead – in row one. Suppose you're not familiar with this term or what this means. It means you are sitting in a row with a diving wall. You have extra leg space but no seat in front, so there is nowhere to put a bag or personal item under a seat. Your bags MUST go into the overhead cabin.
The gentleman boards and attempts to place two bags into the overhead cabin. One tiny, the size of a bottle of booze. The other is the size of a small laptop bag. As he attempts to find space, the stewardess tells him that all the overhead bins are full and directs him to place his belongings seven or eight rows back.
The man explains that he does not want to do this because he'll have to navigate through several rows to get his belongings and then move forwards upon landing. It was also obvious that his items were gifts (one in a gift bag and the other a store bag), so it was a natural thing to want to keep these items close.
Now, before we go any further, remember I told you. He's in row one, a bulkhead. Whether he paid for that seat assignment or not, his bags must go in the overhead cabin no matter what. In fairness, this was a reasonable request.
Here's Where It All Goes Wrong!
The female stewardess said something to the effect of "what do you want me to do." The gentleman replied with something close to, "go on with your business, and I'll figure it out." I did not catch the exact phrasing.
The gentleman makes space in the overhead bin close to where he's sitting in row one.
Ironically, there's room! The man places his two bags and sits; all is calm. That is until this male steward enters the picture – it's the guy on the right.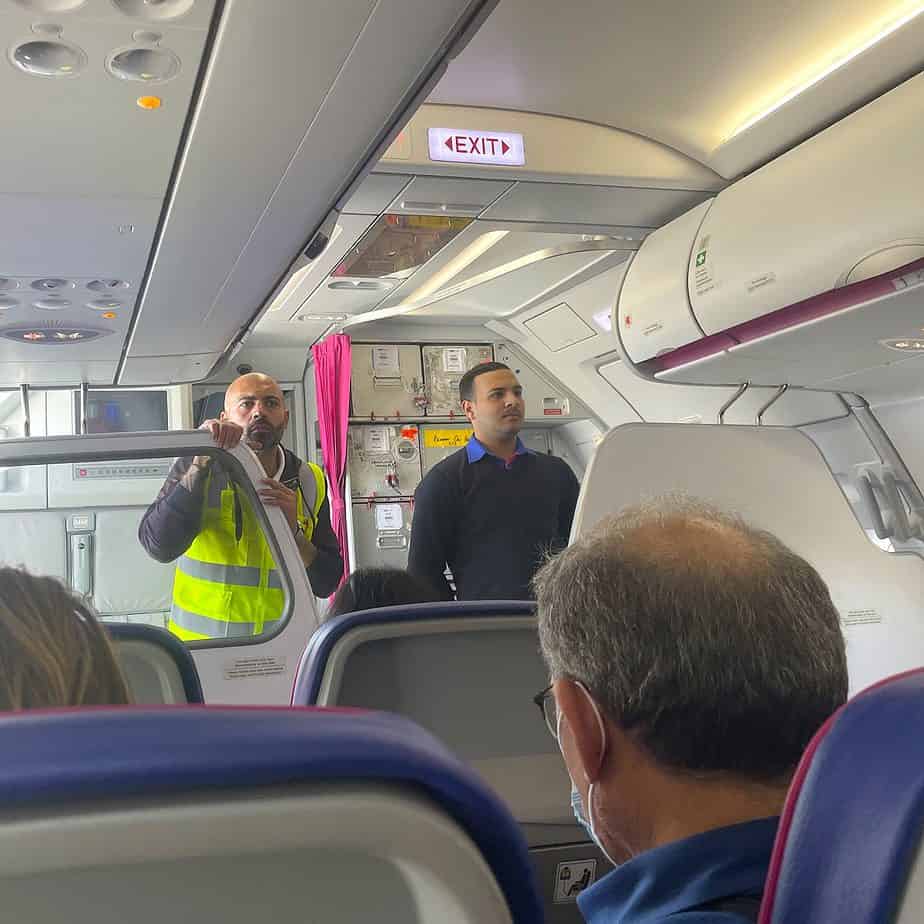 The male steward asks to have a word with the gentleman. They talk for about five minutes. I could not hear everything said, but I did hear the male steward say that the man was agitated.
Reading between the lines, the issue is that the passenger did not obey the female flight attendant's commands. Then, the passenger defended himself.
The male steward enters the cockpit, and it's apparent that he's asked the pilot to call the police.
Sure, as I write this, the police arrive.
Here's what happened next. The police arrive and ask the passenger to deboard the plane. Here's the video. Assess this for yourself.
Dear passenger: If you are the man in this video, I have several more videos that might be useful to you – before, during, and after. This video is the least intrusive one. If you need the others, let me know!
Should The Passenger Have Been Removed?
I don't think so; it was excessive. Poor judgment. A real display of control.
I understand that once you board a plane, you are under the control of the flight crew – what they say goes, period. However, this was a pissing match. The flight crew, the male steward, chose to cause a scene, make a mountain out of a molehill, and caused the entire flight issues.
The passenger wanted to place his bags where they HAD to go in overhead bins near his seat, and there was plenty of room to do so.
The male flight attendant applied a no-tolerance approach. Right wrong, or indifferent, the message was loud and clear – you'll do as we tell you.
So, tonight the poor man in the video is stuck in Cyprus and probably spending the night in jail. Who knows for how long or what consequences he will face?
As a result of this incident, I'm delayed. It's Boxing Day in England; trains are on strike, and taxis want triple rates. I've missed my connection and must re-arrange hotels and spend the night in Gatwick.
Thank you, Wizz Air, for such a shite experience.
Closing Thoughts
Low-cost carriers get tons of heat for their nickel-and-dime pricing. However, most of them are reasonable and upfront with their pricing.
Wizz Air, not so much. It's crystal clear that part of their business model is to squeeze every penny out of you they can. Shamelessly so.
How they have survived is baffling to me. I am shocked COVID did not take them out of commission.
So, while the lure of cheap flights might tempt you, avoid this airline
Is there anything good to say about Wizz Airlines?
Well, the flight to Cyprus was on time. Not a consolation for the fact that the flight back was delayed due to the crew's poor judgment.
We did not crash! I guess that's a good thing. Aside from this, I can't tell you there's a good thing about Wizz Air.
The bottom line, Wizz Air is a piss-poor airline with an appropriate name.
Looking for more Travel Hacks? Start here:
We participate in the Amazon Services LLC Associates Program, an affiliate advertising program designed to provide a means for us to earn fees by linking to Amazon.com and affiliated sites.
Brit On The Move™ Travel Resources
Ready to book your next trip? Use these resources that work:
Need more help planning your trip? Check out our Resources Page, highlighting the great companies we trust when traveling.