Scalloping in Florida is essentially an underwater scavenger hunt for dinner! It's a Floridian tradition that many enjoy year after year. Florida scalloping is a family-friendly way to spend the day on the water catching juicy edible mollusks that appear on many seafood menus worldwide! There are a variety of different types of scallops to be had from different regions. Florida scallops are bay scallops vs. sea scallops. Mostly, they are the smaller scallops.  Florida scallops may be small, but they are worth the effort to catch.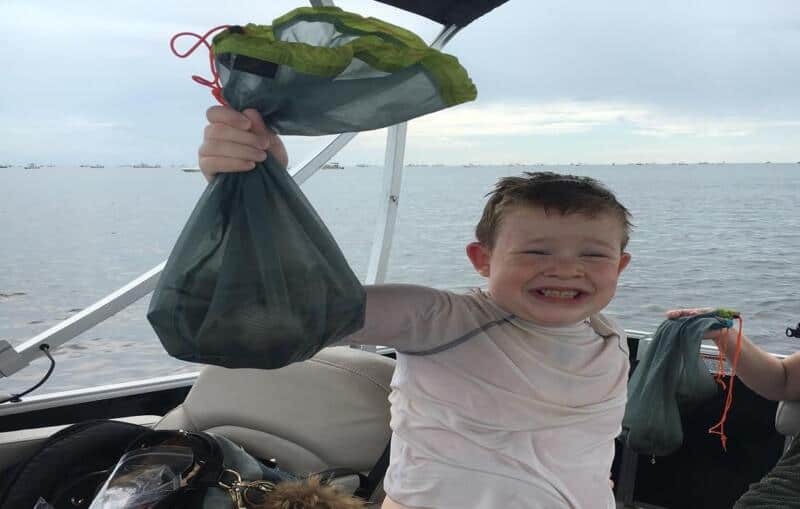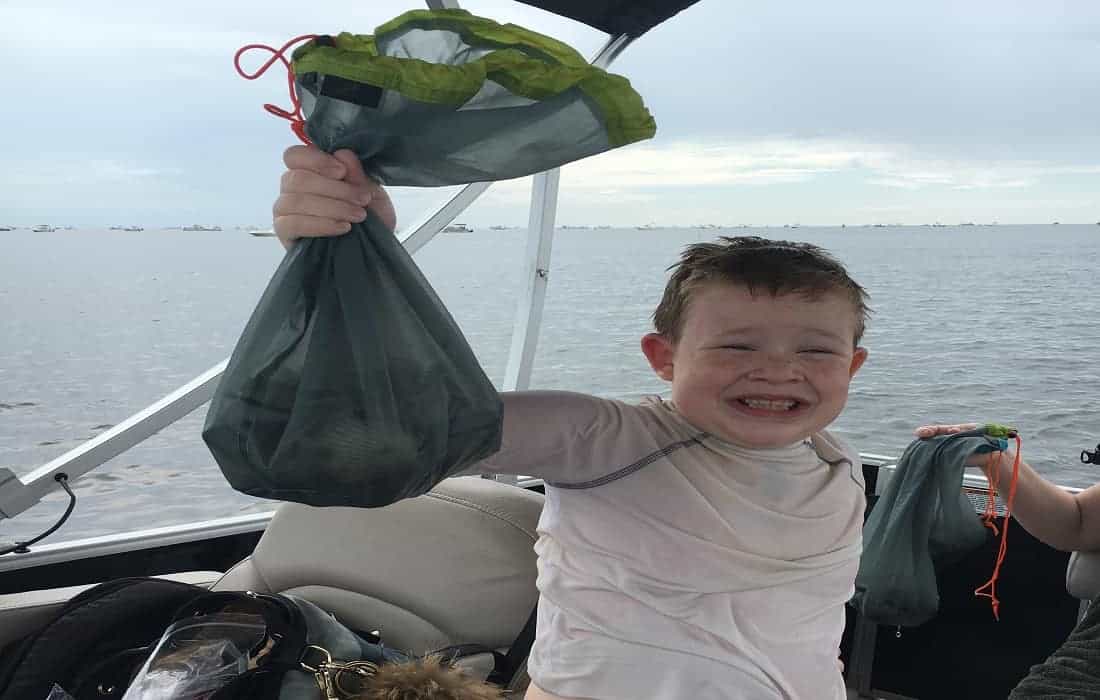 This post may contain affiliate links. Please read our disclosure and privacy policy for more information.
2021 Scalloping in Florida
We've been scalloping in Florida for six years now and without using a tour company. We have scalloped the Crystal River, Homosassa, and Hernando, and Ozello areas. In the guide, I will teach you everything you need to know about scallops, including where and how to catch them!
First of all, everyone wants to know where to go scalloping. There are many spots that I will cover below. However, I think scalloping on the Crystal River is the best spot to start for anybody new for a beginner. The reason I say this is that the route to where the scallops are is fool-proof. It requires little to no experience.
At the Crystal River, there are thousands, stress thousands of boats heading in the same direction, so it's impossible not to make it to the "spot" where scallops hang out.  The challenge of scalloping this area is it is popular. Before you embark on a scalloping trip, make sure you are familiar with the Florida Fish and Wildlife Conservation Commission (FWC) regulations. You must follow the guidelines and stay within limits. You will also need a Florida saltwater fishing license. FWC patrols the area, and they do check boats and limits.
If you have a boat, you have what you need to scallop without hiring a tour guide.
2021 Scalloping Seasons By County
Image Source The Florida Fish and Wildlife Conservation Commission (FWC) 
What Is A Scallop
The Florida bay scallop is a bivalve mollusk, similar to oysters, mussels, and clams. There are two types of scallops: bay scallops and sea scallops. The ones found on the seagrass beds of the Gulf of Mexico are bay scallops.  Florida scallops are smaller than sea scallops. Sea scallops are up to three times larger in size than bay scallops. Florida scallops (argopecten irradians) live in seagrass beds in shallow water, usually 4 to 10 feet deep, all along Florida's central and northern west coast.  They have thirty little blue eyes that glow. When you dive down to catch a scallop, they often close as the eyes sense shadows.
Scallop With Blue Eyes Showing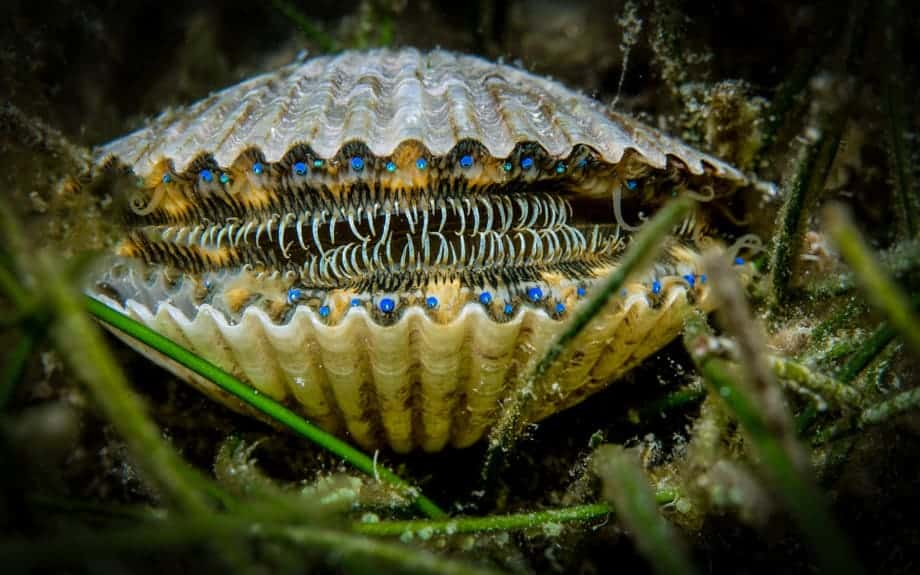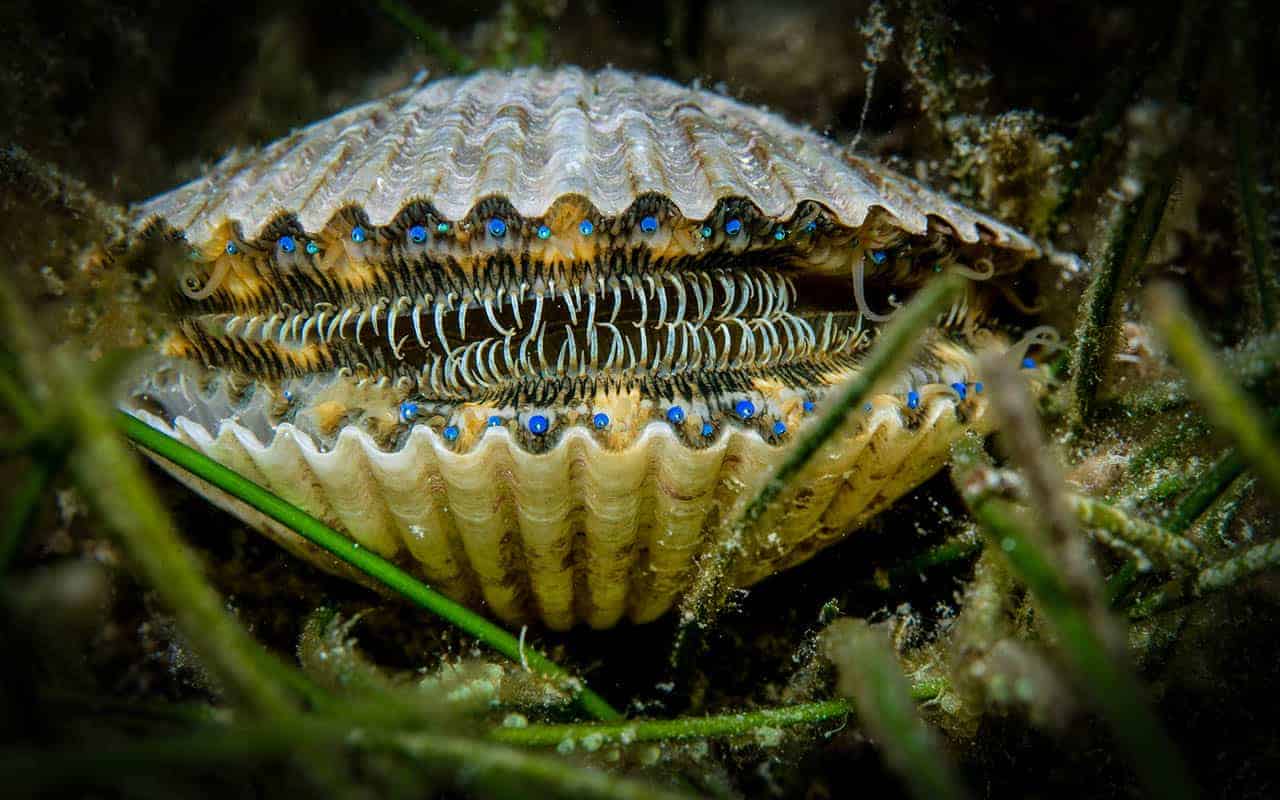 Scallop Without Blue Eyes Showing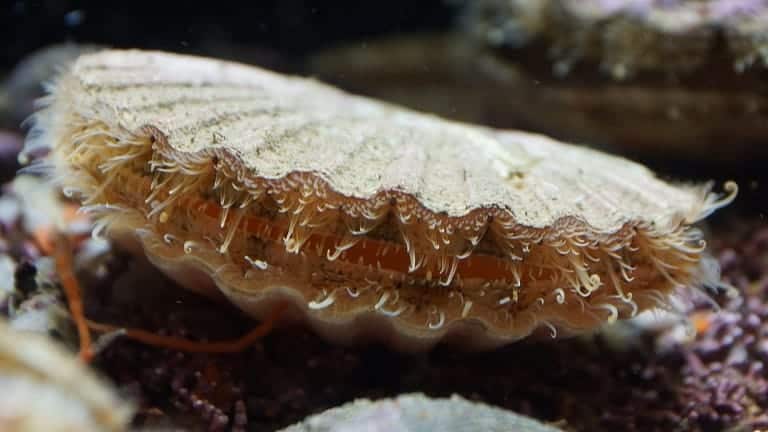 Do I Need a Florida Fishing License to Scallop?
If you are going out on your own boat absolutely, there is never an exception – you will always need a saltwater license. The only way to avoid licensing is to take a tour with a boat operator. The boat operator's license will cover you.
Note, you can check state by state guidelines for fishing licenses here: Where To Get A Fishing License
How To Catch Scallops
The first time you scallop, it's an exciting experience because you don't know exactly what to look for.   The best way to describe it is you're looking for little rock formations in shell shapes.  If the sun is shining down through the seagrass, you will see their blue eyes.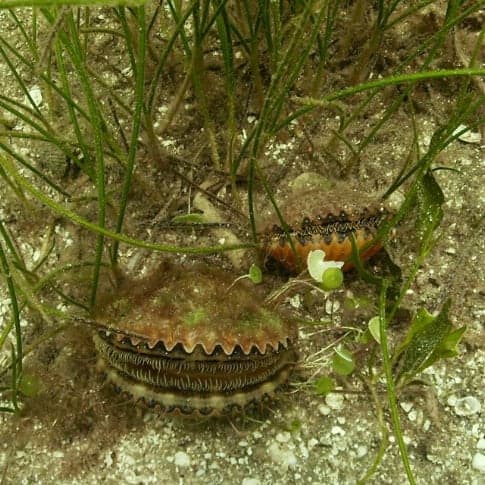 The tides on the Gulf of Mexico are typically three to five feet deep. Naturally, low tides are much easier for scalloping. The shallower the water, the easier to catch. In some really shallow water, there's no diving required at all. You simply float on top of the water, and as you see them pick them up! In show water, this is as simple as submerging your head and reaching down.  In deeper water, say five feet deep, it's a mild dive—this about swimming to the bottom of a shallow pool. So you locate the scallops, dive down, snatch up the scallop, and put it in your bag.
Notice how shallow the water is – you can see the bottom:
They don't bite per se, but they will clamp down onto a finger if you don't scoop them up and bag them. Suppose you don't want to pick them up barehanded use a glove. If, like many of the kids that scallop with us, use a fishing net to scoop them up!
Pro Tip: It's much easier to grab them barehanded!!!
Some people will tell you that you can identify them from their blue eyes. While this is true, you can only see the blue if the sun is shining directly on the seagrass you are in. Stick to looking for the shape, and you will get the hang of it.
Once you have filled your bag, make sure you place them in a bucket filled with saltwater, or they will die before you make it back.
The 10 Best Places to Scallop in Florida
There isn't a "best" place. Instead, there are many great places to catch scallops in Florida. Finding the ideal location boils down to trial and error. With experience, you will find your spots or learn techniques that prove fruitful. We like to start on a shallow reef with coral surrounded by seagrass vs. just diving in seagrass. We find it easier to see the scallops. If you are on a full bed of seagrass, you must have full sun; otherwise, they are difficult to spot. We also aim for shallow waters, but you will be at the mercy of the tide. Sometimes, you have to be willing to do some work. Ideally, you would be in water that is five feet deep or less. One other trick that never fails – follow the crowd. If boats are sitting on a spot, there are scallops there.
Here are some of the most popular locations to catch scallops, and of course, everyone has their own favorite spots!
Cape San Blas Scalloping
Where To Stay in Cape San Blas
Located in the Panhandle of Florida in Citrus County is a 17-mile barrier peninsula in St. Joseph's Bay. This is an ideal location for scalloping, especially for kids. These waters are so shallow that it's possible to scoop up scallops with just a net. Cape San Blas is an old-school small town.  White sandy beaches, the Caribbean-like water, and the laid-back atmosphere that you would expect from any small town.  And Cape San Blas is one of the few places where scallops can be found on sandy bottom areas as well as in seagrass beds.
Chassahowitzka Scalloping
Where To Stay in Chassahowitzka
Located in Citrus County and close to Homosassa,  Chassahowitzka is known for shallow beds, and it's much quieter than many of the other locations.  It's possible to stay in Chassahowitzka and go out from Homosassa and vice versa. One real bonus of this location is that you can scallop both locations, but you will avoid the crowds at Homossa if you leave out of Chassahowitzka.
Crystal River Scalloping
Where To Stay in Crystal River
Arguably the most famous location is the Crystal River. The Crystal River is also famous for its population of manatees. The popularity of Crystal River also makes it the easiest route for a new scalloper to take. Getting to the scallop patches is a simple as follow the boats ahead. The water clarity is great, and on a low tide, you can catch scallops in three to five feet of water.
If you are interested in learning more about the Crystal River see here:
Hernando Beach Scalloping
Where To Stay in Hernando Beach
Just south of Homosassa is the lesser-known Hernando Beach, which brings some real advantages, no crowds, a quick ride out to the reefs, and stunning turquoise water.
Homosassa Scalloping
Homosassa is the choice of most native Floridians.  Generations of families have spent year after year catching scallops here. There's always a debate about is Crystal River better than Homosassa, and while everyone has their own opinion, Homosassa is a great spot. Homosassa is a wonderful small town that really captures an old town feel. Arguably, this is the most "authentic" locations. And, for sure, it is the least packed with tourists.
If you are interested in learning more about the Homosassa see here: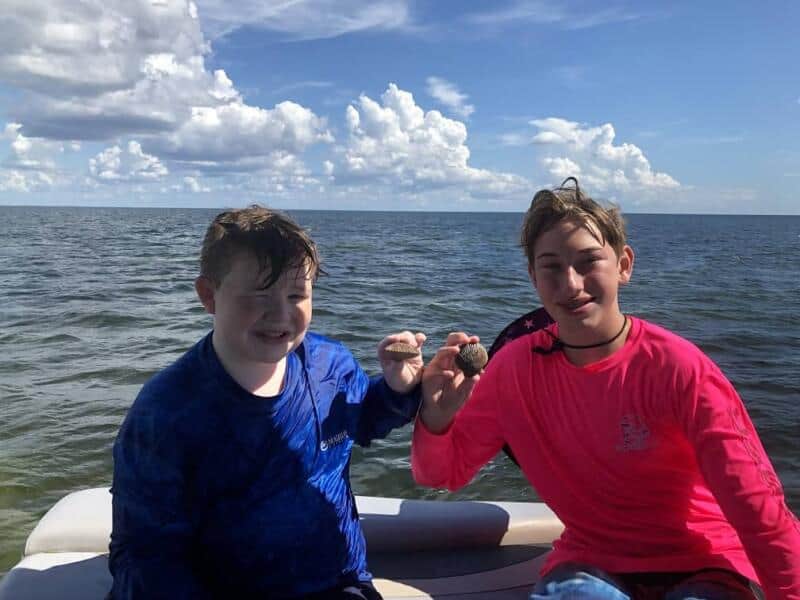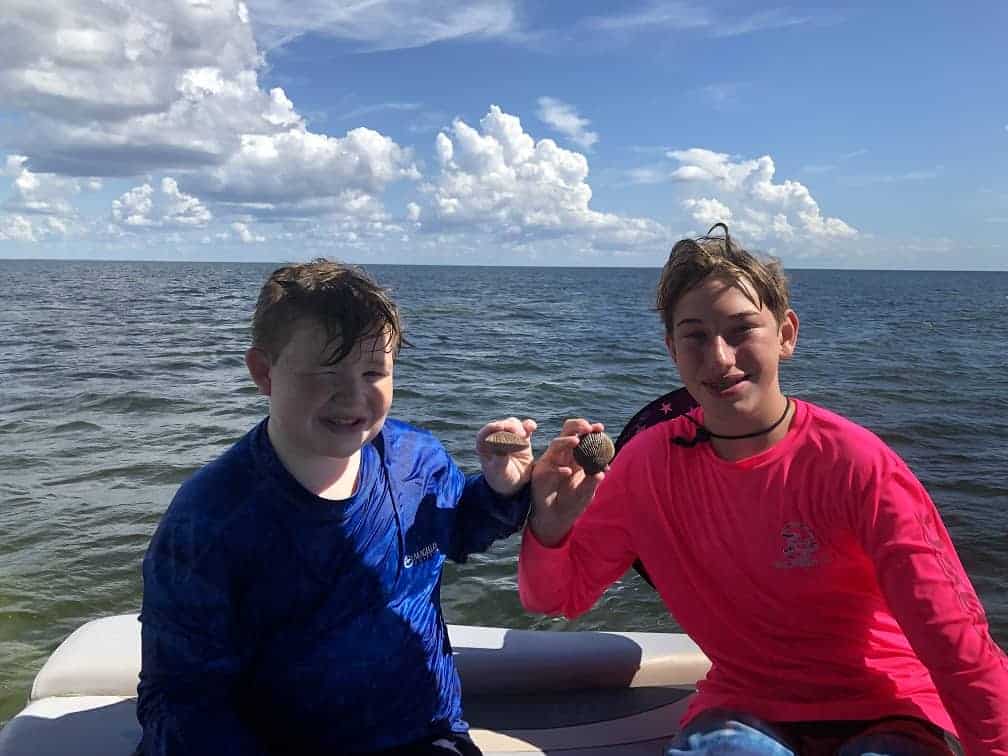 Keaton Beach Scalloping
Further north of Steinhatchee and heading to the Panhandle is the small fishing town of Keaton Beach. Scallops can be found here in three to five feet of water.
Ozello Scalloping
Ozello is in-between Crystal River and Homosassa. Many don't even realize that you can reach the scallops from here. There is one slight catch! The waterways to the Gulf of Mexico are not very well marked, and the water is shallow. This is the difficulty, not a location for beginners. Even with GPS, it's a difficult trail to follow. I can tell you from experience, we did it twice and ended up having to wait for a local to pass for us to follow. This said, if you are a confident boater and are willing to give it a shot, you will avoid all crowds and yet get to the scallop beds nestled between Crystal River and Homosassa.
Port St. Joe Scalloping
Located between Panama City and Apalachicola, Port St. Joe sits on the edge of St. Joseph Bay. What makes this location different is that you can wade out to the mud grass flats and catch scallops. The tides here are low, which exposes the flats enabling people to walk out and catch scallops.
Steinhatchee Scalloping
Steinhatchee is a favorite for many because scalloping opens a couple of weeks before Crystal River's season. Avid scallopers head further north to get an extra few weeks in before the other counties open up. The main challenge you will encounter in  Steinhatchee is the water's clarity, which varies based on how much rainfall there is. This said, don't be dissuaded. You just need to get out there and find a clear spot.
Yankeetown Scalloping
Yankeetown is a charming coastal village on the northwest coast of Florida. Ride the Withlacoochee River to the Gulf of Mexico. You can find scallops in Mangrove Point. Plugin these GPS coordinates to reach the scalloping area: Marker 18 A Withlacoochee Channel 28.59.005 N – 82.47.543 W To #39 Area Power Plant (Barge Canal) 28.56.317 N
How To Get To The 2021 Scalloping Locations in Florida
Crystal River
All you need to do is launch into Kings Bay, hook a left and once you see the marina on the left-hand side, follow the boats heading to the right. Keep going until you get to the mile markers.  As you approach the mile markers, you will see the nuclear plant to the right. We use the nuclear plant as a landmark as you can see it for miles. Depending on the weather, it can be hard to see the mile markers, but you can always see the power plant.
As you approach the mile markers on the left-hand side is Shell Island.  Shell Island is a cool place to hang out, and it's an excellent fishing spot. You will see lots of boats parked on Shell Island. If you land here, be sure to check out the driftwood that provides for beautiful photography or try your hand at landing some fish.
Directly after Shell Island, you will see the channel entrance to the mile markers. Enter the mile markers and follow to the very end. When the mile markers end, go left and south. You can't go wrong. Just follow the other boats south. After a mile or two, look to the horizon. You will see thousands of boats dotted across the ocean. I've included a map so that you can see the route from The Plantation to the Scallop Beds.
 2021 Scalloping in Florida Map – Crystal River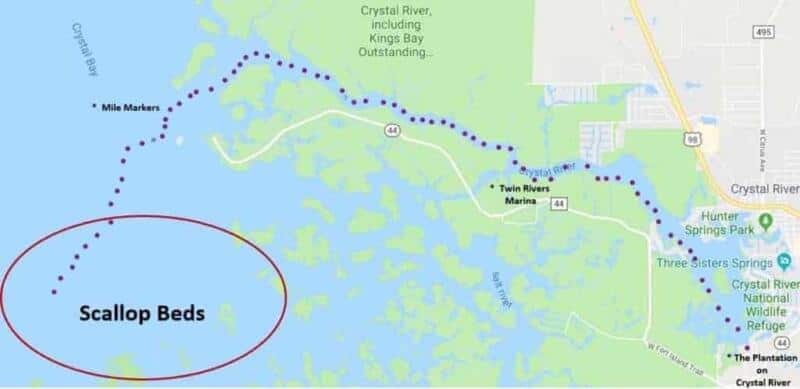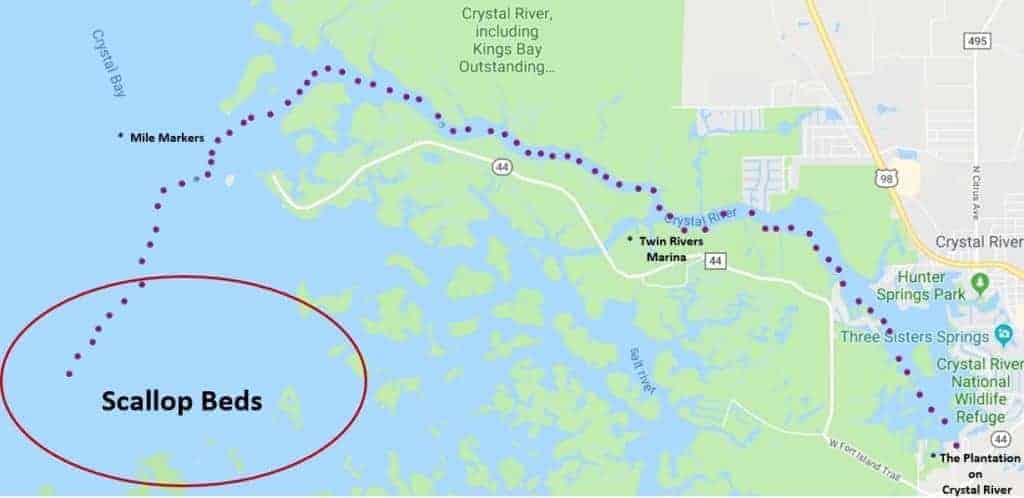 Crystal River Public Boat Ramps
There are twelve public boat ramps. We always launch out of the  Shop At The Port Hotel & Marina.
Homosassa
Considered by many homes of best scalloping spots in Florida, Homosassa is known to all in Florida. The two locations are different, but you will end up in the same place no matter where you started. One unusual thing is there are more scallop cleaners on the way back into Homosassa. There are hysterical jokesters on the river that will harass you in a friendly way.  I also found the cleaning services slightly less expensive in Homosassa. I've included a map so that you can see the route from Homosassa.
Florida Scalloping Map – Homosassa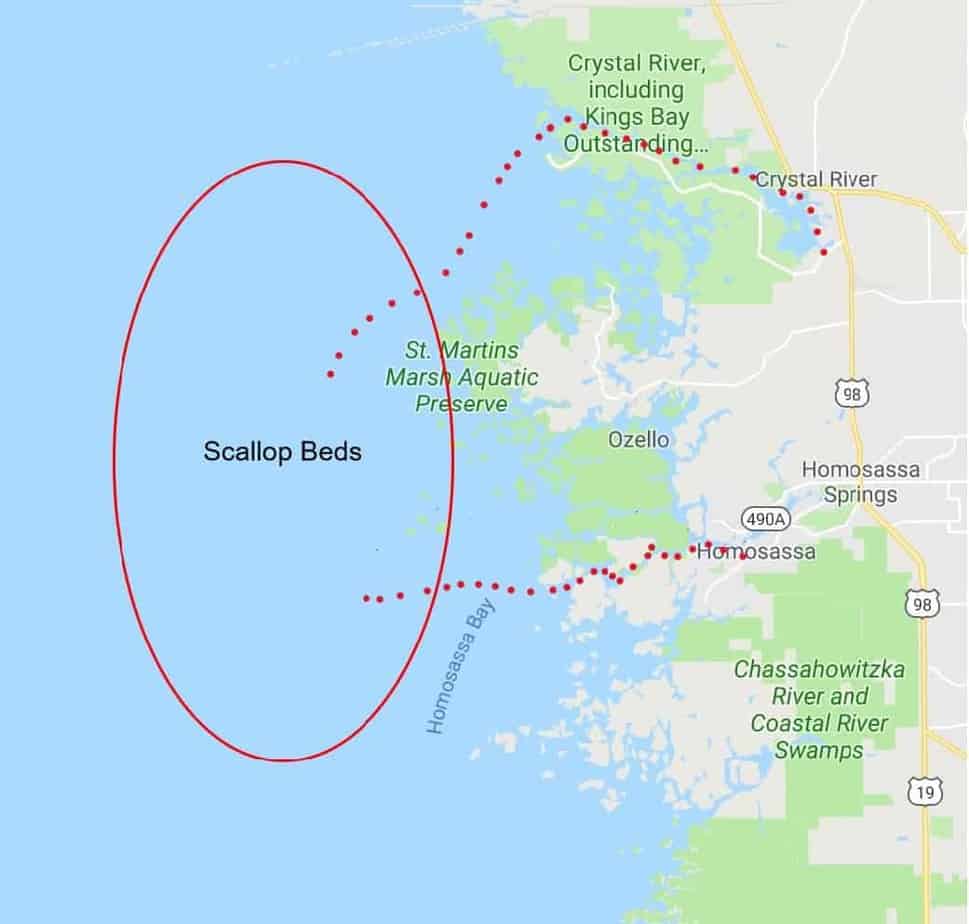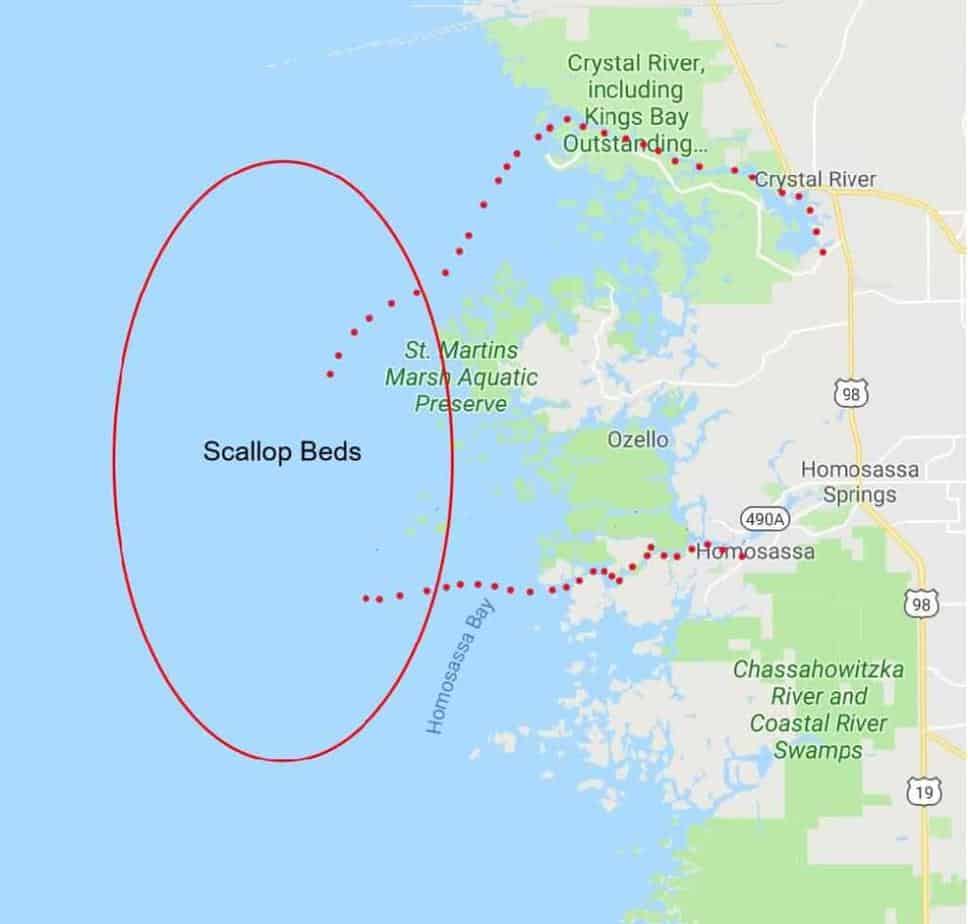 Homosassa Public Boat Ramps
There are five public boat ramps.   The two most popular are:
Old Homosassa (Duncan J. MacRae) Public Boat Ramp
The most popular launching spot. The famous Monkey Island is immediate on the right. Be prepared for long lines if you go at the beginning of the season. Even the state's website states this. There is limited parking, so limited that locals offer you a ride via golf carts to park. It's $10 per person – a total rip-off.
This ramp is right next door to The Shed. When you return, be prepared for a cast of drunken judges who will boo and heckle you if you can't land your boat on your trailer in one shot. While typical at boat ramps, it was brutal here. If you are new to boating or can't perform this in one shot, steer clear of this ramp.
Mason Creek Road Public Boat Ramp
We have not tried this one, but it's further south than Duncan J. MacRae. I can only imagine that this is just as busy. Looking at the map, I suspect it's harder to get to as you would still need to bypass the traffic heading to Duncan J. MacRae.
Hernando Beach
2019 was the first time that we scalloped from Hernando Beach. Like the locations above, you are heading to the same route only from further down south. Some key differences make Hernando Beach a reliable option, especially for anyone with boating experience.
There a no crowds at all, and because you are heading south up to the main area, you can stop before you get into the group.
Accommodations are a lot less expensive, and there are more waterfront rentals available.
It took us less time to reach the scallop patches. I don't think this is due to physical distance. There are fewer no-wake zones on the way out.
 2021 Scalloping in Florida Map – Hernando Beach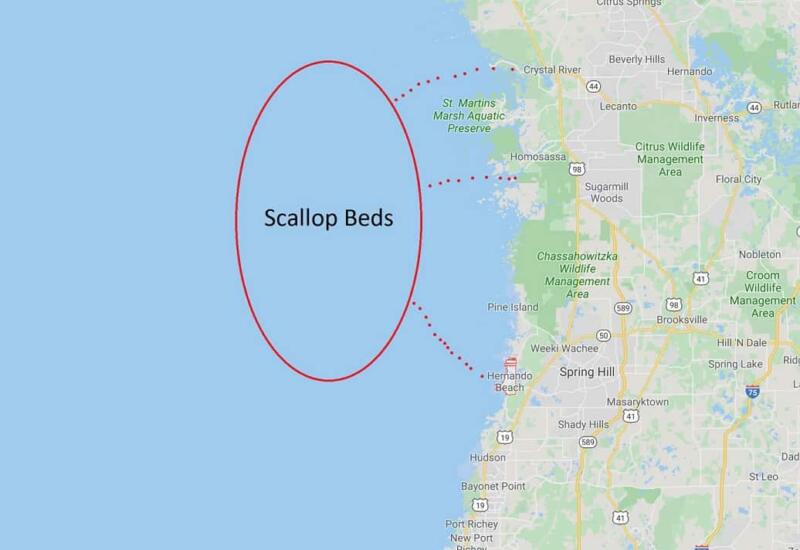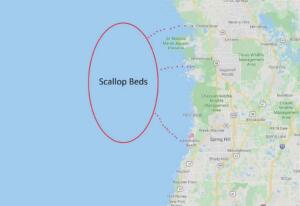 Different from Homosassa and The Crystal River, but once again, you will end up in the same place no matter where you started.
What's different about Hernando is shallow oyster beds surround the waterway out. During low tide, it's a challenge to navigate out. And once you've passed the last channel marker, you need to use your GPS. There is a section from the previous channel marker to the scallop patches that's relatively remote. Sure, you can see dry land, but you can't see the mass of boats you will see at Homosassa or The Crystal River. In my opinion, launching from Hernando Beach is not for beginners; however, it is the least congested, which is a massive plus.
Hernando Beach Public Boat Ramps
There are several public boat ramps in Hernando County. But only one provides access to the ocean.  
Hernando Beach Public Boat Ramp
They are located at 4477 Calienta Drive Hernando Beach, FL 34607. Hernando Beach public boat ramp is open 24 hours a day, giving access to the Gulf of Mexico; offers; 65 boat trailer parking spaces and four disabled with trailer spaces. Four lanes total, launch docks, and restrooms. Fees are collected via an honor box system.
This is a straightforward and low-key boat launch. Super wide lanes, full deep channel with clear obstruction markings, this is a brilliant launch spot. If you rent a waterfront house in Hernando, you will have to launch your boat here to get it to your rental.
You can launch a kayak into the ocean at Alfred A McKethan Pine Island Beach Park. But you won't be scalloping on a kayak.
Scalloping Seasons
A Recap of the Florida Scalloping Season 2019
The 2019 Florida scalloping season opened July 1st, 2019, for most counties and ran through September 24th. It was a rough year, and then some. We went out many times from three locations: Crystal River, Homosassa, and Hernando Beach. Our first trip was the most successful by far, and we caught a good five gallons, but this was to be our only five-gallon trip.
All of our next trips were dismal in terms of catch. One one day out, we caught a mere fifteen or so between six of us. Hours and hours of scouring patch after patch to turn up empty-handed.
2019 was so terrible that towards the end of the season, most people gave up. The waterways were empty, the scalloping patches deserted, and the scalloping cleaners closed.
Keep On Schukin' in Homosassa closed – something I've not seen before: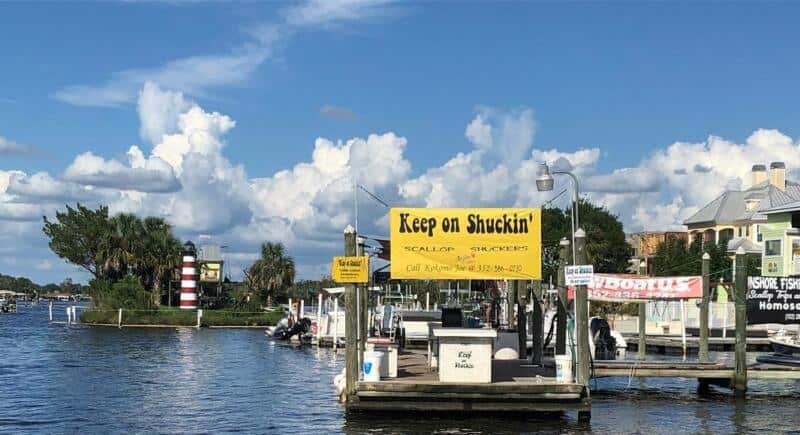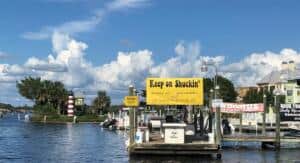 So what made the 2019 season so bad?
There are a couple of theories out there. One is that the scallop beds have been depleted, which I don't think is the case. The other is the amount of rain we got. The excessive rain Florida received created an imbalance in the salinity of the scallop patches. This imbalance made the scallops leave the shallow grass beds and move to deeper water.
Now, by deeper, I'm talking about ten to fifteen feet deep. Many boats that ventured that deep did catch their limits early in the season. This said, who in their right mind wants to dive down ten or fifteen feet for each scallop? I know I don't. I also don't fancy the idea of going that far out on a  pontoon boat.
Unfortunately for all of us, scallop hunters, 2019 was a downright terrible season.
2020 Florida Scalloping Season
I was surprised that the season took place, given how poor the 2019 season was. I was wondering if there may be a skipped year or a shorter season. Alas, the 2020 season commenced, and the scallops were plentiful.
The first weekend out in Citrus County, most people hit their limit! Way better than 2019:)
2021 Scalloping in Florida
Image Source The Florida Fish and Wildlife Conservation Commission (FWC) 
What Do I Need To Go Scalloping?
Important: 
How To Clean Scallops
On your way back in, you have options. One is to take your catch home and clean and cook it yourself.  Another is to stop on the way back in and let one of the scallop cleaners clean your catch. It costs about $20 per bucket. Alternatively, you can take your bounty to a restaurant or another launch spot and pay to have them cleaned. Once your scallops are clean, you can then take them to various restaurants that will cook your catch for a nominal fee.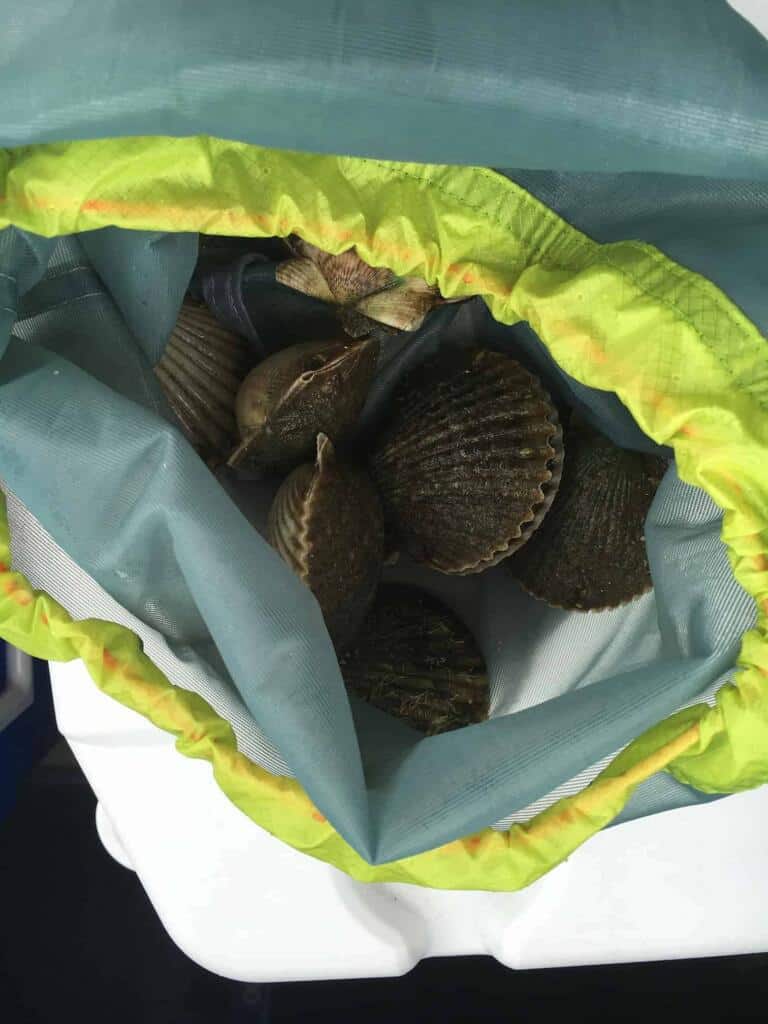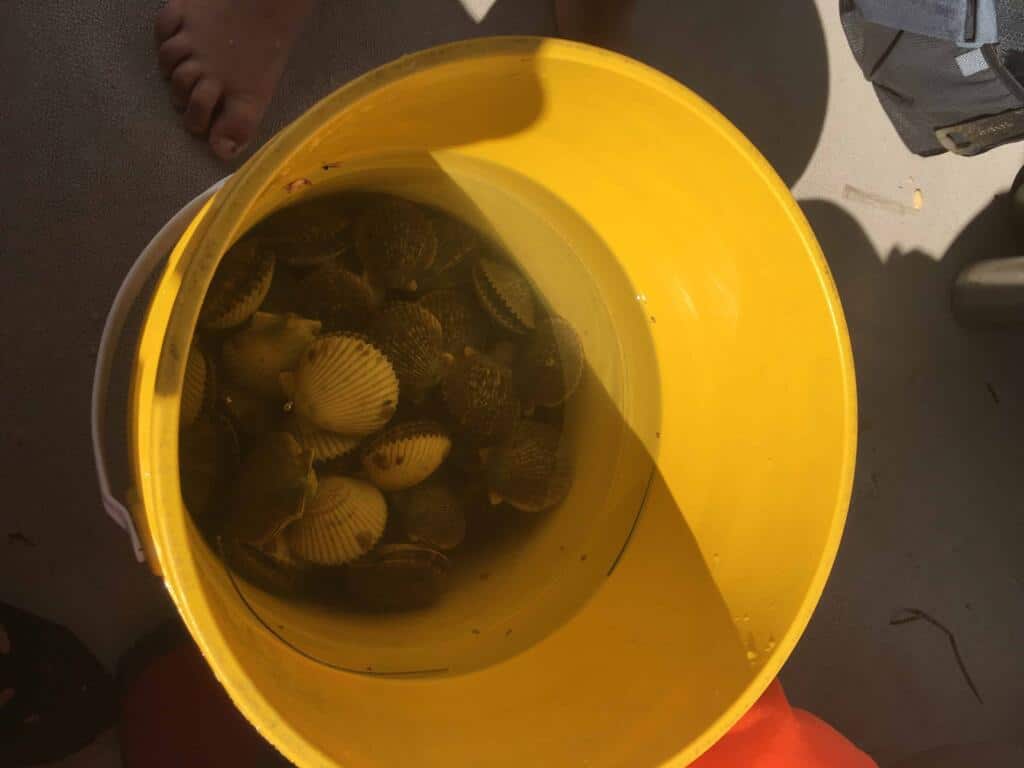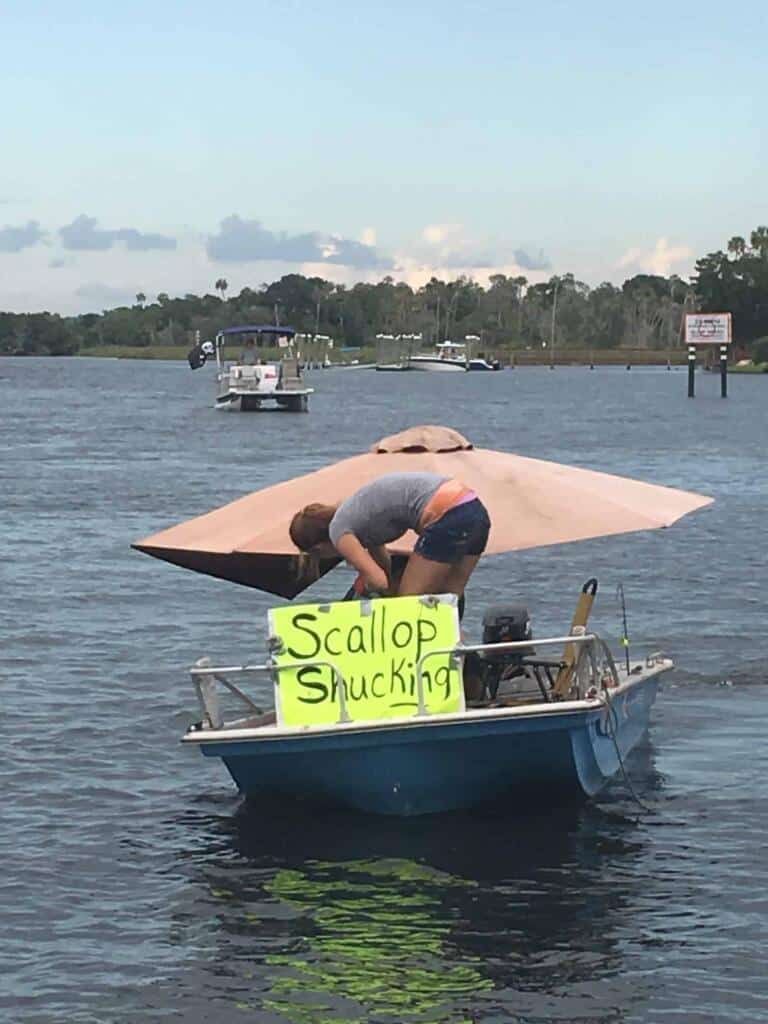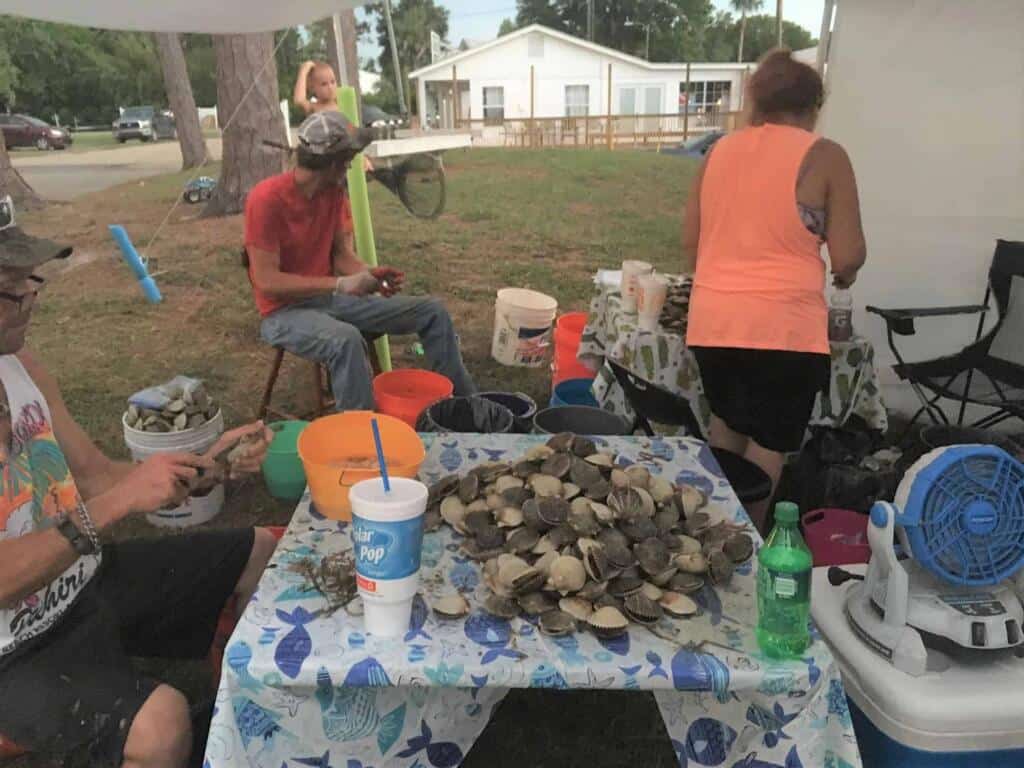 Self Cleaning Scallops
Open up the shell and begin shucking by inserting a knife into the side of the shell to pry it open.
Carefully slide the knife under the meat of the scallop to remove it from the shell.
Remove the dark meat, the orange piece, and any remnants leaving the white flesh intact.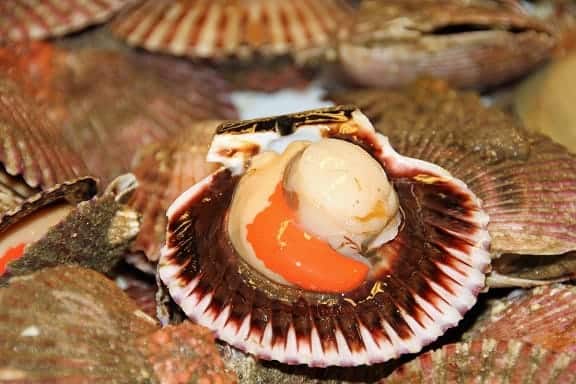 Remove the scallop's muscle; this is a small piece of flesh found near the scallop's edge.
Rinse the scallop and clean off any remaining tissue that is not the white meat section.
Should I Worry About Sharks While Scalloping?
The Gulf Of Mexico, like any other ocean, has sharks. However, most are migratory and don't hang around long. Not to mention that there will be too much action for sharks unless you have found a location to yourself.
What you can expect to see are loggerhead turtles and a wide variety of fish. One fish that shows up all the time is the Remora. These are the fish with the flat head that has a suction plate and a dorsal fin. The first time I ever saw one of these, I assumed it was a shark. Fortunately, it's just a fish. They are annoying, though, and will follow you around.
Remora Fish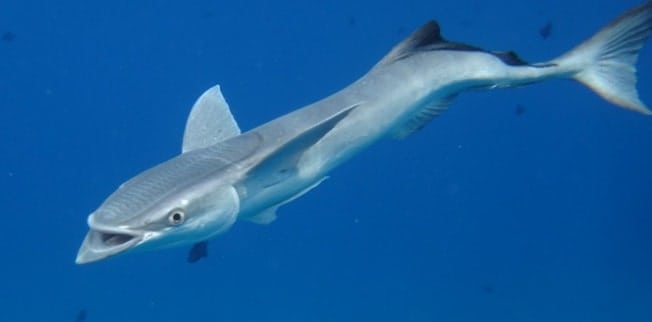 Frequently Asked Questions About 2021 Scalloping in Florida
When will the 2021 Scalloping in Florida Open? It is still TBD.
Do you need a license for scalloping?  Yes, you do!
Do you need a license for 2021 Scalloping in Florida? Absolutely, there is never an exception. You will always need a license.
What type of license do you need for 2021 Scalloping in Florida? You need a saltwater license. 
Where can I find scallops in Homosassa?  In Homosassa Bay, please see the above maps.
Where can I find scallops in the Crystal River? Technically in the same place as Homosassa, you start at a different location. Please see the above maps.
Where can I go scalloping? In the following counties: Gulf, Franklin, Wakulla, Taylor County, Dixie County, Levy, Citrus, Hernando, and Pasco. Check here for each county's specific dates.
Closing Thoughts
If you have not scalloped yet, you should. It's not only fun, but it is a great exercise and a good old-fashioned way to spend time with the family. As a bonus, it provides you a sea-to-table fresh food.
Here are some additional tips to consider:
Always check the weather before you go and be back in before any storms.
Stay with the crowd and follow boats out and in.
If you go to the scallop areas other than  Crystal River and Homosassa, check the season dates here as they are different.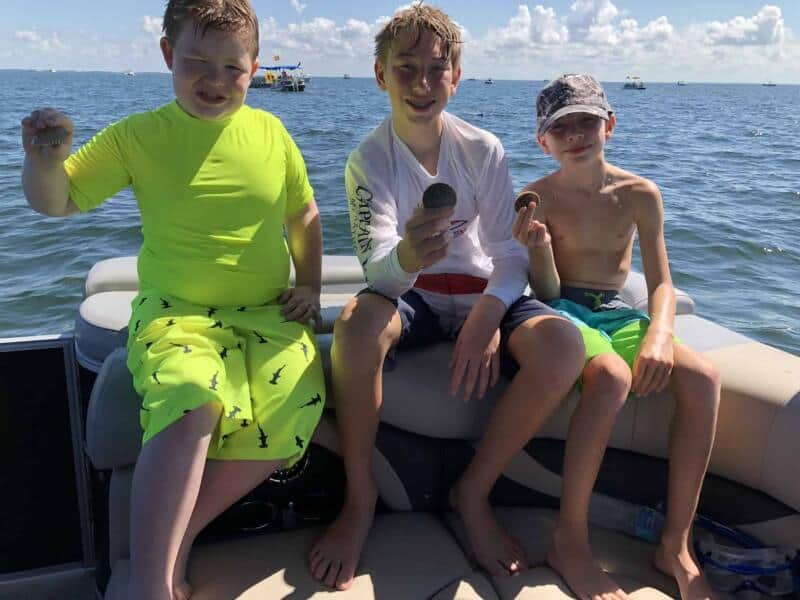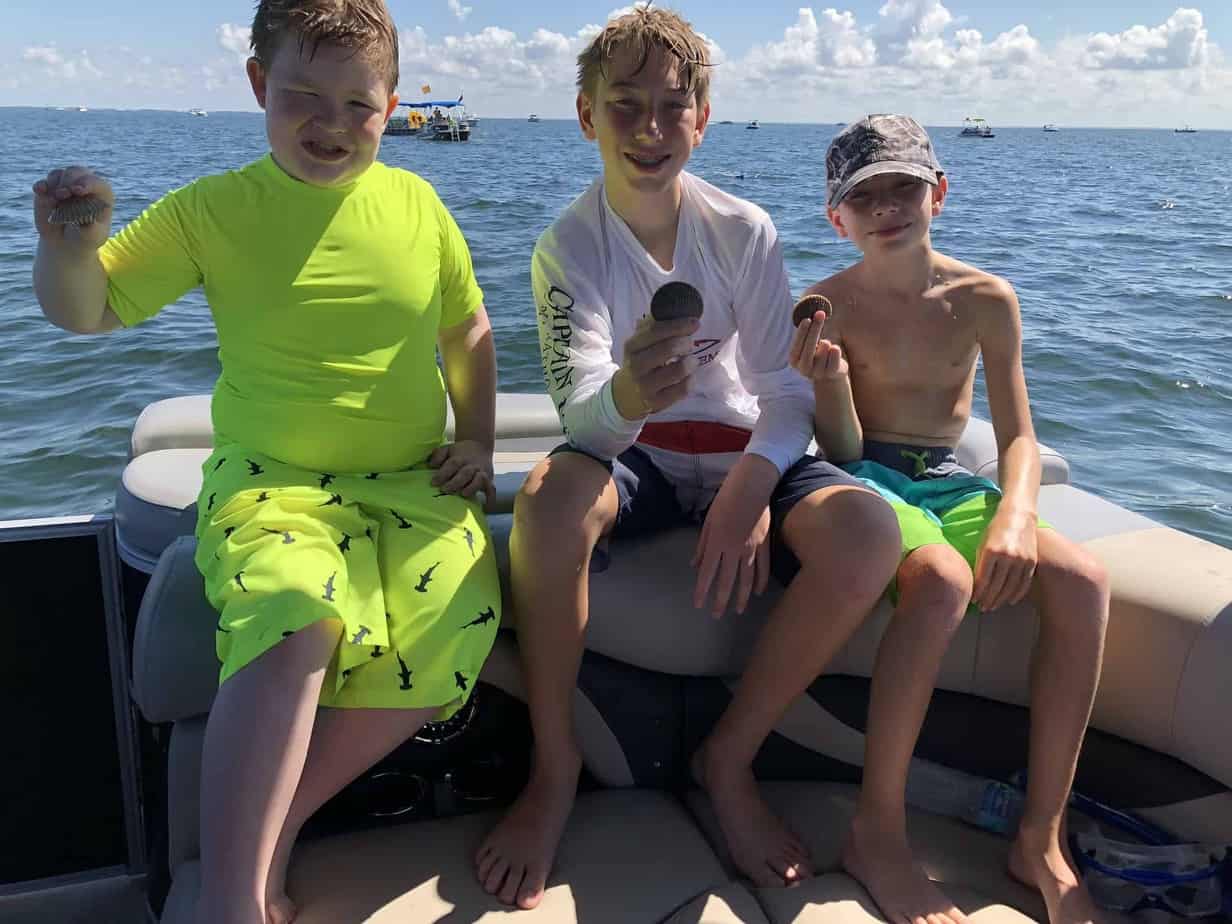 For the 2021 season, we are going to give Yankeetown and Steinhatchee a shot. It's further north for us to drive, but the season opens earlier, and from what I've heard, it's a lot less crowded. FYI, we have scalloped out of Ozella, but navigating the river out is for locals and locals only!
Looking for more posts on Florida? Start here:
We participate in the Amazon Services LLC Associates Program, an affiliate advertising program designed to provide a means for us to earn fees by linking to Amazon.com and affiliated sites.