Hilton London Syon Park – An Estate Stay In The Heart Of London
Most people who travel to London want to stay in the heart of London's city center. By The Tower Of London, Big Ben, Trafalgar Square, Broadway, The Houses of Parliament, or Hyde Park – the heart of all the action.
But there's plenty more to London than these popular locations. London is sprawling with diverse neighborhoods. If you want quirky, it exists. Want ecliptic, bases covered if you are looking for an Edwardian romance, no problem.
London is a mecca for boutique hotels and big-name chains set in classic estates, converted manors, and lesser-known neighborhoods.
London is huge, overwhelmingly large, and this often deters the average traveler from venturing into the broader London boroughs that are still a part of the city.
For those that opt to stay in one of the boroughs, there are some spectacular options, one of which is Hilton Syon Park.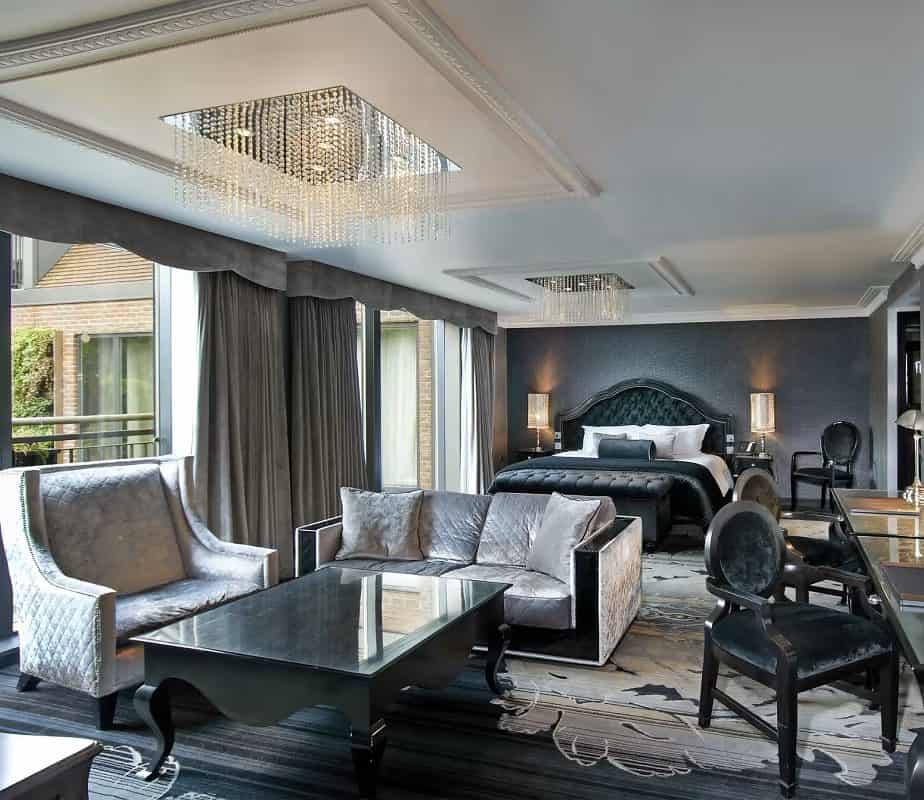 This post may contain affiliate links. Please read our disclosure and privacy policy for more information.
Launched as part of Hilton's luxury Waldorf Astoria portfolio in March 2011 but rechristened Hilton London Syon Park, this is one of my favorite Hiltons. So, let's get started with what makes this hotel so magical.
Unbeatable Location
If you want to visit some of the most historically significant palaces, one that comes to mind from the shop and everybody's list is Hampton Court; Hampton Court is only five minutes away from Syon Park, a borough of the broader London community.
Hilton London Syon Park is in Syon Park, only five minutes from Hampton Court, King Henry VIII's Royal Palace. If you are not familiar with Hampton Court, Hampton Court was Henry VIII's favorite summer residence. It epitomizes Tudor's fashion and style. But Henry didn't have it built. He seized it.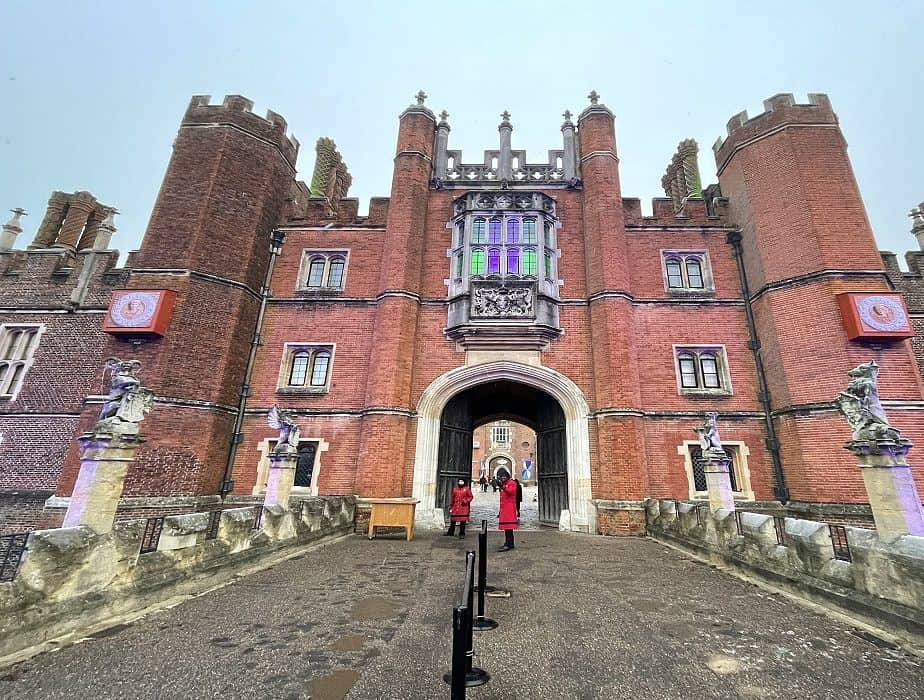 Hilton London Syon Park Address: Park Rd, Isleworth TW8 8JF, United Kingdom
The Sprawling Estate Grounds
Let's start with the grounds of the Estate that the hotel is on.
Hilton London Syon Park sits on the edge of the 200-acre Syon Park Estate. The Estate is Home to The Duke of Northumberland.
As you drive down Park Street or Park Road and approach the vast gates, you'll immediately think you are in England's countryside. The further you progress down the driveway, the more it feels like you are heading to a manor.
Don't let the blue sign fool you! It might appear like an NHS special, but it's a color misnomer. Well, maybe not, but to me, it looks hospital-like.
You are about to be driving through the grounds of Syon House, a 200-acre Park Estate.
From the wrought iron gates, it's a one-mile drive to the hotel's entrance. You may be treated to British fog if you arrive during the evening. The mist will create some eerie anticipation for you!
About Syon Park
Isleworth is in the London Borough of Hounslow. Syon Park is the garden of Syon House, the London home of the Duke of Northumberland. Built during the 18th century, it is now a Grade I listed by English Heritage under the Historic Buildings and Ancient Monuments Act 1953 for its unique historical significance.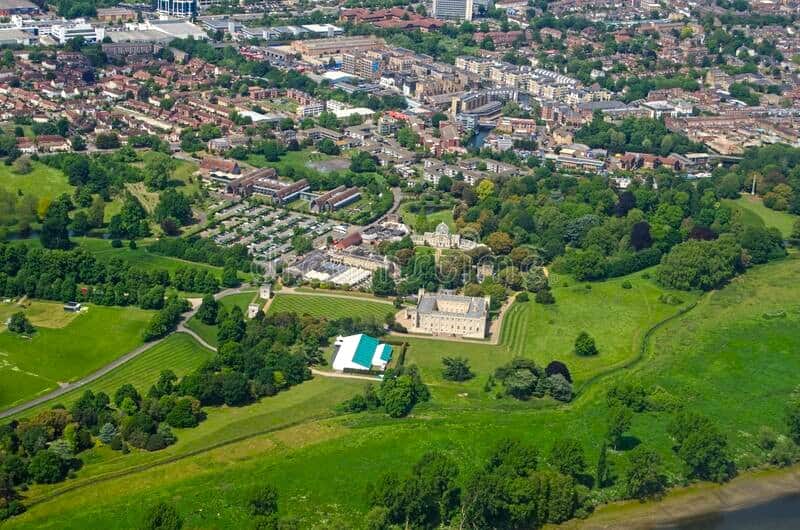 The garden is a site of Borough Importance for Nature Conservation, Grade I. The flood meadows next to the Thames are a biological Site of Special Scientific Interest (SSSI) and a Metropolitan Nature Conservation Site.
FAQS About Syon Park
Is Syon Park free entry, and can you walk through Syon Park?
Yes, you can walk in the park for free.
How much are entry tickets to Syon Park?
There's no entrance fee to walk through Syon Park. However, you must pay to access Syon House, Gardens, and the Great Conservatory.
Do you have to pay to park at Syon Park?
If you are visiting Syon House, Gardens, and the Great Conservatory, parking is included with the cost of admission.
If you are walking in the park, you'll need to find parking, which will cost you.
Syon House
The Duke of Northumberland lives at Syon House in west London. It is a Grade I listed building within Hounslow's 200-acre Syon Park. It was constructed in the sixteenth century on the site of the Medieval Syon Abbey and came to the present owners' family in 1594.
One of the many highlights is the spectacular Great Conservatory, built in the 1820s. Over the centuries, Syon has seen profound changes and many layers of history.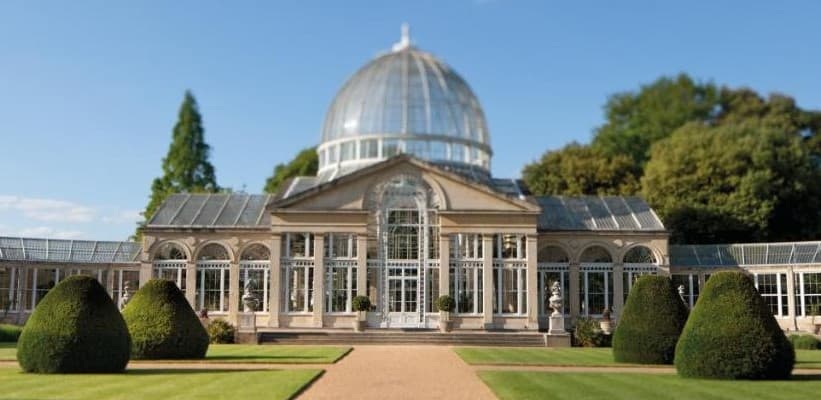 Syon House Tours
At select times throughout the year, you can tour Syon House.
Syon House is open on Wednesdays, Thursdays, Sundays, and Bank Holiday Mondays from the middle of March to the end of October.
Note: Syon House hosts private events. When a private function is held, the Estate will be closed to the public without notice. Call ahead to make sure they are open: 020 8560 0882.

Here's the best part, if you stay at Hilton London Syon Park you get complimentary entrance to Syon House!
Hillier Garden Center Syon Park
Opening in the spring of 2021, Hillier Garden Center Syon Park is one of London's newest destination garden centers. Hillier Garden Center offers great houseplants, local food, and unique giftware.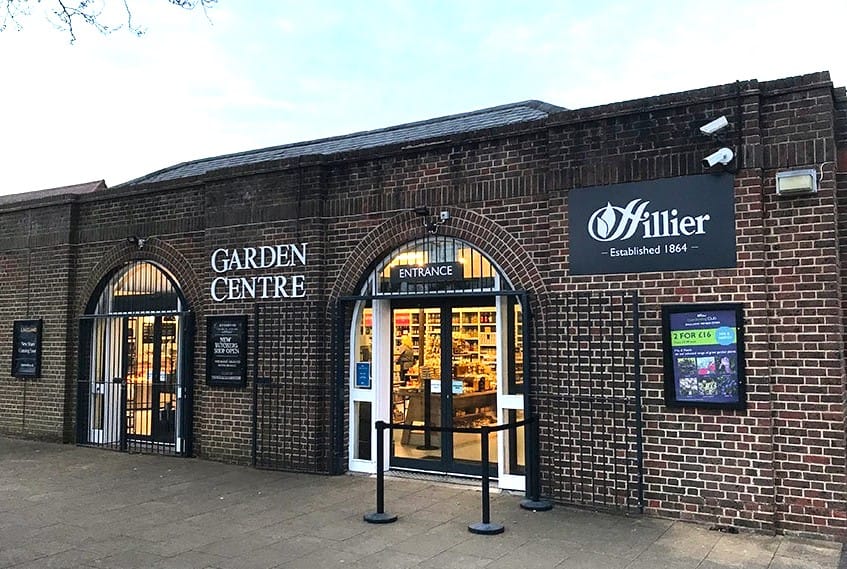 There are two restaurants: The Courtyard Restaurant and The Clocktower Café.
Can it get any better? You are in London; you're staying on an estate in a modern hotel with every amenity you could think of.
Stays At Hilton Honors – Status Upgrades
If you have any status with Hilton Honors, you will most likely get an upgrade. For the first night, I used an anniversary night. Then a combination of Chase Ultimate Rewards Points. I earned the anniversary night from my Hilton Co-Branded American Express Credit Card. I used Chase Ultimate Rewards Points.
Points because the conversion value is cheaper. It costs me 17,000 points a night using Chase Ultimate Rewards Points, which is 60,000 points. Suppose you book it through Hilton. Long story short, I didn't pay a penny to stay at this hotel.
What Makes Hilton London Syon Park Stand Out?
There is more than this article can cover, but here are the highlights!
Hilton London Syon Park's Lobby
Some hotels' lobbies are wow, and the room is a total flop. I call it "false advertising" or "the lure."
Hilton Syon Park is swankier than their photos do justice. It's modern, full of art deco, and has a definite lavish vibe.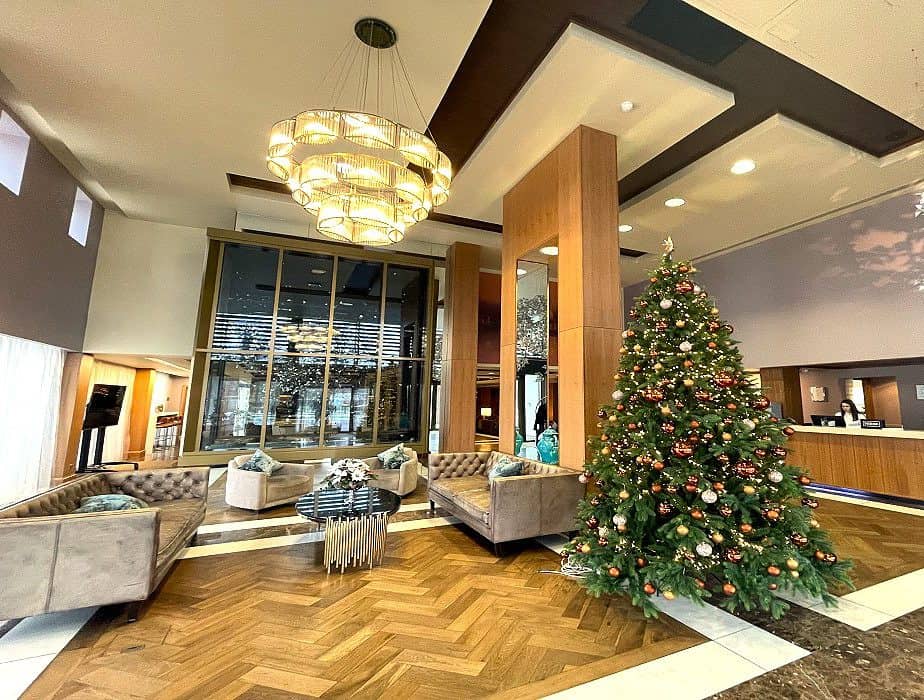 Check-In
I was treated like a superstar from the moment I stepped in. I was upgraded to a king suite from what was booked as a standard room. The staff graciously offered to bring my luggage up to the room. Now, you might think don't all hotels do that?
The answer is no. Not all hotels have concierges; in England, it's not a "norm." So, a front desk member doing this was above and beyond.
Accommodations
Let's talk about my king suite. The upgraded suite I scored for being a Hilton Honors member with status.
One word – WOW!
The decorations are modern and bougie, right up my alley. A square mirrored chandelier is the focal decoration of the room. Dark furniture with crackled glass counters and a raised balcony you step up to with views of the garden and Syon House.
A gigantic king-size bed with fluffy down pillows and super soft white sheets!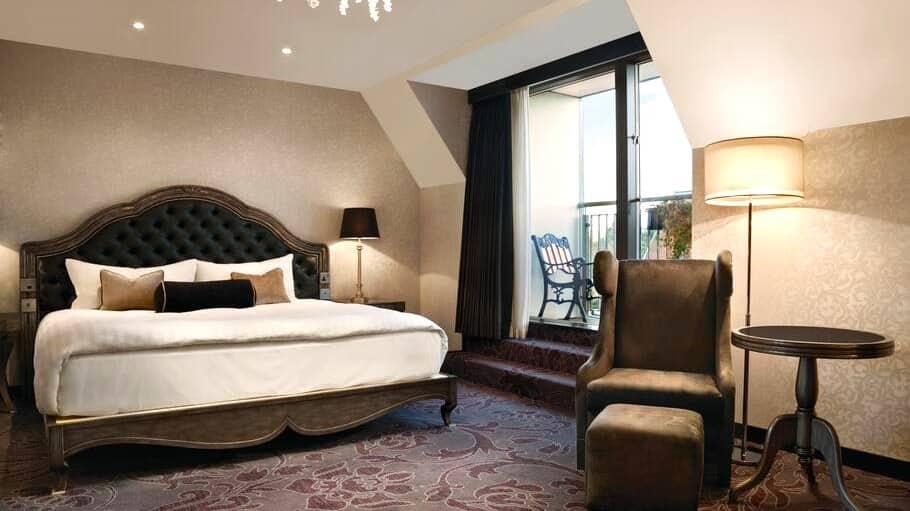 The bed and the bathroom are the biggest I've ever seen in Europe. Add to this a fantastic view of the grounds and Syon House.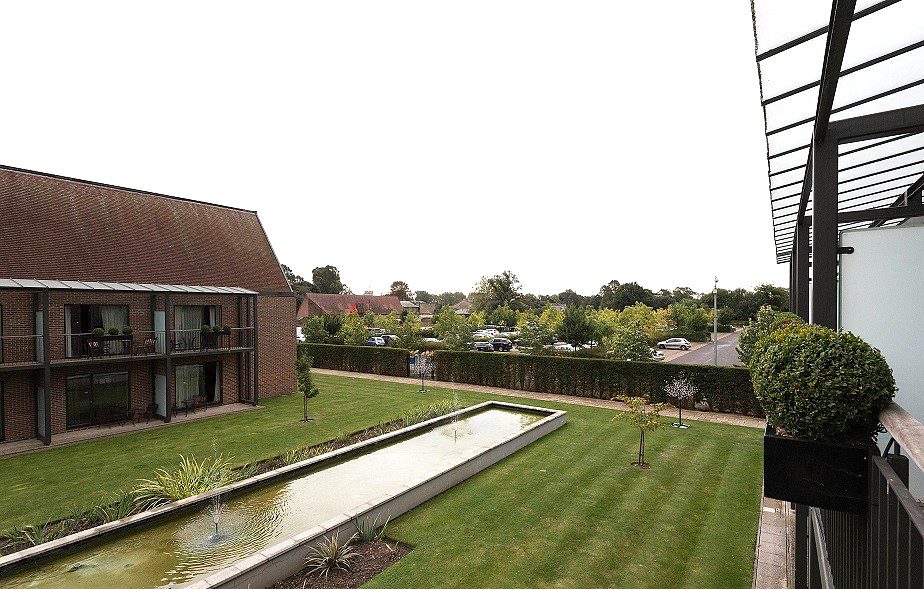 The suite has an outrageously over-the-top bathroom; We'll get to that in the next section.
The Rooms & Suites
No matter what your space needs are. Or, should I say indulgence style, the Hilton Syon Park has room a for you. Look at these great rooms and suites!
The Bathroom
If you've seen Cribs on MTV, you'll know what to expect – luxury and excess in abundance.
I'll start with the shower. It has a traditional rainfall head, which is impressive. But this is no ordinary shower. The battery has a four-nozzle overhead steamer. I haven't seen steamers in a hotel shower in forever!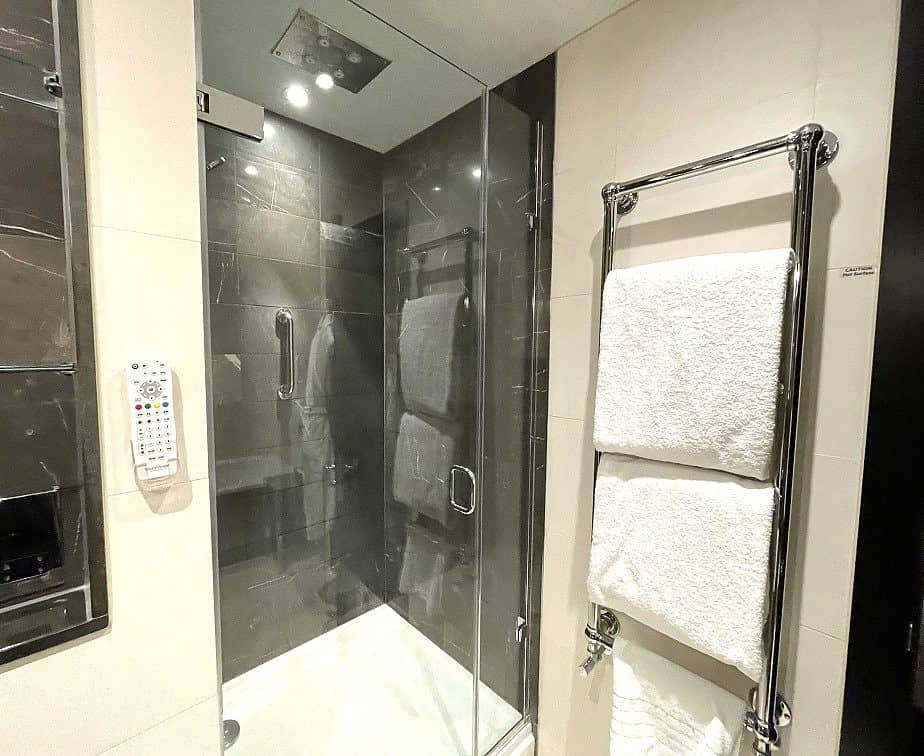 Then there's the bathtub, probably one of the most extended soaking baths you'll ever find in England. As long as the bath is, the icing on the cake is the tub with a TV mounted in the wall. In addition, the TV is remote-controlled, comes with surround sound from the roof, and the bath has a rinsing faucet.
Bathrobes and slippers await. Bright white towels warming on the towel warmer. Luxurious toiletries are plentiful; no scrimping here.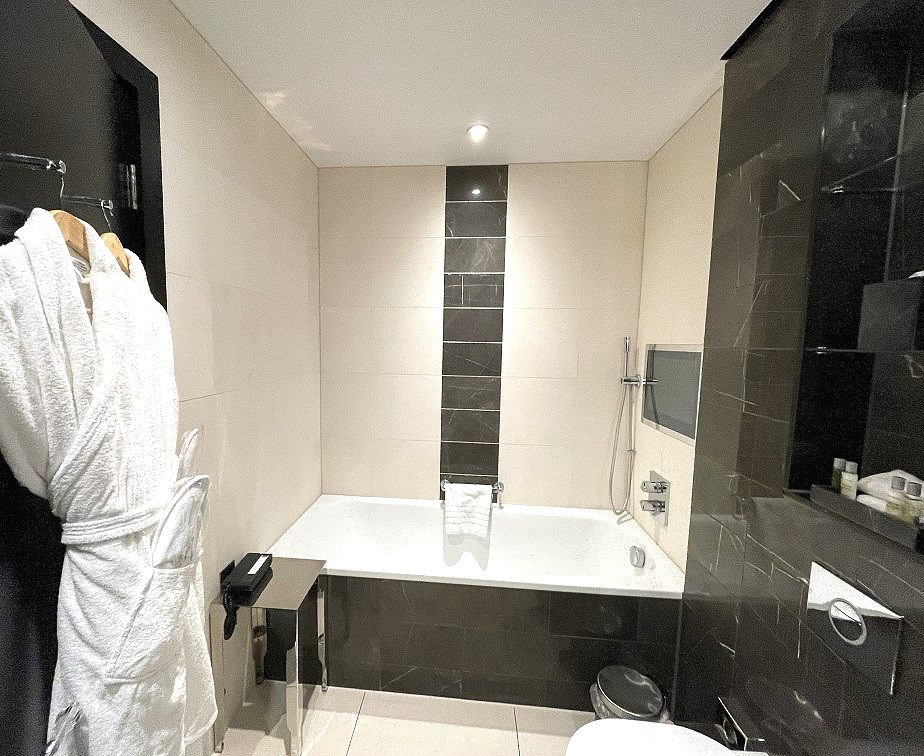 Impressive and hard to beat. Only two amenities would take this already over-the-edge bathroom to the next level—a bidet and jets in the tub.
Breakfast
The breakfast is fantastic. You can have anything from a light, fresh fruit breakfast to a full English breakfast, including Black Pudding. Or, if you prefer – indulge in fresh salmon. There are also the traditional continental breakfast norms available.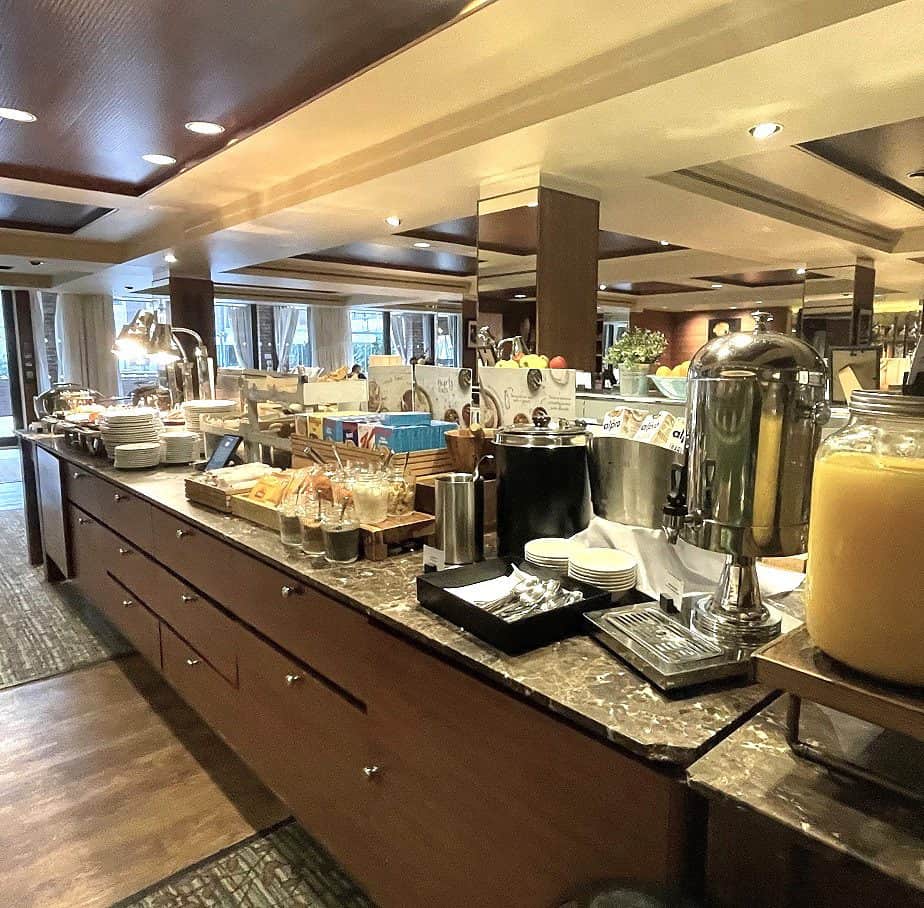 You can order custom omelets or eggs as well. The poached eggs here are the fanciest you'll ever find. I'm still searching for the "tool" they use to create this perfection. If anyone knows, please do share!
They're almost done in a sack. See the picture below: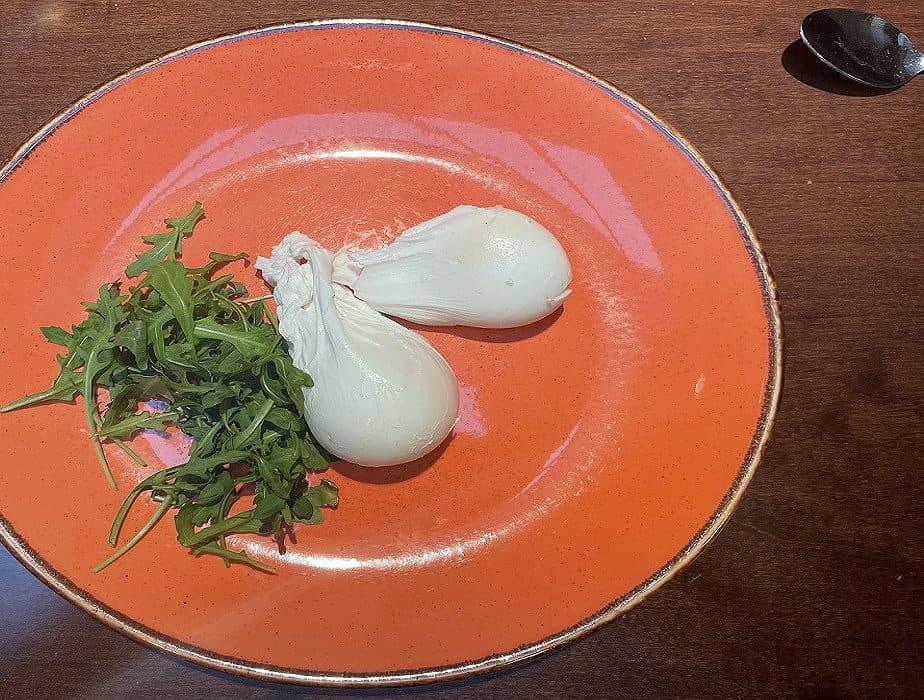 You name it; they have it and an abundance of freshly squeezed juices. And it was included for me due to my status!
Pro Tip: If you stay using your points, the breakfast is included.
The Restaurant
The restaurant on-site serves five-star dinners. You can get everything from parsnip soup to scallops and back: steak, rack of lamb, or a curry. The menu's diverse and caters to all. The service is brilliant, the food is excellent, and it's affordable.
Here's my rack of lamb: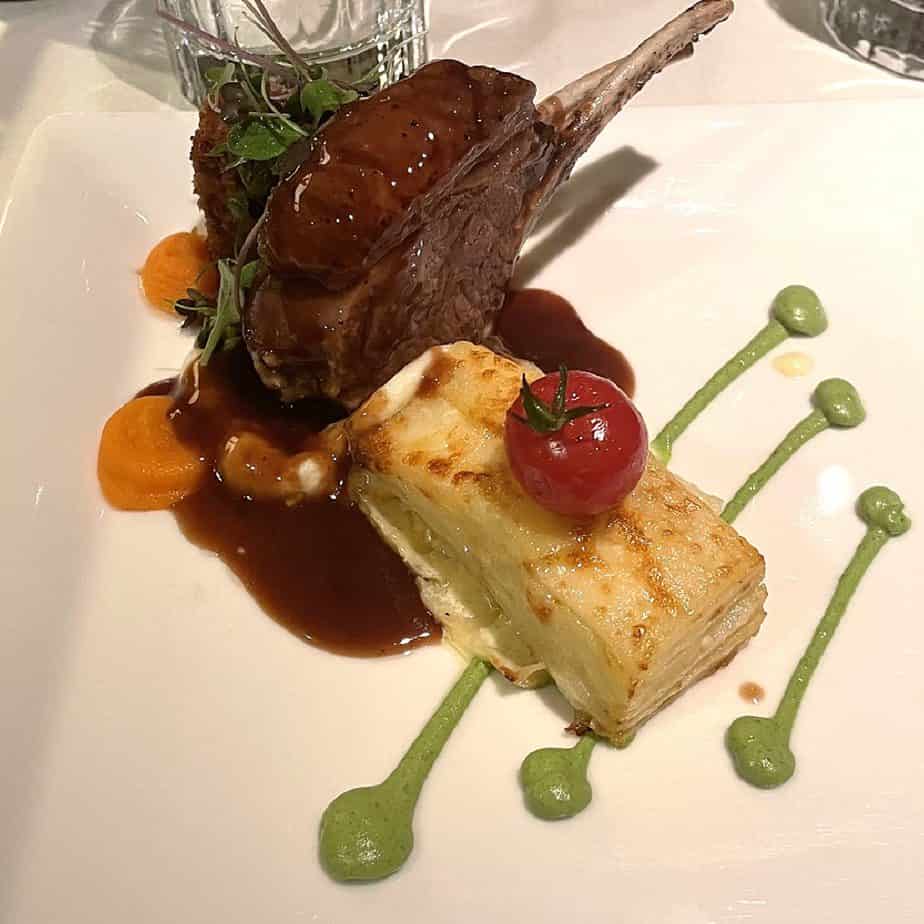 The Bar At Hilton London Syon Park
The bar is stylish and warm. A beveled bar dressed in fresh flowers and loaded with every drink you can imagine.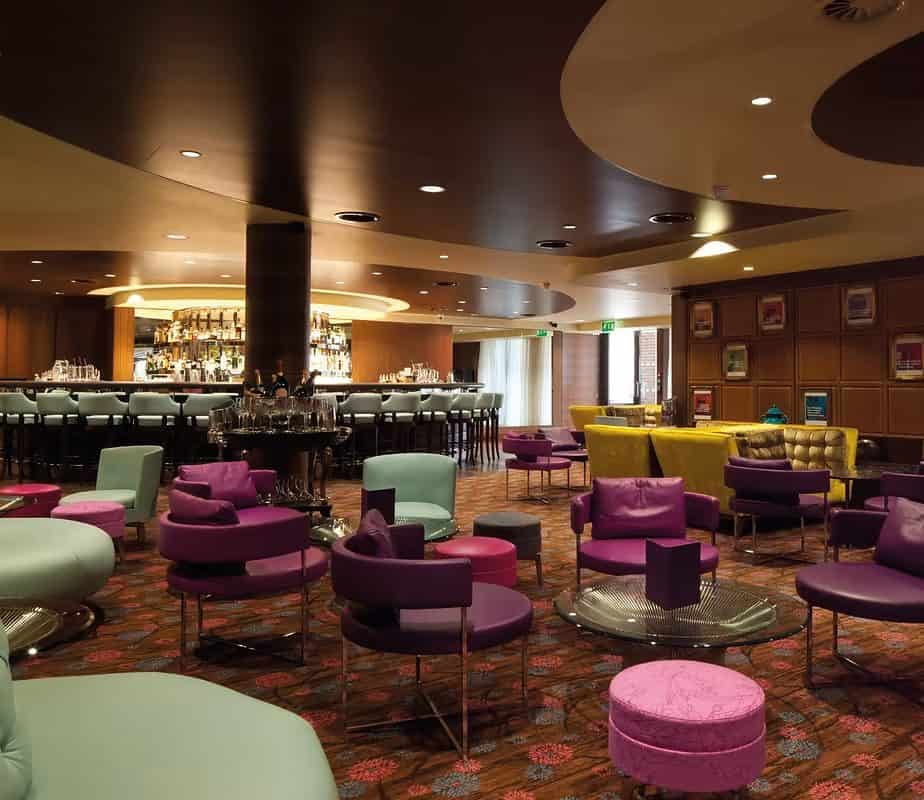 The Kallima Club Spa at Hilton Syon Park
There are nine treatment rooms, a couple's villa, and a steam room in this 8,500-square-foot Spa. The Spa offers a full range of OTO's CBD massage and facial treatments are available, as well as ELEMIS® facials.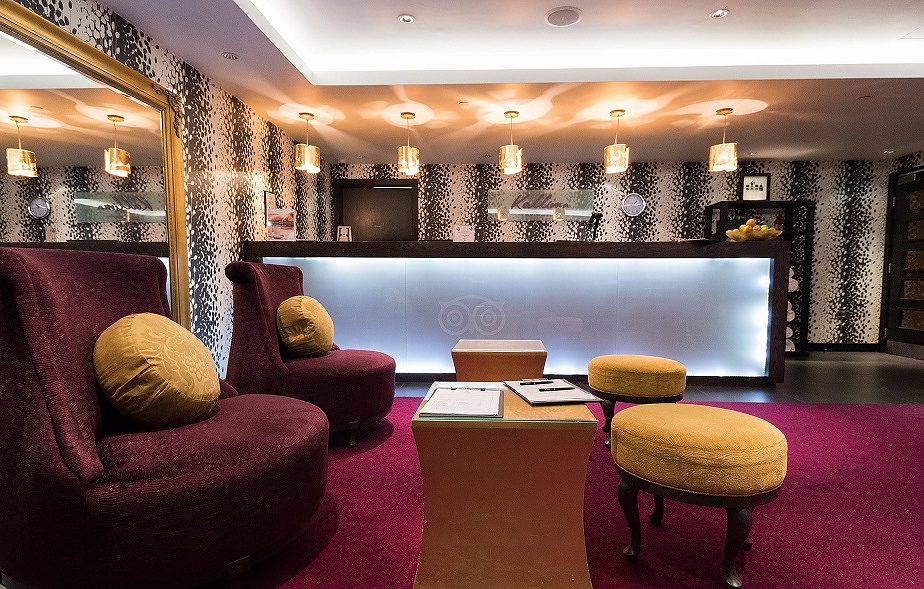 Sadly, I did not experience the Spa, not for lack of trying. I had limited time in London and opted to spend most of my time exploring. Then, I had an upset stomach on my last day, forcing me to skip.
You can use the Spa facilities without booking a spa treatment for 20 pounds a day. You'll get access to the indoor pool, the whirlpool, and the steam room.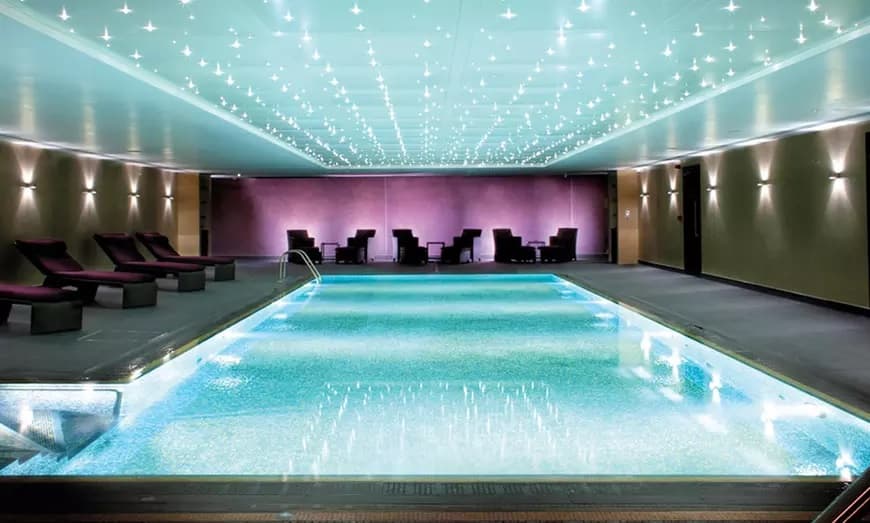 What If Anything Could Be Improved
It isn't easy to come up with anything because this stay was so great.
If there is anything constructive, it is this:
The bathrobes are tiny, I am only 5.2 tall, and they were short on me. I can only imagine they would be hobbit size for a taller person.
There are no USB ports in the suites "yet."
As beautiful as the rooms are, they could use a plant or two for additional warmness.
FAQs
What Does It Cost to Stay at Hilton Syon Park?
The lowest rate for a standard room off-season is around 150 pounds per night.
The lowest rate for a king suite off-season is around 350 pounds per night.
Here's the best part, if you stay at Hilton London Syon Park, you get a complimentary entrance to Syon House when it's open!
How Many Points Are Needed to Stay at Hilton Syon Park?
A standard room redemption is 60,000 points per reward night.
Is there parking at Hilton Syon Park?
There are tons of parking at Hilton Syon parking, and it's free.
How many rooms does Hilton Syon Park have?
There are 137 rooms on the property.
Closing Thoughts
I travel worldwide and spend an average of six months of the year in hotels, timeshares, or my own Airbnb. When picking out my accommodations, I want these things:
A unique location, a boutique hotel
Extravagance & opulence
An unusual accommodation (think yurt or caboose)
Experience-based accommodations
Hilton Syon Park delivers on all of this and then some. Few properties can claim all.
Other Hotels That Compare
Only one other hotel beats this one for me: the Marina Bay Sands in Singapore. And the two hotels are not in the same league.
The Marina Bay Sands is the iconic juggernaut resort famous for the world's most oversized infinity rooftop.
The only other hotel in the same league I've stayed in is Streamsong Resort in Florida. Stream songs fantastic, one of my favorite resorts in Florida. However, Hilton Syon Park tops it by a long shot.
The entire stay here couldn't have been better; it was perfection.
I was treated so well. I got the sense that that's how Hilton London Syon Park treats all their guests, and it matters.
So, there you have it! That's how lush a stay at Hilton Syon Park is.
Looking for more over-the-top stays? Start Here:
We participate in the Amazon Services LLC Associates Program, an affiliate advertising program designed to provide a means for us to earn fees by linking to Amazon.com and affiliated sites.
Subscribe to our newsletter and get the best travel tips and inspirational stories delivered monthly. No spam, no sales pitches – TRAVEL!
Brit On The Move™ Travel Resources
Ready to book your next trip? Use these resources that work:
Need more help planning your trip? Check out our Resources Page, highlighting the great companies we trust when traveling.