Aguadilla, Puerto Rico, is one of the world's leading rum producers. Approximately 80% of the rum consumed in the United States comes from Aguadilla.
It's possible to visit one of the most amazing cities in Old San Juan from Aguadilla. But, the natural charm of this north-western town is the beaches, the laid-back local vibe, and the lack of the hustle and bustle.
There are amazing things to do in Aguadilla for you to explore. Here we will share how to take advantage of everything Aguadilla, Puerto Rico, has to offer and all the things you should know.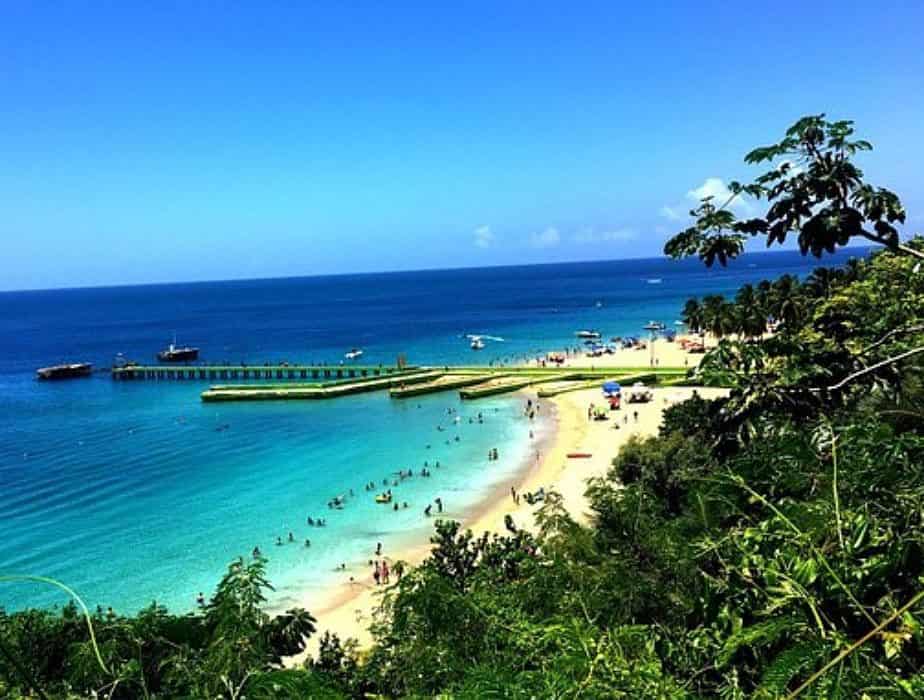 This post may contain affiliate links. Please read our disclosure and privacy policy for more information.
Why Aguadilla Puerto Rico Is Famous
Aguadilla, Puerto Rico, is full of natural environmental resources and beaches. And despite being in the northwest, you can explore all the other beaches of Puerto Rico and other attractions.
There are many beaches in Aguadilla that attract visitors. There are several famous surfing beaches in Aguadilla, including Crash Boat, famous for its crystal-clear waters, Gas Chambers, and Wilderness.
If you visit Aguadilla, you will experience this little town offering a less traveled and touristy part of Puerto Rico packed with old-school charm.
And, despite being nestled in the northwest, you can easily visit Old San Juan, Ponce, and Arecibo.
When To Visit Aguadilla Puerto Rico
When planning to travel to any place, the most important thing to know is "When to visit" or "What's the best time to visit."
I don't subscribe to the notion that there's such a thing as "The Best Time." I'm a massive fan of off-season travel. And I also think there is no such thing as bad weather. This is assuming you pack appropriate clothes!
This said, like all other destinations, Aguadilla, Puerto Rico, has seasons that appeal to all for different reasons. The weather is one of the most significant factors for most.
The Weather In Aguadilla Puerto Rico
There is no bad month to visit Aguadilla, Puerto Rico. The weather year-round is tropical. The most popular months are December, January, February, March, and April. This is because Aguadilla attracts Americans traveling in winter, searching for the sun.
The Best Time To Go To Aguadilla
On average, the warmest months are January, February, April, May, June, July, August, September, October, November, and December.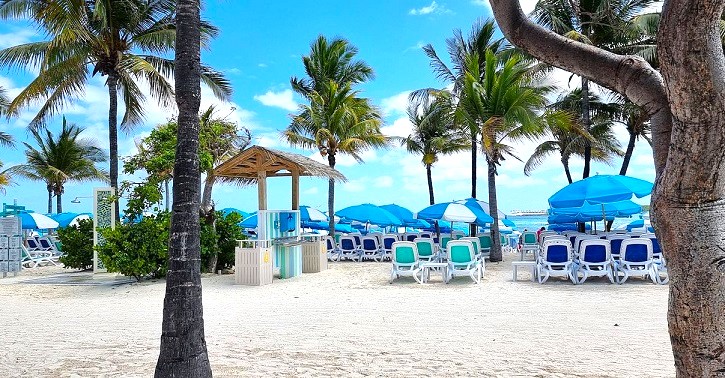 When In The Rainy Season In Aguadilla?
The rainiest months are May, August, September, October, and November.
Where To Stay In Aguadilla
When planning a vacation, where you stay is as important, if not more important than the weather. In Aguadilla, you can find accommodations from hostels, hotels, resorts, and Airbnb to luxury vacation homes. No matter what your budget is, there's a place for you.
Here is the list of the different hotels in Aguadilla.
Famous Hotels In Aguadilla Puerto Rico
5 Star Accommodations In Aguadilla
ZEN DEN Luxury Beach Studio
Montefina Villa Boutique
Villa Flamboyan- Blue Sand Collection
Hacienda Casablanca
Oasis Resort
Villa Flamboyan- Blue Sand Collection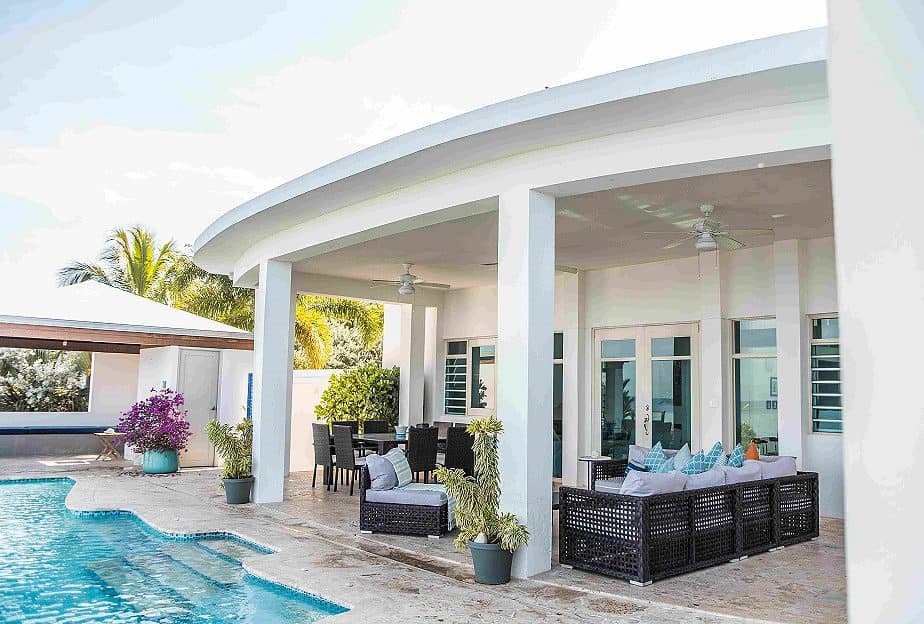 Image Credit: Villa Flamboyan- Blue Sand Collection
Luxruirous Hotels In Aguadilla
Royal Isabela
Villa Marina Guest House of Wellness
Hotel Vista Azul
Rincon Of the Seas Grand Caribbean
Aguq marina Becah Club, Inc
If none of these are what you're looking for, search here for all other options:
Things To Do In Aguadilla Puerto Rico
Aguadilla, Puerto Rico, is an excellent destination with plenty of unique places to explore. There is a heaven kind of feeling, where you will feel relaxed and calm. In Aguadilla, you will find memorable places that will make a vacation here exceed your expectations!
Playa Crash Boat
Playa (beach) Crash Boat is one of the famous beaches in Puerto Rico. This beach is perfect for students, families, and even beginner divers. A renowned party beach is also one of the busiest beaches, and it isn't easy to find parking.
In summer, you can snorkel, swim, and even surf in the turquoise waters of this beginner diving area. The lively scene at Crash Boat Beach has christened the island's party beach, where you can listen to music and enjoy the food stands near the pier.
Crash Boat Beach Puerto Rico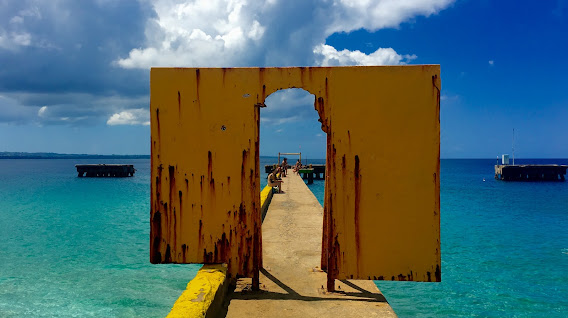 Survival Beach
You can go to numerous beaches in Puerto Rico, but this is one of the most amazing. You'll love taking vacation pictures at this stunning beach. Parking at Surfer's Beach and following the path at the end of the road will take you to Survival Beach. Despite its short length, the course can be challenging at times.
This beach isn't a place to swim or spend the day; it's more of a place to take pictures.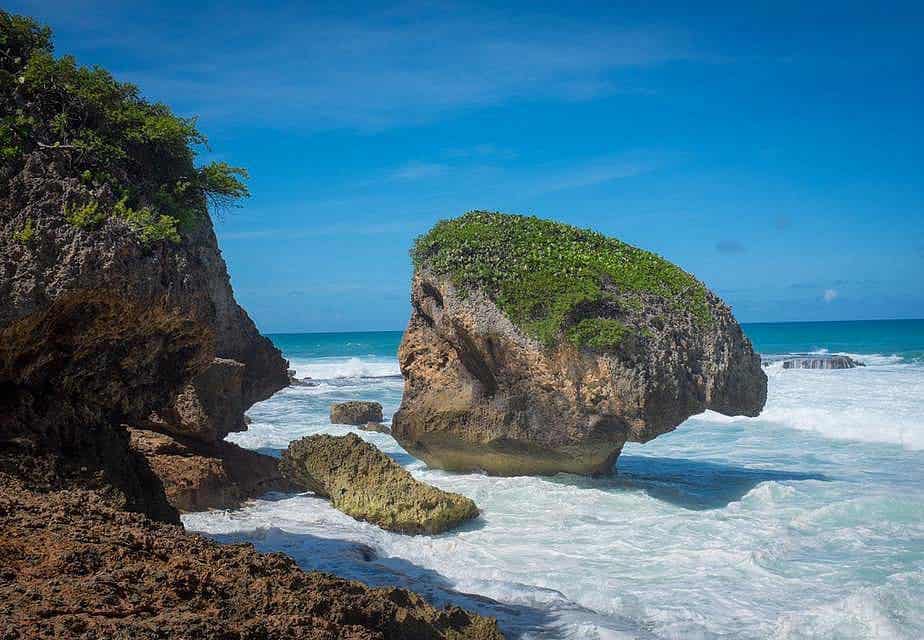 Las Cascadas Aquatic Park – Las Cascadas Water Park
Las Cascadas is the water park of Aguadilla. This water park is considered the largest one in the region.
It is owned and operated by the Aguadilla municipal government. Waterparks are not my favorite way to spend my time, especially now the sprog is grown. But, this is a hot spot with locals looking to entertain their sprogs.
This waterpark gets mixed reviews online. While one of the biggest in Puerto Rico, it's not for all.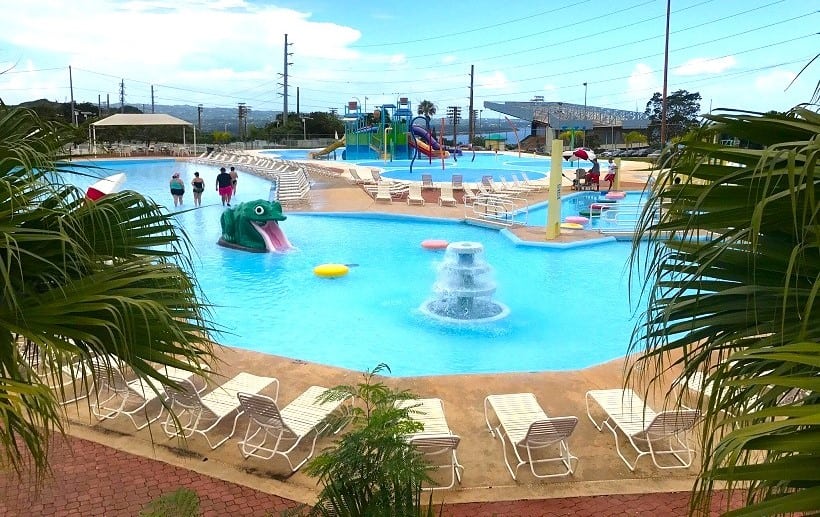 Gozalandia Waterfall
You can't visit Puerto Rico and not spend some time in a natural waterfall – it would be a crime. One of the best and closest ones to Aguadilla is Gozalandia Waterfall. This 60 feet high waterfall is a local favorite, a hidden gem with few tourists.
In general, it is easy to get to from the grass parking lot, although it may be slippery if it has rained recently. This trail consists of paved steps and hard sand. If you want to see the upper falls, continue walking past the central falls. Keep following the path until you reach the base of the falls. The falls will be down on your left.
There is a small half-submerged cave at the base of the central falls, which you can dive into or swim in. There is also a place where locals jump from the waterfall if you are willing to take a leap of faith. With water shoes and the assistance of ropes that are tied off throughout the falls, you can get through the slippery path. Many families with children come here to hang out in the shallow area – it can hold up to 30 people comfortably.
If you seek adventure, explore the central falls – the jump is about 30 feet high! Start by watching a few locals do it.
It costs $5 to park if an attendant is onsite to collect the payment.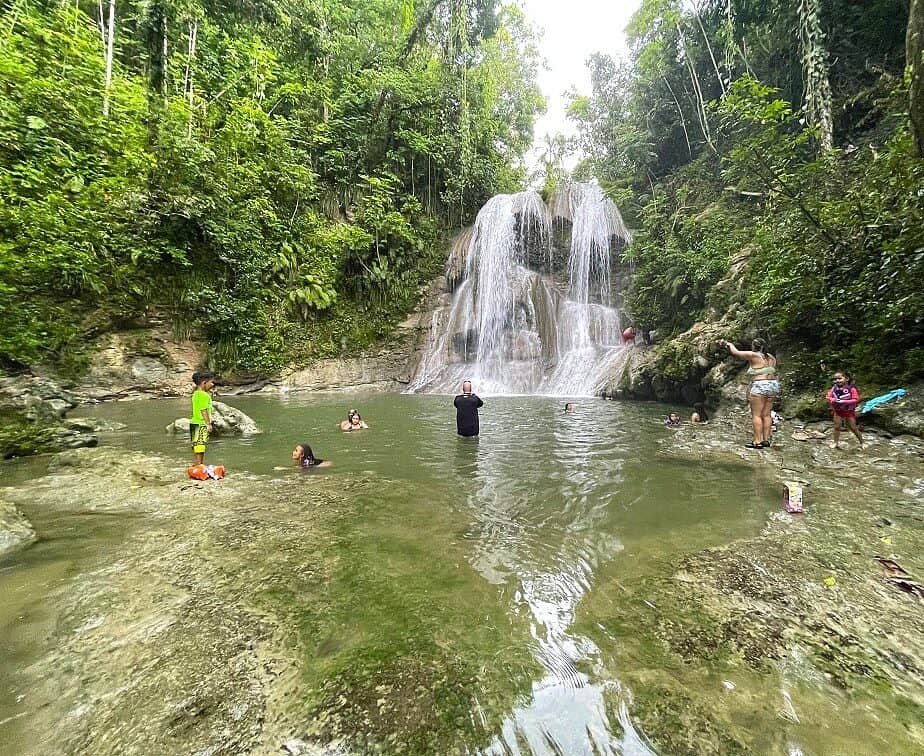 The Salt Flats of Puerto Rico – Cabo Rojo, Las Salinas
Not directly in Aguadilla but only an hour away, don't miss this one. Las Salinas, often referred to as the "Pink Sea or Pink Lake," is a pink salt flat—a 1,249-acre area of two 18-inch-deep natural lagoons that have been altered to mine salt,
Cabo Rojo Salt Flats are historically significant. Salt mining is one of Puerto Rico's oldest businesses. By 1493, the Indigenous Araucos and Tano were already extracting salt from the flats and had been doing so since 700 CE.
Spanish settlers exported salt and enslaved Indigenous populations to do the hard labor of raking up and cleaning the salt after arriving. Locals contested Spanish control, but they disapproved.
Today it's Cabo Rojo National Wildlife Refuge, providing some of the best Instagramable photo opportunities in Puerto Rico.
You can read all about them here: The Salt Flats of Puerto Rico – Cabo Rojo, Las Salinas.
The Abandoned Plane in Aguadilla
Even though you can no longer go inside the Abandoned Plane in Aguadilla due to a fire, you can still stop and get a great photo!
As a result of an accident that occurred in February 1992, the plane remains. The pilot lost control of the aircraft on the taxiway at Aguadilla Airport due to hydraulic problems. According to the Bureau of Aircraft Accidents Archives website, the pilot was moving the plane. The plane collided with a parked plane and ended up in a ditch. However, both aircraft were beyond repair, and the pilot was uninjured.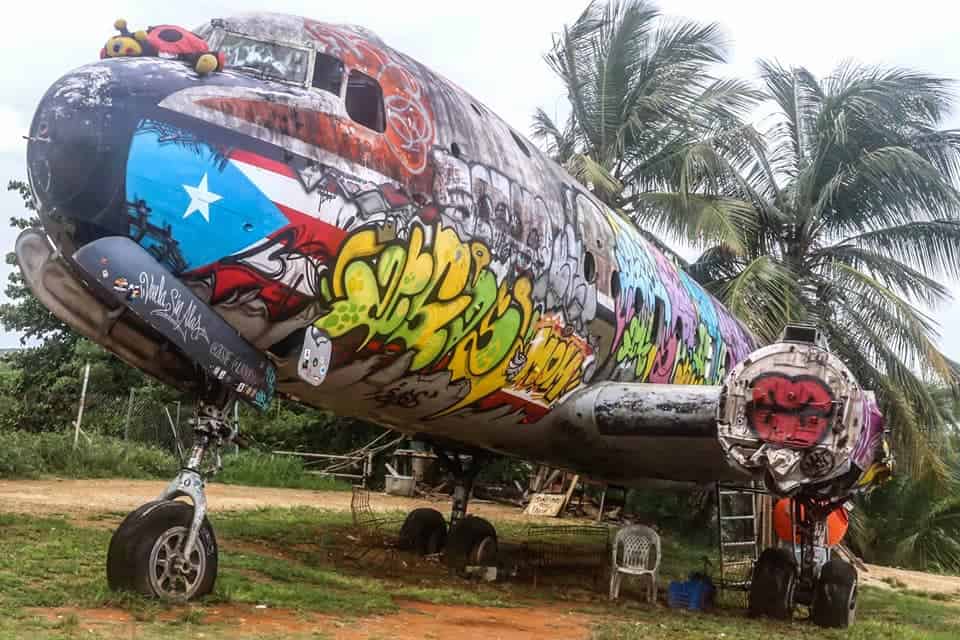 Beaches In Aguadilla Puerto Rico
Beaches and the sun are the main lures for Aguadilla. Here are some of the beaches you should visit:
Rompeolas Beach
Rompeolas beach is one of the longest beaches in Puerto Rico. It is by far one of the prettiest places to explore. Despite its popularity, there are no lifeguards on the beach.
Everyone, including lonely travelers, relaxation seekers, and families, can enjoy this beach. Even during high season, the place is almost deserted. It is located less than a mile away from Aguadilla's center. It is one of the settlement's beaches.
Apart from swimming and sunbathing, you can also go sea kayaking. In addition, there are some surf spots nearby.
Beaches like this one are very easy to access since they are close to roads. The beach is directly accessible from the parking lot.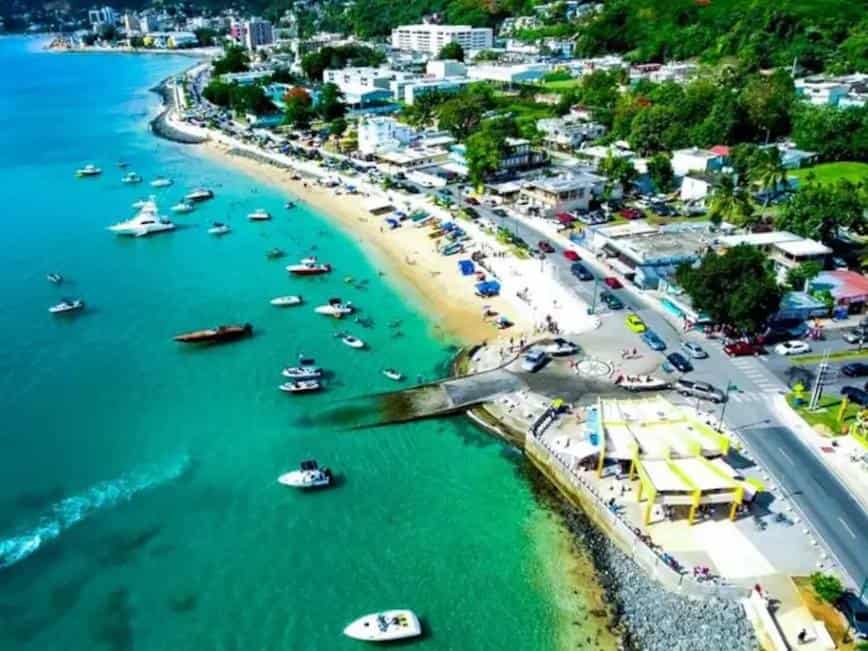 Colon Beach
Located approximately 68 miles from San Juan and a mile from Aguadilla's center, it is one of the settlement's beaches. Beaches in urban areas are often crowded. Natural shade is provided by trees that cover part of the area.
Having crystal turquoise water and golden sand, it's a spacious coastline that doesn't require special footwear. There is no problem with the sharpness of entering the water. Diverse categories of people can enjoy this beach, such as lonely travelers, lovers of relaxation, etc. During the season, it is not overcrowded.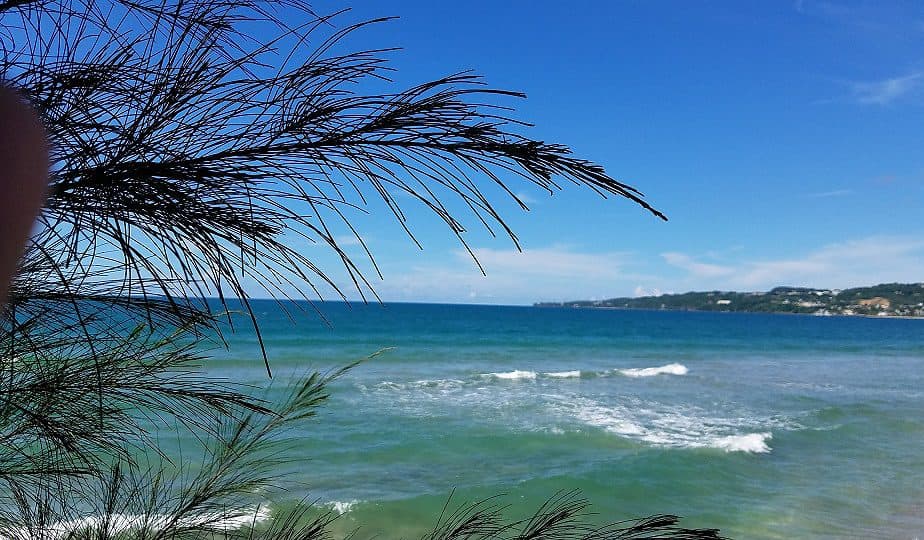 Colon beach coast is free for all. This beach has the following amenities, a beach restaurant, and toilets. In addition to swimming and sunbathing, you can also participate in other activities.
This beach is easily accessible; it is located very close to the road. Parking is located directly on the coast.
Top Must-Eat Restaurants
There are other places where you can go to have something delicious. But street food is irreplaceable. This tells the authentic taste of the site, so with the other sites, we should also try these things first so that we can have the complete experience of the place.
Sizzler
Ostra Brava
The Salty Pelican
Deep Blue Sea
Rompeolas Bar & Grill
Donostia Food & Wine
Peña Blanca Restaurant
Sal De Mar Restaurant & Rooftop Bar
Tijereta Gastrobar
Vittata Gastropub
BBQ Patio Grill
La Casa Del Dorado
Chef Lorenzo Restaurant
Chef Pin Pin
FAQs About Traveling Aguadilla Puerto Rico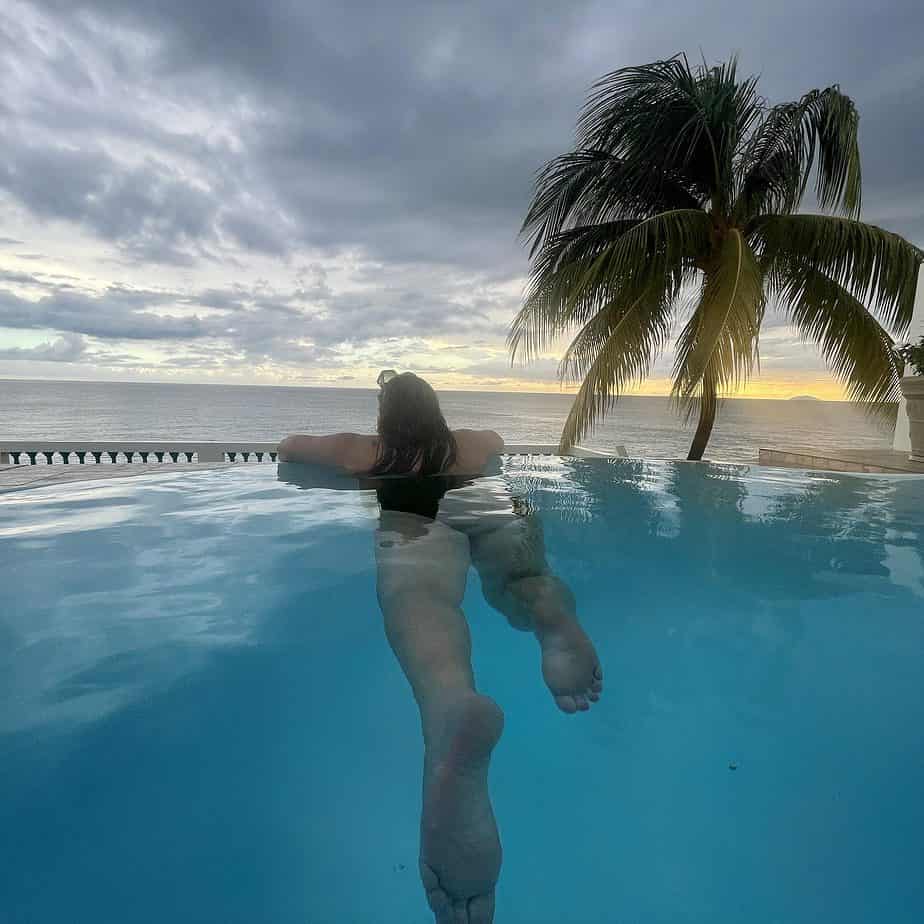 Is Visiting Aguadilla, Puerto Rico Worthwhile?
This is the side of Puerto Rico you should visit! There are fantastic views and a plethora of land and water activities. Most importantly, this is a lesser-known, lesser-visited part of Puerto Rico.
Aguadilla still has a low-key small-town Caribean vibe with little to no crowds. It's also home to magical waterfalls and some of the island's best beaches.
How Do You Get Around In Aguadilla Puerto Rico?
We rented a car, which is the best way to get around. This said, there is Uber in Aguadilla, Puerto Rico, and plenty of taxis and public transportation.
Can I Fly From The San Juan To Aguadilla?
Getting to Aguadilla by plane is comfortable and easy since flights depart from San Juan and arrive at Mayaguez. There is a distance of 76 miles between the two destinations. It takes 37 minutes to fly. A flight from San Juan to Aguadilla costs an average of 45 USD.
Closing Thoughts
Most people flock to San Juan when they visit Puerto Rico. Not a wrong choice, a great one! However, once you've seen San Juan, you should visit the other side of the island and explore Aguadilla!
Looking for articles on navigating tropical islands? Start here:
We participate in the Amazon Services LLC Associates Program, an affiliate advertising program designed to provide a means for us to earn fees by linking to Amazon.com and affiliated sites.
Brit On The Move™ Travel Resources
Ready to book your next trip? Use these resources that work:
Need more help planning your trip? Check out our Resources Page, highlighting the great companies we trust when traveling.