Norwegian Airlines Review: Launched in 2013, Norwegian Air is best known as a low-cost carrier once troubled with operating challenges. The phrase low-cost alone may conjure up thoughts of Spirit or Allegiant and scare off some. For our Scandinavian trip, we took a total of 8 flights with Norwegian Air. The experience exceeded our expectations and was hassle-free.
And, despite rumors in May of 2021 Norwegian officially ended its bankruptcy protection status, having rid itself of most of its debt!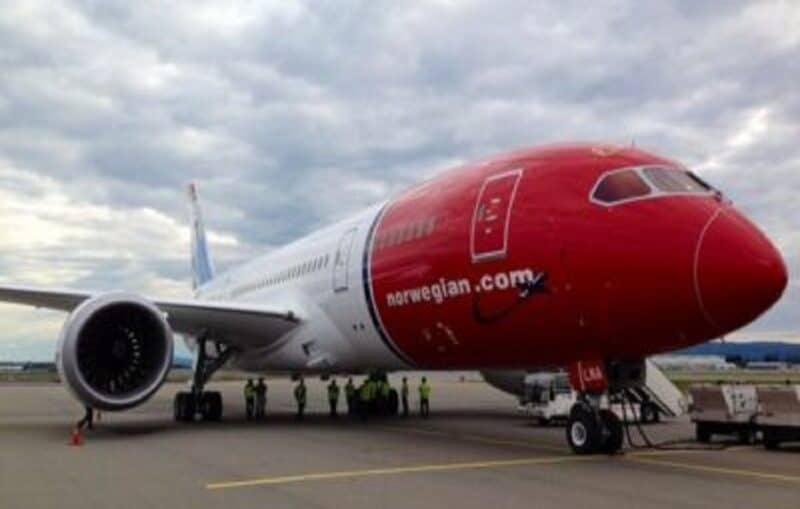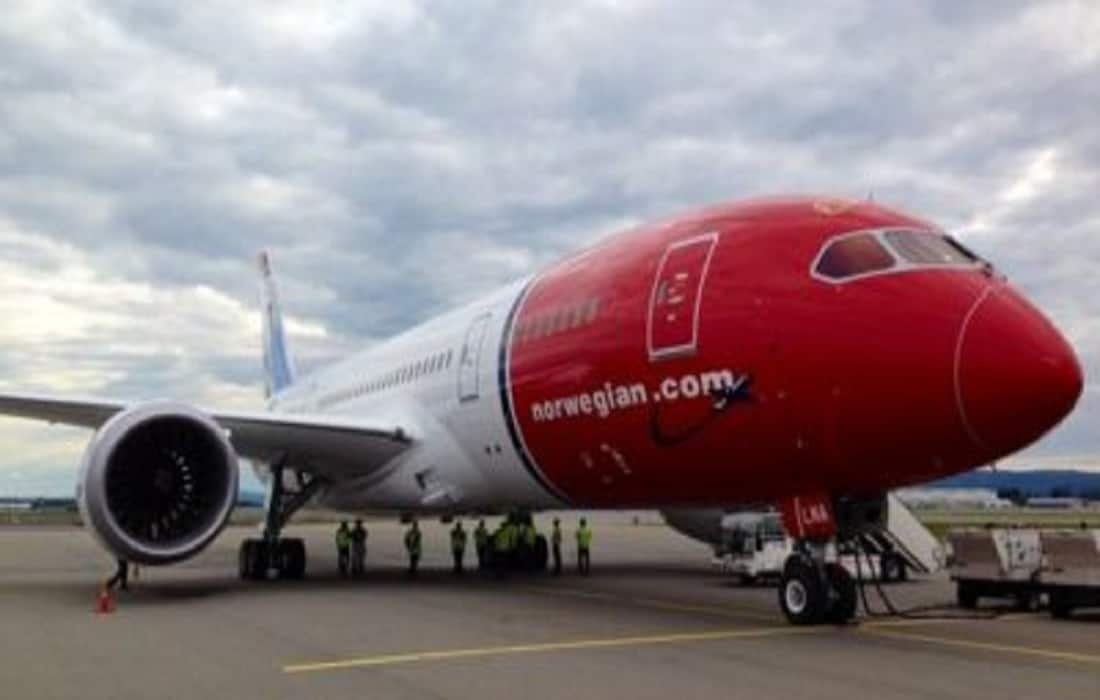 This post may contain affiliate links. Please read our disclosure and privacy policy for more information.
Here are 5 Reasons You Should Use Norwegian Air for Travel to Europe:
Reason 1 to Use Norwegian Air – Pricing
You can search all you like across the various tools on the internet, but the reality is you will not find many offering a better price for routes than Norwegian Air services. They are particularly inexpensive for intra-Europe flights. The pricing model is à la carte, but even with checked bags, the prices were unmatched. Here is our itinerary with prices. I have not broken out the taxes and security fees; they are included in the prices. I have broken out the ticket vs. add on's like checked bags. For our entire trip, we did not buy a meal service or seat assignment. Finally, all of these prices were during November 2018, including flights on Thanksgiving Day:
Orlando, Florida to Oslo Direct:
$209.90 per person (x 2 $419.80), $45 per bag (x2 $90) = Total of $509.80
Bergen, Norway to Helsinki, Finland (connected via Oslo):
$105.50 per person (x 2 $211), $24 per bag (x2 $48) = Total of $259
Helsinki, Finland to Ivalo, Finland:
$38.30 per person (x 2 $76.60), $12 per bag (x2 $24) = Total of $100.60
Ivalo, Finland to Stockholm, Sweden (connected via Helsinki):
$99.40 per person (x 2 $198.80), $24 per bag (x2 $48) = Total of $246.80
Stockholm, Sweden to Orlando, Florida (connected via London Gatwick):
$264.40 per person (x 2 $528.80), $62 per bag (x2 $124) = Total of $652.80
Reason 2 to Use Norwegian Air – Route Availability
You may not realize just how many routes Norwegian Air has, and they continue to add new routes. They offer services beyond Europe to South America and Asia! Currently, they provide services to more than 150 destinations worldwide.
Tip: Even if Norwegian Air does not fly to where you want to go, chances are they will connect into a hub that does. For example, check out deals from Gatwick on other carriers. You could save a ton just by getting to Gatwick using Norwegian Air.
Here is the Norwegian Air Route Map from Orlando as of Nov 2018: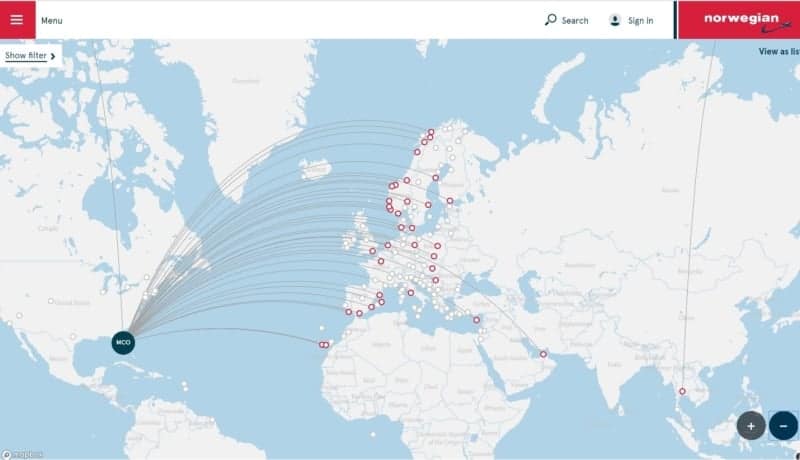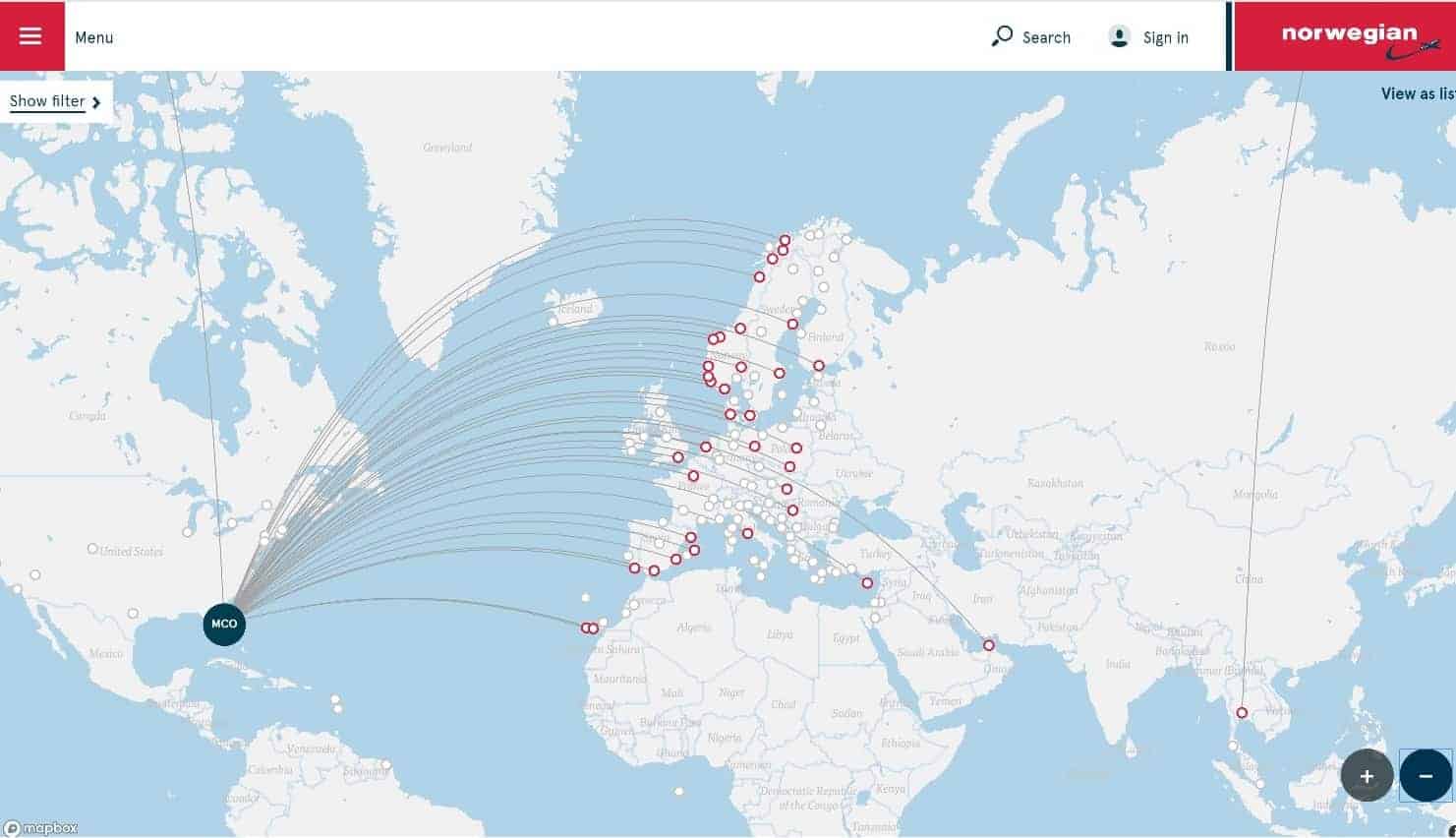 Reason 3 to Use Norwegian Air – Multiple Award Winner
Norwegian Air has racked up many awards over the years. Please take a look at their full list of awards and recognition here.
If you take a look at the awards Norwegian Air is receiving, this alone should give you pause to ignore some of those less than favorable Norwegian Airlines reviews. You can't win these awards if you are not great!
Snapshot of Norwegian Air's 2018 Awards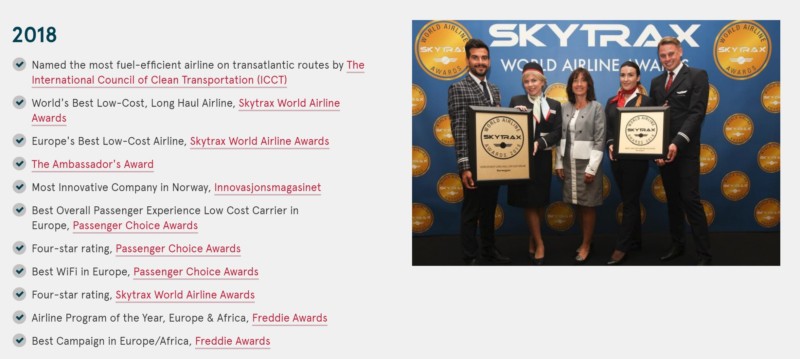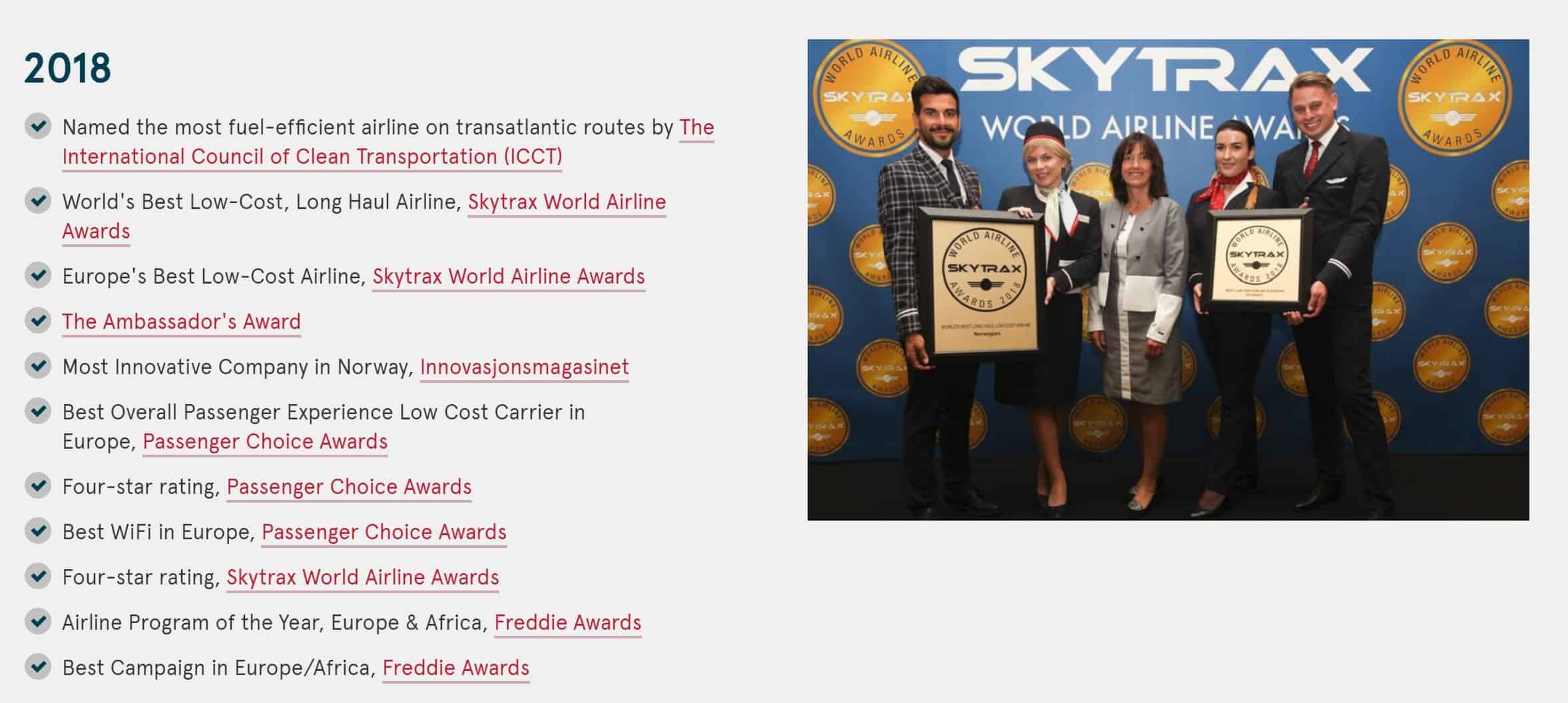 Reason 4 to Use Norwegian Air – Comfort
Norwegian Air's fleet is almost all-new – one of the youngest and greenest fleets in the world. The average age of a plane is only 3.6 years old. Here is the best part; these planes are not tight on space or amenities. The leg space was above and beyond what I expected. I would go as far as to say this might be the roomiest economy I've flown in a long time. The overhead lockers are enormous on the 787 – you will be able to fit in all your carry-on with no problems. The entertainment was free; bring your headphones.
Granted, this is my Norwegian Airlines review, and some will disagree. All in all, these planes are more beautiful than many I've traveled on recently. Much nicer than the ones we traveled to Dubai on with Emirates. Sure, you must buy your drinks, but that's a minor detail for me.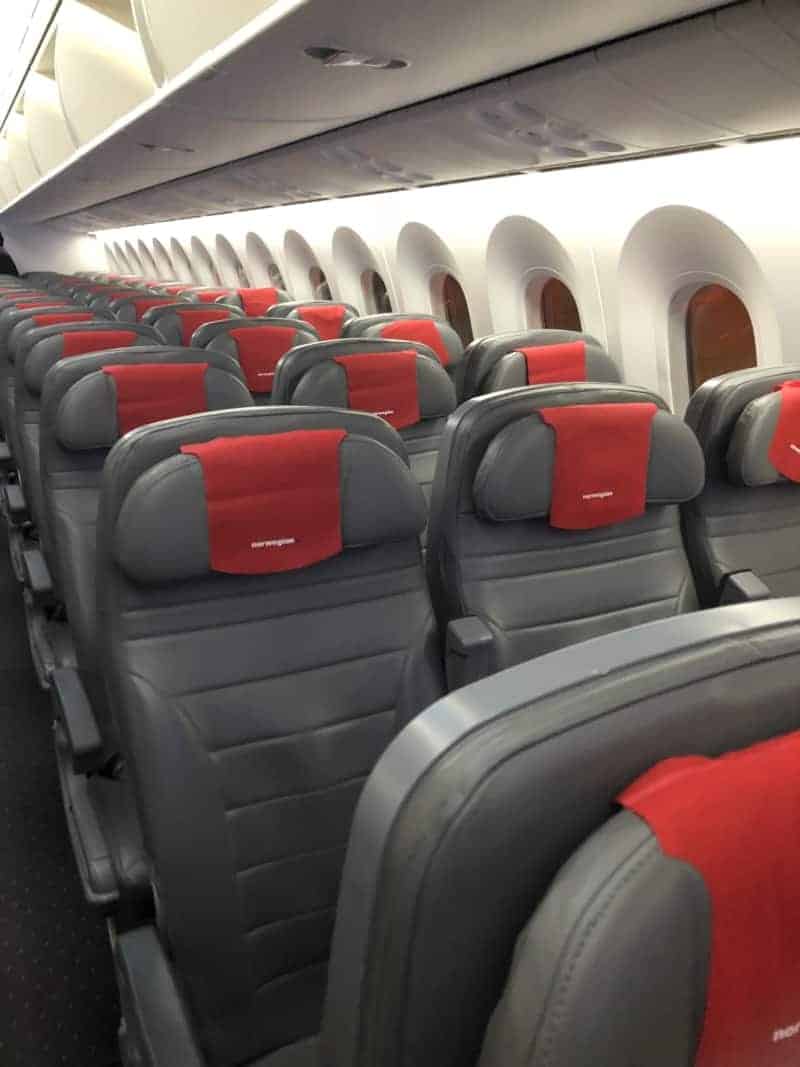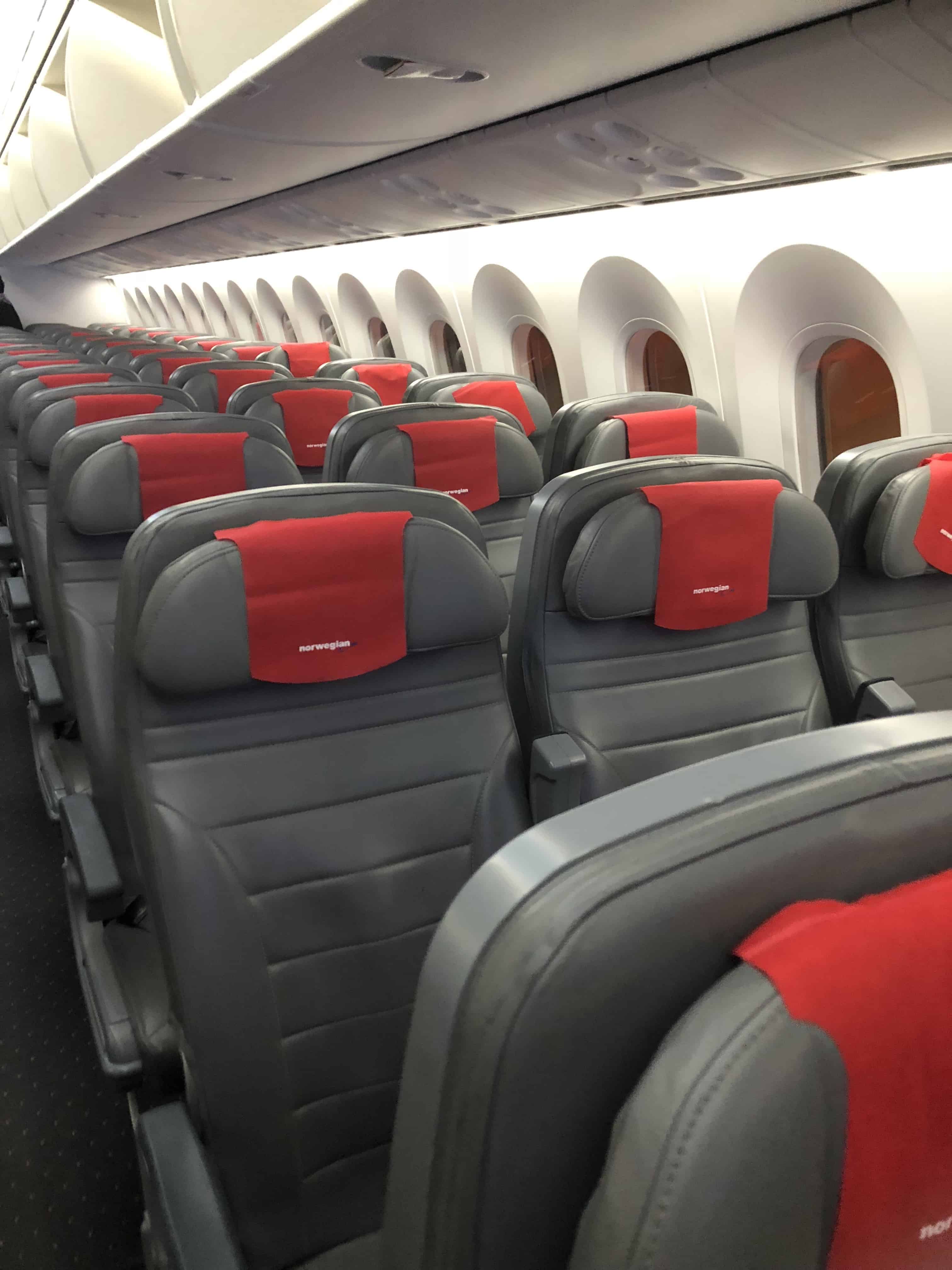 Reason 5 to Use Norwegian Air – Reliability
2018 was a rough year of flying for me. The year kicked off with canceled flights in New Zealand, and it just continued. Until a flight in October, I had not experienced one trip that was on time, canceled, or not stricken with maintenance issues. As I mentioned earlier, we took eight flights with Norwegian Air and several connections. Not one single flight was delayed, canceled, or re-routed, and this was during temperatures in the negatives. Quite frankly, this experience restored my faith in air travel – in that it is possible to be done right regardless of the weather.
Now I've shared my Norwegian Airlines review. Will you use Norwegian Air for Traveling to Europe?
Let me share some valuable tips that will make your travel hassle-free.
Baggage
Probably the most significant potential pain point, but you can avoid it. You must pay for checked bags, and each bag cannot exceed 20kgs, which is 44lbs. If you have a lot of international experience, you will be expecting this to be 23kgs or 50lbs. In short, it's 6lbs. Less than others. This presents a problem if you assume that the baggage requirements are the same internationally. The fee, if you are overweight, is $75, and cash is not accepted.
What shocked me is the difference between international bags. I think this is a tad sneaky and a first for me. In fairness to Norwegian Air, they disclose this. We checked while packing vs. way in advance as we "assumed" it had to be 50lbs. For us, this meant we had to unpack our usual international bags and re-pack. Here is why. The Samsonite hard cases we always use weigh 12lbs. Our Samsonite soft side cases weigh 4lbs. I know that I will use Norwegian Air again, so I will search and find the lightest case ever to combat this issue.
Additionally, Norwegian Air weighs carry-ons at check-in (10kgs, or roughly 22lbs), so pack wisely.
Tip: It's half the price to pay for checked baggage in advance, so make sure you plan accordingly. Check baggage requirements before you go. The maximum weight for a checked bag is 44lbs!
Meals
Meal service is not included on Norwegian Air, and it must be pre-ordered. I think the meal service pricing is steep (approximately $49), so we did not order it. I did not believe this was something even to consider, given that they advertise snacks and beverages available for purchase. We learned on our first flight that snacks (sandwiches and salads, etc.) were sold out in the first five or ten minutes. I can't understand why there was no more food on the flight to purchase for the life of me. We got lucky because I asked the flight attendant what, if anything, was left to buy and got the last two sandwiches.
Tip: Take your meals and drinks on board or purchase the meal service. Do not assume you can buy onboard.
Seat Assignments
Norwegian Air charges for seat assignments. If you are taking multiple flights, the cost can add up. We did not book any seat assignments. Brian and I were on the same reservation and were seated together on every flight. Another couple traveled with us, and they, too, were sitting together on every segment. Unless you really must have a window or an aisle, I would not pay for the seating assignment – but that's just me.
Low Fare Calendar
We were traveling over the Thanksgiving holiday and had specific dates in mind. Norwegian Air has a Low Fare Calendar that you can use to browse offers. Here are some sample flight prices from Orlando to Paris that are ridiculously cheap: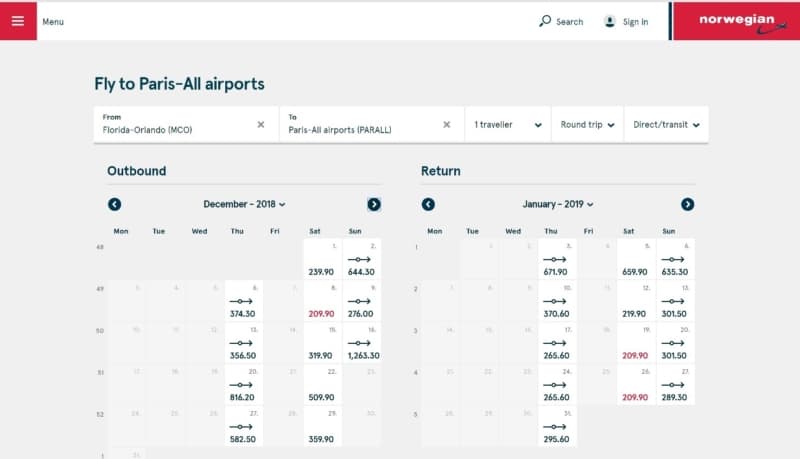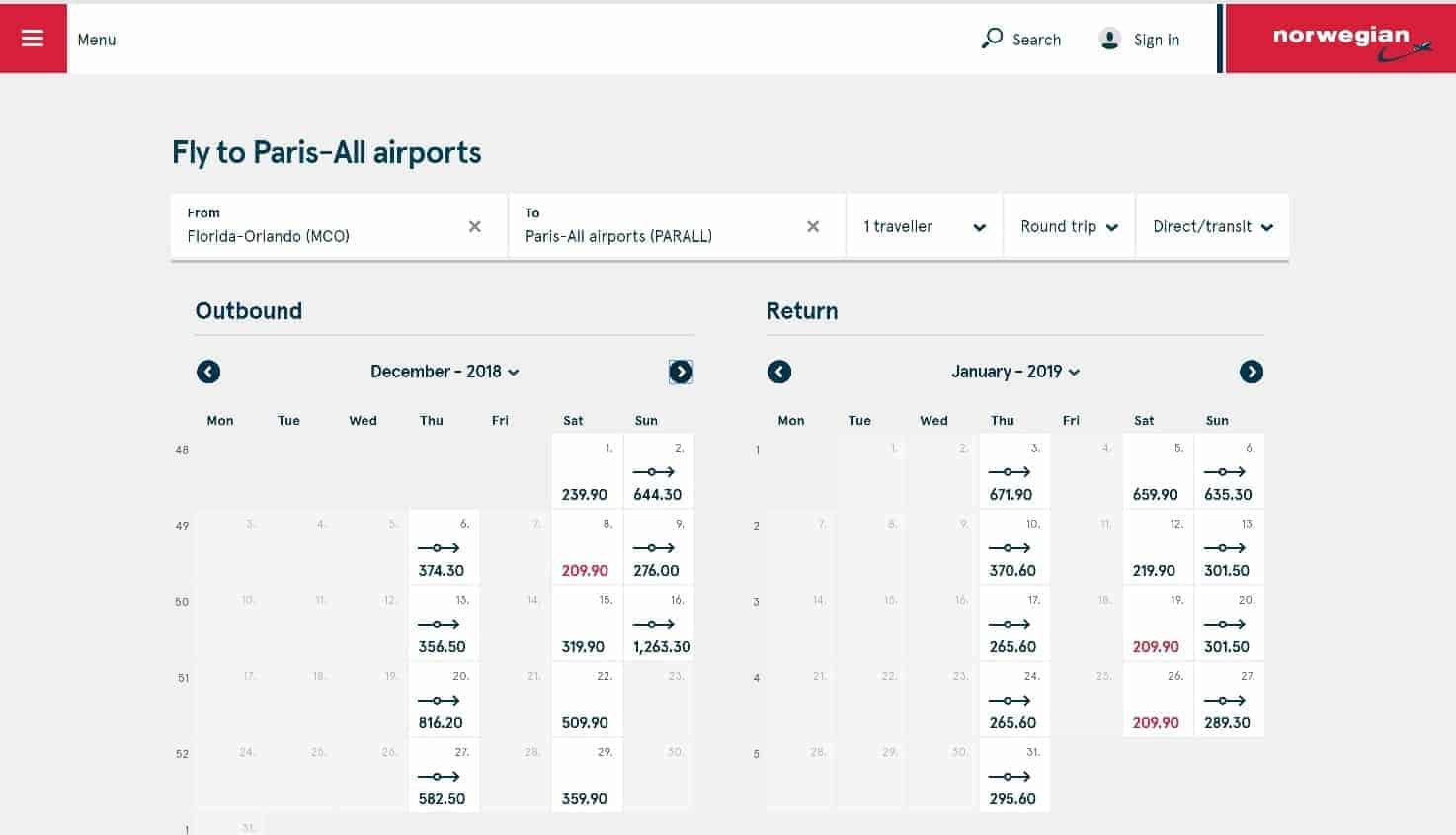 Contacting Norwegian Airlines
Norwegian Airlines customer service telephone number is: 1 (800) 357-4159
Closing Thoughts
I don't understand why we refer to airlines as low-cost carriers anymore, given that almost all airlines charge for some amenities. The legacy model continues for international flights, including baggage, seat assignment, and meals, but realistically, you are either paying a flat fee or paying item by item. The result is the same. To compare appropriately, you must compare apples to apples. Or, calculate the total costs with all the add ons if they are not included. My experience lately is that the legacy carriers are coming in cheaper for domestic US flights. However, this was not the case internationally.
Norwegian Air exceeded my expectations, and I will be using them again. I have given you 5 reasons to use Norwegian Air for Traveling to Europe, but I could give you more!
Now you've read my Norwegian Airlines review, share your thoughts below. Have you used Norwegian Airlines?
Looking for more Travel Hacks? Start here:
We participate in the Amazon Services LLC Associates Program, an affiliate advertising program designed to provide a means for us to earn fees by linking to Amazon.com and affiliated sites.
Brit On The Move™ Travel Resources
Ready to book your next trip? Use these resources that work:
Need more help planning your trip? Check out our Resources Page, highlighting the great companies we trust when traveling.