Mermaids Of Weeki Wachee Springs
When I tell most people about the Mermaids Of Weeki Wachee Springs mermaid show in Florida, I am met with raised eyebrows. The Mermaids Of Weeki Wachee Springs underwater extravaganza only takes place at Weeki Wachee Springs! Typically, people think I am talking about a theater-style Broadway show, and most assume I mean a show about Disney's Little Mermaid.
Once I've explained that it is a live mermaid show performed underwater in a natural spring with nothing to do with Disney, people are intrigued!
This year for my birthday, I spent my day watching the Mermaids Of Weeki Wachee Springs at the Weeki Wachee Springs in Hernando County, Florida.
This post may contain affiliate links. Please read our disclosure and privacy policy for more information.
Weeki Wachee Springs
If you are not familiar with Weeki Wachee Springs, it is a state park that's somewhat famous in Florida. Famous for being home to the live mermaids. The park also hosts Buccaneer Bay and Buccaneer Bay Water Park. Activities include riverboat rides, kayaking, paddleboard rentals, and animal shows. And the parks offer several camping programs.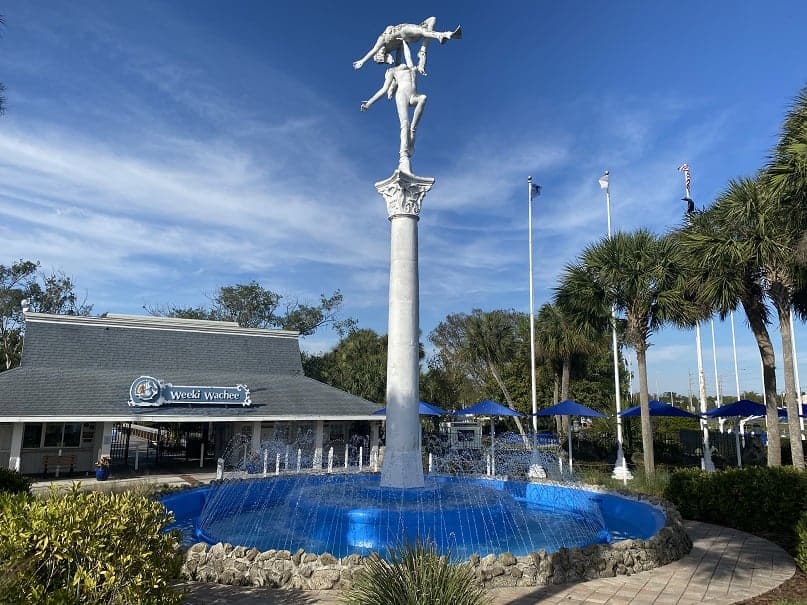 History of Mermaids Of Weeki Wachee Springs
In 1947 Newt Perry, a former U.S. Navy man, swim coach, and star swimmer turned event promoter, searched for a new business venture.
He found Weeki Wachee Springs, which at the time was full of junk and had to be cleared.
Newt wanted to create a way for humans to perform underwater. He invented a method of breathing underwater from a free-flowing air hose supplying oxygen from an air compressor. This hose gives the appearance of people or the mermaids breathing underwater.
Initially, an 18-seat theater was built. A newer theater with a capacity of 50 was created later, and the viewing windows were added.
Newt sought out pretty girls and taught them how to perform ballet moves underwater and other tricks. As such, the mermaid shows of Florida were born.
The Mermaid Show Theater
Closed for renovations in November 2018, it was re-opened on Memorial Day weekend in 2019. The benches were refinished during the upgrades, the theater was painted, and new tiles were added.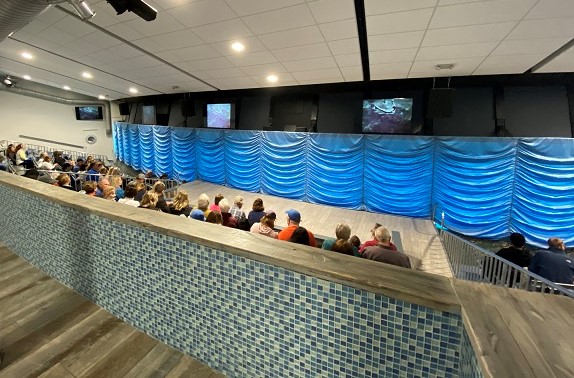 I think the theater is impressive. It's large, modern, has excellent lighting, and has a massive circular viewing area – renovated with style.
The viewing area is covered with a blue curtain when you enter the theater. This adds drama and creates anticipation. It feels like you are at a traditional theater. Technically, it is a theater; only the show is underwater.
Note: The shows are popular, so make sure you get in line well in advance of the show time to ensure you get a seat. Seats are on a first-come basis.
Experiencing The Mermaids Of Weeki Wachee Springs
I imagined that the mermaid show would consist of an occasional mermaid swimming around waving at the audience. I was wrong. The mermaid show in Florida is a full-blown production show with a story, characters, dancing, and singing.
It's an incredibly professional product, and I did not expect this!
The curtain rises, and then you are transported into the most magical underwater world right inside an actual spring.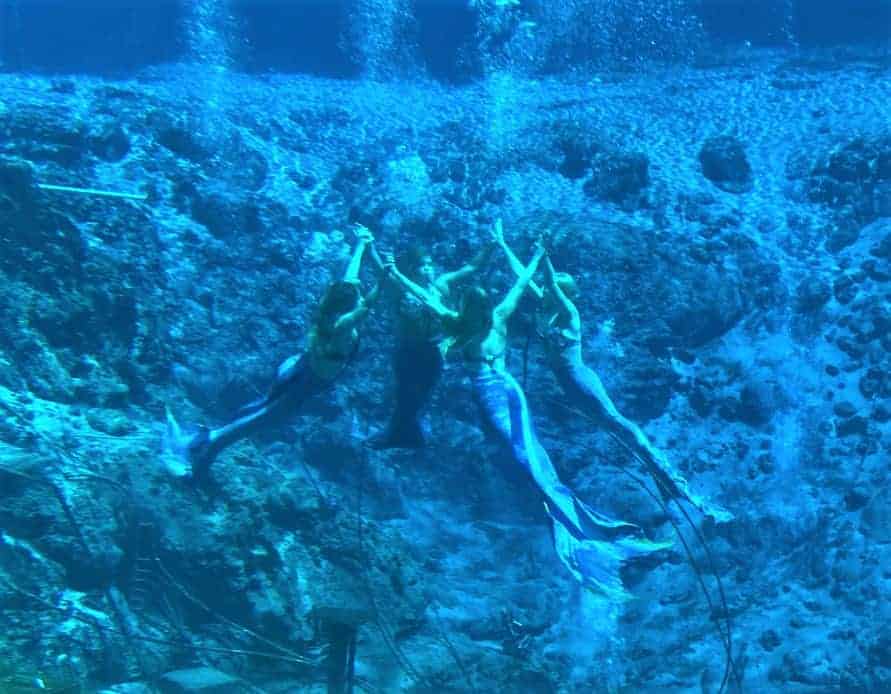 There are three shows a day. And, if you want to watch all three, you can – it is automatically a part of your admission!
A stream of bubbles creates a screen in the water that covers the viewing area in between sets. A memory that makes me smile as I write this.
The story you experience will depend on which show you choose. We chose the Wonders of Weeki and had no regrets. Not only was the show enchanting, but it was also educational. Wonders of Weeki is a new show dedicated to Newt Perry, the founder. The exhibition includes lots of history and education about Florida's ecosystem. And the history of the mermaids.
Video of Wonders of Weeki Mermaid Show
The Two Different Mermaid Shows
"The Little Mermaid" Description: The mermaids of Weeki Wachee recreate the story of "The Little Mermaid." Showtimes: 11 a.m. & 3 p.m.
"Wonders of Weeki," Description: The mermaids of Weeki Wachee showcase the history of the park and mermaid feats of yesteryear. Showtimes: 1:30 p.m.
Note: Theater doors open 30 minutes before the show. Once the theater is at capacity, the doors will close. The theater only holds 400 people, and it fills up frequently.
Mermaid Fan Must-Haves
Meeting the Mermaids
After all shows, there is an opportunity for you to meet the mermaids. And, get a photograph with a live mermaid. As you can imagine, this is a massive hit for little girls, so be prepared to wait in line. There is no charge to meet the mermaids or have your photograph taken with one.
If you want to meet a prior mermaid head to Aripeka Stone Crab Company. Karri and her husband Matt own and operate the Aripeka Stone Crab Company. Karri's dad started the business; he was a stone crabber. Karri was a Weeki Wachee Mermaid.
Other Attractions at Weeki Wachee Springs
Maybe watching a mermaid show is not high on your experience list. Don't worry, plenty of other things to do!
Buccaneer Bay Waterpark
We visited in early March, and the Waterpark was not open to the public yet. However, the views are evident as to what this attraction has in store for you. Included in your admission, Buccaneer Bay Waterpark is a water park built around the spring. I would liken it to a sound old-fashioned swimming hole with the modern-day addition of slides. Three giant falls plunge you into the spring, and then there are the cannonball and thunderbolt flumes.
Lifeguards practicing at Buccaneer Bay Waterpark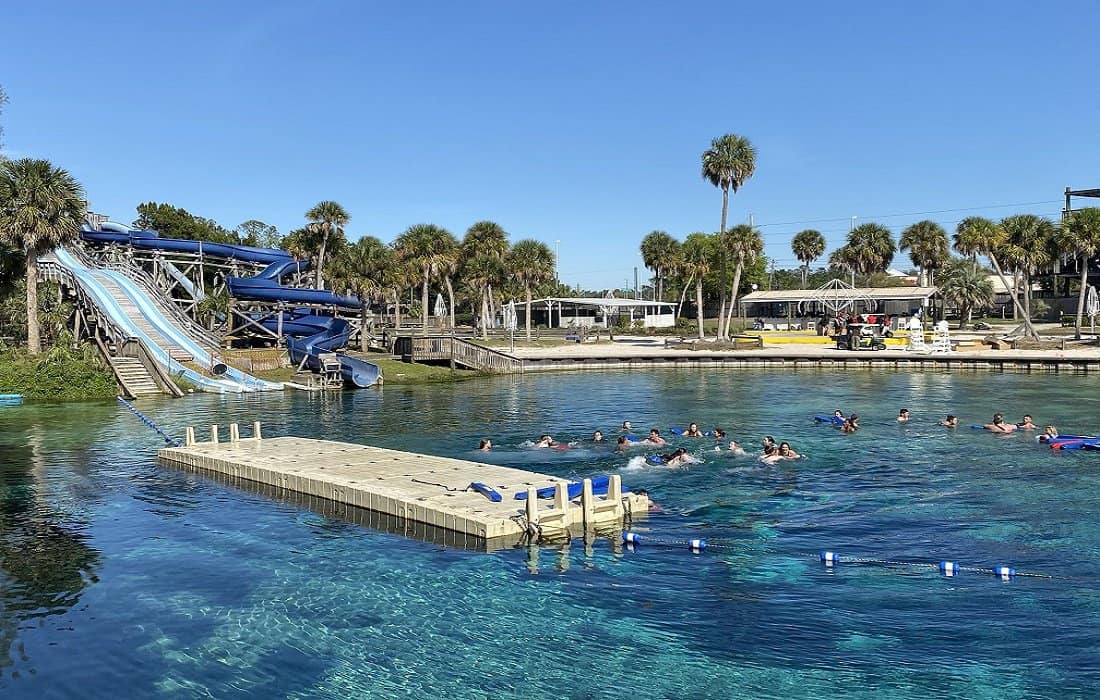 The Waterpark has a beach, and it is the perfect spot for swimming or snorkeling, and lifeguards are on hand.
Not included:
Tube Rental: $7
Locker Rental:$7
Boat Tours
Don't miss this one. It's not a long boat ride, but it's beautiful. You get to take a journey through the waterway of the Weeki Wachee River. You'll see firsthand just how stunning the springs of Florida are. The piercing blue water is something that you will never tire of. The boat captains will tell you all about the river and the different natural wildlife types seen during the trip.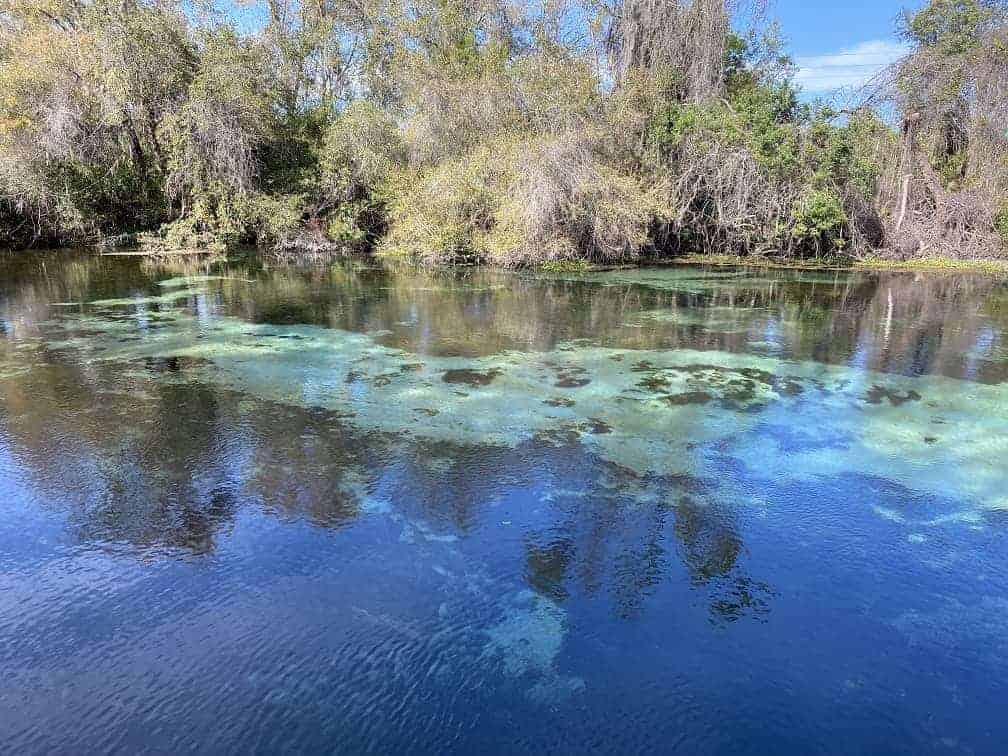 Note: Once you get in the park you have to register for a boat time slot. Head to the boat ride first and secure a time that works with the other activities you plan.
Rent a Paddle Board or Kayak
Weeki Wachee Springs state park rents kayaks and paddleboards on the Weeki Wachee River. The prices are per watercraft and not per person, and transportation back is included.
Note: Paddle boards and kayak rentals are notpar of the admission price.
Snorkel or Swim
Who does not like snorkeling, especially in a natural spring? For Floridan, it's one of the highlights of living in the Sunshine State. If you're not a fan of snorkeling, then take a dip and cool off.
Watch The Animal Exhibits
The animal encounter at Weeki Wachee Springs State Park provides our guests with a firsthand glimpse of some of Florida's native wildlife, including gators, snakes, and others.
Dining Options
Mermaid Galley: Sandwiches, burgers, wraps, salads, ice cream, and other snacks.
Captains Quarters: Ice cream, snacks, and drinks overlooking the bay.
Pirates Grubb: Snacks, burgers, hot dogs, chicken fingers, etc.
Snack Shack: Ice cream and cold drinks.
Tiki Bar: Frozen drinks, beer, wine, and grilled food items.
Where To Stay Near Weeki Wachee Springs
FAQs About The Mermaids Of Weeki Wachee Springs
If you really love springs, then you need this book! Florida is home to over 1000 natural springs between the sun-soaked beaches of the Gulf of Mexico and the Atlantic Ocean, which have drawn people to the state for thousands of years. Long before theme parks came to town, the freshwater springs were the top tourist attraction in the state. Join us across the state to explore 40 of the best springs in Florida that you can still visit today. Filled with vivid photos from the past and present, this guide will show you a side of the Sunshine State you won't see in commercials. Complete with information on conservation and a key for activities offered, this book is a must-have for locals and tourists alike.
Closing Thoughts
Time and time again, Florida continues to fascinate me. There is an abundance of things to see and do. Visitors might see squirrels and peacocks wandering the grounds. Manatees and turtles will sometimes pop up in the spring run. Aboard the riverboat cruise, people may get a chance to view bald eagles, mullet, blue heron, wild turkey, deer, and various fish.
But most impressive are the Mermaids Of Weeki Wachee Springs, and it's worth a visit for this reason alone.
Looking for more posts on Florida? Start here:
We are a participant in the Amazon Services LLC Associates Program, an affiliate advertising program designed to provide a means for us to earn fees by linking to Amazon.com and affiliated sites.
Subscribe to our newsletter and get the best travel tips and inspirational stories delivered monthly. No spam, no sales pitches – TRAVEL!
Brit On The Move™ Travel Resources
Ready to book your next trip? Use these resources that work:
Need more help planning your trip? Check out our Resources Page, highlighting the great companies we trust when traveling.