Have you ever wanted to swim with a manatee, Florida's gentle giant? Here is how to make that dream come true, and you don't have to book a tour to meet them! Otherwise known as sea cows, these gentle giants are indigenous to Florida, and they hang out in droves at the Crystal River, Florida.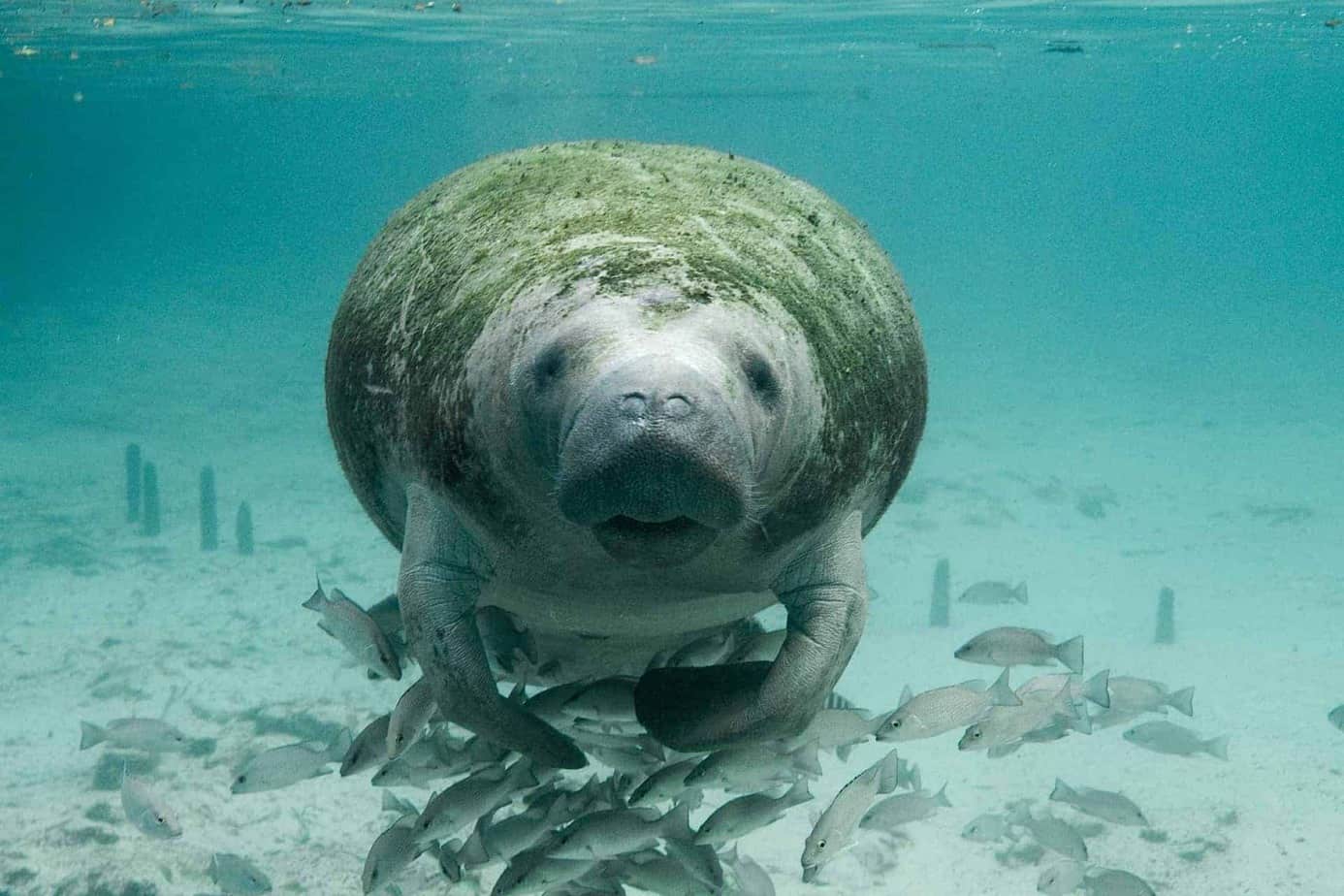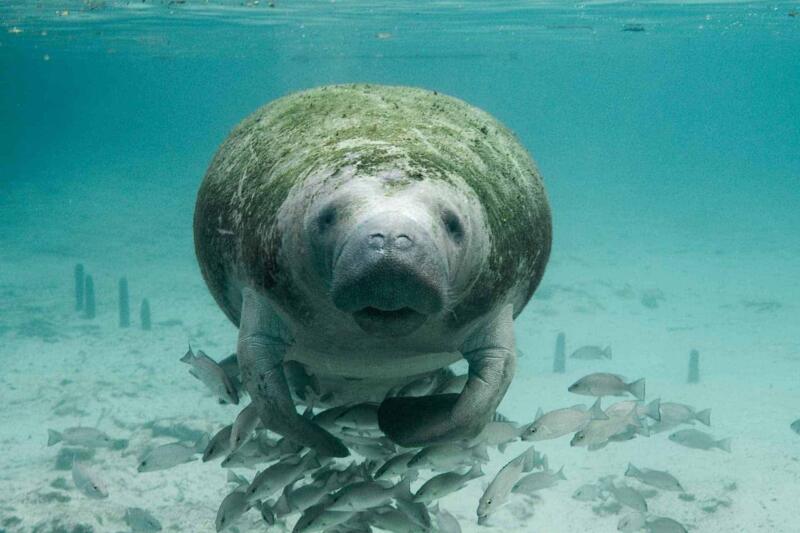 This post may contain affiliate links. Please read our disclosure and privacy policy for more information.
About the Crystal River
The Crystal is best known for swimming with manatees. It's also a trendy place to catch scallops. The Crystal River is the only place in America where it is legal to swim with manatees. Deceiving as its title is, it's not a river. The Crystal River is an area that is a combination of an estuary, freshwater springs, and brackish water leading to the west coast ocean. All accessible once you launch into Kings Head Bay. And, once you do, you can experience fresh and saltwater in the same region.
We first started venturing here before we owned a boat. Our maiden trip to this area did not include the water, but we immediately booked to return and swim with the manatee's tour. From my perspective, the tours are hit and miss. They are fantastic options if you time it right and don't want to rent a boat. I think you have just as much chance finding the manatees on your own, even if you only kayak!
We've done many a-day trips and tons of weekends to the Crystal River, and it never disappoints. The Crystal River is one of my favorite places in Florida.
As our experience with the area has matured, we have learned the do's and don'ts and have become veteran scallopers. I will share all of the information you need for a great weekend or day out with or without booking a tour to swim with manatees.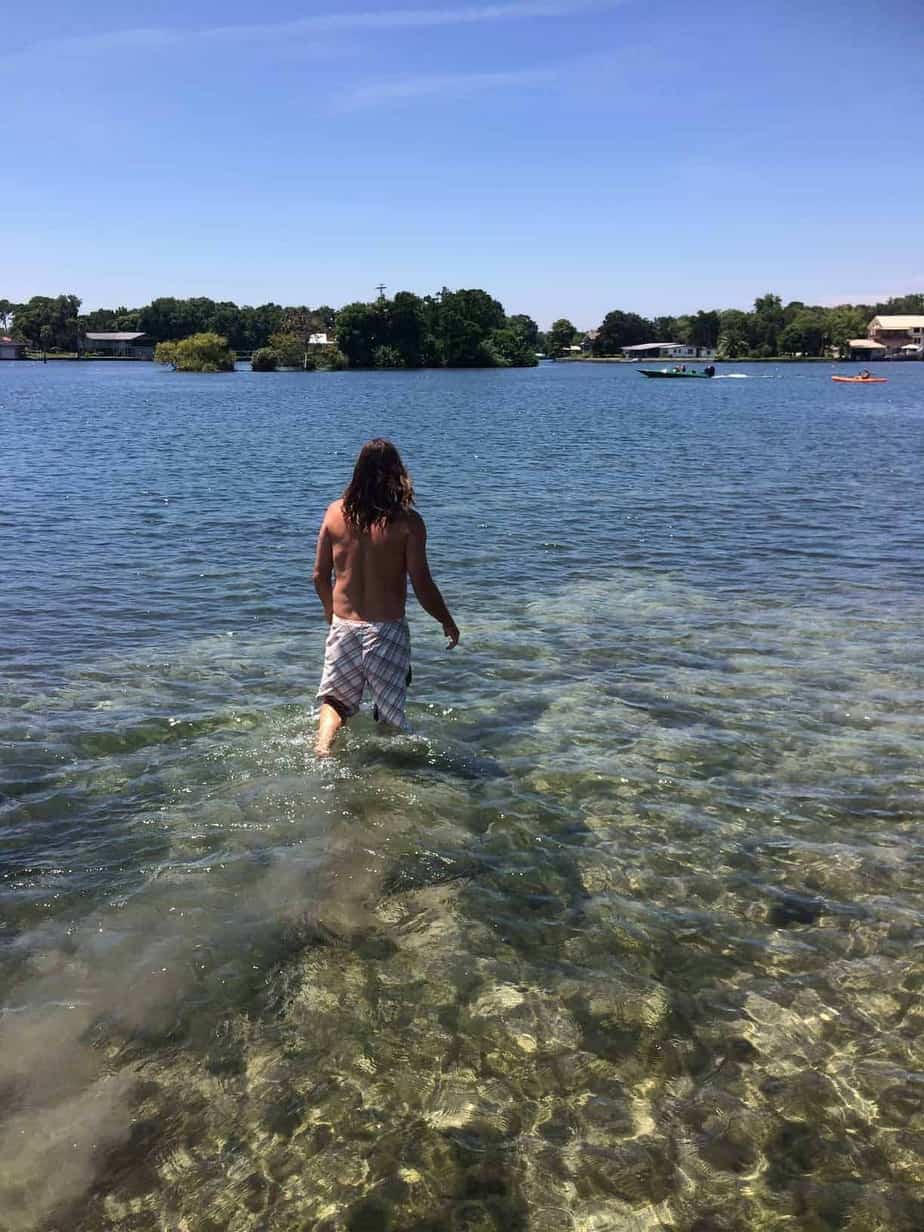 The Crystal River Accommodations
Like the Rainbow River, most accommodations are dated and then some. Some are some absolute S**t tips. We have had to check out of a place or two over the years. It took us a couple of years to find the hot spots, and now we have it down to a science!
Great Options
If you want to stay on the water, the place to book is Plantation on Crystal River. A resort with resort amenities, but not all of the rooms or corridors are updated. As a result, this resort has been in the process of upgrading for a while. This place is right on the water. You can launch your boat from the dive center, and you can moor your boat onto the sea wall.
A massive advantage if you spend the weekend. The restaurant is fantastic, affordable, and will cook your catch, including scallops. Therefore, if you plan to stay here during scalloping season, you need to book ahead as it sells out way in advance. Something else to note, ownership changed in 2017. Sadly, they now charge a "resort fee" in addition to the nightly rate, so make sure you factor this into the cost when booking.
The other option is the Hampton Inn Crystal River. Above all, this hotel is not on the water. There is boat parking, and it's a very modern hotel. It is only a five-minute drive to the Plantation, where you can launch.
Alright Options
There are a couple of other reasonable places that won't break the bank. I won't recommend them. Having stayed there, I know there are better places to book. However, I would be happy to give you the information if the above two are not available or are too costly. Just shoot me a message, and I'll share it.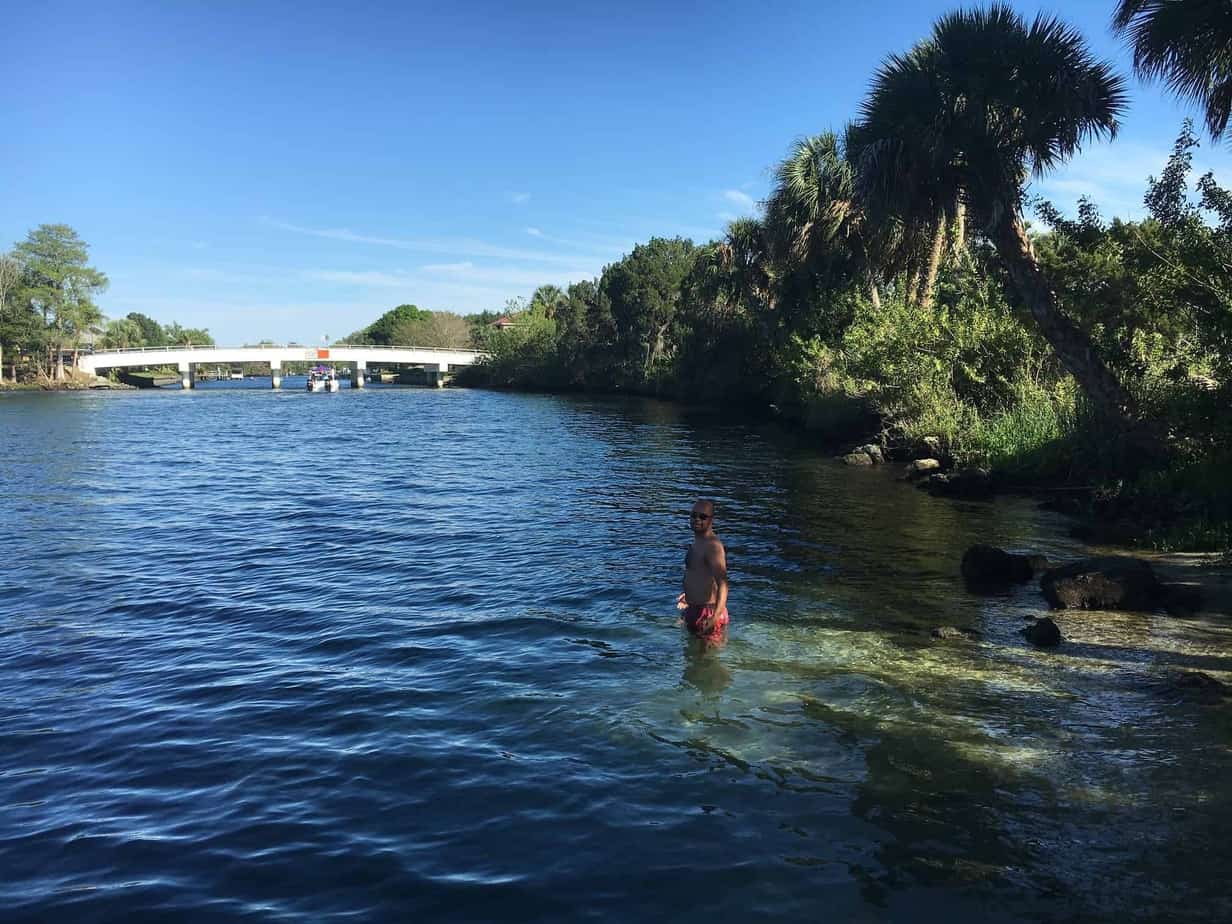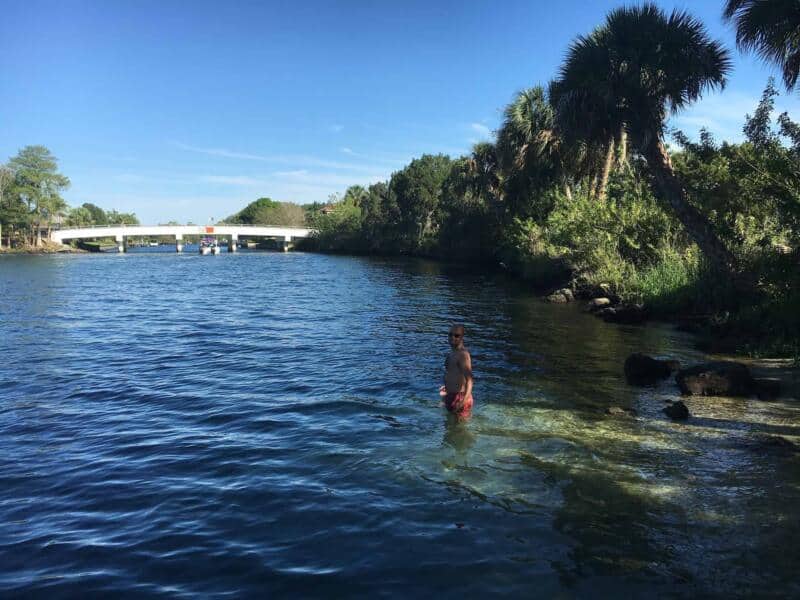 About Manatees
Manatees are large aquatic marine mammals measuring 10- to 15-feet-long and weighing one ton. Manatees live in coastal waters and rivers, and they're the ocean's largest herbivore. They eat four to nine percent of their body weight each day, approximately two hundred pounds of food a day. They can swim up to in short bursts at 15 mph. However, they typically swim at five mph.
Swim With Manatees
Manatees are everywhere throughout the Crystal River region. In the winter, they congregate at the Three Sisters Springs. You will have no doubt seen glamorous photographs of people up close in the bright blue spring water.
The chances of you getting this close are limited. For example, the springs are closed as a sanctuary when the temperature drops below 68 degrees. Meanwhile, most tour operators operate all year round. If you decide to go in the winter, the tour operators will take you as close to the Three Sisters Springs' entry as you can get. Even if you go on your boat, you will only get as close as the barriers.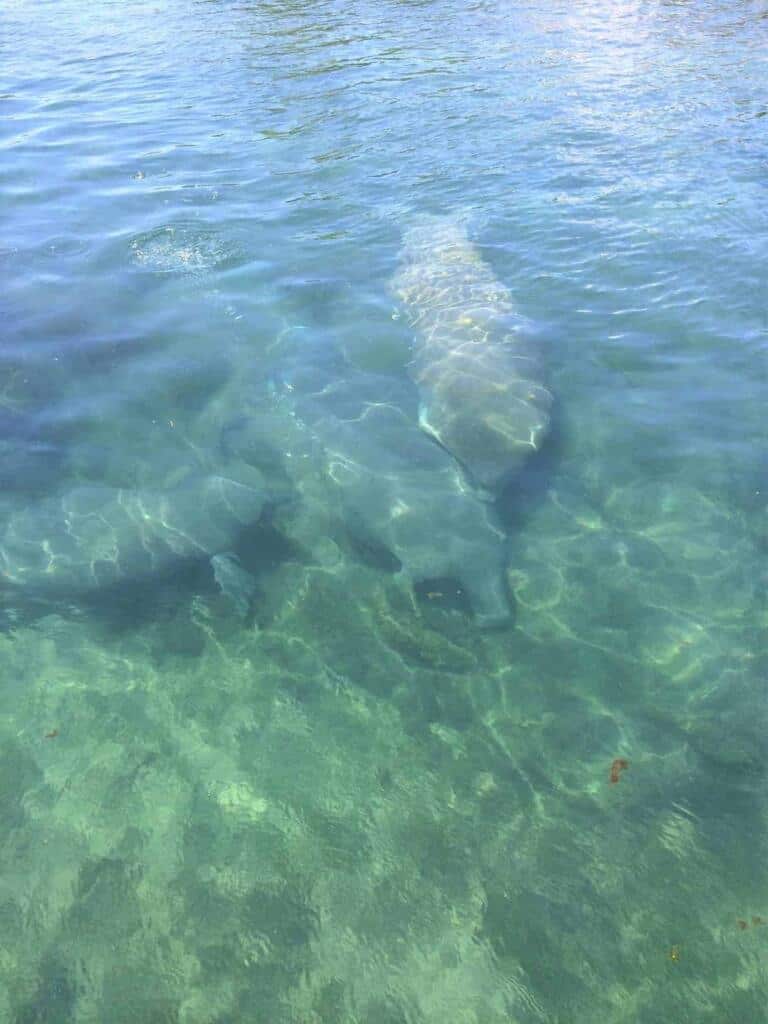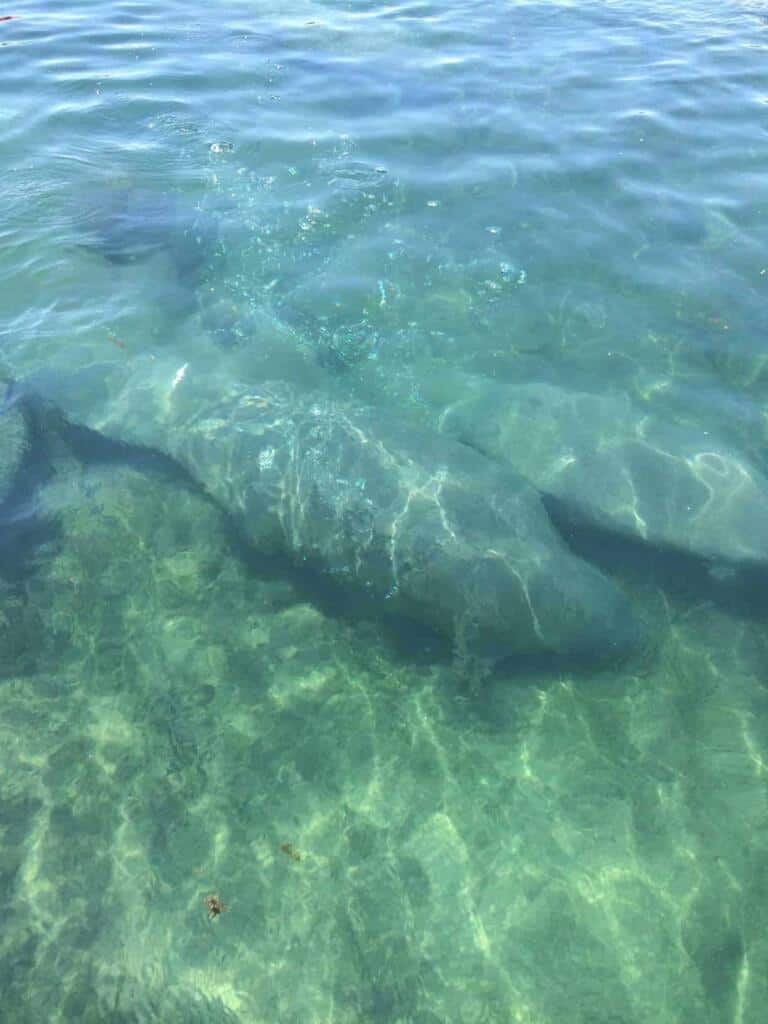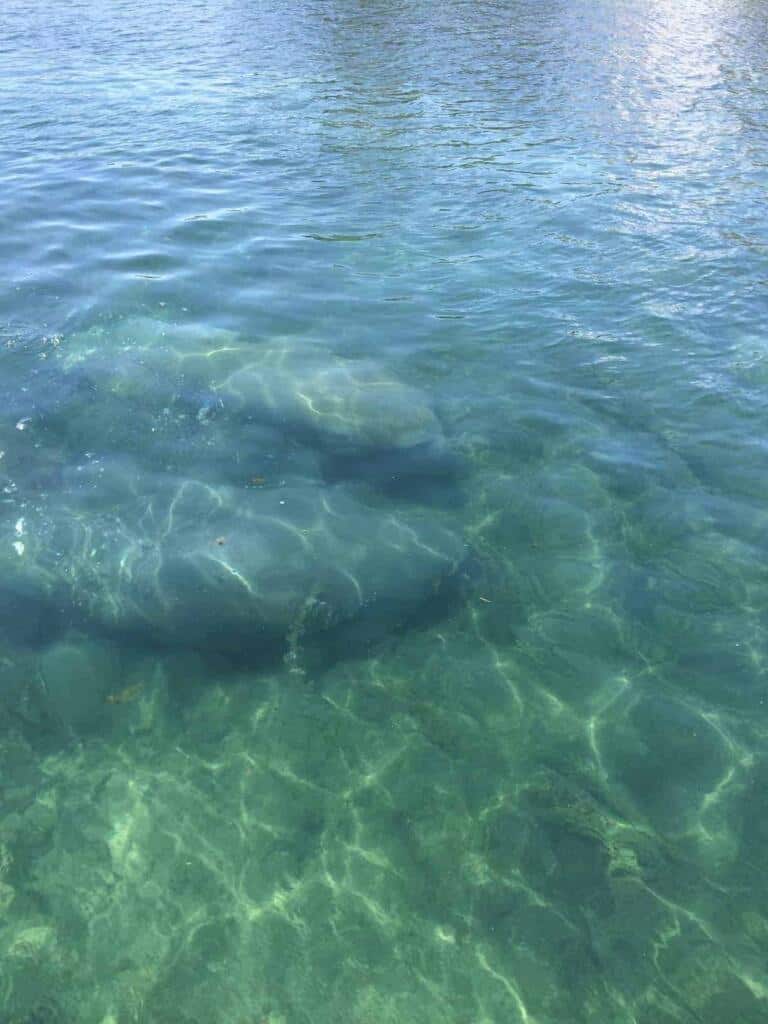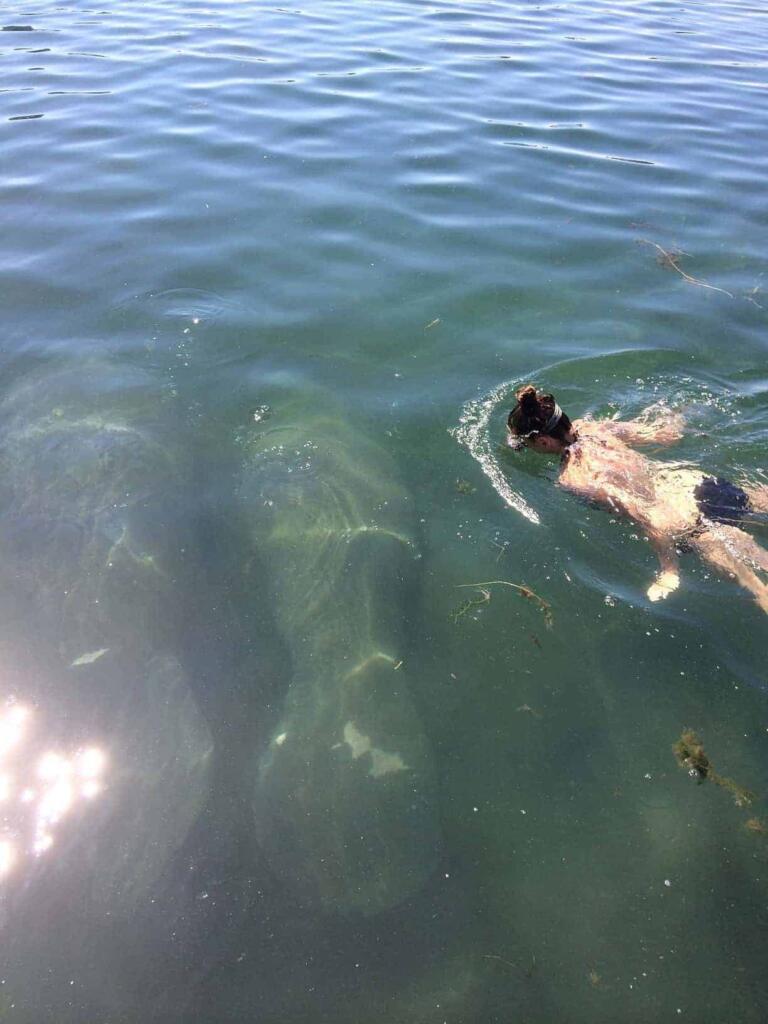 I do not recommend the tours during this time. Firstly, you can get to the springs yourself. Most importantly, tour operators tend to ride around Kings Head Bay, an inlet consisting of murky brown water. This is because you can only get up so close to the springs during the winter.
Lastly, if you end up on tour and can't get you as close to the Three Sisters Springs as ideal to see the manatees, you will have zero visibility, making this experience pointless.
Note: Some tours, specifically diving tours have great reputations for getting you in clear water where you have a much better chance of swimming with the manatees in clear water.
Best Spots To Swim With Manatees
If you want to swim with manatees, visit in spring or summer and rent a boat if you don't own one. Explore the area. You will run into the manatees all over the Crystal River region. Our most intimate swim with manatees was in April. We had parked up for lunch at the bridge heading to Three Sisters Springs. A group of ten manatees, along with some babies, swam up towards our boat.
Naturally, we jumped in the water to get a good look. Floating on top of the water, watching these gentle giants is a surreal experience. Firstly, manatees are a lot bigger in person than you anticipate. Secondly, while appearing slow, they do move fairly fast! One thing you must know is that you cannot harass manatees. You must respect their space. Contact with them is illegal. The only exception is them contacting you, or as in our case swimming into you.
In addition to boating the Crystal River, you can canoe, kayak or paddleboard.
Everything You Need To Enjoy a Swim With the Manatees
Technically, you could only use a swim mask and a snorkel. I strongly suggest you get fins because, depending on the tide, you may need to dive more than four or five feet. Having the fins makes diving easy and stops you from tiring out. Everyone in our household has one of these sets. We've had them for two years now, and they are still going strong. These come in multiple colors, so everyone can quickly identify their own set. They also come in handy bags that keep the kit intact.
A lot of people forget to bring this necessity. You know what it's like to snorkel for a few hours. Time in the water will fog your mask. This product defogs your mask. We always carry this when we boat.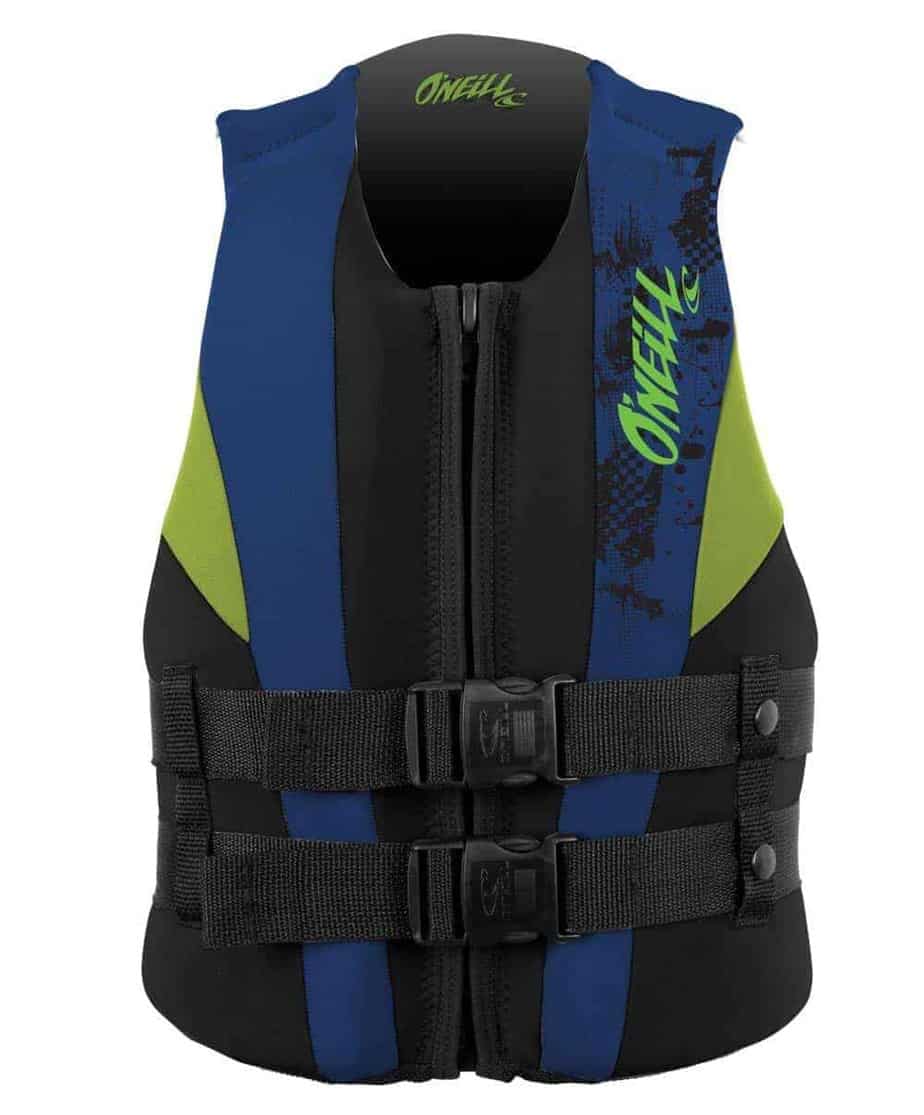 Any child under six is required by law to wear a life jacket while the boat is in motion. If you rent a boat, they will be providing them, but they will be the generic orange ones. Kids tend to hate these as they look, well, generic! Life jackets are also great flotation devices for when everyone is tired. O'Neil is a great brand – they last forever.
Best Tours to Swim with Manatees
If you decide you would prefer to take a tour, here are some great options. Many guided tours are referred to as "Crystal River Manatee Cruises or Crystal River Manatee Glass Bottom Boat Tours." Be sure to check that any tour you are booking is not just a viewing cruise and does include the option to swim with manatees.
You can book a manatee swim tour here.
Map of Crystal River Florida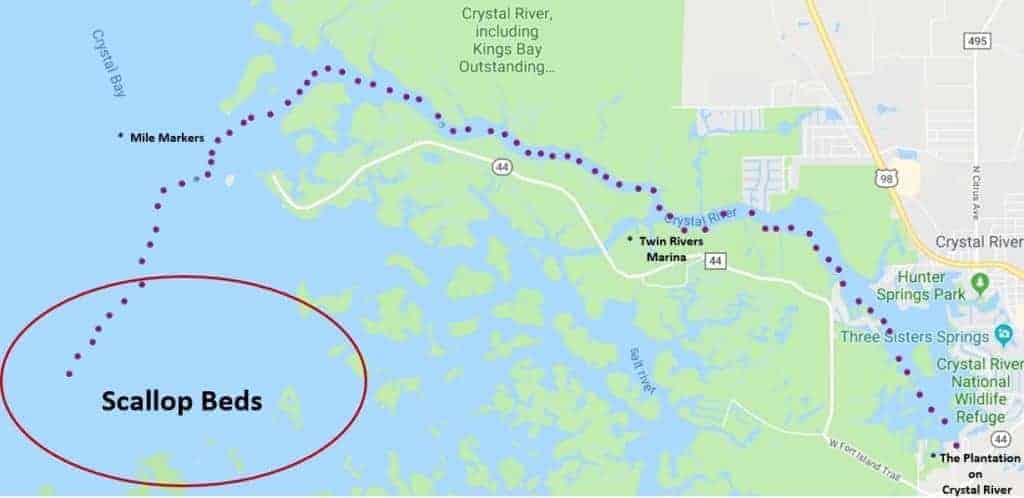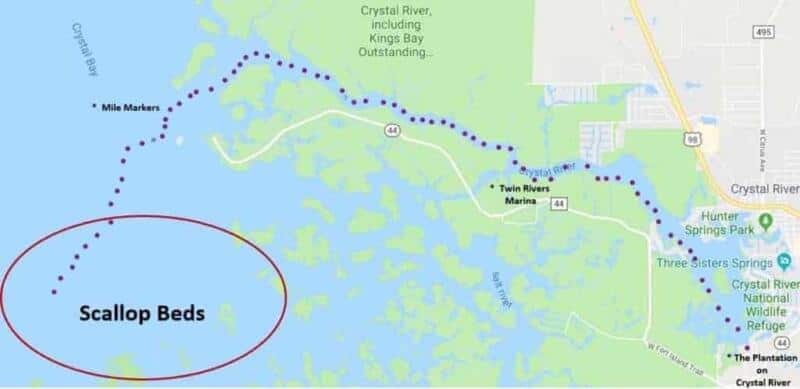 Three Sisters Springs
The Three Sisters Springs is a designated wildlife refuge for manatees. During manatee season (November 15 to March 31), hundreds of manatees circle this one-acre spring, and water access is closed off from the public. Here are some photos of the channel outside of the Three Sisters Spring.
Hunter Springs
Another popular spot is Hunter Springs. Virtually right around the corner from the Three Sisters Springs. Hunter Springs has an enclosed beach area popular, and most of the manatee tour operators pass through this area. Many a time, we've seen manatees swimming here.
The Crystal River Boat Rentals
Plantation Dive Shop
Crystal Lodge Dive Center
Port Hotel & Marina
Alternatively, rent one here from Boatsetter, the one-stop shop for all your boating needs. The best thing about renting here is that you can choose the right boat for your needs and the right size for the party:
The Crystal River Public Boat Ramps
There are twelve public boat ramps:
Crystal River
| | | |
| --- | --- | --- |
| Facility ID | Ramp Name | County |
| CI27104BY | Crystal River Preserve State Park – Mullet Hole Kayak Launch | Citrus |
| CI96686MM | Crystal River Preserve State Park – Visitor Center Kayak Launch | Citrus |
| CI00020SL | Crystal River Watersports | Citrus |
| CI00064EX | Fort Island Gulf Beach Public Boat Ramp | Citrus |
| CI00022EM | Fort Island Trail Park Public Boat Ramp | Citrus |
Kings Bay
| | | |
| --- | --- | --- |
| Facility ID | Ramp Name | County |
| CI00006HV | Adventure Center at the Plantation on Crystal River | Citrus |
| CI71617FT | Crystal River Kayak Company (Kayak Launch Dock) | Citrus |
| CI00050YG | Dive Shop At The Port Hotel & Marina (Call ahead to be sure ramp and parking are available) | Citrus |
| CI30005XY | Dockside Trading Company (Limited Parking) | Citrus |
| CI58374OQ | Hunter Springs Park Kayak Launch | Citrus |
| CI30006NW | Kings Bay Park Kayak Launch | Citrus |
| CI00012EE | Pete's Pier Marina (Limited Parking) | Citrus |
We always launch out of the Shop At The Port Hotel & Marina.
The Crystal River and Scalloping
We have scalloped many times from the Crystal River and had great success. In 2019 we scalloped out of Homosassa. We were lucky enough to be given coordinates to a hot spot where people can catch their limit in an hour. Read my opinion of the differences between Homosassa and The Crystal River.
Or, if you are looking for a detailed guide on how to find and catch scallops. Read Scalloping in Florida – A Helpful Illustrated Guide: Where and How to Catch Scallops
The Crystal River Restaurants
Several restaurants are surrounding Kings Head Bay. You can pull your boat up to most and enjoy a drink or a snack. Many will cook your catch:
West 82º Bar & Grill – at Plantation on Crystal River. This place will cook your catch! It's semi-formal, definitely not a shack, but you can roll in here in casual attire. During the scallop season, please make a reservation or eat late as it's packed! We often stay here, so this is a natural first choice for us.
Cracker's Bar, Grill, and Tiki. This place is on the opposite side of the bay from Plantation. It's a spot we often visit for a bon voyage beverage or lunch. We usually stop here if the weather is terrible and wait for it to pass. You can boat and more to this place, which is super convenient. Firstly, I don't know if they will cook your catch, but the food here is excellent. The Pina Coladas, yummy!
Charlie's Fish House Restaurant and Seafood Market. This place is a choice for many. Certainly decent seafood, but a tad overpriced. It's on the water and accessible, but it does not have the ambiance of others. They specialize in stone crab, which makes them very popular.
Frequently Asked Questions
Where is the Crystal River? It is located in Citrus County, approximately 90 miles northwest of Tampa and about 85 miles northwest of Orlando.
Where in Florida can I swim with manatees? The Crystal River is the only place in the US where you can legally swim with manatees.
Can you touch a manatee in Florida? No, it's illegal to touch a manatee, but that does not mean they won't touch you. Just be respectful and do not harass them.
What is the best time to swim with manatees? Technically year-round at the Crystal River, but your chances are better from October through April.
Is swimming with manatees ethical? Yes, if you do not approach, chase, or harass them.
Do manatees only live in Florida? No, there are several species of manatees throughout the world:

West Indian manatee
African manatee
Amazonian manatee
Steller's sea cow
Dugongidae
Closing Thoughts
The Crystal River provides you with many options to enjoy Florida. It's the number one spot to go if you want to swim with manatees. There is plenty for everyone of all ages to see and do. Join us on the river and create new traditions with your friends and family!
Looking for more posts on Florida? Start here:
We participate in the Amazon Services LLC Associates Program, an affiliate advertising program designed to provide a means for us to earn fees by linking to Amazon.com and affiliated sites.