The Best Key West Beaches – The Complete List
Are you looking to find the best Key West beaches? We have you covered! Key West is a popular destination in Florida with lovely nightlife, beautiful beaches, and fantastic water spots. It is one of the best places in the world that you should visit in your life. You will get multiple tourist destinations in only one place. If you plan to visit beautiful beaches with your family, Key West beaches should be your first choice.
These are famous for their calm environment and relaxation spots. These beaches are perfect for relaxation and meditation due to their shallow and clear water. You can enjoy life with your family away from the city and other boring life routines that tire you.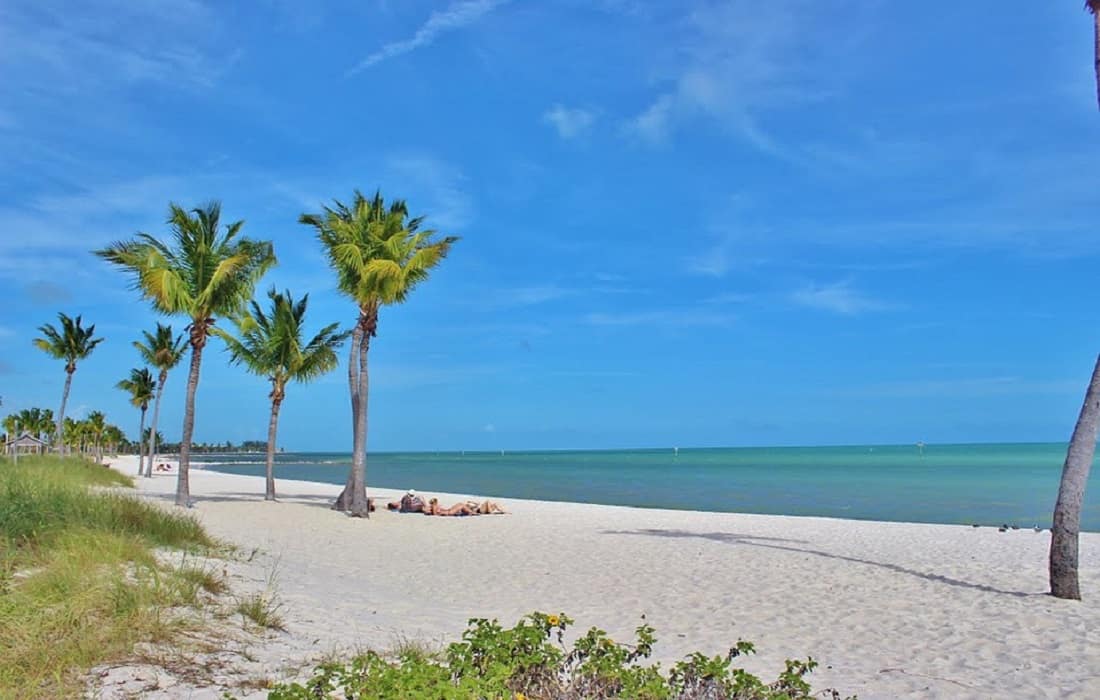 Most beaches are full of people, which makes you more tired than enjoying. The best Key West beaches are different, and every beach offers particular attractiveness to the people. Key West is an island with a total area of 10.9 km2. It is perfect for enjoying the shadow crystal water with palm trees and soft white sand under an umbrella with your family.
There are ten beaches in Key West with luxurious private resorts for guests. This Key West beach has the Atlantic Ocean on one side and the Gulf of Mexico on another side. This area has an extensive network of coral reefs and other beautiful species underwater. Enjoy sun, sand, swimming, snorkeling, and fishing in the Key West beach water.
This post may contain affiliate links. Please read our disclosure and privacy policy for more information.
Smathers Beach
Smathers beach is one of the largest and most popular beaches in Key West, Florida. The total area of the beach is two miles, and anyone can be easily reached with the help of Key West International Airport. Compared to most beaches, Smathers Beach has a smooth white sand area perfect for chair rentals, volleyball courts, and taking a calm breath under an umbrella. Despite having a crowd of people, it is ideal for swimming due to its clean water and soft sand.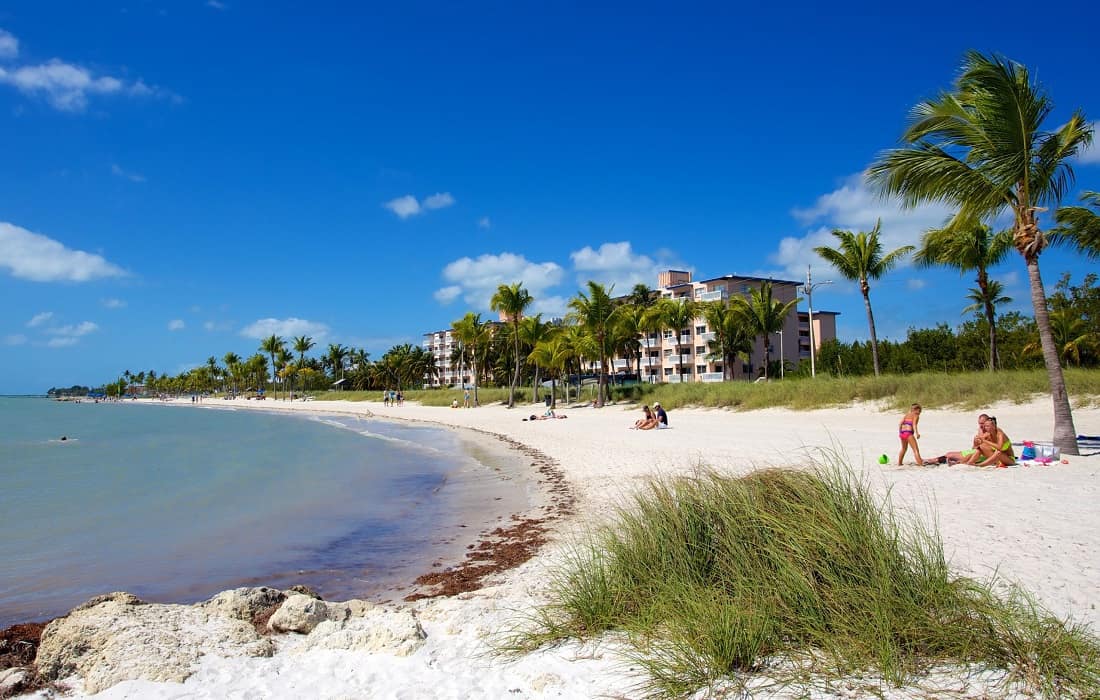 Most beaches are made with ground coral or pebbles and are bounded by mangroves. It is famous for its ambiance and calm and smooth water that attracts everyone here, and it is also a populous beach in Key West. Other activities you can do here are Hobie Cat sailboats, windsurfers, paddleboards, kayaks, Sun Fish sailboats, jet skis, and parasailing. You can easily sit and enjoy yourself at picnic tables, snack bars, and bike paths. These are also some points on which this best Key West beach is preferred.
South Beach
It is a smaller beach closest to Cuba and located at the southern end of Key West. It is famous among families with kids and foreign tourists due to its closeness to Cuba. Another feature of the south beach is its crystal-clear water, perfect for swimming, snorkeling, and other underwater activities. The beach is also famous for its relaxation and meditation activities. For enjoyment, there is a couple of water fountains are present along with a beach café and stalls where you can get drinks, towels, and bears. You can also get complimentary refreshments if you get a sunbed. You should also be careful as drinking or eating at the bar is prohibited except at the beach offers. The beach is recommended because its location is at the southern end, offering an excellent view and attraction to enjoy.
Higgs Beach
This beach is located near Smathers beach, with a smaller area than others. Except for the site, it is a lovely beach with beautiful scenes and crystal clear and shallow water. It is highly recommended for enjoying while sitting on the chairs on any lounge of the best Key West beach.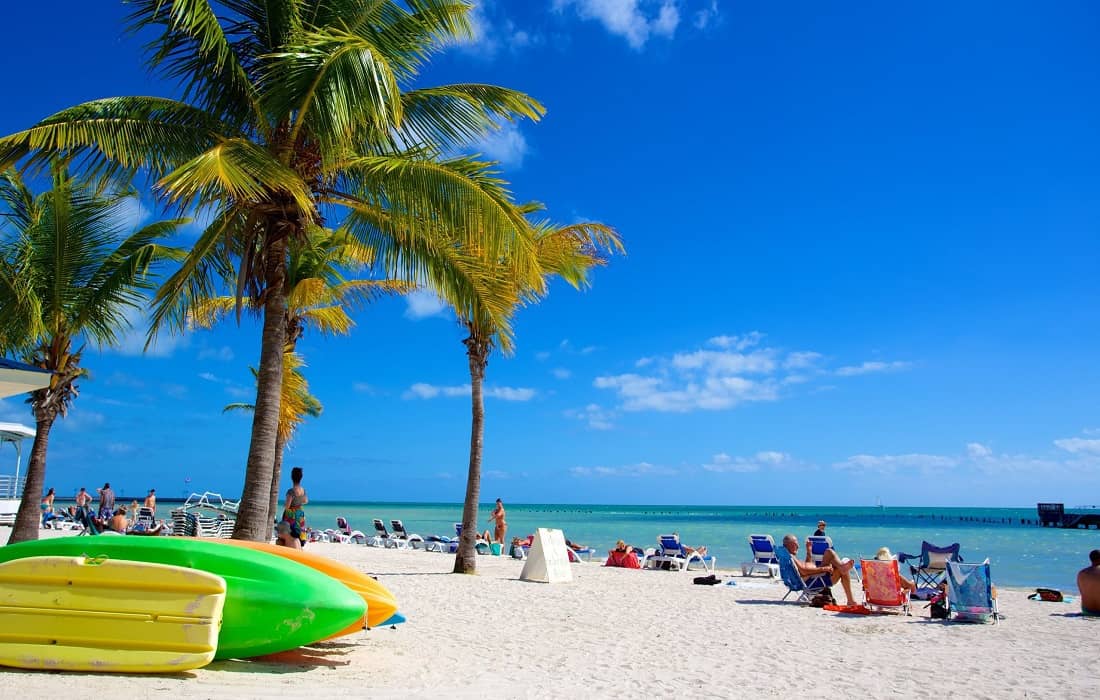 There are various bars, picnic points, paths, sunbathing, a full-service restaurant, a playground, volleyball nets, tennis courts, and a dog park. Due to the many adventures, it is preferred on many other beaches even after having a smaller area compared to Smathers beach. It is straightforward to reach the beach as it is located near Reynolds Street. This is a complete park for families, as it also contains a public washroom, parking, showers, and clubs. To visit the beach is very easy as you can get two lounge chairs and an umbrella for the whole day.
Fort Zachary Taylor Beach
Fort Zachary Taylor Beach is located on a southern street with unique features compared to others. The beach is also famous for some historical places to attract tourists. Unlike other beaches, it is made with ground coral instead of soft sand. It is also covered with trees all around the coast. Like others, it is also recommended for snorkeling, swimming, and diving. You will also see different underwater species, including dolphins, snappers, parrotfish, lobster, turtles, and other fishes.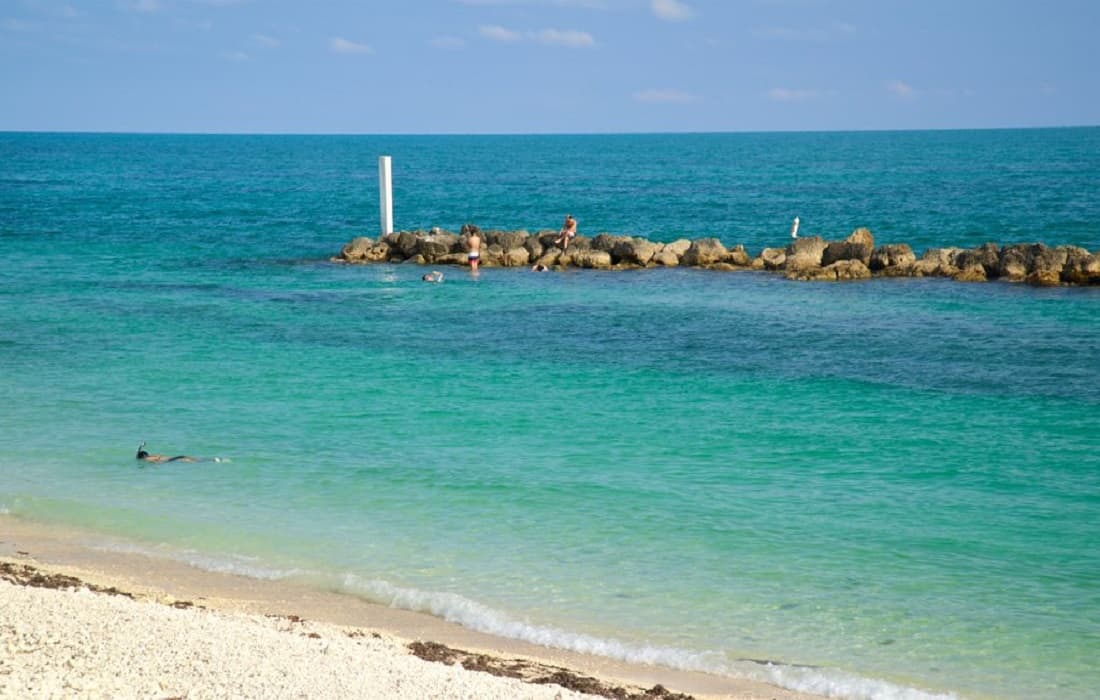 You can also visit the historic Fort Zachary, which shows different Civil War-era fortifications. There are a few ideal spots for fishing and sunbathing. For eating and drinking, there is a café, picnic tables, and a grilling point for doubling your adventure. There is a fee of $6 per vehicle for admission to the park. Natural trails around the sea are also perfect for outdoor adventurers.
Bahia Honda State Park
If you love camping, then this beach is perfect for you. The beach is 30 miles away from Key West, which can easily access by boat or car. You will love to spend your precious time here as it is famous for its calm environment, clean water, underwater species, soft sand, and vast, beautiful scenery. It is preferred to other beaches due to its extra features like camping facilities, clean drinking water, electricity, luxurious resorts, etc. You can come to the beach any time, day or night.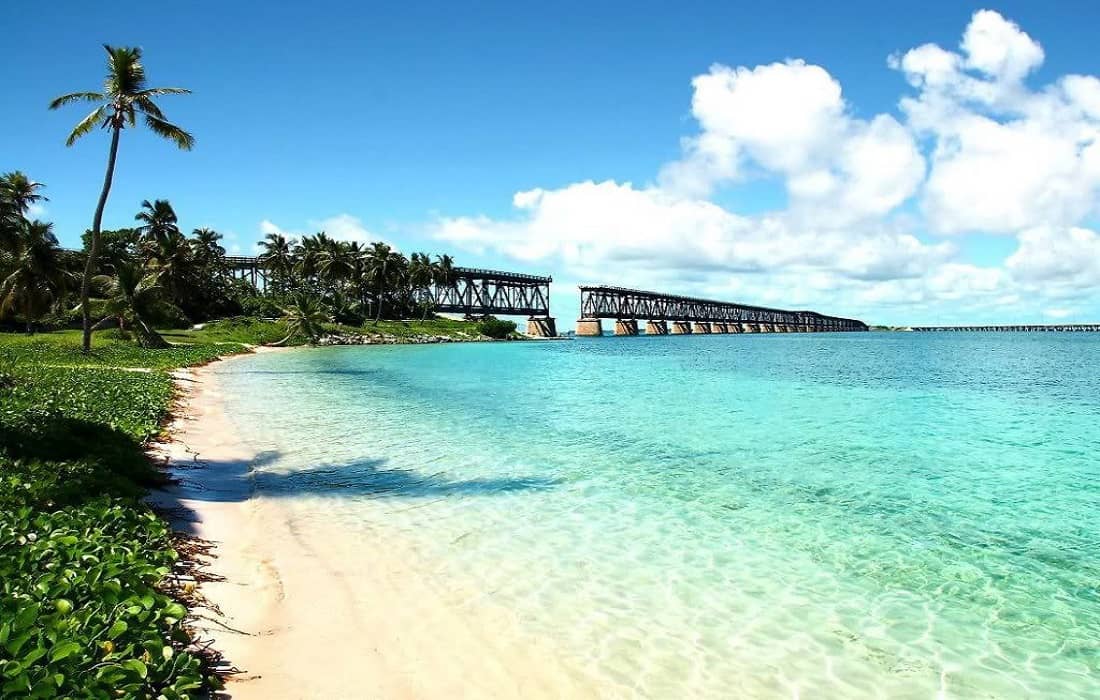 You will also see some sharks in the beach water. There is also an abandoned structure of a steel trestle railroad bridge, a remnant of Henry Flagler's railroad destroyed in the 1935 hurricane. With attractive water beauty, you can easily snorkel to see the small reef fish, nurse sharks, barracuda, and rays. This is also a preferred and beautiful place for kayaking in Florida. This is the only Miami Blue butterfly established in the park in 1999.
Rest Beach
The next beach is rest beach, named for city commissioner Cornelius Bradford Harvey. Compared to other beaches, it has a much smaller size of 300 Yards. The rest beach is located near Higgs beach on the west side. The rest beach is unknown to people as it doesn't feature beautiful underwater species, picnic points, camping, snorkeling, or swimming features. The only reason the beach is recommended is its sunrise and sunset view, which is beautiful compared to others.
The sand is soft, but it got mixed with gravel somewhere, creating discomfort. This best Key West beach also features benefits like shade, picnic tables, a path for wheelchairs and bikes, a boat ramp, and a yoga deck. For activities, you can perform swimming, fishing, and enjoying the sunset or sunrise by sitting on the chairs at any lounge. Parking and entry to the beach are free, an advantage for tourists. Visitors can also attend morning or evening yoga classes in the Yoga deck here.
Dry Tortugas Beach
This island is present at a distance of 70 miles in the Key West with a historic civil war fort. If you plan to visit Key West, you must visit Dry Tortugas Beach, full of oasis and crystal-clean water. It is covered with crystal blue water all around, perfect for wading, snorkeling, kayaking, canoeing, or dipping. If you want meditation and relaxation under the palm tree's shadow with soft white sand, then you should visit Dry Tortugas.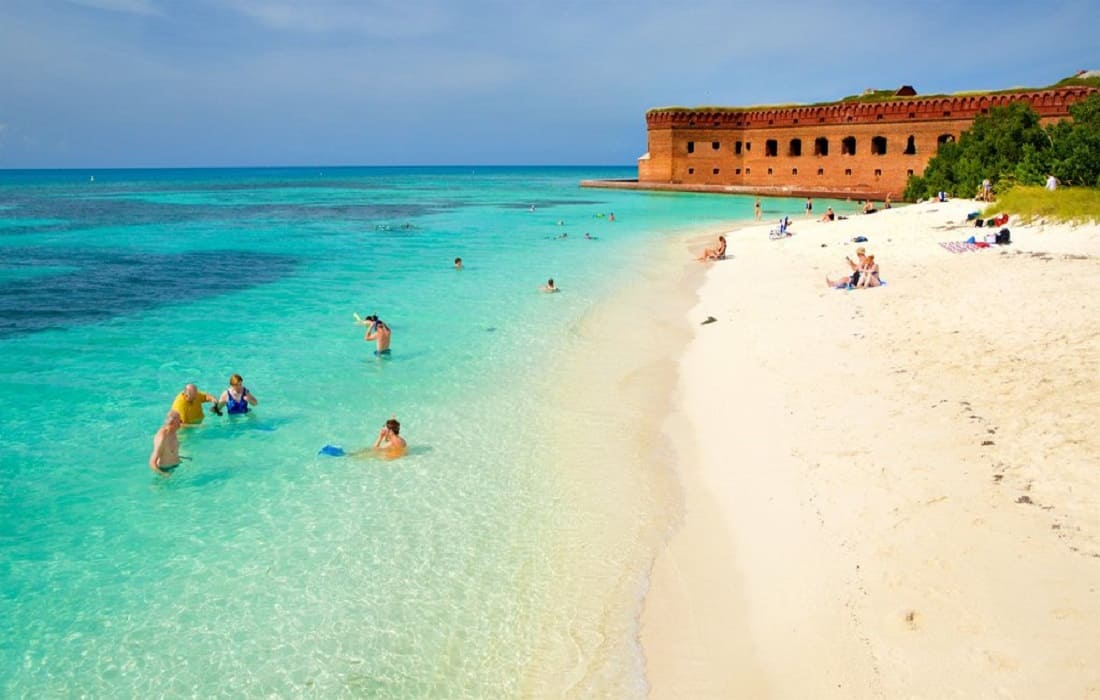 Having beautiful marine life is highly recommended for snorkeling lovers. Another fantastic thing to see here is the Fort Jefferson civil war structure used by thousands of civil war heroes. You can enter the historic fort and learn the fact about the place. Also, 300 species are present, including different birds like a sooty tern, which roosts on Bush Key. You will also get a luxurious lifestyle here with breakfast, lunch, and beverages. The visit to the best Key West beach, like Dry Tortugas, is a little expensive compared to others. If you love eco attractions and want to visit a natural place full of calm, relaxation, and historical features, this beach should be your priority.
Things To Do In Key West
Things To Pack For Key West Beaches
If you plan to visit the best Key West beaches, this guide will help you choose what you need during your trip. Most guests come with a suitcase full of unnecessary items they will never use or need at Key West. To make your helpful adventure and organize at Key West, we have collected a few things you must pack in your backpack or suitcase.
1. Cooling Towels
A cooling towel is essential for keeping you comfortable and dry while sitting on the chairs or lying on the sand. This will also save you from too much heat from the sun. The towel will keep your body comfortable and calm compared to the outside temperature.
2. Shoes
Key West beaches are full of crystal water, sand, and rocky sides that need a unique shoe for comfort and enjoyment. Most tourists do swimming, snorkeling, and diving into the water, so water shoes are highly recommended for the tour. A pair of shoes that should be lightweight, comfortable, soft, and stylish will keep you happy and convenient throughout your adventure.
3. Beach Bag
A unique design beach bag, suitcase, or EDC backpack will keep all your essentials organized. You don't have to invest time finding or adjusting different things and gadgets. EDC backpacks are highly recommended because they are lightweight, versatile, water-resistant, and affordable for any outdoor adventure. This is perfect storage for clothes, towels, shoes, sun Creem, etc.
4. Sunscreen
Those with sensitive skin should use sunscreen to prevent any harmful effects of UV rays. Sunburn can cause severe effects on your face, lips, and other body parts. Any cream or lotion that should be oil-free or can last long should be used to keep your body's skin healthy and safe.
5. Waterproof Umbrella
A waterproof umbrella is necessary to enjoy sunny weather in Key West. Under the umbrella, you can sit on a chair and enjoy the ample crystal water and historical place. You can also attach an umbrella with your backpack.
Closing Thoughts
There are many beaches to visit in Key West and many things to see and do. What's your favorite beach in Key West, and why? Drop your thoughts in the comments box below!
Looking for more posts on things to do in Florida? Start here:
We participate in the Amazon Services LLC Associates Program, an affiliate advertising program designed to provide a means for us to earn fees by linking to Amazon.com and affiliated sites.
Subscribe to our newsletter and get the best travel tips and inspirational stories delivered monthly. No spam, no sales pitches – TRAVEL!
Brit On The Move™ Travel Resources
Ready to book your next trip? Use these resources that work:
Need more help planning your trip? Check out our Resources Page, highlighting the great companies we trust when traveling.