10 Fun Weekend Getaways in Florida
From radiant beaches to glamping, weekend getaways in Florida are never-ending, and it would take you a lifetime to explore the entire state. And while the Sunshine State is best known for its endless coastline and theme parks, there's much more to explore. With its proximity to the Caribbean, there are endless opportunities for a weekend getaway, whether you're looking for a relaxing trip or an adventure. This article will explore ten different weekend getaways in Florida.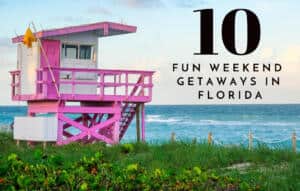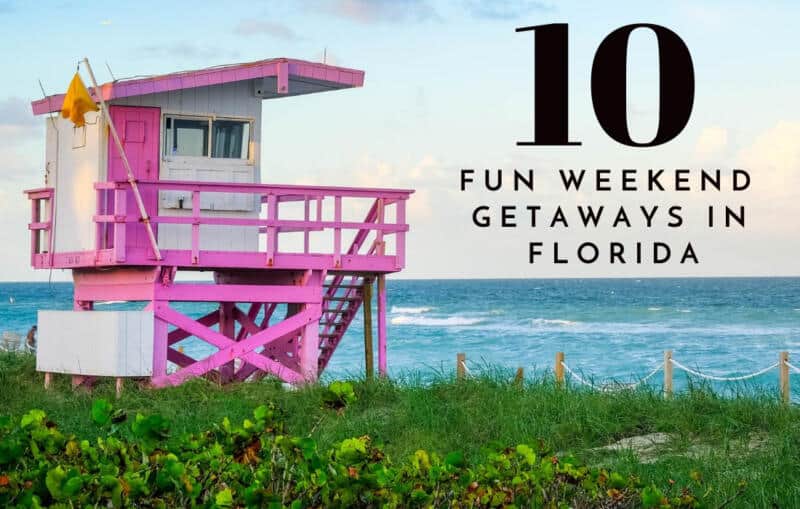 This post may contain affiliate links. Please read our disclosure and privacy policy for more information.
1. Kayak Down The Suwannee River
The Suwannee River is one of Florida's most iconic waterways, and kayaking down is a truly unique experience. You'll paddle through wetlands, cypress forests, and some sandbars, all while taking in the river's natural beauty. Several outfitters offer kayaking trips down the Suwannee, so you can choose one that best suits your needs. The Suwannee River basin contains 197 springs, most located between Suwannee Springs and Ellaville in the upper Suwannee River basin.
If you're looking for a bit of adventure, consider booking a camping trip along the river. You can spend your day's kayaking and your nights relaxing around the campfire. Here are some of the springs on the Suwannee that you should not miss:
Suwannee Springs
Blue Hole at Ichetucknee Springs State Park
Fanning Springs
Madison Blue Spring
Branford Springs
Manatee Springs
Troy Spring
Falmouth Springs
Peacock Springs
Charles Springs
Little River Springs
Royal Springs – A Personal Favorite weekend getaway of Mine!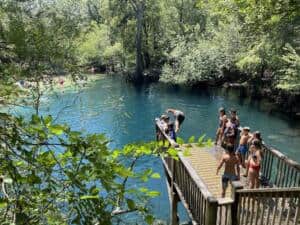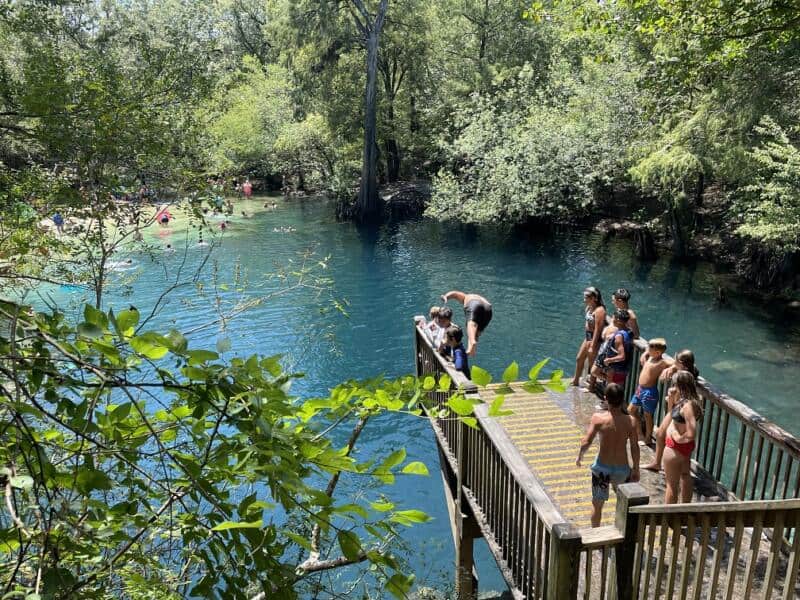 2. Glamp In The Ocala National Forest
Luxury camping, or glamping, is a great way to enjoy the outdoors without sacrificing your comfort. There's no better place to go glamping in Florida than the Ocala National Forest. This sprawling forest is home to crystal-clear springs, lush forests, and wildlife galore. Several different glamping resorts are located within the forest, so you can choose one that fits your needs.
If you're looking for more adventure, consider renting an RV and exploring the Ocala National Forest on your own. Covering over 600 square miles, there's plenty to explore in the area.
Here are some great options for glamping in Ocala:
Enchanted Oaks Farm
Grandaddy Oak Covered Farm
The Griffin Ranch
Elite Resorts at Salt Springs
Mill Dam Lake Resort
Lake in the Forest Black Bear Resort
Horseshoe Lake Cabins
Another great glamping spot in Florida is Safari Wilderness, where campers can stay in luxury tents surrounded by zebras, cheetahs, and other fascinating African wildlife. While lodging is closed during the hot, wet summer months, it's the perfect spot to enjoy a fall or winter getaway.
Safari Wilderness's Luxury Glamping Tent
3. Take A Short Flight To The Bahamas
Not technically a weekend getaway in Florida However, but oh so close. A flight to the Bahamas is not only super quick (less than an hour) but also affordable. And, if you are in Miami, you can take a ferry over! The Bahamas are also an excellent choice for a long weekend cruise. Cruises go out of all of Florida's ports to the Bahamas every weekend and are incredibly affordable.
The Bahama's proximity makes it perfect for a weekend getaway that doesn't require much travel. While there are countless islands to choose from, here are a few of our favorites:
Bimini
Grand Bahama
Nassau
The Bahamas are perfect for those who want to spend their days lounging on the beach. It can be expensive to stay at one of the resort islands, but plenty of budget-friendly options are available.
For those looking for a quick change of scenery or to recharge for the weekend, the Bahamas are always readily accessible for Floridians and tourists alike.
4. Visit One Of Orlando's Many Theme Parks
Before you roll your eyes and think how obvious, let me share some secrets that most people do not know. There's nothing worse than one day at a theme park. It's a rush to fit anything in, and it's a long hot day. Staying onsite has some serious advantages:
For Disney, here are the FREE benefits:
Early Access to FastPass+ Planning. Get access to reserve select shows and attractions up to 60 days before arrival.
Extra Magic Hours! Spend extra time at one of the theme parks each day—valid theme park admission and Resort ID required.
Complimentary MagicBands for everyone traveling in your group. This is a neat perk as you get to customize the bands and add your names to them. A generic MagicBand purchased onsite costs $14.99 per person.
Leave the Park, Not the Magic. Staying at a Walt Disney World Resort hotel puts you in the middle of the magic, close to the theme parks, water parks, and shopping at Disney Springs.
Complimentary Transportation

Disney's Magical Express Service transports you and your party between Orlando International Airport and your Disney Resort hotel via motorcoach, including luggage delivery service.
Use motor coach, ferryboat, and monorail services to navigate through Walt Disney World Resorts or parks.

Complimentary parking at the resort and the parks. Parking at parks costs $25 a day.
Lastly, once you've completed the reservation process and have your bands, you don't need to check in. Your MagicBands will act as your room key. There is nothing more flash than pulling into the resort, parking and going to your room seamlessly.
Most Imporant – You Can Stay Onsite At Disney For Less Than HALF The Listed Price – Here's How!
For Universal, here are the FREE benefits when you stay at one of the Premier Resorts:
There are eight Universal Orlando Resorts. However, only three of them are Premier:
Loews Royal Pacific Resort
Hard Rock Hotel®
Staying onsite at one of Premier Resorts gives you:
Unlimited Universal Express to skip the lines at Universal Studios theme parks. Each person in a room has a key, and the key is your Unlimited Universal Express. This is worth $100-$170 per person per day! The rates of Unlimited Universal Express vary daily based on the volume of visitors. This is a significant benefit. It's worth at least $400 a day for a family of four. This is my favorite reason to stay at one of Universal Orlando Resorts Premier Resorts.
A shuttle service that takes you to the theme parks. This is another incredible benefit. You can enjoy a drink if you choose to and not worry about driving. Not to mention, it's super convenient not to have to park!
Earlier entry to Universal Studios parks. This might not seem like a big deal, but it is. Universal is home to the Wizarding World of Harry Potter™. There are two words: Diagon Alley™ in Universal Studios Florida™ and Hogsmeade™ in Universal's Islands of Adventure™. Both get packed, so getting into the park before the general public is a way to ensure you see it all.
Priority Seating at restaurants throughout Universal Orlando Resort™.
Resort-wide charging privileges using your room key card.
Seaworld's Aquatica
One of our favorite summertime destinations is Aquatica, SeaWorld's water park. Aquatica is the perfect place to cool off on a hot day with its wave pools, lazy rivers, and thrilling slides. And SeaWorld's water park is unlike any other in that it offers up-close animal encounters. The first water park to incorporate marine life, Aquatica is a must-visit for anyone looking for an exciting day out.
If you want to enjoy the fascinating marine life without getting in the water, SeaWorld Orlando is also worth a visit. This world-renowned sea life park offers guests the chance to see dolphins, whales, and other sea creatures up close. You can even feed the dolphins!
And there's no shortage of hotels in the area for you to choose from, making it a perfect weekend getaway in Florida. For more information, check out our guide to SeaWorld Orlando.
5. Enjoy A Small-Town Getaway In Bayport
Bayport is located in eastern Hernando County, on the tip of Florida's peninsula Gulf coast. It is adjacent to the Weeki Wachee River Estuary and parallels the Gulf of Mexico.
The city had served as a cotton supplier for Hernando County. It was a port for transportation in the early 1850s until train service was introduced into Brooksville in 1885. During the civil war, when important ports along Mexico Gulf were shut down, small rivers like Weeki Wachee looked appealing alternatives.
Bayport's role in history includes being an important trade route during the civil war and, afterward, a significant outlet for agricultural and lumber products. Since then, it has become a retreat town for anglers and families who own fishing camps or cabins nearby.
What sets this location apart is that it's untouched, unlike many other coastal towns. It feels as though time has stopped when you take in the views of the water here. The city is picturesque, calming, and secluded—yet still full of native wildlife. The only thing that grounds this town in present-day life is the updates made to Bayport Park, one example being the pier.
Bayport is so small that there isn't an actual hotel or motel. As such, you'll have to stay in neighboring Hernando Beach. This region is one of the unique weekend getaways in Florida and one of the most untouched or commercialized.
6. Take A Relaxing Fishing Weekend in Aripeka
Another quaint town located on the Gulf of Mexico, Aripeka, is the perfect place to enjoy a fishing weekend. This town is known for its excellent fishing, with many charter companies offering half and full-day trips. Whether you're an experienced angler or are just looking to try your hand at fishing, Aripeka is the perfect place to drop a hat. There's nothing quite like reeling in a fresh catch while enjoying the stunning views of the Gulf.
After a long day of fishing, you can head into town and enjoy some of the local seafood. Aripeka is home to several seafood restaurants serving delicious dishes with fresh, local ingredients. Our other favorite activity in Aripeka, FL, is kayaking through the mangroves. This is a great way to get close and personal with the local wildlife. Like, Bayport, there isn't an actual hotel or motel. As such, you'll have to stay in neighboring Hernando Beach. For more information on things to do in Aripeka, check out our guide to this hidden gem on Florida's Gulf coast.
7. Enjoy A Luxurious Weekend In Key West
Another favorite weekend getaway in Florida is the Keys, and Key West is one of the most popular Keys. The drive to Key West alone is worth a weekend away because you will cross miles of iconic bridges.
Key West is a hotspot for luxury resorts and turquoise waters, making it the perfect place to enjoy a relaxing weekend. If you're looking for a luxurious getaway, look no further than Key West. This island paradise is home to some of the best beaches in Florida and world-class restaurants and shopping. Some of the best Key West beaches include:
Smathers Beach
Higgs Beach
Fort Zachary Taylor State Park
Dry Tortugas State Park
Key West is also home to several luxurious resorts, so you can truly relax and enjoy your time here. If you're looking for a place to stay, we recommend the Ocean Key Resort & Spa, a Noble House Resort. This resort offers stunning ocean views and an onsite spa, making it the perfect place to unwind.
Shopping, dolphin watching, and snorkeling are popular Key West activities for those looking for other activities.
8. Retreat to Wekiva Island and Visit The Springs
Wekiva Island, Florida, has plenty of things to do, including kayaking and swimming in the Wekiva River, which is refreshing and untouched. Here, you can experience one of Orlando's most popular local spots that offer a great getaway from many of Florida's tourist attractions. If you want to know what it's like to navigate Floridian waterways without hitting the beach and see the beautiful springs without running into tourists, then Wekiva Island is the place for you.
Wekiva Island is one of the best places to beat the heat in Central Florida. With plenty of activities and watering holes, it's the perfect place to spend a day. Play in the water, relax on the sand, or explore nature trails.
You'll get to see more of the Wekiva River if you rent a kayak or canoe. You can also take out paddle boards on the river and enjoy the scenery at your own pace. If you have your water vessel, you can bring it for a small fee. From downtown Orlando, you can get to this destination in about 30 minutes, so it's incredibly convenient for families in the city.
The best place to stay is at Kings Landing. From your cabin, you can explore King's Landing and paddle to Wekiva Island. Most importantly, if you stay at Kings Landing, your kayaks and canoes are included!
9. Visit the Everglades National Park
The Everglades is a must-visit for anyone who wants to experience an unforgettable weekend getaway in Florida. Everglades National Park is home to many animals, including alligators, snakes, and birds. There are plenty of things to do in the Everglades, including taking an airboat tour, going on a nature hike, and visiting the visitor center.
An airboat tour is a great way to see the Everglades and get up close and personal with the local wildlife. These tours typically last around an hour and a half and depart from several locations in the park.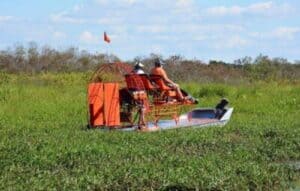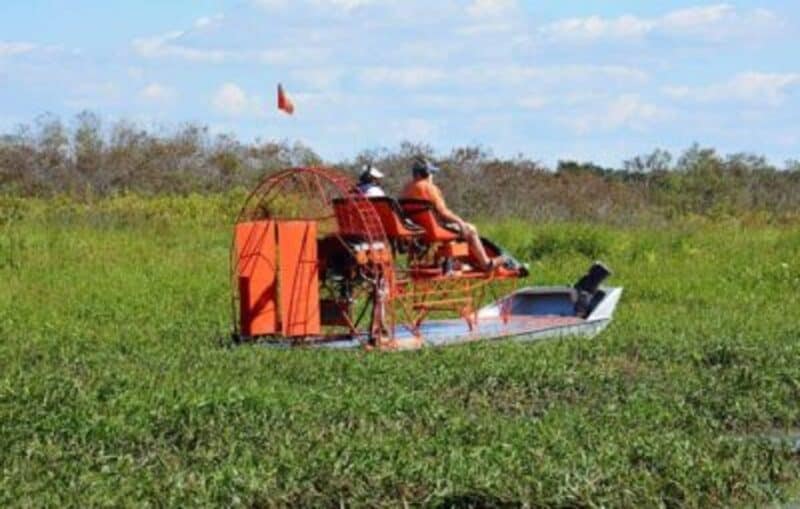 If you're looking to explore the Everglades on foot, several nature trails wind through the different ecosystems in the park. These trails range in difficulty, so there's something for everyone. The Everglades Visitor Center is a great place to learn about the history and ecology of the park. This center is near the park entrance and has interactive exhibits, a film, and a gift shop.
The Everglades is a great day trip destination if you live in southern Florida (Miami, Fort Lauderdale, or Palm Beach). If you live in northern Florida (Jacksonville, Tallahassee, or Gainesville), it's still possible to visit the Everglades for a day. Still, you'll need to make an overnight or weekend trip out of it.
10. Drive Down Florida's historic Highway A1A
Highway A1A is a historic highway that runs along the east coast of Florida. It runs from the southernmost tip of Florida (Key West) to the northernmost city (Fernandina Beach). The Highway AIA is a great road trip for anyone who wants to see the different elements of Florida. You'll experience everything from sandy beaches to lush forests along the way. Some of the highlights of Highway AIA include:
The Seven Mile Bridge
The Jupiter Inlet Lighthouse
The St. Augustine Lighthouse
Fort Lauderdale Beach
Highway AIA is a route many choose for a weekend getaway in Florida. It's a great place to take pictures, as there are plenty of photo ops along the way, so make sure to bring your camera.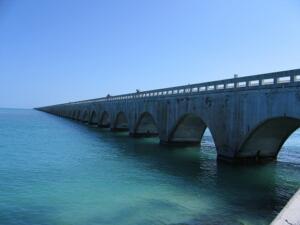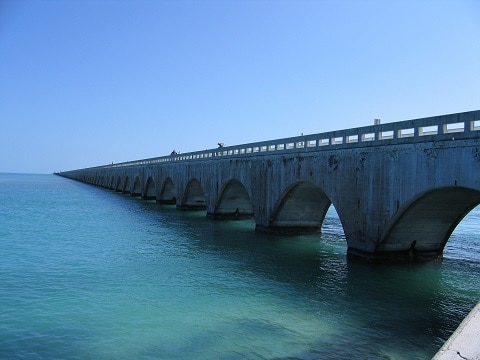 Closing Thoughts
These are just a few of the many weekend getaway ideas for Florida. Whether you're looking to relax on the beach, explore nature, or experience some of Florida's history, there's something for everyone. If you're interested in learning more about travel ideas in Florida, check out more articles on our blog here.
Looking for more inspiration? Start here:
We participate in the Amazon Services LLC Associates Program, an affiliate advertising program designed to provide a means for us to earn fees by linking to Amazon.com and affiliated sites.
Subscribe to our newsletter and get the best travel tips and inspirational stories delivered monthly. No spam, no sales pitches – TRAVEL!
Brit On The Move™ Travel Resources
Ready to book your next trip? Use these resources that work:
Need more help planning your trip? Check out our Resources Page, highlighting the great companies we trust when traveling.