A private island in Titusville, Florida? This can't be right. If you head out onto the Indian River Lagoon – an estuary, you will find a few! And they are like a scene from Robinson Crusoe. I'm willing to bet most boaters don't think about sandbars or having a private island to themselves when you mention Titusville. Even better, for those of us in Central Florida, Titusville is only 45 minutes away from Orlando, and you can be on the water in 10 minutes easily.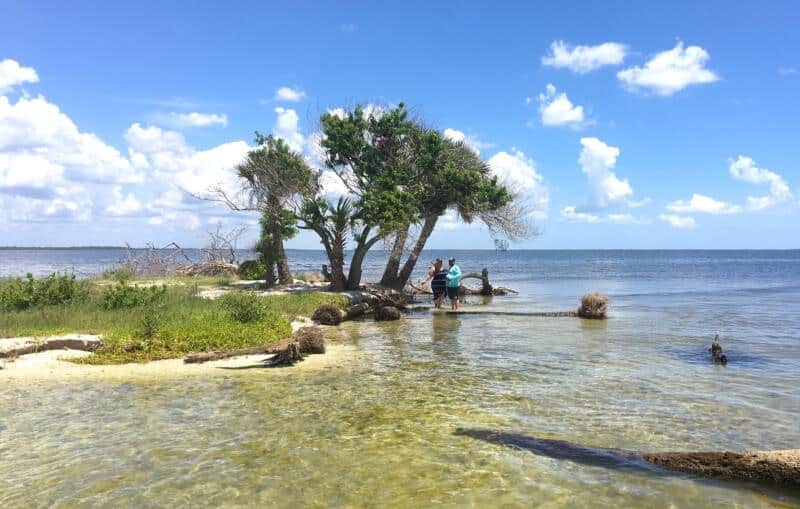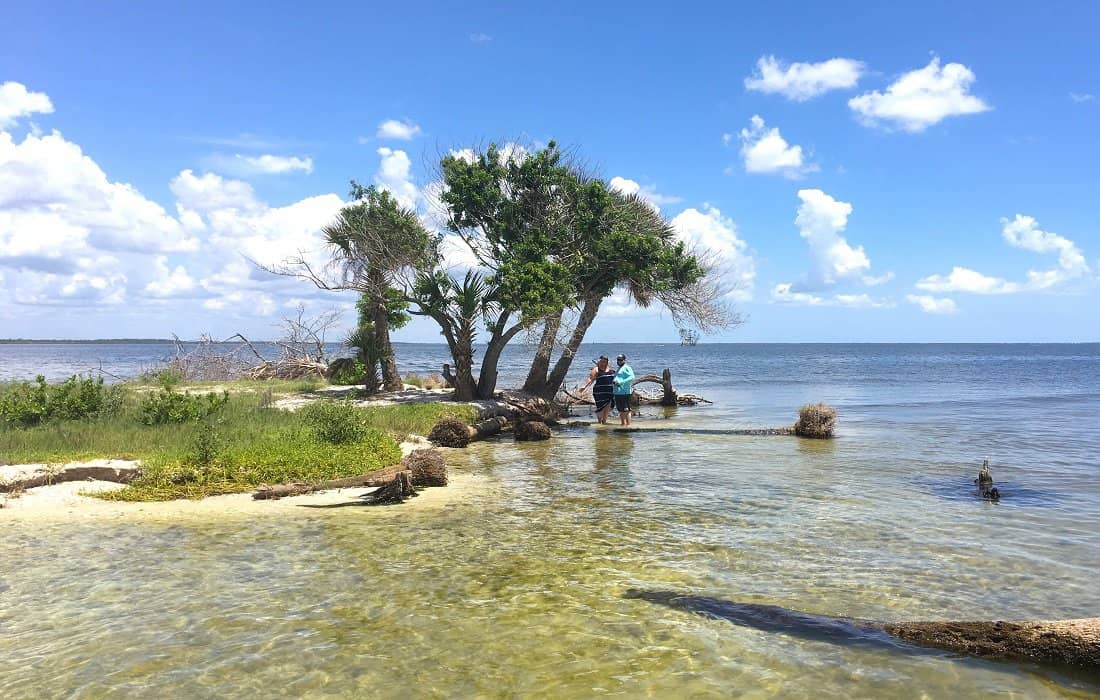 This post may contain affiliate links. Please read our disclosure and privacy policy for more information.
Titusville Florida
Titusville is probably best known as the Kennedy Space Center host, although most think rockets launch from neighboring Cocoa Beach. Sometimes referred to as Space City, USA" and "Miracle City" – nicknames the city earned as the community's population, economy, and tourism grew in the 1950s due to Cape Canaveral's growth and later the Kennedy Space Center.
This town stuck in time was once pegged to be the next town to make a significant comeback. That is until the space shuttle program ended, crashing any dreams of an east coast Tampa or urban mecca on Florida's eastern coastline.
Simply put, there aren't jobs to support a comeback without the space shuttle program. Those left behind live with a crime rate higher than the national average. When this article was initially published in 2018, it was ~51% higher. Fast forward to 2020, and the crimes have dropped and continued to do so.
Sadly, Titusville it's not on the top of everyone's list of places to visit "yet"; however it is making a comeback!
Crime rates aside, let's get into why you should consider a day out here – particularly if you enjoy being on the water in Florida. Titusville is situated on the Indian River Lagoon and is home to several spoil islands!
What Are Spoil Islands?
A spoil island is an artificial island, often created by channel dredging. To promote boating and commerce throughout Florida over the years, countless channels have been dredged through the state's shallow inshore and coastal waters to provide enough depth for vessels to travel.
There are several spoil islands all over Florida's Intercoastal waterways, and the ones in Titusville are a treat.
The Indian River Lagoon, Titusville Florida
The Indian River Lagoon is home to 1/3 of Florida state manatees and is home to a native dolphin group. It's impossible to be on the Indian River and not see a dolphin – we have seen them every time we go. Sometimes they come right up to you chasing fish. We've also seen manatees at the islands, especially the big one near the water tower, sometimes in shallow water chilling on the sand bar.
Accessing the Islands via Titusville Marina
Titusville Marina has tons of parking and four boat slips. I would not say this is an overly busy marina. Getting on the water takes 10 minutes, assuming there are no idiots that tie their boat in a slip blocking everyone. Yeah, this happens a lot, and it's not cool. And, ladies, you are usually the culprit waiting on the man to return. One of my biggest pet peeves is a woman that can't or won't help dock, launch, load, or tackle any of the boating necessities. If you own a boat – learn to operate it!
When you take off, you'll see the first and biggest island to your right. It's called Horseshoe Island, and it's busy. People camp overnight in droves on this island. We have fished over here, but it's not an island we spend a lot of time at. It's just too busy.
The next island, Dolphin Tail Island, is also popular but smaller than Horseshoe. We've repeatedly seen the same boats here, and they all arrive early to claim their turf. Keep going north. Once you've gone under the old railway track bridge, you will see palm trees in the distance. Head towards them! You'll have a choice of three tiny islands; typically, if you get there first, others won't join you.
Titusville Boat Ramps
Bairs Cover Boat Ramp – SR 3 Haulover Canal, Merrit Island National Wildlife Refuge, Titusville
Bio Lab Ramp – Bio Lab Road, Merrit Island National Wildlife Refuge, Titusville
Fox Lake Park – 4400 Fox Lake Rd, Titusville
Kennedy Point Park – 4915 S. Washington Ave, Titusville
Marina Park – 501 Marina Rd Titusville
Old Beacon 42 Camp Boat Ramp -SR 3, Merrit Island National Wildlife Refuge, Titusville
Parrish Park – 1 A Max Brewer Causeway (SR 402), Titusville
Sand Point Park – 101 N. Washington Ave, Titusville
Map of Titusville Florida
If you keep going north towards the water tower, you'll get to one of our favorites, which has a long sandbar.

Essentials You Will Need To Enjoy Titusville, Florida, On The Water
Titusville Florida Hotels
Things to Do In Titusville
Float on the sandbars. We bring noodles and spend whole days floating on the sandbars.
Collect shells or horseshoe crab shells; there is an abundance.
Fishing is a favorite activity. We often fish, but we seem only to catch catfish.
Snorkel, the water around the islands is clear.
Tube – you can often find us tubing the Indian River in Titusville.
Nature watch. There is so much concentrated wildlife here you can sit back and watch.
Picnic on the islands. There is nothing better than mooring on an island and eating your lunch.
Find your inner photographer and capture the beauty through your lens – or smartphone!
Restaurants in Titusville
Typically, we head home and grill after a day of boating. However, sometimes we eat on the way back. There are two places we enjoy:
Dixie Crossroads
A seafood restaurant that is somewhat famous in Florida! Almost everyone in Central Florida has heard of Dixie Crossroads, and once upon a time, we used to all make the journey for the rock shrimp alone. In my opinion, this treasure has not aged well with time. The menu is the same as it was twenty years ago, the décor is beyond stuck in time, and the rock shrimp is just not as good as it once was. Regardless, it's a place worth checking out if you have never been, and the food is local and decent.
Pier 220 Seafood and Grill
It is located directly under the Max Brewer Memorial Highway (the central bridge). This place has an outside tiki bar and great views. This is the hot spot, and it gets packed. They have a super happy hour, a killer margarita, and a diverse menu. We've eaten everything from gator to crab and back. Not a high-end restaurant. A casual one, but the food is good, and the atmosphere is the beach! It's directly on the water, but you can't drive your boat up and park.
Here are some additional local restaurants in Titusville:
Shilo's Steak and Seafood
Third Culture Kitchen
Playalinda Brewing Company-
Loyd Have Mercy Fried Chicken
Bagel 13
Steve's Family Diner Country Fried
Orleans Bistro and Bar Pasta
Kelsey's Pizzeria and Eatery
Chamberlains Good Thymes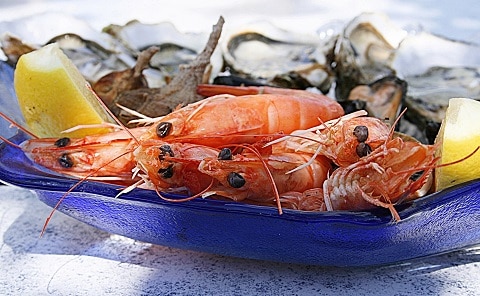 What You Need to Know:
We have been boating out of Titusville for three years. We have never had any issues or encountered any crime!
You must wear water shoes! Unfortunately, some people have left broken bottles on the island. The glass is not always noticeable. We clean up and remove any glass we find. Please do the same.
Please don't leave any trash anywhere; it's dangerous and illegal.
Don't poop on the islands; they have no way of breaking down human waste. This ultimately means it will eventually make it into the lagoon – gross! Bring bags and take your trash with you. Better yet, relieve yourself before you head out for the day.
The weather changes on a dime in Florida. If you go up as far past the bridge, you need at least 30 minutes to outrun a storm. Trust me on this; we nearly had an accident once when we did not get out quickly enough, and someone called the rescue services. We made it back safe, but we were the last boat in.
If you get stranded in a storm, try to moor up under as much vegetation as possible and stay put. The last thing you need is sitting on the water as a target for lightning.
Occasionally, there are gators at the marina. Yes, gators! They won't mess with you. They go underwater as you pass. This is because the Indian River is an estuary – a combination of salt and freshwater. We've never seen one near or at any of the islands, just by the marina.
We take all our friends and family boating all summer long. Everyone has their favorites for different reasons. Titusville, Florida, stacks up to the Rainbow River as a constant first or second choice because it's one of the lesser-known spots where you can have an island to yourself for the entire day!
Looking for more posts on Florida? Start here:
We participate in the Amazon Services LLC Associates Program, an affiliate advertising program designed to provide a means for us to earn fees by linking to Amazon.com and affiliated sites.
Brit On The Move™ Travel Resources
Ready to book your next trip? Use these resources that work:
Need more help planning your trip? Check out our Resources Page, highlighting the great companies we trust when traveling.