Everyone has fantasized about visiting Lapland, and Saariselkä Finland is a resort village in northern Finland in the middle of Lapland. It is located above the arctic circle, in the Inari region and home to Sami traditions.
Saariselkä Finland attracts visitors from around the world, seeking a winter wonderland escape. Considered Europe's final frontier, Lapland is an area that is still largely untouched.
Living up to all expectations, Saariselkä Finland is a vacation you will never regret. Most importantly, you will never forget it.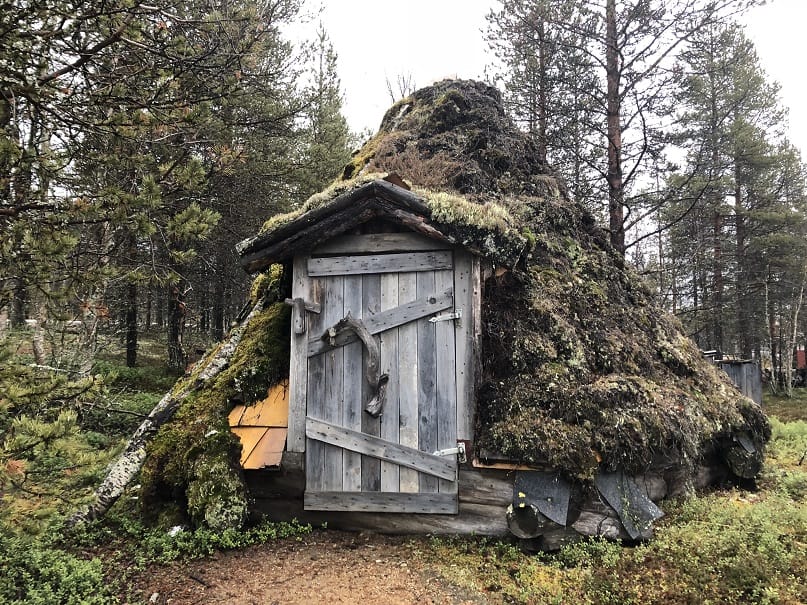 This post may contain affiliate links. Please read our disclosure and privacy policy for more information.
Getting to Saariselkä Finland Lapland
Getting to Lapland from American is going to require a connection. We flew Norwegian Airlines, and this trip was a broader part of a three-week trip across Scandinavia. We flew from Bergen, Norway, to get to Helsinki, then from there to Ivalo.
Helsinki, Finland to Ivalo, Finland:
$38.30 per person (x 2 $76.60), $12 per bag (x2 $24) = Total of $100.60
Ivalo, Finland to Stockholm, Sweden (connected via Helsinki):
$99.40 per person (x 2 $198.80), $24 per bag (x2 $48) = Total of $246.80
Where to Stay In Saariselkä Finland
Polar Aurora Cabins & Safaris
We spent our first night at Polar Aurora Cabins & Safaris.
It is located about ten minutes from town and in the middle of nowhere. I cannot begin to tell you how fantastic this place is. It is everything you ever fantasized about and more.
It might not have a glass ceiling, but the cozy design and sauna overcompensate for this—a traditional log cabin made from 100% wood with a loft and a wood-burning fireplace. Outside, a fire pit to hang out around and gaze at the stars.
The log cabins sleep four. There is a bedroom on the first floor and a loft on the 2nd floor. Both rooms sleep two. The cabins are small but adorable.
The owners built these cabins themselves, and they were fantastic hosts! They welcomed us, set us up with firewood, and gave us lots of information about the area.
We enjoyed this place so much that all of us said we wished we had more time here. It is remote, not in town, and that only added more charm.
Pro Tip: Don't skip the traditional kota dinner experience, we did and ended up regretting it. It's expensive and will be a splurge but do it.
Holiday Club Saariselkä
We spent the next seven nights at the northernmost spa hotel. A 4-star hotel. Only we had a townhouse here vs. a room! Another amazing place that we scored using our timeshare for a whopping $199 for seven nights.
The resort alone is impressive, extremely modern, with a spa, an indoor water park, and a bowling alley.
The resort also has two restaurants and a bar:
Restaurant Revontuli
Restaurant Rakka
Bar Raiku
Centrally located in the heart of Saariselkä, this is an excellent choice for anyone.
While I highly recommend Holiday Club Saariselkä, I strongly suggest that you also spend a night or two in a remote cabin or igloo to experience Lapland in a remote setting.
Our Digs At Holiday Club Saariselkä
Our artic place was a tri-level condo with every amenity known to man. It had a washer and dryer, a full kitchen, a patio but most importantly, another sauna. I have always been a sauna fanatic, so anytime there is one, I am in heaven.
Did you know there are an estimated two million saunas in Finland? In 2019, the population was 5.5 million. So, close to a third of all buildings have a sauna!
Book Your Hotel in Saariselkä Finland Here:
Critical Items For Lapland
Closing Thoughts
Trekking halfway across the world to the remote region of Saariselkä Finland may be extreme for some. I would ask you to reconsider this. Few places on the planet this remote are equipped to offer you an authentic wilderness experience with modern-day amenities.
There is something unique about this area that commands your attention. You can feel the ambiance in the air. And, the air is the cleanest you will ever breathe. The simplicity of the area makes for instant relaxation. Most importantly, the area is unaffected by the tourists. It is a tiny town in the middle of nowhere that offers a genuine Sami life experience.
I love winter trips, and the three weeks we spent in Norway, Finland, and Sweden exceeded any expectations I had.
So much so that I think we will revisit Norway and Finland!
Looking For More Places To Visit In Europe? Start Here:
We are a participant in the Amazon Services LLC Associates Program, an affiliate advertising program designed to provide a means for us to earn fees by linking to Amazon.com and affiliated sites.
Travel Planning Resources
Looking to book your next trip? Use these resources that work:
Book your Hotel: Find the best prices on hotels; use Booking.com for the best deals.
Book your Flights: Find the best deals and prices on flights; Expedia.com for the best deals.
Find Apartment Rentals: You will find the lowest prices on apartment rentals with Booking.com's Apartment Finder.
Travel Insurance: Don't leave home without it. Review our Travel Insurance Guide on how to pick and decide which travel insurance is right for you.
Are you interested in Volunteer Vacations and Working Holidays? Check out the complete guide to how here!
Need more help planning your trip? Make sure to check out our Resources Page, where we highlight all the great companies that we trust when we are traveling.