Everyone has fantasized about visiting Lapland, and Saariselkä Finland is a resort village in northern Finland in the middle of Lapland. Located above the arctic circle, in the Inari region and home to Sami traditions.
Saariselkä Finland attracts visitors from around the world, seeking a winter wonderland escape. Considered Europe's final frontier, Lapland is an area that is still largely untouched.
Living up to all expectations, Saariselkä Finland is a vacation you will never regret. Most importantly, you will never forget it.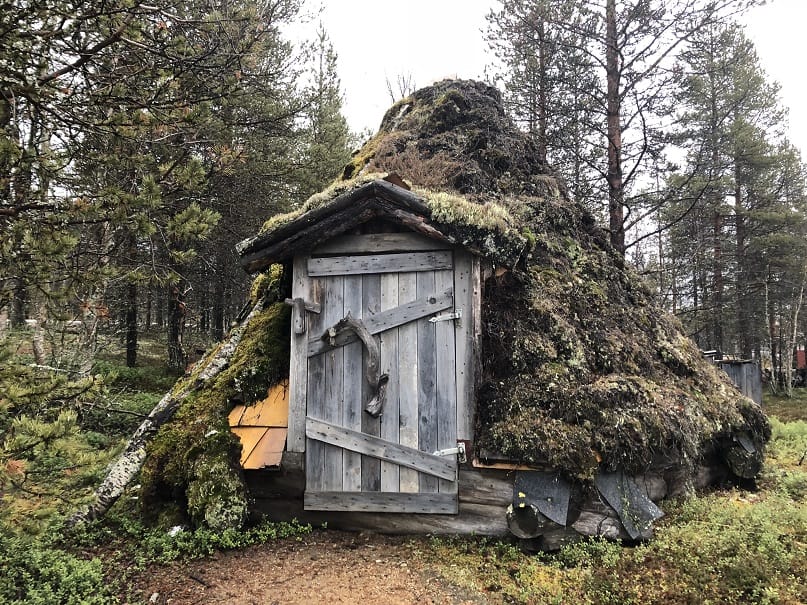 This post may contain affiliate links. Please read our disclosure and privacy policy for more information.
Getting to Saariselkä Finland Lapland
Getting to Lapland from American is going to require a connection. We flew Norwegian Airlines, and this trip was a broader part of a three-week trip across Scandinavia. We flew from Bergen, Norway, to get to Helsinki, then from there to Ivalo.
Helsinki, Finland to Ivalo, Finland:
$38.30 per person (x 2 $76.60), $12 per bag (x2 $24) = Total of $100.60
Ivalo, Finland to Stockholm, Sweden (connected via Helsinki):
$99.40 per person (x 2 $198.80), $24 per bag (x2 $48) = Total of $246.80
Where to Stay In Saariselkä Finland
Polar Aurora Cabins & Safaris
We spent our first night at Polar Aurora Cabins & Safaris.
Located about ten minutes from town and in the middle of nowhere. I cannot begin to tell you how fantastic this place is. It is everything you ever fantasized about and more.
It might not have a glass ceiling, but the cozy design and sauna overcompensate for this—a traditional log cabin made from 100% wood with a loft and a wood-burning fireplace. Outside, a fire pit to hang out around and gaze at the stars.
The log cabins sleep four. There is a bedroom on the first floor and a loft on the 2nd floor. Both rooms sleep two. The cabins are small but adorable.
The owners built these cabins themselves, and they were fantastic hosts! They welcomed us, set us up with firewood, and gave us lots of information about the area.
We enjoyed this place so much that all of us said we wished we had more time here. It is remote, not in town, and that only added more charm.
Pro Tip: Don't skip the traditional kota dinner experience, we did and ended up regretting it. It's expensive and will be a splurge but do it.
Holiday Club Saariselkä
We spent the next seven nights at the northernmost spa hotel. A 4-star hotel.  Only we had a townhouse here vs. a room! Another amazing place that we scored using our timeshare for a whopping $199 for seven nights.
The resort alone is impressive, extremely modern, with a spa, an indoor water park, and a bowling alley.
The resort also has two restaurants and a bar:
Restaurant Revontuli
Restaurant Rakka
Bar Raiku
Centrally located in the heart of Saariselkä, this is an excellent choice for anyone.
While I highly recommend Holiday Club Saariselkä, I strongly suggest that you also spend a night or two in a remote cabin or igloo to experience Lapland in a remote setting.
Our Digs At Holiday Club Saariselkä
Our artic place was a tri-level condo with every amenity known to man. It had a washer and dryer, a full kitchen, a patio but most importantly, another sauna. I have always been a sauna fanatic, so anytime there is one, I am in heaven.
Did you know there are an estimated two million saunas in Finland? In 2019, the population was 5.5 million. So, close to a third of all buildings have a sauna!
Book Your Hotel in Saariselkä Finland Here:
Things to Do in Saariselkä Finland
Like most places, Lapland has seasons, and not all activities run year-round. We planned our trip during Thanksgiving, which is in November. A season that typically promises an abundance of snow.
Sadly for us, there were record low levels of snowfall for the season due to global warming.
Devastating for the region as the winter months are the most popular and offer the real artic experience that everyone craves.
The Northern Lights – Aurora Borealis
A bucket list item for everyone. Some will travel to Lapland for the sole purpose of seeing the lights. They are so frequent in this region that you do not really need to hunt for them. Locals will tell you that on a clear night, you can see them from anywhere.
We thought we got a glimpse, but no luck. And we tried nightly.
If you want to increase your chances of seeing them opt for an organized tour. You can do it by bus or on a sleigh pulled by reindeer,
If you want to see our pictures of The Northern Lights in Iceland, read this article:  Iceland Hype – Is It Worth The Hype?
Dog Sledding and Dog Safari's
I have done both before in Montana, so this would not have been an activity high on my list. A good thing considering that there was not enough snow in November to take the dogs out.
Igloo Village Kakslauttanen
Technically not a thing to do, rather a place to stay, but almost everyone has seen or heard of these igloos. We did not get to stay in one. The owners offered us a complimentary stay; sadly, we could not make the dates work.
Regardless of if you stay or not, you should pop in and peek. After all, there are not many places in the world where you can see igloos.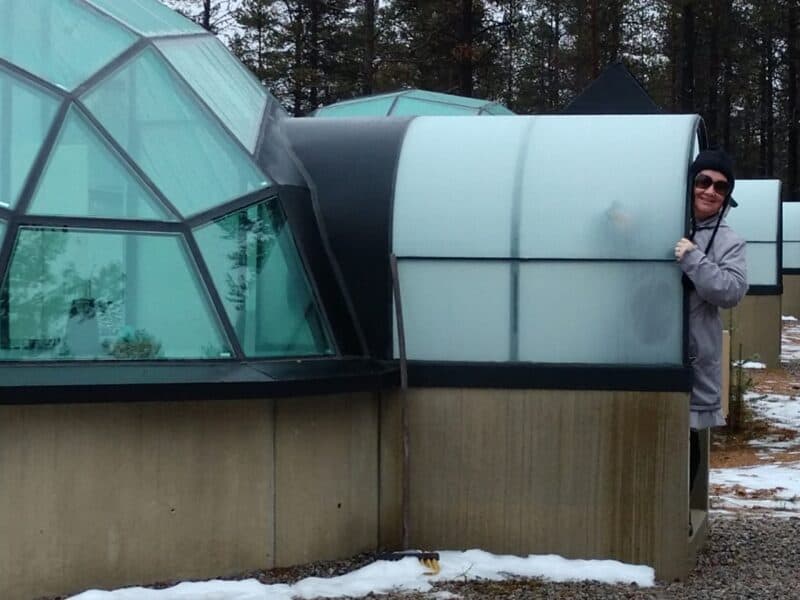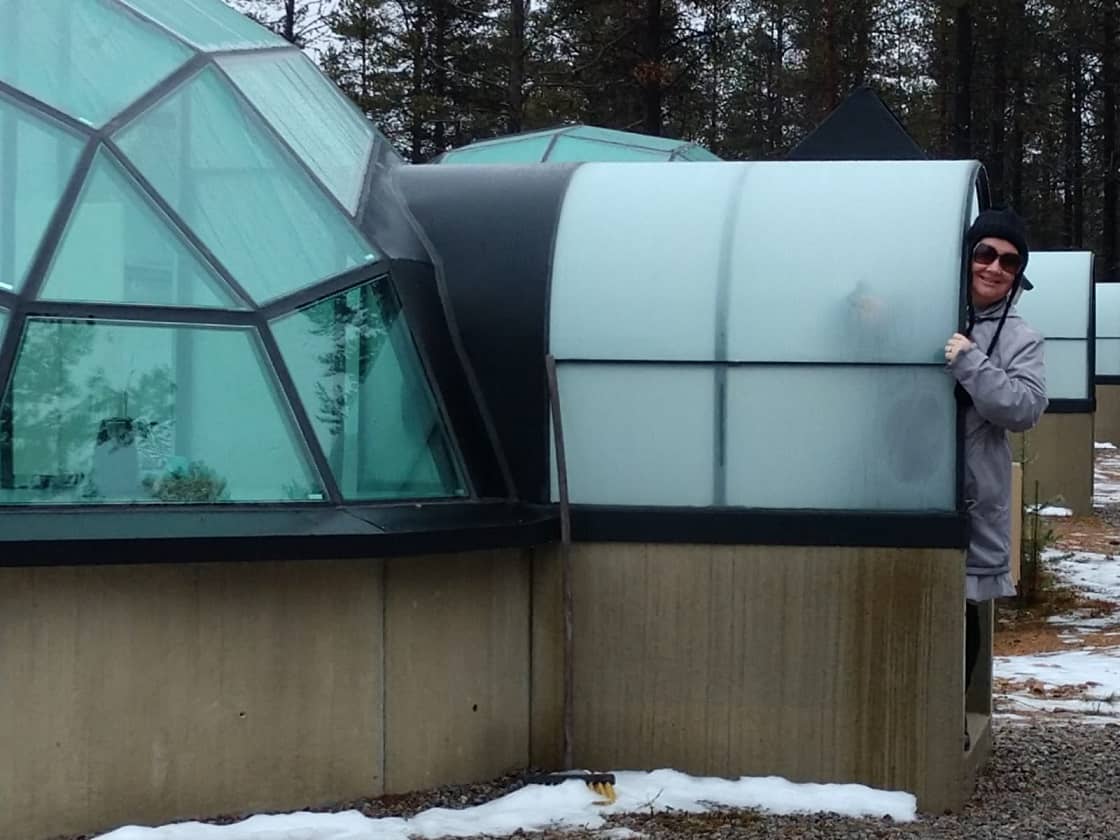 Spoiler Alert: They are not made from ice!
The concept of Igloo Village Kakslauttanen is magical; however, I am not sure it is overly practical. Having seen them in person, they do not look comfortable.
Technically, you are not to visit the igloos. For me, "technically" means subject to interpretation, and I assumed in our favor. There is a back entrance right as you pass. You will be on the right side of the road, and the entrance is on the left, so you will have to do a U-turn.
And, if you do go in for a peek, make sure that the igloos are empty!! As you can tell from the photos, it is nothing but glass.
Drive Off-Road Buggies
Given the lack of snow, this was one of the tours that we did. It was a ton of fun! You get to drive your own jeep, which none of us expected.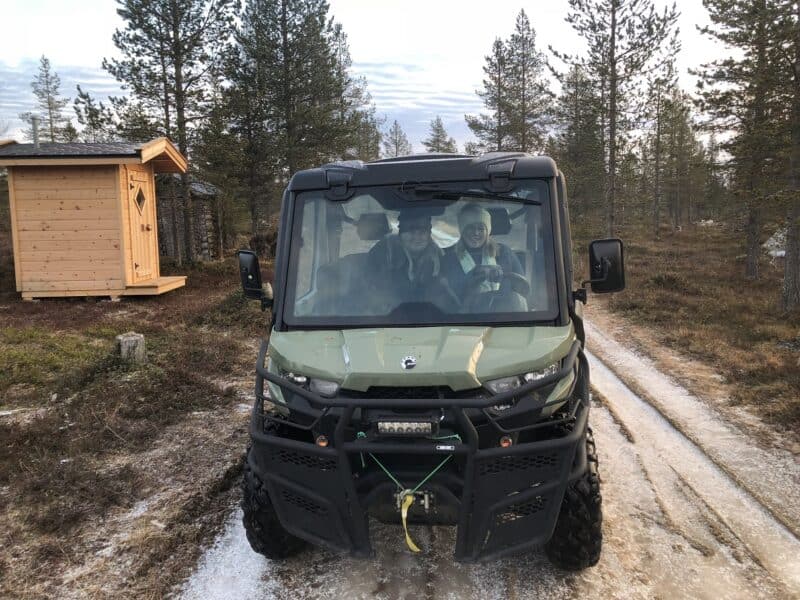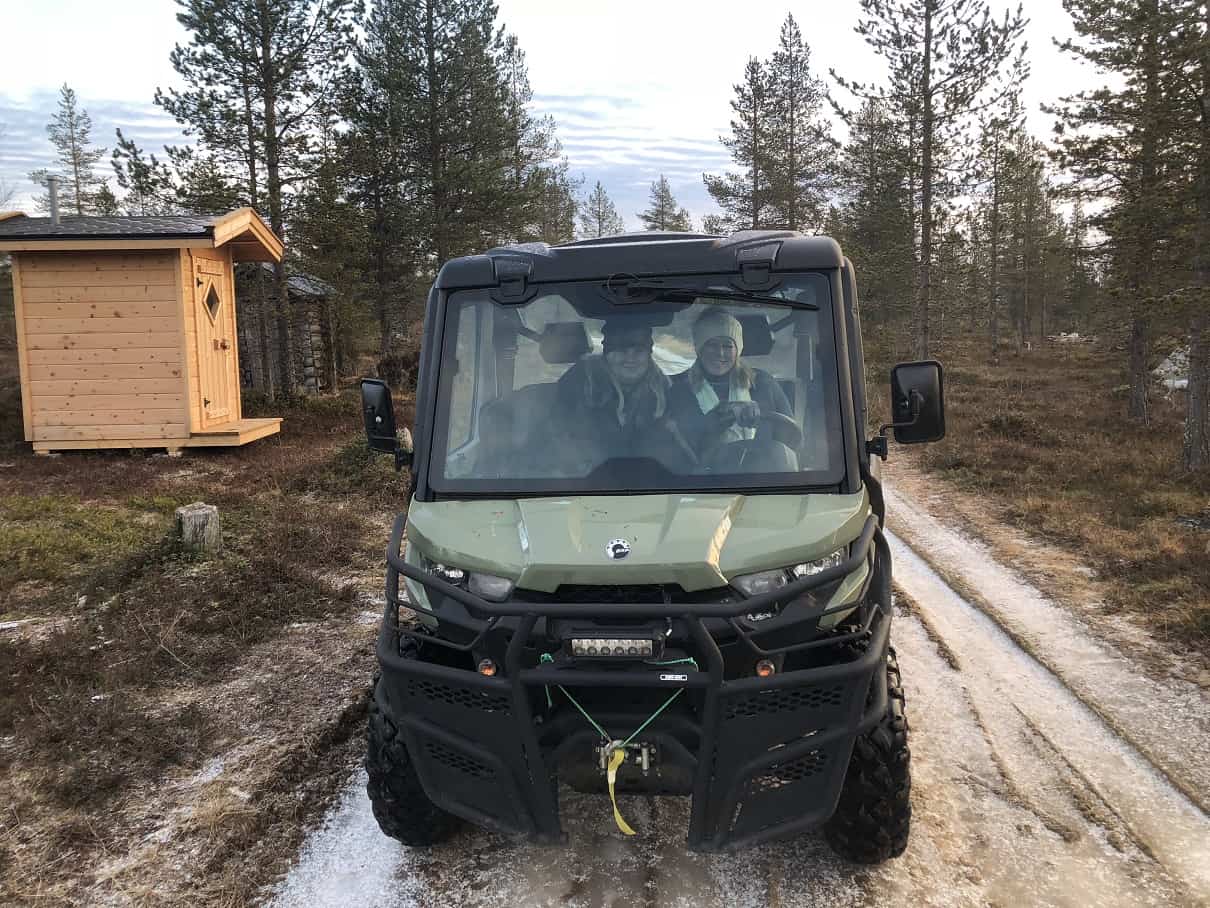 Bouncing around all over the rugged landscape was an adrenaline rush. And you do not just ride the jeeps. You make several stops along the way. And, you will get to check out several Lavvu's – temporary dwelling used by the Sami people. You see a few of these, and in some cases, they are quite large. Besides, you'll run into the other structures:
Kota: A small hut specifically dedicated to cooking and enjoying a meal while enjoying the company of others.

 Goahti: A Sami hut or tent of three types of covering: fabric, peat moss, or timber.
We also tasted Cowberry (Puolukka) berries fresh from the ground.
Down Hill Ski or Cross-Country Ski
For those that ski, this is self-explanatory. Saariselkä Resort Ski Saariselkä is built on the slopes of two fells, Kaunispää and Iisakkipää. The slopes are suitable for all skill levels. Saariselkä skiing offers:
15 slopes, 7 of which are illuminated
Longest slope 2000 m
Elevation 180 m
6 lifts, lift capacity 6 500 persons/ hour
Freestyle Park, Ski Cross track Technics slope
And, if you are a skier, then Saariselkä is the most northern place you can ski!
Ride a Toboggan
Not only is Saariselkä home to ski slopes, but it also boasts the longest Toboggan Run in Lapland. And the longest in Europe.
Ride an E-Fatbike (Electric Fatbike)
If you are not familiar with these bikes, they are also known as fat-tire bikes.
Ice Fishing
It would be best if you had some patience for this one and a tolerance for cold weather.
Ride Snow Mobiles
If you've never snow-ridden a snowmobile before, this should be at the top of your list of experiences to try out. There is nothing quite like it! It is a lot more comfortable and less physical than riding a jetski and just as much fun.
Many snowmobile companies are offering guided tours.
Saariselkä Reindeer Farm
Arguably, our favorite memory for many reasons. Everyone that plans a trip to Lapland wants to interact with a reindeer, and there are plenty of choices.
You can take a sled ride, chase the Northern Lights, or tour the farm and feed the reindeer.
We opted for a combination of the farm tour and lunch inside the Kota.
I have never seen a reindeer before, and they are the funniest looking creatures! Strange, to say the least. Huge over-pronounced noses, bulging eyes, and antlers that shed. Feeding and interacting with them was good fun.
But that is not all we did at the Reindeer Farm!
I had read somewhere that they might allow you to dress up in Sami attire if you asked the owners nicely. We asked, and they obliged.
FYI: Dressing up is not a standard part of the tour, do not get your hopes too high. Ask nicely and see what they say.
Here are Lisa and Brian in the traditional Sami attire: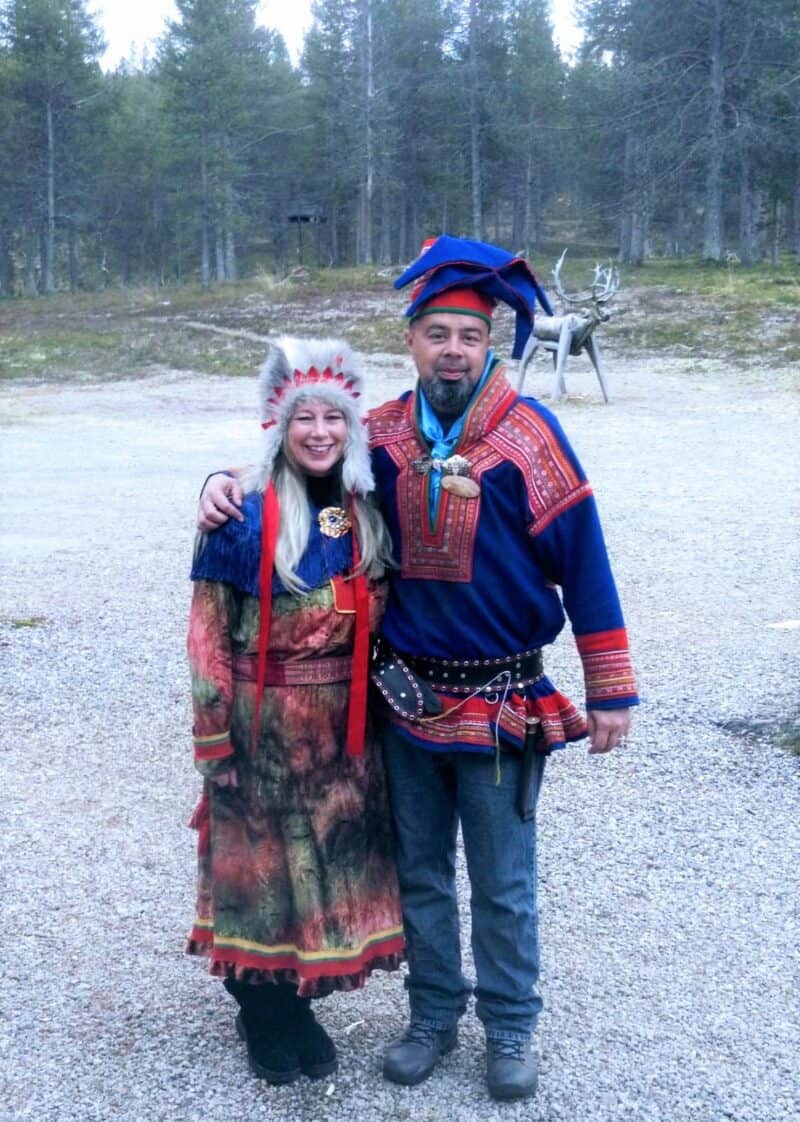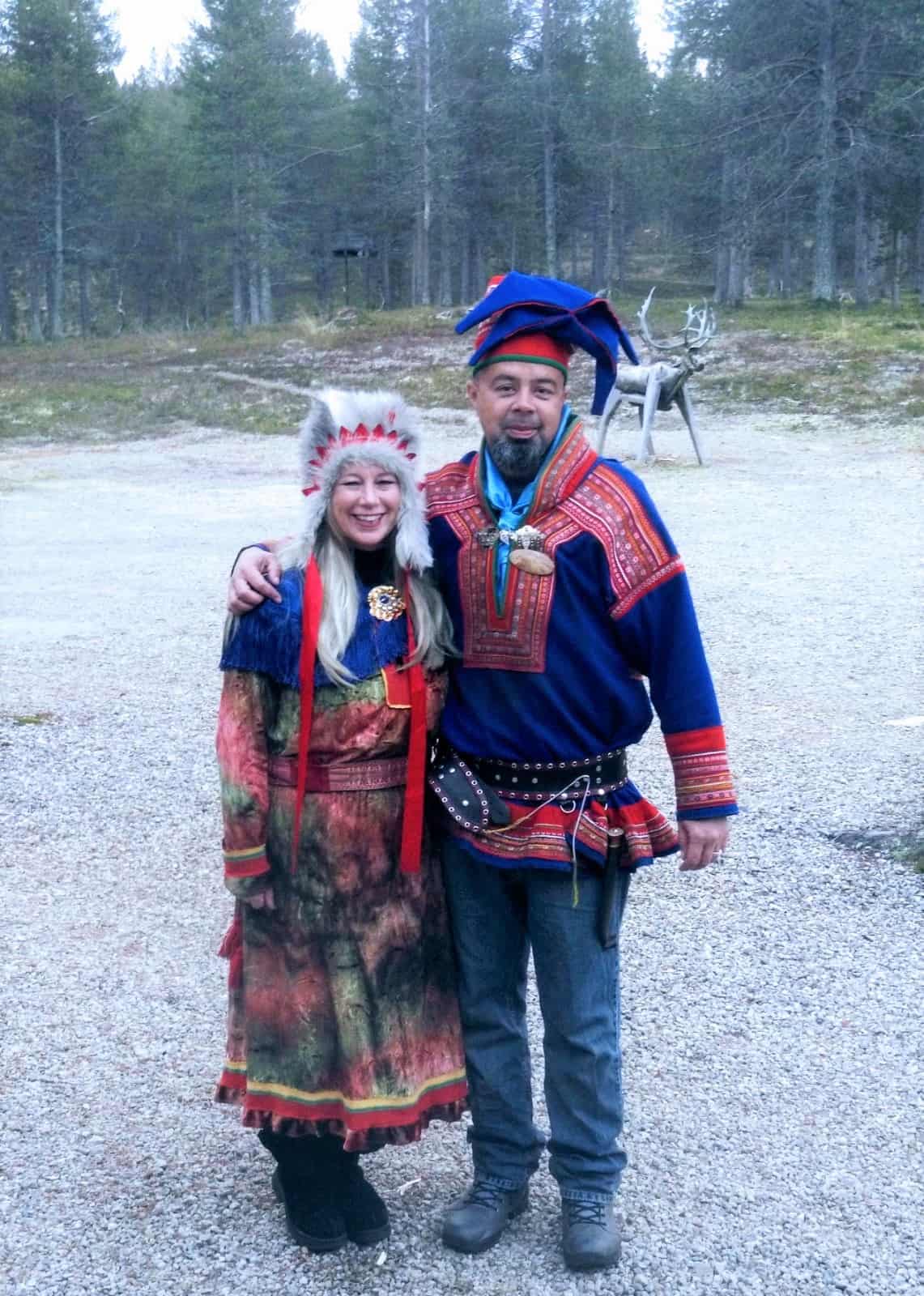 To book a tour at the Reindeer Farm, ask at the reception area. Everyone knows the owners, and they will arrange the tour for you.
Traditional Fishing
Depending on the season, you can fish for trout and salmon in many lakes and rivers.
Shopping In Saariselkä Finland
There are plenty of traditional specialty gift stores on the main road that runs through Saariselkä, and all are worth checking out.
However, if you really want a fun experience, try shopping for groceries for a special meal you plan to make! Trust me when I tell you were are still chuckling about this experience.
The backdrop is Lisa came down with a cold, so we decided to cook at home. Stew was the choice, and Lisa, our resident cooking expert, gave us a list of items to buy.
Brian, Bee Bee, and I arrive at the local grocery store, and to our horror, everything is in Finish, of which none of us can speak or read.
So, we divided up the list and ran around doing our best to decipher what each item was based on pictures and, in some cases, hunches. To this day, none of us know if the meat we bought was cow, reindeer, or something even more unusual.
Where to Eat and Drink In Saariselkä Finland
The entire main street is packed with restaurants, too many to list in one guide. There is one place I want to highlight, because if you miss it – you are missing out on the best night in town!
Saariselkä Inn's Local Pub Panimo
When we went to check in at Holiday Club Saariselkä, our townhome was not ready. So, we decided to try out Pub Panimo across the street.
We were hooked on entry alone. This pub is like something from a fairytale. A brick corner fireplace warming the place, welcoming staff, wooden tables and benches, wood lights burrowed out of tree trunks, and homemade soup in a soup tureen to top it off.
Then there are the handheld heated bidets in the restroom. Another treat we all came to enjoy. Think about it. It's freezing. Who does not want to rinse off with warm water?
Our first experience here was tame. We ate, drank, and then when it was time, checked into our digs.
Upon leaving, the owner told us that the next night (a Saturday), there was a bus of Norwegians coming in, and Karaoke was the agenda. To this day, no clue if the crowd was Norwegian or otherwise. What I can tell you is we had the best night out here. It was one of those nights you cannot plan for.
Our Second Night At Pub Panimo
Imagine an entire hall filled with people straddled over picnic benches packed into dangerous levels where the only way out is to climb the table.  The place was on fire and packed to the hilt.
We sang karaoke, danced with the crowd, and socialized with the locals. We also downed a fair share of booze, enough for us to have to leave before the festivities ended.
Brian did Bohemian Rhapsody and got praise via lighters! I did Mama Mia, and my praise was people joining the stage with me!
You can't NOT enjoy yourself at Pub Panimo – it is impossible!
We spent three weeks on this trip, and by far, this was the best night out.
Critical Items You Need To Enjoy Saariselkä Finland
Heading to Lapland in winter requires some serious planning regarding clothing. If you don't have the right clothes to keep warm, you will be miserable – potentially housebound. Our cold weather setup is a standard part of full-body thermals, waterproof wool socks, and waterproof boots.
Your mom's probably taught you early on that if your feet get wet, then it's impossible to get warm, and it's true. So, be serious about what you buy. If you make a point of having full body thermals, you can almost get away with any clothing over the top, which limits the amount of specialty gear you need to buy.
Pro Tip: Don't get caught up in "he and she" socks – they are sock! Spend a little bit more on socks that will keep you warm and share them!
Critical Items For Lapland
Closing Thoughts
Trekking halfway across the world to the remote region of Saariselkä Finland may be extreme for some. I would ask you to reconsider this. Few places on the planet this remote are equipped to offer you an authentic wilderness experience with modern-day amenities.
There is something unique about this area that commands your attention. You can feel the ambiance in the air. And, the air is the cleanest you will ever breathe. The simplicity of the area makes for instant relaxation. Most importantly, the area is unaffected by the tourists. It is a tiny town in the middle of nowhere that offers a genuine Sami life experience.
I love winter trips, and the three weeks we spent in Norway, Finland, and Sweden exceeded any expectations I had.
So much so that I think we will revisit Norway and Finland!
Looking For More Places To Visit In Europe? Start Here:
We are a participant in the Amazon Services LLC Associates Program, an affiliate advertising program designed to provide a means for us to earn fees by linking to Amazon.com and affiliated sites.
This post may contain affiliate links. Please read our disclosure and privacy policy for more information.