Long before planning our trip to Scandinavia, I had seen and heard about Bergen, Norway. I was captivated by the images that all look like scenes from a fairytale. When I plan trips, I often wonder if it will be as I imagine. Or, in this case, as beautiful.
Bergen, Norway, is stunning, as I imagined. It's breathtakingly beautiful, even in the colder months. I might go as far as to say it is more divine than I dreamed.
If you plan a trip to Scandinavia, Bergen, Norway, should be on your list of must-visit places. It should be your priority. If you can only pick one place in Norway, choose Bergen, Norway. You will not regret it.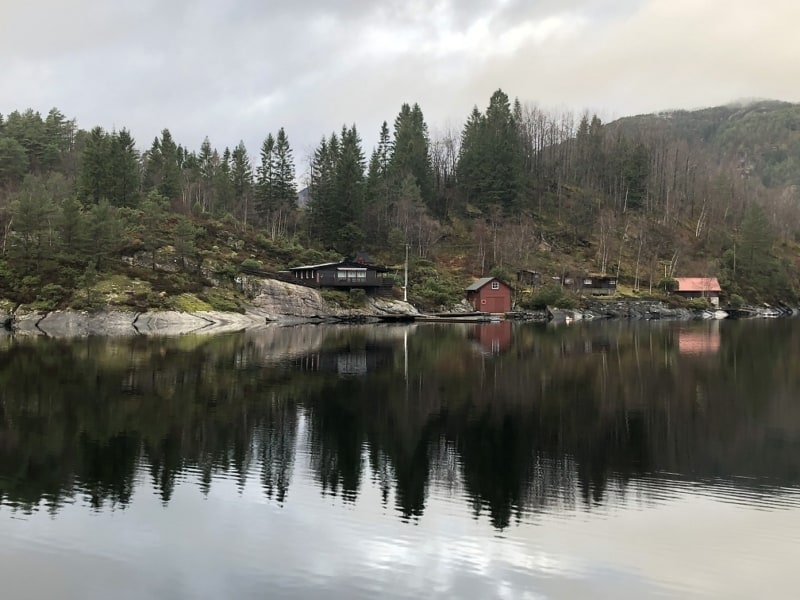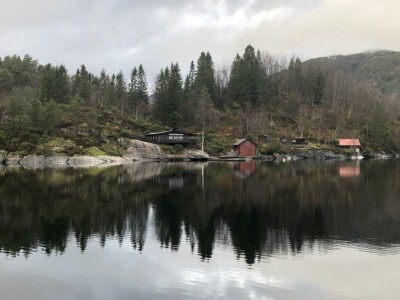 This post may contain affiliate links. Please read our disclosure and privacy policy for more information.
Where is Bergen, Norway?
It is located on Norway's southwestern coast. Seven mountains and various fjords surround Bergen. One fjord, Sognefjord, is the country's longest and most profound.
Is Bergen Norway Expensive?
Before we dive into the details, let's discuss the costs. The first thing people hear about Norway is how expensive it is. It's a fact; it is costly. Norway consistently ranks in all lists as one of the top ten places with the highest living quality. A high standard of living is not cheap, and taxes are high.
Regardless, this is not the most expensive place we've visited, not even close. For example, Dubai was astronomically expensive, and Australia was up there. My point this that Norway is co. It's not a third-world country. It is beyond worth splurging.
Lastly, I will share all our costs, and you'll be surprised. We spent almost three weeks in Scandinavia, which was more affordable than you think.
How To Get To Bergen Norway
Realistically there are four main ways to get there.
Drive from Oslo or another city
Cruise into Bergen on a primary cruise line
Take the train from Oslo or another town.
Other methods like chartering a plane and flying your aircraft in, but the above four are the most common and accessible routes. I have not personally cruised in, but I know many who have, and cruising is an excellent option if you are not comfortable arranging all the plans yourself. Remember, even if you choose to cruise, you still have to get to Norway.
We started our trip by flying directly from Orlando, Florida, to Oslo. Flights cost us $209.90 per person (x 2 $419.80), $45 per bag (x2 $90) = Total of $509.80
From Oslo, we took the train to Bergen. Precisely, this train ride is the most beautiful in Europe.
The train cost us $46 per person = a Total of $92 one way. You can buy tickets here.
We took a cab from the train station to our hotel. FYI, there are tons of taxi cabs at the train station. The cab cost us about $12 and change.
Additional Considerations:
Something you need to know about getting to your hotel: if you run your logistics like me, you will probably take a cab. Many of the hotels in Bergen are chains. We stayed at the Magic Hotel Korskirken, and it turns out Magic Hotel is a brand, and there are a few in Bergen. We ended up at the wrong one on the first try. Be sure you have studied the map and know your hotel's location. Most importantly, have the printed directions on hand.
Where to Stay in Bergen Norway
Almost all hotels and chains are Norwegian. There is no Marriot, there is no Hilton, and there is no IHG. The only non-Norwegian chains in Bergen are Clarion and Radisson. And all hotels are woven into the town's historic buildings. There are no juggernaut standalone modern facilities. I appreciate this; it maintains the historical splendor.
There are many choices — a vast number of hotels for such a small city.
We stayed at the Magic Hotel Korskirken. I chose this hotel because it was 2 minutes away from the water, included breakfast, had excellent reviews, and had space-like beds! Yes, space is like as in from a scene from Startrek.
It cost us $464.40 for four nights which included breakfast. Seriously, this a deal and I've seen it for as little as $99.
I would stay here again in a heartbeat. You navigate the charming cobbled streets to get to this gem and walk through the square with the Ludvig Holberg Statue. Once inside, you enter via a shared doorway to a grocery store. At first, I thought this was odd, but it was a bonus. We had everything we could need and then some. Imagine waking up needing Asprin; boom, run downstairs, and you are all set.
Our room was enormous by anyone's European standards and super modern. Plush bedding, a fancy state-of-the-art bathroom – we were all set. Check out our space bed and the views of Bergen, Norway:
Food and Amenities
The breakfast was terrific. You can pick from continental delights or order a custom-cooked breakfast. When selecting a hotel, you go for one that includes breakfast, as it will offset some of your costs.
Almost all hotels and restaurants double as nightclubs after 10 or 11 pm. What starts as a quaint sleepy harbor city becomes a hip and trendy bouncing location. The transformation is fun to watch and does not affect us. We could hear the music while returning to our room, but we were undisturbed once we were situated.
If you are concerned about the nightlife only at the weekend, consider choosing a further away hotel from the center or pick one with no bar or club.
Bergen, Norway, is somewhere that we will revisit without hesitation and stay again at the Magic Hotel Korskirken.
Bergen Norway Hotels
There are lots of hotels to choose from at every price point:
Things to Do in Bergen Norway
You will never forget your first view or feel of Bergen. It's precise, as depicted in every article. Colorful waterfront buildings ooze with charm. It feels as imagined. Misty fog stages the harbor, and the crisp fresh air chill reminds you that you are in a Nordic land. It rivals many European cities with charm. It's become one of my favorites.
The Colorful Buildings of Bergen Norway
Even if you're not familiar with Bergen, Norway, chances are you've seen a picture of the reconstructed Hanseatic buildings of Bryggen (the docks). Since 1979, the Bryggens have been a World Heritage Site. A series of crooked wooden structures line the Vågen harbor's eastern side. Today, Bryggen houses museums, shops, restaurants, and pubs.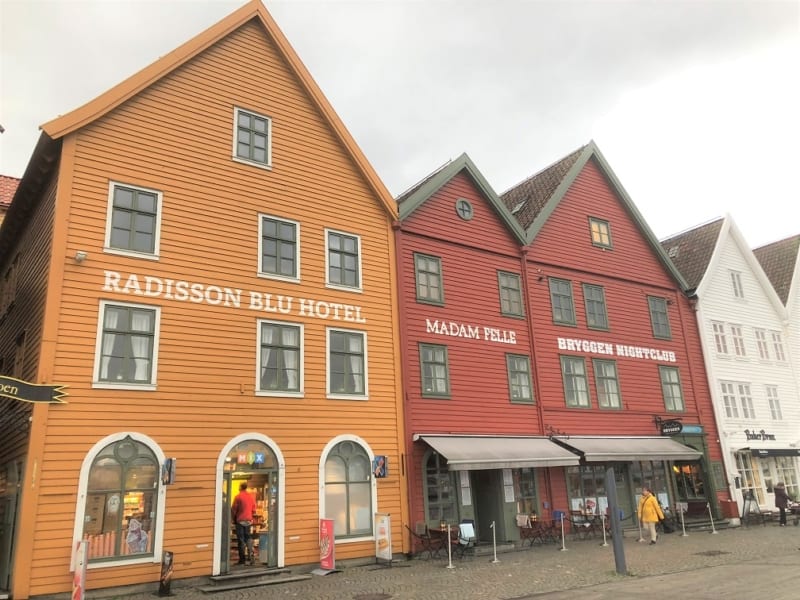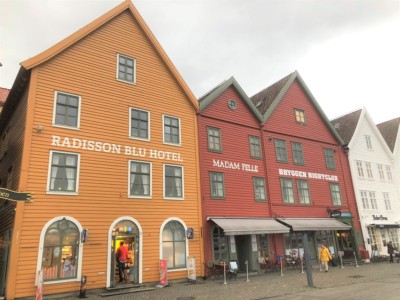 As soon as you see these buildings, you know where you are. What's unique about the structures of Bryggen is that fires dating back to 1070 have tormented them. They have been restored time and time. Touring them is a passage of rite if you are in Bergen. You would be foolish not to. This said, it's all about architecture and history. These buildings remind me of the Shambles in York, England.
One thing you really must do is weave in and out of them. Don't merely walk the harbor front. Behind each building is another, and there are some unusual structures to take in. Take a look at these beauties hidden behind the water-facing buildings:
Touring the Fjords of Bergen Norway
Perhaps the most common reason people wander to this region of the world. Bergen in particular because this is the starting point of a famous tour called "Norway In a Nutshell."
Norway in a Nutshell
A famous tour is all over the Internet and comes up in any search. If you start to research travel to Norway, you will come across this. If you decide to take this tour, you will experience:
The scenic Bergen Railway
Bus trip through beautiful scenery
Fjord cruise on the magnificent Aurlandsfjord and the narrow Nærøyfjord
The breathtaking Flåm Railway
The scenic Bergen Railway, Myrdal – Oslo/Bergen
This day trip starts at $195 per person. I don't think it's worth that, and you can arrange all these legs for what I have that read; it's also a long and rushed itinerary.
If you plan to head northeast to Voss or Flåm, hire a car and drive. Just know you will need a couple of days. Lastly, weather conditions will challenge the tour whether you do it solo or arranged, so plan accordingly.
Boat the Fjords of Bergen Norway
Several companies offer half or full-day tours of the fjords. They all start at the harbor, which is easy to access.
All tours start at $100 and go up, be prepared to spend some money here.
We booked through Viator and took the Mostraumen Fjord Cruise, approximately three hours long.
The fjords of Bergen, Norway, are stunning, exactly as you would imagine. Water is so clear you can see your reflection in it. Bright green landscapes dotted with colorful wooden houses. Waterfalls and remote fishing towns around every turn.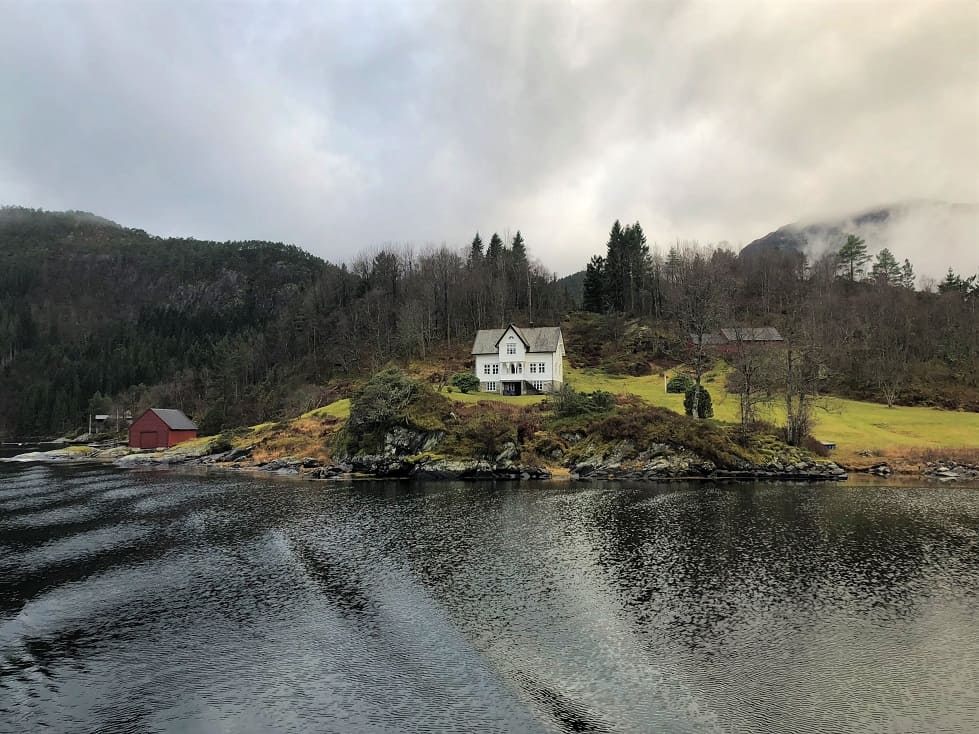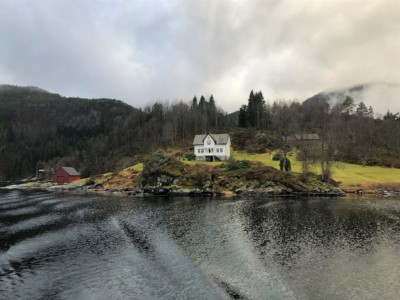 This tour was one of the most captivating I've taken. The vistas are charming, completely unspoiled terrain that will mesmerize you. The fjords are why people tell you Norway is one of the world's most beautiful places.
This is my number one recommendation if you can only do one tour or have a day.
Starbucks Kjøttbasaren
I bet you think this is an odd suggestion. I know I would not have seen it for myself. Not an ordinary Starbucks. Located near the iconic buildings of Bryggen, this Starbucks is not in a church, as some will have you believe.
The building's name (Kjøttbasaren) is "The Meat Bazaar." Until recently, the upstairs area, now a Starbucks, was still a market for meat, fish, cheese, honey, and other artesian foods. One local Vegard Haugland shared that he's pretty sad it is now a Starbucks. Once you see the beauty of this building, you will understand why.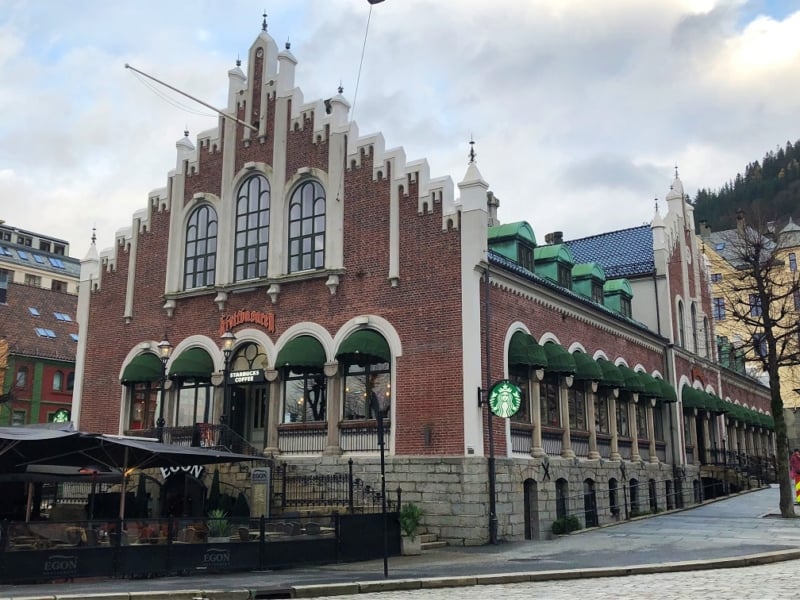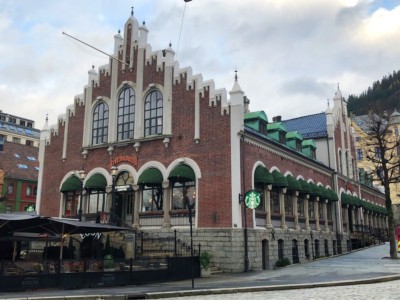 The Bergen Fish Market
Most fishing towns or towns that fish have a fish market of sorts. Bergen is no exception; the Bergen Fish Market appears in all articles and reviews. Dating back to the 1200s, this fish market is one of the most visited in Norway.
I'm not a fish eater for the most part, so this was not epic for me, but it is worth a look. The market is on the opposite side of the Bryggen buildings and, fortunately, not open air. You can buy fresh fish or crustaceans here. Or, you can dine in one of the many restaurants.
Open year-round. Indulge in whale meat, caviar, or dried cod. I am assuming, of course, that you have the stomach for any of the above.
Fløibanen Funicular Train
Located in town, five minutes from the harbor, the funicular railway up to Mount Fløyen is a top-rated attraction. While not as high as Mount Ulriken, Mount Fløyen provides magnificent views of the city below.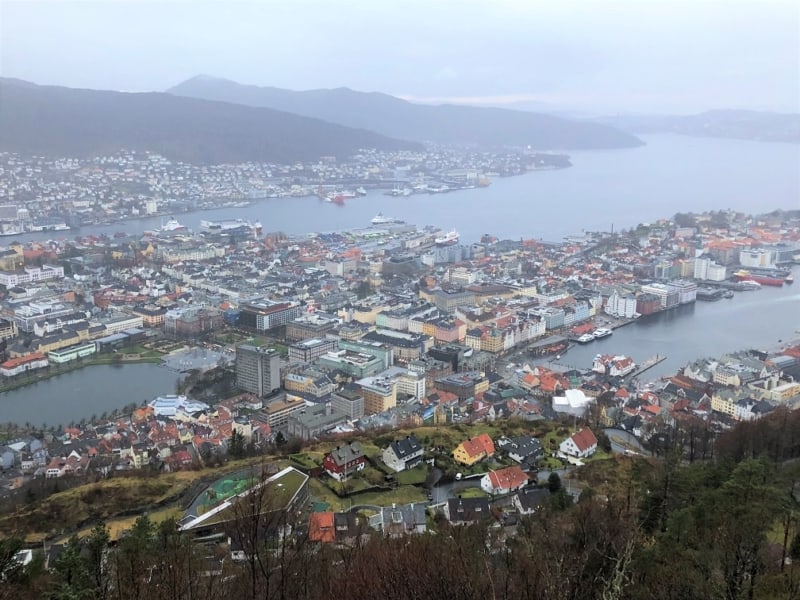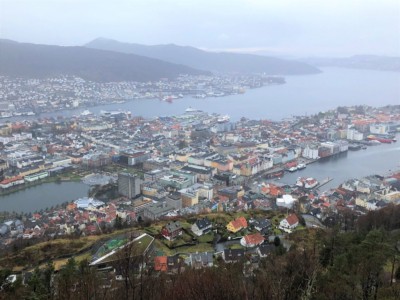 The train ride only takes six minutes each way. At Fløyen, there is a restaurant, cafeteria, souvenir shop, and a play area.
If you are only in Bergen for a short time, this is a great way to capture one view.
Only in Bergen for a few days? Plan to do this when there is no rain. We tried, and sure as can be, once we got on, it started to rain.
Ulriken Cable Car
The Ulriken Cable car takes you to the highest of Bergen's seven mountains – Mount Ulriken. Like all cable car rides, this is a great way to enjoy the scenery from above. At Mount Ulriken's top is a zipline and a restaurant to enjoy. Or, you can hike and explore – there are several trails. Many say that the best way to get an aerial view of the city is from Mount Ulriken.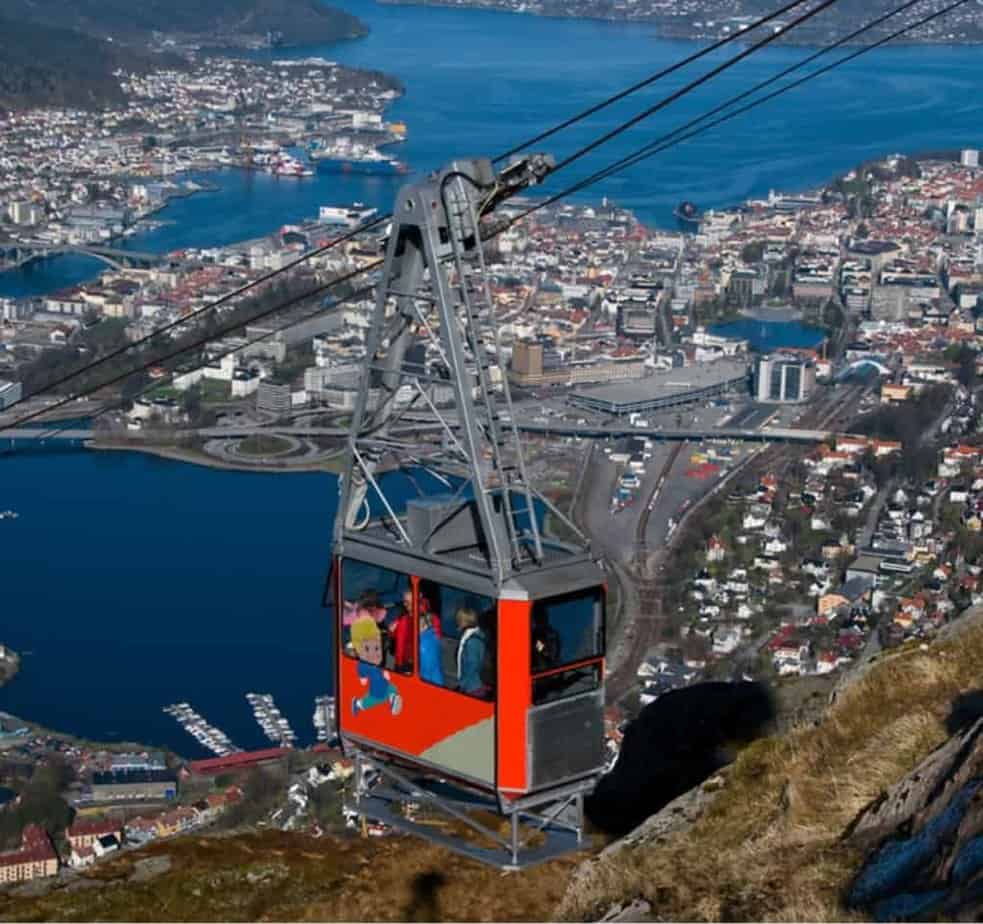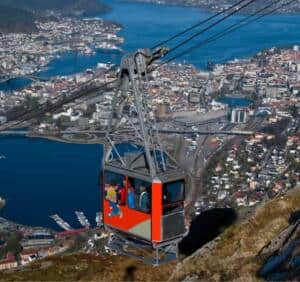 Museums
I think you all know that museums are not my thing. A long-time fan of castles, palaces, and stately homes, history is my thing, but there is something unappealing about museums for me. Regardless, many people enjoy them. Here are ten to consider while in Bergen, Norway:
Top Five
Munch Museum: Art lovers, prepare! This museum is home to the artwork of Edvard Munch, Norway's national treasure and best-known artist.
The Hanseatic Museum: This museum tells the story of Bergen's importance within the Hanseatic League. The Hanseatic League is a network of European merchants traded here in the Bryggen area.
KODE: In 2006, art and music museums combined as KODE, forming four independent buildings. Combined, they house the most extensive art collection in Northern Europe. The KODE museums are some of the most beautiful in Bergen.
Grieg Museum: Part of KODE, the Grieg Museum is Edvard Grieg's former home. Edvard Grieg was a famous Norwegian pianist and composer. His piano is on display here.
VilVite Science Centre: A science museum full of interactive exhibitions that let you play with theories and home of Europe's only public G-force ride.
Others
Bergen's Maritime Museum: If you are interested in the sea or sailing, this one is for you. As named, this museum focuses on maritime history and hosts exhibits on Vikings and WWII.
Norwegian Fisheries Museum: Another museum for those that love the sea or fishing. This museum is described as an interactive exploring the Norwegian fishing industry and its social impacts.
Gamle Bergen Museum: Step back in time as you explore Bergen as would have been hundreds of years ago. Several of the city's wooden houses were relocated to the Elser. The cottages have been restored, and some locals offer theatrical performances.
The Cultural History Museum: Home of The Natural and Cultural History Museum. This museum will give you an in-depth insight into all things Norwegian. For example, you can learn about religion, history, and the Vikings.
Bryggen Museum: This museum reveals many medieval Bryggen artifacts found during the restorations following the 1955 fire. A medieval museum that explores the history of Bergen.
Food and Drinks
Food and drink are where the lion's share of your budget will go, especially if you partake in adult beverages. Beer in 2021 will cost you around $12, and a cheap glass of wine will cost you approximately $12. Liquor is even more, as are cocktails.
You can save some money if you stay in a hotel with breakfast. You can also eat a sandwich or snack on the go for lunch rather than eating in a restaurant. Lastly, lunch in restaurants is a lot less expensive than dinner. Consider lunch as your big meal, and you'll save a lot. We did this once and ordered a takeaway for one night.
There are hundreds of food and drink options in Bergen; here are some places we enjoyed and recommended.
Olivia – Zachariasbryggen
Shocking anyone who knows my food taste because this is an Italian restaurant/pizzeria. Don't be put off by pizza; this is a classy joint, not a pizza hut or local mom-and-pop common. Part of a Norwegian chain called Olivia, this place is fabulous!
There are a few factors that persuaded me to give this place a try. The locals recommended it. A massive line of locals was trying to get a table, which is a good sign. It's on the water, and you can dine outside. Lastly, the décor is right up my alley. It's modern and industrial inside this deceiving wooden building.
I enjoyed a delicious charcuterie along with some great wine. Brian unjudged in a handmade pizza, which was more on the flatbread side. We sat outside, kept nice and toasty by the outdoor heaters. We found them too hot and had to have them turned down. In Scandinavian tradition, we covered our legs with sheepskins. I enjoyed the food, the atmosphere, and the decor.
This place is not cheap, but it's not expensive, either. If you moderate the alcohol, it is not costly at all.
Cafe Sze Chuan
Yes, yes, it's a Chinese place. I can't go very far without indulging in Asian food. I especially can't pass up Chinese food in Europe. It's radically different and better than the American version. This place is not fancy. It's cheap and cheerful but oh so good.
Flying Dutchman
The name alone should entice you – it did us. This is a traditional pub! And it's a British pub – bonus! Situated across from the famous Bryggen, this pub offers fabulous views, has indoor and outdoor seating, and outdoors offers up warm blankets. This pub is also inexpensive, and you can score beer here for around $7, which is very cheap.
Magic Ice Bergen
I can't tell you enough good things about this place. Sure, some people will turn their nose up, just like when you mention Iceland's Blue Lagoon. It's not "unknown" enough, attracts tourists, and likewise an experience that can be hard elsewhere. True, but you are in Scandinavia! Why would you not experience this? We had a blast here, taking in all the artwork carved from blocks of ice and drinking all kinds of drinks straight from a glass of ice.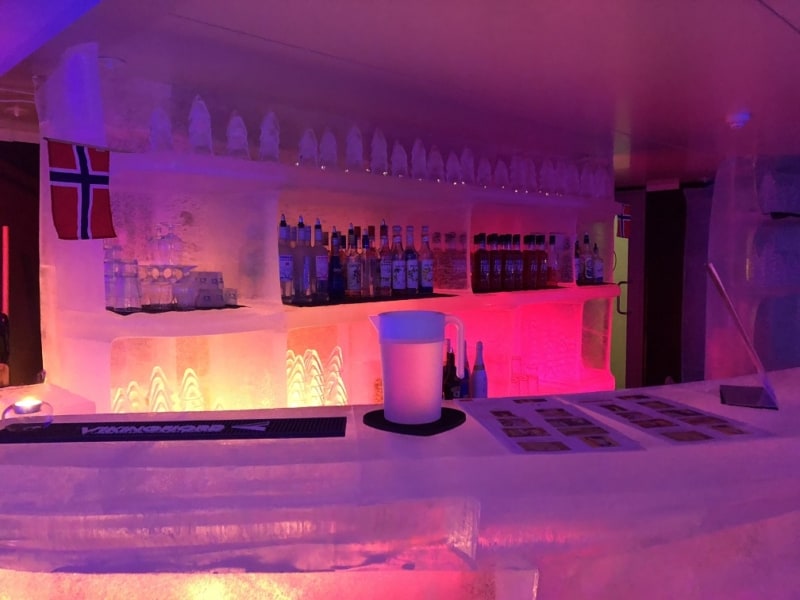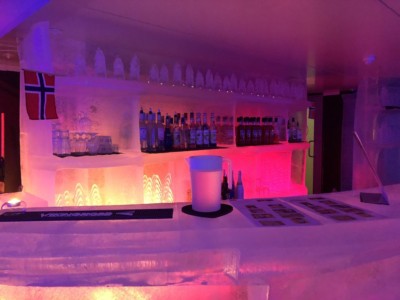 You buy a package on entry which includes a couple of house drinks. Naturally, we spent some time here and ended up with a tab. We were here for a few hours. According to the bartender, quite the undertaking given the temperature. But once again, it's not about the weather or "temperature." Wrap up; you will be fine.
Finding this place was a little bit of a challenge, and it's across the other side of the harbor—about a ten-minute walk from the harbor and well worth it.
Villa Blanca
It was another Italian for me, but this one was in our hotel, so it made sense to eat here. As guests, you get 20% of your dining experience. The food here is excellent and offers all the traditional Italian fare. Try the mussels here; they are scrumptious! And, you must try the cappuccino martini, which became my nightcap during our stay.
Note: Every Friday and Saturday at 11pm, Villa Blanca become one of Bergen's most popular nightclubs.
Shopping in Bergen
There is no shortage of places to shop for artwork, souvenirs, Norwegian specialties, or high-end designer wears. It's all here, and there is something for everyone. And, you must buy a Norwegian Troll. It does not have to be a tacky plastic one or a fridge magnet; they are everywhere and in all styles. I bought a classy red one made from cloth to hang on my Christmas tree.
FYI: The noun troll or troll, meaning variously fiend, demon, werewolf and giant, comes from a proto-Germanic word trullan or unknown origin. Trolls in Norway and Scandinavia are the backbone of lots of myths, fairytales and legend.
If malls are your thing, there are three:
Galleriet

Kløverhuset
Bergen Storsenter
I advise wandering the cobbled streets and exploring the array of locally owned stores. Bergen is bustling with antique and thrift stores. They are all over the place, especially by the harbor. There were a couple of places that we enjoyed:
Solstrand Blomster & Interiør AS
Perhaps my favorite shop in Scandinavia. At first blush, this looks like a florist or plant shop. It's that and then some! Inside is a treasure trove of goodies from household wares, beauty products, jewelry, and Christmas ornaments while we were there!
We bought quite a lot here. Believe it or not, Brian got several rubs for his obsession with the Big Green Egg. I accepted friends collecting Christmas ornaments, the most unusual rustic metal hearts that are seasonal. I also got some hand cream in here.
In addition to this being a great shop to explore, it's beautiful inside and out. Make a point of finding this place; there is something ornate waiting for everyone.
It is also located on Hollendergaten.
What You Need to Know
Bergen is ridiculously safe; you can wander at leisure day and night.
There is an excellent public transportation system.
Downtown is tiny; you can walk from one side to the other.
You only need a car if you plan to leave the downtown area.
The locals love Americans, something I enjoyed. If you travel, you'll know what I You often get met with obvious disdain when you announce where you disdain.
Not only are Norwegians fond of Americans, but they are also social. We got invited to join locals on many occasions. We learned a lot about local customs and what day-to-day life in Bergen, Norway, is like beyond the tourists.
What are the billboards with the sheep's head advertising? Let me clear this up for you. It's called "Smalahove." It is a Western Norwegian traditional dish made from a sheep's head that was initially eaten before Christmas. Lately, this has become more of a tourist attraction, with travelers seeking to experience the most unusual foods.
Critical Items You Need To Enjoy Bergen Norway
Heading to Norway in winter requires some severe planning regarding clothing. If you don't have the right clothes to keep warm, you will be miserable – potentially housebound. Our cold weather setup is a standard part of full-body thermals, waterproof wool socks, and waterproof boots.
Your mom's probably taught you early on that if your feet get wet, it's impossible to get warm, and it's true. So, be serious about what you buy. If you make a point of having full body thermals, you can almost get away with any clothing over the top, limiting the amount of specialty gear you need to buy.
Pro Tip: Don't get caught up in "he and she" socks – they are socks! Spend more on socks that will keep you warm, and share them!
Closing Thoughts
Bergen Norway is as stunning as the pictures imply. It can be expensive and wet, but minor details considering how magical it is. We visited in November; I did not find it overly cold or unbearable. I've vacationed in much harder places. No matter what season, you can enjoy all these quaint city offers. Bergen provides the perfect mix of whimsical old-world charm with modern amenities, and there's plenty to explore. Few places are on my return to list, and Bergen is one of them. I can't wait to return to drive from Bergen to Voss, Flåm, and back.
I liked it so much that I've spent some serious time looking into the potential of living here.
Looking for more posts on Europe? Start here:
We participate in the Amazon Services LLC Associates Program, an affiliate advertising program designed to provide a means for us to earn fees by linking to Amazon.com and affiliated sites.
Brit On The Move™ Travel Resources
Ready to book your next trip? Use these resources that work:
Need more help planning your trip? Check out our Resources Page, highlighting the great companies we trust when traveling.