How many times have you heard the traveling nomad community reference teaching English abroad? Probably lots of times, I know I have. In fact, if you do a quick search, you will find it is cited as one of the most common ways to land a working holiday.
Commonly discussed, what is not often shared is what it is really like to teach English abroad and how to arrange it. Most importantly, what is it like if you embark on the journey?
In this series, I interview those that have taken the plunge, followed their calling, and worked or volunteered abroad.
This post may contain affiliate links. Please read our disclosure and privacy policy for more information.
About Dean Hamilton
Dean's my third interview in this series. While I knew going in that he would be an impressive fearless young man – a common trait of the folks in this series. Yet, I was impressed by Dean's open-mindedness, his agility, and his immense world knowledge.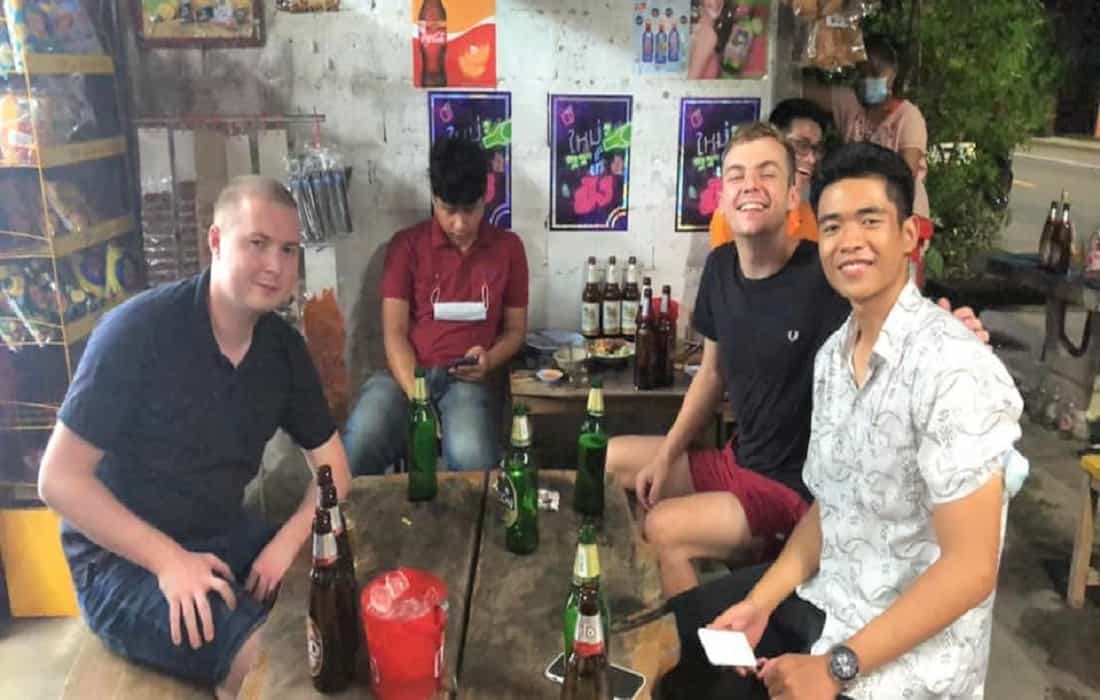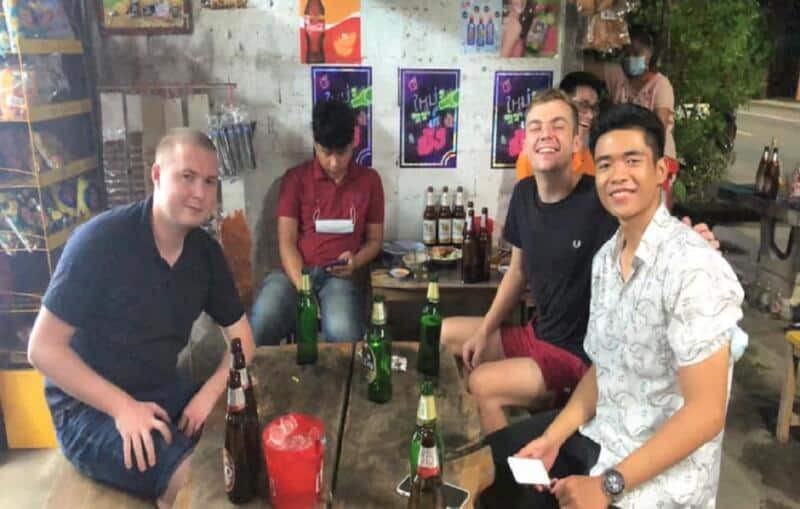 I knew that talking to Dean was going to be special. I could sense early into our conversation that he is a force to be reckoned with. An inspiration, a person that is just beginning to tap their potential!
At the young age of 24, this young man is currently living in Thailand teaching English. Dean has completely emersed himself into Thai culture, right down to consuming insects in the spirit of embracing other cultures.
Dean's Home Town
Dean originates from Donegal, Ireland. Anyone not familiar with this region is on the border of Northern Ireland, a territory with a rich, turbulent history.
What motivated you or inspired you to teach English abroad?
After school, I went to university and earned a four-year business and finance degree. I was the first in my family to earn a degree. As motivated as I was, I was a shy person who did not have tons of self-confidence.
During the summer breaks at University, I signed up for a working holiday at a summer camp in upper New York state. Knowing this experience would test me, I needed to experience things outside of my comfort zone.
I did my first season in 2016, and it was a life-changing experience. The camp was a Christian camp. I had no clue how I was going to fit in. And my role was to be a counselor for three months.
Being a counselor forced me into situations that I would have previously avoided. For example, I had to stand on a stage to facilitate games and activities. Never in my wildest dreams did I think I could do this. I could – I did, and it was exactly what I needed.
I returned to America for the second season of summer camp in 2017. My second season was not as special. In fact, my 2017 season was a disaster. Everything that could have gone wrong did. It kicked off with a bomb scare at JFK, which resulted in my losing my luggage. Then my debit card would not work. It was a disaster from the start.
Post University
After graduating with honors, the reality of a nine-to-five culture set in.
It was terrible, a total shock to my system.
I worked as a financial analyst for a bank. Then the Pandemic kicked in, and I worked remote and online—something I never anticipated.
The pressure of the customer service model is something I did not like and I hated working online. I felt trapped.
I am a social person, and I thrive on meeting and interacting with people. Working online was terrible, but this was compounded because we were on lockdown. I was living with my parents and there was absolutely nothing going on.
So How Did You Figure Out How to Embark on A Working Holiday?
I had a friend that I met at university. His brother traveled all over the world, and I was enthralled. His brother shared an opportunity for me to do a summer camp in Vietnam. I was planning to do this in Feb of 2020. Sadly, this fell through because of COVID. For me, this meant more time in the rat race.
What Happened Next?
Unhappiness kicked in. I knew I needed to travel – it was my destiny. I could not stop thinking about being trapped in a job that brought me no joy. Ironically, the same friend's brother had begun teaching in Taiwan. This caught my attention, but I did not know how to go about it. I had never taught, and I did not think I had the qualifications.
I started to do some research, and that led me to Global Work & Travel.
GET $50 Off or 50 Quid Off with this exclusive code: BRITMOVES50
How did you hear about Global Work & Travel?
Via Facebook, I was scrolling, and the ad came up. From there, I clicked through it and started to look at the website. As soon as I saw the opportunity to teach in Thailand for six months, I was hooked and determined to pursue it.
I called Global Work & Travel. They assigned me a trip coordinator called Julian. I cannot say enough good things about Julian – he is the reason my dream took flight.
As I was planning, Ireland was in lockdown, so there were many things to be taken care of. And I had tons of questions. Julian went out of his way to answer all my questions. He was also honest. If he did not know the answer to something, he would tell me, research it, and then return to me with the information.
From there, I checked some references and called people to make sure that this was a legit opportunity. Once I felt comfortable, I put down my deposit in November of 2020.
Why Did You Decide on Thailand?
I wanted to experience a new culture, and I needed a fresh start. I was also attracted to the idea of teaching; however, you cannot teach in the West unless you go to school to teach.
In Thailand, you can teach with the Teaching English to Speakers of Other Languages (TESOL) or Teaching English as a Foreign Language (TEFL) qualification. And you can earn this in a few weeks.
What Does TESOL Stand For?
TESOL stands for Teaching English to Speakers of Other Languages. TESOL includes teaching English as a foreign language (such as in China) and teaching English as a second language (TESL), meaning in a country where the primary language is English.
What Does TEFL Stand For?
TEFL stands for Teaching English as a Foreign Language. It refers to teaching English in a country where English is not a primary language (rather, it is a foreign language). An example of TEFL would be a teacher from the U.S. teaching English in China.

GET $50 Off or 50 Quid Off with this exclusive code: BRITMOVES50
Securing Employment in Thailand
Global Work & Travel has a partner who works within Asia. I had several interviews to explore which would be the best fit.
Note: Sometimes replies from the partner was slower than Global Work & Travel but they do respond.
Once I picked a school to work with, we moved on to the planning phase.
When did you travel?
I set off on the 2nd of May 2021.
Arranging Travel Insurance
I had to buy travel insurance. I used Transwitch International because they covered COVID, which was a requirement.
What Happened When You Arrived in Thailand?
When I arrived, I had to quarantine for eleven days. This was depressing, but I made it through it. Following quarantine, I spent two weeks in Hua Hin. Hua Hin is a coastal town on the east coast of Thailand and about three hours away from Bangkok.
My two weeks in Hua Hin were to complete my training for the TESOL qualification. This was the in-person part. I also had to take two weeks of online learning before this.
I loved Hua Hin. It is on the beach, so there was plenty of drinking on the beach!
Once I completed my certification, I went to Pathum Thani to teach.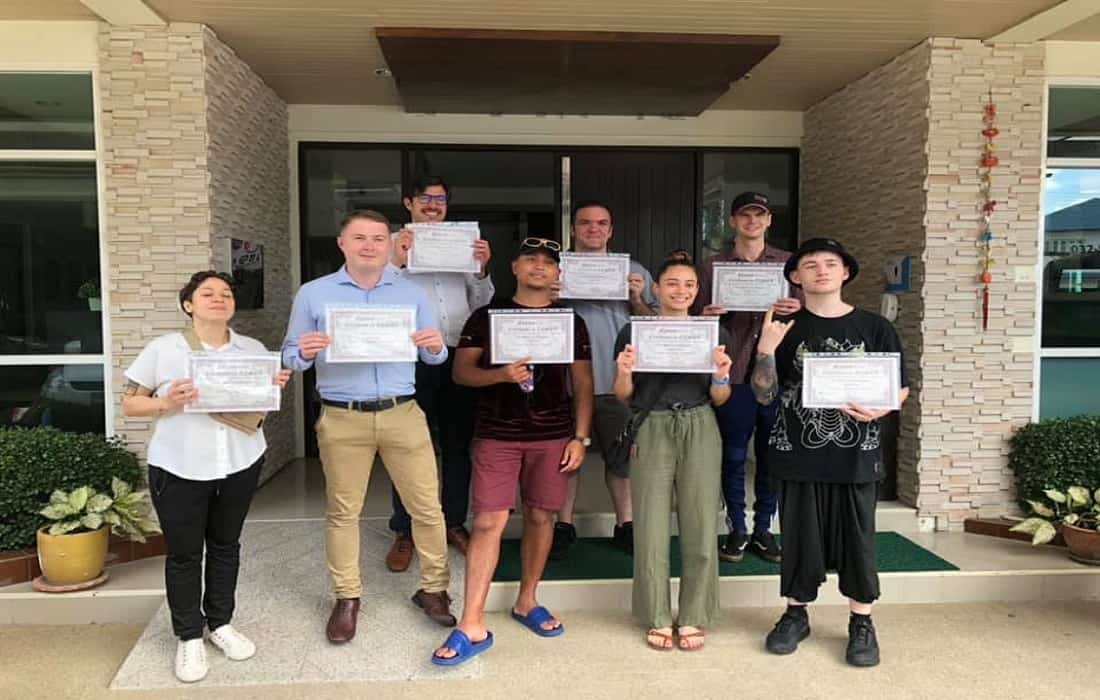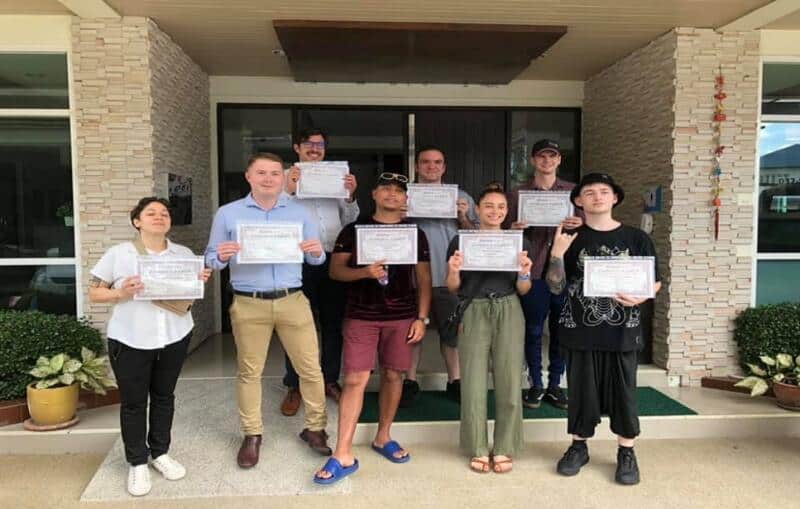 About Pathum Thani, Thailand
Pathum Thani is a central province about thirty minutes north of Bangkok. The Mon people heavily populate it, and there are tons of temples and parks.
What are some of your responsibilities at your school?
My role is to teach English. I am teaching M2 and M3, which is secondary level. The kids range from thirteen to sixteen. My first semester was all online. I did not know this going in. The good thing is that if I knew it would be online, I would not have done this.
I love the school; it is fantastic. Even the way that lessons are taught is brilliant. The lessons are taught in a communicative speaking style and are extremely interactive. Teaching here is non-traditional. It is not book-based, it is fun, and we incorporate gaming.

GET $50 Off or 50 Quid Off with this exclusive code: BRITMOVES50
How many days and hours do you work?
Five days a week. However, some days we only work three or four hours. A typical week is usually twenty hours of actual teaching.
We also get five weeks off – paid! I am on vacation right now.
What are the staff accommodations like?
The school you choose will help with accommodation. For me, I landed in a condominium that is about 15 minutes away from the school that I love. I get to live on my own, and I pay very little. It is only about 20% of my salary. I am living way better than is affordable back home. We have a swimming pool at my complex that we can now use. I feel safe, and I have met the most incredible people!
What are some of the excursions you can participate in during your free time?
Well, I spend most of my free time traveling! From stunning temples to Chiang Mai, Ubon Ratchathani, and Hua Hin I've gotten about a lot. Then there are beach parties, I've attended loads of beach parties – a personal favorite. I have been to an elephant sanctuary and bathed elephants, been jet-skiing, jumping off of boats into rivers, and tons of off-the-chain resorts. I have even participated in Thai boxing! Lastly, I also love the markets; you can spend a whole day exploring a new market.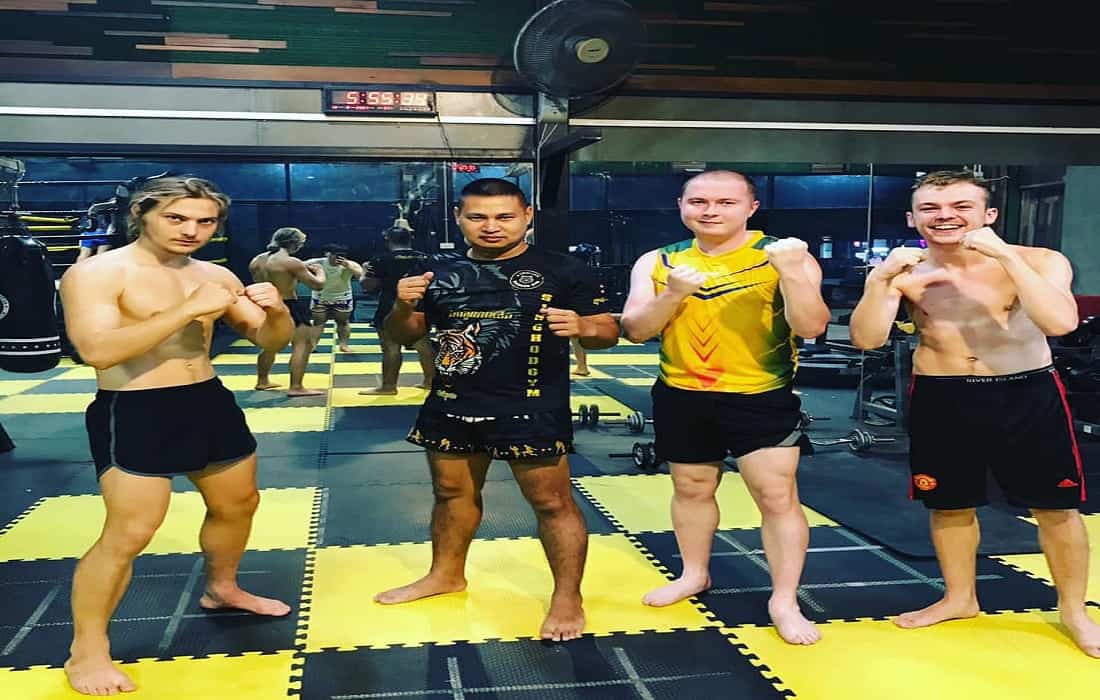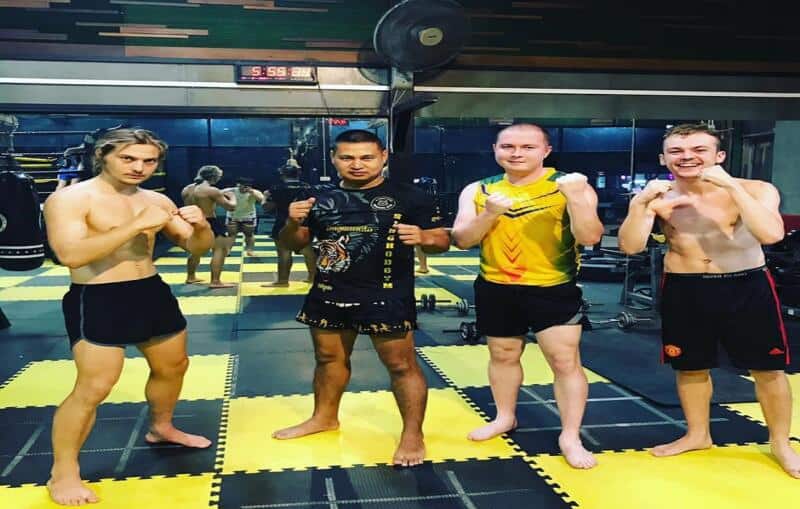 I do not have my own transportation. The roads are dangerous, so I prefer to use public transportation. I have taken eight-hour taxi rides and twenty-hour bus rides to get around.
Things To Do in Pathum Thani, Thailand
Talat Thai – This is a market that is open 24 hours a day.
Tao Ong Ang Archaeological Site – This site is where you can view one of the three remaining earth mounds that were not flooded. You can also view ancient ruins that were found during excavation.
The Golden Jubilee Museum of Agriculture – This is a museum that showcases King Rama IX's economic contributions to modern technology.
The Pine Resort, known as Amphoe Sam Khok, is an adventure-based attraction where you can ride ATVs and participate in fixed target archery or skeet shooting.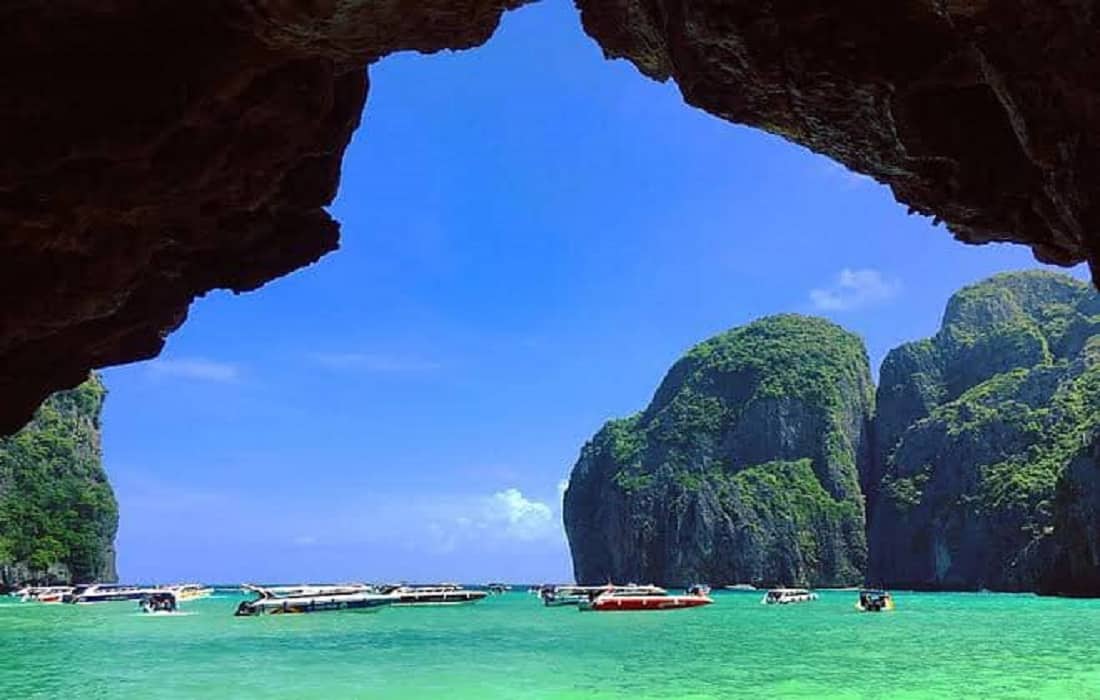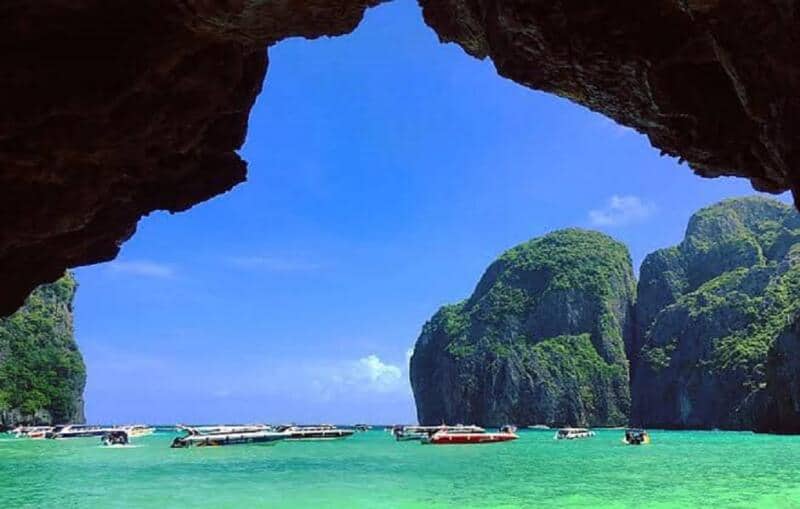 The Supreme Artist Hall – This hall was built to celebrate and present the accomplishments of King Rama IX, a lover of art.
Temple Wat Bang – Home to Luangpho Yai, the largest principal Buddha image in Pathum Thani. This temple hosts an annual ceremony of making traditional Thai sweet – Kuan Khao This.
Temple Wat Bot – An ancient temple located in the good feng shui River curve of the Chao Phraya River.
Wat Chedi Hoi, Amphoe Lat Lum Kaeo, Pathum Thani – Perhaps one of the famous Temples in Amphoe Lat Lum Kaeo, this temple is filled gigantic fossil oyster shells underground.
Wat San Chao Riverside Market – This market is a hub for food and souvenirs and many agricultural products from the villagers.
Did you have any challenges while in Thailand?
The lockdown and new rules for COVID have been an obstacle. When I was in quarantine, I did not know how I would get through it. I was isolated. You must go with the flow to get through it but it is worth it.
Language can be a challenge. Ideally, it would be best to learn the language before arriving. This is especially important if you are not in a big city like Bangkok.
What is your favorite memory from your trip?
The entire experience has been a big high. Everything experience has been positive.
I have met my girlfriend here and found love. I now have companionship. Dating a local has also provided me with access to experiences that I would not have otherwise been able to do. For example, I have been to tons of remote waterfalls locals visit, and I have eaten insects.
You mentioned that you ate insects, tell me about this.
I believe that if you are going to experience the culture, you need to embrace it all – including the food. I tried insects because they are a staple part of the diet here. Personally, I did not like them, but I tried it.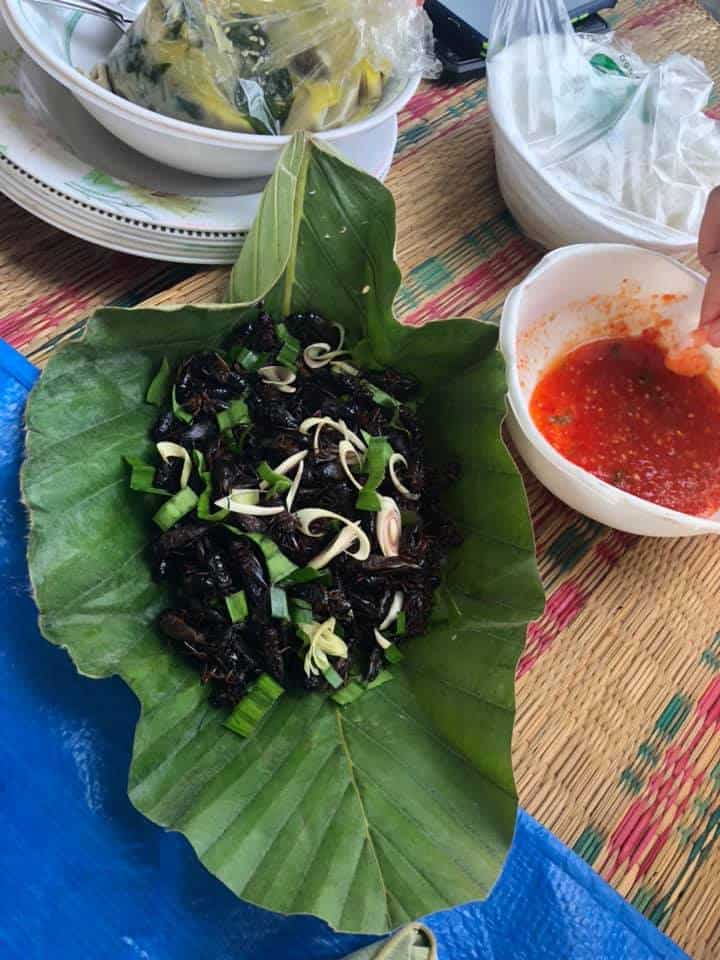 What is your least favorite memory from your trip?
Not so much a memory, more of a challenge. I am not fully vaccinated yet, so I cannot fly around Thailand. I am getting my second shot on the 19th of November, and as soon as I have it, I will be able to visit the islands.
What did you learn on your journey?
To be grateful for what I had before and for what I have now. Before this experience, I had negative feelings about my home country. I have a privileged life. I am healthy, I am educated, and I have been supported. This is not the case for most people in Thailand. There is extreme poverty and a lack of opportunity in Thailand.
Being here I have earned that I have all the qualities to be a great teacher. I've become more independent; I feel laid back, and it is very natural for me.
You do not get rich doing this, but that was not my goal. I am getting a life education and exposure to the world.
Do you think the experience was value for money?
100% I have no regrets at all. The customer service provided by Global Work & Travel is exceptional. The COVID fees were rough; you must pay to quarantine, testing, and so on. Regardless, the experience outweighs the cost. Overall, it seemed a lot, but the experience was priceless. It will change your life.

GET $50 Off or 50 Quid Off with this exclusive code: BRITMOVES50
Would you consider another working vacation?
Yes, I cannot see myself not doing this. This is just the start for me and I have no plans to go back home. Who knows what is next, but it will be another adventure.
I will be a better, smarter person and more grateful. I needed this for self-development and growth. And I am not done growing – I am just getting started.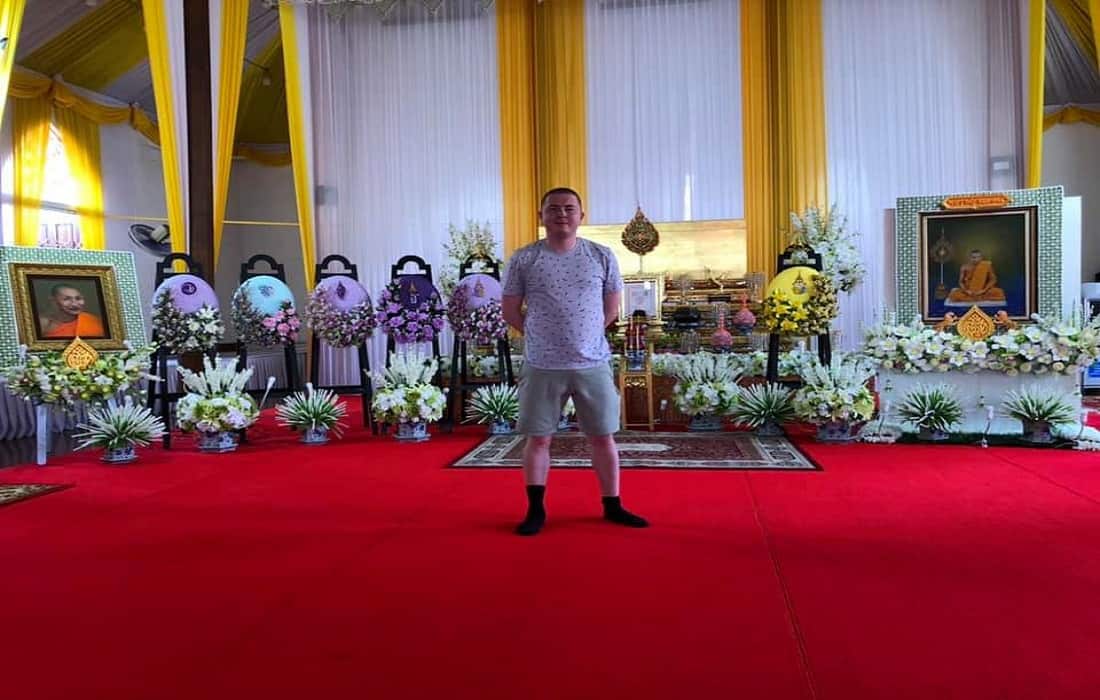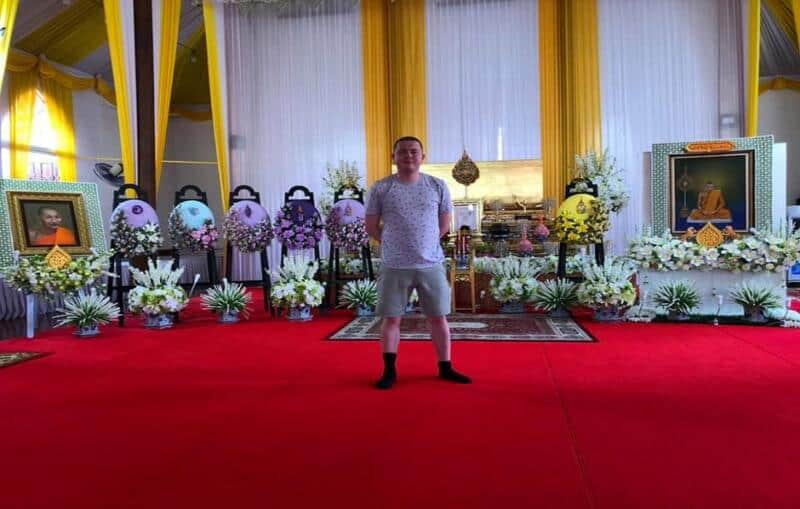 What advice would you give to someone like you who is thinking of Teaching English Abroad?
I knew what I wanted. It is important to think through what your goals are first.
Here are my tips:
Do your own independent research.
Please make sure you really want the experience and commit to it. Some people that came with me arrived in May and left in July.
When you enter the country, fully immerse yourself in the culture. Thailand suits me, but it may not be for everyone.
It is completely normal to miss your parents.
Refuse to be locked down or kept inside. Outside of mandatory quarantines, some areas will be on lockdown. The solution is to move to other open areas.
In addition to connecting with locals, reach out to others from your community. I play football with a guy from the same town I am from.
Closing Thoughts
We just learned about Dean's experience. What an amazing heartfelt story! While I left England for America at 21, I could not help my envy of Dean's journey.
Imagine being twenty-four and throwing yourself into a strange country in the East where traditions do not even slightly align with the West's.
Imagine being shy yet knowing or understanding you needed growth and pursuing it.
Dean has balls – balls of steel. I cannot wait to see what is next for him.
If you are interested in following Dean's travels, you will find him here on Facebook.
If you are considering a working or volunteer vacation, what questions do you have? Most importantly, where do you want to go? Drop your comments below.
Brit On The Move™ Travel Resources
Ready to book your next trip? Use these resources that work:
Need more help planning your trip? Check out our Resources Page, highlighting the great companies we trust when traveling.