Fun Spot Orlando – The Complete Guide To The Park
Fun Spot Orlando is a theme park often discounted by the average tourist or local. Mesmerized by the lure of Universal Studios and Disney, this park does not make it on everyone's list. A crying shame if you've never been. I've been with family and friends many times, not just because it's affordable but because it's a brilliant day out.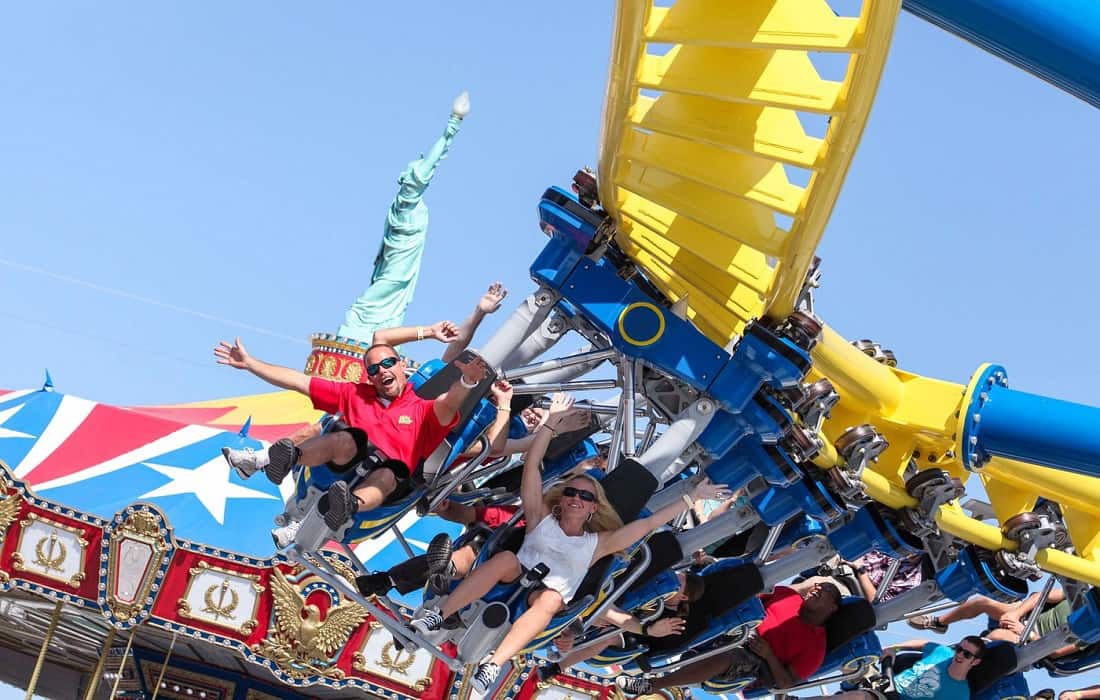 Image Courtesy of Fun Spot America
Let me share why you should have Fun Spot on your list!
This post may contain affiliate links. Please read our disclosure and privacy policy for more information.
Why Fun Spot Deserves Your Attention
Fun Spot Orlando is located on International Drive (IDrive). While IDrive hosts many of the best steak houses in town, it's also the Blackpool of England, the Daytona of Florida, or the Costa Brava of Spain. A brightly lit tourist trap full of low-budget amusements reminiscent of circus sideshows. A place to buy ridiculous chat keys, get a tattoo or drink yourself stupid.
It's not my jam. However, IDrive, as tacky as it is, does host a good thing or two. Fun Spot Orlando is one of them.
Side Note: IDrive is home to a couple of my favorite restaurants – Vito's Steakhouse and Texas De Brazil
My Take On Fun Spot Orlando
Let me start with one of my biggest pet peeves about less costly attractions. They are often filthy. Not sure if you ever had the miss fortune to visit Wet n Wild when it was open. If you did, you know exactly what I mean.
This is not the case when it comes to Fun Spot Orlando. Fun Spot Orlando is immaculate – spotless! So, if you're a germaphobe or appreciate cleanliness, you'll be pleasantly surprised. Even the restrooms are tended to with as much care and attention as those at Disney.
Then there is the lack of crowds which translates to short lines. One would assume it would be the opposite, given the price point, but this is not the case. The fact that there aren't long lines makes it enjoyable for kids. They can jump and off rides back-to-back.
The clientele. Why does everyone assume you are broke, uncouth, or from a less-than-desirable part of town if you're not at Disney? Everyone here has paid good money for a day out. And let's be honest, no matter what you pay to enter a place, you will meet various people that fit the bill you find undesirable.
My firsthand experience at Fun Spot is that its lovely families are having a great day.
Lastly, the park is not huge and is divided into zones. Assuming your kids are big enough to roam alone, you can park yourself at a table and chill. Selfishly, one of the things I love about this park. I don't have to trek miles and miles through kingdom after kingdom ending my day chaffed raw.
So, now that I've dispelled some of the reasons you may not have been, and shared some of the reasons I like it, let's get into what's on offer at Fun Spot Orlando.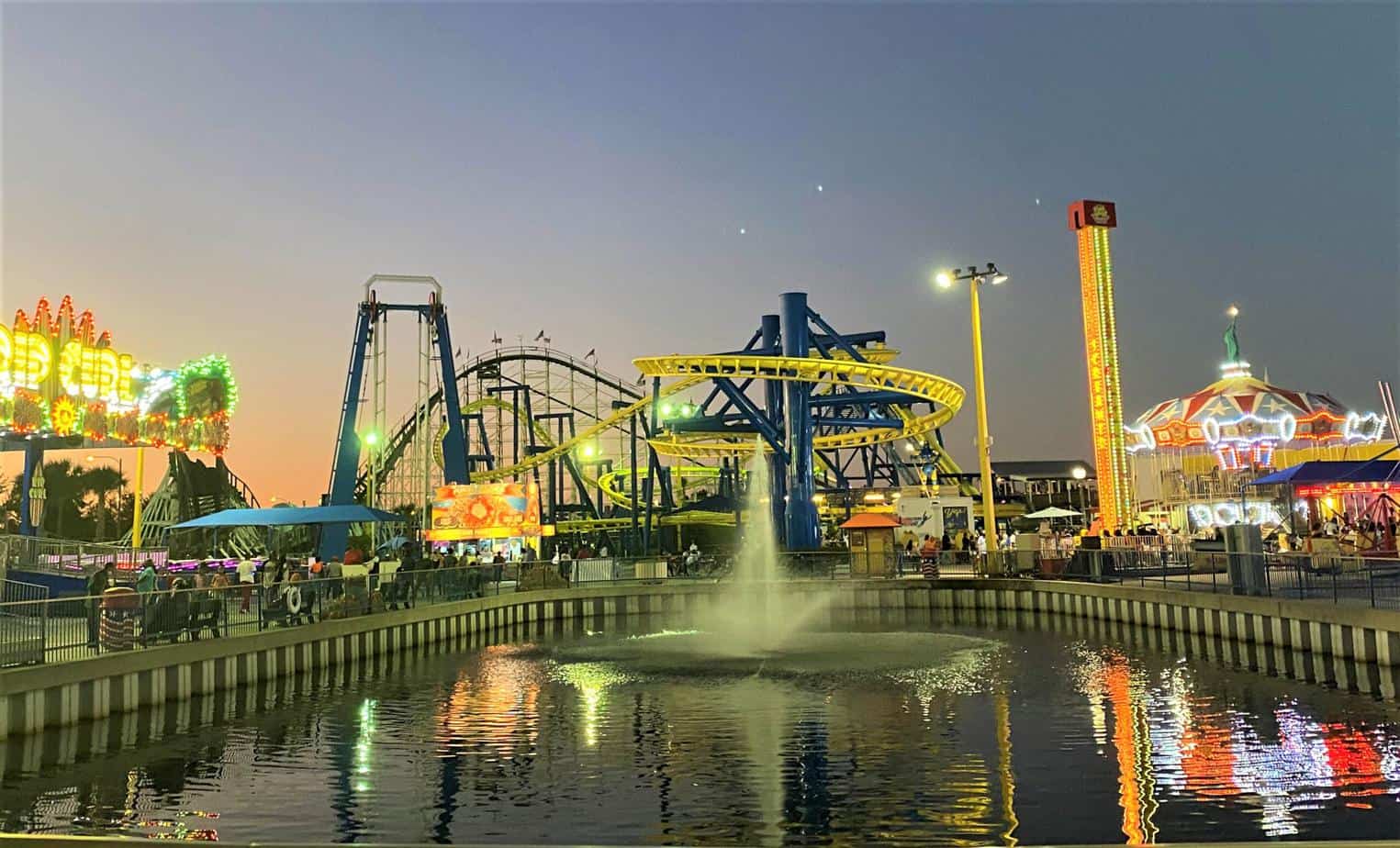 Ten Plus Reasons You Should Consider Fun Spot Orlando
If you want to jump to the punchline and skip all the detailed info, here's why you need to add Fun Spot Orlando to your list of things to do:
Affordable, under $50
Spotlessly clean, sparkling clean
Shorter wait times than any other theme park
Free parking – yep, free and unheard of these days
Open until midnight
Orlando's only wooden roller coaster
Unlimited free refills with soda cups, souvenir cups
Non-riders enter free of charge
Free single-day fun pass on your birthday
No extra charges for friends sharing your cabana rental
You kids will love it, as will you
Best Kept Secret – Free Single Day Pass on Birthdays
Visit Fun Spot Orlando or Fun Spot Kissimmee on your birthday, and your Single Day Fun Pass is FREE!
Yes, you read this correct. The person celebrating their birthday gets a free single day pass.
Go to any ticket window at the Box Office and show proof of your birthday with a valid ID or a copy of your birth certificate.
*Ticket must be redeemed and used on your birthday: no exceptions or refunds for previously purchased tickets. The birthday offer cannot be combined with any other offer.
History of Fun Spot
Fun Spot Orlando is a part of Fun Spot America Theme Parks. A family-owned American business. The founder John Arie, Sr; started with several small tracks from 1969 through 1978. Later, in 1979 he opened Fun N Wheels on International Drive and, in 1998, the second one in Kissimmee.
In 1990 John opened the first Fun Spot in Myrtle Beach, South Carolina, and shortly after, the Virginia Beach location opened. In 1997 he moved the Fun Spot brand to Orlando and began constructing the Orlando Park on the North end of International Drive.
Fun Spot Orlando opened on December 24th, 1997; in 2007, Fun Spot Kissimmee was born. Fast forward to June 2013, and the brand was renamed "Fun Spot America."
What Does Fun Spot Orlando Have to Offer?
Fun Spot Orlando is best known for its multilevel go-kart tracks, which contain steep hills, hairpin turns, and a wide array of different roads where you can rack up some high speed! Fun Spot Orlando has four racetracks, including all four in the day pass. The four tracks range from extreme ones that take you 40+ feet into the air to flat road courses. Everyone over 54 inches tall will have a blast.
The racetracks aren't full of fanatics or hard-core competitors. If you are a beginner and want to take it easy, you can do so. Because there are many thrilling tracks, it doesn't mean you must go full throttle on them.
Moreover, the carts are equipped with the latest safety features, including power steering and speed control. Everything is tailored to perfection to give you a safe and fulfilling experience.
Lastly, while Fun Spot Orlando is famous for its go-cart courses, there is plenty more to do
Fun Spot America Ticket Prices
I don't think there's a better value for money than the tickets at Fun Spot Parks. And the annual pass is flat-out unbeatable.
Images Courtesy of Fun Spot America
Fun Spot Orlando Park Map
Image Courtesy of Fun Spot America
Where To Stay Near Fun Spot Orlando
Now that you've seen just how affordable it is to spend a day at Fun Spot in Orlando. Consider staying overnight and taking advantage of the annual pass! Here are all the hotels close to Fun Spot Orlando:
Fun Spot Orlando Attractions
There are many attractions for all age groups, from fun houses to arcades and roller coasters.
White Knuckle Rides
Perhaps the best-kept secret is that Fun Spot Orlando has several rides for daredevils.
White Lightning – The only wooden roller coaster in Orlando. This coaster reaches 48 mph and does not disappoint!
Freedom Flyer – A steel-suspended inverted coaster with speeds up to 34 mph. Great for those seeking to experience flying through the sky while your feet dangle.
Rip Curl – This is a take on the classic waltzer, only this goes up and down a track, and it goes forward and backward. I can't tell you how often The Monkey has ridden this one. He and his friends will go on and off this one for an hour on end.
Hot Seat – Giant arms swing you back and forth until all you see in the sky. Then you're swung back, so all you see is the ground rocketing past your face. You turn more than 180 degrees, past perpendicular, first on your back and then on your face! You have to be a brave soul to take this one on!
SkyCoaster
You've all seen this ride somewhere before. This is the one where you free-fall and fly through the air. The SkyCoaster at Fun Spot Orlando is the world's second-tallest SkyCoaster at 250 ft. If you've never been on a sky coaster, it's like skydiving and hand gliding combined.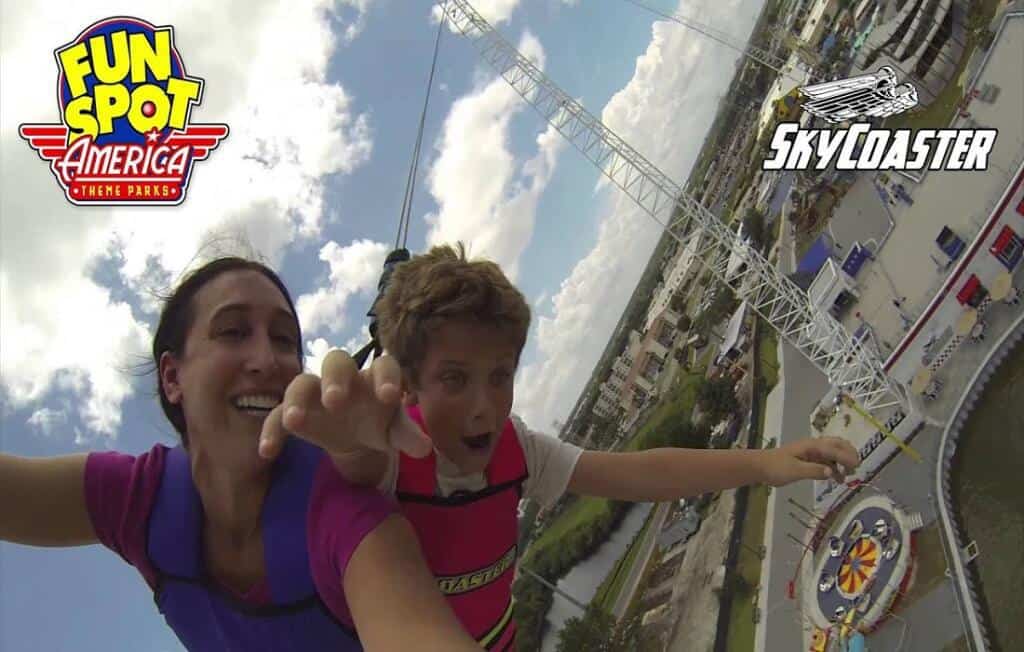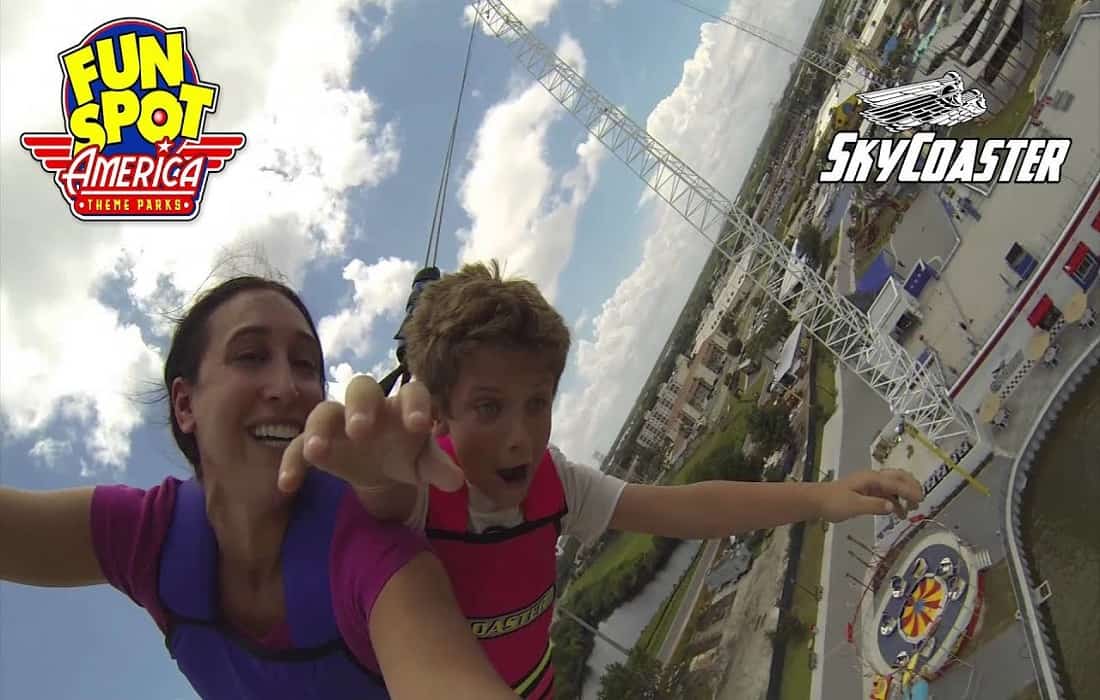 Image Courtesy of Fun Spot America
Skycoaster is not included with a single-day pass.
It costs:
$40 each for a single rider
$35 each for double riders
$30 each for triple riders.
You can add it for $20 each with the purchase of a single-day pass!
Enterprise – If you've ever been to Alton Towers in England, you know all about this one! No seatbelts, straps, or restraints as you go upside down in a circular motion.
Headrush 360 – You need to enjoy being an upside for this one! A tall barrel will twist and turn you in every direction while you are upside down.
Sky Hawk – A 90-foot-tall swing ride that gives you a great view of Orlando.
Fairground Style Attractions
Hang Time – The concept here is who can hang long enough to win the prize! You can play solo or against a competitor.
Roll-A Ball – As the name implies, roll a ball in a race to see who can move the most balls into the triangle holes.
Orlando Arcade Midway
Balloon Bust – Test your aim and see how many balloons you can pop!
Hot Shot – Think you're the best basketball player around? Test your skills at Hot Shot and see if you can make one in the hoop!
Water Gun Fun – Race against your friends to see who can get their character to the top first!
Kiddie High Striker – Slam the hammer with all you might as you try to ring the bell at the top!
Orlando Arcade
No attraction or theme park in Florida does not host a traditional arcade. Fun Spot Orlando is no different. Fun Spot in Orlando has an impressive 10,000-square-foot arcade with games for everyone!
Children's Rides
Fun Spot is popular with families, so there's plenty on offer for younger kids. If you've got little children with you, you can take them on many different rides.
Funhouse – An American-themed 3-story Funhouse that is great for adults and kids alike. It's even more special at night.
Carousel – An amusement park classic, kids can ride a stationary horse that goes around in a circle.
Frog Hopper is like a smaller version of a Doctor Doom ride where you reach the top and hop up and down.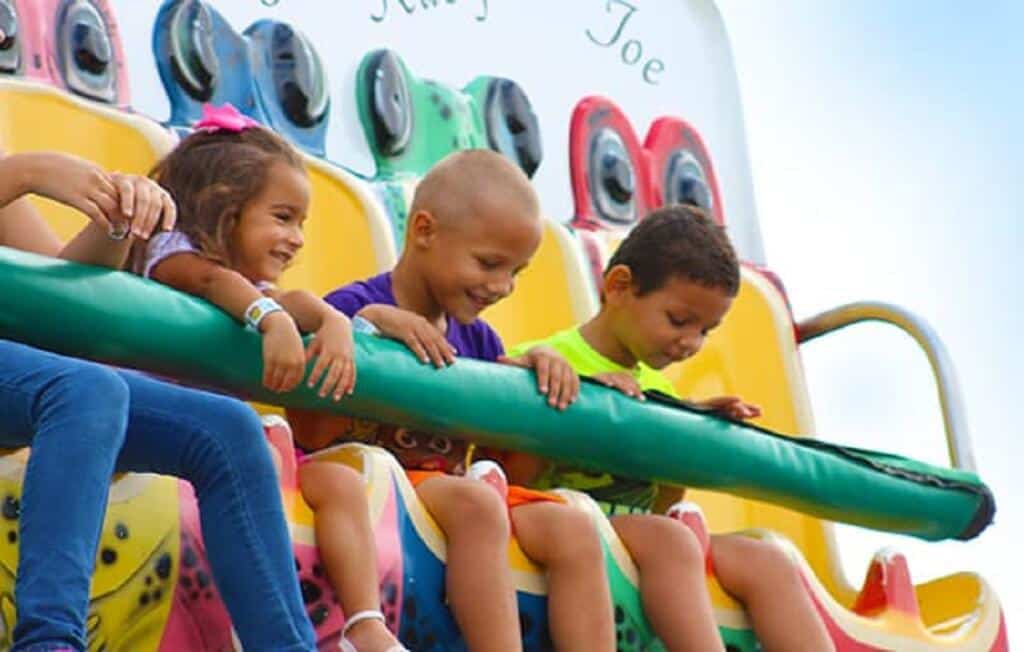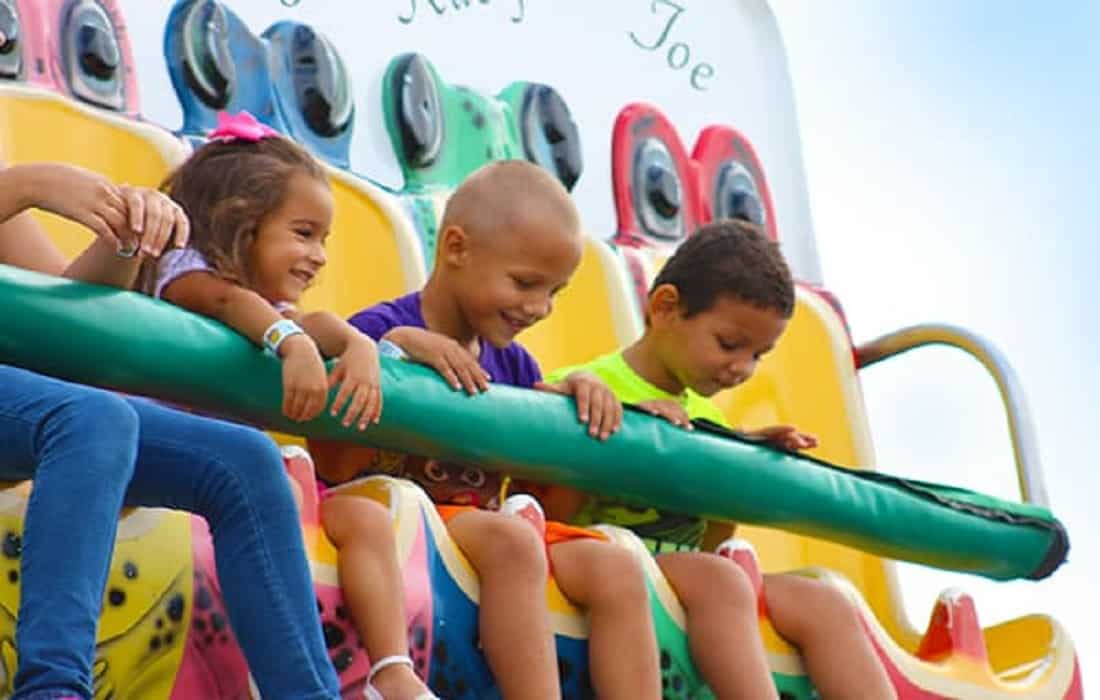 Image Courtesy of Fun Spot America
Happy Swing – A giant one-piece swing that you sit on horizontally; it gains speed as you gain height.
Fun Slide – Climb to the top and ride down in a traditional sack. You can even race against two other people!
Sea Serpent – A little roller coaster designed especially for kids with gentle turns and dips.
Kiddie Swings – Enjoy this ride in your chair. The chairs swing up and around as it picks up speed.
Super Trucks – Kids can turn wheels and honk horns as the trucks make them away around the track.
Teacups – Another classic that everyone loves is teacups. Spin yourselves around and round in giant teacups!
Family Rides
Ferris Wheel – No fair or theme park is complete without a Ferris wheel. Enjoy a slow relaxing view of the park.
Screamer – List like the Frog Hopper only for older kids rides where you reach the top and hop up and down.
Bumper Boats – Here is your chance to cool off and get wet! These bumper boats float on water and have guns so that you can soak the others riding or those watching.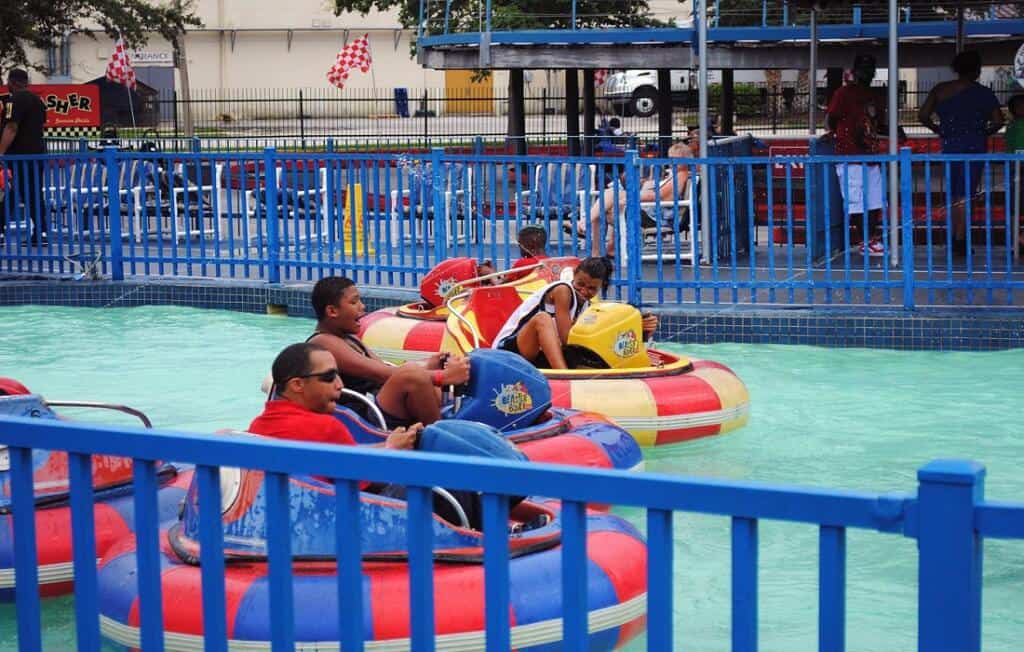 Image Courtesy of Fun Spot America
Bumper Kars – No different than a fairground, these are the classic bumper cars that allow you to crash into others.
Tilt-A-Whirl – Hang on tight as the whole floor spins and each car! You won't know when you're spinning next!
Scramblur – Get ready to get scrambled on a ride that turns clockwise and counterclockwise at the same time.
Go-Carts
Fun Spot Orlando has four multilevel tracks for you to enjoy.
Red Track – Thrasher
Yellow Track – Quad Helix
Commander – Green Track
Conquest – Blue Track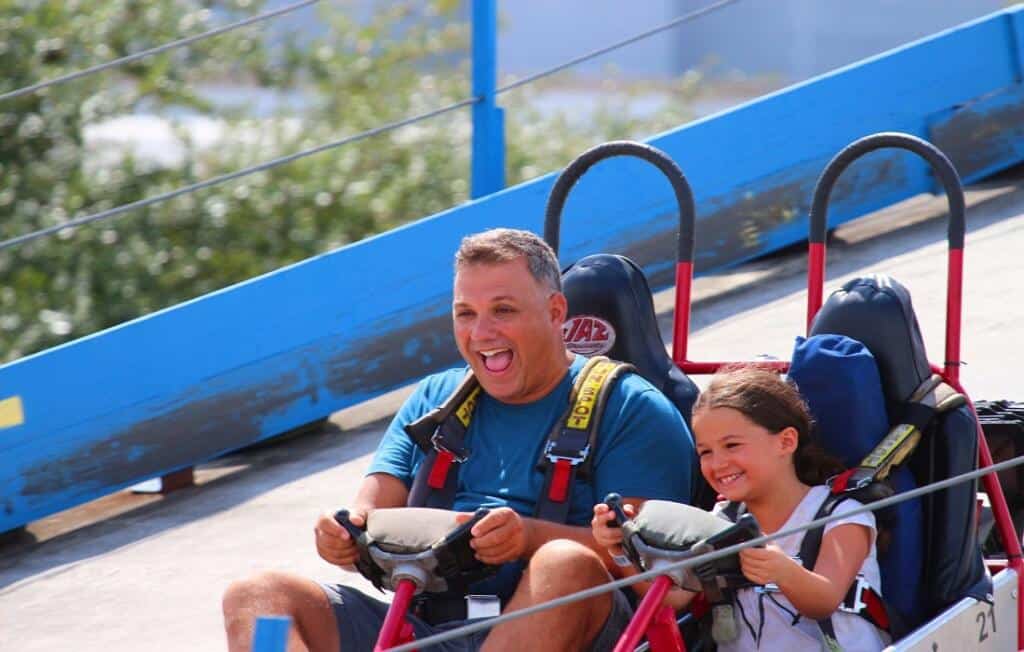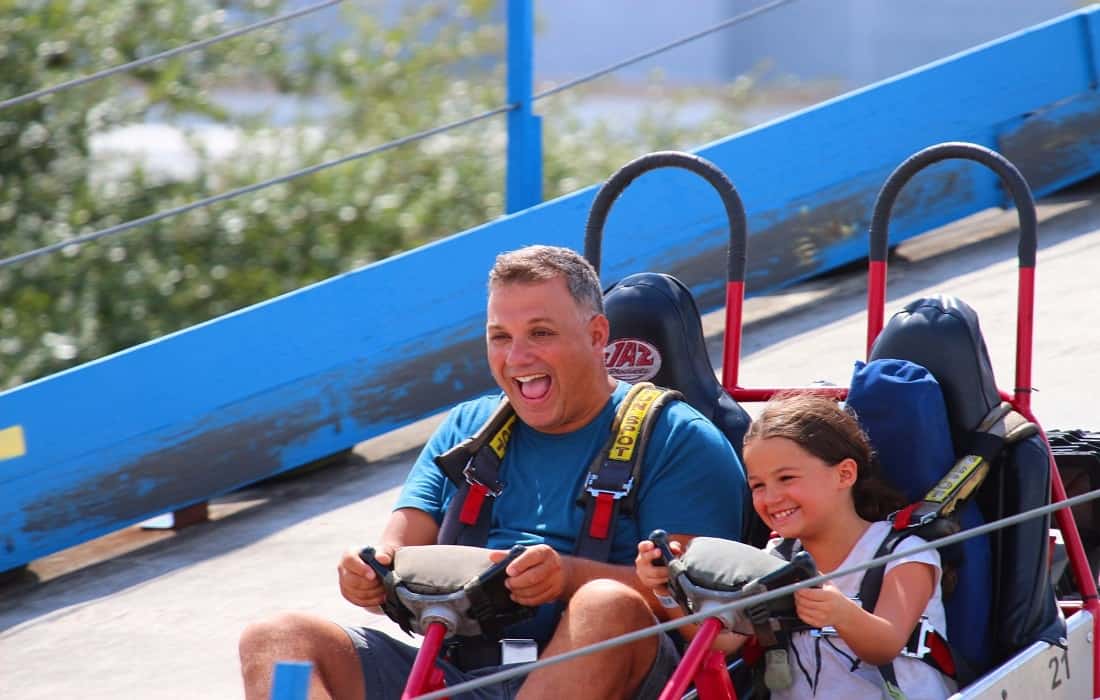 Image Courtesy of Fun Spot America
Note: The price of daily admission is worth the go carts alone! If you pay as you go it's $10 a ride per adult and $5 per child. A day pass is only $45!
Birthday Parties at Fun Spot
Parents are always looking for a place to host a party. I've already told you why I think Fun Spot Orlando should be on your list. However, if you need a venue to celebrate, then Fun Spot is a brilliant choice!
There are several affordable packages to choose from:
Unlimited Armband Party Package – Approx. $300
Arcade Party Package – Approx. $110
The Ultimate Party Package – Approx. $390
Gator Spot
I bet you didn't know that Fun Spot Orlando has a gator exhibit. Well, they do. Partnering up with Gatorland – this is an opportunity for you to get up and close with alligators.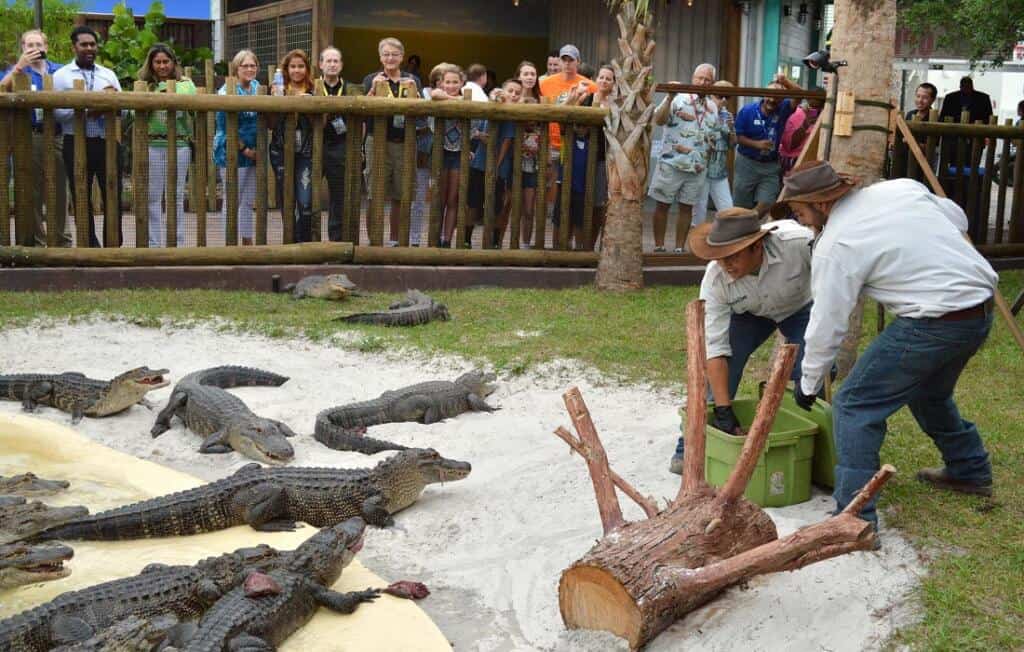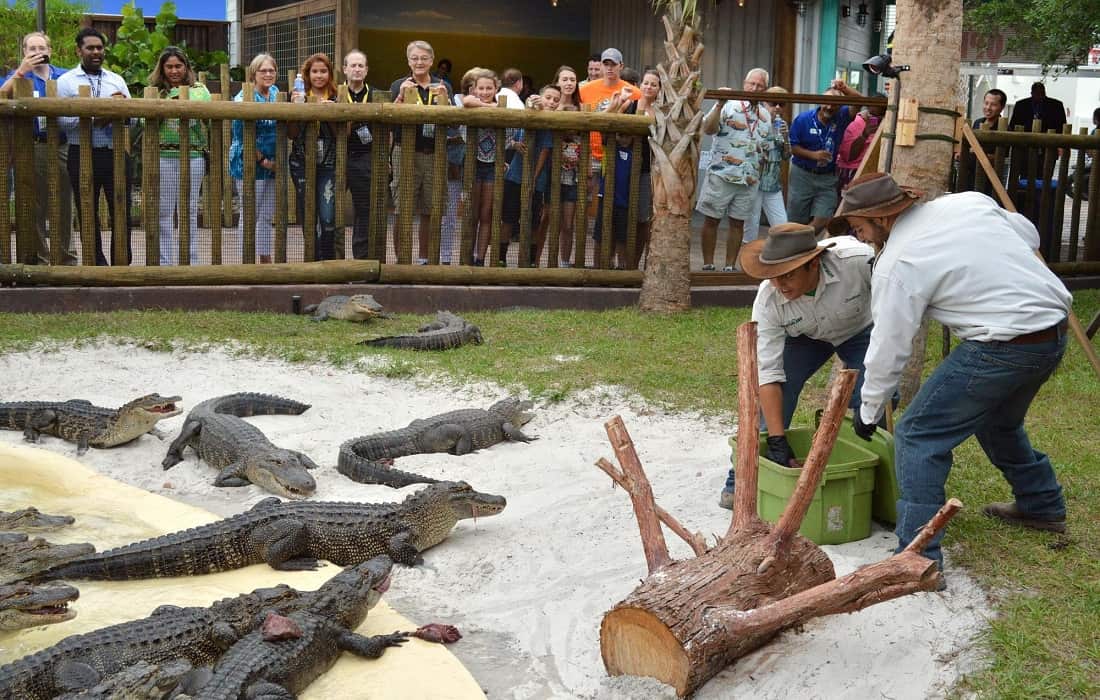 Image Courtesy of Fun Spot America
Gator Spot is included in your Single Day Pass or $6.00 to visit Gator Spot only.
Splash Pad
You know it's boiling in Florida. What better way to cool off than at this state-of-the-art Splash Pad? The Splash Pad includes slip-resistant soft flooring, interactive water toys, and spraying elements.
Splash Pad is included in your Single Day Pass, or $5.00 to visit Splash Pad only.
Note: There isn't a formal changing room but there are restrooms and a family restroom nearby.
Cabana Rentals
Enjoy the shade, privacy, and convenience of having your private cabana for the day. Relax and rest anytime during your visit while enjoying the rides, thrills, and attractions Fun Spot offers.
Rental includes
Four chairs and a table w/1 lounger (Fun Spot doesn't upcharge for extra family/friends to be there)
The refrigerator stocked with six cold water bottles
Ceiling fan with light
Fun Spot Kissimmee
Opening in 2007, Fun Spot Kissimmee is the same concept as Orlando but has different rides and attractions.
I've visited both parks. Both are fantastic value for money, but Orlando is my personal favorite.
Food And Drinks
Recall that I said you could plant yourself anywhere and enjoy a drink while the kids play. Well, Orlando Fun Spot has a full bar with tons of specials. Enjoy a frozen drink or a beer – they have something for everyone.
The food hall serves all the classic American favorites you would expect, like pizza, wings, hot dogs, and chicken nuggets. They have a section of salads and healthy options for those watching their calories.
And, as with everything else, it's affordable!
FAQs
Closing Thoughts
Arguably, there's no place better value for money than Fun Spot in Orlando. A theme park where you can spend days and still not tire of the attractions.
If you are still not convinced, I have two other reasons for you to give it a shot. Fun Spot supports the Pet Alliance of Central Florida. They host adoption days and do food collections. You all know I love furballs, so this is close to my heart.
Secondly, Fun Spot pays their staff more than Disney! This speaks volumes considering that Disney ups their prices annually yet does not up employee pay.
Looking for more posts on things to do in Florida? Start here:
We participate in the Amazon Services LLC Associates Program, an affiliate advertising program designed to provide a means for us to earn fees by linking to Amazon.com and affiliated sites.
Contributing Author:
For most of his life, Jeremy Ambrose has been an expert travel blogger in Los Angeles, California. He works as a writer at the essay writing service. Hugely passionate about American culture and heritage and an avid traveler. He often writes for travel websites, gaming sites like Mr. Bet Casino, and all things entertainment.
Subscribe to our newsletter and get the best travel tips and inspirational stories delivered monthly. No spam, no sales pitches – TRAVEL!
Brit On The Move™ Travel Resources
Ready to book your next trip? Use these resources that work:
Need more help planning your trip? Check out our Resources Page, highlighting the great companies we trust when traveling.