Have you ever dreamed of a working holiday in Canada? Lots of people fantasize about this experience. Many have considered this, but how do you go about getting a visa to work in Canada?
In this series, I interview those that have taken the plunge, followed their calling, and worked or volunteered abroad.
This post may contain affiliate links. Please read our disclosure and privacy policy for more information.
About Neil McArdle
Neil is not an ordinary young man. Far from it. This fellow Brit is from Wigan, England. He is an adventure junkie, an adrenaline addict, and someone who will try anything in his quest to experience all the world has to offer.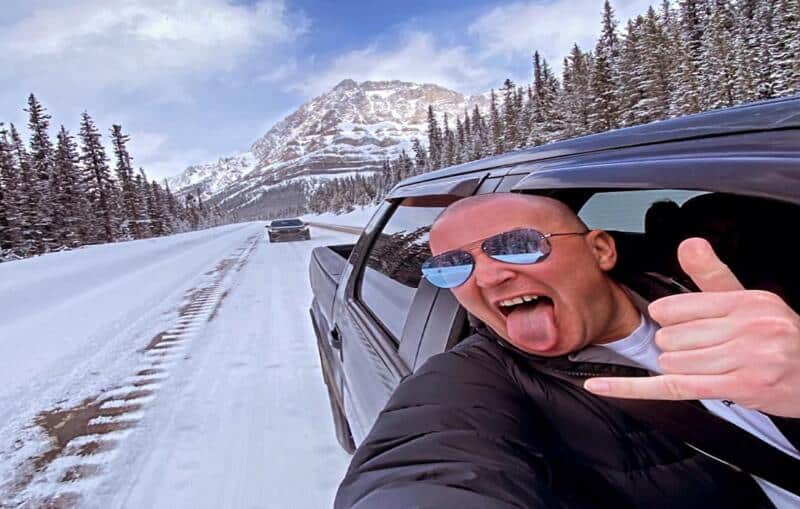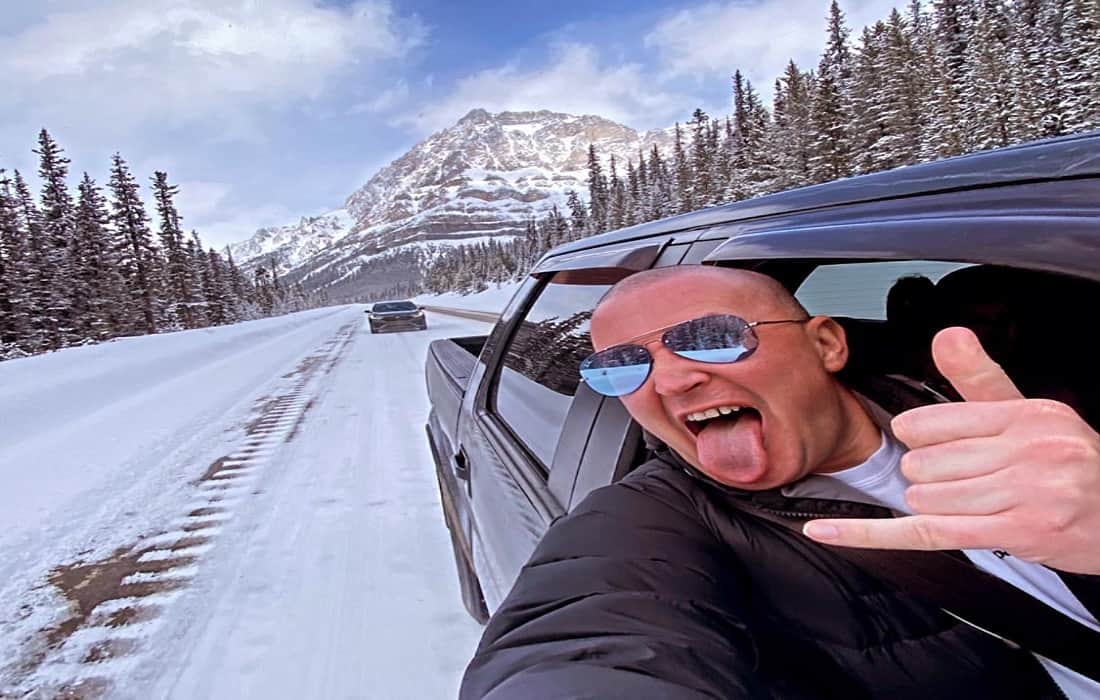 I think the best way for you to get acquainted with Neil is for me to kick this off with the funniest story I have heard in years. Remember I said he would try anything? Well, this includes bungee jumping in Cairns! You know how it goes. We all want to check off those daredevil stunts.
I asked Neil if he enjoyed the bungee jump. This was his spitfire response:
"No, it was horrible. And they meet you in the water on a dingy and put a GoPro in your face as your trying to get yourself together. They ask you if you enjoyed it. I said No, it was horrible – awful actually."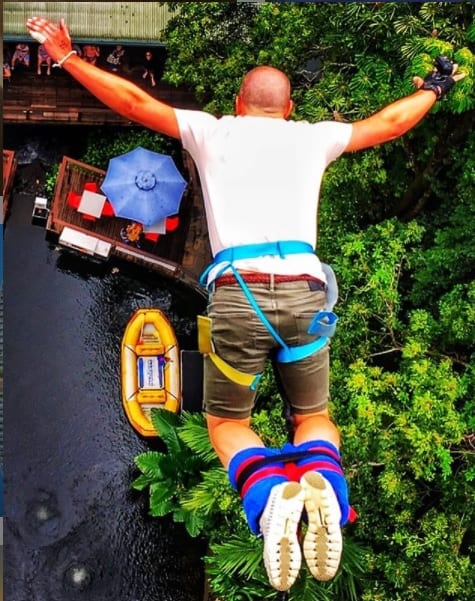 I laughed so hard at this, and I am still laughing as I write this! We have all paid for torture at some point in our lives under the guise of thrill-seeking. But paying over $150 to throw yourself off a bridge only to hate it tickled me. As you can see, Neil is a daredevil, but he will tell you how it is without hesitation.
So, let us dive in and hear all about his experience moving to Jasper, Canada, for a working holiday.
What motivated you or inspired you to take a working holiday?
In 2019 the company that I worked at for fourteen years offered me redundancy or another position. I was in the plumbing industry, and I did not particularly enjoy it. It was a means to an end.
I knew that I would have financial security for a few months if I took the redundancy package. This security would allow me to pursue other passions. For me, this was travel and photography.
So how did you figure out how to embark on a working holiday?
I started doing some research on working holidays and hit a dead end. Many positions required a degree, or the country had complicated visa requirements. Add to this, and many working holidays have age restrictions – they tend to be aimed at the under thirty crowd.
My aunt told me about a company she had found specializing in working holidays abroad for those over thirty. I contacted them, and they said that the International Experience Canada (IEC) visa pool was open. I applied as soon as I got home.
Note: The company the Neil started his process with did not follow through and he lost his initial deposit.
What is The IEC Program Canada?
International Experience Canada (IEC) is a visa for working in Canada. The IEC program also covers "working holidays." Often referred to as a work permit, it provides young people from around the world with the opportunity to travel and work in Canada. The IEC Programs intend to allow young adults to enter Canada to gain significant experience and knowledge of Canada.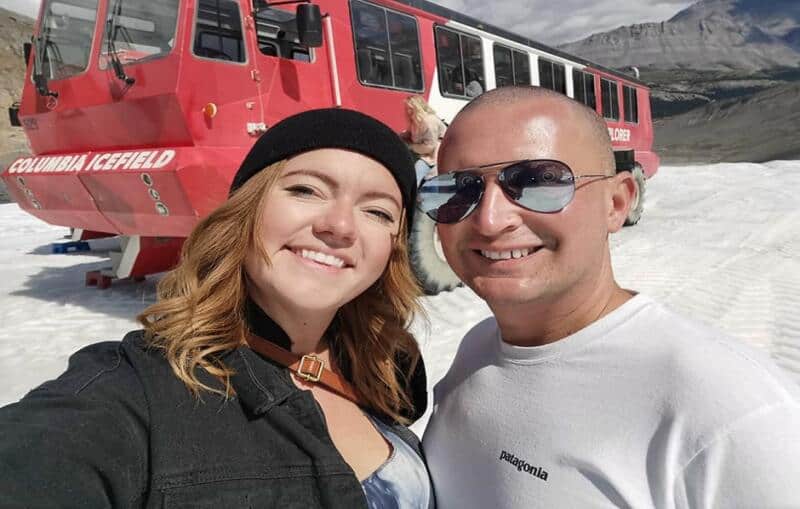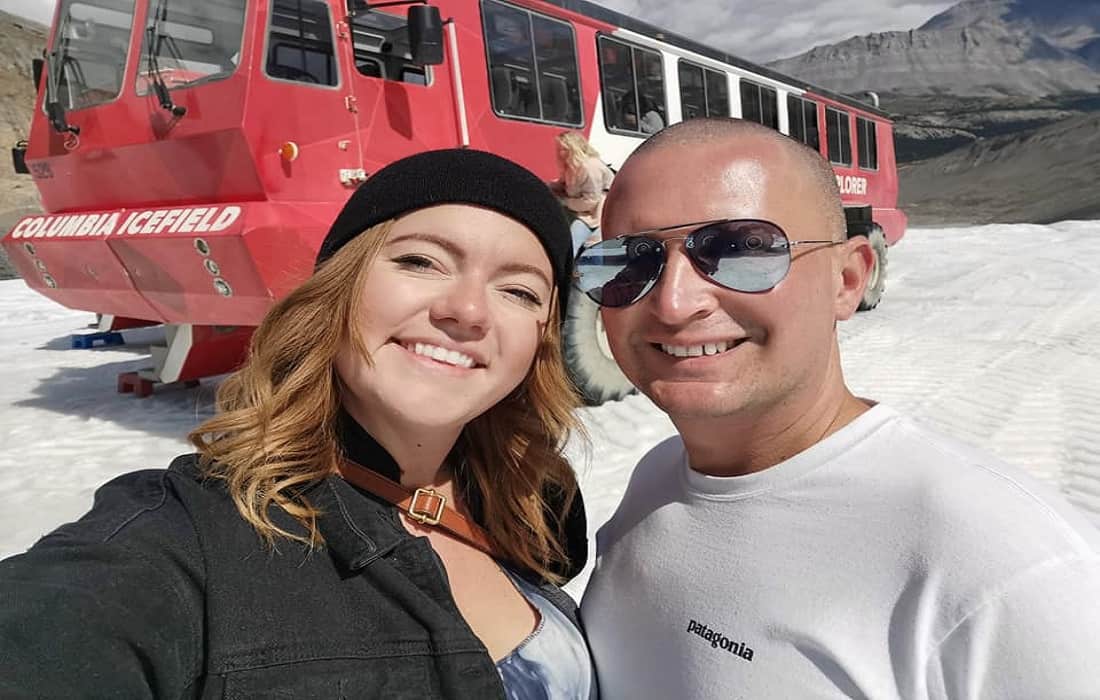 Why did you decide on Canada?
Ideally, I would have loved to work in Australia. However, once you hit thirty, working visas are harder to get. I had two options:
New Zealand for one year
Canada for two years
I chose Canada.
I would have loved to work in Australia in a perfect world as it is my favorite county. However, they do not have a program for people like me.
What happened next?
I managed to get my port of entry letter issued within a month.
What is a Port of Entry Letter?
If your application is approved, you will receive an approval letter. This letter, "The Port of Entry Letter," states that you can work in Canada. Following this, I submitted a background check. Then, I traveled to London to get my biometrics.
Where is Biometrics?
Biometrics is the measurement and statistical analysis of people's unique physical and behavioral characteristics. In the context of travel visas or traveling overseas, it is typically fingerprints and a photograph. However, every country has its requirements.
Once the biometrics were submitted and my approval granted, I had one year to enter Canada. Given I had a year, I decided to travel around the world for six months. I went to India, Bali, Thailand, The Philippines, Lao, New Zealand, and Australia – to name a few!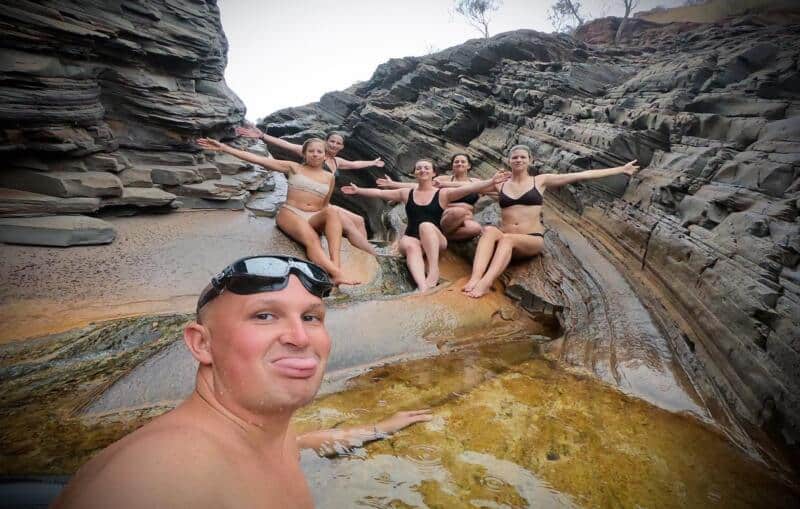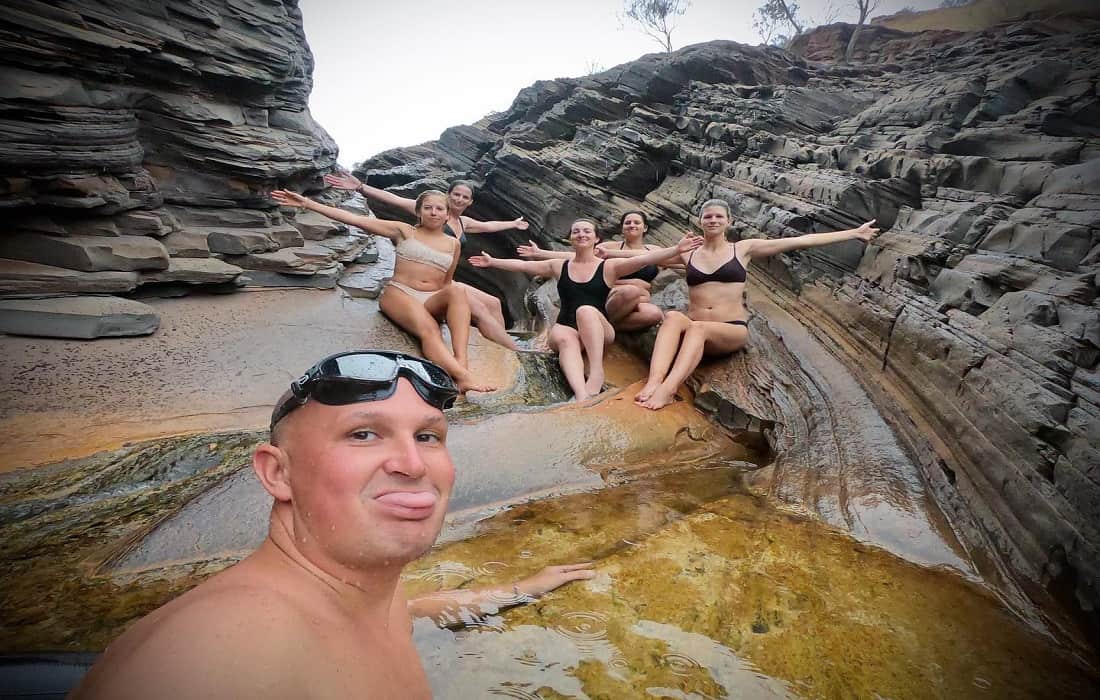 When I returned ready to travel to Canada, I discovered that the company I was working with had gone out of business – or seemed to have. They were unresponsive, and I ran into issues.
Note: While this company claimed to be out of business, they are still in business to this day! So, beware and learn from Neils experience.
How did you react to this company going out of business?
I was devastated and thought I had lost everything, including my chance to live and work in Canada.
I thought my dream was over.
The Pandemic further complicated my dream. Covid hit, and travel seemed all but impossible. I tried to claim the loss on my credit card, but I could not because the company had helped me secure my visa. In other words, they had provided some services. My entry date for Canada was coming up, and I had to apply for an extension to my visa. Canada granted me a 6-month extension due to Covid-19 and not being able to travel.
How did you hear about Global Work & Travel?
I saw an advertisement on Instagram for Global Work & Travel offering a similar service. I contacted Global Work & Travel and explained that I already had my visa approved and extended for work in Canada. They were able to help me immediately.
They are so productive and responsive. As soon as I signed up, my travel coordinator Eimear was assigned. We did a Zoom call that same week. She was fantastic! She eliminated any fears I had and took me under her wing. Eimear was fundamental to experience traveling to Canada; she was the best part of my experience with Global Work & Travel.
I was relieved, and I knew that my dream was going to come true. We set a date for me to enter Canada. This was a critical step because the extension I was granted ended on March 31st.
GET $50 Off or 50 quid Off with this exclusive code: BRITMOVES50
Securing employment in Canada
Eimear found me two opportunities for a working holiday. One was a Bellman position at Buffalo Mountain Lodge in Banff. The other was at Jasper Skytram. I interviewed via Skype with Skytram, which went well. I was then offered the position of shift leader at Jasper Skytram.
What did the booking process entail?
Once I accepted the working holiday position with Skytram, I only had twelve days to plan it all. The first challenge was arranging a place to complete the fourteen days quarantine. I did this in an Airbnb, and this is at your own expense.
Then I had to secure flights. Normally, this would be simple. Yet, it was complicated to arrange as so many carriers canceled international flights. I eventually found a flight with Air Canada from Heathrow to Vancouver.
Eimear then arranged a final Zoom call with me before I left. We did a last-minute check to make sure I had everything I needed.
I then booked the PCR Covid-19 test, and I needed a new Electronic Travel Authorization (eTA). My passport was expiring in November, and you need your passport to be valid for at least two years for the visa. I got my new passport but was still waiting on my old one linked to my ticket. Luckily, it came within a day to spare but did take about four weeks to arrive.
When did you travel?
I booked the flight to leave on February 8th, 2020.
How did you arrange travel insurance?
Given that I would be overseas for two years, I needed a special kind of travel insurance. I found insurance through True Traveler. However, I was later able to get insurance through Skytram.
About Jasper, Canada
Jasper is considered an alpine town located in the Alberta province in the Canadian Rockies. Famous for Whistlers Mountain, this National Park has lakes, forests, and rivers to explore.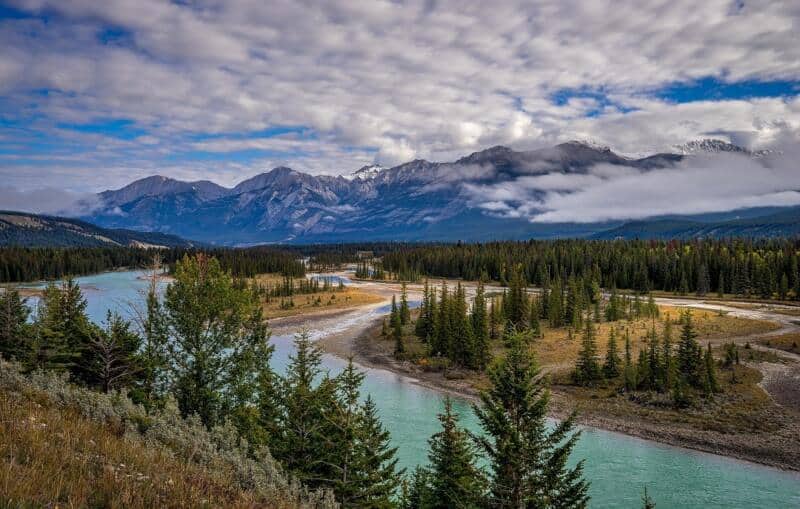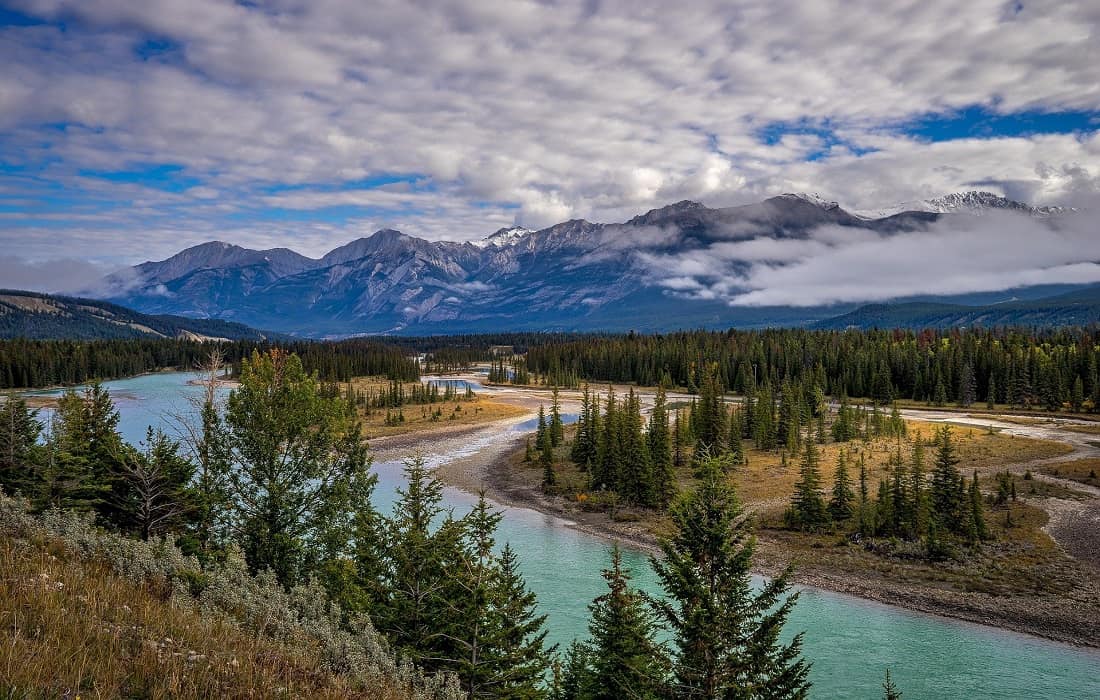 What are some of your responsibilities at Skytram in Jasper?
I had a variety of different roles during my working holiday. My primary role is shift leader. But I do everything from checking people into staffing the upper or lower stations. I've also learned to be a tram guide.
How many days and hours do you work?
I typically work five days a week. The schedule varies. I might work two days or two days off. Or three on and two out.
During the Star season in Jasper, I work night shifts.
What are the staff accommodations like?
They are a bit like student accommodations and not very homely. However, you can easily make them comfortable with some inexpensive accessories. They are affordable at around seventeen Canadian dollars a day – much less than you would pay anywhere else. I am in a five-bed two-bathroom house. I have a whole room to myself. It is in the basement of the shared house. I appreciated this because I am in my thirties. I would have shared, but I prefer having my privacy.
Note: Not sharing a room is not guaranteed.

GET $50 Off or 50 quid Off with this exclusive code: BRITMOVES50
And, if you want to book your own accommodations check out this guide: Where to Stay: A Guide to Accommodations in Jasper
What are some of the excursions you can participate in during your free time?
Skytram offers an Ambassador Program for staff. It's a bit like a coupon book, but it gives you tons of vouchers for things to do.
Some examples are:
Columbia Icefield
Athabasca Glacier, the longest river through Alberta
Fairmount Jasper Park Lodge
The Jasper Planetarium
Free canoe or kayak rentals in different parks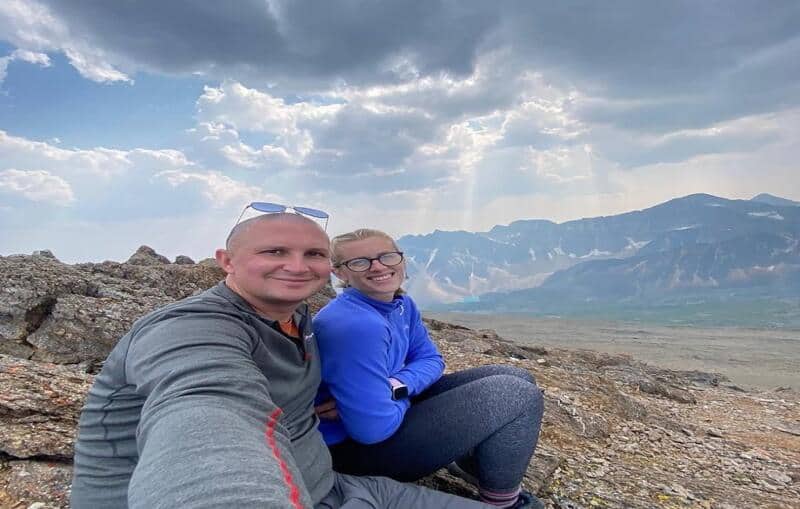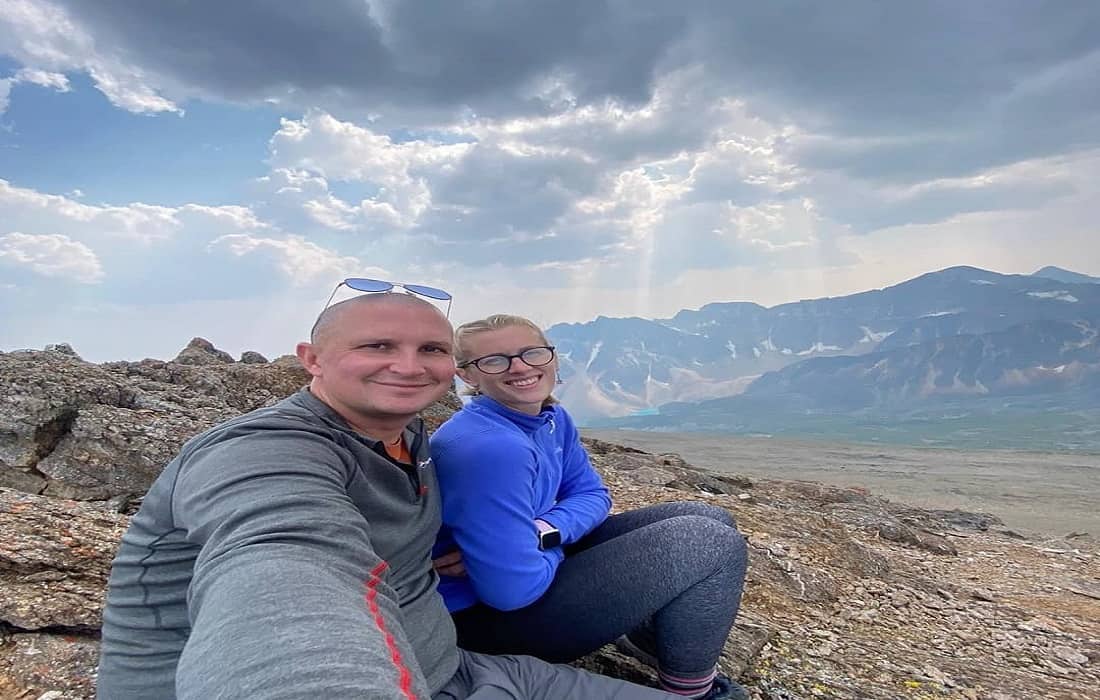 You get unlimited access to the Fairmount Jasper Park Lodge. This is great because you can use the spa and outdoor heated pool.
We also visited Calgary, Banff, Pyramid Mountain, and numerous other National Parks.
Did you have any challenges while in Canada?
The only thing I can think of is that due to the Pandemic, you must worry about Covid. And there is no travel insurance for COVID.
Also, if you travel, you must take the PCR test, and if you test positive, you will lose a ton of money.
What is the COVID-19 PCR diagnostic test?
PCR test: Stands for polymerase chain reaction test. This diagnostic test determines if you are infected by analyzing a sample to see if it contains genetic material from the virus.
What is your favorite memory from your trip?
I love being outdoors, hiking, and climbing mountains. It is such an achievement to get to the top of a mountain. I compete with myself; I like to tackle all the mountains and cross them off my list.
When you climb a mountain, it is difficult. It is not like skydiving or paragliding where you have someone else to rely on. You are on your own. Boulders move, weather conditions change, and there is always the fear of falling off the mountain.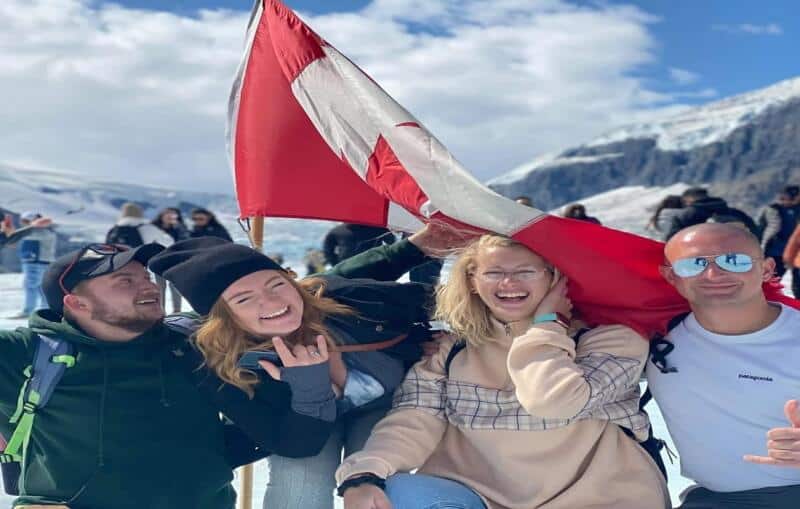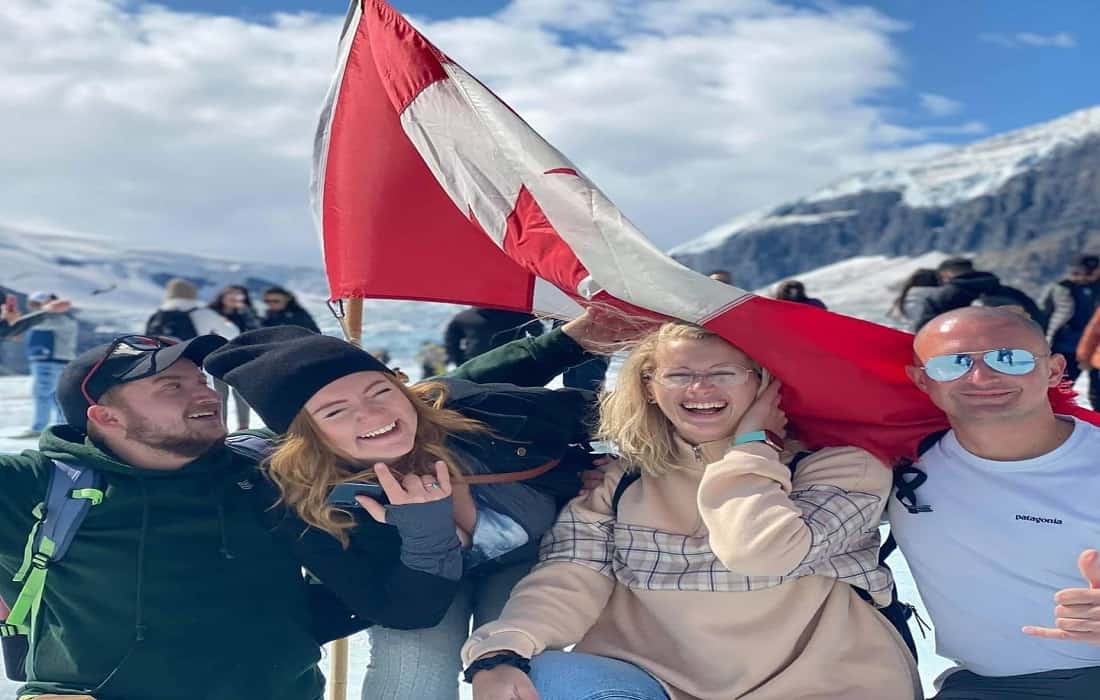 What is your least favorite memory from your trip?
I enjoyed everything; it has been a fantastic journey.
Suppose I had to think of one less than an ideal thing, not having a car. It can be challenging to get around without a car. My friend and I have just invested in a vehicle that will allow us to travel more while here.
There was also some drama with the younger crowd. They all go out and booze it up. You know how that is with a group of young people that get drunk. It was nothing major but not my scene. As a mature adult, I am not into this. I have been there and done that. I like to wake up without a hangover and spend my day outdoors. Lastly, I met my girlfriend on this working holiday. She's from Stoke on Trent in England. I came all the way to Canada to meet a girl from down the street!
What did you learn on your journey?
Before moving to Canada, I was living with my parents. While I had lived on my own before with a partner, I was ready to live solo again.
I learned that I could live, work, and support myself. I am not into material things anymore. Back home in England, I used to have tons of clothes and keep up with the latest trends. Now, I am happy with just a few t-shirts and some good sneakers.
Where in Canada can you work?
Once you've started working with Global Work & Travel and know how to get a visa for working in Canada, it's simple. You can get an entry to the mid-level job in a variety of fields:
Hospitality
Tourism
Ski Resorts
Summer Resorts
Summer Camps
Hotels & Lodges
Labor & Construction
Sales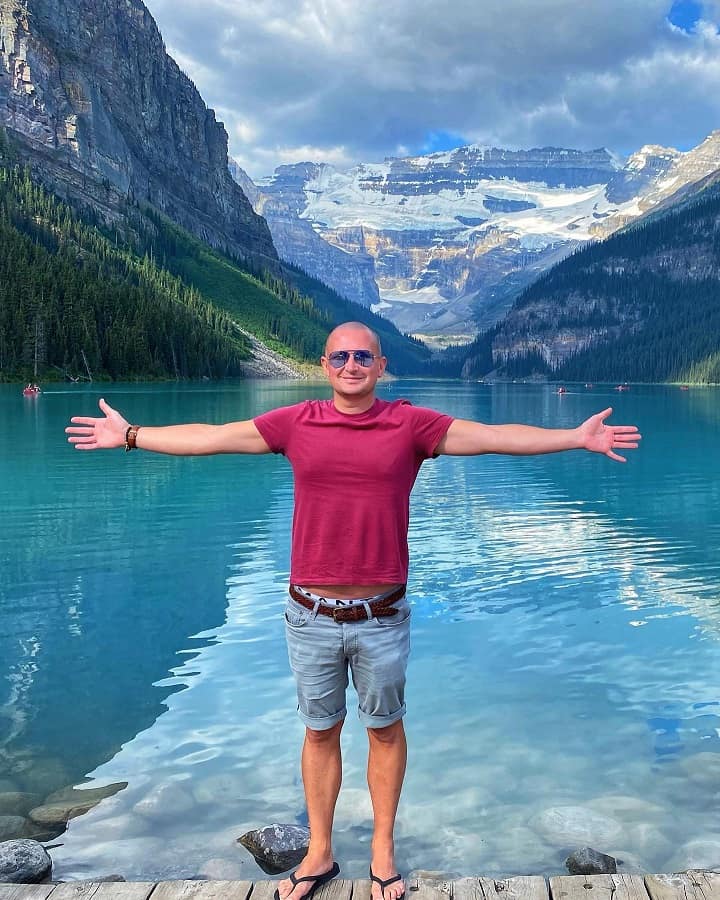 From seaside towns on the east coast to world-renowned mountain resorts in the west and bustling cities in between, you could find yourself working in any of these destinations:
Vancouver
Whistler
Sun Peaks
Tofino
Revelstoke
Fernie
Calgary
Lake Louise
Banff
Jasper
Toronto
GET $50 Off or 50 quid Off with this exclusive code: BRITMOVES50
Do you think the experience was value for money?
Yes, I do, but you must be careful which company you pick. My first experience was terrible. My second with Global Work & Travel was great.
It's not cheap, but it's worth it. Knowing that you have a company working for you and helping you make your dreams come true is crucial.
Would you consider another working vacation?
In a heartbeat! I plan to apply for permanent residence here in Canada. If that does not work out, I will hit the road to travel. I have no intentions of going home.
What advice would you give to someone like you who is thinking of booking a working vacation?
Research the Covid guidelines and understand what you need to do to enter the country. Canada requires that you test 72 hours before your flight into Canada. And by flight into Canada, they mean the last leg. For example, if you connect via the US, you will need to take a test in the US.
Understand what the weather will be like. It's crucial for picking the proper clothing.
Consider buying a car. You have access to the company vehicles, and you can rent cars. However, rentals are not guaranteed, which makes it challenging to plan.
I wish I had done this sooner, so don't wait. The longer you wait, the more limited the opportunities become.
Keep a list of who you talked to throughout the process.
Log all of your travel arrangements in an App. I used ArriveCAN, a Canadian app that keeps track of what you need. An ArriveCAN receipt shows that you've successfully provided your information.
If you are interested in following Neil's travels, you'll find him here: Instagram or here on Facebook.
Closing Thoughts
We just learned about Neil's experience. I do not know about you, but I am jealous! If you are considering a working or volunteer vacation, what questions do you have? Most importantly, where do you want to go? Drop your comments below!
If you are still not convinced, learn from actual travelers that have taken trips with Global Work & Travel:
Read firsthand about their experiences!
Want to Study Abroad?
We participate in the Amazon Services LLC Associates Program, an affiliate advertising program designed to provide a means for us to earn fees by linking to Amazon.com and affiliated sites.
Brit On The Move™ Travel Resources
Ready to book your next trip? Use these resources that work:
Need more help planning your trip? Check out our Resources Page, highlighting the great companies we trust when traveling.