Like Willy Wonka is to Charlie, The Toothsome Chocolate Emporium is a dessert foundry of tranquility for anyone. H-A-K-U-N-A M-A-T-A-T-A. Yeah, you hear it right. Regarding weekends, I worry less about my calorie intake and more about which delightful toothsome delight I will devour. And, with my profuse experience, I will enlighten you with the lesser-known facts about The Toothsome Chocolate Emporium & Savory Feast Kitchen.
H-A-K-U-N-A M-A-T-A-T-A means: "no trouble" or "no worries" or "take it easy".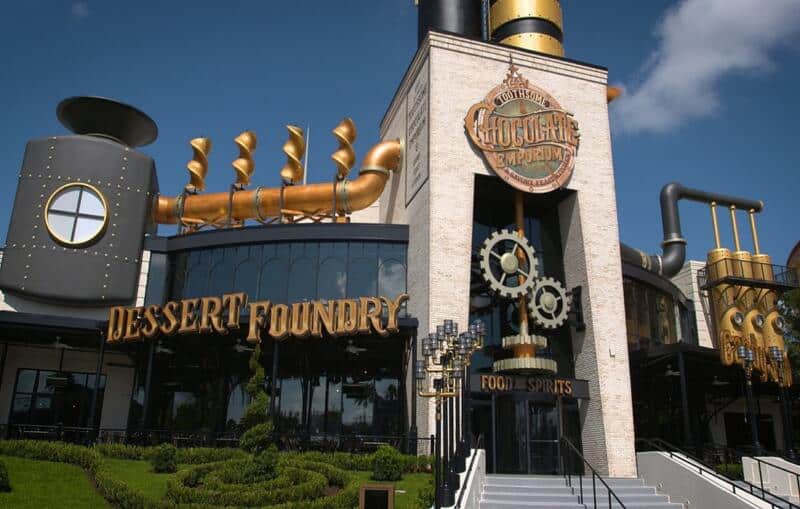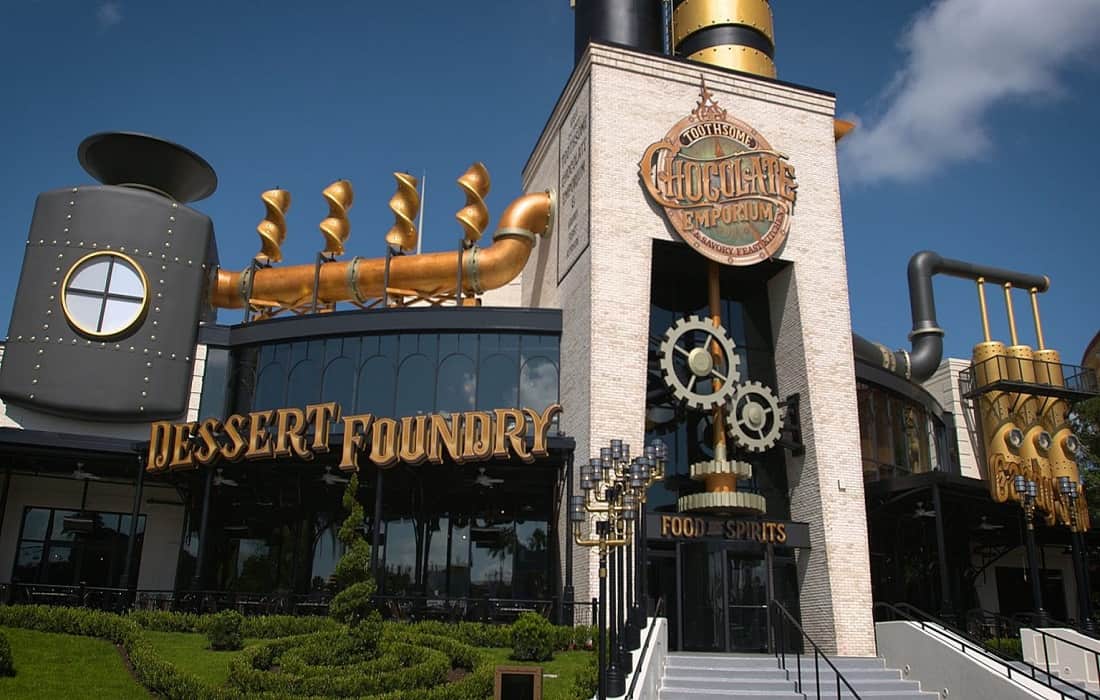 Photo Credit: Universal Orlando Resort
This post may contain affiliate links. Please read our disclosure and privacy policy for more information.
About The Toothsome Chocolate Emporium & Savory Feast Kitchen
Whenever we visit Walt Disney World or Universal Studio's Orlando, we always make a point to try a new restaurant. The Toothsome Chocolate Emporium & Savory Feast Kitchen has been on our list of places to try. I'm glad we waited for the initial hype to die, as we got a table after a short wait.
So what's all the fuss about, and what makes this place unique?
Opening in September of 2016, this restaurant is a must for anyone with a sweet tooth. And while the restaurant has a full menu, it's fair to say that the milkshakes and sweets offer to make this a one-of-a-kind experience. Couple the delicious desserts on offer with the Steampunk theme, and you'll experience a dining experience like no other.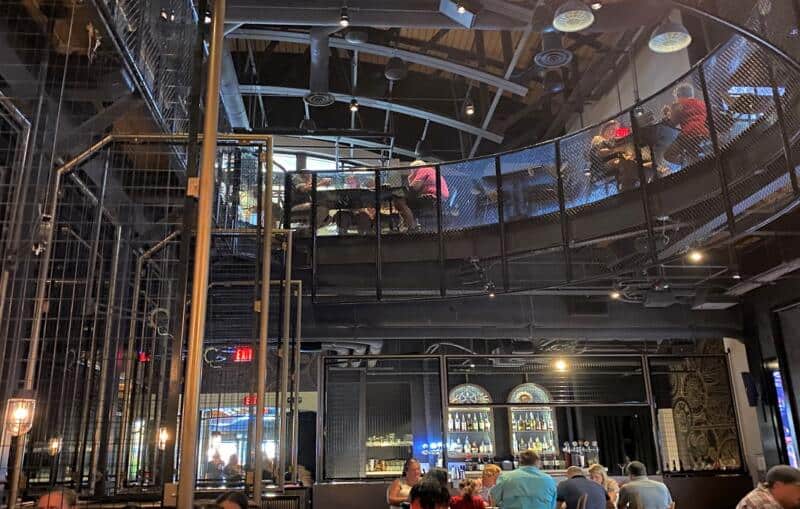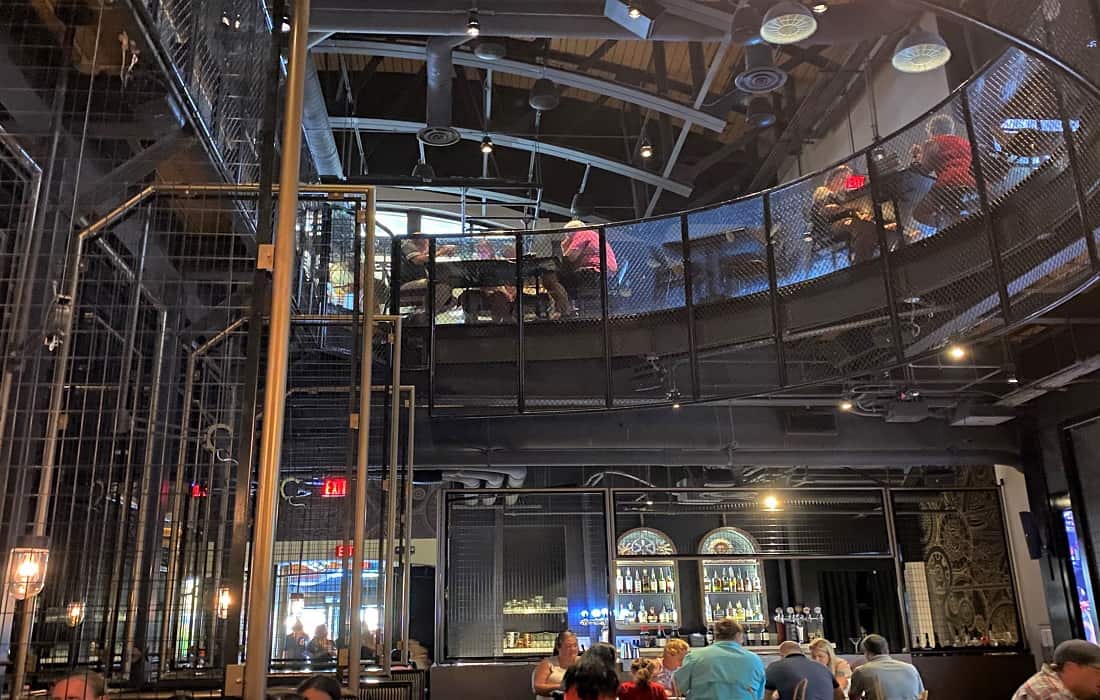 The Toothsome Chocolate Emporium is complete with two-level dining, a gift shop, and a dessert bar. It features a menu with a wide variety of dishes – from all-day brunch crepes and quiches to unique takes on classic steak, seafood, and pasta entrees, gourmet burgers, sandwiches, salads, and more.
You will be amazed to see the giant steampunk building with a working smoke pipe that blows off steam when you arrive. Once you enter, you will find that the peculiar aesthetic and gastronomic cuisines brilliantly enhance the dining experience.
The delightfully quirky world of chocolaty wonder with gadgets and gizmos is a crowd-pleaser, and it's one of a kind.
The 19th Century Steampunk Theme
K. W. Jeter, the author of the novel Morlock Night, coined the term "Steampunk" in 1987. For Jeter, Steampunk implies speculative fiction in steam vs. electricity, but it's since been adopted. Now, commonly used to describe a movement that is artistic and cultural.
From the gold and black touches, the two-story screen to the beaming interior. Toothsome Chocolate Emporium and Savory Feast Kitchen have a fully fledged 19th-century steampunk vibe. The walls are decorated with skulls, clocks, and books, and the staff is dressed as animated characters. One of the characters looks like Manolo Sanchez, which reminds me of the Andres Carne De Res cafe in Colombia.
Aside from the food, guests can meet Penelope Tibeaux-Tinker's toothsome, Jaques, and her robot friend.
Staff in SteamPunk Costumes
Penelope Toothsome and her robot companion Jacques created Toothsome as the world's best chocolate emporium in homage to her fellow adventurer parents. Penelope and Jacques walk around the restaurant, frequently posing for photos and interacting with guests.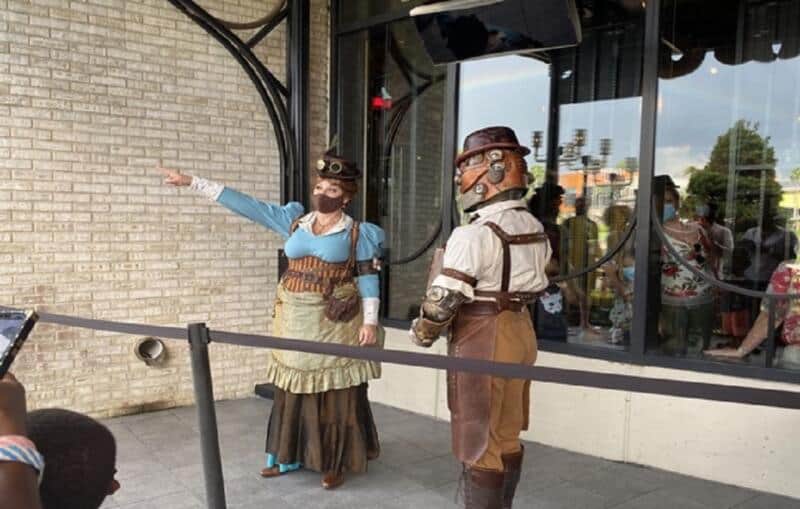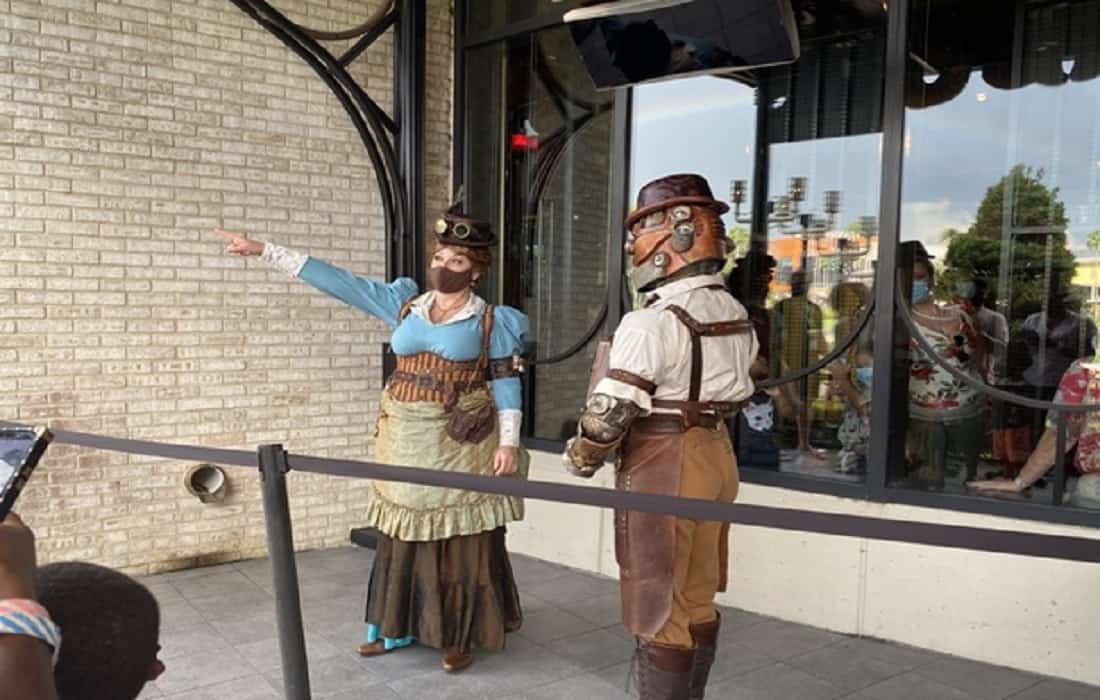 Best Time to Visit The Toothsome Chocolate Emporium
This is a loaded question because it all depends on how busy the parks are and the traffic volume at CityWalk.
I recommend you avoid weekends. Florida's theme parks are notoriously heaving over the weekends. And avoid any major holidays.
The best time to avoid any crowd is 11 AM when it opens. It is quiet at this time, and you're all but guaranteed to be seated.
Sweet-Tooth! Half-Truth
Don't mistake the word 'Chocolate' and expect it to be about chocolate gnocchi, chocolate wings, and chocolates everywhere. The Toothsome Chocolate Emporium has a full menu that offers delicious seafood and steak dishes and a wide. And the onsite gift shop offers hundreds of different types of sweets, including an impressive macaron collection.
We purchased several macarons:
A macaron is a French sweet meringue-based confection. The macaron is traditionally held to have been introduced in France by the Italian chef of queen Catherine de Medici during the Renaissance. They are trendy delicacies that melt in your mouth.
Where is Toothsome Chocolate Emporium Located?
At Universal CityWalk Orlando.
Toothsome Chocolate Emporium – Hours & Reservations
Monday and Tuesday 11:00 am – 12:00 am
Wednesday through Sunday, 11:00 am – 1:00 am
The Toothsome Chocolate Emporium Food Menu
As I mentioned before, the menu is not all chocolate. Choose from beef and mushroom crepe stuffed with spinach and bacon, onion and jam, topped with shredded brisket, and fried mushroom and mushroom sauce. Or, try the pork belly sliders and truffle fries. In the mood for a salad? Try the Waldorf chicken salad – you won't be disappointed! There are many dishes to choose from, and this colossal menu accommodates every taste.
The chefs at Toothsome Chocolate Emporium give personal attention to your dietary needs. You can inform the staff or the chef about food allergies or intolerances. The culinary team will make sure you don't come into contact with any food that may affect you.
If you are religious and need special accommodations, they provide a special Kosher menu to their guests. Kosher meals are made to order and require 72 hours of advance notice and a dining reservation.
The Toothsome Chocolate Emporium Milkshake Menu
Now for the fun part! We've talked about the food, the theme, and the gift shop. However, the real star attraction is the Milkshake collection. These are no ordinary milkshakes. They are a dessert in a glass, and they are massive! Their signature milkshakes are a must-try, and one can't afford to miss ordering them.
I think the milkshakes are the star attraction. They are so big you could have one as your meal, especially dining at lunch.
The Toothsome Chocolate Emporium milkshakes are achingly sweet and served in a souvenir mason jar. They are crowned with many fantastic yet absurd toppings like a cupcake, brownie, or lime pie.
Landon, aka the Monkey, chose the Cookie Jar: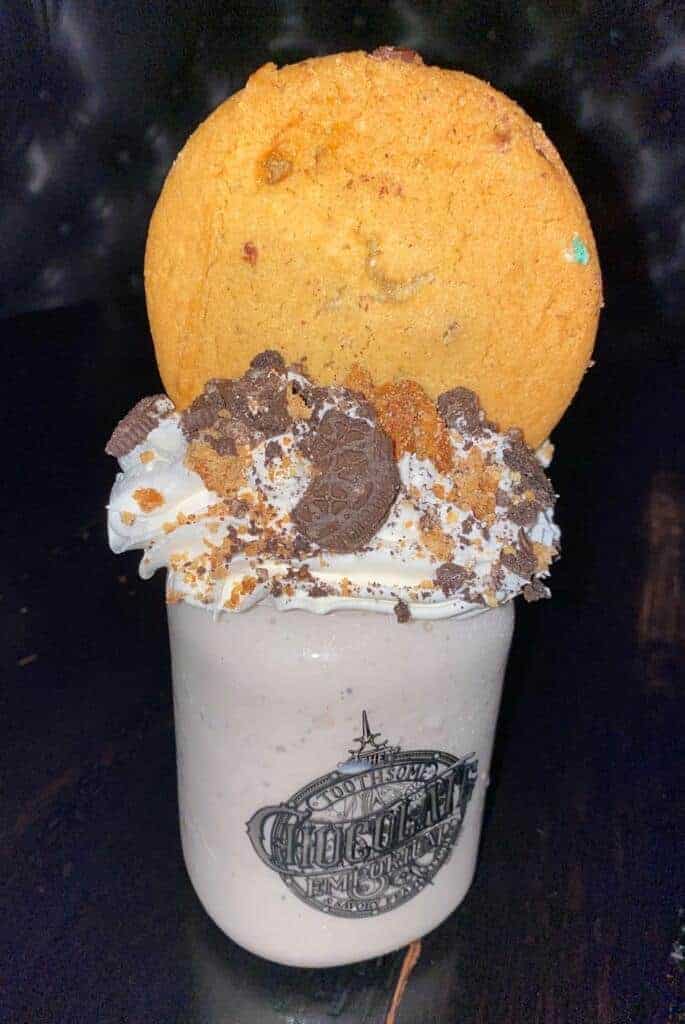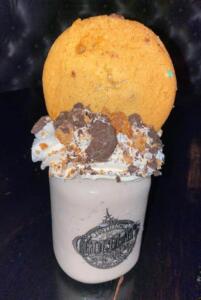 Fourteen dollars may seem like a lot for a milkshake, but you get to keep the mason jar. Think how expensive souvenir cups cost, and I think you'll agree that the price is very fair.
Landon said the milkshake was the highlight of the entire experience. I tend to agree. The food is good, but the milkshakes are what everyone's here for.
Reserve Your Spot At The Toothsome Chocolate Emporium
The Toothsome Chocolate Emporium does accept reservations. You can either call them or book your reservation online.
Call (407) 224-3663 or book directly online.
Note: You have to book in advance for special occasions like birthday parties, anniversaries, get together, or office parties.
Unusual and Interesting Facts About Chocolate
Chocolate was once a currency: The Mayans and Aztecs considered chocolate a valuable commodity and used it as a form of currency to trade for goods and services.
White chocolate is not really chocolate: Technically speaking, white chocolate is not considered chocolate because it doesn't contain any cocoa solids, the key ingredient in chocolate that gives it its characteristic flavor and color.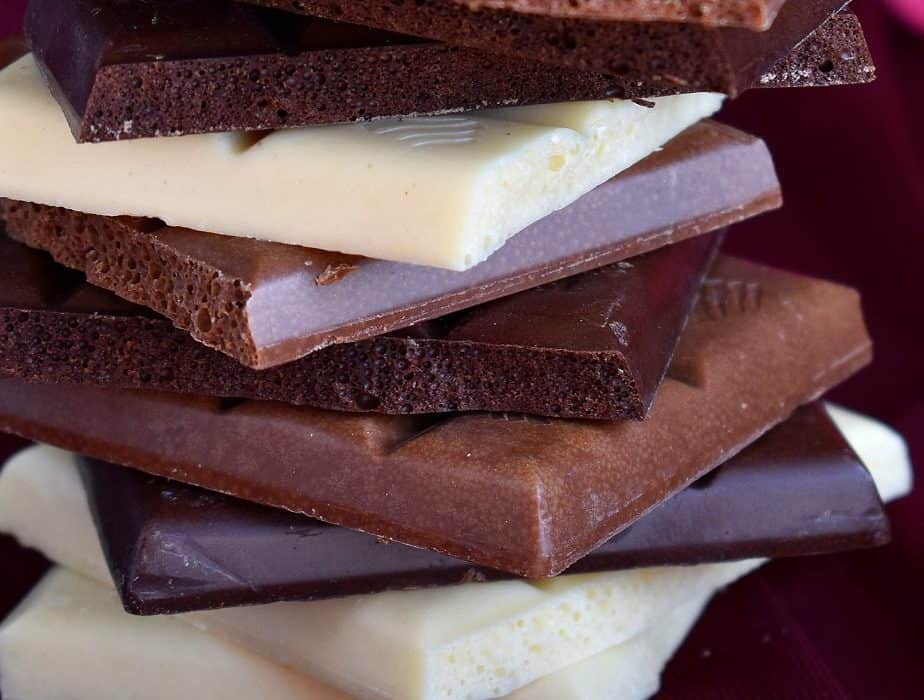 The world's largest chocolate bar weighed over 12,000 pounds: The world's largest chocolate bar weighed 12,770 pounds and was made by Toblerone in Switzerland.
Chocolate can be lethal to dogs: Chocolate contains theobromine, a chemical that can be toxic to dogs if consumed in large amounts.
Chocolate was once believed to have medicinal properties: In the past, chocolate was believed to have medicinal properties and was used to treat various ailments, including indigestion and fatigue.
The smell of chocolate can increase brain activity: Studies have shown that the smell of chocolate can increase brain activity and improve mood.
The largest chocolate sculpture weighed over 4 tons: The largest chocolate sculpture weighed 4,850 kg and was created by chocolatier Mark and Brenda Soviero of Soviero Chocolates in the US.
Chocolate can improve athletic performance: Studies have shown that consuming a small amount of chocolate before exercising can improve athletic performance by increasing endurance and reducing muscle damage.
Frequently Asked Questions About The Toothsome Chocolate Emporium
Closing Thoughts
This place offers tons of chocolates and ice cream if you have a sweet tooth. And it has a good menu. So now you know what to expect and have seen the menu; all left is to book a reservation!
Looking for more posts on things to do in Florida? Start here:
We participate in the Amazon Services LLC Associates Program, an affiliate advertising program designed to provide a means for us to earn fees by linking to Amazon.com and affiliated sites.
Brit On The Move™ Travel Resources
Ready to book your next trip? Use these resources that work:
Need more help planning your trip? Check out our Resources Page, highlighting the great companies we trust when traveling.