Many Floridians have heard of Disappearing Island Florida; however, most have not had the chance to visit. And, some people have formed their opinions of this overlooked oasis from what they have heard vs. experienced. I'll be the first to admit, I myself was a little skeptical about visiting Disappearing Island. I had heard that it's a party location reminiscent of a bad night out in Cancun. Fortunately, it is not! Sure, there are sections of the island that some boats all tied upon, and some do, in fact, party. Yet, there's plenty of Caribbean charm to be enjoyed and tons of space to secure your own spot away from the crowds.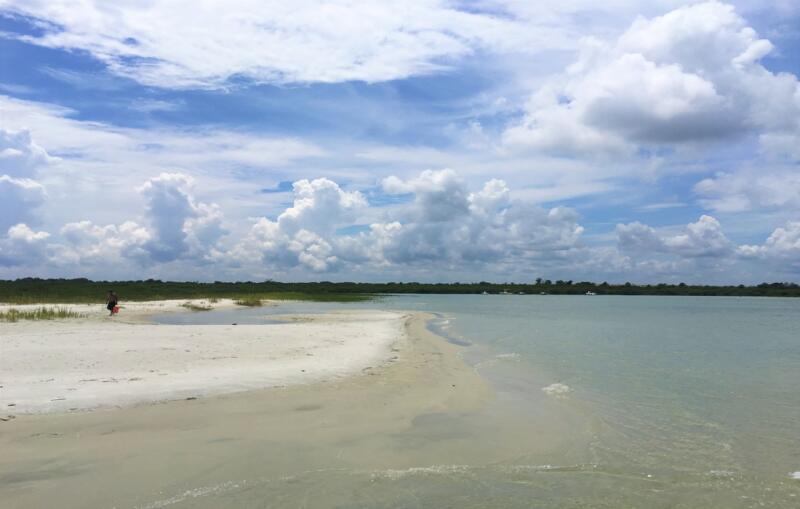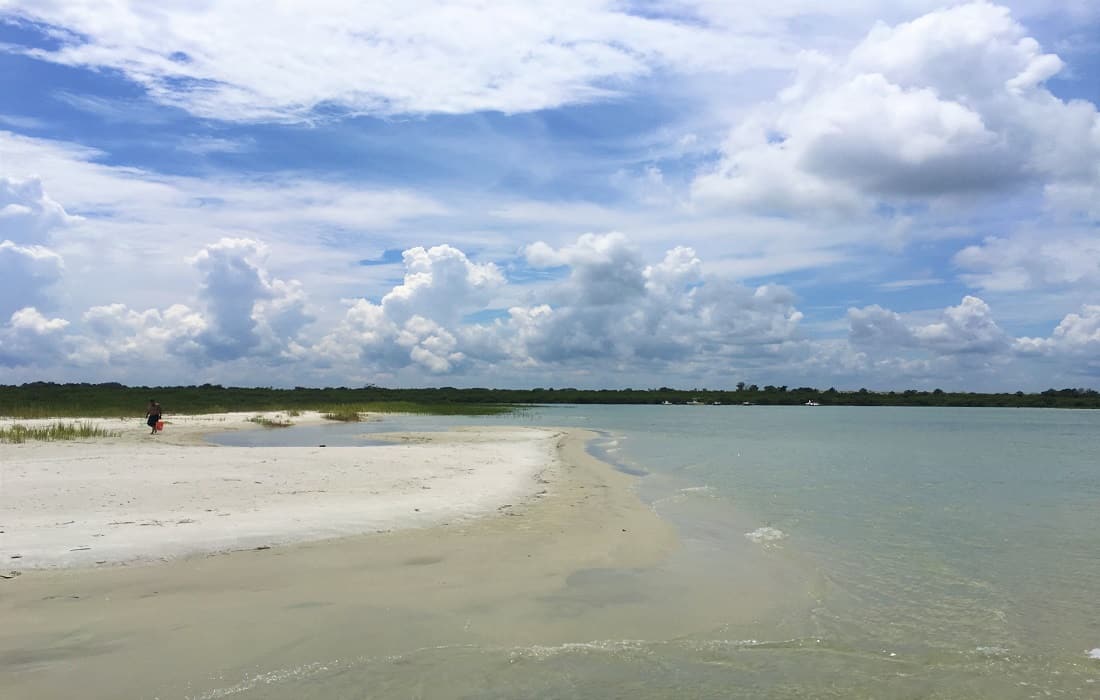 In this post, we'll tell you everything you need to know about one of New Symrna Beach's best landmarks – Disappearing Island Florida, and other attractions worth visiting. Popular among the locals and tourists of the New Smyrna and Daytona areas – keep reading to find out more!
This post may contain affiliate links. Please read our disclosure and privacy policy for more information.
Facts About Florida Disappearing Island
What is a Disappearing Island?
Disappearing Island is a natural phenomenon; that's where the magic happens! It is located in Floridian waters between New Smyrna Beach and Ponce Inlet. The daily tidal change is what makes this island shrink and grow. Essentially it is a big sandbar that appears during low tide when the water recedes. When high tide hits, the islands, which are sandbars, disappear – hence the name.
Disappearing Island is surrounded by amazing ocean views, the North Indian River-Halifax River junction, and Ponce Inlet Lighthouse, making it a perfect place to escape from the monotony of a working week and relax with your family & friends. Going to Disappearing Island Florida is like a getaway without leaving the country. The second you arrive, you will immediately feel like you are in the Caribbean.
The water is ridiculously clear and bright blue. The sand is immensely soft, and the vibe is unlike a typical beach day in Florida. We've visited many times, and I can tell you from experience that if you were blindfolded and arrived at Disappearing Island, Florida, you would assume we took you to the Bahamas or further south.
Where Is Disappearing Island Florida?
Disappearing Island Florida is located inside of Ponce Inlet in between New Smyrna Beach and the town of Ponce Inlet.
Ponce Inlet is the place where two rivers meet and enter the Atlantic Ocean. Originally called Mosquito Inlet, it was renamed Ponce de Leon Inlet in 1927. There are two rivers, the Indian River and the Halifax River. High tides create an island-like area where the currents meet. This is a popular spot for boaters. Spruce Creek, Hunter Creek, and Rockhouse Creek are some of the creeks feeding into these two rivers.
Ponce Inlet is divided into two public parks. The park on the north side is called Lighthouse Point Park, while on the south side it is called Smyrna Dunes Park.
https://youtu.be/NCnc8g6bxDQ
GPS Water Coordinates For Disappearing Island Florida
GPS Water Coordinates: 29.074742, -80.931316
Who Will Enjoy Disappearing Island Florida?
Disappearing island is a breathtaking setting to relax and enjoy with family or a group of friends. Anyone who appreciates being on the water will have a great time here. And, if you are looking to show off some of Florida's most "Caribbean-ish" waters, this is a place to take people. However, it's not a place to enjoy complete solitude, as it can get crowded on weekends.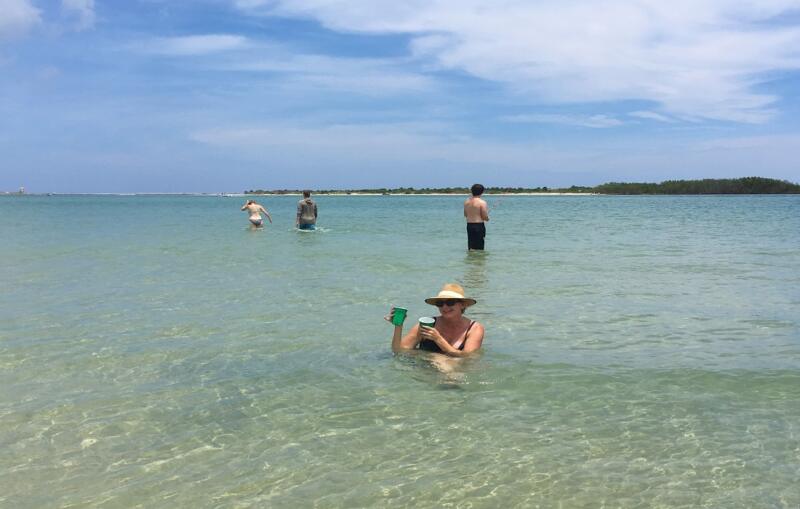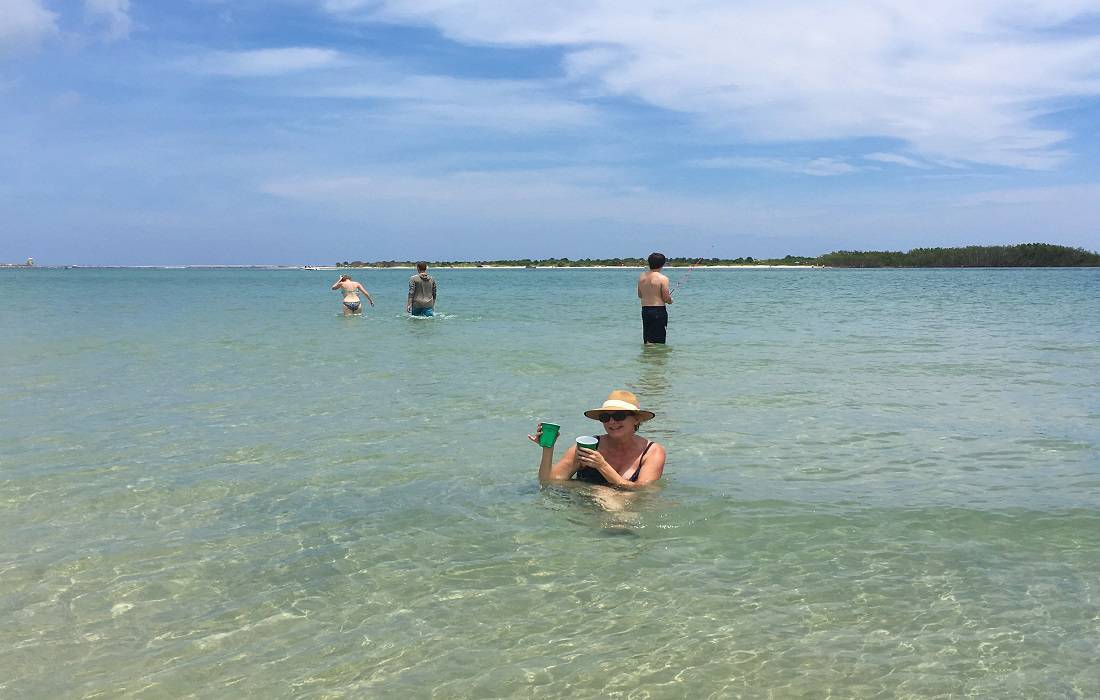 Next, if you're a fan of luxurious Florida resorts, this island may not be so attractive for you: don't expect restaurants, casinos, gorgeous Florida hotels, and anything like that there. It's nothing but spectacular views and a relaxing environment.
Here's a tip! If you have you heart set on gambling, don't worry! Use top slot sites and playonline!
So, who will enjoy Disappearing Island? Anyone who enjoys yachting, boating, fishing, or catching a suntan. It's difficult not to enjoy it. I can't imagine anyone not having a great time here. In my opinion, it's one of the most beautiful places on the East Coast of Florida.
It's a great place for families with kids; the water is shallow and has no waves, making it safe for children.
To sum it up. If you love the water, can handle a potential party, or be willing to find a quiet spot, you'll love Disappearing Island.
Map of Disappearing Island Florida
GPS Water Coordinates: 29.074742, -80.931316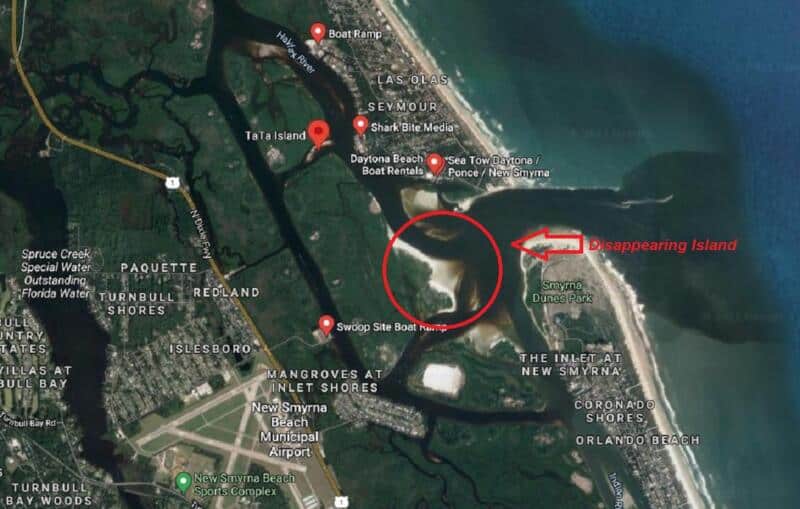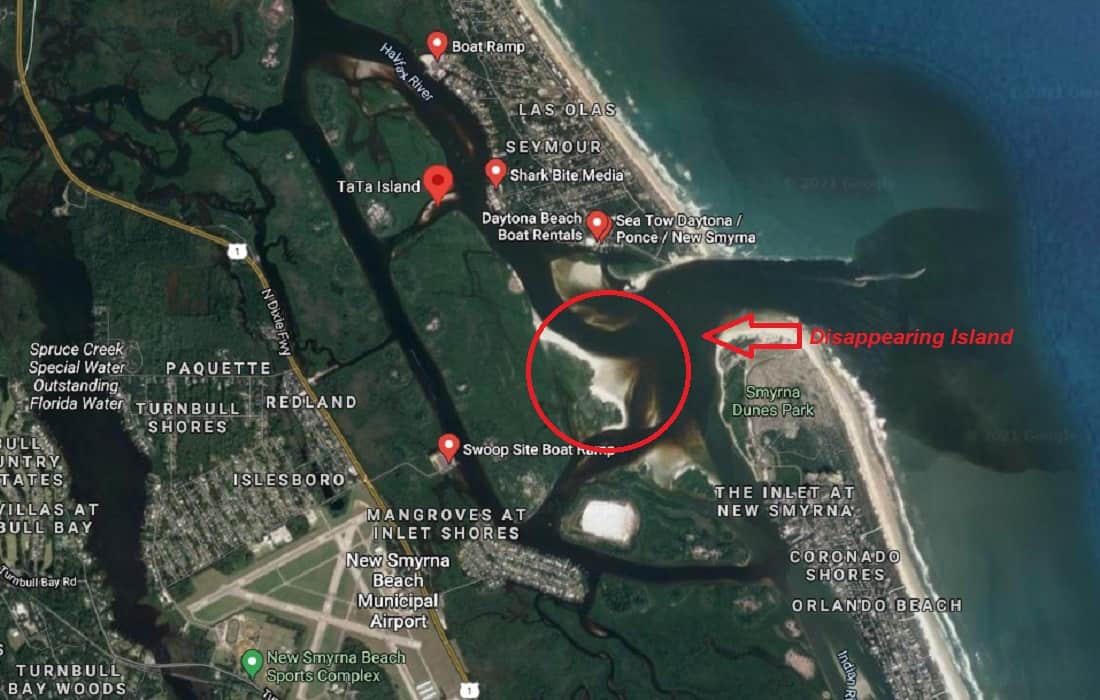 Disappearing Island Tide Chart
As mentioned, it is the daily tidal change that makes this island shrink or grow. It's best to access Disappearing Island when it's low tide this way you can claim your section. You also need to follow the tides to know when to exit. Here are the tide charts:
How to Get to Disappearing Island Florida?
You can only reach Disappearing Island via boat or personal watercraft. Although there is no public ferry system to get there, it is easily accessible – you can get there on your own boat or rent a boat. Given that the island has restricted access is one of the charms, it adds to the sense of adventure.
Can you kayak to Disappearing Island?
Technically you can; however, you should be advised that this is a hectic body of water with lots of boat traffic.
Can you swim to Disappearing Island?
I am sure it's possible, however, I would not recommend this!
Boat Ramps To Access Disappearing Island Florida
There are many boat ramps to launch from; we will cover the three most common ones people use.
Launch from the Port Orange Causeway Park boat ramp or the North Causeway boat ramp in New Smyrna Beach and take a leisurely course along the picturesque waterway. You'll definitely enjoy watching scenic landscapes and magnificent homes on your way! It's almost guaranteed that you will see dolphins in the water on their voyage to and from Disappearing Island!
The most convenient boat ramp and the one we the most Swoope Site Boat Ramp. It is a great facility with clean restrooms and two steep ramps. The surfaces are grooved for good traction, and there are floating docks for mooring. That being said, the docks aren't big and can only hold 2-3 boats each at once. Therefore, patience is required during busy times. Also, the floating docks are exposed to intercostal water traffic – lots of it.
Despite it being a "slow speed" zone, it's not uncommon for passing boats to create a wake big enough to really rock any boat, which is a little unsettling. But hey, we have all experienced this somewhere, right?
Swoope Site Boat Ramp
By far, the closest and easiest to access Disappearing Island in Florida is Swoope Site Boat Ramp. This boat ramp is also the closest to TaTa Island if that is where you are heading.
Address: 2455 Boat Ramp Dr, New Smyrna Beach, FL 32168
Ramps: 2
Ramp Fee: No
Parking Spaces: 36
Rest Room: Yes
Hours: 24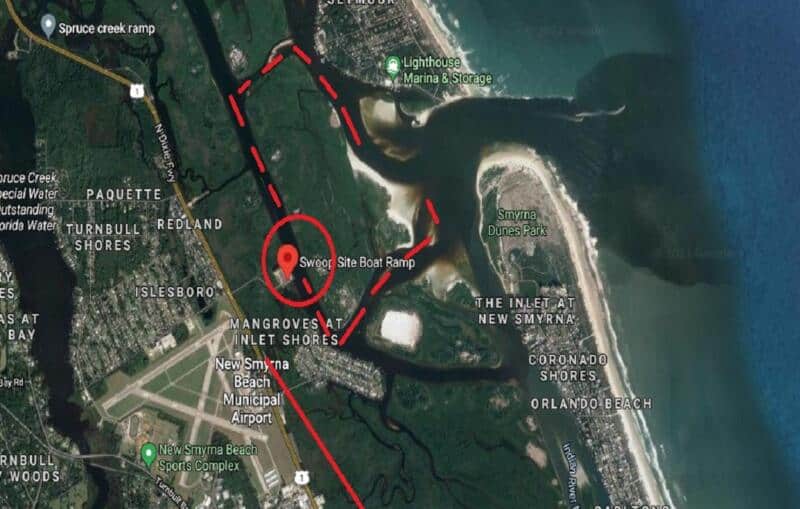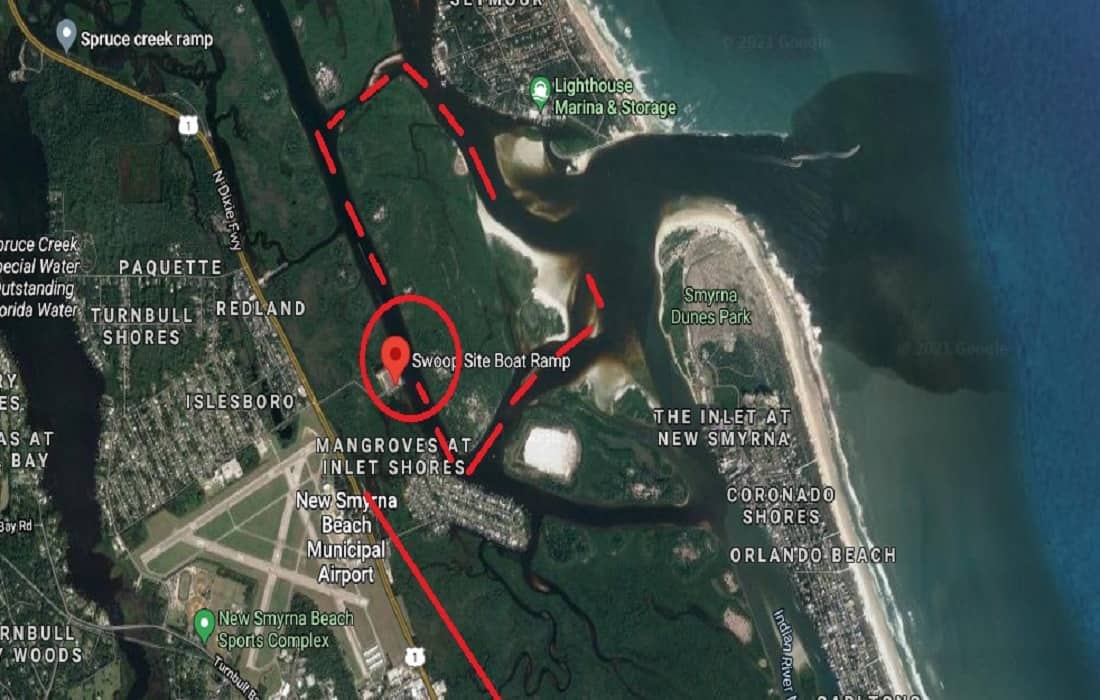 North Causeway Boat Ramp
Address: N. Causeway, west of bridge; Boat Yard St. New Smyrna Beach, Florida
Ramps: 3
Ramp Fee: No
Parking Spaces: 40
Rest Room: Yes
Hours: 24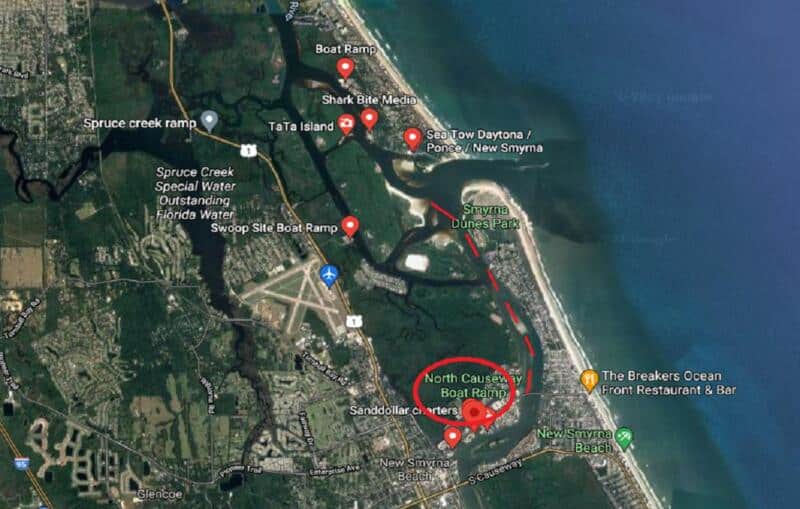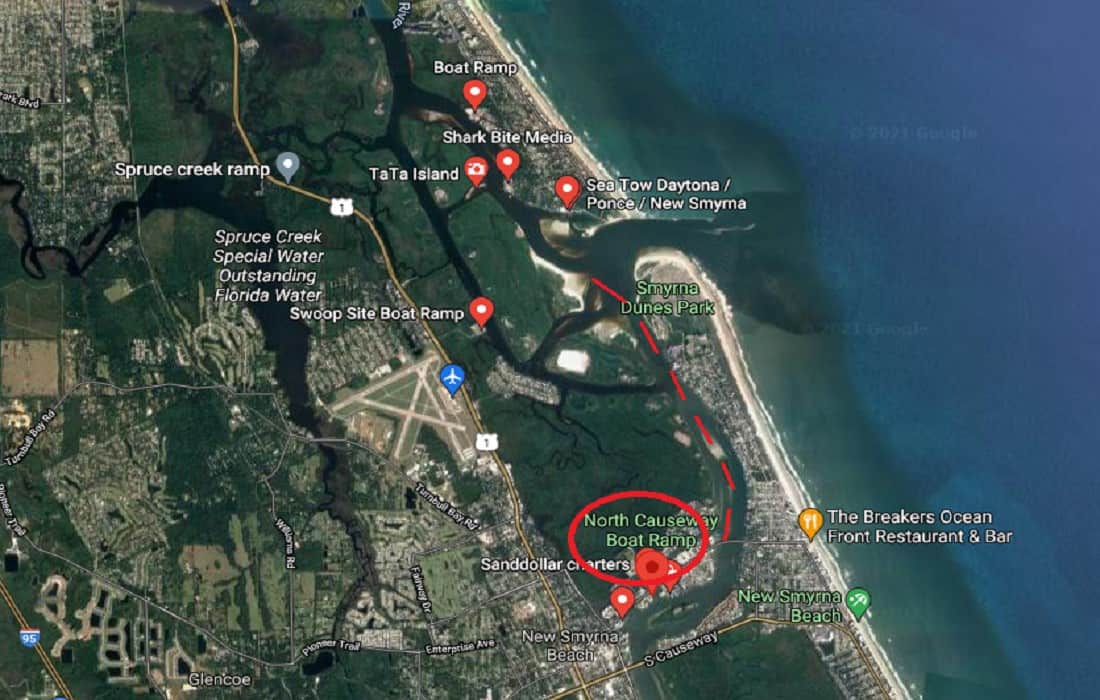 Port Orange Causeway Park Boat Ramp
Address: 93 Dunlawton Ave. Port Orange, Florida
Ramps: 3
Ramp Fee: No
Parking Spaces: 60
Rest Room: Yes
Hours: 24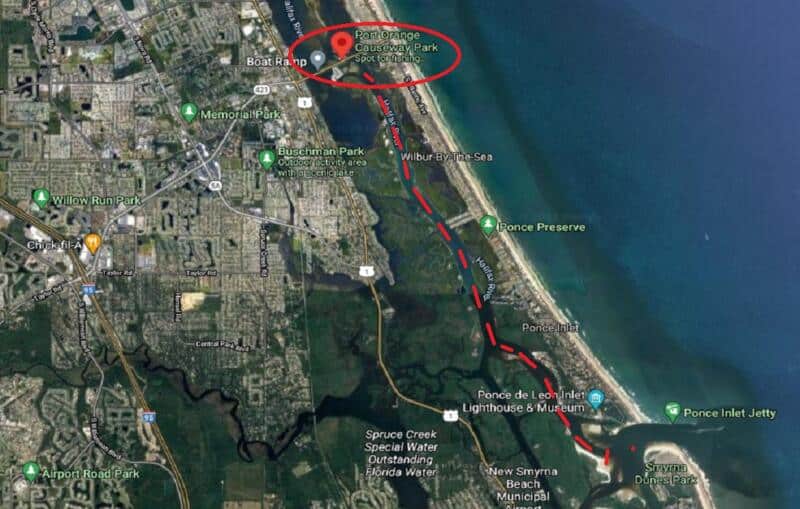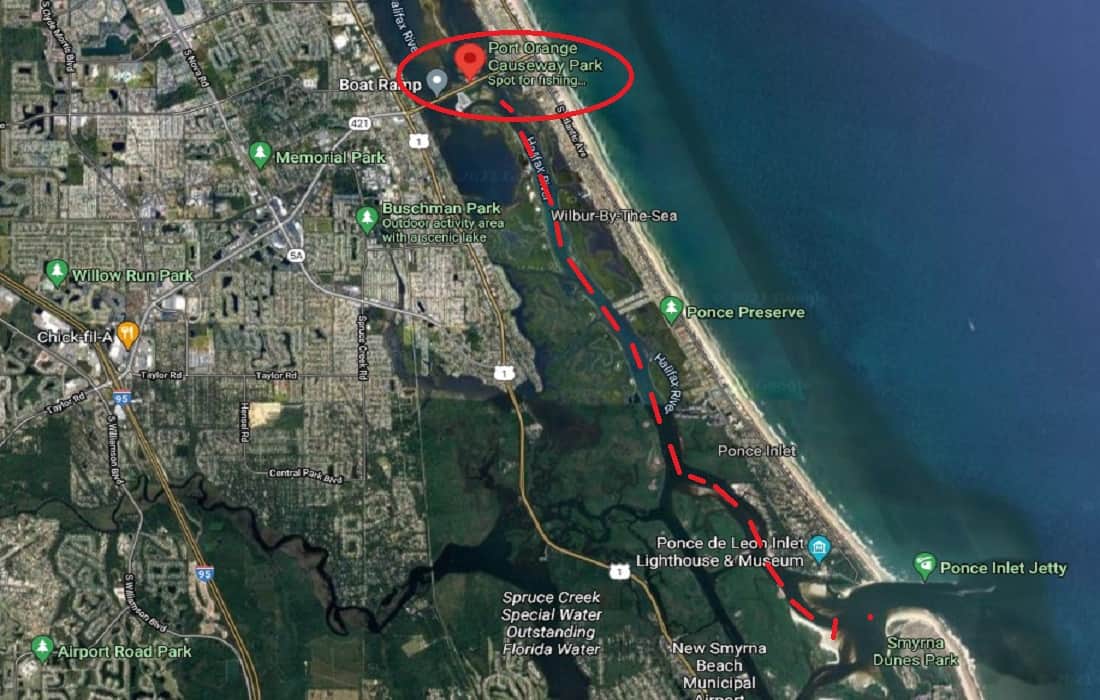 Where to Stay In New Smyrna Beach and Ponce Inlet
As mentioned above, New Smyrna Beach is not packed with resorts. However, there are tons of great options for you here:
Essentials You Need For Disappearing Island Florida
Water Floats & Mats You Need To Enjoy Disappearing Island Florida

Ponce Inlet: A Place to Visit Near Disappearing Island
Ponce Inlet is on the south of Daytona Beach. It is known for amazing waves, nature trails, one of the tallest lighthouses in the U.S., and a marine science center with interactive exhibitions and an observation tower. Make sure to relax in the parks and at one of Ponce Inlet's scenic beaches, where you can swim, sunbathe, walk, or jog.
Ponce Lighthouse
Ponce de Leon Lighthouse is 175 feet tall with 203 steps, and visitors can climb it every day. It offers a great workout for those who want some exercise; however, the climb is completely doable even for children. And we promise you'll love the view from the top of the lighthouse – it's more than worth it! There is a museum too! Note that foods and drinks are not allowed there, and you can only smoke in the specially designed areas.
Wildlife
There are many threatened species of birds nesting on Disappearing Island. It is particularly important for visitors to keep dogs under control so as not to disturb or approach bird nesting sites. It is not acceptable for dogs to approach or disturb wildlife or bird nesting sites!
Smyrna Dunes Park
Smyrna Dunes Park is a larger one of the two Ponce Inlet parks. There is a place where you can have a picnic under a shed area complete with tables. The park has a great handicap-accessible walkway; it's very long and has resting points. In addition, there is a 300-feet fishing pier which is handicap accessible as well.
Lighthouse Point Park
The area of the park is fairly large, and everyone can find things to appreciate here. The park boasts a large, smooth concrete, handicap-accessible walkway with spots to sit and rest. Good news for party-lovers – you can drink and park trailers in Lighthouse Point Park. However, parking a big vehicle can be a hassle, and you can't park on weekends and special events. Fishers will appreciate the long jetty formed by huge rocks. The jetty helps to stop the ocean and make a smoother area for vessels to enter the inlet.
And last but not least, on the north side of Ponce Inlet, there are surfers. Lastly, this place is known as the shark bite capital of the world, so be careful!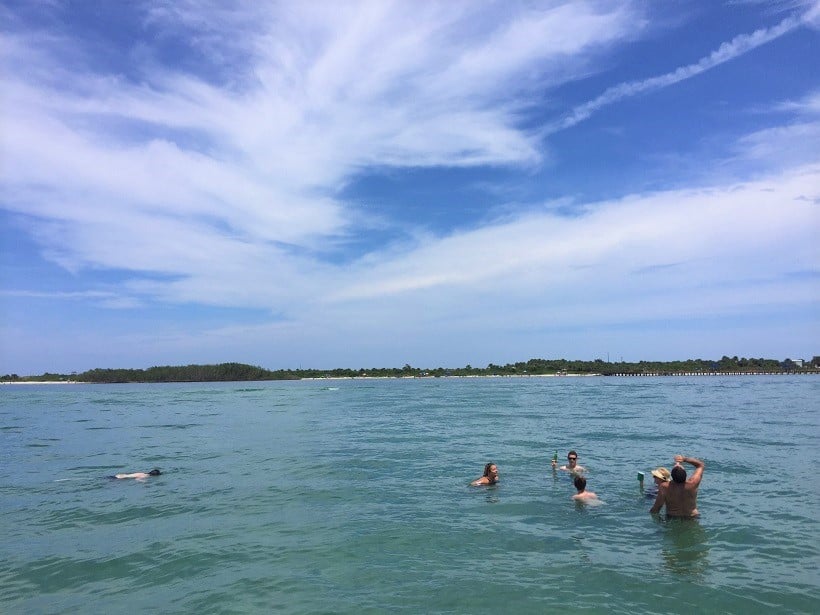 Florida boasts plenty of things to do. There's an endless supply of things to do for all tastes. Disappearing Island Florida is one you'll never forget. Whatever you're looking for – magnificent landmarks, beautiful sandy beaches, breathtaking sunsets and sunrises, luxurious resorts or affordable recreational spots, themed parks, or exciting nightlife – Florida will satisfy all your needs and desires.
Looking for more posts on Florida? Start here:
We participate in the Amazon Services LLC Associates Program, an affiliate advertising program designed to provide a means for us to earn fees by linking to Amazon.com and affiliated sites
Brit On The Move™ Travel Resources
Ready to book your next trip? Use these resources that work:
Need more help planning your trip? Check out our Resources Page, highlighting the great companies we trust when traveling.